After some time away from the city? A weekend away in a cosy train carriage in the countryside might just be that unique staycation you need.
The trains across Yorkshire have been busier than usual this week and we're wondering if the petrol shortage has anything to do with the increased traffic onboard.
Rather than wrestling passengers for a seat, or anxiously wondering whether there will be a delay in departure, the thought of staying in a private train carriage for the weekend seems much more appealing.
Planning a staycation away from Leeds? Why not book a train carriage staycation for a cosy escape from the everyday. Our favourite picks are no more than two hours away from Leeds city centre, perfect for that weekend away you've been planning but not quite booked yet.
For couples: Wally's Wagon
This quirky and intimate space hosts a full-size double bed and is heated by a small wood burner. Set in a private garden away from other guests, this quaint accommodation has all the modern amenities needed for a first-class stay.
There is a private hot tub is set to the back of the carriage, overlooking rural paddock land. This is an ideal setting for couples that appreciate the countryside and its inhabitants, with many guests describing tame llamas and donkeys that love to meet new guests.
Wally's Wagon is located in Green Hammerton, near York, making it a fifty-minute journey from Leeds city centre.
For watching the sunset : The Flying Yorkshireman II
Ever wanted to ride on a traditional steam train? The Flying Yorkshireman II railway carriage has been designed to give guests an authentic train-living experience. The 24 X 9 ft carriage looks over the Nidd Valley railway line, with picturesque views of the countryside.
It's location makes it perfect for sunset spotting, use the decking 'platform' area or watch from traditional carriage seats installed inside.
Just 60 minutes from Leeds city centre, it can be found in the Glasshouses, north Harrogate.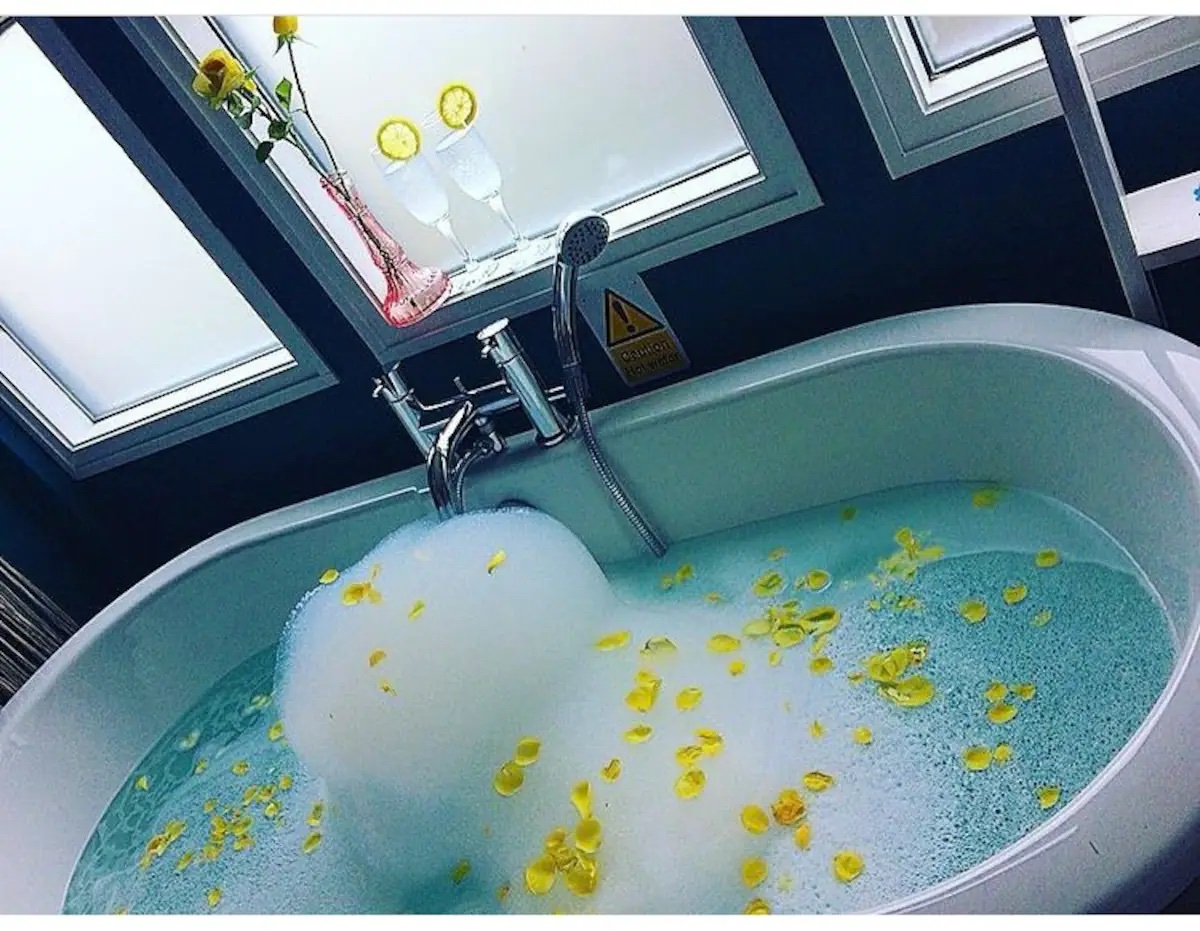 For budget-conscious travellers: Kimberlina Carriage
Hidden on private land of a working farm, Kimberlina Carriage offers guests bespoke train carriage living on the Jurassic Coast of Ravenscar National Park. The holiday home boasts sea views, cooking appliances and a full-size bathtub, demonstrating the size of the carriage. The amenities are perfect for travellers on a budget that want to upgrade from regular caravan accommodation.
The natural beauty of the Jurassic Coast is footsteps away from Kimberlina Carriage. Nearby, seal colonies proudly rest in the rockpools, whilst the skies turn from amber to lilac.
Kimberlina Carriage is located north of Scarborough in the village of Ravenscar. Though this takes around two hours by car or train, the fresh sea air is worth every mile travelled.
For families: Helmsley Railway Carriage
Family-friendly carriage accommodation is hard to come by, but Helmsley Railway Carriage hosts one of the largest carriages on AirBnB in the North East and boasts two bedrooms for four guests.
The property is an authentic 1887 3rd Class Victorian carriage recently brought into the twenty-first century, complete with designated workspace, a full-sized kitchen and bunk beds on a large plot of garden.
The Helmsley Railway Carriage is around a 75-minute drive from Leeds city centre, located in Helmsley, York.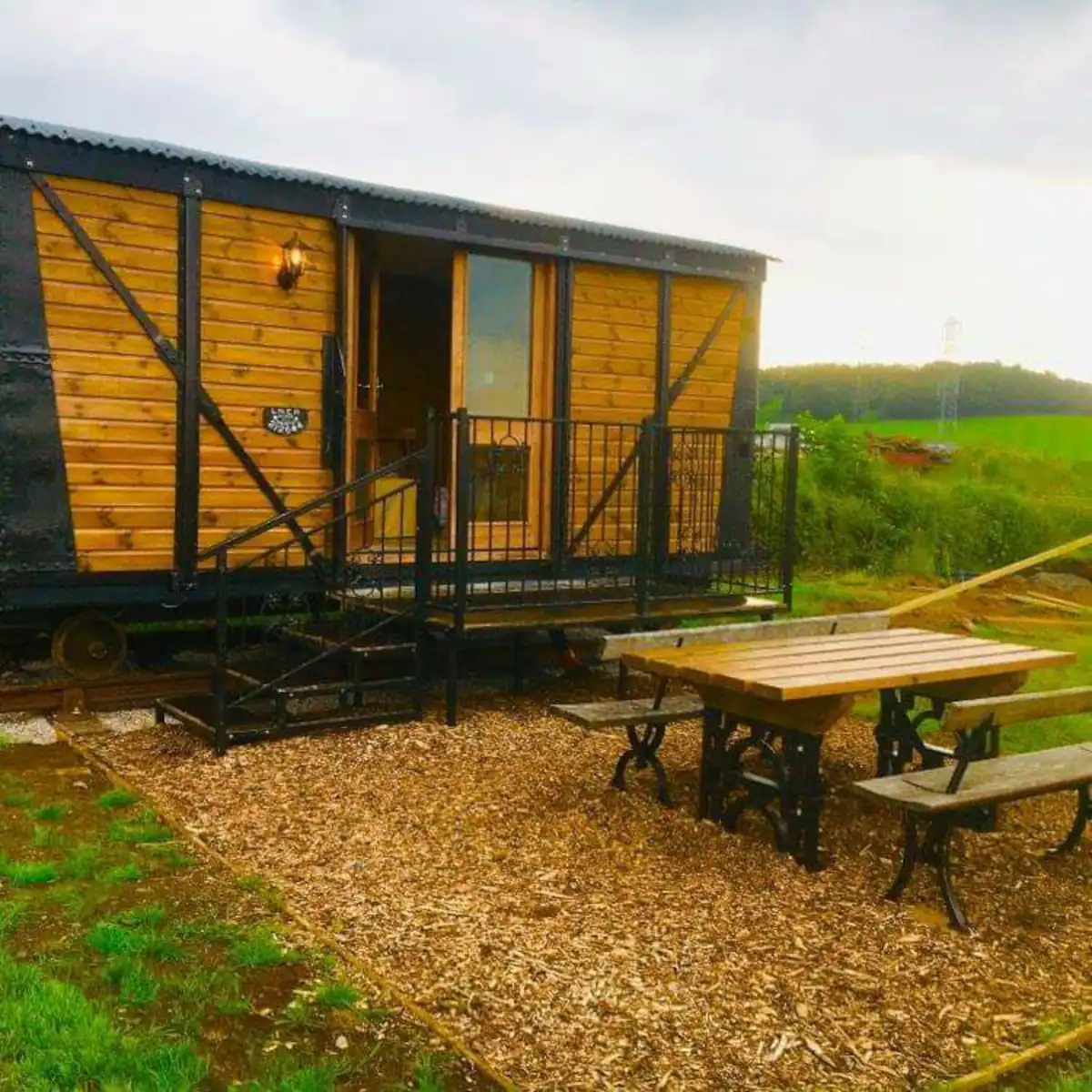 For Staffordshire staycations: Staffordshire Carriage Stay
Laid on a bed of track, the Staffordshire Carriage Stay offers rustic carriage accommodation saved from 1937. The Great Western Railway carriage is full of original features and holds just as much old-school charm as it would have done in the twentieth century.
The caravan-sized carriage hosts a mini kitchen, saving space for the double bed and bathroom with shower. Guests are invited to use the outdoor decking and chairs and cook on the gas barbecue.
Staffordshire Carriage Stay is located in Dilhorne, Staffordshire. 100% of recent guests have given the location a 5-star rating, suggesting the two-hour drive from Leeds city centre is more than worthwhile.
Feature Image: Wally's Wagon, AirBnB.