There's nowt worse than trying to make that cuppa last until you hit your word count.
Finding a spot to drag out your laptop is far trickier than expected.
Questions of charging sockets, decent coffee and 'what's the minimal amount of drink can I buy to stay here for more than an hour' spring to mind.
Leeds isn't easiest to navigate for those working remotely either. Places like Fika North have a strict no laptop rule and Laynes reportedly bans them altogether on the weekend. Whilst this is understandable given these small shops need quick turnaround for their profits, it leaves us asking: where can we actually work?
If you search hard enough, there are package deals in Leeds, designed for those that need to work remotely but don't want to sacrifice on good quality coffee whilst they're working.
Here are our favourite places to switch on, get our head down and work whilst out and about in Leeds.
Department
 The Boulevard, Leeds Dock | Office open 24 hours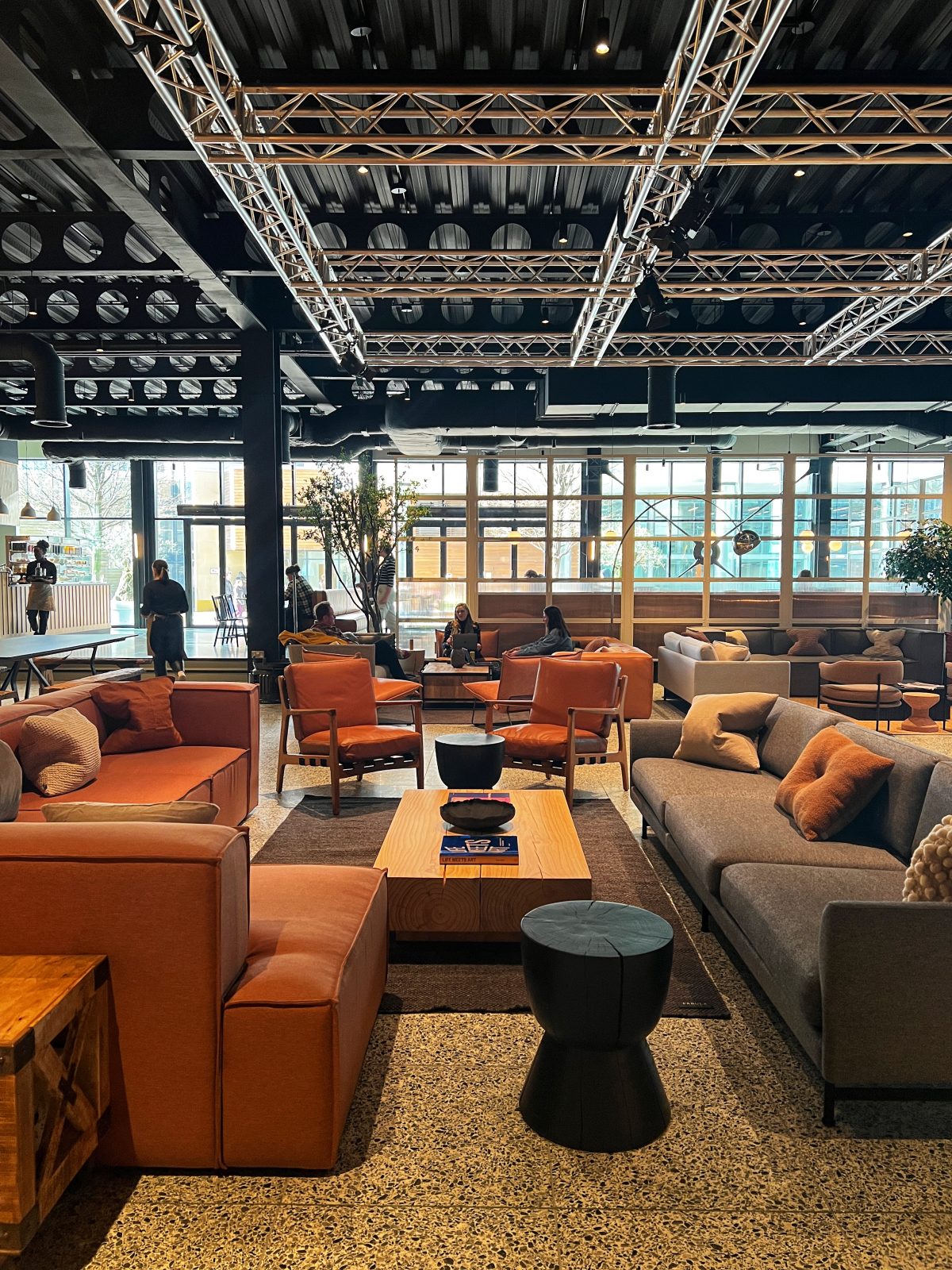 Take advantage of: permanent and temporary co-working spaces
Down at Leeds Dock, Department is changing the co-working game with its huge office space and restaurant. If you're looking for a permanent hotdesk space you can enquire about a hot desk, or if you're just popping by for the day, grab a coffee from on-site restaurant Fearns and get lost in your screen on one of the comfy sofa seats.
Find out more Department here.
200 degrees
Bond Street, Leeds city centre | Open from 7.30am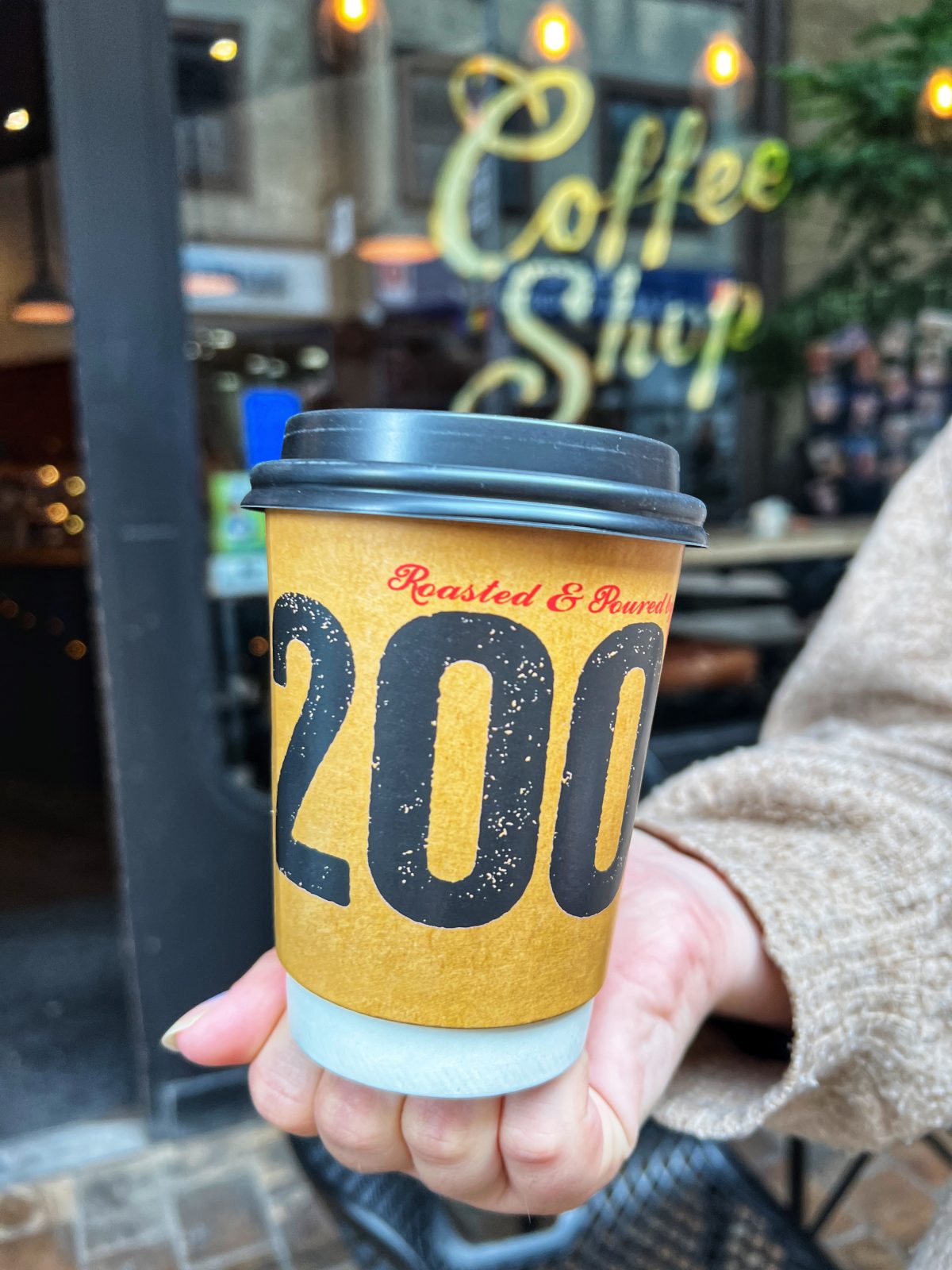 Take advantage of: £2 breakfast when you buy a coffee
Based right in the heart of the city centre on Bond Street, 200 Degrees is the perfect place for a remote worker on the go to pitch up for a few hours. There's plenty of caffeinated options to choose from, strong Wi-Fi and they're even on the hunt to hire an official sandwich taster at the moment – so you could actually do two jobs in one from here!
Find out more about 200 Degrees here.
IF… Up North
York Place, Call Lane and (soon) East Parade, Leeds City Centre | Open from 8am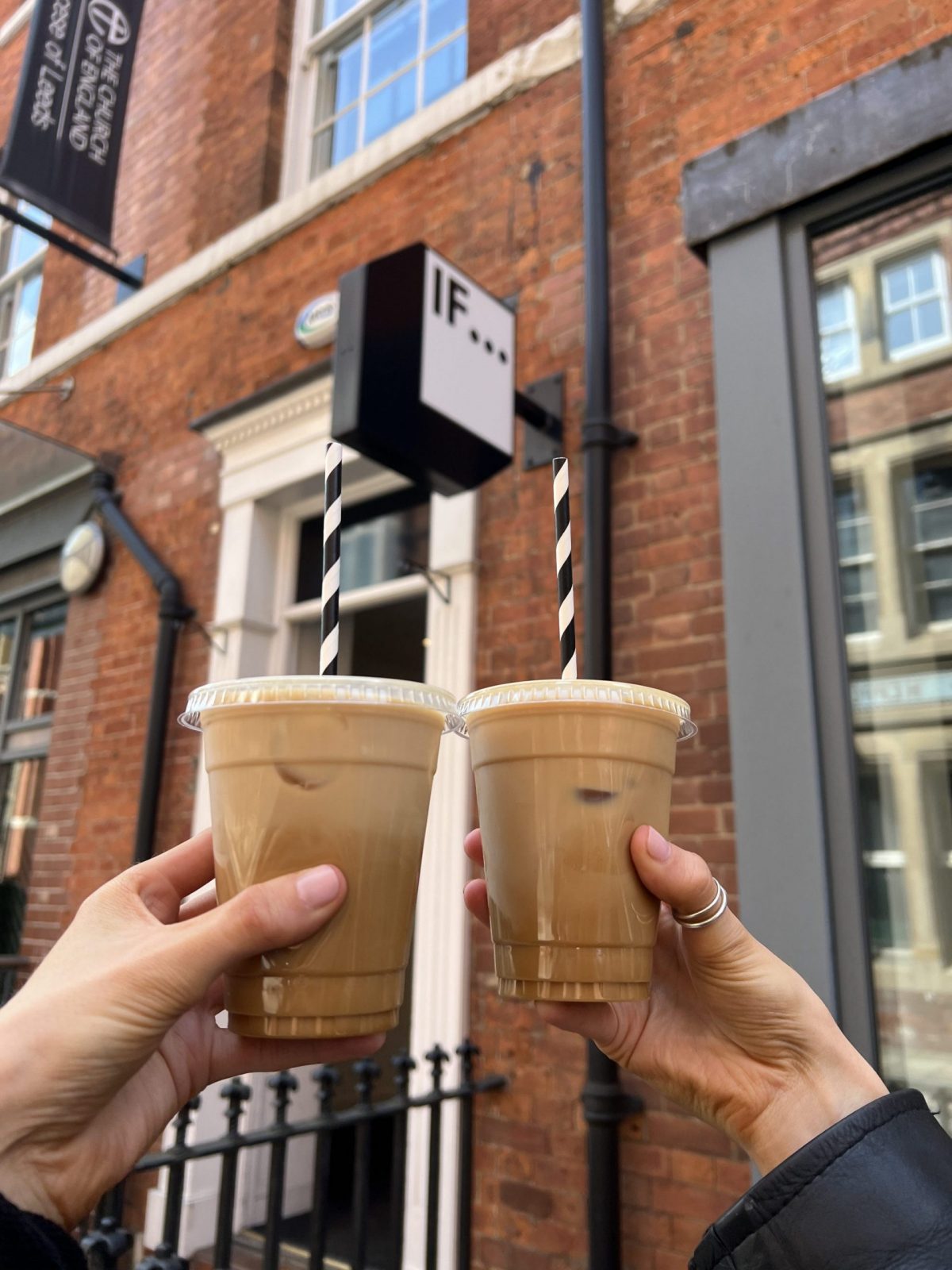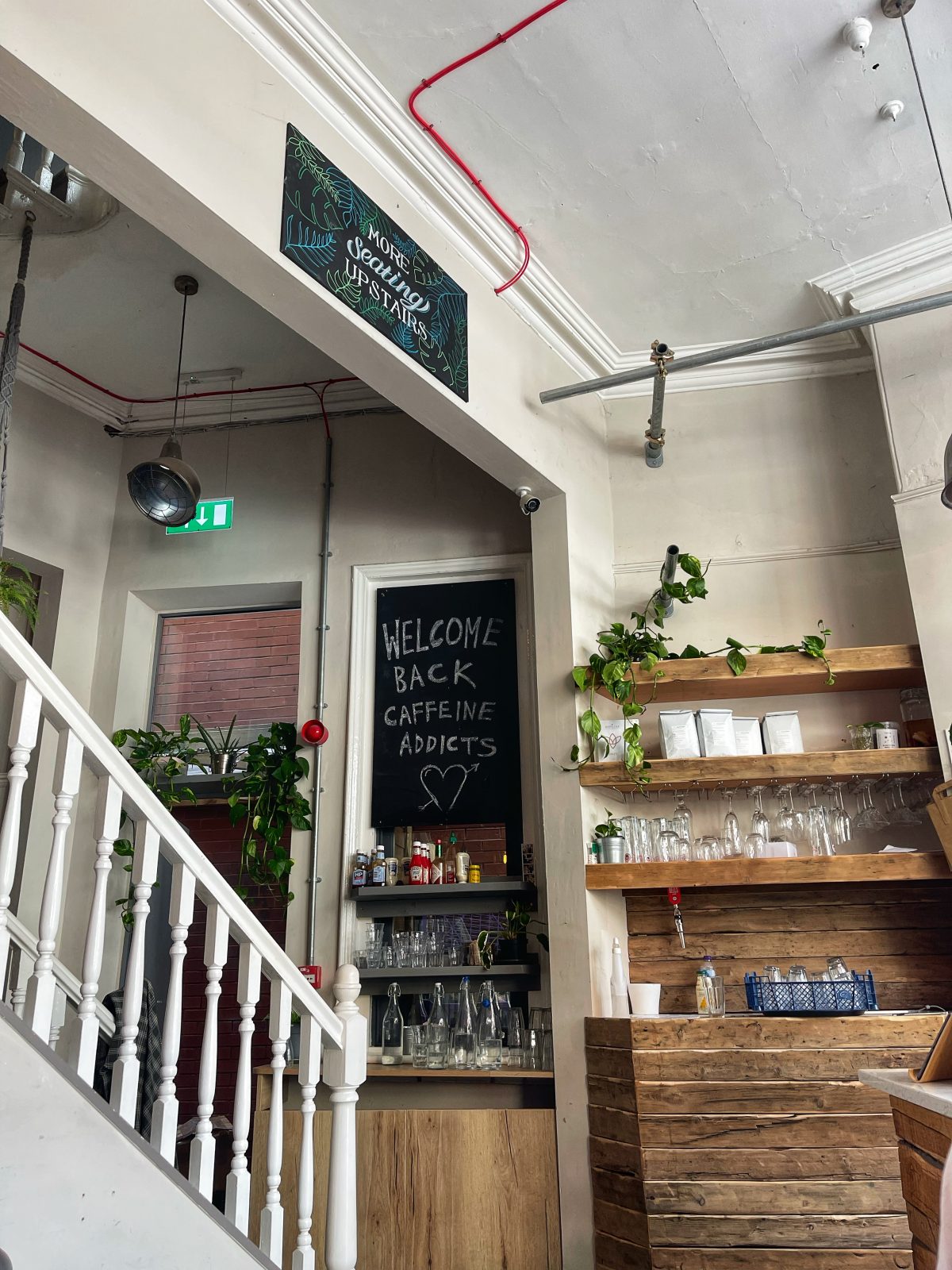 Take advantage of: Three city centre locations
IF… has got to be one of the best-known coffee spots in the city – but rather than grabbing your morning cuppa to go, you can always choose to sit in and get your laptop out for a few hours. The (soon to be) three different city centre location means no matter where you are around Leeds, there should be an IF nearby for you to get those morning emails boxed off.
Find out more about IF… Up North here.
Sociable Folk
Wellington Place, Leeds city centre | Open from 7am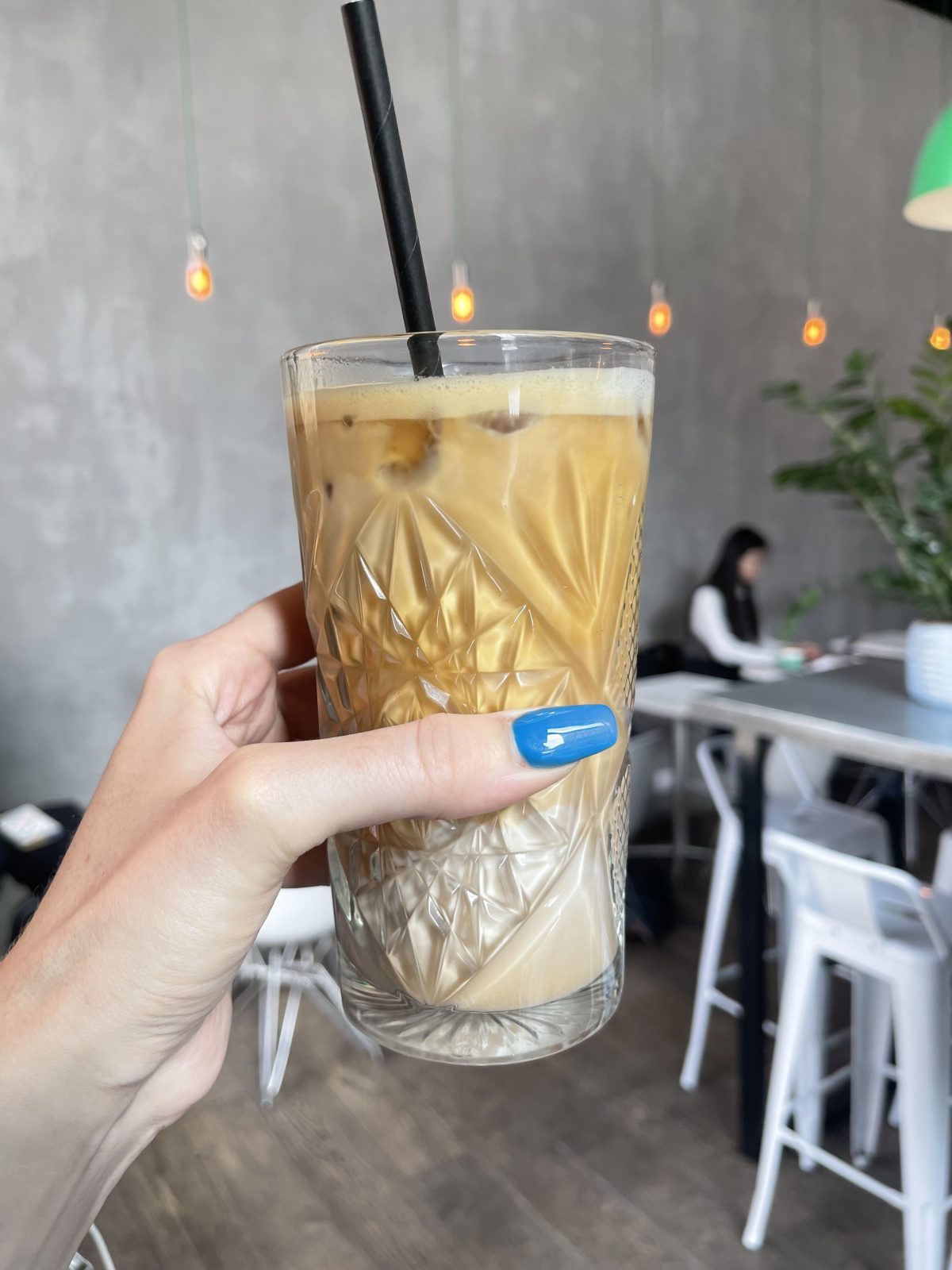 Take advantage of: early opening time of 7am
This one's for the early birds looking for a place to get stuck into the working day before the rest of the city awakes. The modern cafe-bar offers a selection of hot and cold caffinated drinks, with breakfast options like bagels, porridge or three eggs to keep you fuelled until closing time at 3pm.
Find out more about Sociable Folk here.
Hyde Park Book Club
Headingley Lane, Hyde Park | Open from 9am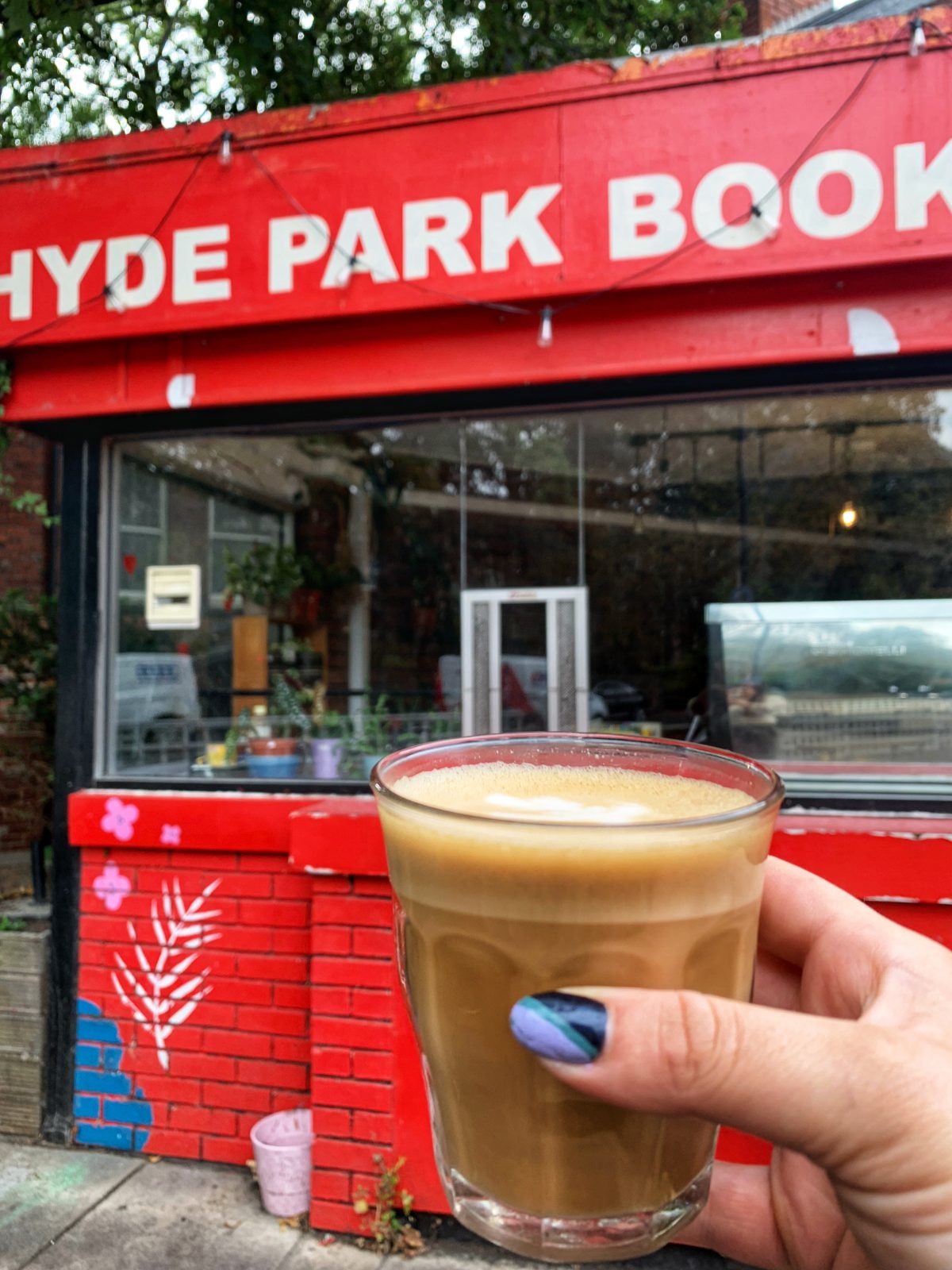 Take advantage of: board games and books for your breaks
Laptop-friendly bars in Hyde Park can be hard to come by, but Hyde Park Book Club is the perfect reason to get your work done with a coffee in hand. There's a full brunch menu to choose from during the working hours, including classics like avo on toast, cakes and sweet treats aplenty, and a host of books and board games to fill any breaks.
Read more about Hyde Park Book Club here.
Bowery
Otley Road, Headingley | Open from 9am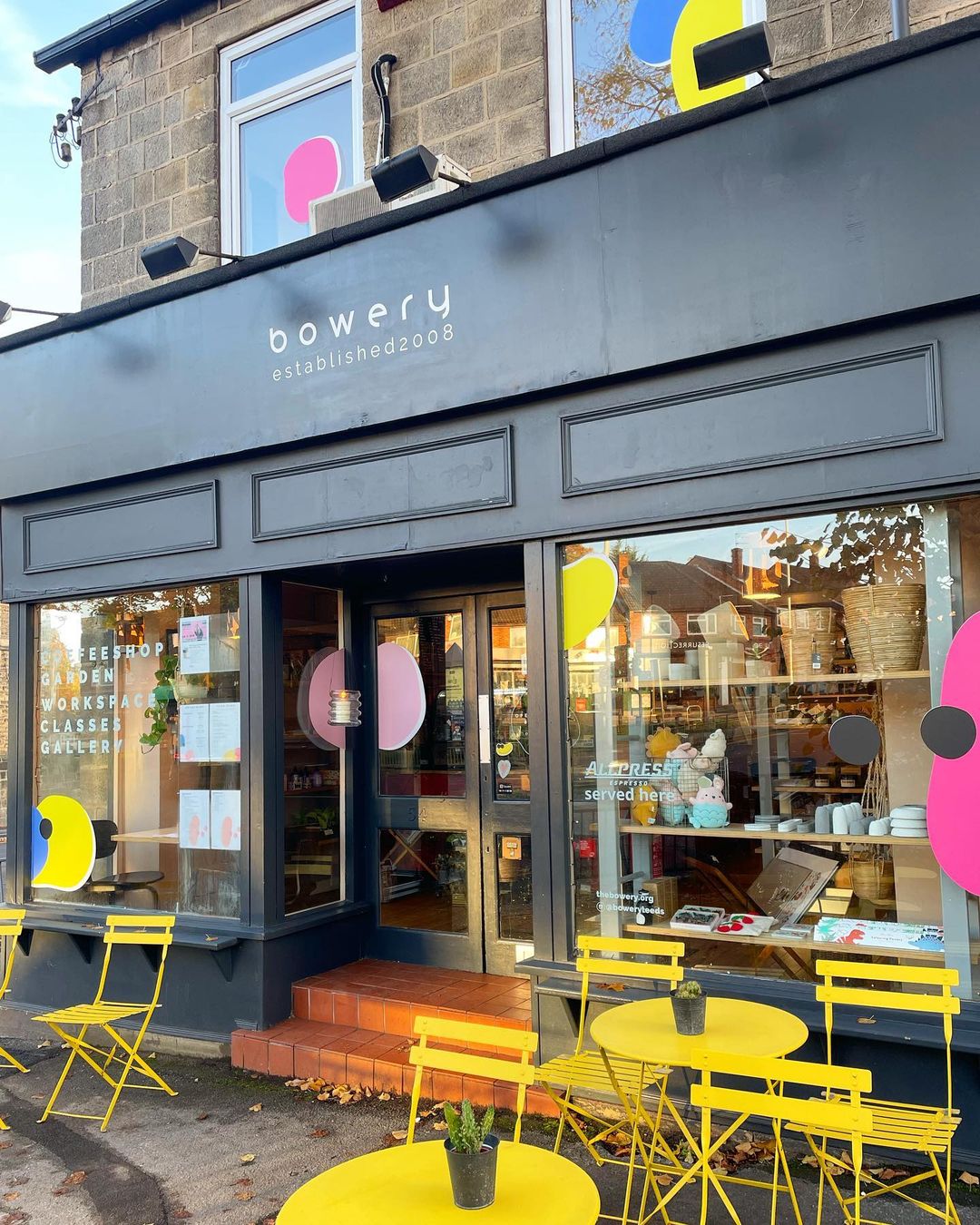 Take advantage of: a cosy space filled with fellow creatives
Bowery prides itself in its creative spaces, and for those looking for a remote working spot in the suburbs, you really couldn't find a more relaxing spot to focus on your 9-5. There's coffee and cake on tap and you can grab a comfy seat between potted plants and independent gifts, or upstairs in the gallery.
Find out more about Bowery here.
SALT Craft + Falafel
Granary Wharf, Leeds city centre | Open from 12am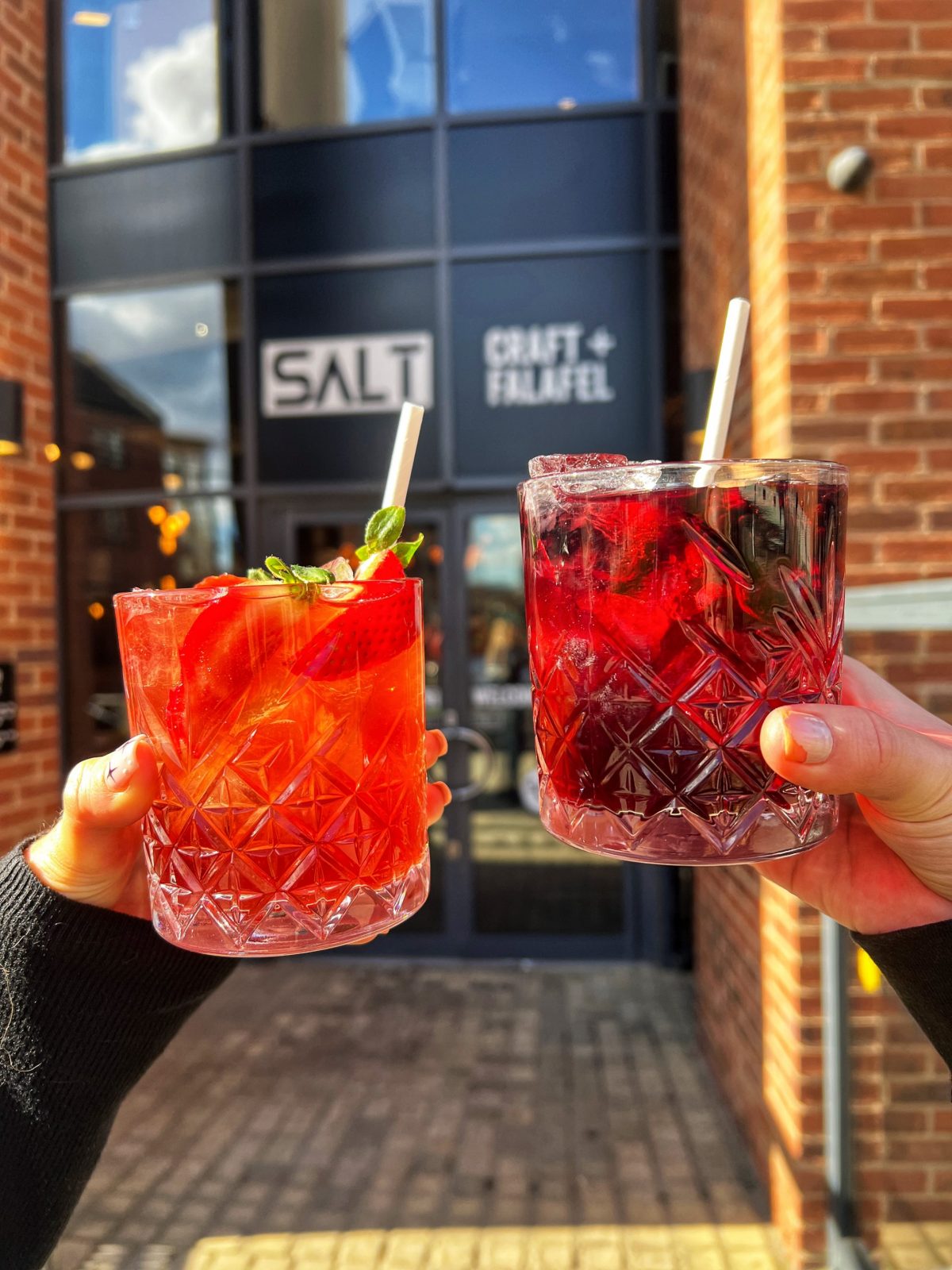 Take advantage of: Falafel Guys delicious food options
There's plenty of cosy nooks and light-drenched corners alike at SALT Craft + Falafel down by Granary Wharf, and with plenty of foodie options available from resident kitchen Falafel Guys, it's unlikely you'll get bored here. Choose from falafels, wraps and salads, or pick at plates of wings and halloumi fries and grab yourself a drink from the bar.
Read more about SALT Craft + Falafel here.
Green Room
Wellington Street, Leeds city centre | Open from 10am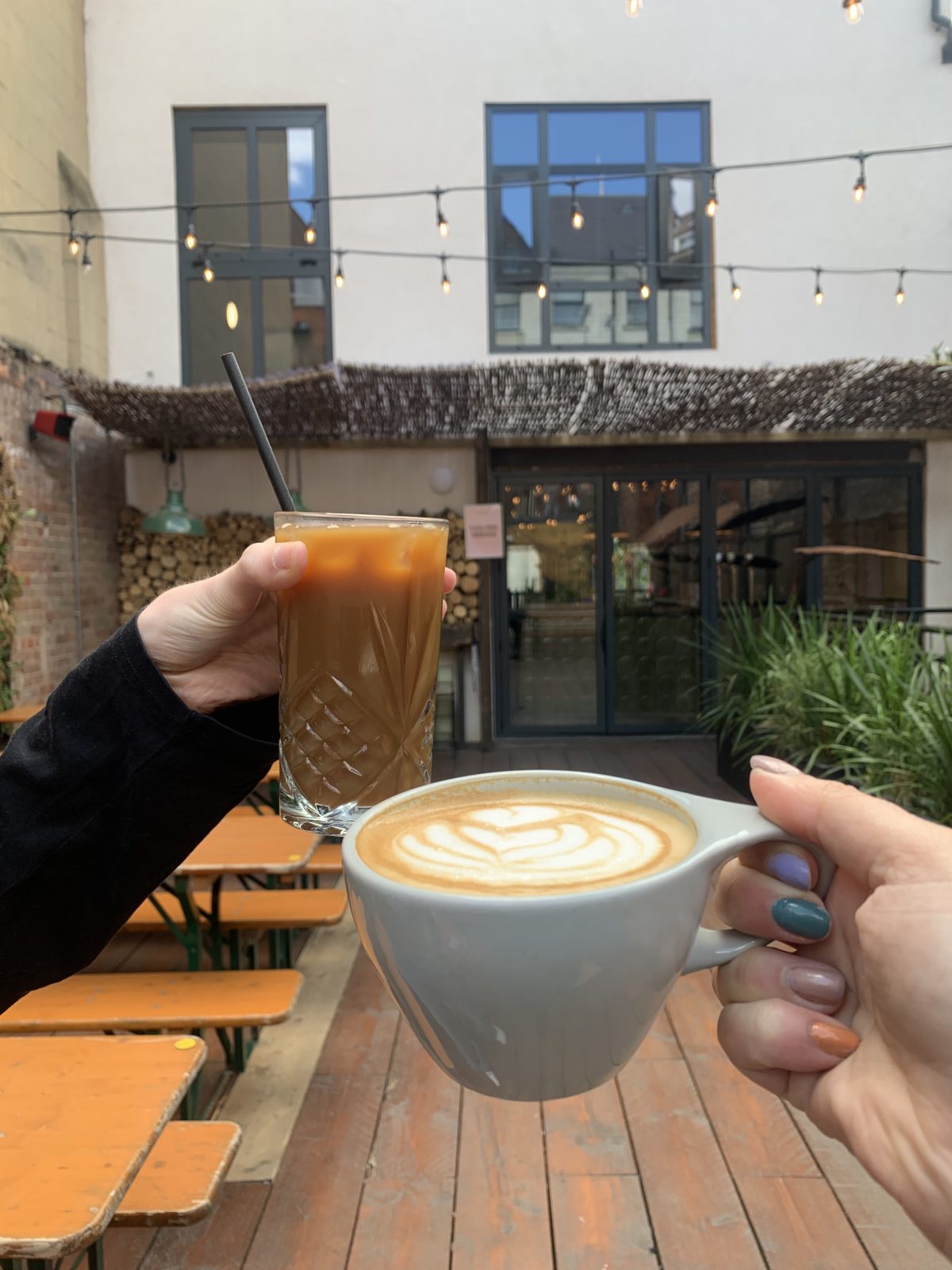 Green Room is known as one of the go-to watering holes on the weekend- all thanks to its gorgeous rooftop terrace, but the cosy inside space makes the perfect remote working spot. Choose from meat-free food options from resident kitchen Grön and grab a North Star roast coffee and take full advantage of the quieter mornings inside the popular bar.
Find out more about Green Room here.
Canary Bar
Leeds Dock, Leeds city centre | Open from 10am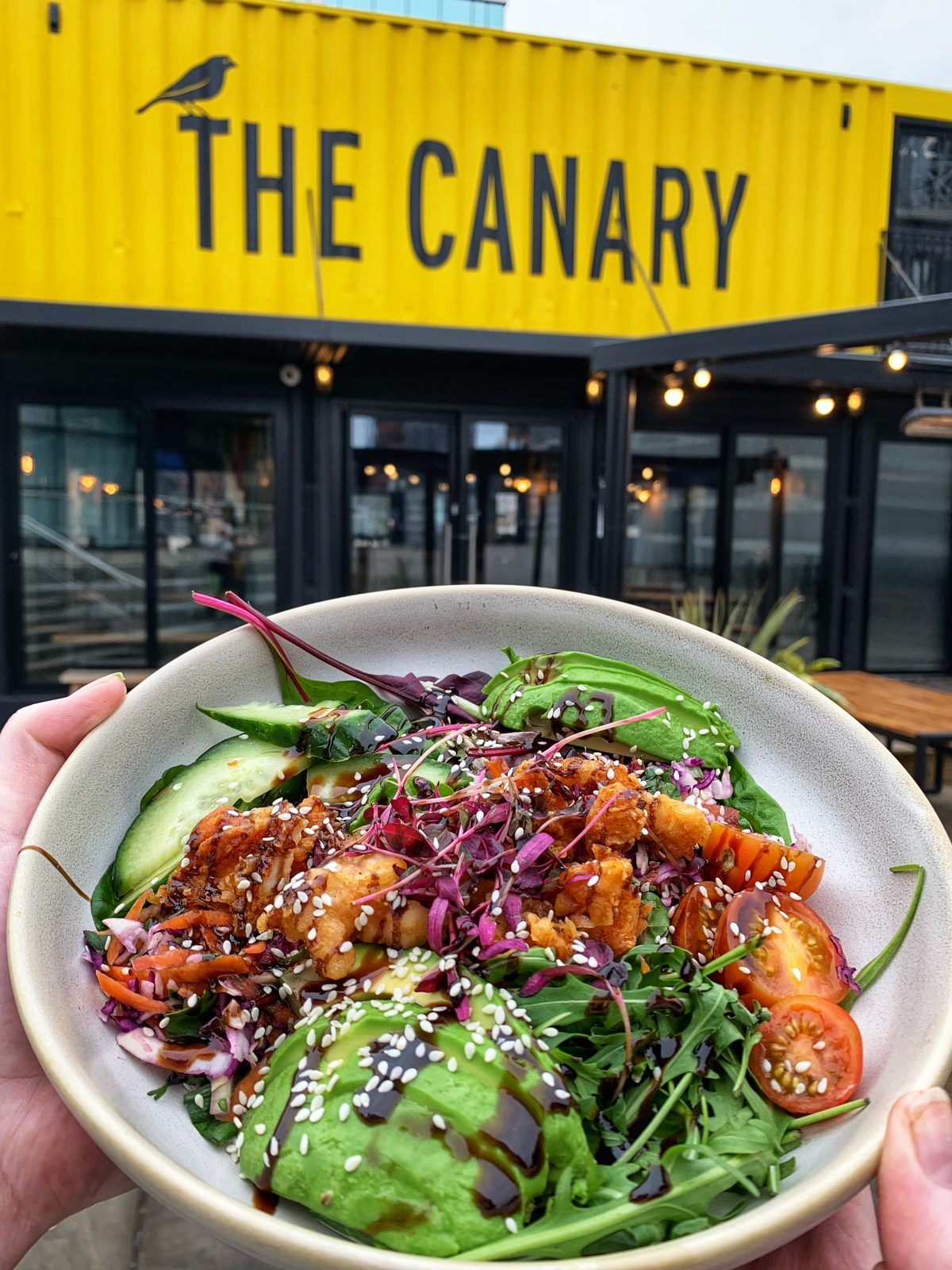 Take advantage of: small plates to snack on inside a stunning Leeds waterfront bar made entirely from shipping containers
Watch the swans laze around in the river whilst sipping on North Star Roast or grab a seat at the bar and crack on with your to-do list, this is one of the most work-friendly bars we've ever come across. The tables are huge, enough to easily fit six plus laptops and plates and you're never too far from a plug socket. The atmosphere here is quiet and relaxed, but intimate and inviting: the waterside views facilitate much of this but the friendly bar staff and Mediterranean menu is what turns a one hour stay into a full afternoon of working at the Canary Bar.
Find out more about The Canary here.
North Taproom
Sovereign Square, Sovereign Street, Leeds city centre | Open from 11am
Take advantage of: Lunchtime non-alcoholic beer and bao buns
Serving pints, baos and coffee all just moments from Leeds train station: North Brew Taps is the ideal spot for those with a few spare hours before getting the train off home. There's a tonne of plug points and spare for four at every table, so you can bring a small team with you to work as well. As for the food and drink offerings, they only come from highly trusted sources. Little Bao Boys supply endless bao buns and gyozas to curb any lunchtime cravings, whilst darkwood coffee will keep you caffeinated throughout the day. Of course, there's a selection of non-alcoholic pints and kegs of the good stuff for once you've finished.
Find out more about North Brewing Co. here.
Wolføx
Wellington Street, Leeds city centre | Open from 8am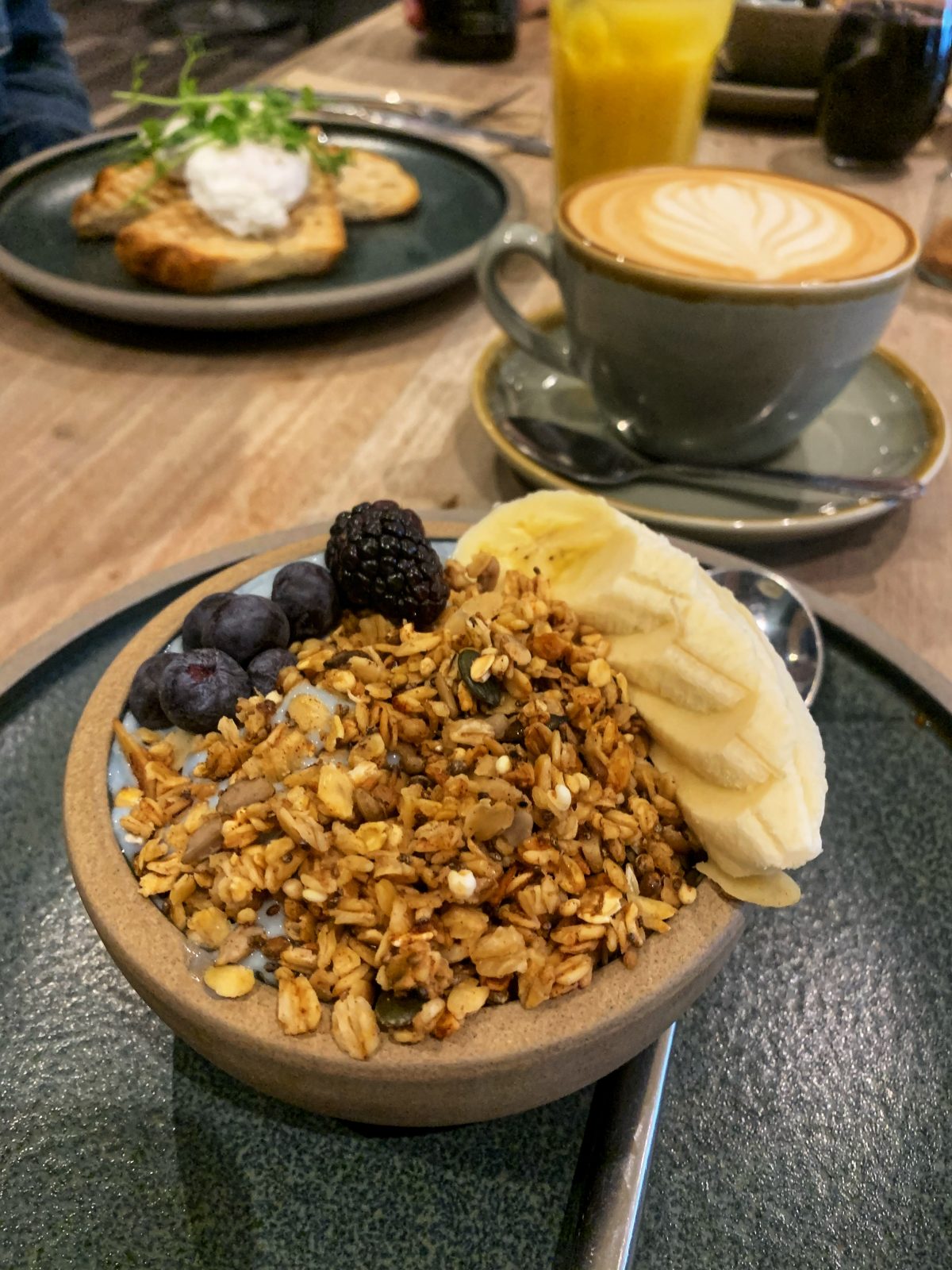 Take advantage of: açai bowls and fresh pastries
The smell of coffee and a fresh pastry in the morning is enough to allure you into Wolfox, but their organic açai bowl, made from a smoothie base and topped with granola, fresh fruit and coconut flakes, are well worth staying for. Grab a seat at any of the four corners for a spot with a plug socket, grab the wifi password and make this your sanctuary for a few hours, it's one of the most chilled out work spots in Leeds.
Find out more about Wolfox here.
Santander Work Cafe
Park Row, Leeds city centre | Open from 9am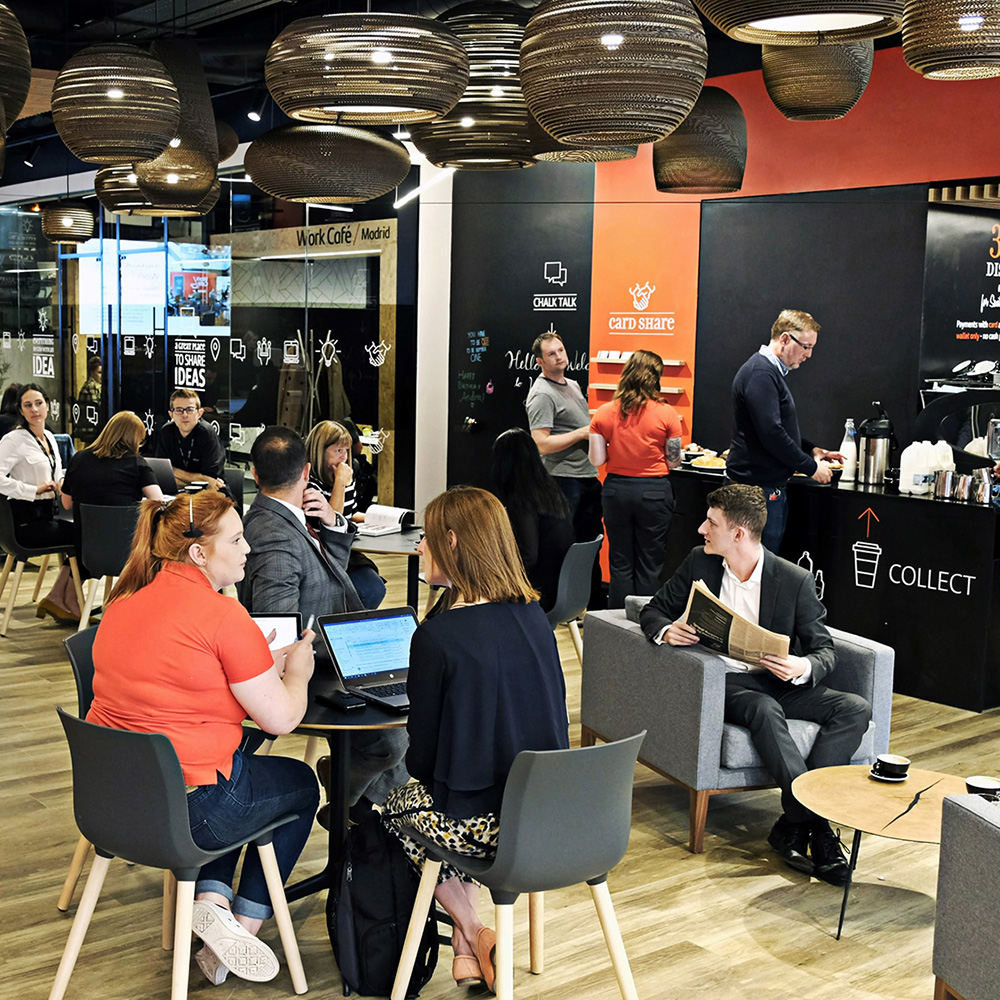 Take advantage of: 30% off sustainable coffee for Santander card holders
This one is made for corporate meetings and those that need a professional work space to show your clients. The space boasts free co-working desks and bookable meeting rooms, fibre-optic Wi-Fi, events and digital banking facilities. This is all complemented by sustainably-sourced barista coffee- and if you're a Santander card-holders, you can grab 30% off.
Feature Image- The Hoot Leeds (Green Room)