Marks and Spencers have brought back its sell-out Snow Globe gin for shoppers ahead of the Christmas period – and they've introduced another new flavour this year too.
Let's be honest, M&S know what they're doing when it comes to top-notch food and drink – and they always pull out all the stops at Christmas time.
When they released their Snow Globe gin last year, combining a tasty gin in an attractive bottle that mimicks a snow globe when you shake it (hence the name), shoppers went absolutely wild.
Shelves were stripped of the must-have item by shoppers last Christmas, with even those who didn't like gin flocking to purchase the eye-catching bottle – leading to limits being placed on how many you could purchase in one go.
Now, we're assuming due to popular demand, the supermarket retailer has brought back the popular shake-up Snow Globes for 2021 – and they've even introduced some new flavours for this year.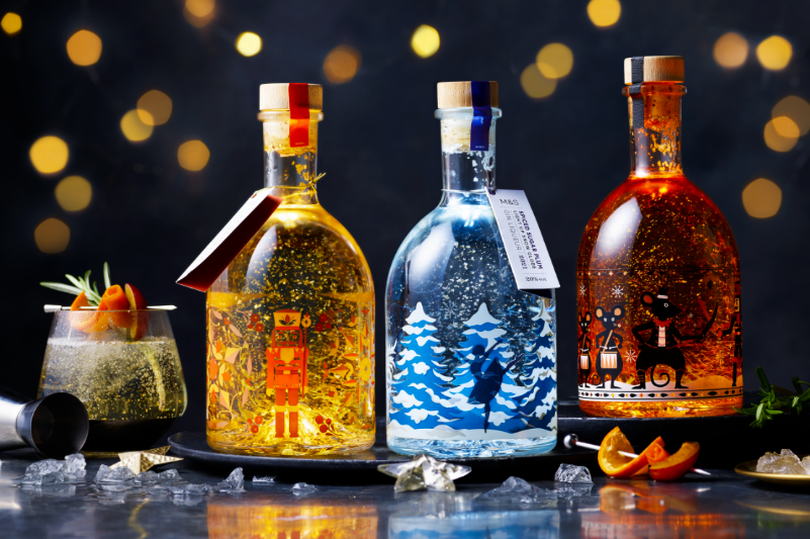 This year, shoppers can choose from two festive flavours: spiced sugar plum or clementine.
The attractive bottles are filled with glistening gin liqueur, which is then combined with 23-carat edible gold or silver leaf to create the magical 'snow globe' effect.
Priced at £20 for a 70cl bottle, due to the fact that they are liqueurs they are only around 20% ABV – much lower than a bottle of gin, which averages between 36 and 50%.
M&S has also introduced a new spiced rum liqueur with Madagascan vanilla and edible gold leaf for 2021.
The bottles also feature a new design this year, which is themed around an 'Enchanted Christmas' and depicts a magical festive scene with woodland creatures gathered in the snow around an idyllic country cottage.
Look closer, and you'll also spy a snowman, Christmas wreaths, lanterns and glowing candles, with stockings hung over the fireplace inside.
Marks and Spencers have released the bottle early to help make sure that no one misses out, but not that whilst this year's offering is available to order now, it won't be delivered to you until much closer Christmas.
Feature image – M&S.