The Black Health Initiative (BHI) have finally received their National Diversity Award win after months of postponing the event due to coronavirus-related restrictions.
The Black Health Initiative won the 2020 National Diversity Community Organisation Award for race, religion and faith in September and have only recently celebrated their win at the Polish Centre Leeds.
The team invited supporters and volunteers join them last week to formally enjoy the national recognition of their work and celebrate their community. The evening supported Leeds-based DJs and gave the BHI a chance to thank all of those involved in the programme.
The 2020 National Diversity Awards had been moved multiple times due to the pandemic and ongoing restrictions, but the ceremony was finally held in September in Liverpool.
The award recognised the dedicated support that the BHI offer the community and the organisation have now been able to celebrate their win. The team were 'truly humbled' to have their work recognised nationally and to receive an award from 60,000 nominations.
The BHI is a community engagement organisation working towards equality of access to health and social care within Leeds and the surrounding areas for disadvantaged communities.
Despite having no core funding, BHI influence positive change their their partnership with NHS trusts and foundations, cancer charities, education providers and other voluntary organisations and were praised for their ongoing support in the community.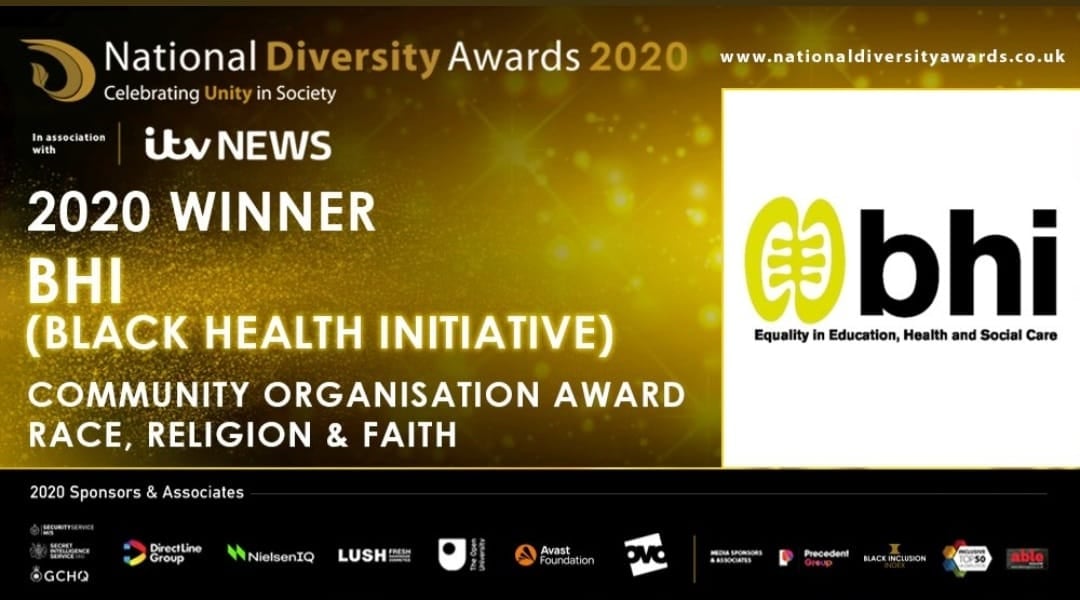 The National Diversity Award highlighted their successful work with services locally, regionally and nationally.
The awards are known to be the UK's largest diversity award show and was held in conjunction with ITV News to highlight role models and community organisations across the UK.
The National Diversity Awards 2021 shortlisted nominees have also been published, with the awards set to take place in early 2022.
Matthew Jones from Leeds Law Society is amongst the 2021 National Diversity Award nominees for his work as a positive role model in the LGBT community. His work has put the Leeds Law Society at the forefront of diversity and inclusion in the Leeds Legal Sector and nationally.
Feature Image – Black Health Init