British indie-pop kings, The 1975, shone as they brought their dazzling two-part act to the First Direct Arena on Monday night.
Returning for the first time since their iconic Leeds fest headline set in 2022, the city was pulsating with excitement to see the band take to the stage at the First Direct Arena.
If you've had an eye on social media over the past few weeks, you'll know that The 1975's recent tour performances have been nothing short of extraordinary, phenomenal and down-right bizarre.
Awaiting with baited breath to see what Matty Healy could possibly pull out the bag this time, 14,000 people held tight whilst being soothed by support act Bonnie Kemplay's soothing and dulcet tones.
The calm before the storm, as they say. But this certainly didn't last for long as bang on 8:30pm the curtain dropped and their doll house-esque, living room-like set was revealed.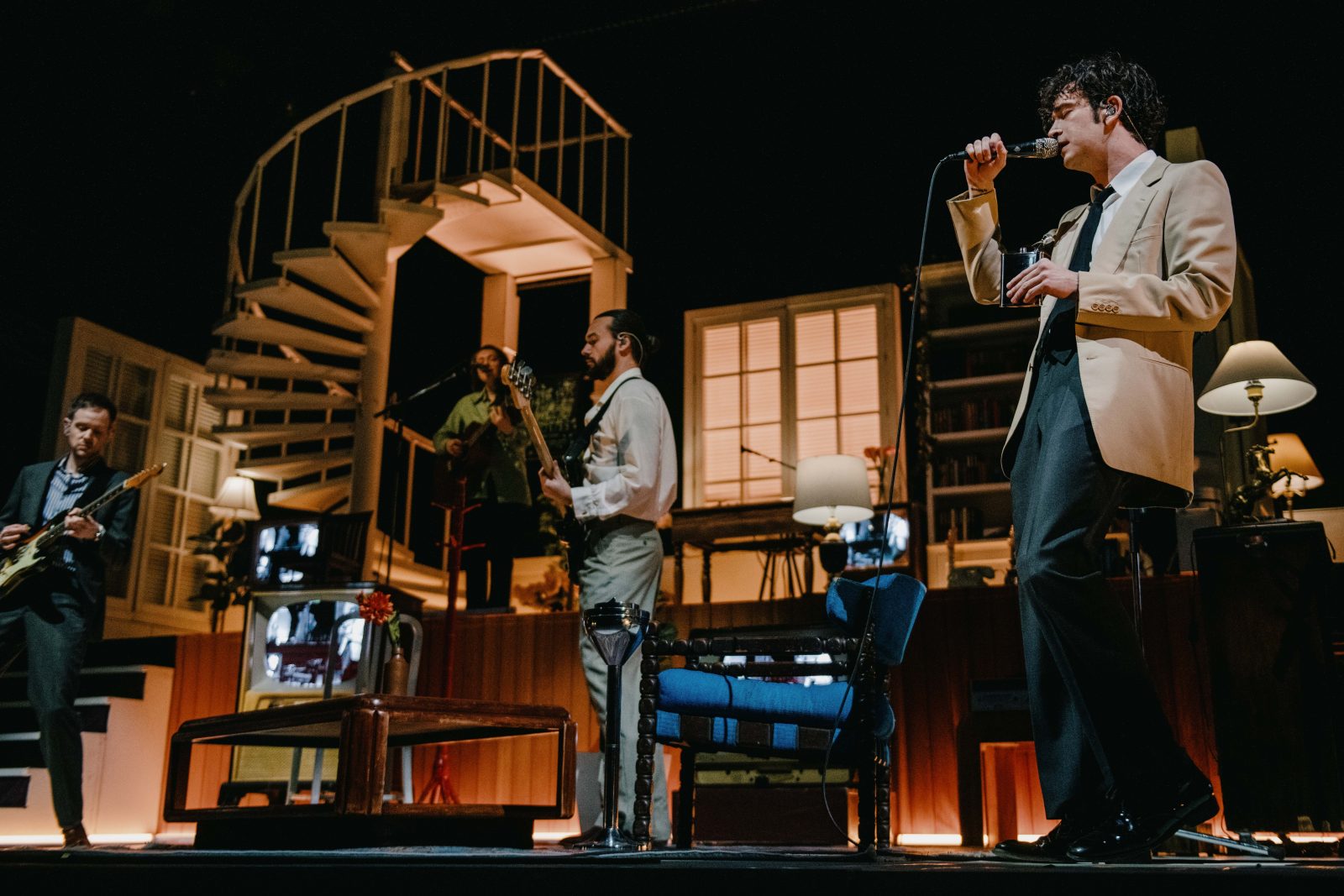 The First Act
The best way to describe the first half of their performance was 'a show-within-a-show'. Band members were triumphantly introduced with opening credits as freehand camera operators followed them across the stage once they made their entrance through various doors on stage.
Last to appear was of course frontman Matty Healy, who when came on the stage a girl heroically shouted 'Daddy!' which caused ripples of laughter in the crowd. This most certainly set the precedent for the evening.
The first act showcased material mostly from the band's new album, Being Funny in a Foreign Language, in a conceptual show-within-a-show concept which was designed to test the boundaries of what a 'pop' show should be.
Healy played the role of a drunk, misunderstood artist – stumbling around the stage, loose hipped and bendy, swigging from a bottle of red wine and chain smoking camel cigarettes.
The controversial yet loveable rockstar floats around the stage clad with mid-century furniture, clutching onto anything he can to steady himself as he spearheads crowd pleasers such as Oh Caroline and I'm in Love With You.
Then it all started to get a bit weird. One by one band members disappeared, Ross Macdonald the guitarist kissing Healy on the head before he departs.
Matty then sensually unbuttoned his shirt, softly caressed his body before thrusting his crotch directly into a camera lense. He then got on his knees, savagely ate a raw piece of steak, did some press-ups whilst grunting and then climbed into a TV screen.
This was supposedly meant to be a comment on masculinity, I'm not sure the audience immediately understood it but we definitely enjoyed it.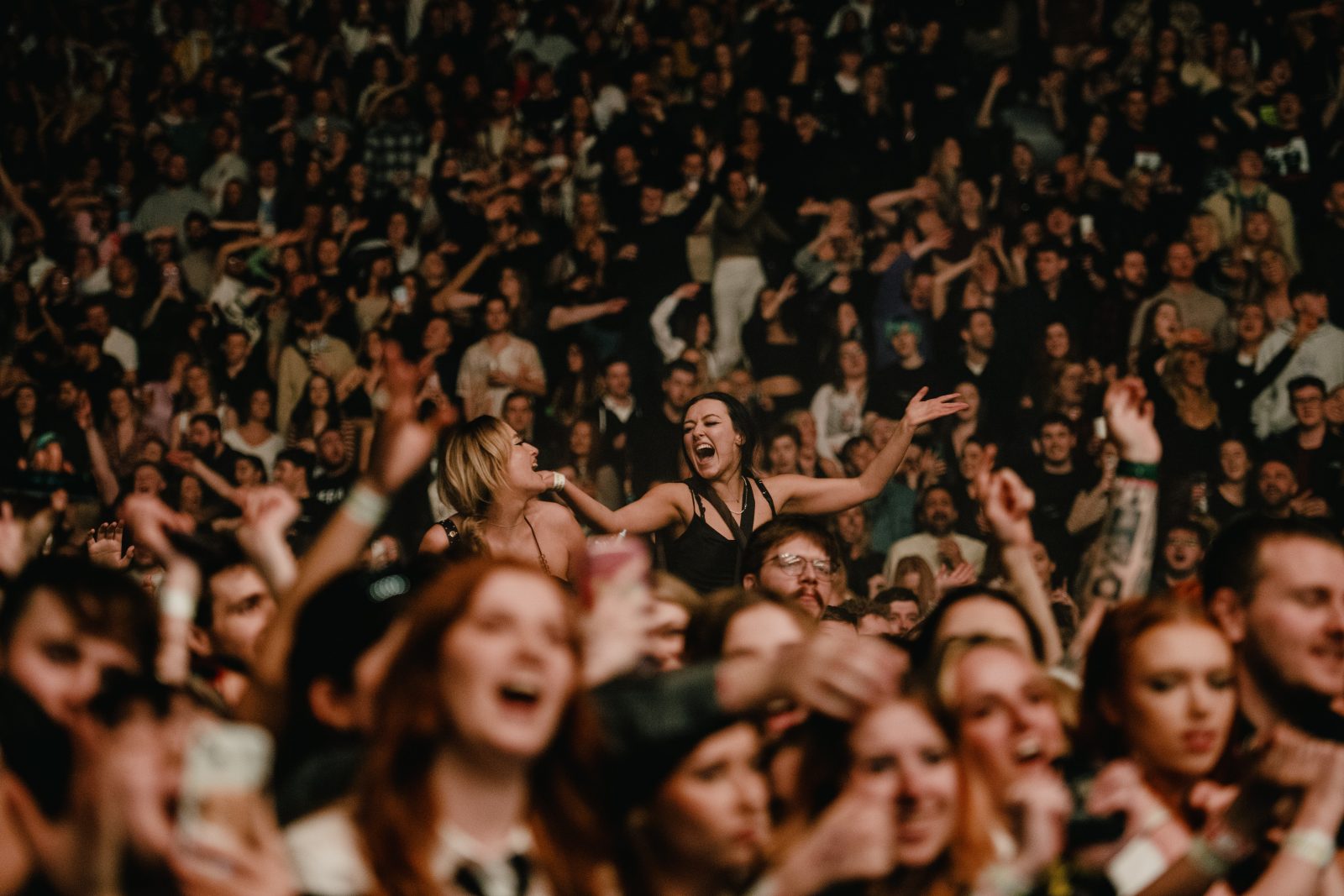 The Second Act
Then, following the meat eating and the TV entering, the band return to the stage for what felt like a tsunami to the senses. "Cut all the joker nonsense now, how's everyone feeling, you alright?" Matty says, for the first time directly addressing us.
Here the crowd erupt into a 'Yorkshire, Yorkshire' chant, Healy rolling his eyes before exclaiming "Come on, get it out of your system now before I have to autotune it".
What followed was a dazzling performance of their best hits, the shimmying If You're Too Shy (Let Me Know) and the toe-tapping, life-affirming The Sound had the crowd jumping up and down, in-awe of the controversial yet loveable heartthrob in front of them.
A small interval saw Healy talk about democracy and ask the people of Leeds to choose their next song, asking us to cheer for which we wanted to hear. This resulted in Paris, and as Healy got changed into an undone, almost pyjama-like blue shirt he grasped a bunch of roses flung onto the stage.
Clutching these in the same hand as his microphone, his floppy hair covering his eyes, the frontman was perfectly executing the indie-boy persona we all know (and love) him for.
Towards the end the band played Love it if We Made It, Healy turned his back to us and faced his bandmates, arms stretched out wide, eyes closed and head up. This felt like a moment of reflection, looking to his best friends who 20 years ago started a band in their garage to now perfectly executing a sell-out, UK stadium tour.
Letting us in on a little secret, Healy explained that their first ever gig which seated just 70 people was held at iconic Leeds venue, The Cockpit. And after a monumental and historic two hours of musical and theatrical prowess that night at the arena, we were more than happy to have welcomed them back to our city.
Read more: Fans left 'in shock' as Madonna gig ticket prices cost upwards of £400
Feature image – The Hoot Leeds
PR – Invite