There is truly nothing better than drinking a drink in the sunshine whilst enjoying a fantastic view.
A rooftop bar provides all of this and luckily for us, Leeds has loads of them.
Whether you want to dress up and treat yourself to a swanky cocktail or jam out to a DJ whilst enjoying a craft beer, there is a rooftop for you. We are counting down the days until we can leisurely hop from rooftop to rooftop, catching the rays and all of the good vibes.
As we slowly swing into summer, the sun comes out and the rooftops come into their own. So, here are our favourites around the city for you to enjoy.
Newly opened: Gusto Italian Outdoor Terrace
Greek Street, Leeds.
Located in the heart of the city on Greek Street, Gusto Italian is a firm favourite for a night filled with delicious Italian food in a beautiful setting.
Their new summer terrace opened its doors in June and has been a smash hit ever since. The spacious patio is filled with comfortable blue and white furnishings, flourishing greenery and is the perfect sun trap to enjoy a drink or two.
With Gusto supplying crispy Italian sourdough pizzas, spring-fresh salads and silky smooth pasta; the food will transport you to the cobbled streets of Rome in a heartbeat. For drinks, Grey Goose are providing the best Summer spritzes to quench your thirst in the sunshine, making the already Insta-worthy Greek Street venue the hottest spot in Leeds this Summer.
Newly opened: Green Room
Wellington Street, near Leeds Train Station.
Local breweries, plant-based street food and North Star coffee served on a huge rooftop bar- this long-awaited opening really has brought everything we love about our city and placed it on a giant rooftop terrace bar.
Serving up some of the biggest food and drink names in the city on a huge sun-trapped rooftop, Green Room is the brand-new city space with everything you need to celebrate the summer season- and it's now open for you to check out what exactly has been going on behind that green plant mural for the past few months…
Expect barbecues, live DJs and eclectic seating options where guests can unwind with a pint from a local independent brewery in one hand and a delectable choice of plant-based street food in the other, all whilst getting a tan in the summer heat.
Headrow House
Headrow House, Bramleys Yard, 19 The Headrow, Leeds.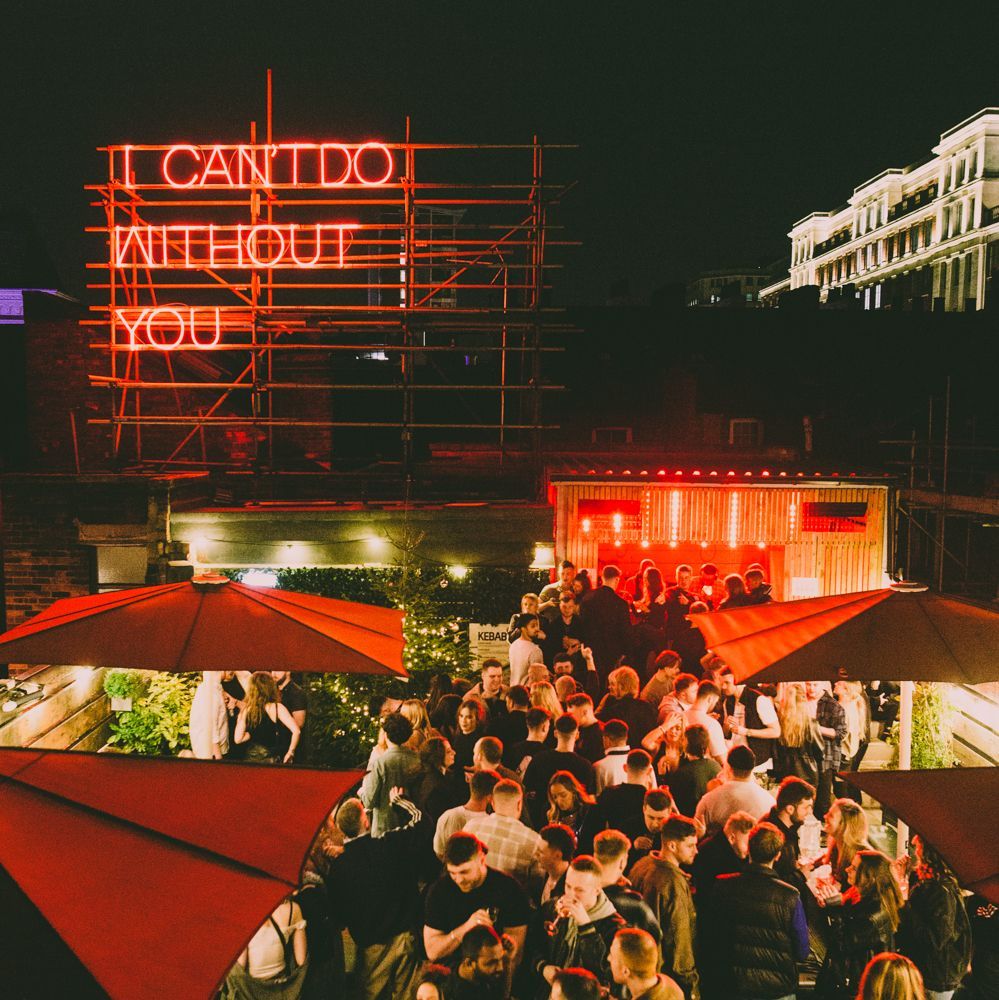 Possibly the biggest rooftop in Leeds and set over two floors, this terrace promises a fantastic night out where you'll be boogying on until the sun goes down. The first floor offers long picnic style tables, colourful parasols and overhead heaters to counteract the evening chill. The second floor has more benches surrounded by little covered huts which are perfect for when you're in a big group as they can be booked in advance.
A huge neon sign is propped up amongst the skyline which comes alive when the sun goes down, setting the scene with a reddish tint as the DJ provides groovy tunes to take you into the early hours. The drinks menu is extensive and their 2-4-1 gin goblets are a firm favourite alongside a shawarma kebab provided by neighbouring restaurant The Ox Club.
Bookings and walk-ins welcome.
Belgrave Music Hall & Canteen
Belgrave Music Hall & Canteen, 1-1a Cross Belgrave Street, Leeds.
If you like craft beer and good music, this is the rooftop for you. Belgrave's iconic rooftop is always jam packed in the Summer and it is no surprise why; the vibes are always immaculate and the drinks are ace. Kirkstall Brewery and Five Points Ale are just a taster of what's on the pumps and there's also a great cocktail menu which are well priced and mega tasty.
If you get peckish you can order some 'session loaded fries' from Patty Smith's burgers or a huge sharing pizza from Dough Boys. Both vendors are just downstairs and are a good enough reason to make a trip to Belgrave alone. Live DJs play all day and there's a real community atmosphere meaning you'll all be bopping heads and enjoying the views together.
Walk-ins only.
The Rooftop at East Parade
The Rooftop at East Parade, 10-12 Park Cross Street, Leeds.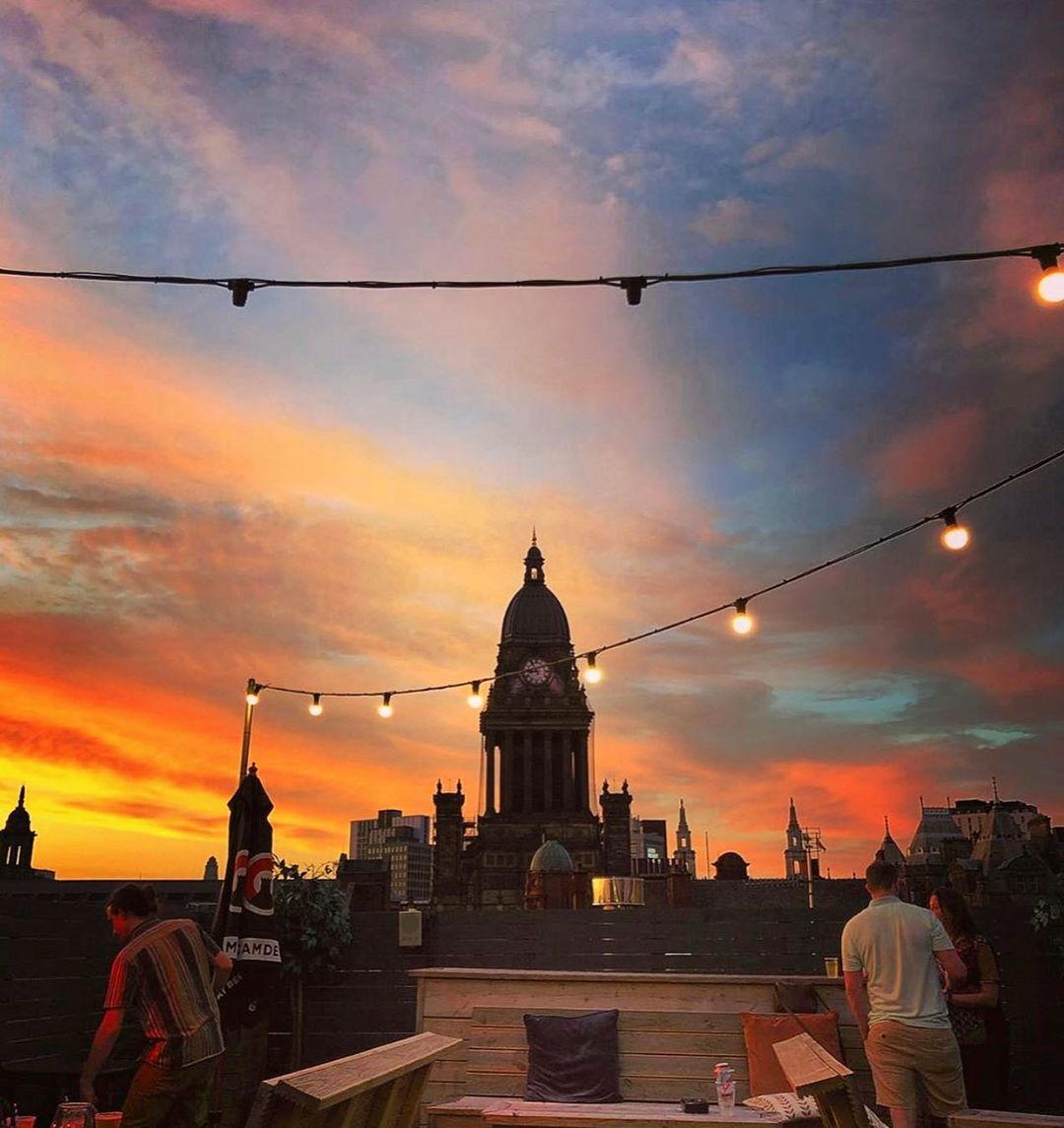 Re-opening in May and offering panoramic views of the city with sun from every angle, this is the place to be if you want to top up your tan. The space is small but in the best way possible, it feels like an exclusive club where you feel fortunate to be on the guest list. Picnic tables are covered with multi-coloured cushions and fairy lights hang overhead to illuminate your evening after the sun bids farewell.
Don't miss out this Summer, as they're only open for a certain period each year and we can guarantee it'll be a night to remember. To get in you have to find the password from their website which changes regularly, but shush don't tell anyone, as one of our best kept secret.
Walk-ins only.
Roland's
Roland's, 39 Call Lane, Leeds.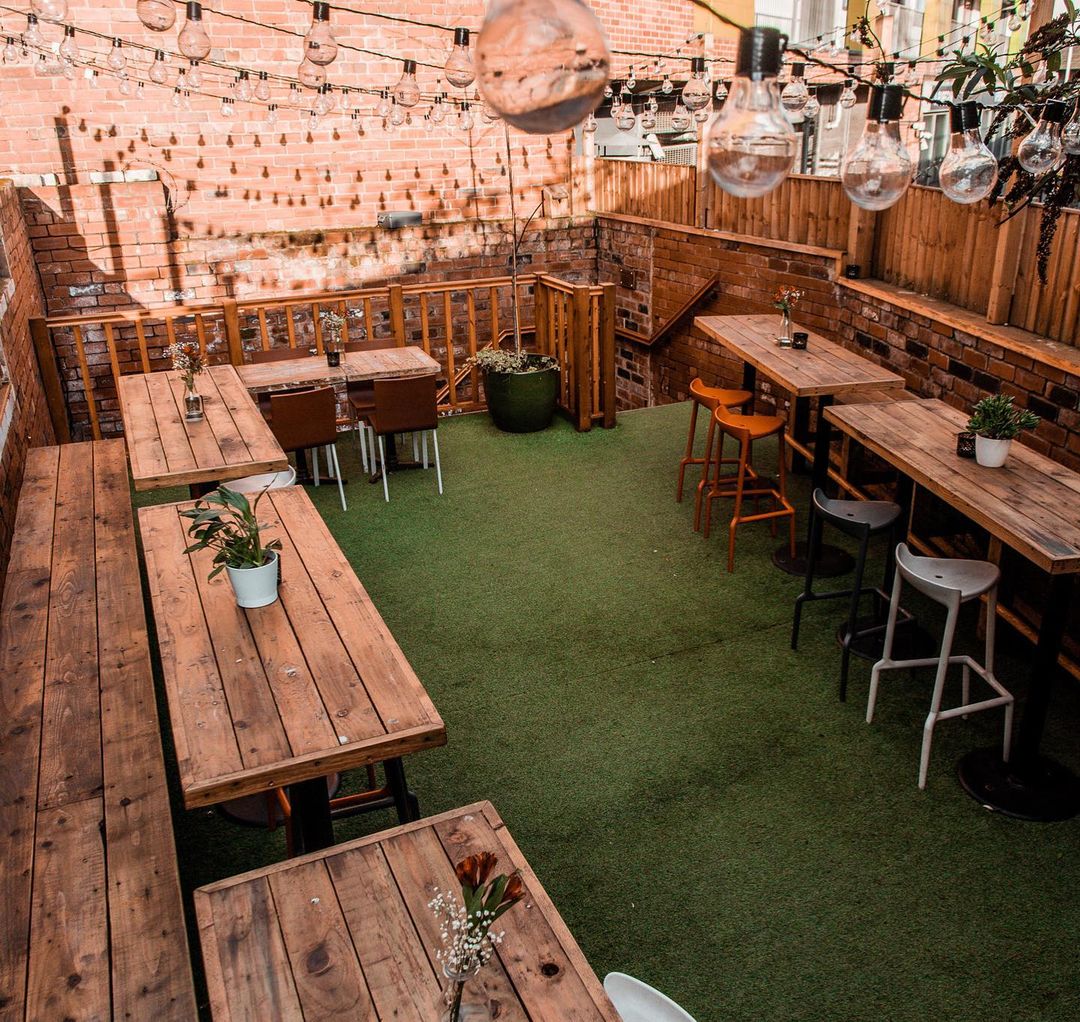 This rooftop is the true meaning of hidden gem, it's one of those 'if you know, you know' type of places. To find it, follow the staircase up from the courtyard and you'll enter a cosy little sun trap with room for about 30 people. Here you can sit on one of the high stools which line the wooden walls and watch the world go by, there's a fabulous view of the train station where you can see all the comings and goings into and out of the city.
If you're a beer lover you're spoilt for choice, but why not try one of their expertly mixed cocktails from their ever-changing seasonal menu whilst basking in the sun. Bliss.
Bookings and walk-ins welcome.
Issho
Issho, 3rd Floor Rooftop, Victoria Gate.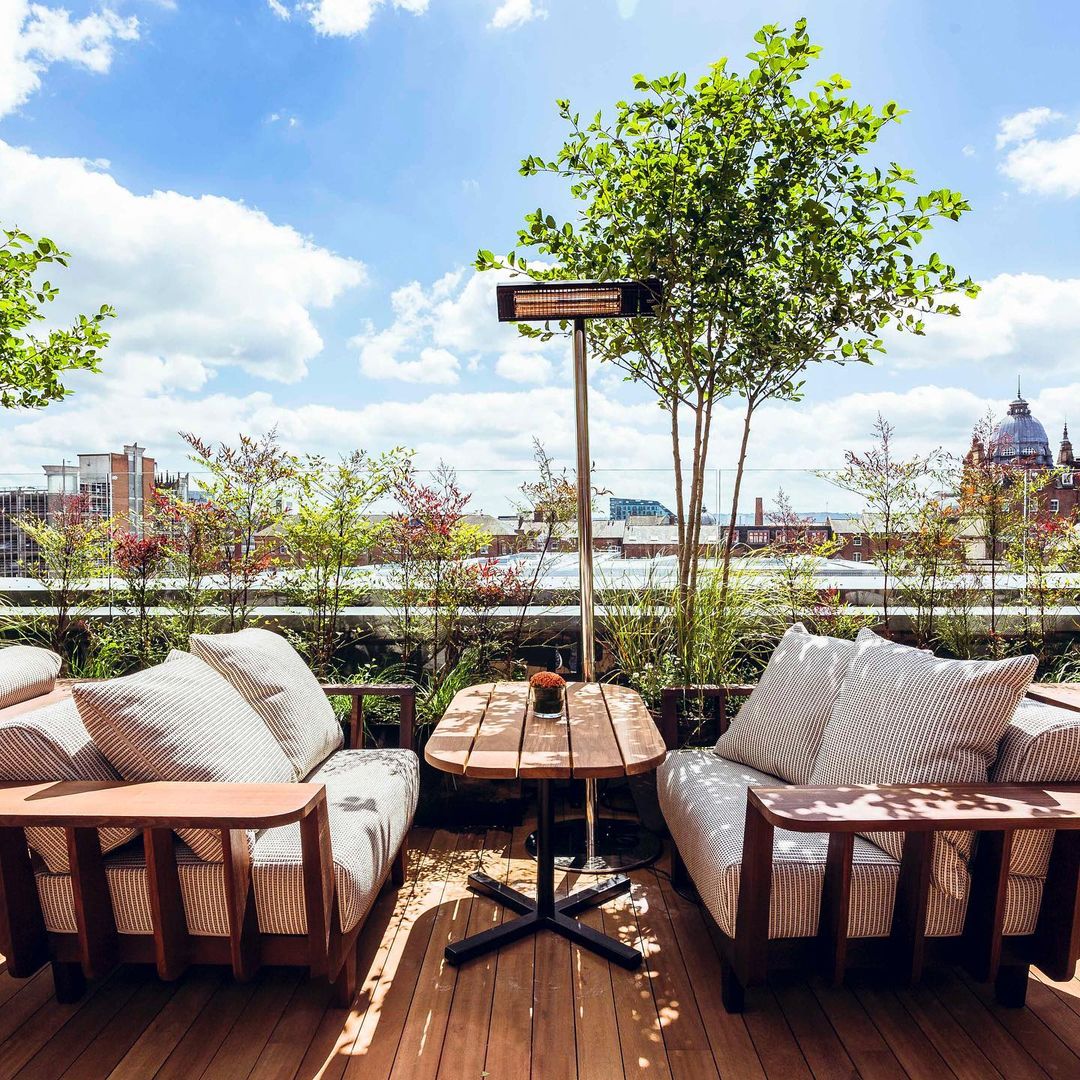 Issho, meaning 'come together' in Japanese, is a contemporary Japanese restaurant and bar located at the top of Victoria gate. Their outdoor terrace is nothing short of beautiful, with cherry blossom trees hanging over head and impressive parasols stretching over the space.
Their Japanese inspired cocktail list is exquisite and served in unique glassware with excellent service. Come for lunch and try their sushi which is made with only the freshest quality seafood, or try their pillowy bao buns filled with duck leg confit or teryaki tofu.
Bookings and walk-ins welcome.
East 59th
East 59th, Victoria Gate, George Street.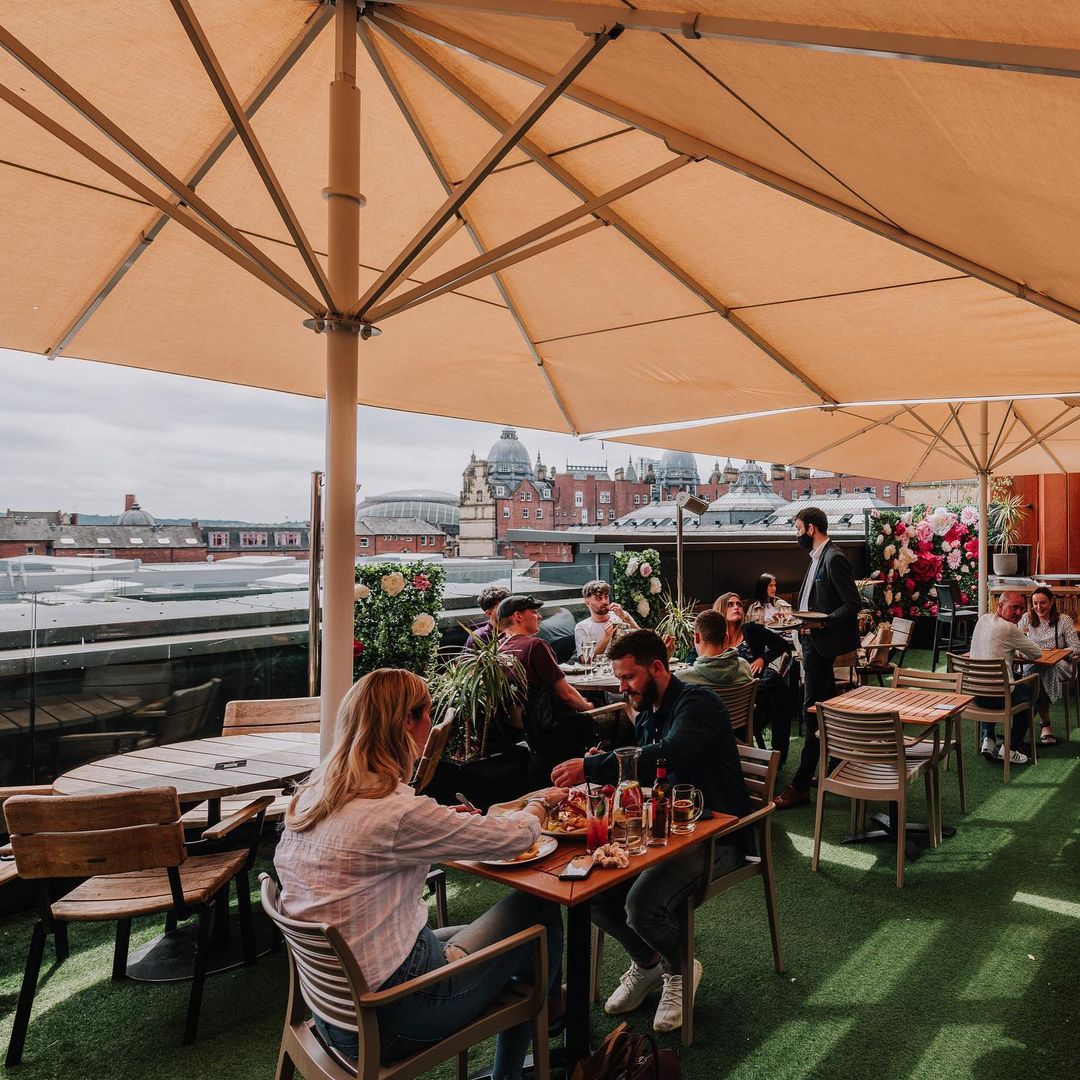 Just next door to Issho is East 59th, a New York inspired loft who specialise in show-stopping cocktails. Their signature, the '59th Fizz' is perfect for summer and is a concoction of Tanqueray gin, elderflower and apple, prosecco and topped with Blue Curaçao.
The rooftop is carpeted with astroturf, decked out with funky wooden furniture and covered with leafy green plants. They host regular DJ nights throughout the year and it really comes alive at night. So take a seat in this urban jungle, order your favourite cocktail and take it all in.
Read more: The best beer gardens to sink a pint on a sunny day in Leeds.
Bookings and walk-ins welcome.
Feature Image- Issho