There's a new diner over in Sheffield where the staff are paid to be rude to you, and – if you dare – you have permission to give it right back.
An import from the sunny climes of Down Under, it's now trying its luck up here in Yorkshire, where folk aren't exactly known for mincing their words.
Having landed in Sheffield earlier this year, with a Leeds pop-up this week, we obviously had to take a trip over to see what it's all about.
Full disclosure, if you're mild-mannered and thinking of paying them a visit, brace yourself. Even writing this down is starting to give me the shakes again. I already knew it was going to be a bit full-on, but this was an ORDEAL – like the hospitality equivalent of being hazed.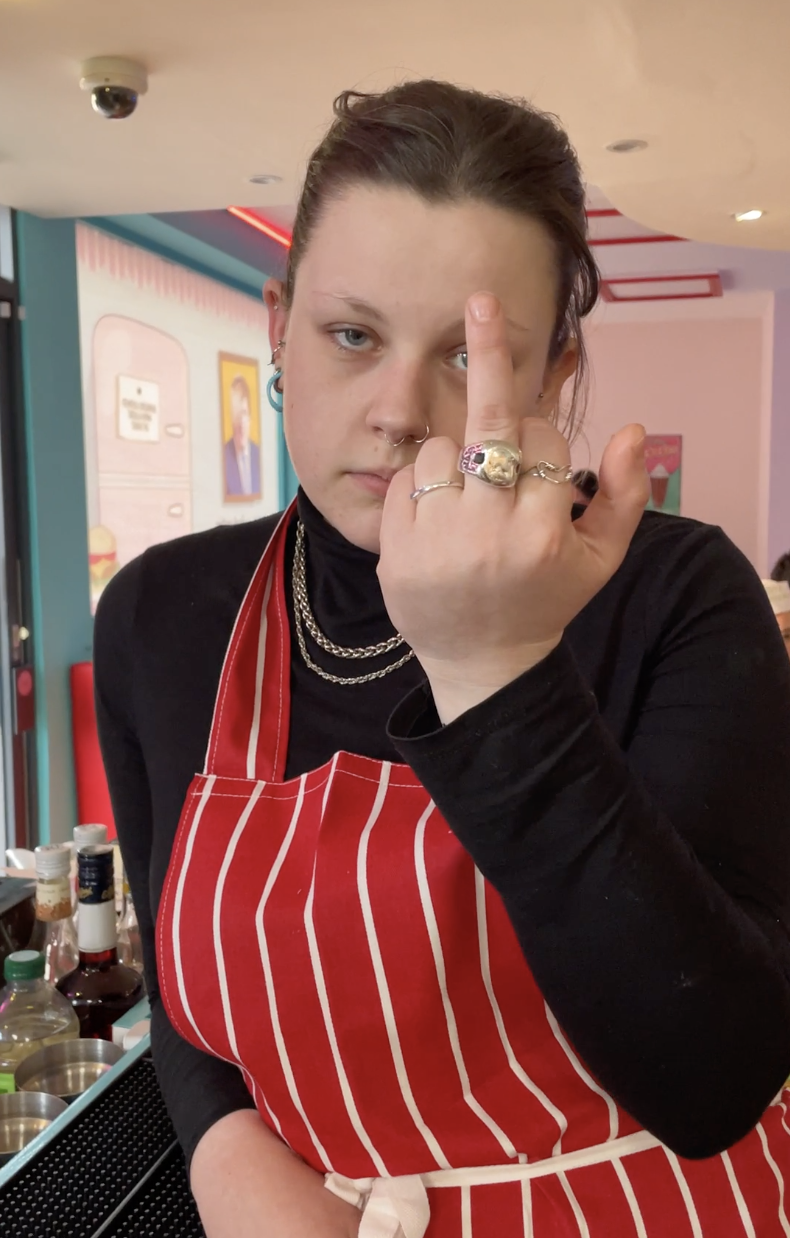 Book tickets for Karen's On Tour in Leeds here.
It was also completely hilarious. You have to laugh, really, or you'd probably cry.
'Welcomed' with hard, glaring stares, then shouted at for being late (which, to be fair, we were), we were led on a merry dance around the diner – circling tables four or five times – before the staff eventually showed us to our seats.
The diner itself looks like it's been lifted straight from 1950s America, complete with checkered black and white tiles, red and white leather booths, and vinyl records pinned to the walls.
There's a predictably diner-esque menu of burgers and fries topped with American cheese that never quite seems to melt.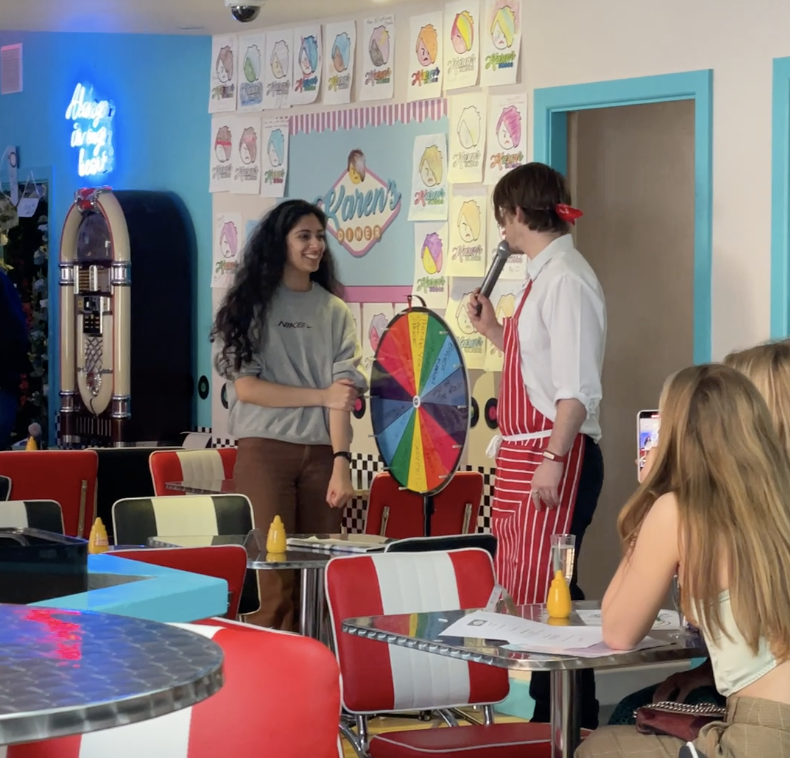 Throughout the hour we spent at Karen's Diner – one of the longest of our lives – we were routinely humiliated: forced to spin a 'wheel of shame', do a fashion catwalk through the diner, drink 'toilet shots' of swirling Kahlua and Baileys, and wear customised paper hats that read 'Vegan in Denial!' and 'Messy B*tch' (they got that last one spot on for me, it has to be said).
We're handed a colouring-in sheet and a handful of broken crayons, before our artwork is snatched away and torn to shreds before our eyes. The more talented creations – including one featuring a doodled penis – are pinned proudly to the walls.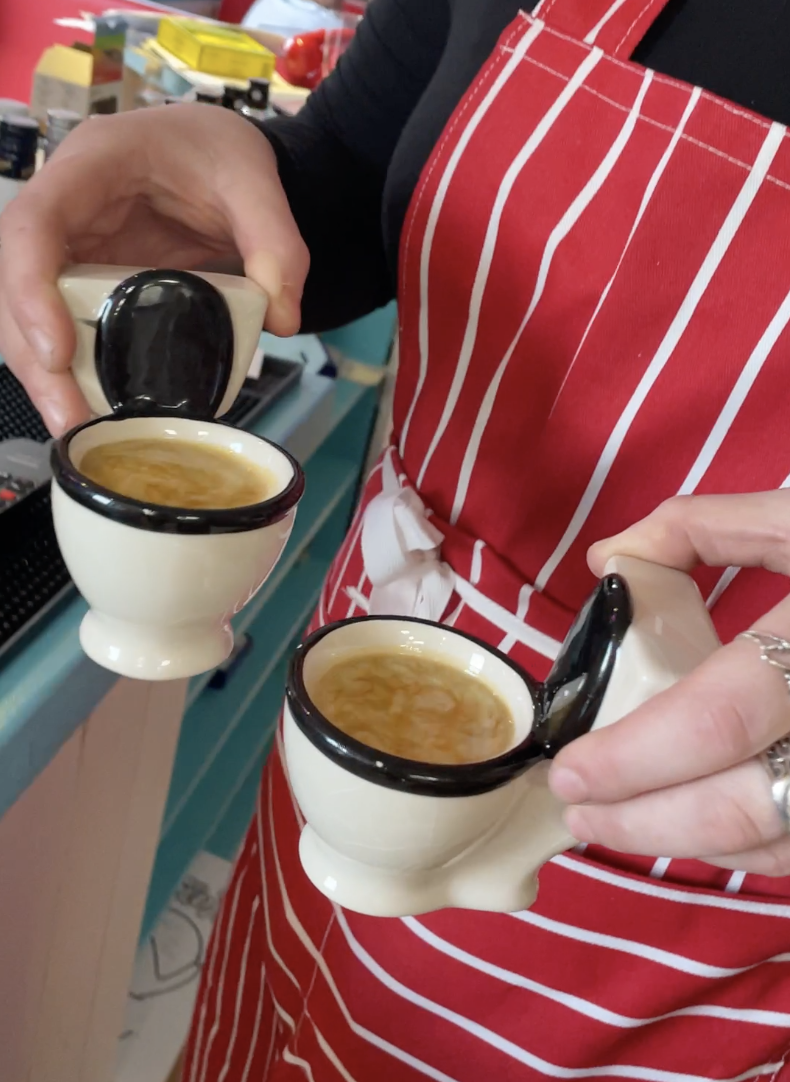 I ask for a napkin. It's brought to the table, a corner torn off, and presented with a perfect 'f*ck you' smile.
A minute later, I ask for sauce. This is intentional – I want to be annoying, I want to see what they'll do. My efforts are rewarded. The sauce arrives, along with napkins. I can't believe my luck. Sauce and napkins for this messy b*tch? Perfect.
Not so much. The sauce is unceremoniously dumped, upside down, on the aforementioned napkin, then he promptly leaves. From there, it's up to me to do what I want with it. Like any self-respecting sauce lover, I eat it off the napkin.
As an ex-hospitality worker of some ten years or so, I myself have spent many years sullenly mouthing 'f*ck off' or some other insult under my breath at an annoying customer who's taken things too far. It's just a part of the job.
What I would've done in those days to work somewhere where I was not only able to shout it at their face, but be paid for the pleasure. In that regard, Karen's Diner is a dream.
Retail workers get it, hospitality workers get it. Sometimes the customer just isn't right – and those customers, the really annoying ones, known in the industry as 'Karens', could do with a big telling-off.
Read more: Uber has launched a new travel service for pets in Leeds
Whether the people manning the tables at Karen's Diner are actors, or incredibly disgruntled hospitality staff, we're never too sure – either way, they never break character.
Every polite request of ours is greeted with a middle finger or an exaggerated eye roll, red baskets of burgers are dumped on the table with such force that all the fillings tumble out, and we're so afraid to leave our seats that we have to wait for their backs to be turned to make a dash to the loo.
This is the place to go and get it – and when you've had enough, you'll be bid farewell with a hearty 'f*ck off'.
The Sheffield branch is permanently open whilst Leeds will be getting a pop-up version of Karen's Diner as part of the 'Karen's On Tour' trip to Cargo on New Year's Eve.
Tickets start at £45 each and include a burger, side dish and unlimited drinks throughout the experience.
Running from 12pm – 9pm in 90 minute or two hour intervals, get tickets for Karen's On Tour from Karen's Diner here.
Book tickets for Karen's On Tour in Leeds here.
Featured image: The Manc Group