A Leeds bar has hit out at new Plan B rules in a furious rant that called the newly-introduced Covid measures 'ridiculous'.
Distrikt, the underground party bar in Central Arcade, hit out at the new measures in an angry social media post last night.
Following the 6pm press conference, in which the Prime Minister announced that new measures – such as working from home and Covid passports – would be introduced from next week, the bar shared a post to its Facebook and Instagram channels that said it would not "Implement any new ridiculous rules".
Adding that the rules cause "anything other than disruption", the bar went on to confirm that all bookings will go ahead and "life will not change."
"Boris is a nonce", they concluded.
Clearly, feelings were running high – hospitality always seems to be the first to get hit when new restrictions come into place.
Screenshotting the furious Facebook post to Instagram, District went on to explain to their followers in the caption that as they are a 200 capacity bar, Covid passes will not be required to enter as this new rule only applies to 500+ capacity venues.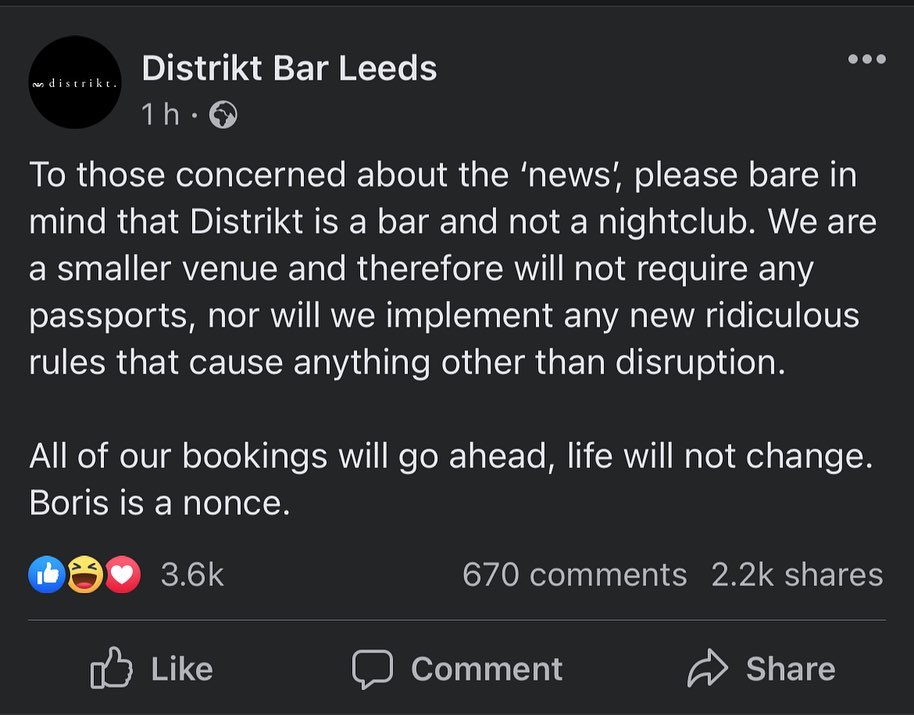 They also asked customers to respect people who choose to wear a mask in the venue, saying that this is a "personal choice" and that people should "feel free".
The bar also encouraged people to "be responsible" and take a lateral flow test before attending, asking guests to "not turn up if you are feeling unwell".
The post on Facebook has been liked over 16,000 times at the time of writing and received over 3,000 comments.
In full it reads: "To those concerned about the 'news', please bare in mind that District is a bar and not a nightclub. We are a smaller venue and therefore will not require any passports, nor will we implement any new ridiculous rules that cause anything other than disruption. 
"All of our bookings will go ahead, life will not change, Boris is a nonce."
People have been quick to applaud the bar for its message, with one commenting: "Absolutely! Bravo Distrikt lets hope the rest of LEEDS nightlife follows!"
Another said, "I've never been but this will be my local now".
A third added, "I've never attended, nor heard of your bar but for this status update alone, you have gained a new follower and I will travel to Leeds and pop by for drinks with the misses."
Feature image – Distrikt