The news has been out for a few months that POCO Sicilian is coming to Leeds city centre – but now all we need to do is count down the days.
The team have just announced the new location of POCO Sicilian Street Food – and us based in the city centre are in for a treat.
Opening on Friday 9 June, the much-loved Italian street food venue will be taking over a kiosk spot on Lands Lane in Leeds city centre.
Located slap bang in the heart of the city, the new POCO will take over the former Yorkshire Bank unit and bringing copious amounts of pizza al taglio to the masses in the process.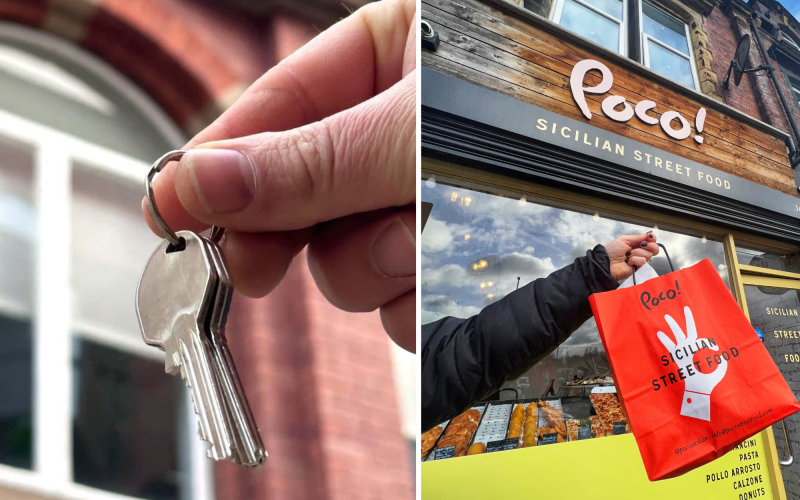 The team never fail to have a huge selection of eat, including pizza slices with flavours that change by the day: the vegan slice with mushrooms, peppers and copious amounts of spinach is a standout favourite, but there's everything from ham and potato slices to fennel sausage to choose from.
⁠
The menu doesn't stop there, choose from lasagna, chicken and salads, calzone stuffed with ham or tomato and loads of cheese and some of the best arancini in the city (there, we said it).⁠
⁠
Those with a sweet tooth will love the bombolones: soft and fluffy Italian donuts with creamy icing and custard running through the middle – but that's not all. Be sure to check out the cannoli or marzipan shapes on offer too.⁠
With two sites in Headingley and Kirkstall, foodies flocking to the suburbs for quite some time now- but now there's going to be another spot to grab your slice of authentic Sicilian treats.
The team announced the news with the following statement:
"Poco Leeds City Centre Opening Party. We have the date, guys!
"FRIDAY, JUNE 9th, from 12PM until 2PM (or until we run out of food so you better hurry!) 24a Lands Lane, Leeds City Centre, LS1 6LB
"Come say hi, meet the team, check out our brand new kiosk and enjoy all your Poco favourites ON THE HOUSE!
"That's your Friday lunch sorted (we will be serving a cheeky Prosecco too – it's Friday, after all)
"So guys please find a minute in your busy schedule this Friday lunchtime and come see us in the city centre. And tell your friends about the opening too. We really need all your support
"After the party on Friday, we are planing to open for business from Saturday June 10th, working hours to be confirmed.
"The first week will be a soft opening as we still need to finish off some bits. So, please bear with us, we are nearly there!
"And see you all (hopefully) this Friday, June 9th for the Opening Party!
"Lots of love, Poco Team
Read More:
We can't wait to see you soon POCO!
Feature Image – POCO Sicilian