How are you showing your gratitude this Mother's Day?
Our parental figures, be it a mum that's biological, step, adopted or honorary, deserve to be treated way more than once a year. Whether they pick up the phone and let you chat on for hours, drink wine with you or just are always there when you need them the most: they really are superheroes in their own right.
From changing nappies to helping you navigate the adult world, Mother's Day is about celebrating all that these figures have done, and continue to do for us. One of our favourite ways to show our appreciation for our mother figures is to take them out for some lunch or find a quaint spot in the city centre to catch up over a drink or two, but there really are limitless ways to show your appreciation- starting with a thoughtful card and if in doubt, say it with food.
We've rounded up our favourite places to visit this Mother's Day to help you find all the places you could want to visit with yours.
Say it with soul: Revs de Cuba's Casa Del Alma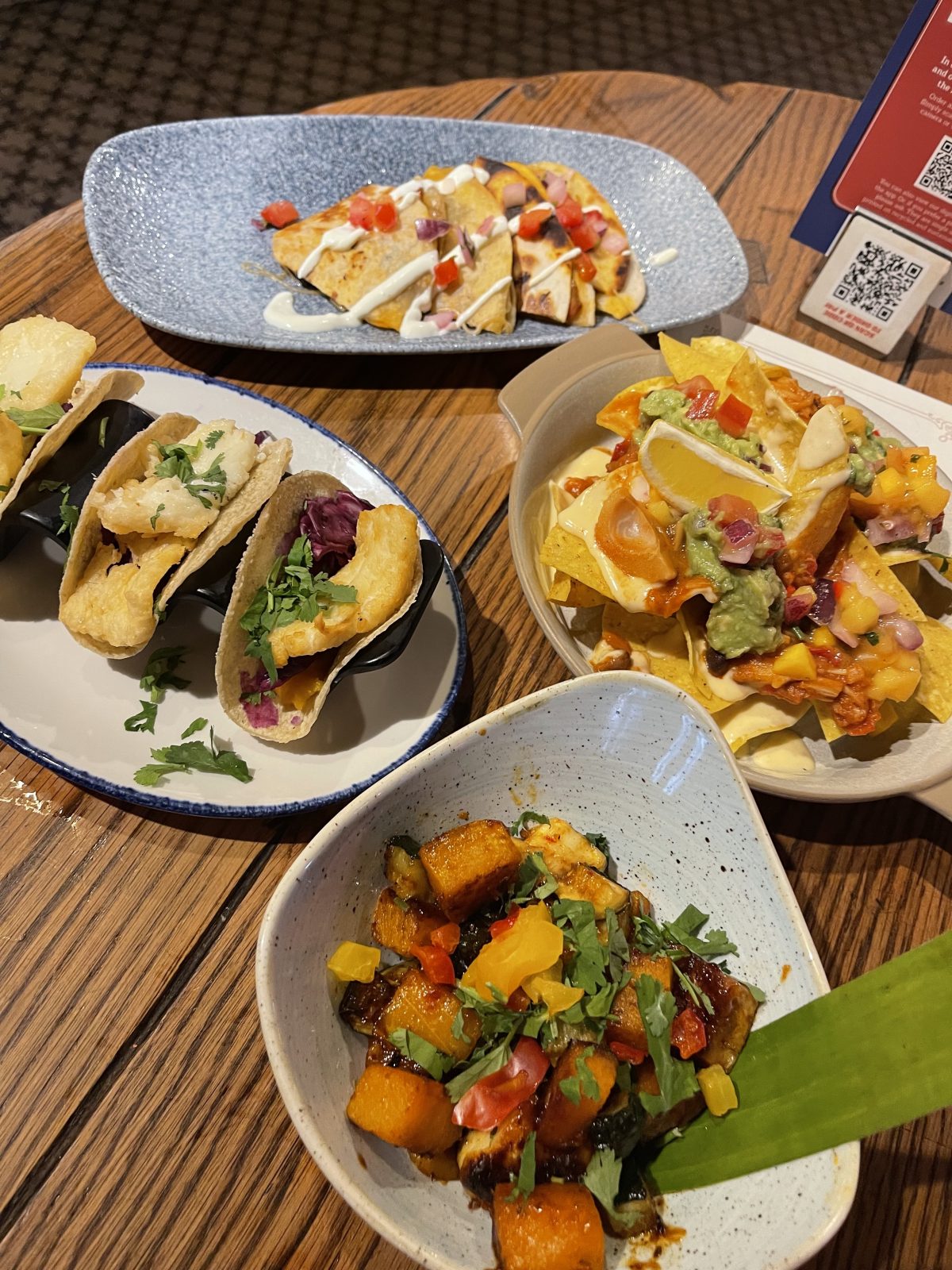 Meaning 'House of Soul', Revolución de Cuba has an afternoon filled with singing, laughter and bottomless booze every last Sunday of the month and Mother's Day is no different. Serenading your brunch is the New Freedom Gospel Choice, a seven-piece-choir that transform classic pop tunes from all decades into a gospel-style set of harmony.
Running from 2pm – 6pm, the two-hour bottomless sitting provides a feel-good experience for all ages with unlimited cocktails like Aperol Spritz, Strawberry Daquiris and Bloody Marys, as well as pints of Mahou and glasses of Prosecco, as well as a delicious Latin-inspired brunch dish like the Rev's Breakfast Burrito. If a bottomless isn't your ideal drinking experience, but you don't want to miss out on the incredible live performances, there's 2-4-1 on cocktails, coffee and tapas offers all day (and night) to take full advantage of too.
Sunday 27 March 2022, 2pm – 6pm. Find out more here.
Say it with (free) dinner: Manahatta
This Mother's Day, Manahatta are covering the cost of your mama's meal and mum's the word. Just use code LOVEMUM when booking at her meal will automatically be taken off the bill.
The bar chain is already well known around the city for its bustling ambience, holding a reputation for being a favourite amongst those seeking an escape from the 9-5 and a refreshing menu of food and drink, so naturally their updated spring menu is no exception to this. Their updated selection of small plates includes the Mojo Cod Tacos, topped with salsa verde, mojo sauce and crunchy slaw and the Beet 'n' Goat Bruschetta, as well as steak frites, bagels galore and a huge Empire State chicken stack.
Sunday 27 March 2022, all day. Find out more here.
Say it with (free) flowers: The Leeds Deli's Lunch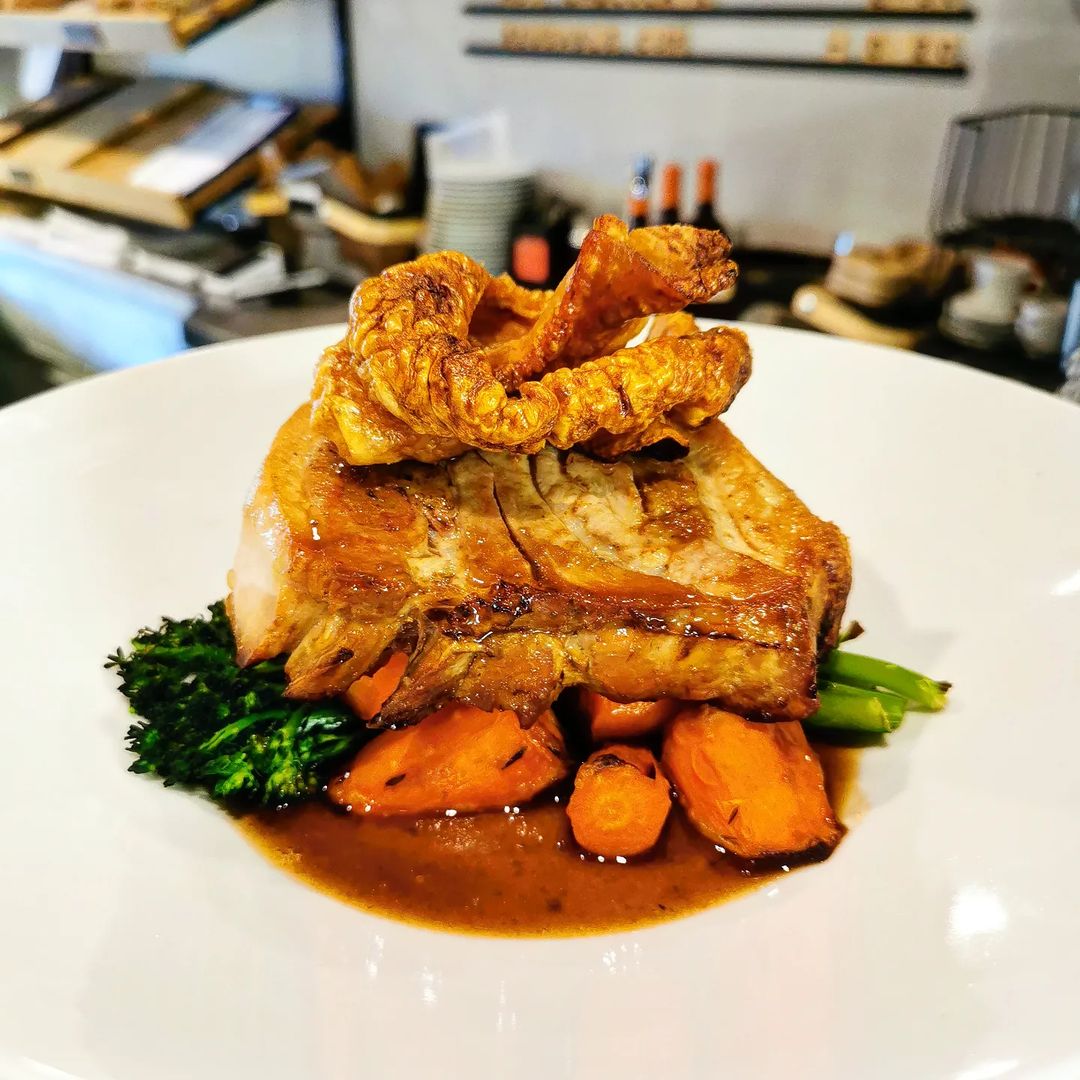 There's a full three-course lunch on offer at The Leeds Deli this Mother's Day and we reckon this will be one of the most genuine, thoughtful experiences available. The Leeds Deli is run by a family that understand the importance of Mothering Sunday and what its like to have young children, so this is going to be an experience for the little ones and grown ups to enjoy at either 12-2pm or 2.30 – 4.30pm sittings.
Each mum will receive a bunch of flowers from House of Bloom Floral and a complementary glass of fizz, and all in attendance will have the choice of three different starters, mains and desserts. The drool-worthy menu includes roasted porchetta with heritage Chantenay carrots, an asparagus, brie and honey tart; chicken, wensleydale and proscuitto terrine; lemon meringue pots; sticky toffee puds and more.
Sunday 27 March 2022, 12 – 2pm or 2.30 – 4.30pm. Find out more here.
Read More: This Leeds Deli is running the most Instagrammable mum's club- and it's on an important mission
Say it with (free) wine: The Adelphi's Sunday Roast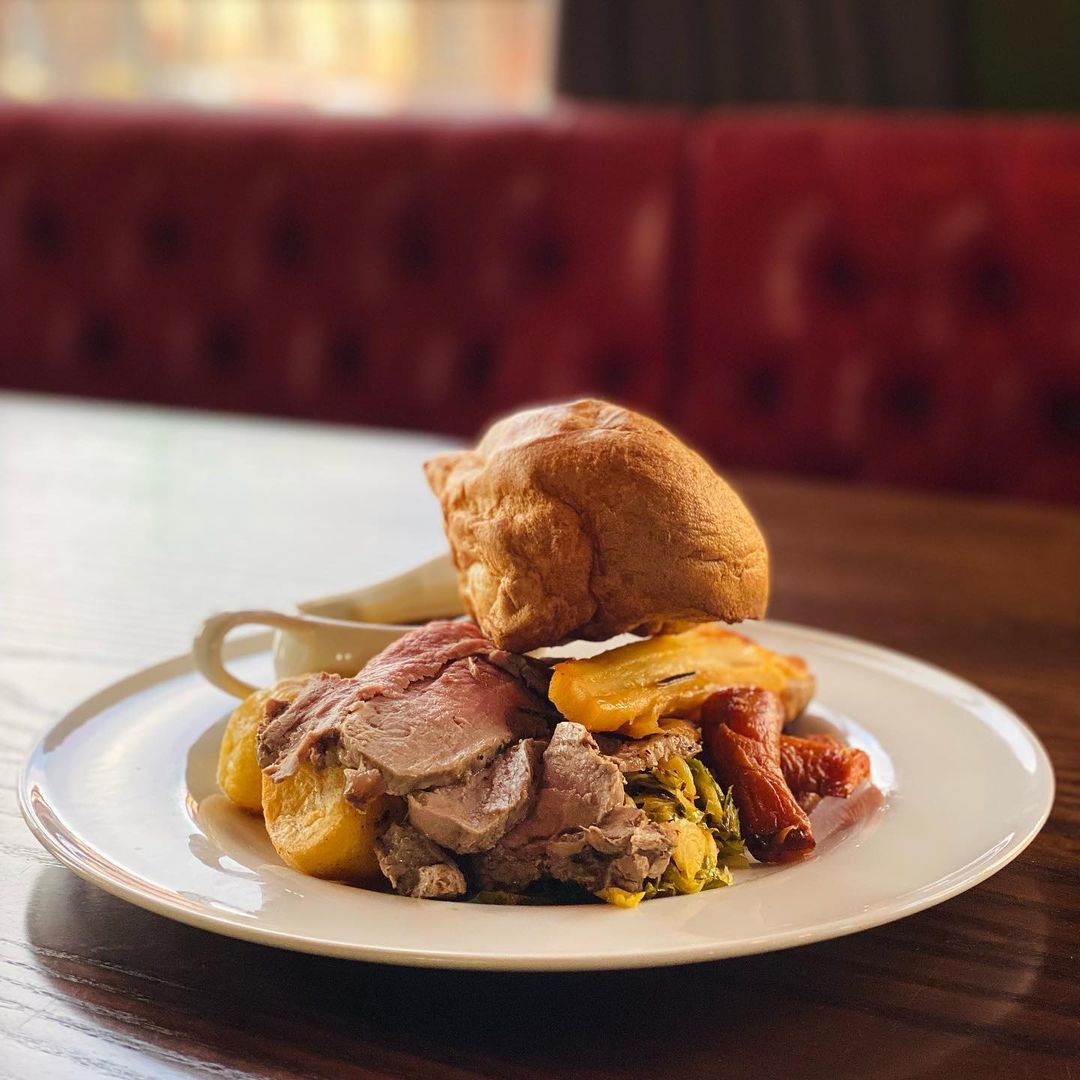 Raise a glass to your mama at The Adelphi on Mothering Sunday and tuck into one of the most delicious roast dinners around. There's a complementary glass of Ridgeview Cavendish Brut or gorgeous English wine on offer for every mum in attendance and a choice of 21-day-aged sirloin of beef, half-roast chicken or nut roast to choose from. Served with either veggie gravy or red wine jus, there's also year-round pigs in blankets, cauliflower cheese, ruffled thyme-roasted spuds and Yorkshire puds on the menu too.
Sunday 27 March 2022 (and every other Sunday), 11am – 10pm. Find out more here.
Say it with brownies: The Savvy Baker X Poppy's Potting Shed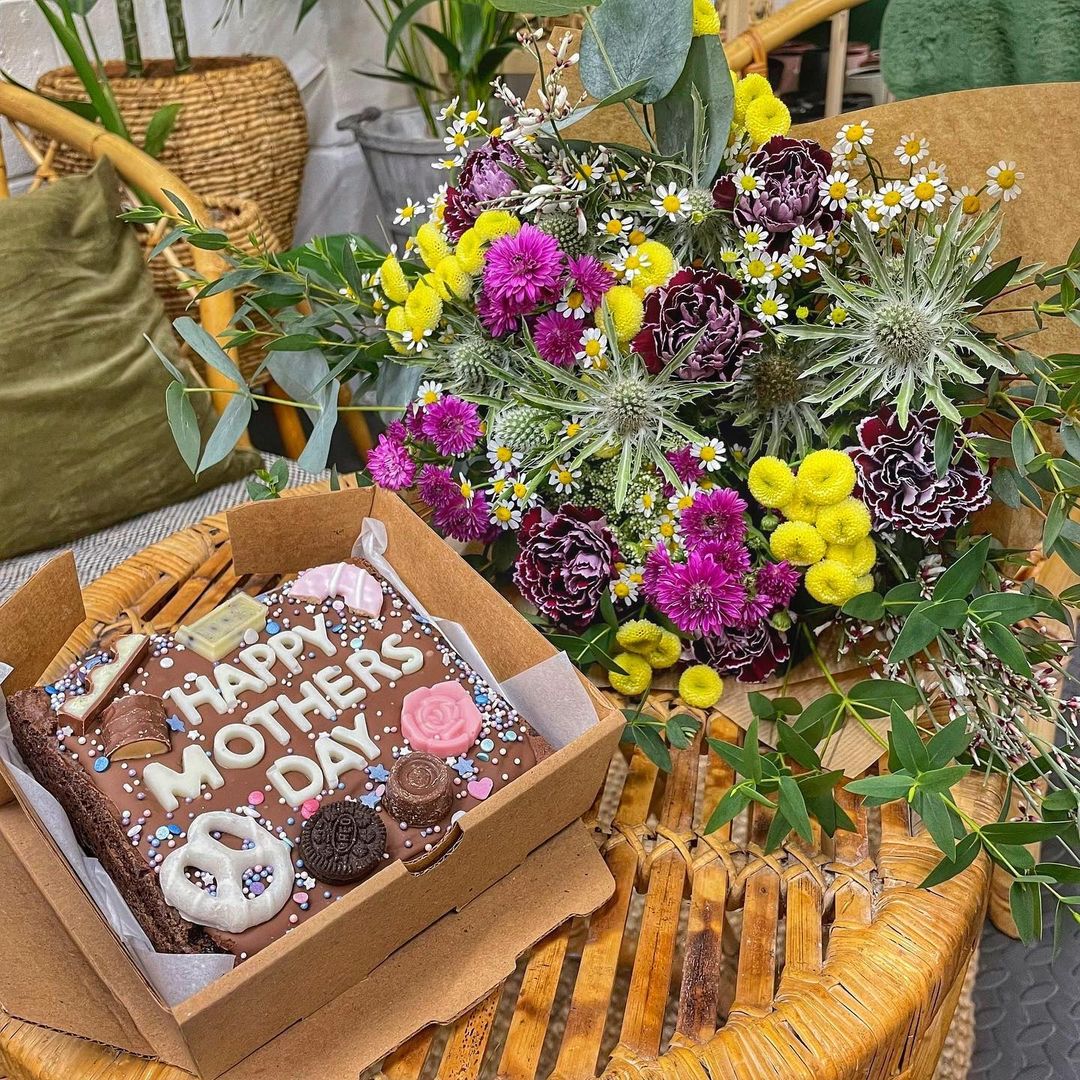 Brownies and bouquets: name a better combination for any special occasion. Two of our favourite indie businesses, The Savvy Baker and Poppy's Potting Shed have joined forces to bring the best Mother's Day package, all in one place.
Order one of the slabs online from The Savvy Baker, with adorable messages like 'Love You Mum', 'Baby Mama' or 'Nana / Grandma' and then you have the option to include a Spring Meadow bouquet in either small, medium or large to your order. Collection from Poppy's Potting Shed is available all weekend long too, so you have no excuse not to ditch the supermarkets and support some independents this year.
Saturday 26 – Sunday 27 March 2022, 11am – 4pm. Find out more here.
Say it with a weekend away: Thorpe Park's Spa Break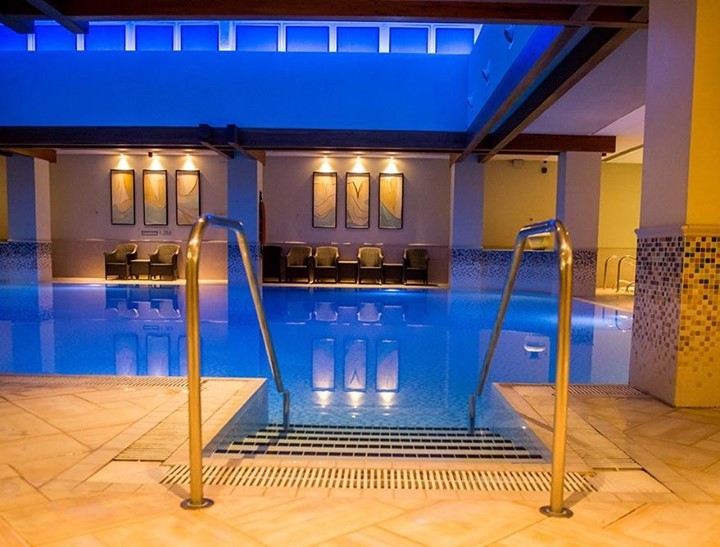 If you ever wanted an excuse to fit in a full weekend away for quality time with your mum, this extravagant offer is to be taken advantage of. This Mother's Day weekend, guests can expect a bottle of chilled house Champagne and two Caudalie Gift Bags in your twin room when you arrive, dinner in their Rosette-awarded restaurant, a £30 per person per night food allowance, a full English breakfast on both days and 10% off all pre-booked treatments- this really is the ultimate pampering experience.
Book for either one or two nights and each come with a lie-in and check out time of 11am to give you enough time to catch up on absolutely everything there is to talk about. Plus, Thorpe Park Hotel still very much in the Leeds area (LS15) so you can have all the advantages of a spa weekend without having to drive to neighbouring cities like Harrogate or York.
Friday 25 – Sunday 27 March 2022. Find out more here.
Say it on Saturday: Issho's Japanese Afternoon Tea X Bottomless Brunch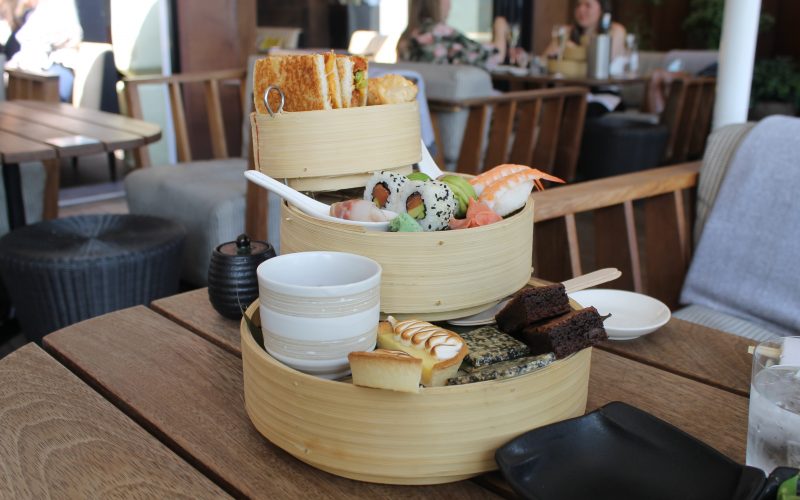 Looking for something a little different than the usual afternoon tea? Putting an Asian twist on the classic English afternoon pastime, the contemporary rooftop restaurant in Victoria Gate elevates the typical cucumber sandwiches and scone offering – switching in sushi, gyoza and delicate sandos in their place and it's perfect for Mother's Day.
Offering ninety minutes of free-flowing prosecco alongside its Japanese-style afternoon tea, swanky Leeds restaurant Issho's offer is up there with some of the best bottomless deals we've seen in the city. For £47.50, you'll enjoy unlimited prosecco as you tuck into a host of delicate Japanese finger-food treats. The selection here is split into three: spanning sushi, savoury and sweet, and also includes a selection of fine Japanese and English teas.
Saturday 26 March 2022 (and every Friday and Saturday),12 pm – 2:45 pm. Find out more here.
Feature Image- The Savvy Baker X Poppy's Potting Shed