Nestled in the Corn Exchange you will find Bruschetta – a delightful coffee shop and eatery serving up the most innovative brunch dishes in the city. 
The Corn Exchange on Call Lane is home to some brilliant independent cafes and boutiques which showcase the creativity and fantastic community spirit of Leeds. Cosy coffee shop and cafe 'Bruschetta' is no exception.
Nestled in the magnificence of the Corn Exchange's gothic interior, the atmosphere is light and airy, making it the perfect spot for a brunch with friends or mid-week meeting.
French and Algerian roots run through their menu at Bruschetta, so you'd be challenged to find anything like it in the city.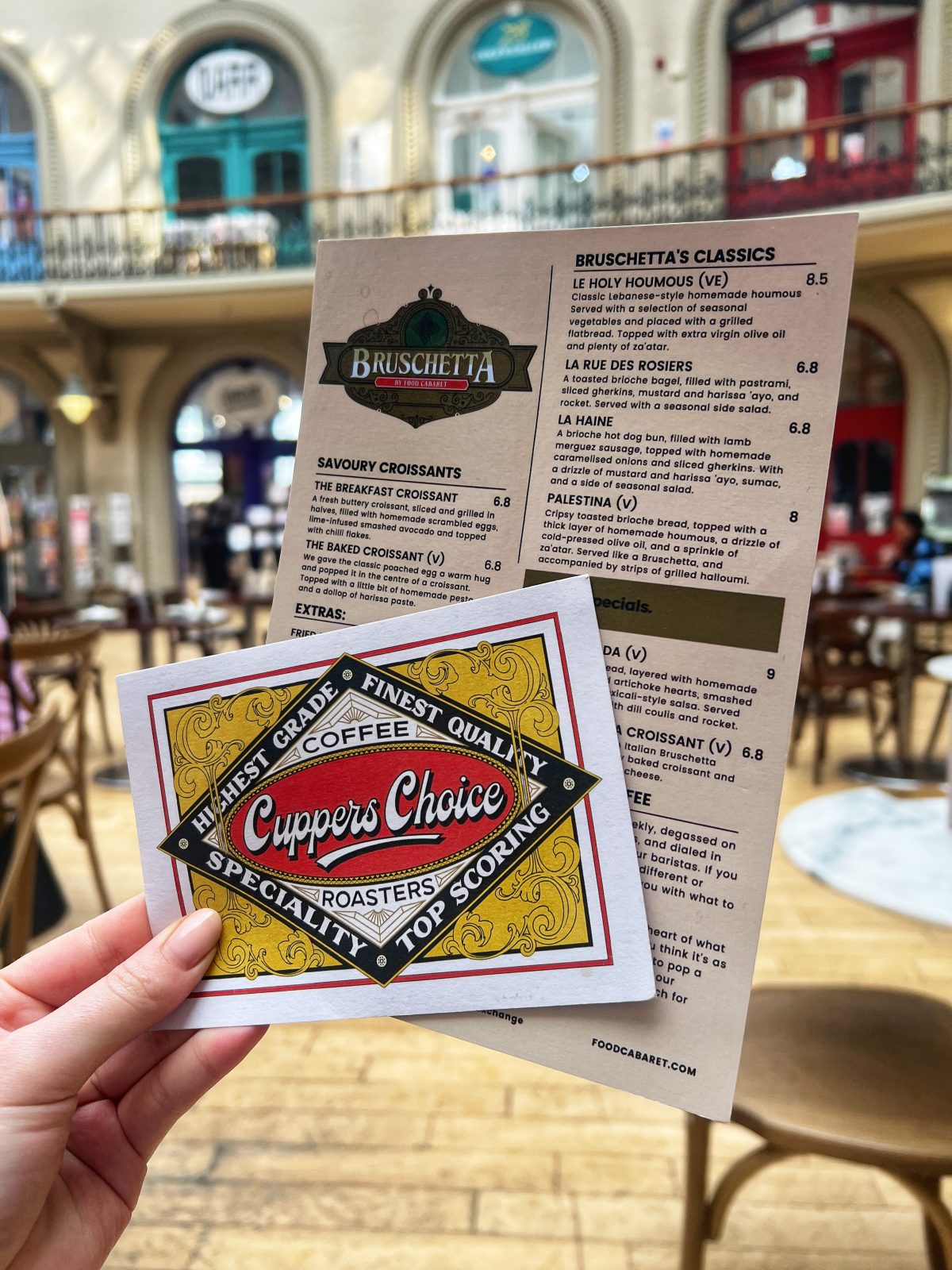 Their new summer menu is jam-packed with affordable plates that are perfect for any time of day and the cake cabinet is filled with delicious sweet treats from local bakeries.
Complete with speciality coffee and freshly squeezed juices – Bruschetta do it all and they do it well. 
All of the dishes are made with local ingredients and you can really tell. We started with two freshly pressed juices from their daily juice menu – the Turmeric, Orange and Carrot juice was a definite highlight, it was perfectly balanced with sweet and tangy flavours and was exceptionally fresh.
The juices can also be served as a takeaway making it the perfect healthy breakfast on-the-go (obviously alongside one of their delicious croissants), but of course we do recommend you enjoy it whilst taking in the breathtaking views of the Corn Exchange.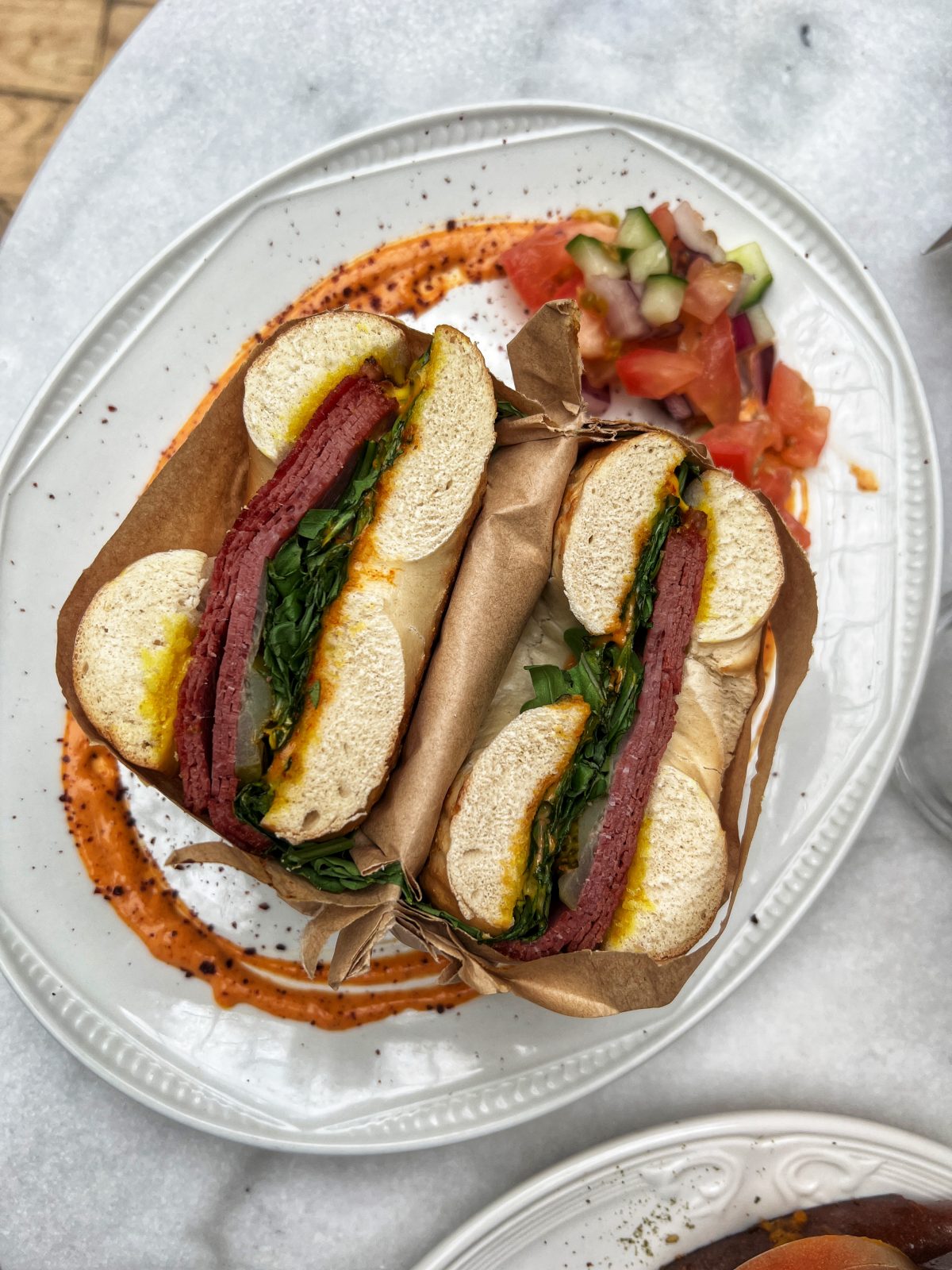 Of course the coffee was exceptional but Bruschetta are known for their wonderful caffeinated offering.
The beans are sourced and roasted from a local company in Sheffield and are then left to breathe for 14 days before serving. The magic formula for the perfect cup of joe is then decided on each morning, depending on the specific conditions and climate on that day.
Now onto the food. We were told the Margherita Toastie was a firm menu favourite and we can easily see why – gooey cheddar cheese, fresh rocket, homemade margherita sauce and a balsamic glaze sandwiched between two brioche slices and grilled to perfection. We don't want to eat a normal cheese toastie ever again.
The La Rue Des Rosiers featured a toasted brioche bagel filled with delicious pastrami, gherkins and a glorious mustard and harissa aioli. Served with a seasonal side salad, this is the perfect lunch option.
And finally we tried The Breakfast Croissant – a glistening buttery croissant filled with homemade scrambled eggs, lime-infused smashed avocado and chilli flakes.
This was extremely tasty, the croissant was flakey and perfectly toasted and the zingy lime really cut through the richness of the pastry.
If you haven't been to Bruschetta then we urge you to do so, they're open seven days a week and do not take bookings.
To find out more, take a look at their social media page.
Read more: Local award-winning chef to host innovative 8-course tasting menu at The Collective
Featured image – The Hoot Leeds