Think you've done afternoon tea? Think again. Yard and Coop have the ultimate three-tiered chicken feast that's changing the meaning of high tea.
Afternoon tea: usually a rather formal affair, complete with British scones (however you choose to pronounce them), clotted cream and some good old Yorkshire tea. The China is expensive and so are the tickets for a spot at the table.
For many of us, the idea of afternoon tea sounds thoroughly enjoyable, but do we really want to work our way through finger sandwiches and being very polite to our neighbouring tables? Not exactly. We want a chilled out affair to devour some delicious food with our mates.
Yard and Coop must have heard our prayers for an afternoon tea revolution and have the ideal solution: fried chicken afternoon tea.
From the people that brought Leeds ice cream chicken burgers, Yard & Coop are offering a three-tiered buttermilk feast with their signature chicken breast, dirty bird style.
Work your way up the tiers and find a tasty treat on each layer. On the bottom, you'll find a dirty bird made for two: a huge bowl of fries, loaded with cheese sauce, buttermilk fried chicken and crispy bacon. Dip into Dr Pepper BBQ and blue cheese sauces, but make sure there's room for more: this is only course one.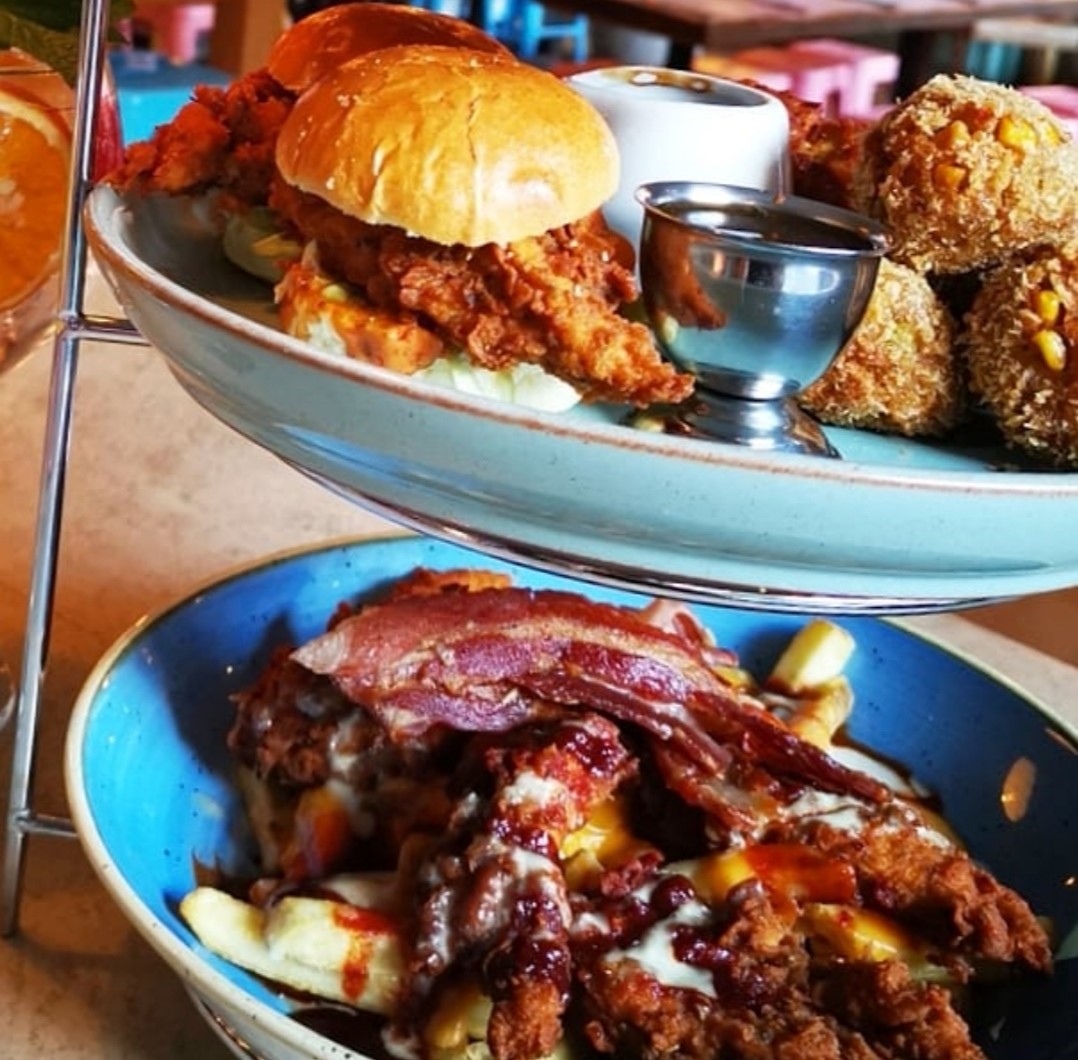 Rather like a middle child, the centre layer of the afternoon tea will grab your attention quickly. Take your pick of mini buttermilk fried chicken burgers with adobo chilli mayo, Grandma's stuffing balls and amaizeballs. Dunk in some homemade chicken gravy and a selection of Korean sauces for the ultimate chicken dinner.
Reinventing the finger cakes and scones from a traditional afternoon tea, Yard & Coop have left their top tier for those with a sweet tooth. An assortment of cupcakes are complemented by fresh strawberries, chocolate dipping sauce and a mountain of marshmallows.
No afternoon tea is complete without a glass of something boozy. With a selection of gin available and included in the price, it would be rude not to take advantage of the varieties available. All drinks are served in a huge balloon glass to ensure that you receive a generous serving.
The Yard & Coop afternoon tea is available every day of the week, costing £25 per person. Just make sure to book in advance to avoid missing out on one of the tastiest afternoon tea options in Leeds city centre.
Feature Image- Yard & Coop