Leeds marks the first 2023 show before the band embark on a three-month tour of the UK, America and Europe.
Now it's not often that a city like Leeds gets to experience that opening night buzz, and the night before the official launch of new album Cuts & Bruises no less, so we more than made the most of it.
For those unfamiliar with the Irish rock band, there's a lot to love about the four-piece.
Consisting of Elijah Hewson, son of the U2 star Bono, bassist Robert Keating, guitarist Josh Jenkinson and drummer Ryan McMahon, the band have been together since 2012 (with Jenkinson joining in 2015) and rose to fame after releasing their first EP It Won't Always Be Like This when the four-piece came fifth in the BBC's Sound Of… poll, an annual survey that asks critics and industry figures who is the most promising new talent.
There's perhaps no greater praise than that of fellow singers, but Inhaler really do take this to the next level. With a wealth of superstars to choose from like Noel Gallagher, who compared them to an "early U2" (like father like son?); Elton John, who described the band as "f**king amazing" and no less than Yorkshire's own Arctic Monkeys, who have the band signed as their support act for their upcoming tour across Europe.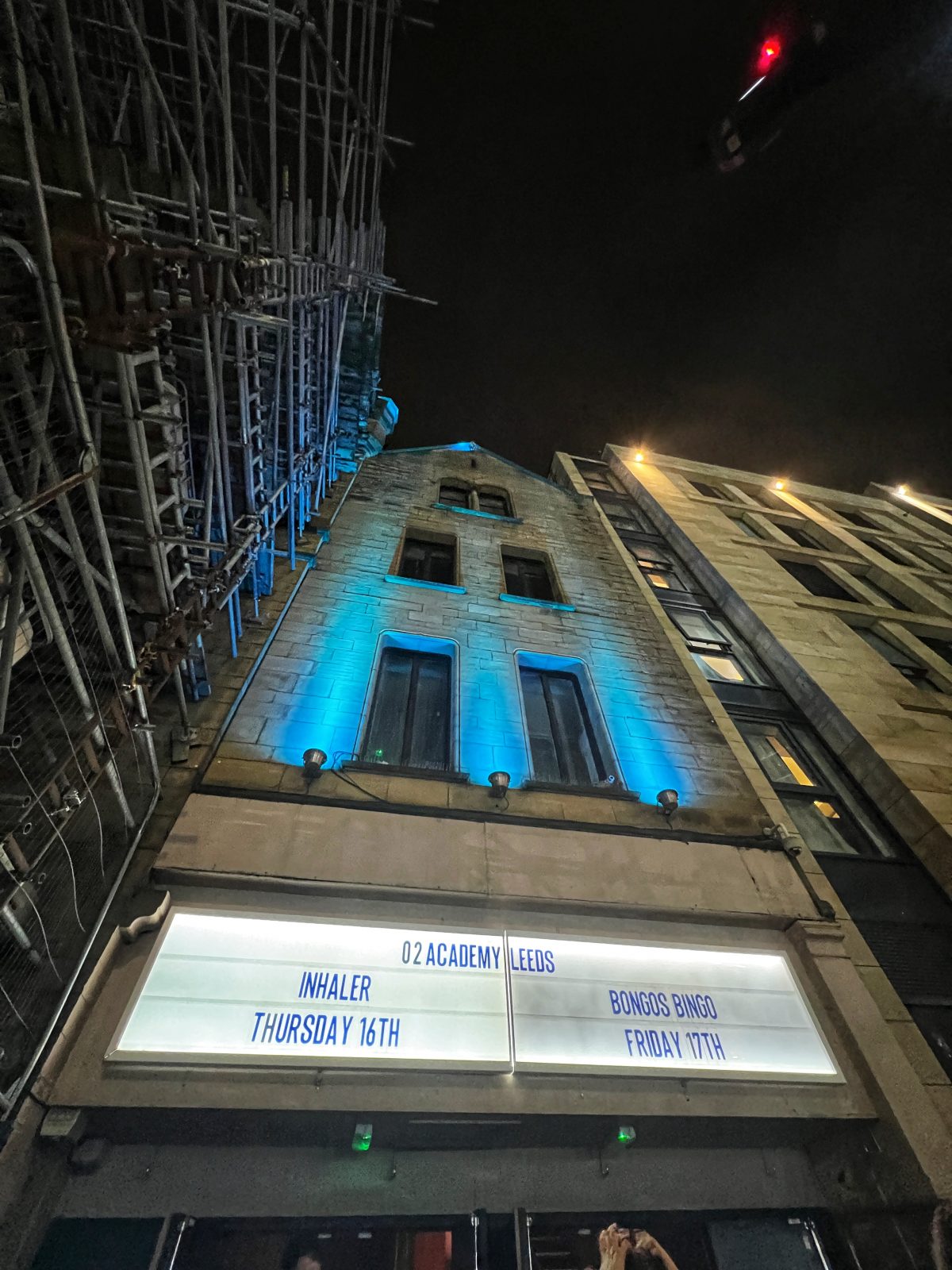 Kicking off the tour in Leeds
Opening with These Are The Days, a welcome choice from their upcoming album Cuts & Bruises, chants of 'turn up the music / black out the lights' brought the Academy to life from the very first riff.
Next up was My Honest Face, a crowdpleaser that's been played no less than 220 times by the Irish rock band and Love Will Get You There, before the crowd was treated live debuts of Just To Keep You Satisfied and So Far, So Good, each of which are due to be released on the band's latest album at midnight.
Lead singer Elijah did admit to the crowd that 'there might be a few mistakes', but the new tunes flowed effortlessly from the four-piece rock band, like they'd always been a part of the setlist.
Every song felt well rehearsed, and with two studio albums and ten singles to choose from, Inhaler continued the night, finding rhythm with a combination of new tunes, and fan favourites from their first 2021 album and previous singles.
My King Will Be Kind brought up the house lights and cheers from the crowd bringing a passionate sing-a-long before another live debut brought Valentine to life for the very first time.
BBC Radio 1 teased at a live version of the band's most popular hit, Love Will Get You There, as well as a rendition of Miley Cyrus' Flowers, last month, and the cool charisma showcased on air from the band was just as present in front of the live audience in Leeds as the countdown to the new album release.
Bringing the city just shy of a non-stop 90 minute performance, Inhaler continued to bring tunes, disappearing after Cheer Up Baby only to return for an encore dressed down in a vest and pink fluffy cowboy hat (well, it lasted at least two verses).
The show closed with If You're Gonna Break My Heart and the song that started it all, It Won't Always Be Like This, leaving Leeds counting down the hours until Cuts & Bruises makes its way on to Spotify and into our record stores.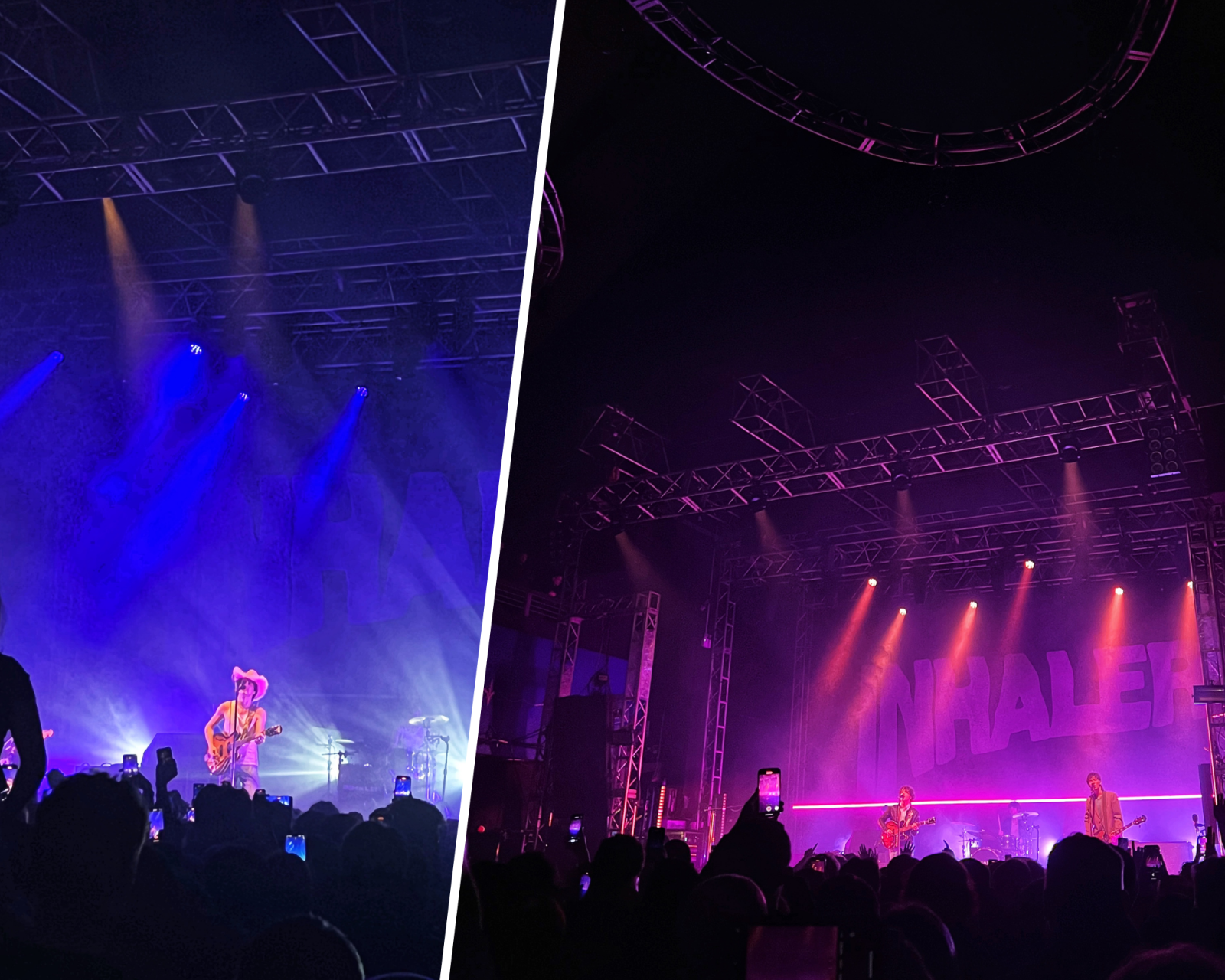 2023 Tour Dates
You can catch Inhaler on tour across the UK and Ireland over the coming weeks in the following cities.
Friday 17 February – Newcastle, NX (SOLD OUT)
Saturday 18 February – Liverpool, Uni Mountford Hall (SOLD OUT)
Monday 20 February – Norwich, The Nick Rayns LCR
Tuesday 21 February – Cardiff Uni, The Great Hall
Thursday 23 February – Nottingham, Rock City
Friday 24 February – Birmingham, O2 Academy
Saturday 25 February – Bristol, O2 Academy (SOLD OUT)
Friday 19 May – Manchester, O2 Victoria Warehouse
Saturday 20 May – London, O2 Academy Brixton
Monday 5 June – Liverpool, O2 Academy 2
Tuesday 6 June – Sheffield, The Leadmill
Tuesday 15 June – Galway, Monroes
For those that missed out on a night of non-stop dance anthems and heavy guitar riffs, Inhaler will be back for summer, performing at Leeds Festival over the bank holiday weekend, as well as making an appearance with the likes of Sam Fender and Arctic Monkeys at some seriously exciting open-air summertime gigs.
Feature Image – The Hoot Leeds