It's National Vegetarian Week.
In true foodie-style, we're celebrating National Vegetarian Week by eating our way around the city.
With so many vegetarian options now available, no longer do any veggies (normally) need to fear when walking into any given restaurant: from plant-based meat substitutes to veggie alternatives with flavour aplenty. We even have dedicated restaurants like Bundobust that offer menus exclusively to cater for a meat-free diet and Meat is Dead over in Kirkstall brought our city an entirely vegan set-up: it really is an exciting time to be part of a food culture where meat isn't the be all of a menu.
Here are some of our favourite vegetarian dishes (many of which are also vegan), just incase you need any more foodie inspiration to celebration National Vegetarian Week…
Rola Wala
Inside Trinity Kitchen, Albion Street | Open from 11am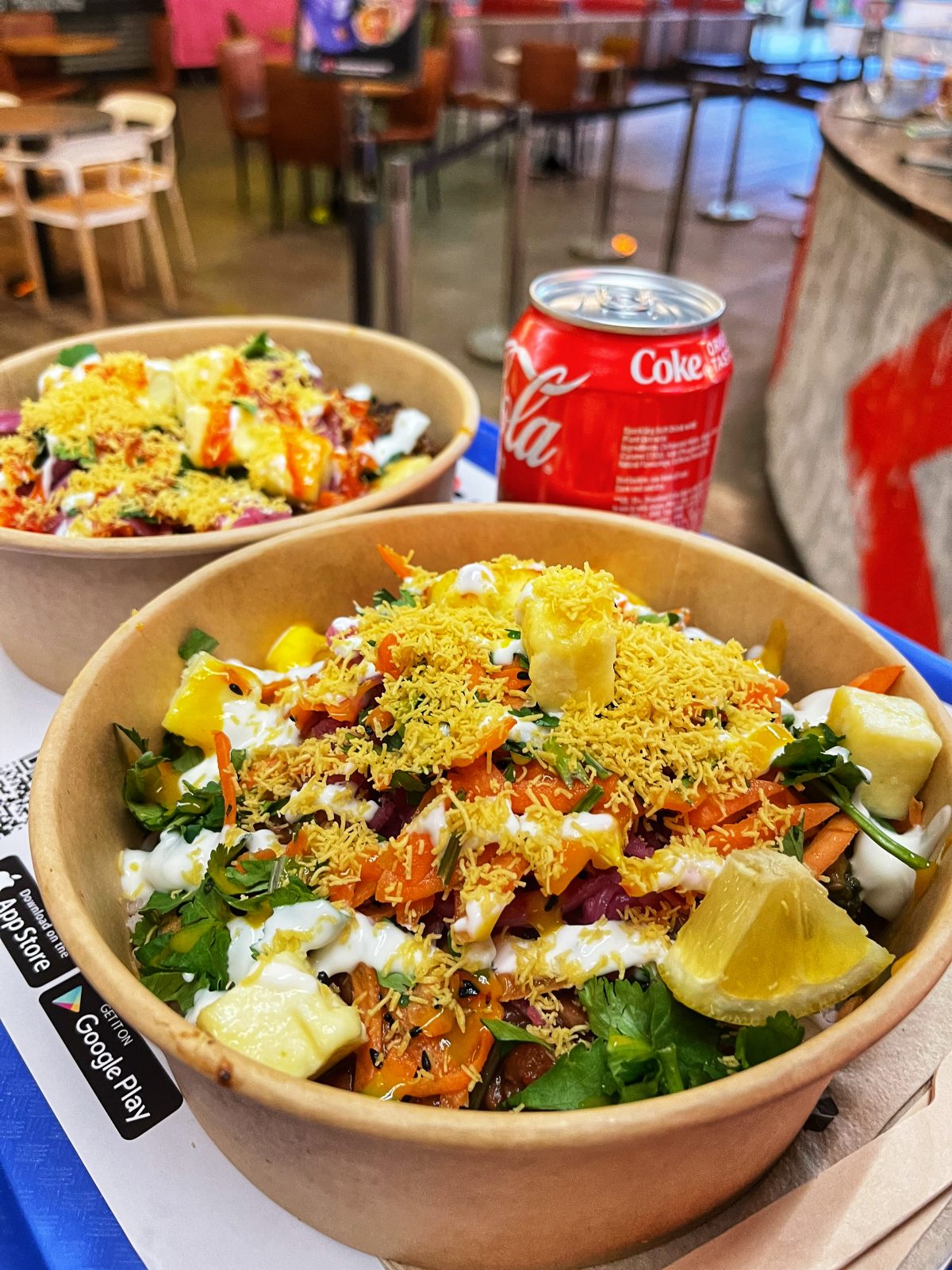 Hoot recommends: sweet potato and halloumi naan wrap and Epic Bowls
When it comes to getting our lunchtime fix, it always feels as if Rola Wala is never far away. Located inside Trinity Kitchen, you'll find a host of build-your-own lunch and dinner options including naan wraps and protein bowls full of delicious Indian street food ingredients. The meat-free options here combine veggies with new Indian-inspired flavours to provide a tasty treat every single day of the week.
Find out more here.
POCO Sicilian
Otley Road and Kirkstall Road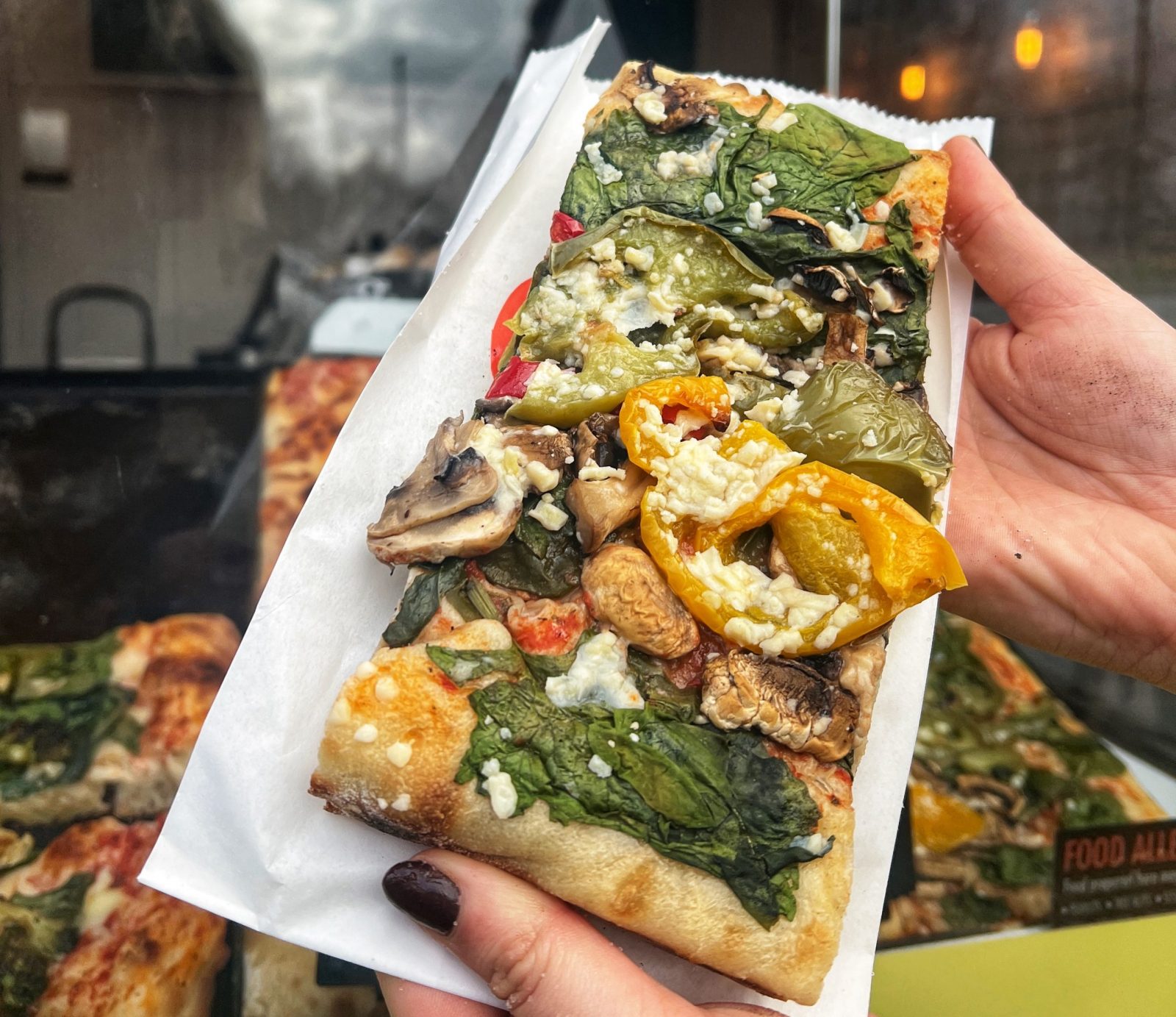 Hoot recommends: Pizza al taglio
The flavours at POCO are imaginative, but authentic. Think roast peppers and mozzarella, pear and gorgonzola or even potatoes (and by potatoes, we mean mini fries) across huge oblong slices of pizza; with plenty of vegetarian and vegan options to compliment the seemingly never-ending selection. It makes for the perfect takeaway lunch.
Canary Bar
Leeds Dock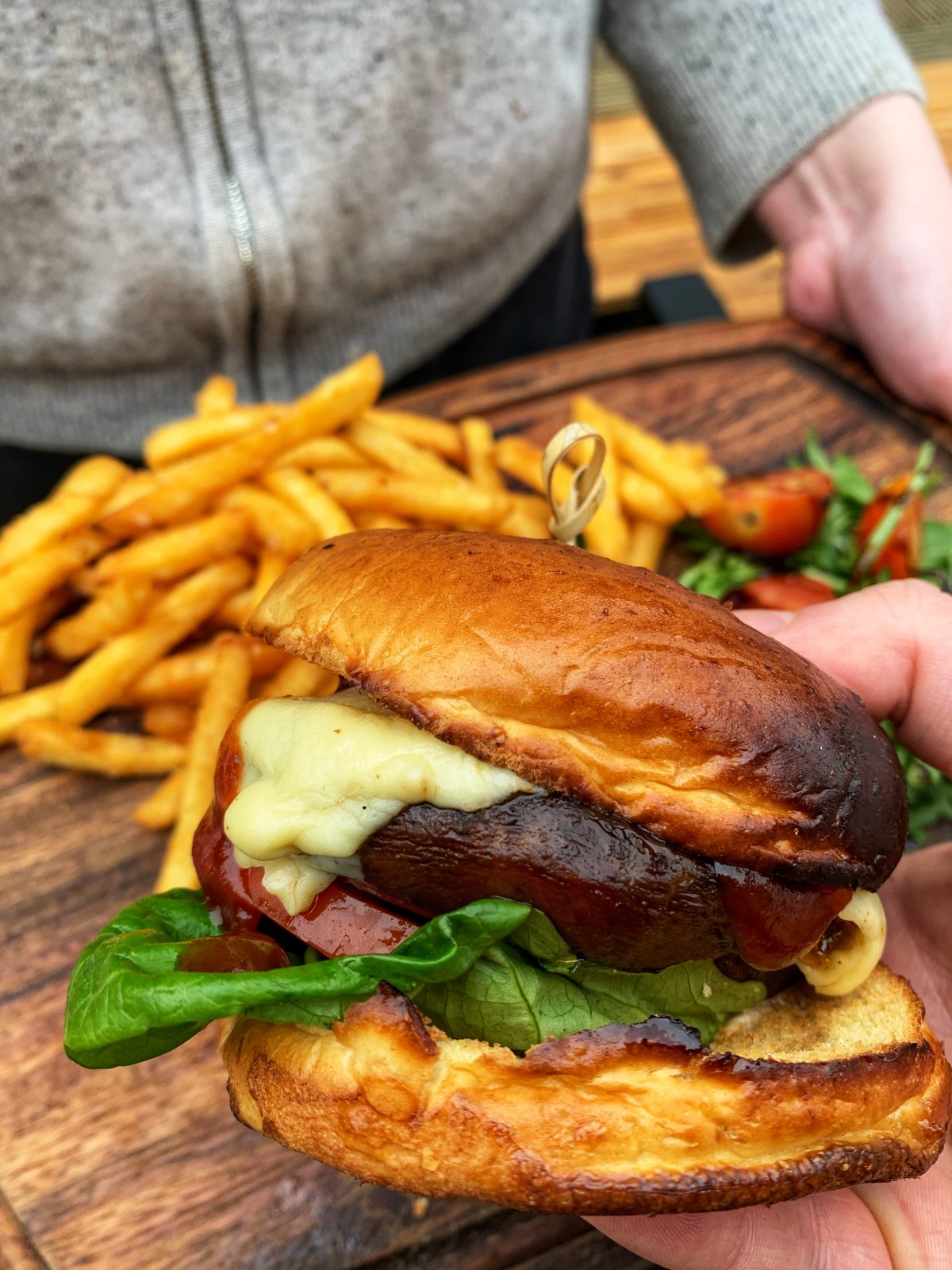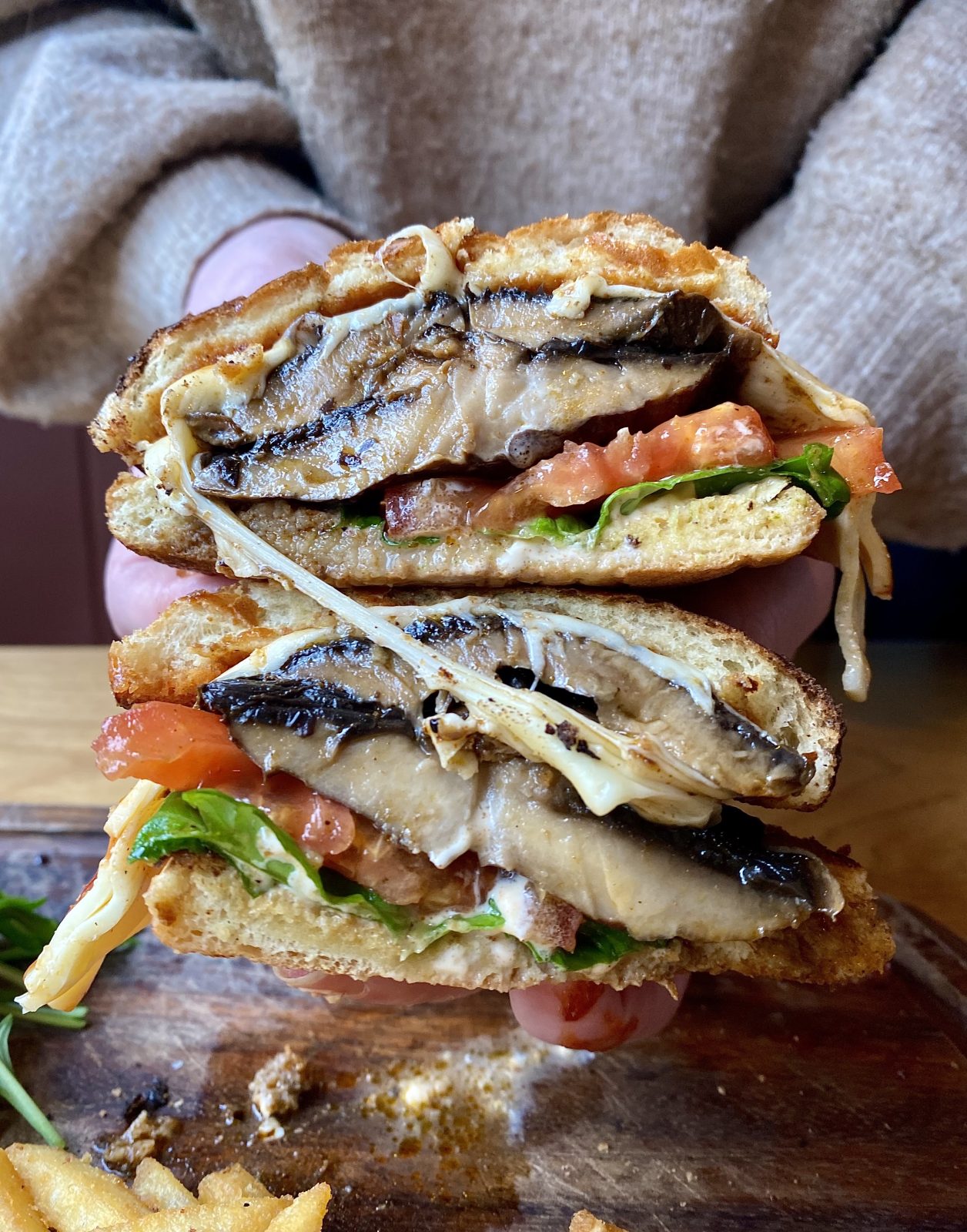 Hoot recommends: Portobello mushroom burger
Whether the sun is shining and the sangria is flowing, or the cosy autumnal nights are setting in with chilled evenings with a breeze by the docks, The Canary Bar has set themselves up perfectly to accommodate the changing of the seasons.
Having recently extending the kitchen has allowed the small bar to introduce a range of exciting small plates options to the menu, there's plenty of vegetarian options to choose from like Portobello Mushroom Burgers and fresh salads.
The Tetley
Hunslet Road, Hunslet
Hoot recommends: Getting Curried Away
The Tetley has been making a conscious effort to reduce its carbon emissions for quite some time now, and much of this is down to the efforts in the kitchen. Head Chef Jade Crawley has been cooking up a storm with a brand new Winter menu designed to keep your palate satisfied without having to compromise on its ecological impact.
The Getting Curried Away dish, a recipe by Dorinda Hafner, is just one example of the exciting meat-free options here. Expect a mild spiced Tanzanian curry with flavours of coconut, winter root veg and tofu bursting through and soaked up with a side of roti bread.
Dijon Boys
Inside Number 8 Cocktails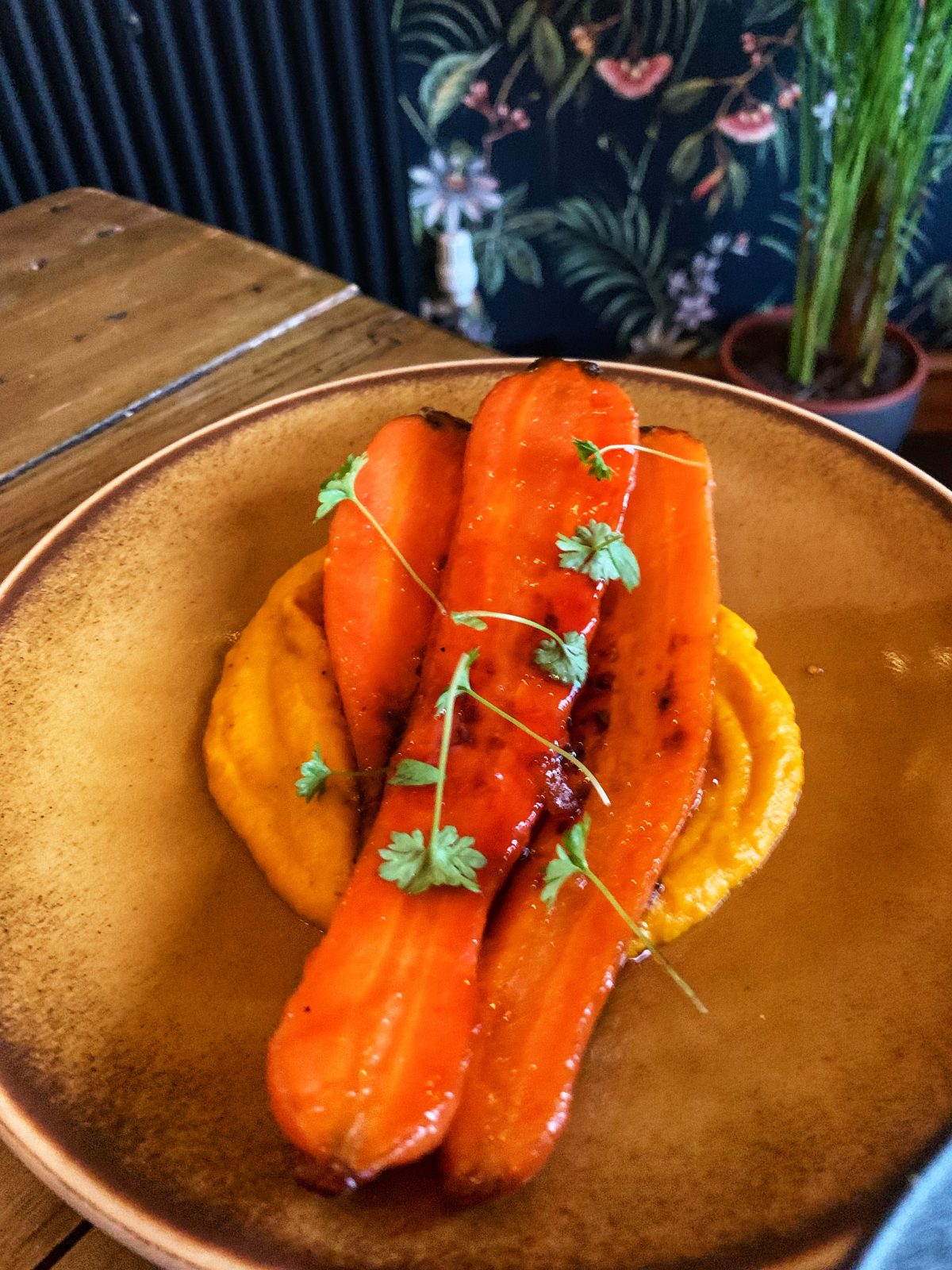 Hoot recommends: Pear and goats cheese carpaccio
Tucked away inside a cosy cocktail bar in the heart of Meanwood, Dijon Boys has been cooking up a storm since opening their kitchen inside Number 8 Cocktails.
There's a gorgeous selection of vegetarian options that prove veggies never have to be a boring second thought ever again. Taking British staples like carrots and transforming the flavours with hints of soy, marmalade and anise in a glaze is just one example of this.
Those looking for a light bite should grab the pear and goats cheese carpaccio from the specials menu whilst you can to start or end their round of small plate, the delicate dish is beautifully presented, but it's light yet creamy flavouring makes it ideal for cleansing the palette.
Find out more here.
Manjit's Kitchen
Inside Leeds Kirkgate Market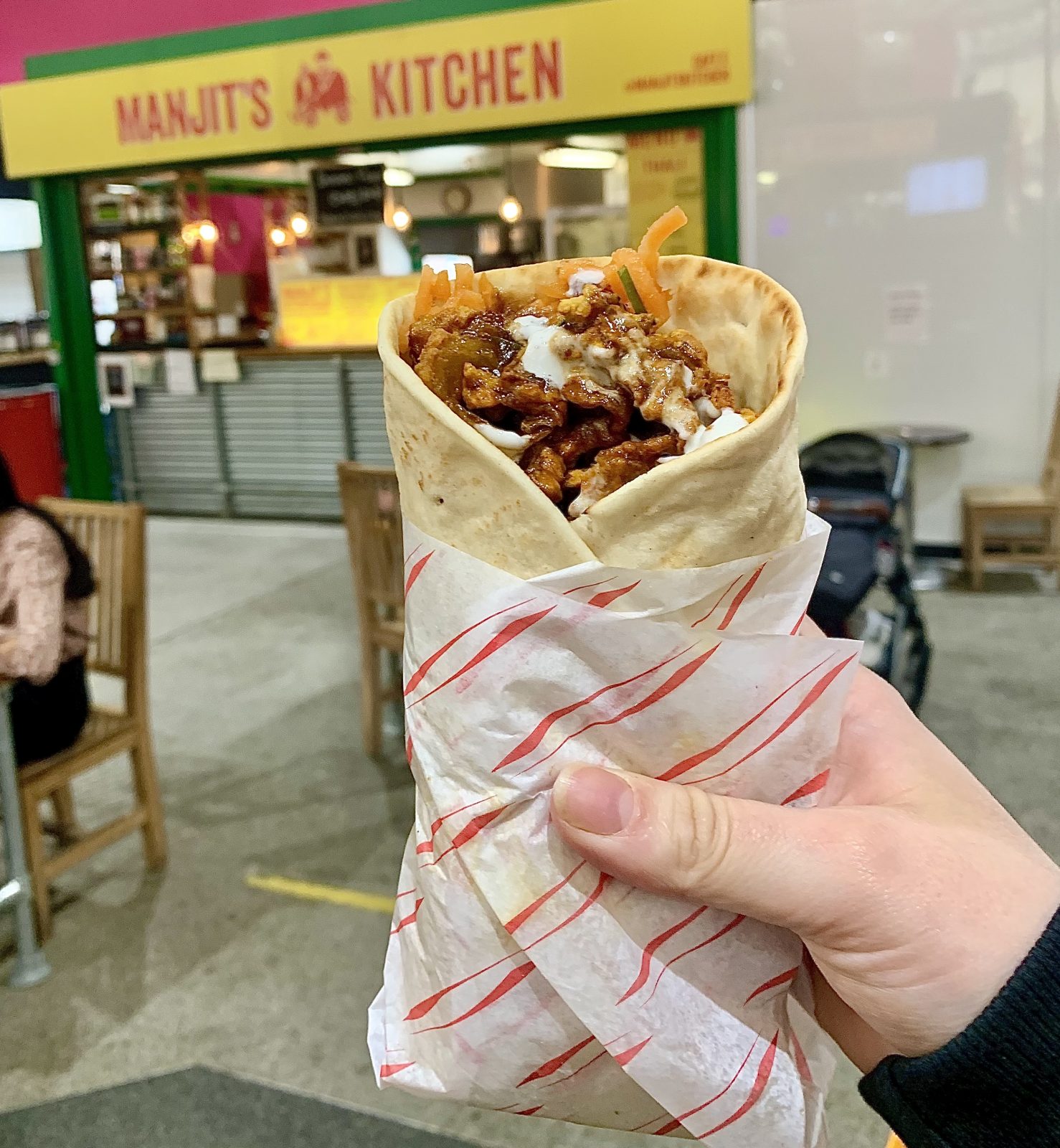 Hoot recommends: Pakora wrap
This truly is one of Leeds' best hidden-gems. Tucked away between the colourful stalls of Kirkgate Markets, Manjit's Kitchen offers an Indian-inspired menu perfect for a lunchtime pit stop. The Pakora wraps are perfectly paired with refreshing mango lassi drinks whilst their curry dishes, which regularly change in flavour, are a standout choice that keep regulars returning to their corner of Leeds.
Falafel Guys
Inside SALT Granary Wharf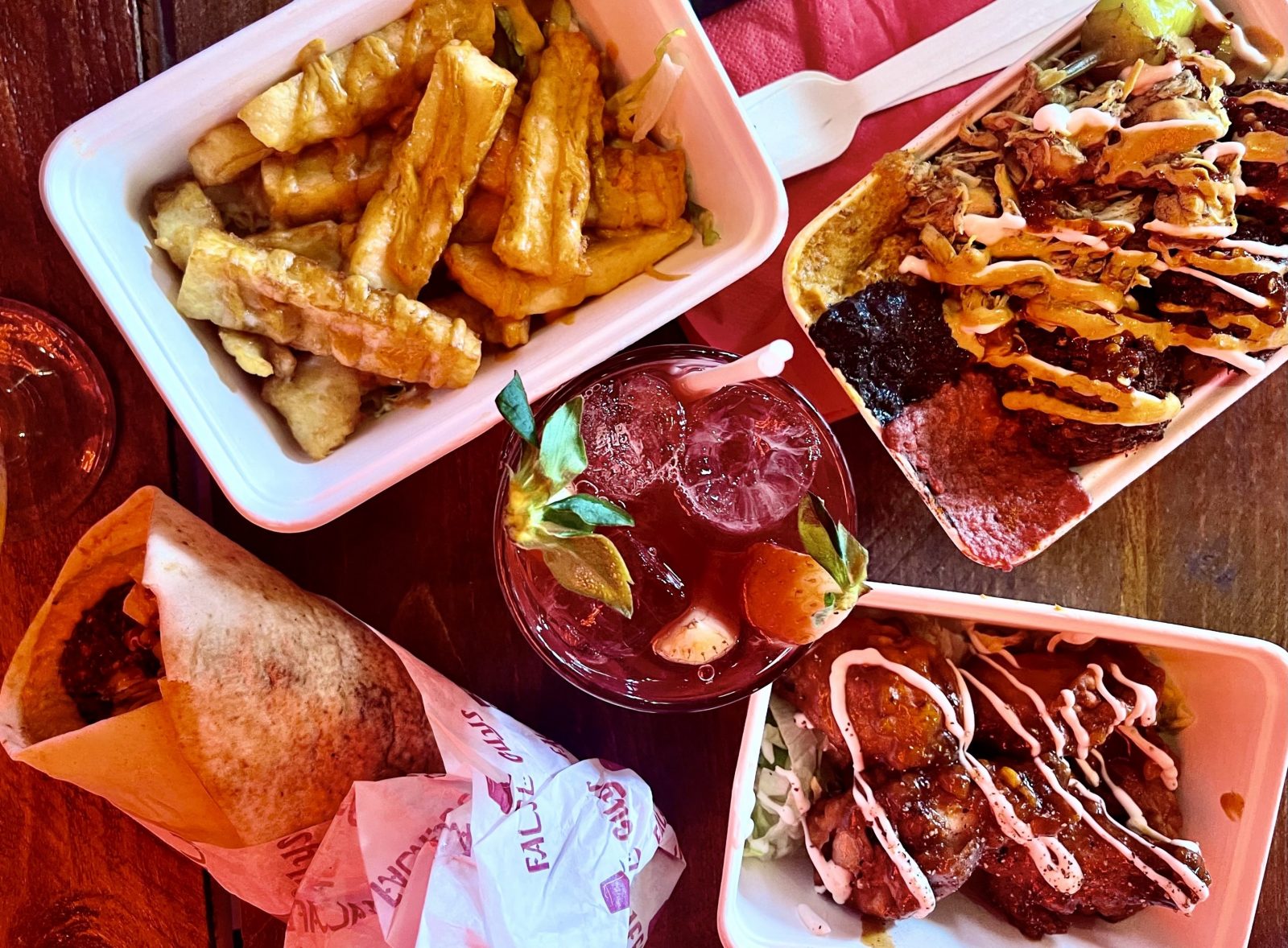 Hoot recommends: Falafel and halloumi wrap
Falafel Guys is available from a standalone converted caravan in Briggate, inside Assembly Underground and the newly-opened SALT Craft + Falafels over at Granary Wharf but all make excellent veggie options.
There's two options to choose from: a wrap or a salad bowl, then guests are invited to select their combination of fillings like falafel or halloumi, plus three different types of hummus: original, charcoal and beetroot. If that's not enough, you can grab some falafels as a standalone snack or sweet potato fries to dunk into huge hummus portions.
Slap and Pickle
Inside The Old King's Arms, Horsforth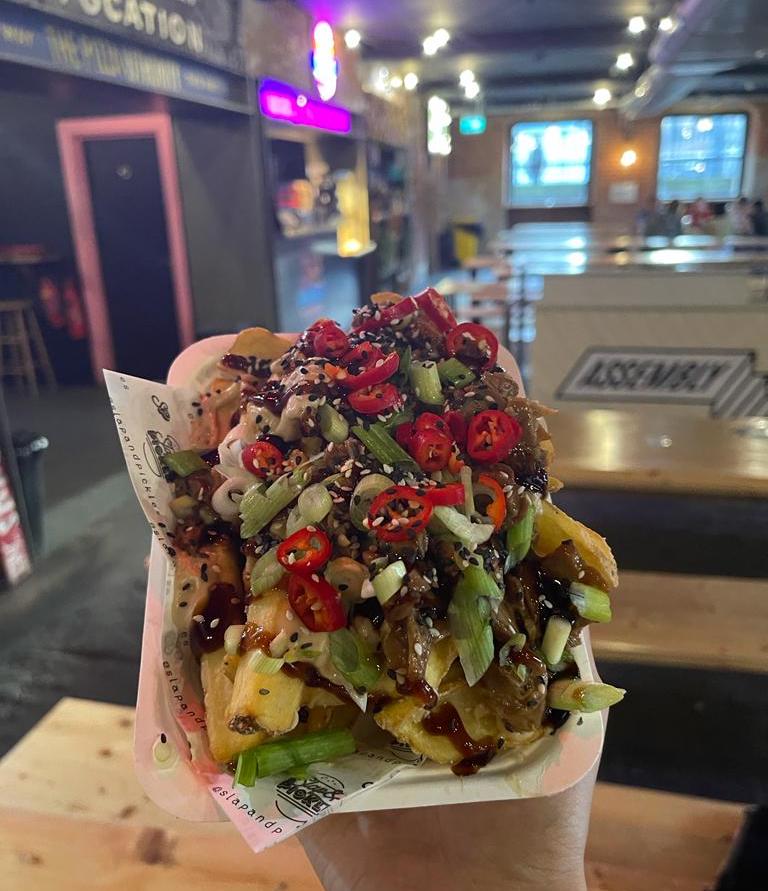 Hoot recommends: Vegan duck fries
Piled with vegan hoisin 'duck', spring rolls and chillies, the Vegan Hoisin fries are a chef's kiss level of perfection. As cult fans of this particular dish, it is The Hoot's go to at Assembly Underground, Beer Hawk or even when we're over in Manchester.
Pair these delicious fries with a plant-based burgers loaded with vegan cheese (the stringy kind), onion rings, jalapenos and roquito chillies and more for the ultimate vegan dinner.
Bundobust
Mill Hill, Leeds city centre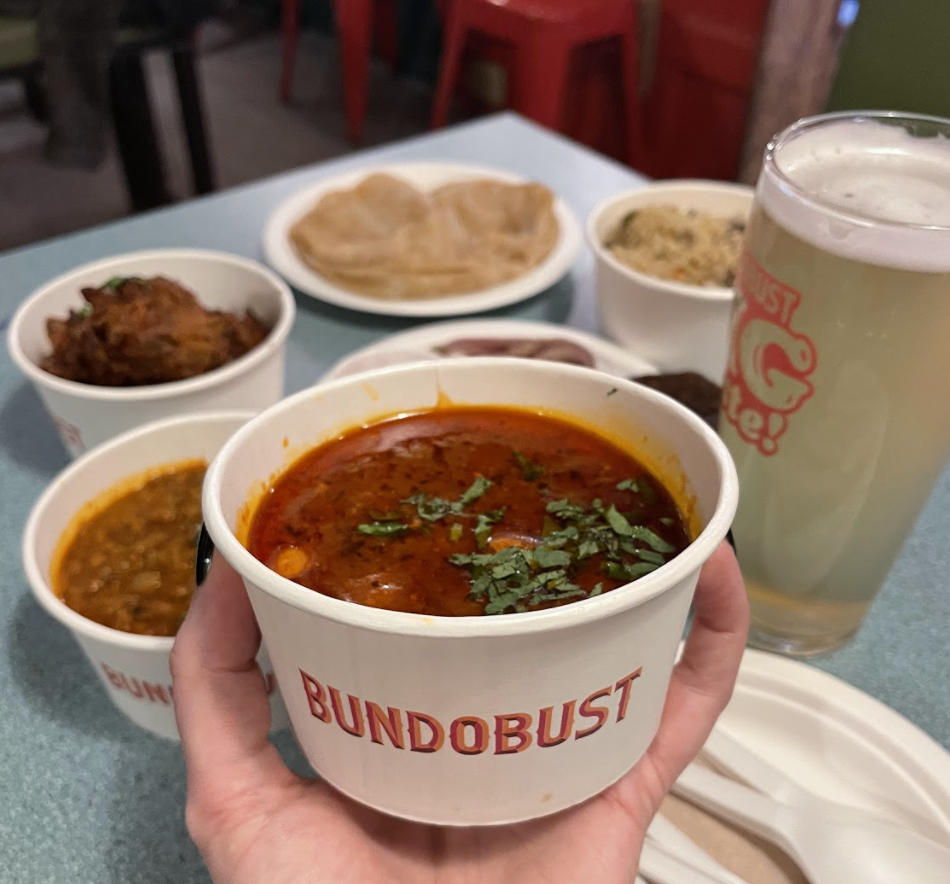 Hoot recommends: Okra fries
Since Bundobust opened its first restaurants in Leeds back in 2014, the locally-renowned India street food and craft beer restaurant has slowly taken over the north, one bhaji box at a time. 
The portions here are entirely vegetarian, with a huge vegan selection included on their seemingly endless menu. Expect all your favourite Indian-inspired curries, as well as mouth-watering exclusives like the bhaji burger- the ultimate £6 lunchtime sarnie.
Fat Annies
Inside Leeds Kirkgate Market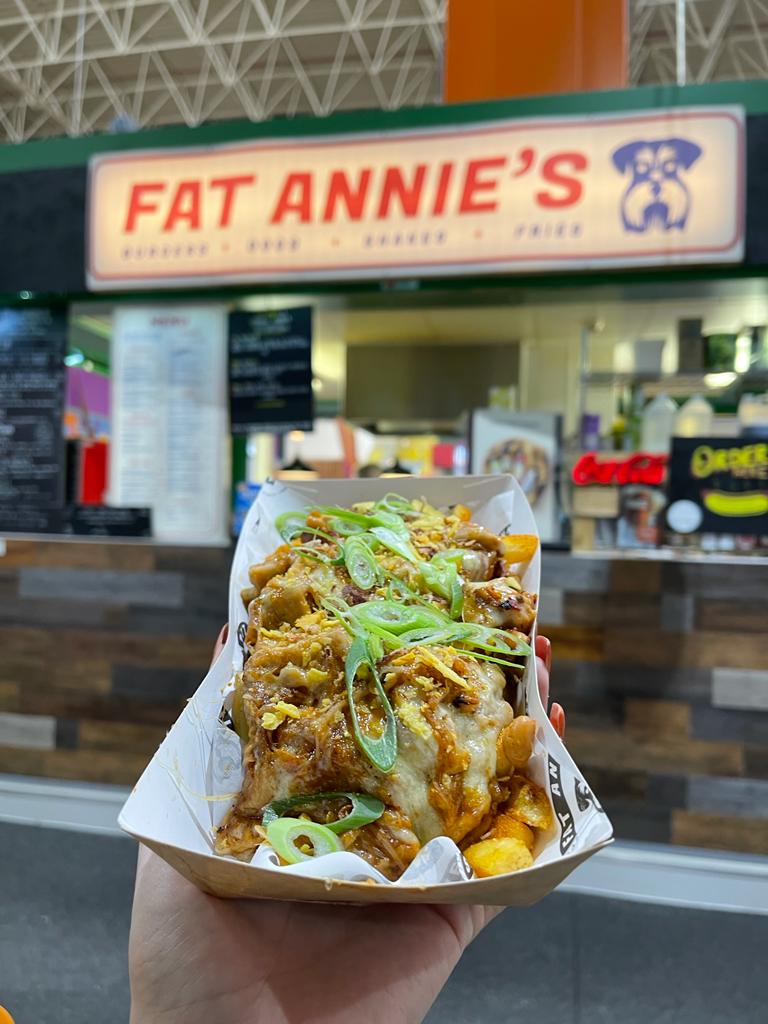 Hoot recommends: Royale Not Dog
The Kirkgate Market stall is over a year into its meat-free journey. The owner gave up meat in 2019 after reading the UN Climate Report and made the decision to risk 'financial suicide' to back their beliefs and switch to meat-free dishes. The popular Kirkgate venue now offers an entirely meat-free menu and on it you'll find a range of incredible plant-based offerings, including the Royale Not Dog and loaded fries.
Hooyah Burgers
Albion Street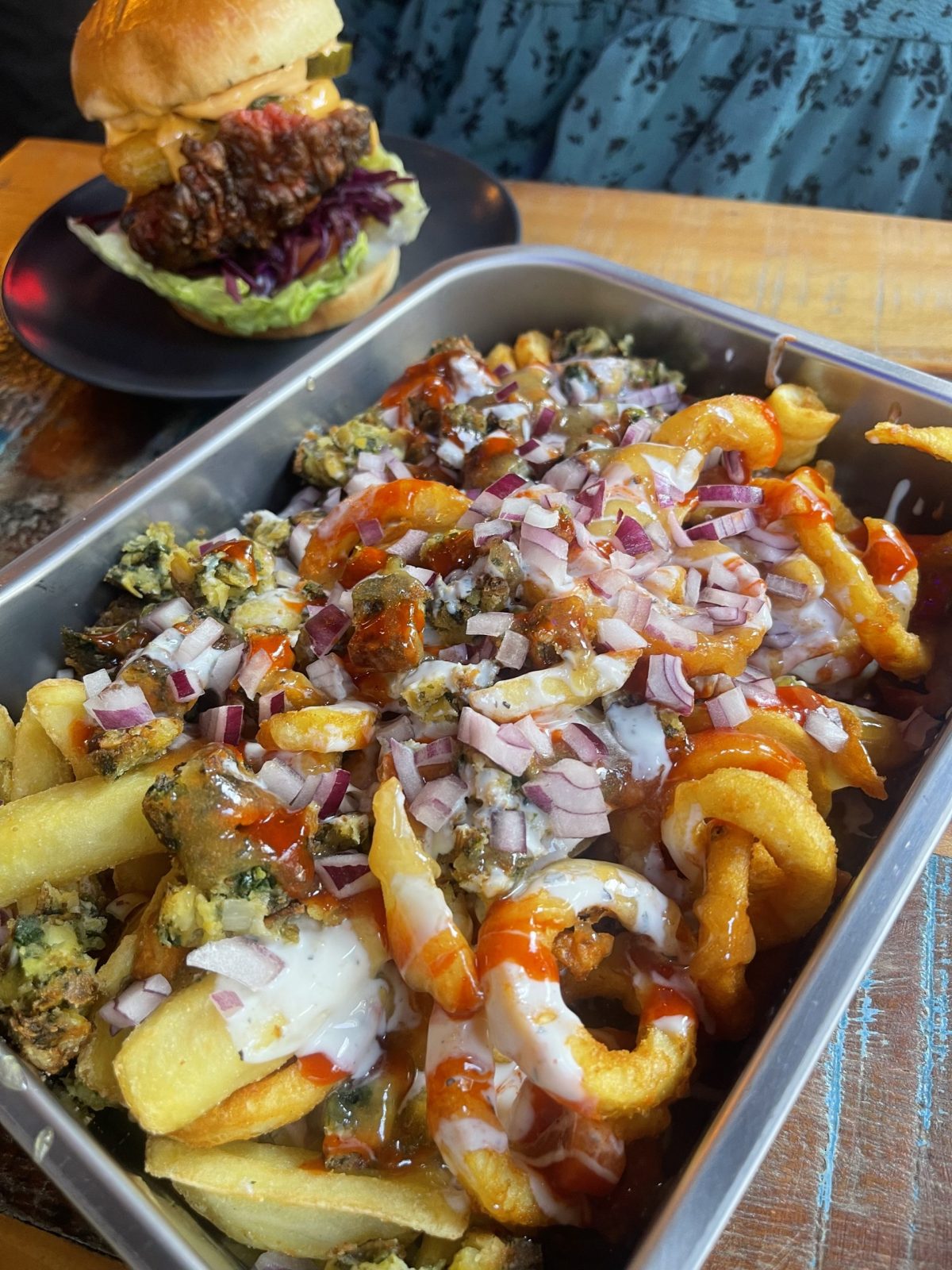 Hoot recommends: Chic-a-go fries
Vegan loaded fries from Hooyah is available from Deliveroo- so even if you want to sit in your PJs all night, you don't have to miss out on some meat-free loaded fries. The Chic-a-go loaded fries are made up of crumbled Falafel and Spinach accompanied with a vegan yoghurt and mint Sauce, mango chutney, chopped red onion and chilli sauce- all inspired from the Indigenous tribes of Chicago.
If you do fancy eating in, their newly-opened restaurant on Albion Street is home to their 'build your own burger' menu where you can grab a falafel burger and some seriously thick milkshakes so expect flavours aplenty.
Heaney & Mill
Otley Road, Headingley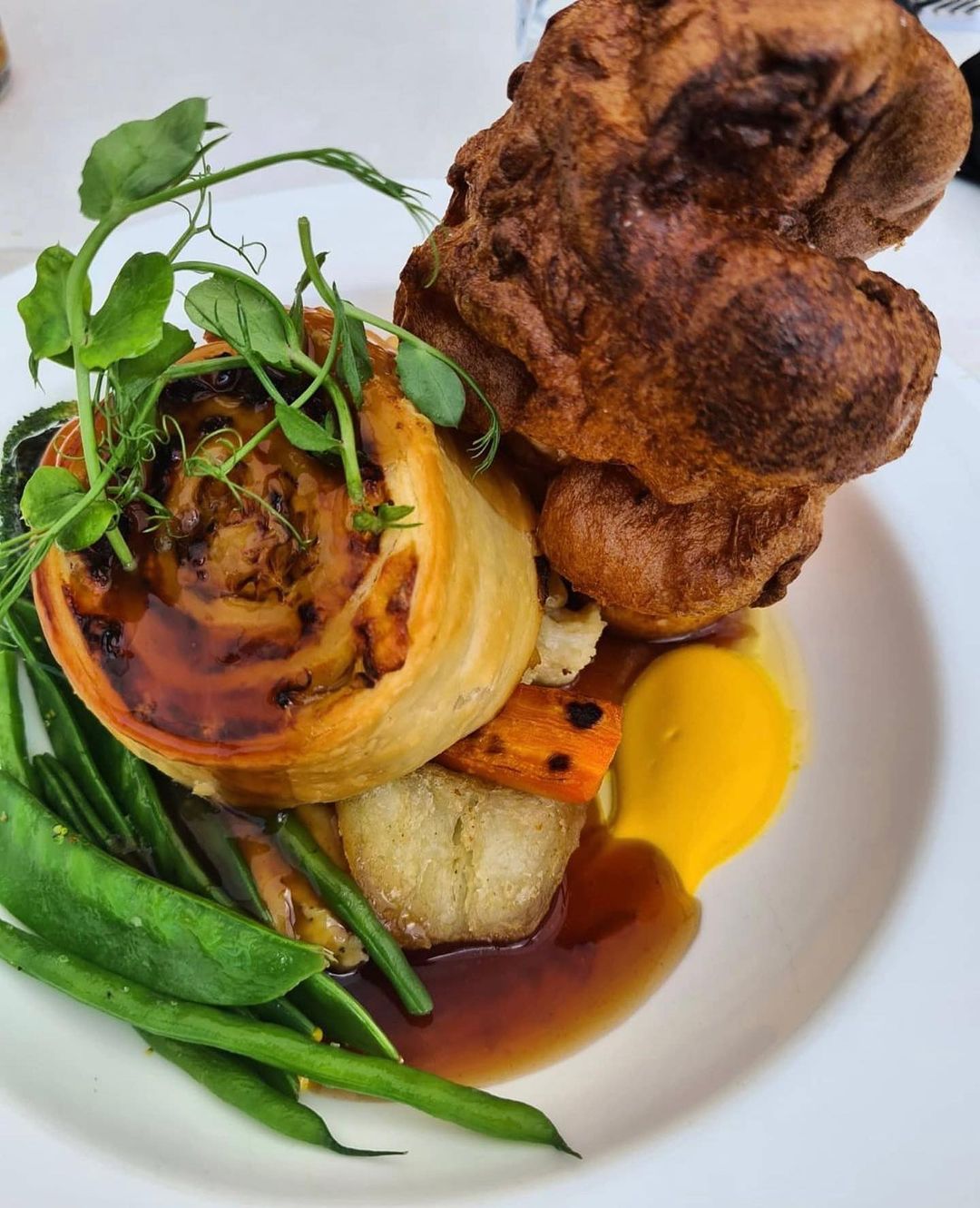 Hoot recommends: Veggie roast dinner
Heaney & Mill describe a place at their table on a Sunday as "Sunday service at the alter of the holy roast", so clearly these guys take their dinners seriously. They offer a fully veggie roast dinner with a Leek and Cheese Wellington- but there's vegan options that slightly vary from the veggie menu upon request.
This is a great option if you're looking for somewhere that will please the meat-eaters, veggies, gluten-free-eaters and vegans in your life.
Yorkshire Cheese Grill
Pop-ups around Leeds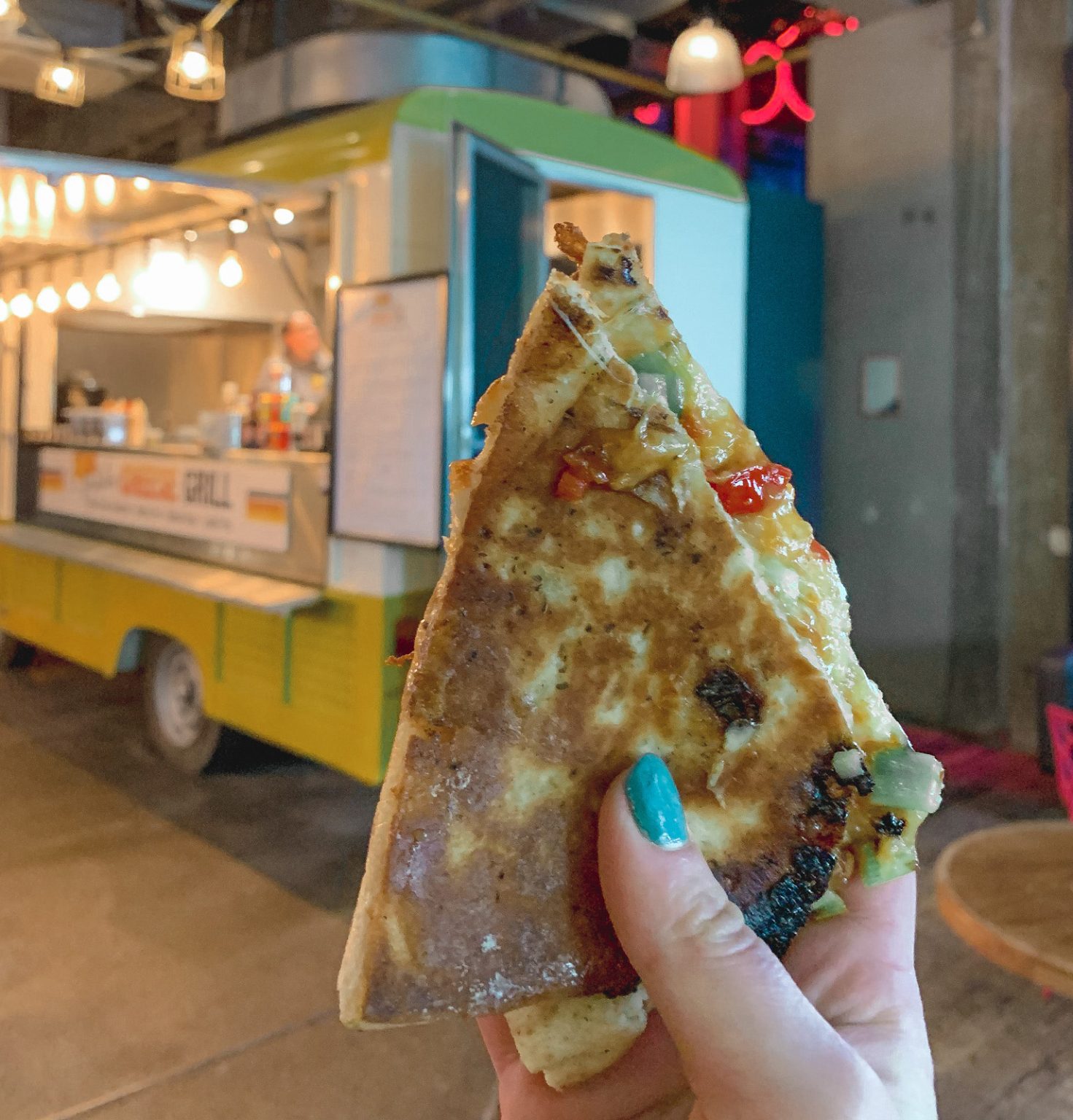 Hoot recommends: Chuffin' Eck toastie
The Yorkshire Cheese Grill is a true blessing for those working in the city centre searching for reasonably-priced hot food for their lunchtime meal. Expect cheese toasties, halloumi sarnies and cheesy chips aplenty, all with true Yorkshire names that sound all the more crisp when spoken with the true accent.
If you're looking for something a little different that champions Yorkshire produce, the Chuffin' Eck is our recommendation.
This fine combination of flavours brings the best of Yorkshire out in its cheese choices and combines it with traditional curry staples and spices. Think Fountains Gold and Yorkshire Double Blend with mango chutney, fresh red chili, spring onion, coriander, garlic and cumin all grilled between two thick slices of naan bread.
Feature Image – The Hoot Leeds