Leeds is bursting with great restaurants, but Riva Blu really stands out for the authenticity and the feeling you get after a visit.
Right in the middle of Park Row you can't help but notice the iconic blue interiors when you're walking past, and we recommend you visit them as we had a fabulous time.
We were seated in a cosy booth at the back of the restaurant, surrounded by stunning images of Italy in big frames on the walls. The music was great and the mood lighting gave us that really intimate dining feel which made us feel at ease from the get go.
Our server, Jimmy, came over to introduce himself and to match the authenticity of the restaurant he told us he was from Sicily. He explained the menu and went through all of his recommendations which was really helpful. He told us about the differences and tastes between the dishes, helping to make our choice easier.
The menu itself is huge with seven sections of pizzas, pastas, meats, antipasti and more. We didn't get a chance to try the pizza this time, but we saw them coming out for other people and they did look really good.
To start we had the Yellow fin tuna tartare, truffle arancini and the crispy aubergine fritters. The stand out here was definitely the fritters, with smoked provola and served with San Marzano sauce, I really could have eaten plates and plates.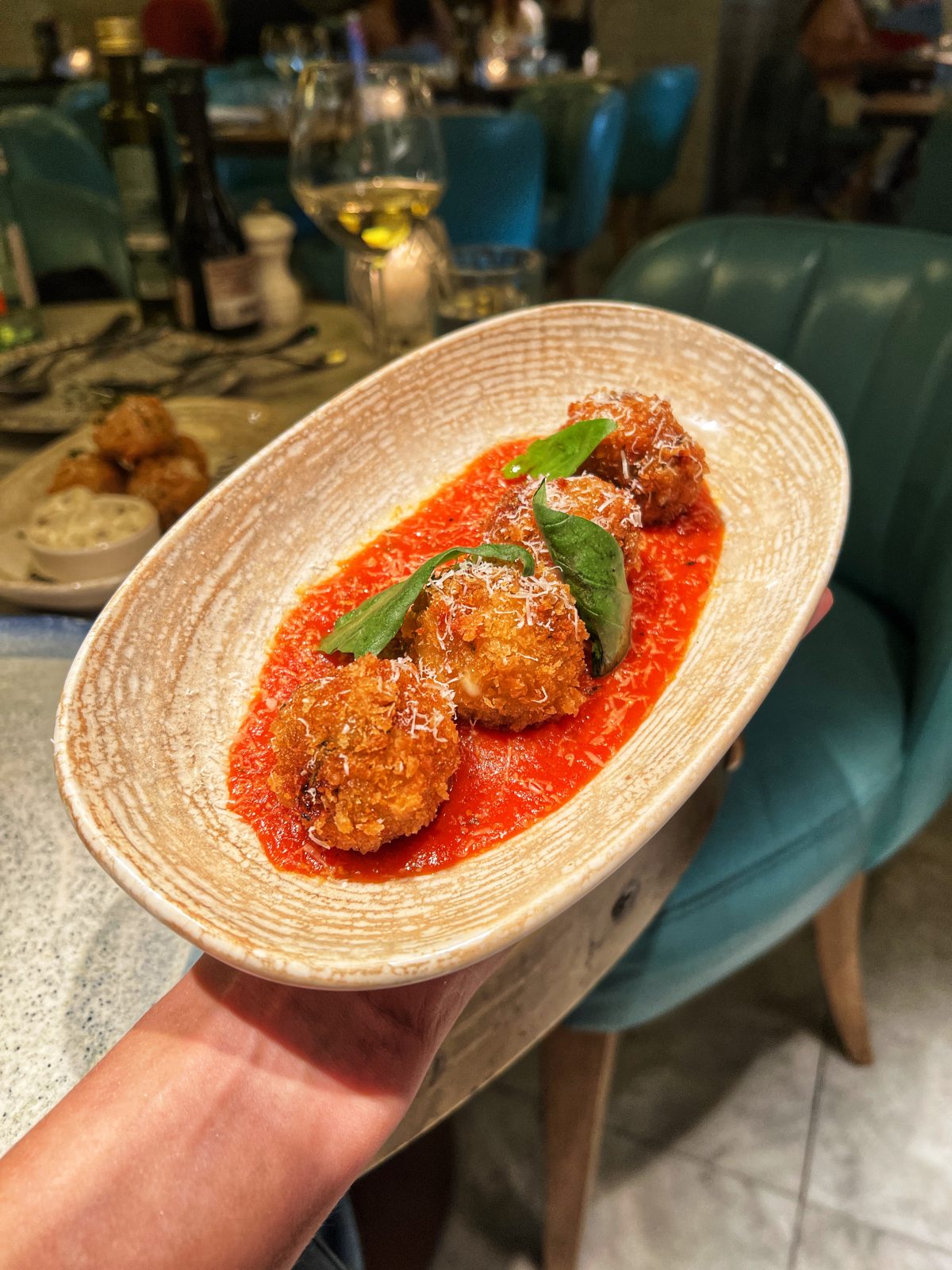 The tuna was really fresh, it was served with a crispy Sardinian flat bread and a gorgeous olive tapenade which just paired perfectly with it. Truffle and arancini really go hand in hand, so crispy and flavorful, the combination of the three dishes were a great way to start the meal and all recommended by the lovely Jimmy.
Next we tried the pasta and you are absolutely spoilt for choice for again we asked for recommendations. We had the 'Ravioli Granchio' which was Devonshire crab, chilli, lemon, basil, shellfish butter & fresh tomato.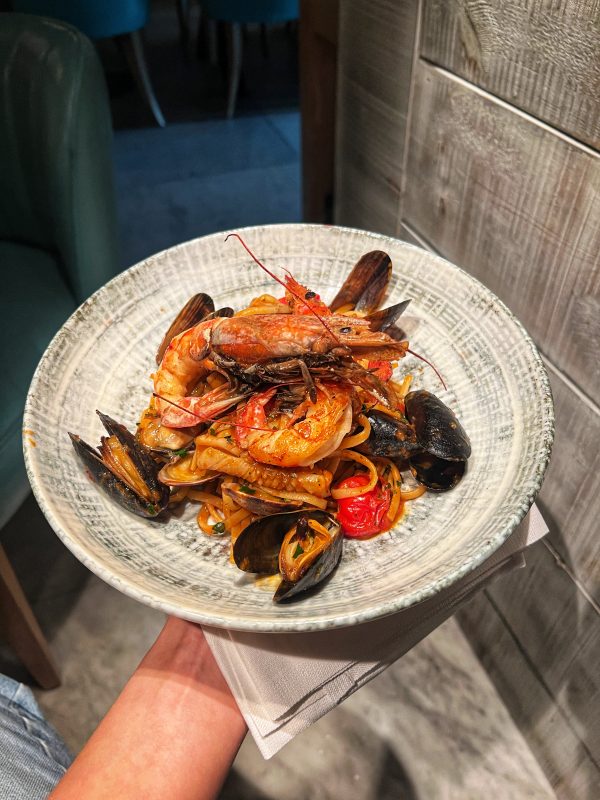 We also had the Linguine Frutti Di Mare' which had wild red king prawn, mussels, clams and calamari – all accompanied with a white wine, tomato & chilli sauce. As seafood pastas go, there were no complaints with this, so generous with the portion and all the fish tasted like it had jumped straight out of the sea onto the plate.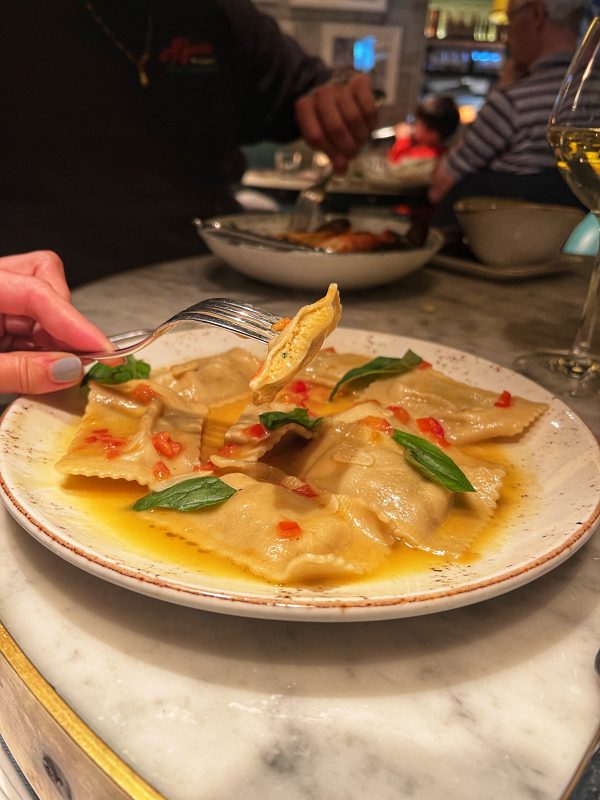 I have to say, sat in that cosy corner booth eating pasta with a white wine with a candle on the table, it really felt like we'd hopped on a plane to Siciliy.
Even though by this point we were very full, Jimmy recommended we also try the 'Orata Al Forna' which was a whole roasted sea bream, vine-ripened tomatoes, Leccino olives, garlic & rosemary potatoes.
This is dinner and a show, as the fish is filet at the table in front of you, which Jimmy did a marvelous job at. It really had that straight off the BBQ taste, giving you that nostalgic feeling back to sunnier days. The tomatoes we're just devine, I don't really know how else to describe them apart from really tomato-ey.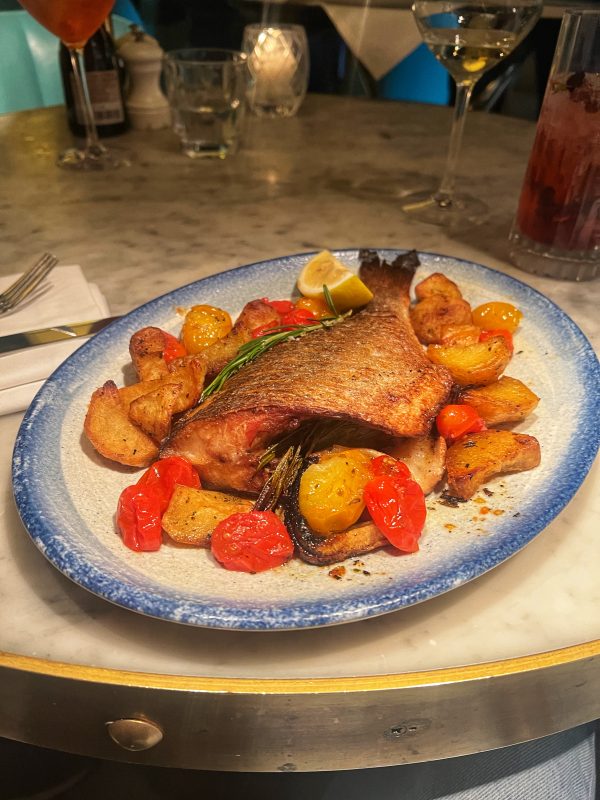 Throughout all of the food Jimmy was bringing over accompanying wines which was just dreamy. We also tried a couple of the cocktails and they were really tasty too but a bit sweet for me, I'm more of a wine girl.
By this point we thought we couldn't eat another thing but Gio, the host, said we must try the Baba Napoletano, a traditional dessert from his home town of Naples. The rum soaked sponge cake with Chantilly cream and raspberries was delectable. Not too boozy but enough to pack a punch, the perfect way to finish off our meal.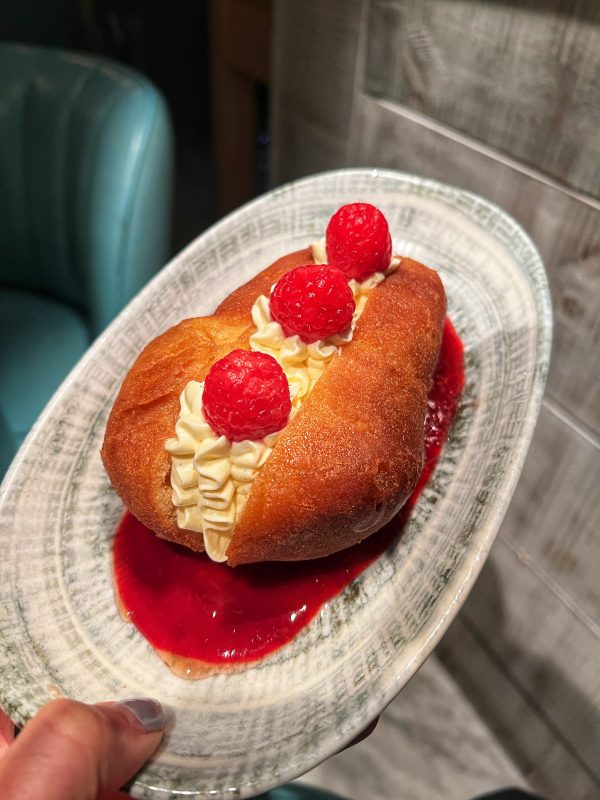 For a special occasion or a date night, this spot on Park Row is a great experience and you won't leave hungry. 
To find out more and to book your table, take a look at their website.
Read more: Ten places to eat and drink in Meanwood: the little Leeds suburb that's ranked as one of the UK's coolest neighbourhoods