Meanwood is quickly becoming a foodie hotspot.
Just ten minutes away from Leeds city centre lies Meanwood, a bustling leafy suburb full of fantastic independent shops, bars and restaurants.
The little Leeds suburb has attracted attention from national papers that's being dubbed one of the UK's top 15 coolest neighbourhoods by The Telegraph and more recently included in the 30 things we love in the world of food right now from The Guardian.
What is truly becoming a foodie hotspot that's got city centre dwellers flocking to the suburbs for – and it's really not difficult to see why.
Fancy a trip out of Leeds this weekend? Here are our top picks of what to see, where to eat and where to go in the up-and-coming town of Meanwood.
To Eat…
There's a whole host of different foodie pop-ups and kitchen residencies in Meanwood, many of which acting separately to the bars that host them, so we've separated out our favourite places to eat and drink in this humble little suburb to help you make the most of what's available.
Culto
There's no shortage of Italian-style feasts here, but Culto stands out for its charcoal pizzas and fresh dishes. The friendly neighbourhood restaurant's aim is to showcase how fantastic Italian cuisine can be by using only the best ingredients delivered directly from Italy. There is a relaxed dining area where you can enjoy their delights or you can take the food away to enjoy at home, all at an affordable price.
Whether it's a toasted panini sandwich made with homemade focaccia that you fancy or a creamy burrata and tomato salad to enjoy alongside a cold glass of Italian white wine. If it's something sweet you're after then why not make a pit stop at Poco, their sister cafe on Kirkstall Road, who serve homemade Sicilian cannolis filled with fresh cream.
Dijon Boys
Inside Number 8 Cocktails, Stonegate Road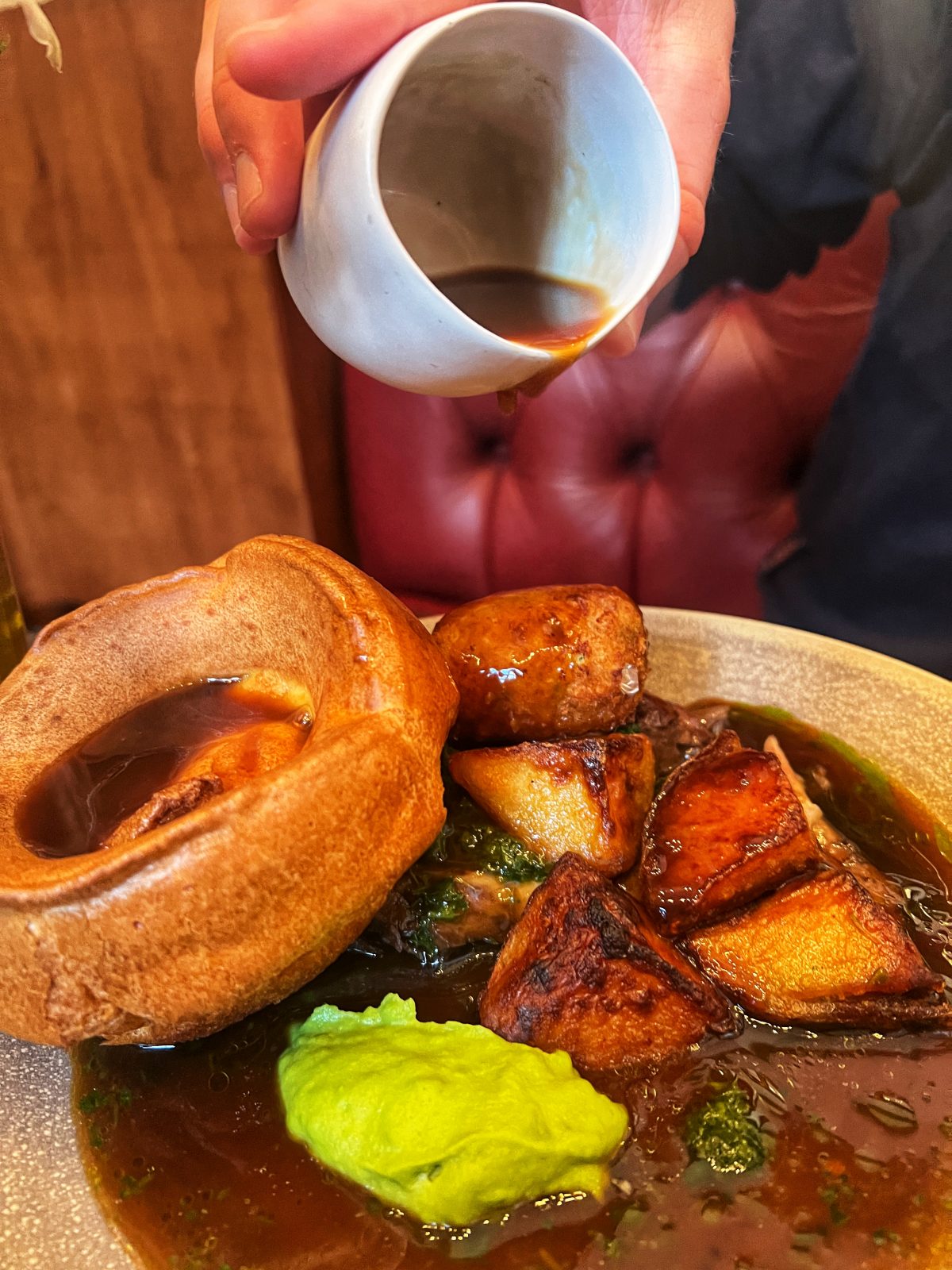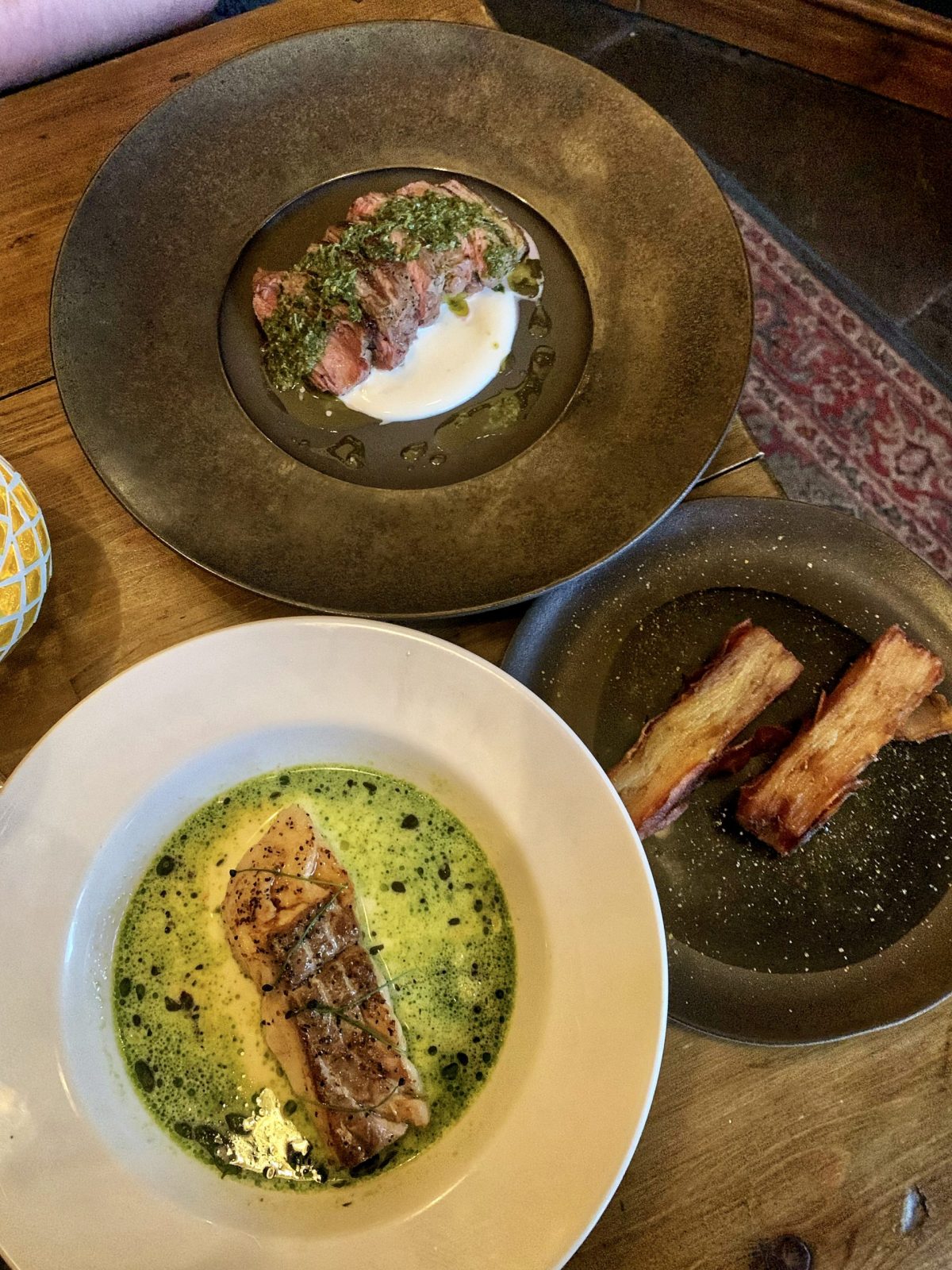 With ever-changing specials and a considered menu of seafood, meat dishes, veggie options and dessert small plates, this style of dining is perfect for sharing with your nearest and dearest.
The idea is you choose a range of dishes to suit each individual palette and share between the table. With so much to choose from, there truly is a dish for everyone, and the selection will have you fighting over the last slice of just about everything.
Sunday is always the best day of the week for food, and it's no different with Dijon Boys either. On the roast menu there's a choice of 12 hour braised short rib of beef or lamb shoulder and a stuffed pork or butternut squash with carrot, pea or parsnip puree, roasties, a huge Yorkshire pud and red wine jus topped with a bread sauce croquette.
Find out more here.
Well Oiled
Inside Meanwood Tavern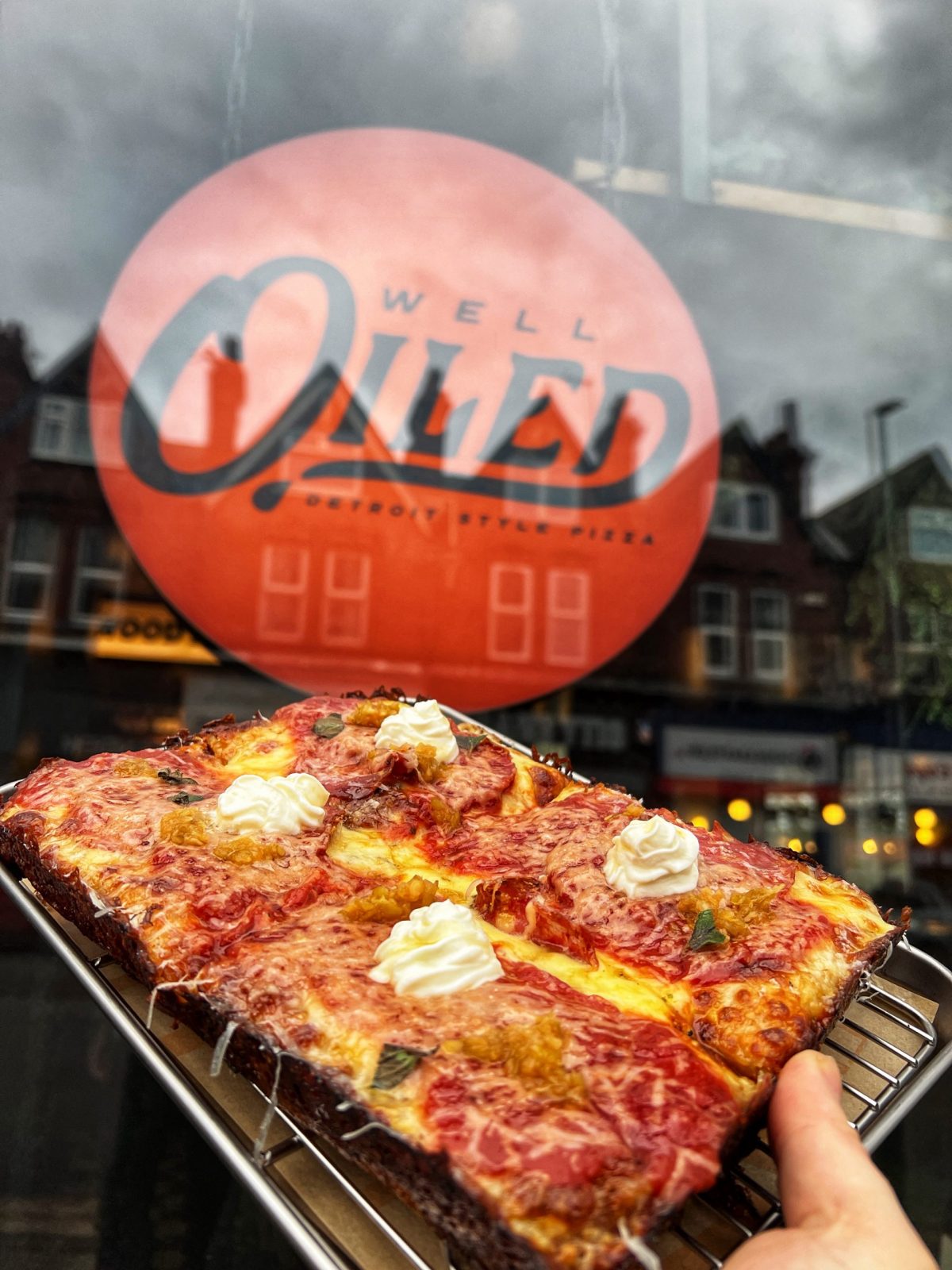 Offering a carefully-selected menu of delicious Detroit-style pizzas, the popular pizza joint has everything you'd possibly want from a lunchtime snack or dinner time treat.
Detroit pizza is served as a rectangular shape, rather than your usual circular Neapolitan style – and rather than this just being an inventive way to change up the aesthetics, this actually allows the pizza to develop a deliciously crisp cheese crust around the edges.
The focaccia base itself remains light and airy thanks to an extensive proving period of 48 hours – and from there each individual pizza is built up with flavour-packed toppings and oven cooked to perfection.
Find out more here.
Stuzzi
Every Friday night inside Boot & Rally bar.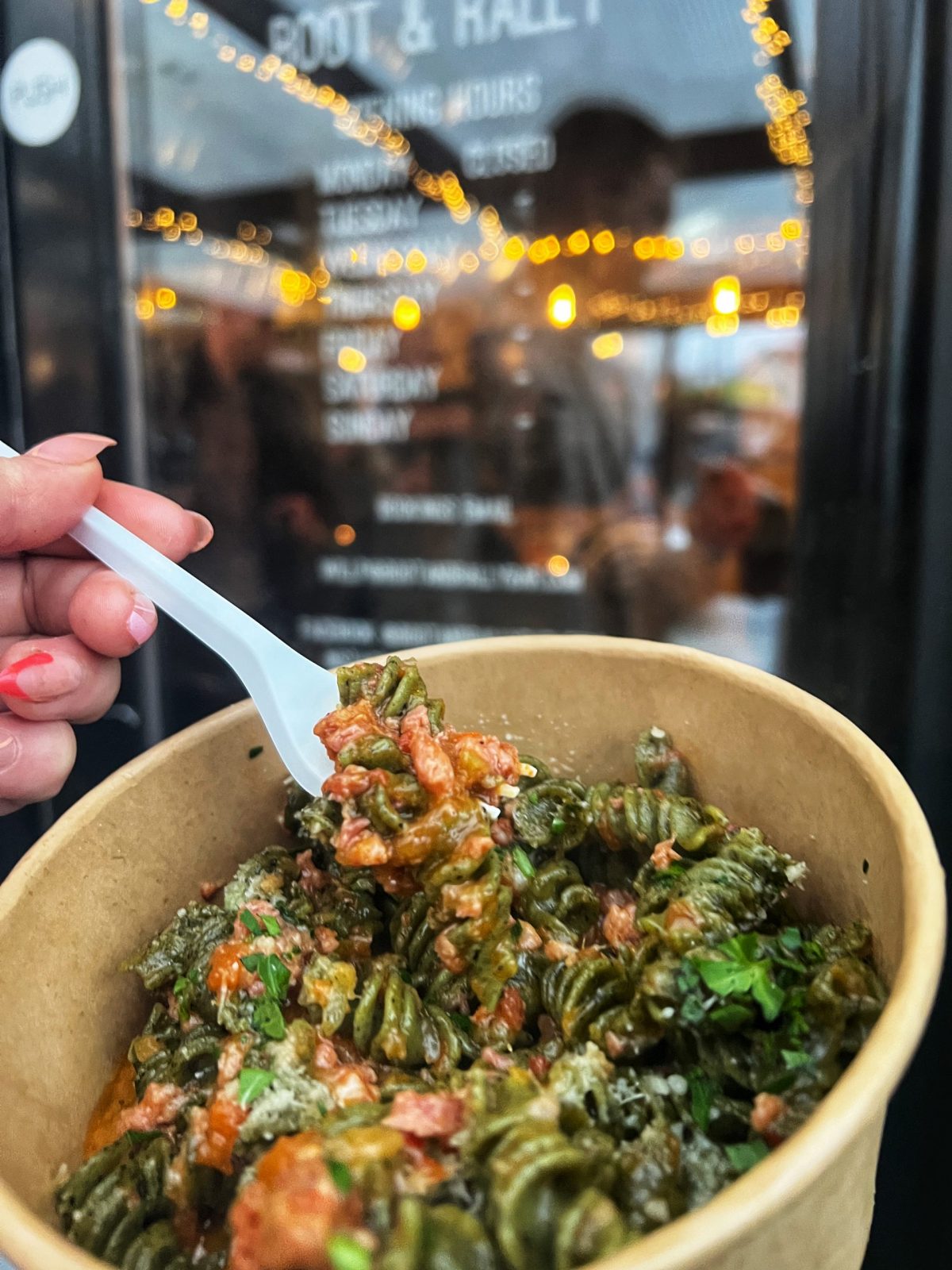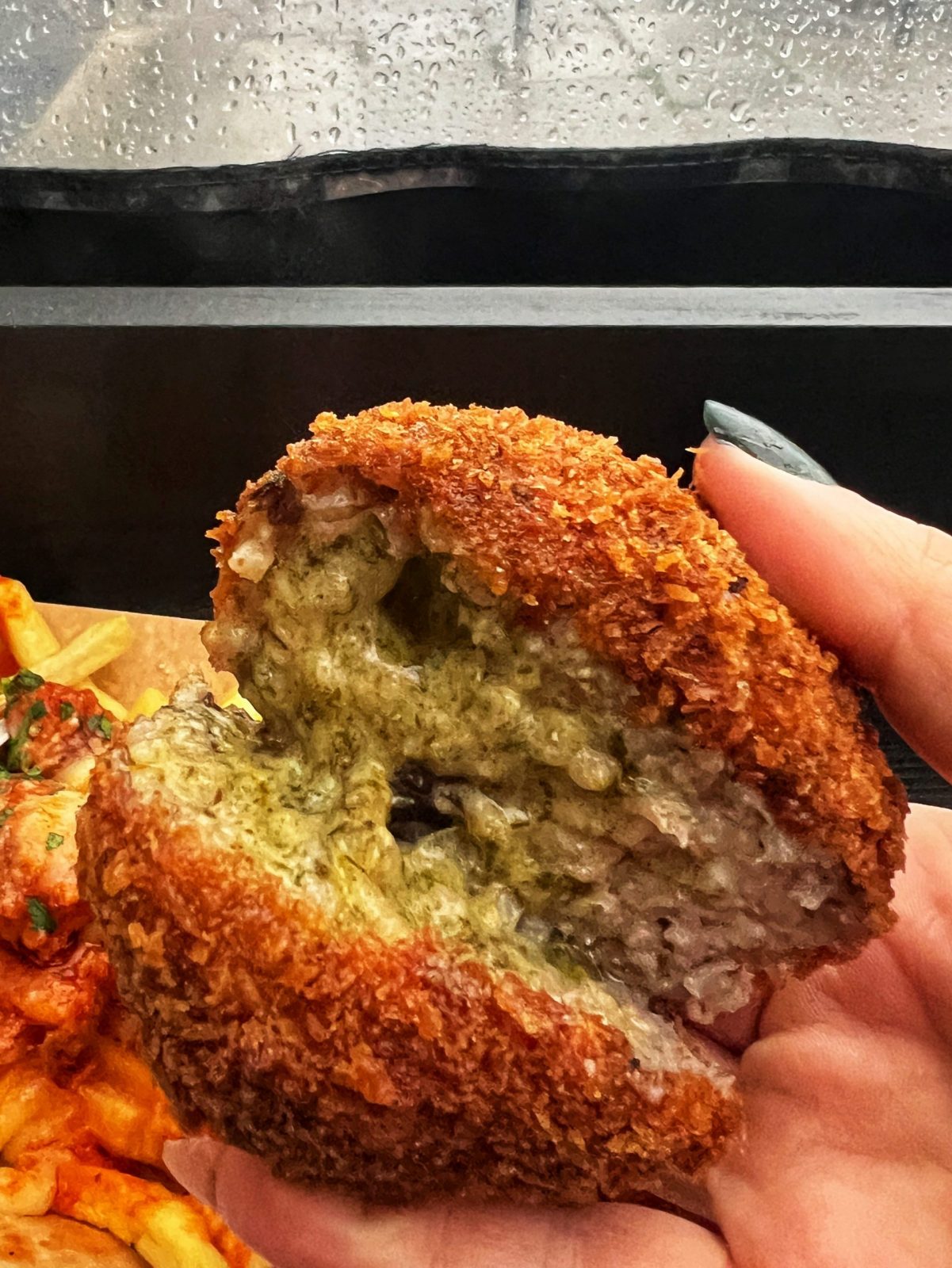 This foodie option is truly giving the people what they want: the opportunity to eat authentic Italian treats like pasta and arancini from an award-winning restaurant, but without the faff of dressing up and lots more beer options, all in the comfort of the local.
Every Friday 5-9pm you can head over to Meanwood for a craft beer inside the cosy little bar and a side of Stuzzi's award-winning dishes served in a street food style.
Pick and choose from arancini, fries double loaded with crushed Stuzzi beef and mortadella meatballs topped with mozzarella or opt for Stuzzi's signature pasta with combinations like cotechino Italian sausage and 'nduja ragu flavoured with rosemary and white wine, cooked slowly in chicken stock and san marzano tomatoes – it's so moreish you'll be ordering seconds (and thirds).
Find out more here.
Beck and Call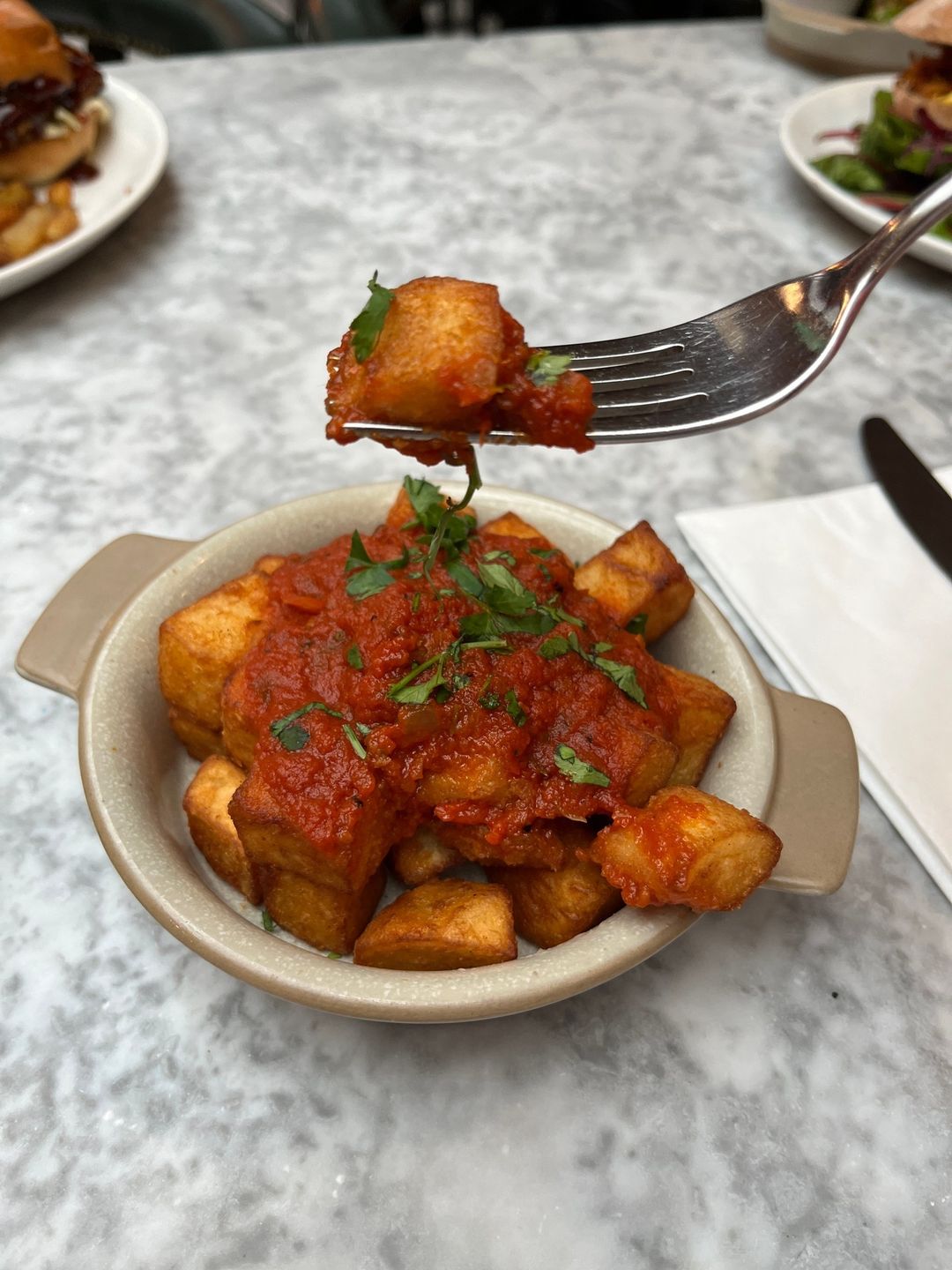 A cosy pub with outdoor terrace that soaks up the sun in the summer and little nooks to hide in stacked with old books in the winter – this place is busy all year round tempting families, friends and passersby with its traditional pub grub menu.
Naturally the Sunday roast comes highly recommended but there's a host of offers on throughout the week, including a chippy Friday and British classics served until late.
To Drink…
So granted,
Humbl Coffee
38 Monk Bridge Road, Meanwood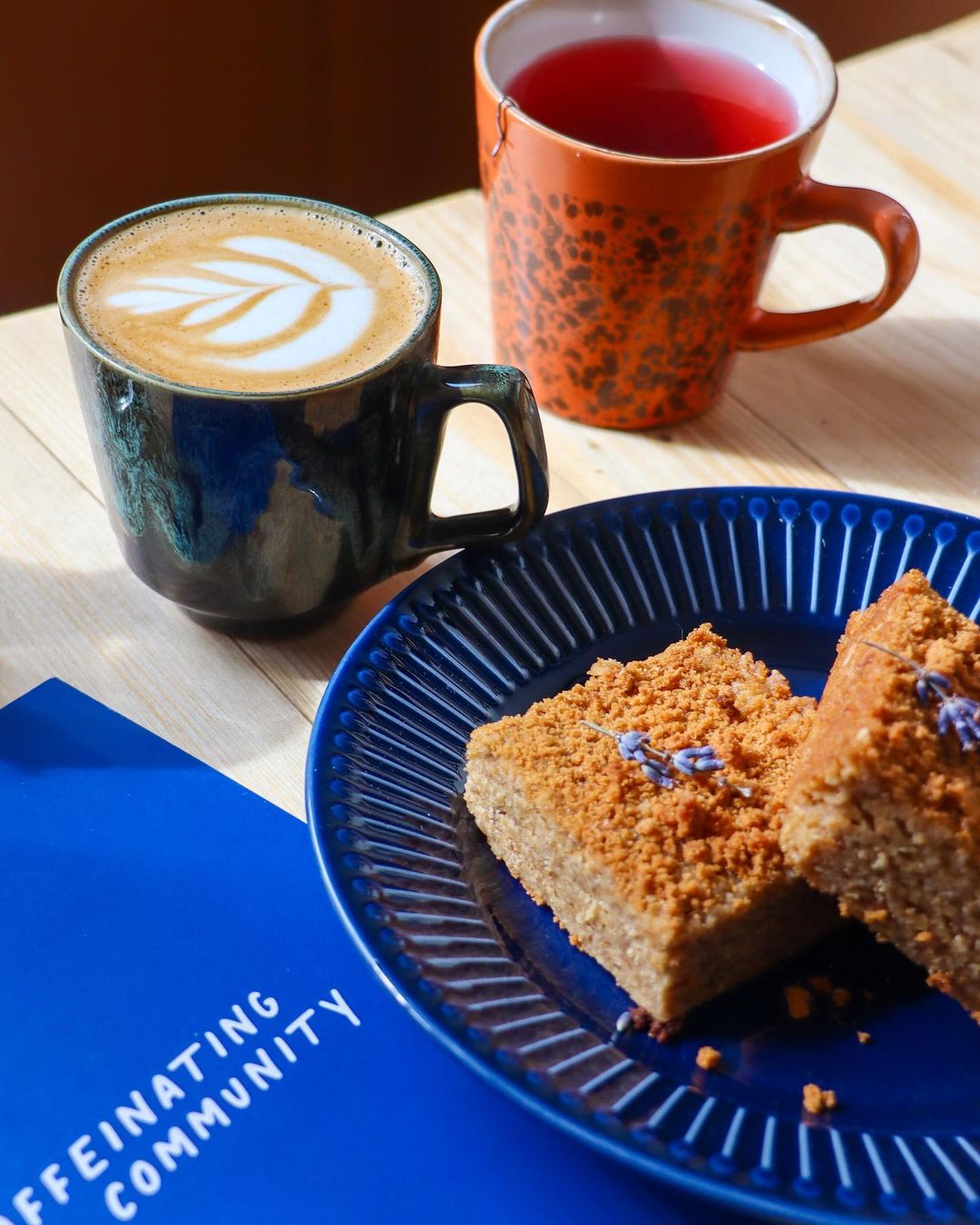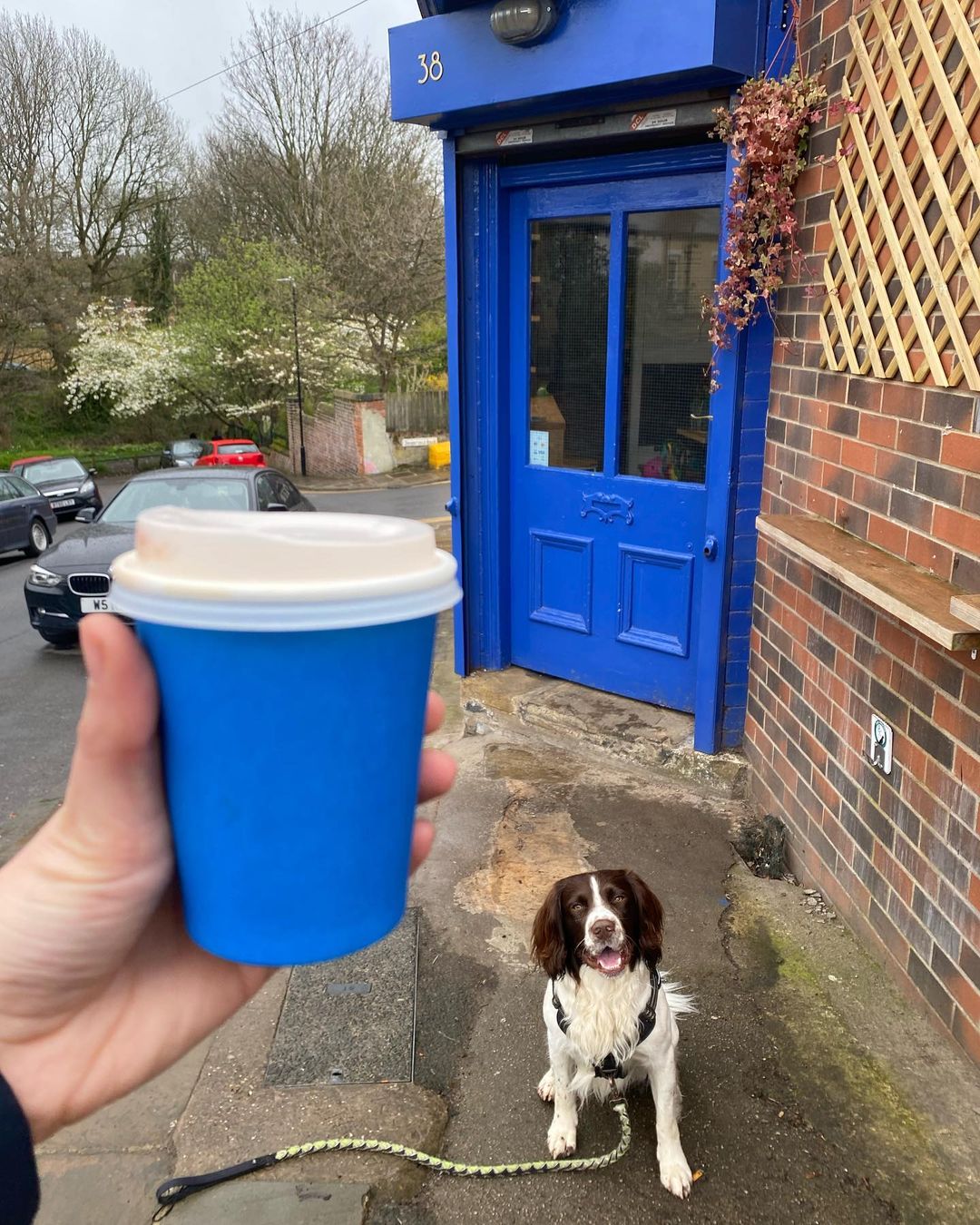 From an up-cycled horse trailer to a coffee shop, Humbl is the UK's first battery powered mobile coffee shop with a lockdown success story that started off, and continues to be, an entirely self-funded small business.
Owners and coffee enthusiasts, Matt and Georgia, are now giving the suburb that has taken in Humbl for the past twelve months, a permanent home in the form of a coffee shop. It's dog friendly, laptop friendly and has a proper community feel about it.
Meanwood Tavern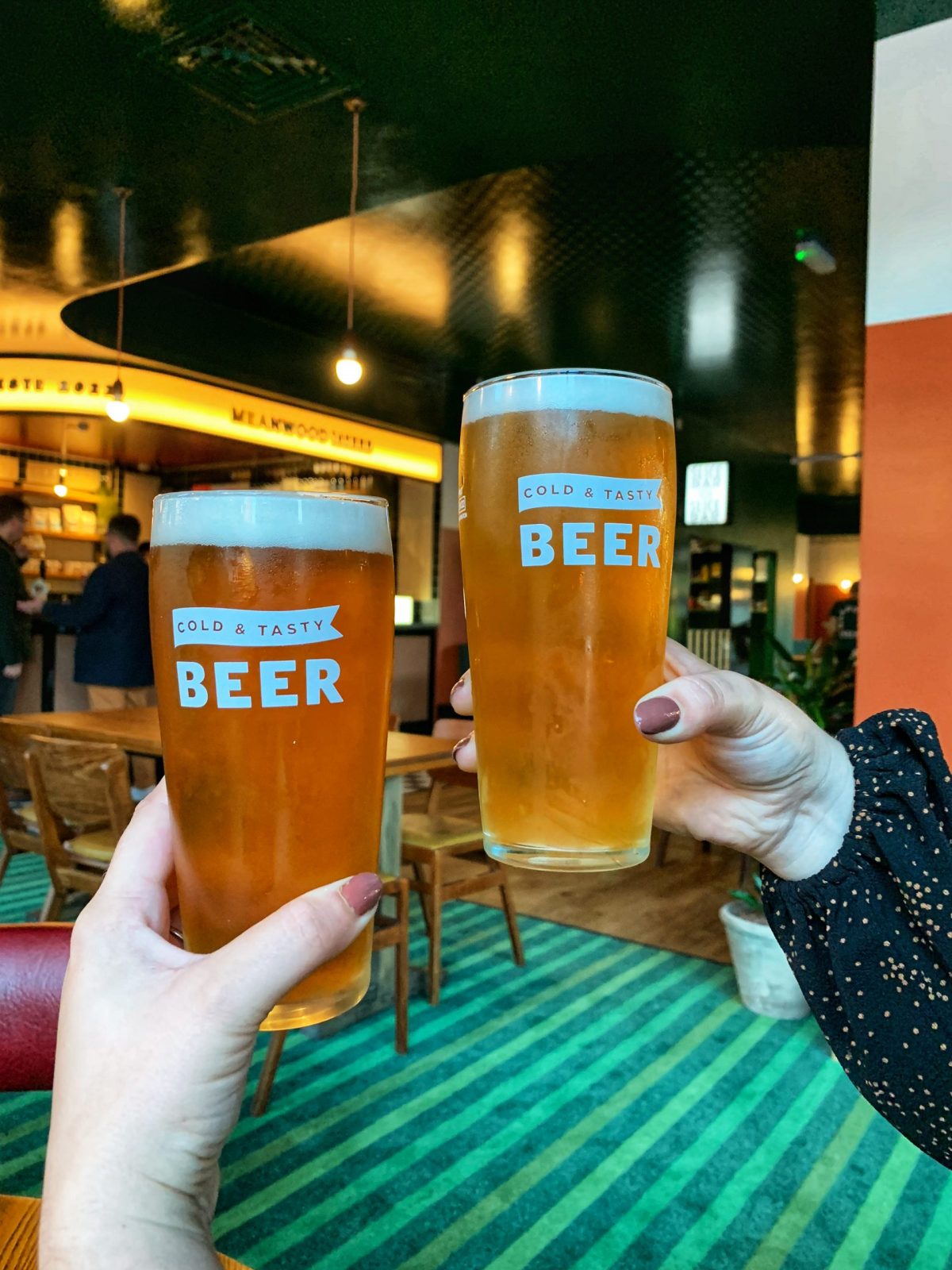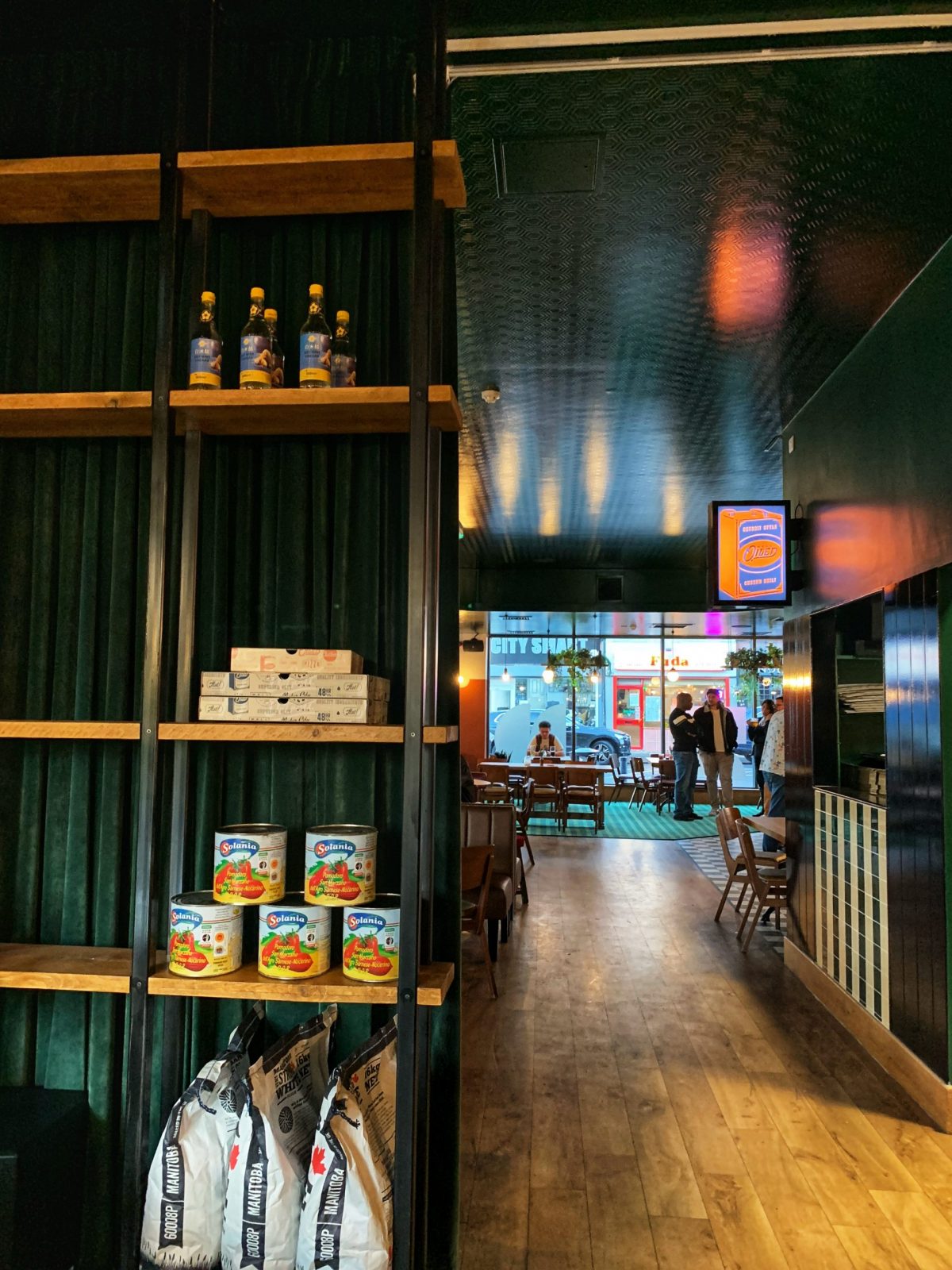 Choosing the name The Meanwood Tavern, the pub has taken inspiration from traditional British pubs, but offering a contemporary twist that will see a refreshed new site with all-new bar and seating areas, and capacity for up to 160 guests.
Effortlessly fusing the taste of Yorkshire that Whitelock's are known and loved for, the tavern has a particular focus on locality, bringing together a plentiful drinks menu with craft beers from Yorkshire and well-kept real ales, as well as a full selection of wines, spritz and a dedicated cocktail menu.
Find out more here.
Terminus Tap Room & Bottle Shop
Stonegate Road, Meanwood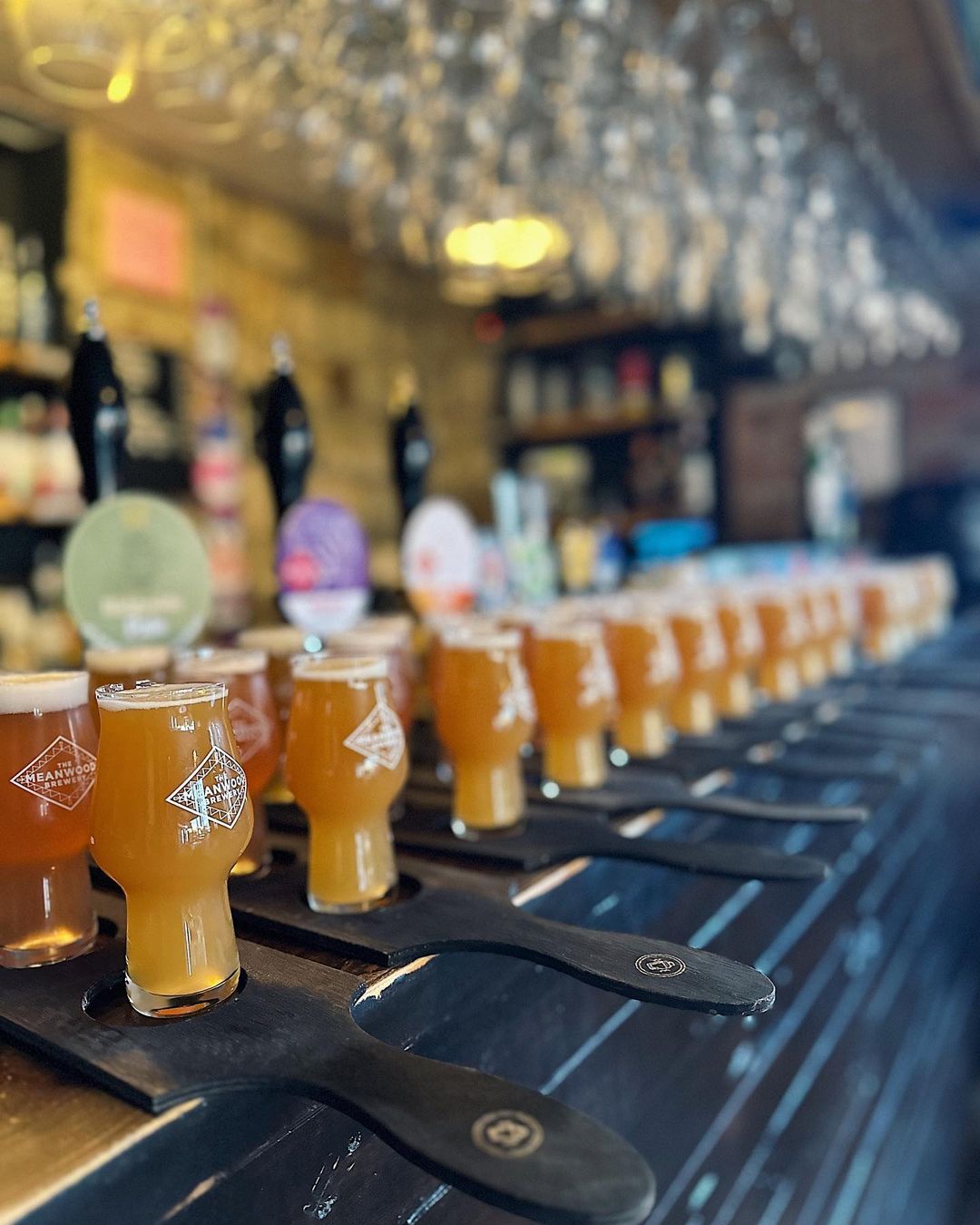 Established in 2017 by brothers Baz and Graeme Philips, The Terminus Taproom otherwise known as The Meanwood Brewery, offers customers the finest craft beers, wine and cocktails from the best local producers and beyond.
Pop in and try one of their own hoppy creations which take inspiration from different styles and flavours from around the world. Or try one of their fabulous, salted caramel espresso martinis which are two for £10 during their happy hour at 3-6pm on Monday to Friday.
Number 8 Cocktail Bar
10-14 Stonegate Road, Meanwood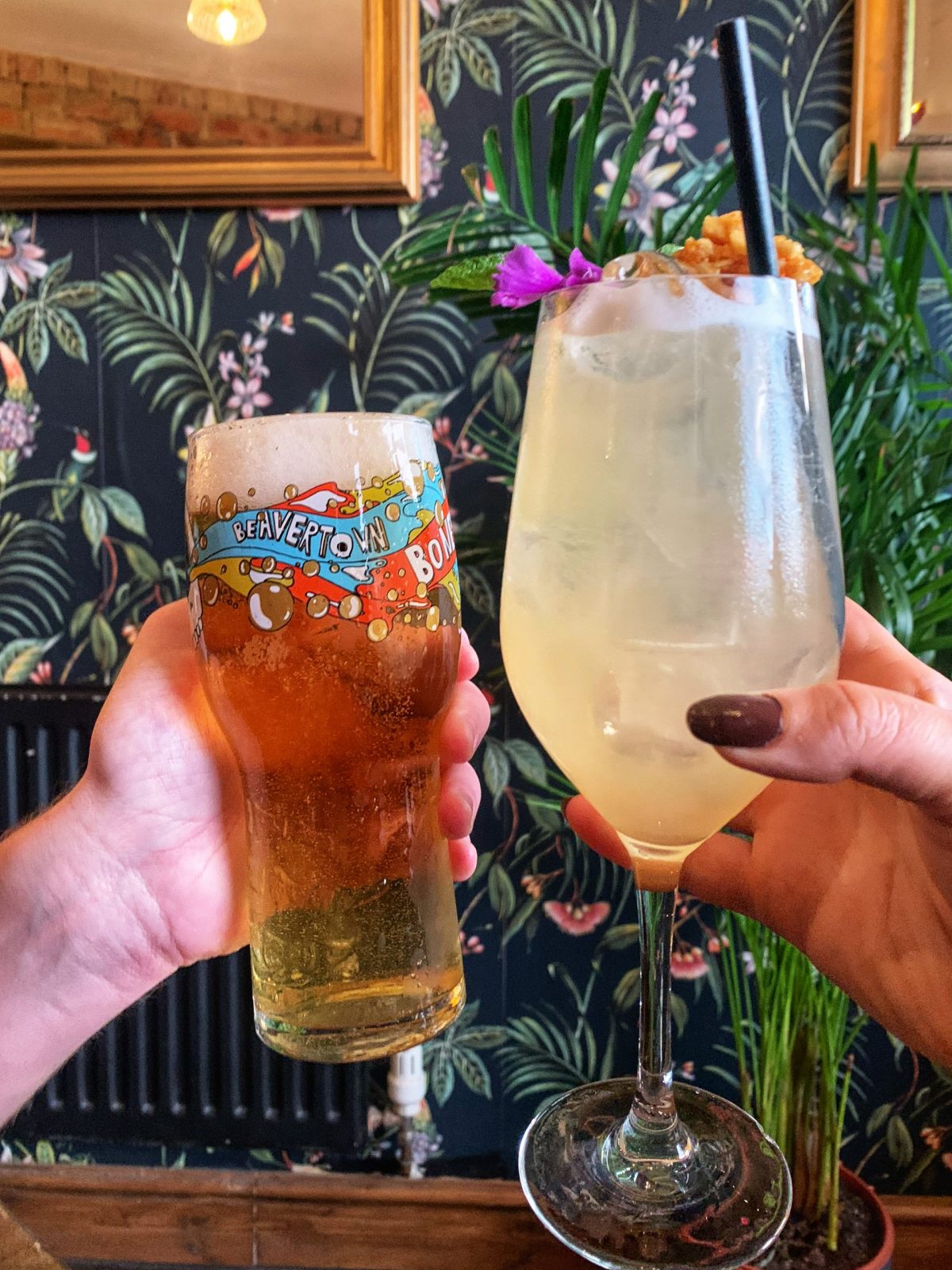 Previously located over in Manchester at the independent urban village Hatch, Number 8 Bar has made quite a name for itself with its fun takes on classic cocktails.
The building certainly isn't hard to miss with a multicoloured, floral mural painted on the outside. Inside you are met with trendy, industrial inspired interior with cosy leather sofas to nestle down in. Enjoy any of the classic cocktails which are perfectly executed or sample one from their ever changing, seasonal menu items to spice up your Friday night.
Alfred
6 Stonegate Road, Meanwood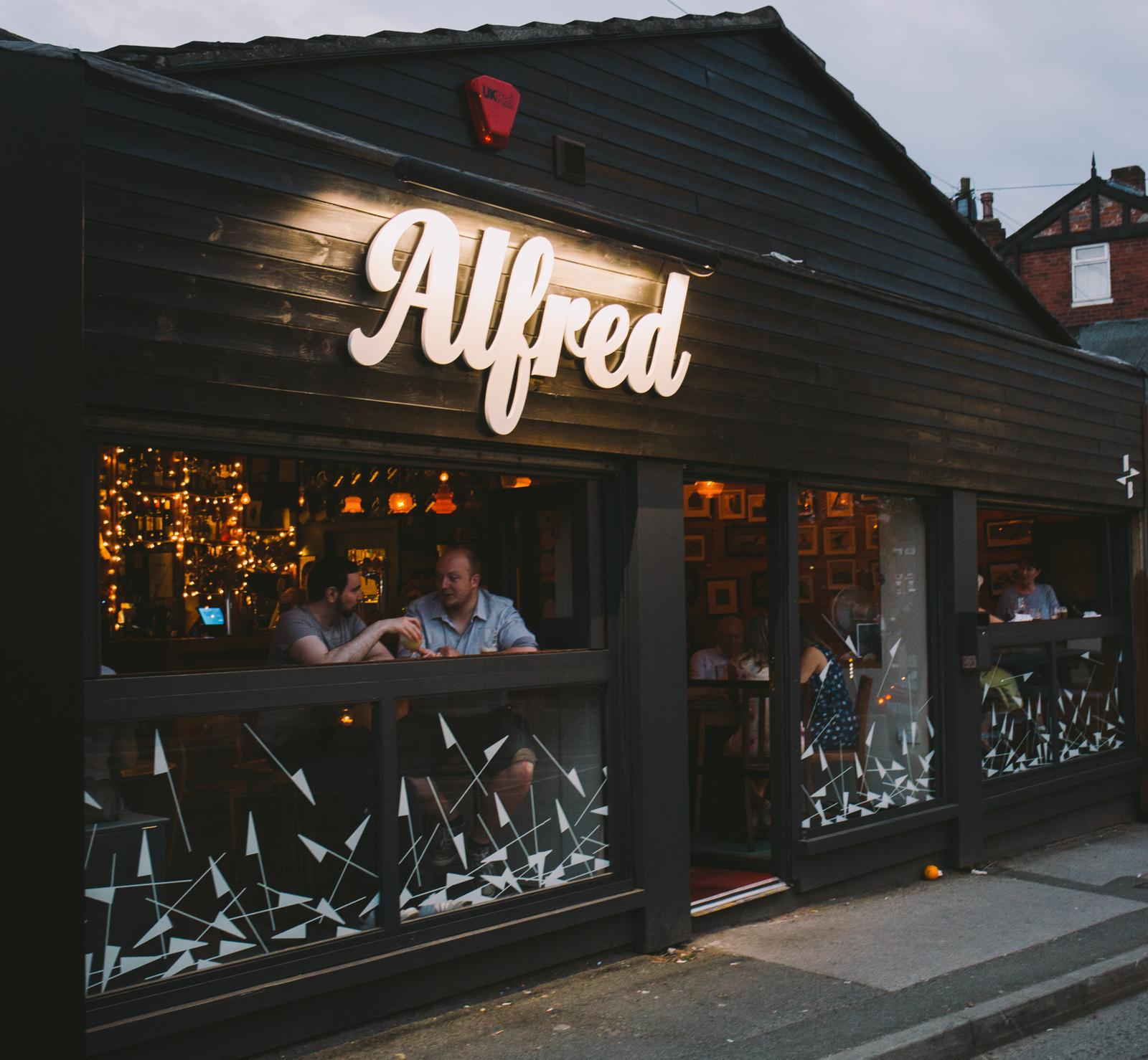 Slap bang in the middle of Meanwood, minutes from Meanwood Park, Alfred is the perfect local hang out for fans of great beer, wine and spirits. An extension of the beloved Leeds favourite, North Brewing Co. Alfred is home to knowledgeable and friendly staff who are happy to take you through their huge range of drinks.
Stop by after a walk round the park for a well-deserved beer surrounded by stylish decor with a 1950's twist.
Feature Image – Terminus / Humbl / Culto