The Wolverine star was seen relaxing in the Yorkshire countryside and making friends with the locals whilst on a family holiday.
When you think of Hollywood celebrities on holiday, your mind immediately jumps to The Maldives, Mykonos, the sunny Carribbean or perhaps Bora Bora.
But to our surprise, the Australian A-lister most famous for his roles in Wolverine, X-Men and The Greatest Showman recently holidayed in…Silsden.
Hugh Jackman and his family stayed at the Steeton Hall Hotel in Silsden and explored Yorkshire's Bronte Country over a few days.
The first sighting of the Les Miserables star occurred when he tucked into a classic British staple of pie and chips in the hotel restaurant, where Jackman also sang Happy Birthday to the head chef's son, who was celebrating turning 15 in the hotel's dining room.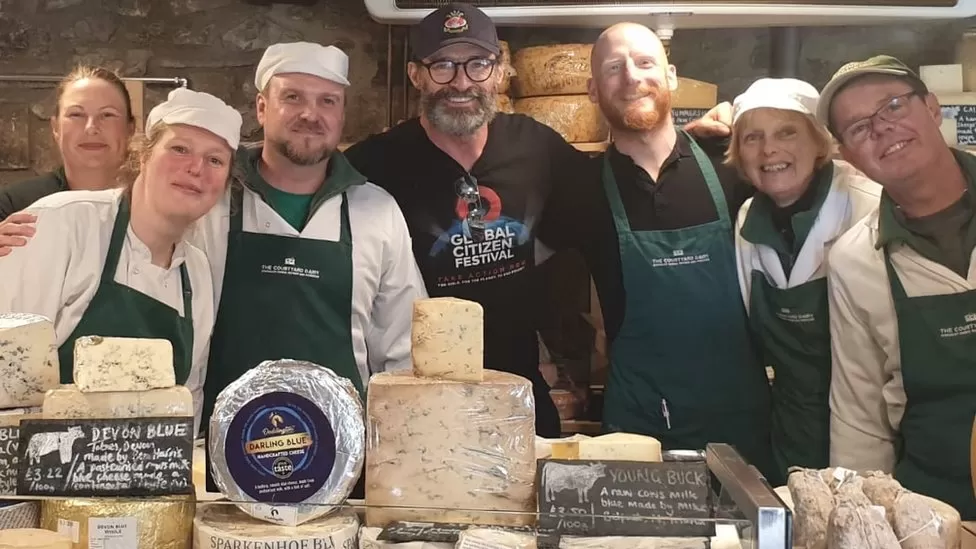 Hugh asked the hotel manager to recommend a route for his family to walk to take in the stunning sights of the Yorkshire Dales, to which she recommended he head to the Leeds Liverpool Canal.
Jackman took this advice and set off on the route recommended where he was spotted on a local's doorbell camera.
Hugh was walking past the local's gate where he saw eggs on sale and decided to take a photograph for his social media. Danny Clarke, 43, told the BBC: "The biggest Hollywood movie star in the world putting a picture of our kids' farm eggs on Instagram – they couldn't believe it."
The actor also surprised staff at The Courtyard Dairy in Settle during his visit, where he sampled a range of cheese before relaxing in the sunshine with a Yorkshire cider.
Owner Andy Swincoe said he joked with Jackman about using his Wolverine Claws to carve some cheese, to which Jackman responded "he wasn't keen."
He said the family bought a number of cheese to take home, but that the Hebden Goat and Leeds Blue varieties were his favourite.
It's rumoured that the family were then making their way to the Lake District, but we're sure he won't have half as near a good of a time than he did in Yorkshire.
You're welcome back any time, Hugh.
Read more: Chris Pine on studying at the University of Leeds and doing The Otley Run
Featured image – Steeton Hall Hotel