Ryan's Kitchen has long been a Kirkstall favourite for Jamaican food but it wasn't until the pandemic that locals were able to appreciate the true authenticity of Ryan's dishes.
Ryan Simpson of Ryan's Kitchen has perfected the art of fine cuisine after leaving the army and starting his own catering business.
The small restaurant opened on Kirkstall Road over four years ago but "demand went through the roof during lockdown" as many customers made Ryan's Kitchen takeaway a weekend ritual after sampling a range of Caribbean dishes from the restaurant.
Founder Ryan Simpson has a long history of cooking delicious Caribbean food for family and friends before starting his venture.
Growing up, the ex-Army chef cooked a three course dinner every week with his siblings and was inspired by his parent's cooking style to perfect his recipes.
After leaving the army in 2004, Ryan moved to Leeds and worked in a call centre.
Moving in with like-minded foodies encouraged the chef to adapt to his secret recipes to mouthwatering successes.
He began selling his meals to co-workers and eventually set up as a mobile catering business.
Spiced, not spicy is his mantra and the menu shows that there is no absence of flavour at his Kirkstall restaurant.
These days, you'll find the chef at his permanent residence on Kirkstall Road, where customers are loyal and the menu, delicious.
Ranked in the top 25 per cent for food in Leeds and a page of glowing five-star reviews on TripAdvisor only demonstrates the variety of cuisine available.
According to TripAdvisor, during lockdown, the restaurant was the must-try place on Kirkstall road:
"As we can't go out much ordered a delivery. What fantastic food! I had heard great recommendations but not tried it before. We had jerk chicken and curried goat. Absolutely delicious. Will definitely be back for more and look forward to the day we can visit the restaurant".
There are plenty of vegan and vegetarian dishes on offer and the majority of meals are made gluten-free.
The mock jerk, rice, peas with corn dumplings, slaw and plantain is just one example of how Ryan's menu doesn't compromise on quality.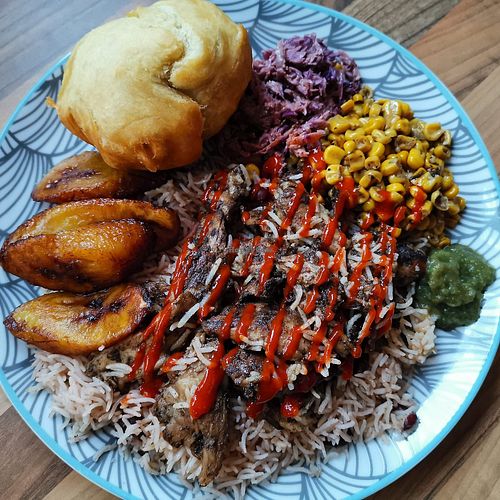 Vegans agree that it can be particularly difficult to find meat substitutes that are still flavoursome, but reviewers on vegan critic site Happy Cow, say that these dishes are perfect for anyone looking for authentic Jamaican food at a reasonable price.
For more information about this must-try restaurant, visit Ryan's Kitchen website or wander down to their restaurant on Kirkstall road.
Please note the restaurant is closed on Mondays and Tuesdays.
Feature Image- Ryan's Kitchen