Christmas Tipis are everywhere this year, so we've rounded up the best in the city.
Market stalls are so pre-Covid. This year, it's all about the Christmas tipi and Leeds has given us so many to choose from.
Ideally, a pub crawl around every single tipi in town will let you test out the best cocktails, cosiest blankets and warmest spot by the fire. But realistically, once you've sat down with your mulled wine at your first stop, we bet you won't want to leave.
Luckily, all of these tipis will keep you warm and well-fed throughout the night so no matter how many you visit, you'll be able to get into the Christmas spirit in style.
Thor's Tipi at Millenium Square
It would be impossible to write about Christmas tipi pop-ups without mentioning Thor's Tipi. After delivering 170,000 pints of beer, 125,000 cups of mulled wine and 55,000 cups of hot chocolate back in 2019, Thor's Tipi is back in Leeds and York this year to give city dwellers their festive booze fix.
Based in Millenium Square next to the Wheel of Light, Thors is a walk-in, BYOF (that's bring your own food), festive tent with an array of cosy seating that you'll never want to get back up from. in York, Thor's Tipi can be found on Parliament Street, sharing their home with Yuzu and their delicious Bao Buns.
Tipi Lounge at Cedar Court Hotel, Harrogate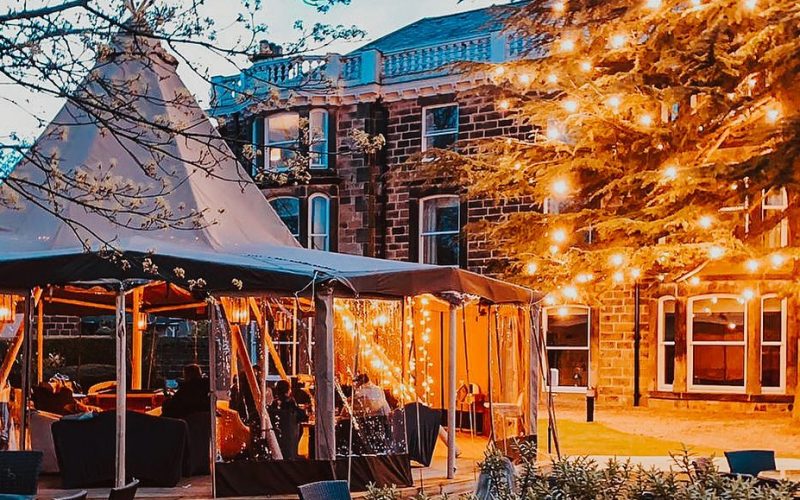 Over in Harrogate, just a short train journey from Leeds, Former Masterchef contestant Chris Hale and quart-finalist Jo Mills have joined forces to open up a festive pop-up restaurant inside Cedar Court Hotel. From Thursday 9 December – Sunday 19 December, the pair will serve up festive fusion tapas, afternoon tea and bottomless brunch options for guests as they warm by the open fire.
Afternoon tea will be served from Monday – Wednesday; festive fusion tapas from 2pm to 10pm Thursday to Saturday, and bottomless brunch on Sunday. Blankets will be provided so no matter what the weather, you'll still be cosy and warm inside the purpose-built tipi.
The Mustard Pot, Chapel Allerton
The Mustard Pot's Christmas tipi is a firm Leeds favourite and its back for yet another year. With a cosy place at the fire, grab a glass of mulled wine and embrace the festive treats available from 5pm everyday at the popular Chapel Allerton pub. It's the perfect place to unwind after work with a festive cocktail or even bring the whole team down for a Christmas party.
The tipi will also host Mini Christmas markets from 5 – 9pm on Tuesday 30th November, with the likes of Poppy's Potting Shed, Chirpy, Hyde Park Flower Club and many more local independent sellers attending to help you get that never-ending list of Christmas presents sorted.
Tipi Christmas on Briggate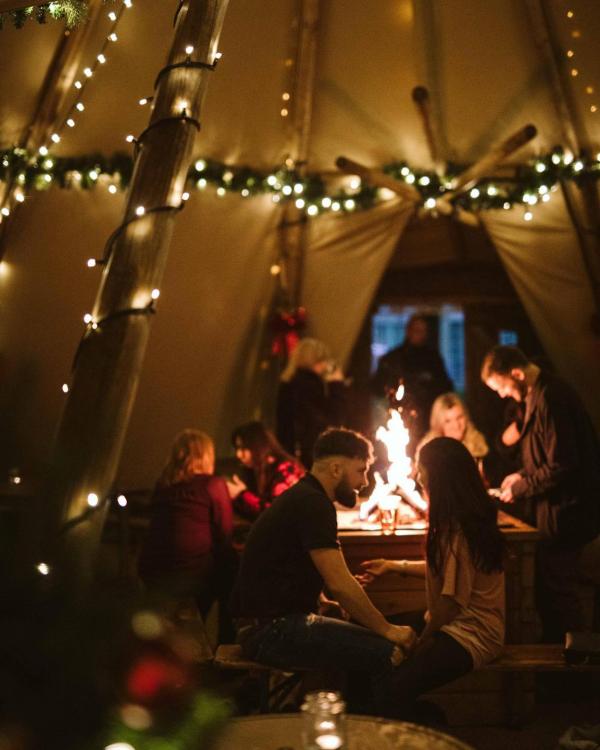 This family-friendly venue is the only place you'll want to eat your festive food from the pop-up markets. With a new 'bring your own food policy' the Briggate tipi will host a selection of festive refreshments, from hot apple punch to hot chocolates, for all ages to wash down their Christmas treats.
The Tipi will be open right up until 31 December 2021, so even if you don't fancy a pre-Christmas tipple, you can still make the most of this city centre tipi between Christmas and New Years Eve.
Chow Down Winter Village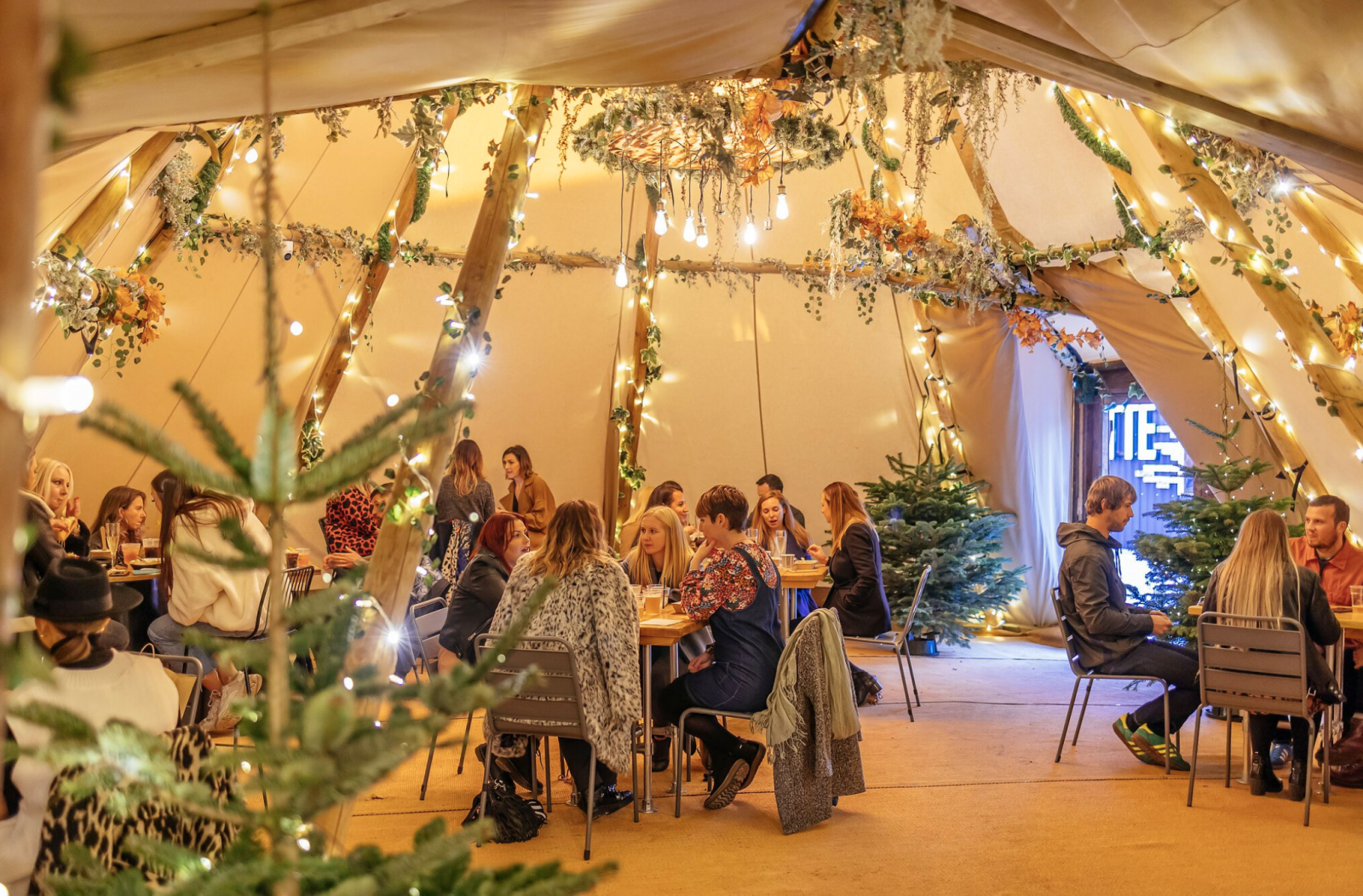 One of the most anticipated events in the Leeds this year has been Chow Down's Winter Village. Locally renowned open for their open-air bar and eatery, Chow Down have Temple Arches open air space into a Winter Village, complete with DJs and festive tipis. With rotating food and drink vendours, guests can repeatedly return for mulled wine, rooftop curling matches and even meet Santa again and again as we countdown the days until Christmas.
The Winter Village will be inviting guests into its cosy retreat until New Years Eve. Grab a seat by the fire at Temple Arches and make the most of the tipis, live music and more.
The Dome at The Lock Terrace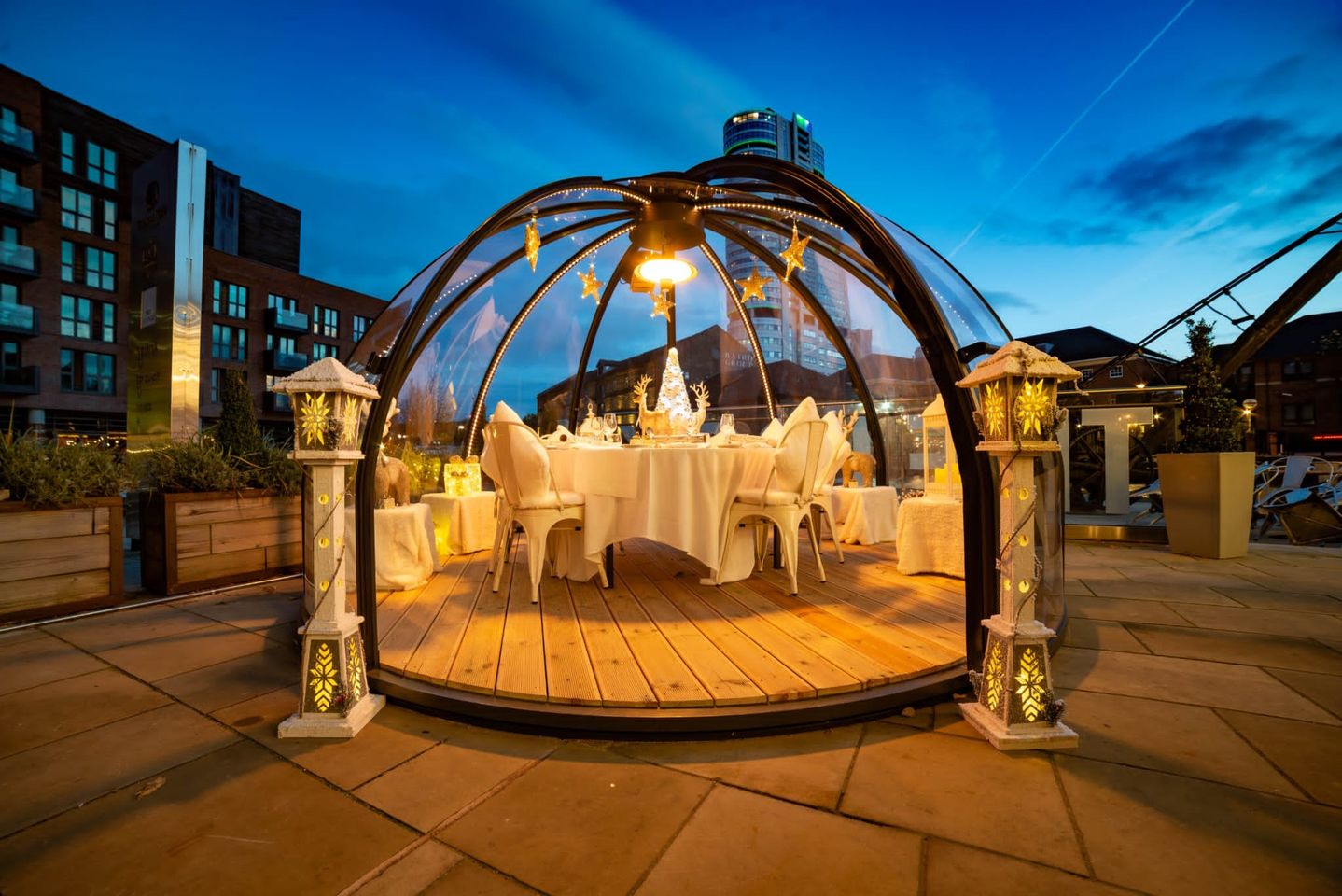 If you've spent too much time drinking mulled wine in tipis across Leeds over the years, this sophisticated alternative is for you. The Dome at The Lock Terrace seats up to eight people and is completely customisable to your needs. Select your festive favourites and embrace the city-wide views as the sun sets across the horizon.
This new venture from The Lock is available with a minimum spend of £200 Monday – Thursday and a minimum of £300 over the remaining days. This works out at £25 per person if booking a table of eight during the week and £37.50 over the weekend.
Feature Image- Thor's Tipi