Oula is a Leeds-based boutique catering service that is big on colour and flavour. The Halloween treat boxes are just the beginning of their incredible menu.
Looking for a last minute Halloween platter to feed your best-dressed next weekend or want to have a cosy night in but still enjoy the spookiest night of the year?
Oula has the only food you'll need for the occasion.
The Leeds-based catering company specialise on bringing grandeur to the dinner table. Each dish, be it savoury or sweet is packed with sass and created from organic produce.
For those wanting to wow guests this Halloween, the '100% That Witch' box could be the perfect solution for two.
Available as either meaty or vegetarian, these ghoulish boxes are packed with neon green and purple surprises.
Each box contains four cheeseburger sliders (meat or vegetarian as required) with curly fries, BBQ sauce & two pumpkin aioli syringes, as well as plenty of bite size sweet treats.
There are two lots of spiced apple skull cakes; pumpkin spice witchy slices; apricot cauldron cakes and if that's not enough, take a bite from the chocolate apple, snack on salted pretzels or even a chocolate witches finger if you're brave enough.
At £50 these boxes are possibly the most instagrammable treats we've come across in a good while and is the ideal way to check out Oula Creative Catering before you convince the boss to bring the company on board for your next event.
Turning a buffet into a work of art seems like an impossible challenge, but Oula make sure there isn't a shade of beige in sight.
The company state that their "passion for eating and eye for quirky aesthetics comes together seductively in the way we present & serve our food" and we couldn't agree more.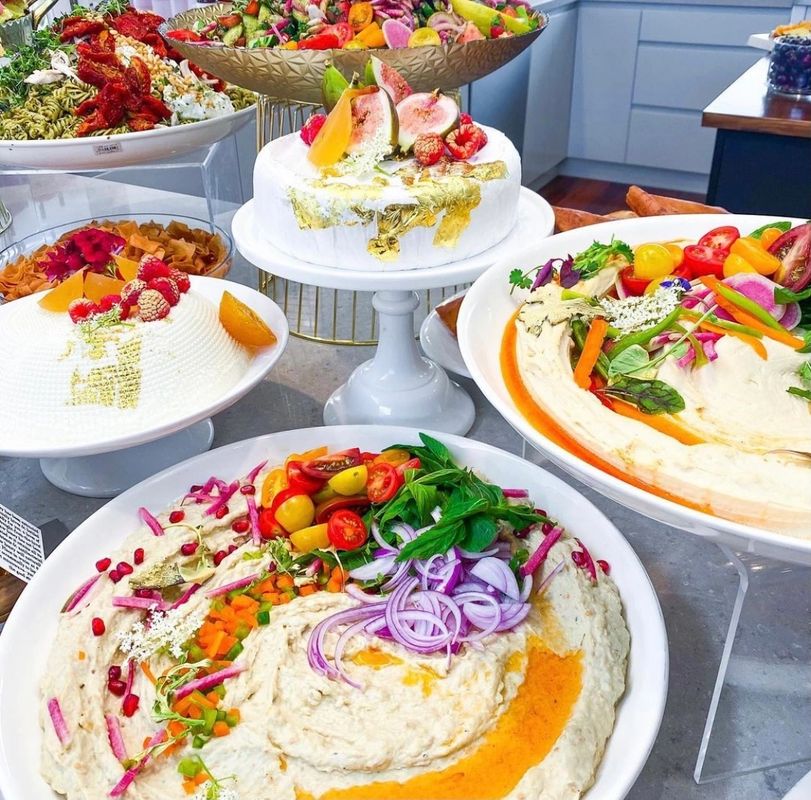 Making food is fun, delicious, healthy, colourful and trendy comes in plenty of forms, whether it's Oula's takeaway boxes, grazing platters, table styling or organic bakes, there are endless options to choose from.
The catering sample menu takes inspiration from statement dishes around the world, showcasing pulled barbeque chicken slides with custom-coloured buns, Vietnamese prawn rice noodles with mango and more.
For more ideas on how to bring a bit of colour back to the dinner table, read the full menu on the Oula Creative Catering website.
Feature Image- Oula Creative Catering