Head banging, crowd surfing, mosh pits and thousands of like-minded music lovers.
Slam Dunk Festival North is back for another year and there's a huge line-up to look forward to. Set in the heart of Temple Newsam, one of Leeds' best known festival venues is the hosting a one day set of metal, emo, punk and ska music from some of the industry's biggest names.
Taking place on Sunday 28 May 2023, there's plenty to look forward to this year, and we've broken it down into the acts to see, how to get tickets and even how to get to and from Temple Newsam.
Keep reading to find out everything you need to know about Slam Dunk North 2023…
Line up
This year, the huge day festival will be headlined by The Offspring, a punk-rock American band that have been going since 1984. Originally performing under the name Manic Subsidal, expect a combination of hits like The Kids Aren't Alright, Why Don't You Get A Job and You're Gonna Go Far, Kid, as well as newer hits from 2021 album Let the Bad Times Roll.
Enter Shikari is another huge name making up the 40-names-strong lineup. The British alt-rock band is now in its 20th year together and continues to combine experimental rock with heavy metal, post-rock and electronicore to the UK and beyond. The bands seventh album A Kiss for the Whole World will be released just a month before Slam Dunk, so there will be plenty to love, new and old, from the four-piece's setlist.
Other popular favourites include 00s pop-punk icons, Bowling For Soup, Real Friends and Four Year Strong. Canadian rock band Billy Talent and American singer-songwriter Maggie Lindemann will be bringing crowds to life at one of the city's biggest day festivals too.
The full lineup for Slam Dunk Festival 2023 is as followed:
The Offspring
Bowling for Soup
Billy Talent
Maggie Lindemann
Enter Shikari
Less Than Jake
The Academy Is…
Four Year Strong
Real Friends
Sueco
Zebrahead
Fit for a King
Kids In Glass Houses
Destroy Boys
Trash Boat
Grayscale
Holding Absence
Charlotte Sands
WARGASM (UK)
Malevolence
NOAHFINNCE
seeyouspacecowboy
Static Dress
Youth Fountain
ghostbush
Flogging Molly
Gogol Bordello
Millencolib
Zebrahead
Teenage Bottle Rocket
Millie Manders
PVRIS
Underoath
Vukovi
ZAND
Yellowcard
Fireworks
Hawthorne Heights
Creeper
The Mezingers
Boston Manor
Trophy Eyes
Spanish Love Songs
Movements
Sincere Engineer
The Hunna
JXDN
Charlotte Sands
GRAYSCALE
girlfriends
EMAROSA
Youth Fountain
The Tyne
Escape the Fate
Fit for a King
Landmvrks
Dragged Under
High Power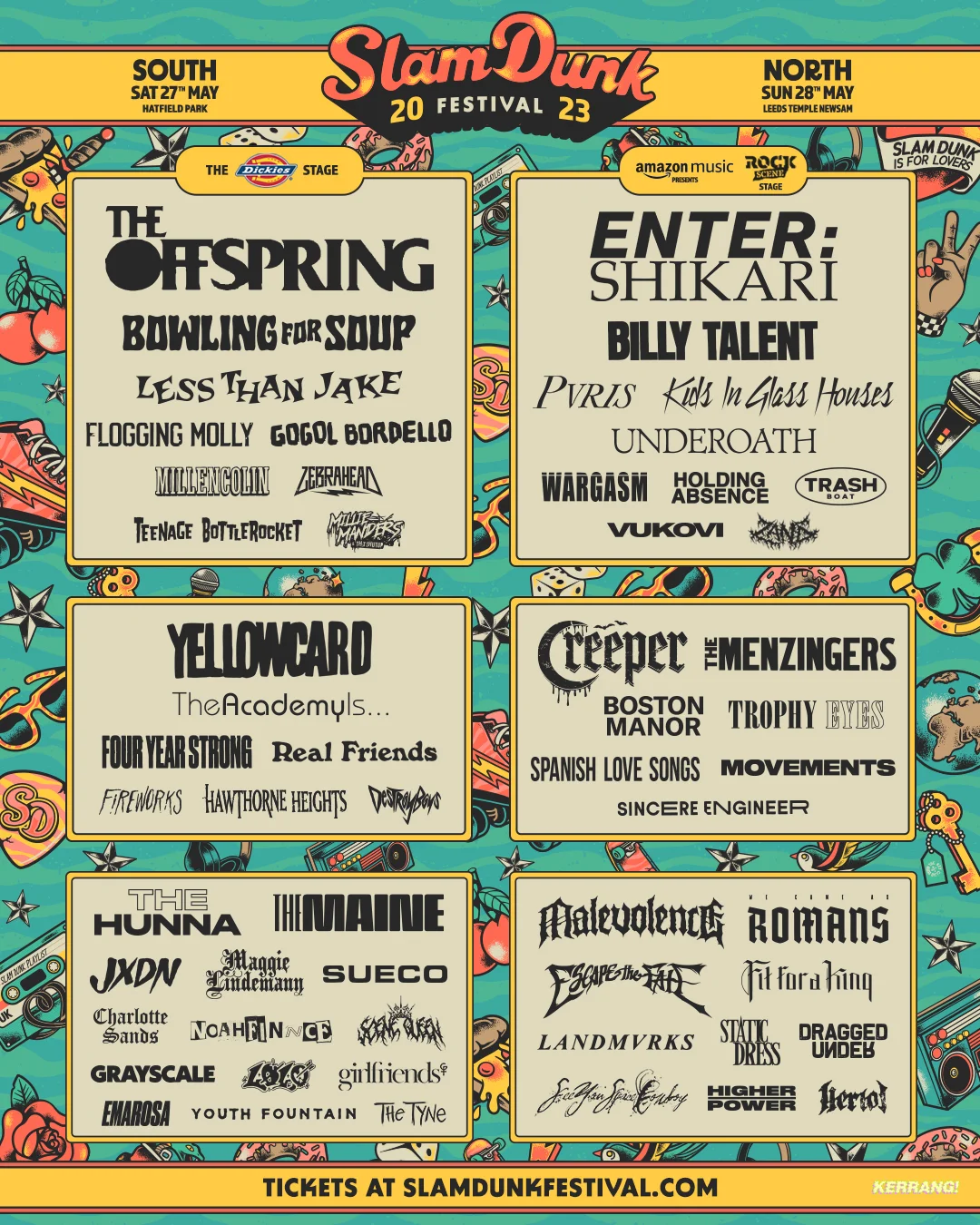 Tickets
Tickets cost £97.90 each and are available from See Tickets here.
Coach Tickets
Coach services can be added on, with stop at Birmingham, York and other cities across the country. These can also be purchased from See Tickets here, with prices starting at £36.72.
Live at Leeds and Slam Dunk Tickets
Those wanting to make a full weekend festival, you can also get a combo ticket for Live At Leeds: In The Park, which takes place the day before, and Slam Dunk for a discounted price. Tickets cost £150.70 for the two festivals, with tickets available via See Tickets here.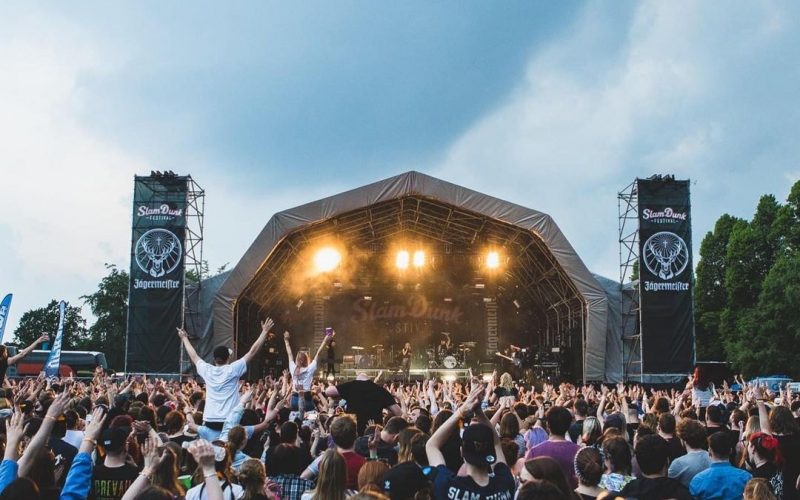 Getting there
Slam Dunk North Festival takes place at Temple Newsam, which is around 20 minutes from the city centre, and accessible by taxi, car or shuttle bus.
From Leeds
Coach travel is available for those trekking from further afield, but for us in Leeds, shuttle buses will be available from Sovereign Street in the city centre with a choice of booking in advance or on the day. Shuttles will be operating from 8.30am-3pm and to Temple Newsam and then 8pm-1am back to the city centre.
From across the country
Big Green Coaches will provide travel from Barnsley, Birmingham, Blackpool, Bolton, Derby, Huddersfield, Hull, Leicester, Liverpool, Manchester, Newcastle, Nottingham, Preston, Rochdale, Rotherham, Sheffield, Sunderland, Stafford, Stoke on Trent, Wigan and York. Tickets need to be booked in advance and are available via See Tickets here.
Lockers
If you want somewhere safe to store your bags, Slam Dunk is offering the opportunity to prebook lockers here.
Costs vary from £8 for smaller items to £15 for large lockers.
Official Afterparty
The official afterparty will be held at the O2 Academy in Leeds city centre, taking place from 11pm-4am. Tickets cost £6.60 and can be booked via See Tickets here.
Other Leeds music festivals and gigs
Hours before the new album was released too! 🎸 #leeds @InhalerDublin @O2AcademyLeeds https://t.co/WG4e5b7y2l

— The Hoot Leeds (@TheHootLeeds) February 17, 2023
Feature Image- Slam Dunk Music