This is going to be well worth a trip over the Pennines to discover.
A new fly-through video shows what TraffordCity in Manchester will look like over the coming years, featuring a £250m waterpark.
TraffordCity is set to undergo a major upgrade, with £2.6 billion earmarked for investment over the next two decades, reports The Manc.
Leeds city centre is just over an hour away, – so once opened, we'll be able to jump across and make the most of the huge new water park and wellbeing centre.
Projects in the pipeline feature the creation of the £250m ThermeManchester Wellbeing Resort, which will include 35 water slides, 25 pools, 30 saunas and stream rooms, an on-site urban farm and botanical gardens.
The huge site will be fully equipped to host the entire family. A dedicated family zone will have 25 swimming pools attached, a wave pool and more than 35 water slides.
For grown ups wanting to appreciate a relaxing day by the pool without a scream or splash in sight, the adults section will include a maze of water lagoons, mineral bars, swim up bars and 30 steam rooms and saunas.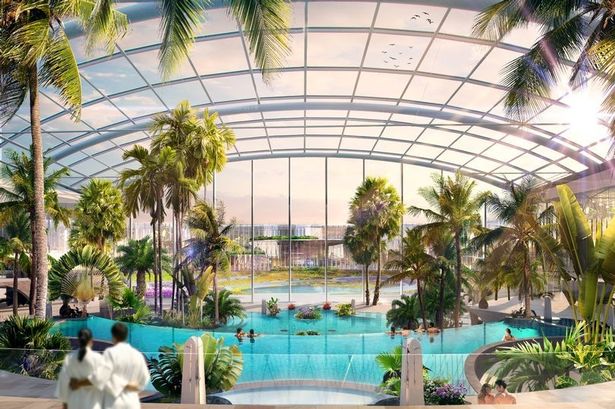 Work has already started on the site, with Peel L&P submitting plans to demolish the 28,000 sq metre EventCity conference and exhibition space on the existing plot.
When it's complete, the Therme site will span 28 acres and create more than 500 permanent jobs.
Another major development coming to TraffordCity is Modern Surf Manchester, an in-land surfing lagoon set to open by 2025.
The £60m attraction will feature technology that will create consistent waves for all abilities, alongside a cafe, restaurant terrace, surf shop, beach bars, bouldering space and fitness zone.
TraffordCity already attracts some 44 million visits each year, and is hoping to attract another 2.5 million visitors a year over the next five years.
Given it will take less than an hour to travel from Leeds city centre to this incredible new attraction, you can bet we'll be the first to dive into the waterpark in 2023.
Read more: Sheaf Street goes 'into hibernation' after roadworks blocks off the bar and event space
Feature image – Therme Manchester