With You Every Step is a celebration of friendship, in Rob and Kevin's own words.
Back in July 2023, it was revealed that Rob Burrow and Kevin Sinfield were collaborating on a brand new children's book to be named Try.
This is due to be released in 2024, however the two best friends have just announced another book in the form of a gift book to be released just in time for the festive period.
Titled With You Every Step, the special book will be available from 9 November 2023.
The gift book showcases the moving affection between local rugby legends, fundraising heroes and best friends Rob Burrow and Kevin Sinfield.
We're delighted to share the cover of With You Every Step, a heartfelt new gift book by rugby legends, national heroes and best friends @Rob7Burrow and Kevin Sinfield. Cover illustration by Gill Smith. Pre-order now! https://t.co/zLmQ2lc0lI pic.twitter.com/af9M9rIcXg

— Pan Macmillan (@panmacmillan) September 7, 2023
With You Every Step is a complete celebration of friendship, empathy and kindness in their very own words.
The gift book is pocket-sized and features heartfelt words from Rob and Kevin which are playfully brought to life with beautiful artwork from leading illustrators.
With You Every Step has been illustrated by a collection of award-winning, bestselling illustrators including Rob Biddulph, Reggie Brown, David Litchfield, Gill Smith and Sam Usher.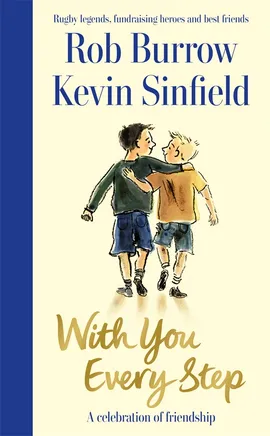 The book creates an inspiring and hopeful celebration of love, support and connection whilst exploring universal truths and celebrating kindness, empathy and the joy of friendship.
It is the perfect gift to give that special someone in your life to show them how much they mean to you.
And the best part is, for every copy sold, Macmillan Children's Books will donate 50p to be split equally between the Motor Neurone Disease Association and Leeds Hospitals Charity.
The synopsis by Rob Burrow himself reads: "True friends are always there, even when times are tough."
You can pre-order With You Every Step now via the Pan Macmillan website.
Read more: Six By Nico unveils Catelonia taster menu with 'Patatas Bravas', Paella Blanco and Burnt Vanilla Creme
Featured image – Pan Macmillan