Omotayo Adebisi has come a long way since making the decision to quit her unhappy job. Now, she makes millions selling products online through Amazon and has her sights set on her first billion pound turnover.
In 2017, having not long gone back to work after having her first child, Omotayo found herself suffering from stress, anxiety, and depression. She was feeling unhappy there and at the time thought that she wasn't really suited for business, describing herself as more of a family person.
Then, one day she received a call to say her daughter had been taken to hospital and everything capitulated after she was told she wasn't allowed to leave the office to go to her sick child.
"For the rest of the day, I was literally in tears," she said, speaking to the YEP.
"The way I see it is that anything could have happened, she could have died, and I wouldn't be there."
That was the moment she and her husband decided it was time for a change – and she decided to take some time off and focus on other things.
It wasn't long before a family member suggested she try her hand at Amazon selling, and whilst she was quite sure she wasn't mentally ready to go back into the world of work her husband was intrigued and started looking into the idea.
Thinking it would be a good distraction for his wife, now pregnant with their second child, he encouraged her and after some serious trial and error, they found a niche that worked for them: selling seasonal toys, hampers, and gifts as an independant Amazon retailer.
Starting small, throughout 2017 Omotayo was operating her business out of the kitchen of her family home in Morley. However, it wasn't long until she realised she needed to expand and start looking at warehouses – prompted in part by an opportunistic burglary that happened right under her nose.
By 2018, the business had taken over the whole house: the kitchen. living room, garage, "everything." But the final kick to move things up a notch came when, that same year, Omotayo had her goods out on the drive all boxed and ready to go out for delivery with UPS when a van full of lads pulled over and stole it all right off the drive.
That was the final straw, she says, and they started looking for warehouse space the very next day. Settling on The Storage Room in Beeston, once they moved into their new premises everything kicked up a notch again.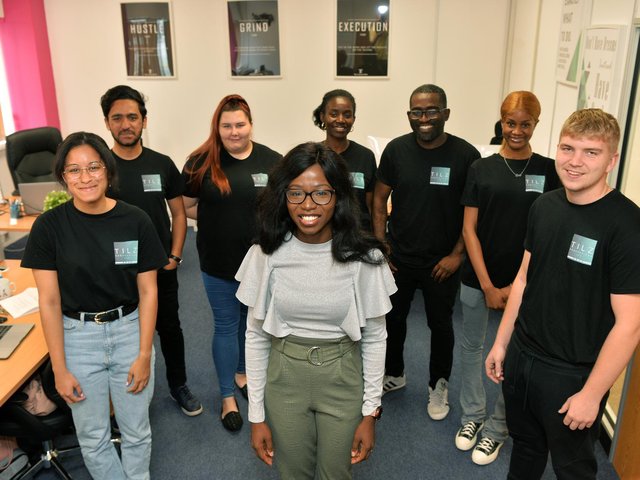 Now, she employs eight permanent staff and as many as twenty seasonal workers to help her with her online Amazon shop in busy periods. Having now hit over a million pounds on her yearly turnover, she's got her eyes on more: with plans to expand from retail-only into manufacturing too.
The next step, she says, is to start her own brand – something she initially wanted to do from the very beginning.
Becoming a manufacturer will enable that, and she's already started producing Tilzmart branded sports equipment and hampers, with plans to add more products as the business grows.
This year, it's estimated her company will turnover £3million – but she's not stopping there.
Omotayo confesses she still suffers from stress and anxiety and says it has taken "a lot of self-training and dedication" to get to this point. However, she's now got her eyes on a new prize, a billion-pound turnover, and she's not letting anything stop her.
It's an inspirational story, and one that – following the pandemic – is likely to resonate with many who may have made the decision to change jobs or retrain in another area after having some time to reflect and realise they're not as happy at work as they could be.
Let Omotayo's experience be a lesson: no matter how scary or hard pursuing a new path may seem, with dedication, focus and hard work anything is possible.
Feature image – Jonathan Gawthorpe.