Leigh Francis: My First Time is coming to stages across the UK next year.
And as the name suggests, it actually marks the Leeds comedian's first time on the road for a live tour.
The 18 date tour will see plenty of familiar characters brought to life from over the years including Keith Lemon, Bear and Avid Merrion to 'David Dickinson', 'Ant and Dec' and Myrtle.
Naturally, Francis will be finishing the show where it all began, in his home city of Leeds.
The BAFTA award-winning comedian says: "Hey, really exciting news! Well exciting for me! I hope it's exciting for you! Or at least provokes some sort of interest! I mean, just look how many exclamation marks there is in this quote! It's definitely news with exciting intent!

So what is this exciting news? I'm doing my first ever tour! Never done one before. It's gonna have masks in it! The Bear, Avid Merrion, Amanda Holden's Gran, not her actual gran but me playing her. I'll also be playing Keith Lemon, I look just like him! It's me doing all the characters I do that hopefully have the intent to provoke hilarity! So many exclamation marks, and the word 'intent' and 'provoke' twice! I'm excited! Come see ME being other people LIVE for the first time! It'll be your first time and my first time! Hence the title of the tour MY FIRST TIME! (There's another exclamation mark) how exciting!"
Leigh Francis will be touring across the UK on the following dates:
Wednesday 6 March 2024 – Forum, Bath
Thursday 7 March 2024 – G Live, Guildford
Friday 8 March 2024 – Pavilion Theatre, Bouremouth
Saturday 9 March 2024 – Palladium, London
Thursday 14 March 2024 – Corn Exchange, Cambridge
Friday 15 March 2024 – City Hall, Sheffield
Saturday 16 March 2024 – Victoria Theatre, Halifax
Sunday 17 March 2024 – Lowry, Salford
Wednesday 20 March 2024 – Barbican, York
Thursday 21 March 2024 – Royal Concert Hall, Glasgow
Friday 22 March 2024 – City Hall, Hull
Saturday 23 March 2024 – St George's Hall, Bradford
Sunday 24 March 2024 – Opera House, Buxton
Thursday 28 March 2024 – Royal Concert Hall, Nottingham
Satuday 30 March 2024 – Philharmonic, Liverpool
Sunday 31 March 2024 – Symphony Hall, Birmingham
Saturday 6 April 2023 – Grand Theatre, Leeds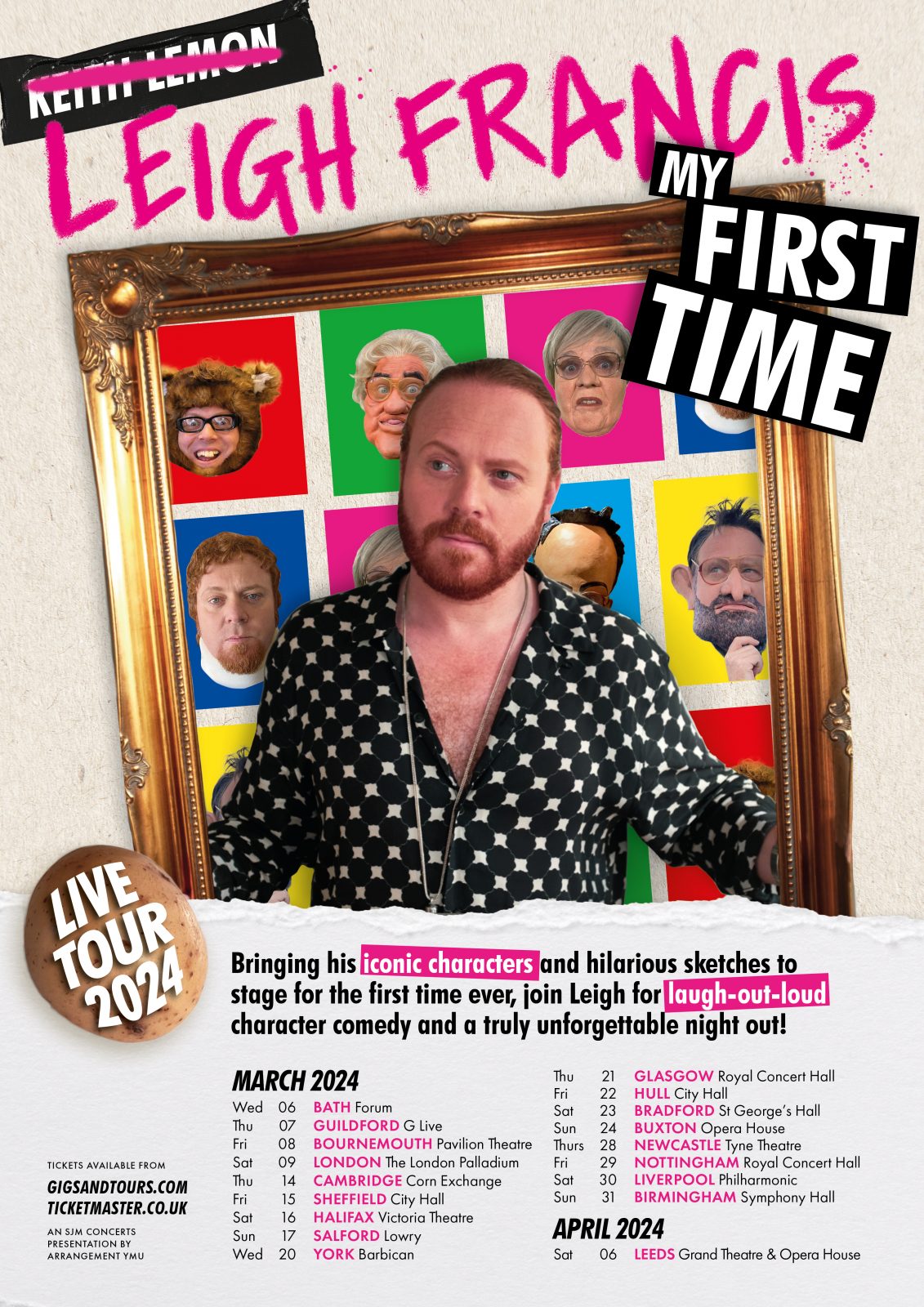 Read More:
Tickets will go on sale on Friday 24 June 2023 on Ticketmaster and Gigs and Tours.
Feature Image – Supplied