Live At Leeds Festival is back this weekend, and bringing over 150 artists to Leeds city centre.
From last minute tickets to headline acts and where to pick up your wristband, we've compiled everything you need to know about Live At Leeds into a single guide, so all you need to do is load this up and embrace the live music across Leeds.
With 150+ Artists, 14 venues, 16 stages, all over the one day– this is going to be memorable festival for all those in Leeds.
Headliners
Pale Waves, White Lies, Sundara Karma, Palace, Thomas Headon, Working Mens Club, Sea Power, Gruff Rhys.
After releasing Pale Waves as their headliner only a few short months ago, Live At Leeds: In The City has been teasing us with their lineup for a good while now- and it's certainly been worth the wait.
After first joining the festival in 2015, Sundara Karma are back to bring guitar riffs aplenty and push the boundaries of what we know and love about indie-pop music. Meanwhile White Lies will be celebrating a career of 'finding euphoria in the darkest of moments' and bringing old favourites and new tracks from As I Try Not To Fall Apart too.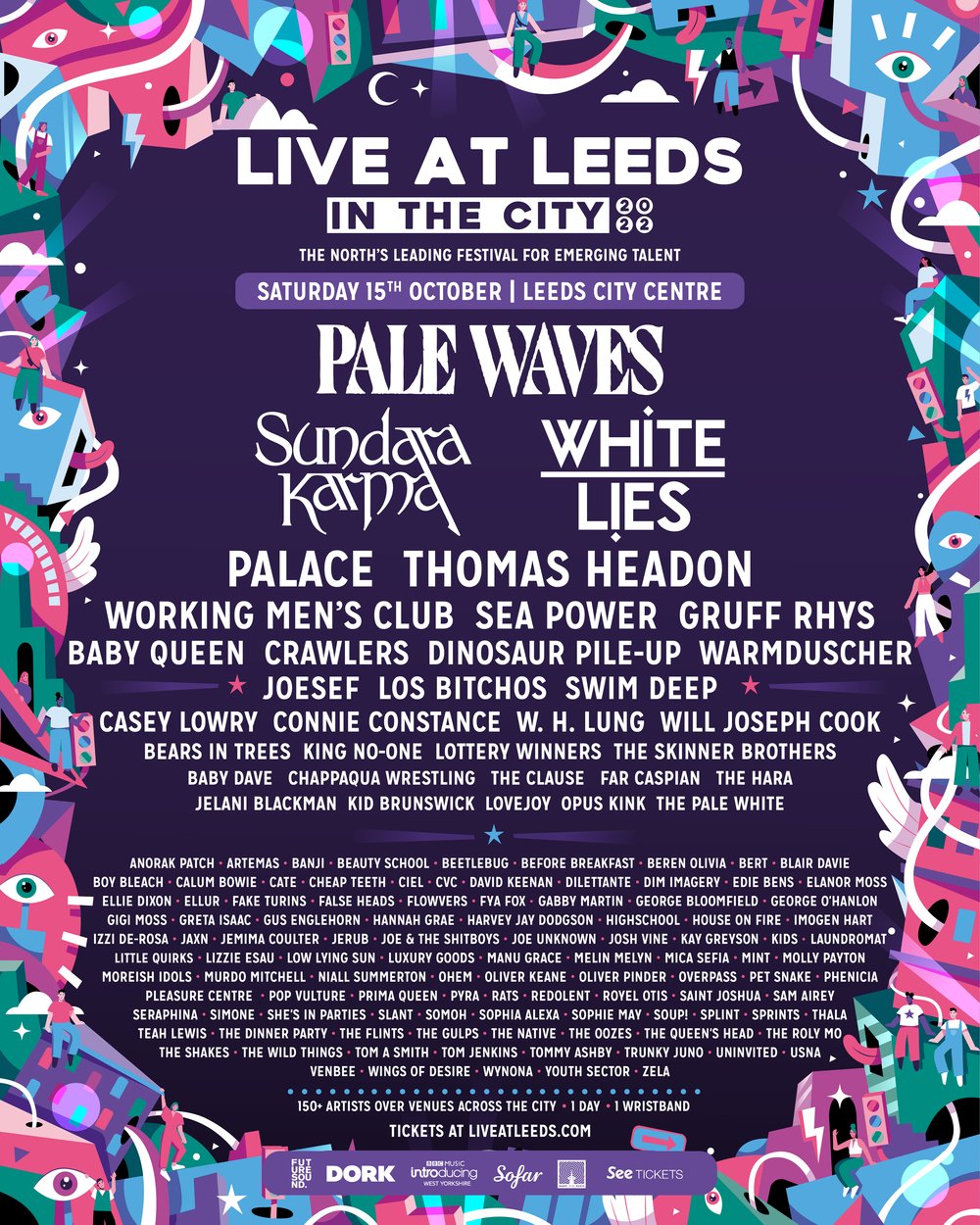 Lineup
Now joining the likes of Palace, Thomas Headon, Working Men's Club and Sea Power on Saturday 15 October 2022, you'll find a whopping 80 new names added to the bill- and they'll all be playing as day turns to night right here in the city centre to make up the some 150 taking to stages across Leeds at the weekend.
The following acts will be joining the lineup for Live At Leeds: In The City 2022:
Sundara Karma
White Lies
Crawlers
Gruff Rhys
Warmduscher
Joesef
Casey Lowry
Connie Constance
Kid Brunswick
Lottery Winners
King No-One
Swim Deep
Baby Dave
The Hara
Jelani Blackman
The Pale White
Melin Melyn
The Clause
Far Caspian
Greta Isaac
The Oozes
Molly Payton
Lovejoy
CIEL
Joe & The Shitboys
Wings Of Desire
Banji
Rats
Calum Bowie
Youth Sector
CVC
The Shakes
Seraphina Simone
David Keenan
Eleanor Moss
Redolent
Overpass
Fake Turins
Boy Bleach
Blair Davie
Thala
Murdo Mitchell
Mint
Manu Grace
Gus Englehorn
Josh Vine
Tom Jenkins
Kay Greyson
Edie BensZela
Beetlebug
Saint Joshua
Jemima Coulter
Soup!
Moreish Idols
Fya Fox
Hannah Grae
Slant
The Roly Mo
Joe Unknown
Kids
Royel Otis
Gigi Moss
The Wild Things
Ohem
Lizzie Esau
Jerub
Splint
Venbee
Gabby Martin
Little Quirks
JAXN
Pet Shake
Tommy Ashby
Bert
Mica Sefia
Niall Summerton
SOMOH
George Bloomfield
Before Breakfast
Phenicia
Dilettante
Oliver Pinder
Sam Airey
Teah Lewis
Luxury Goods
Imogen Hart
Venues
There's a whopping 16 stages across 14 venues this year, with all of Leeds' best known concert venues, and intimate hidden gems taking part in Live At Leeds: In The City.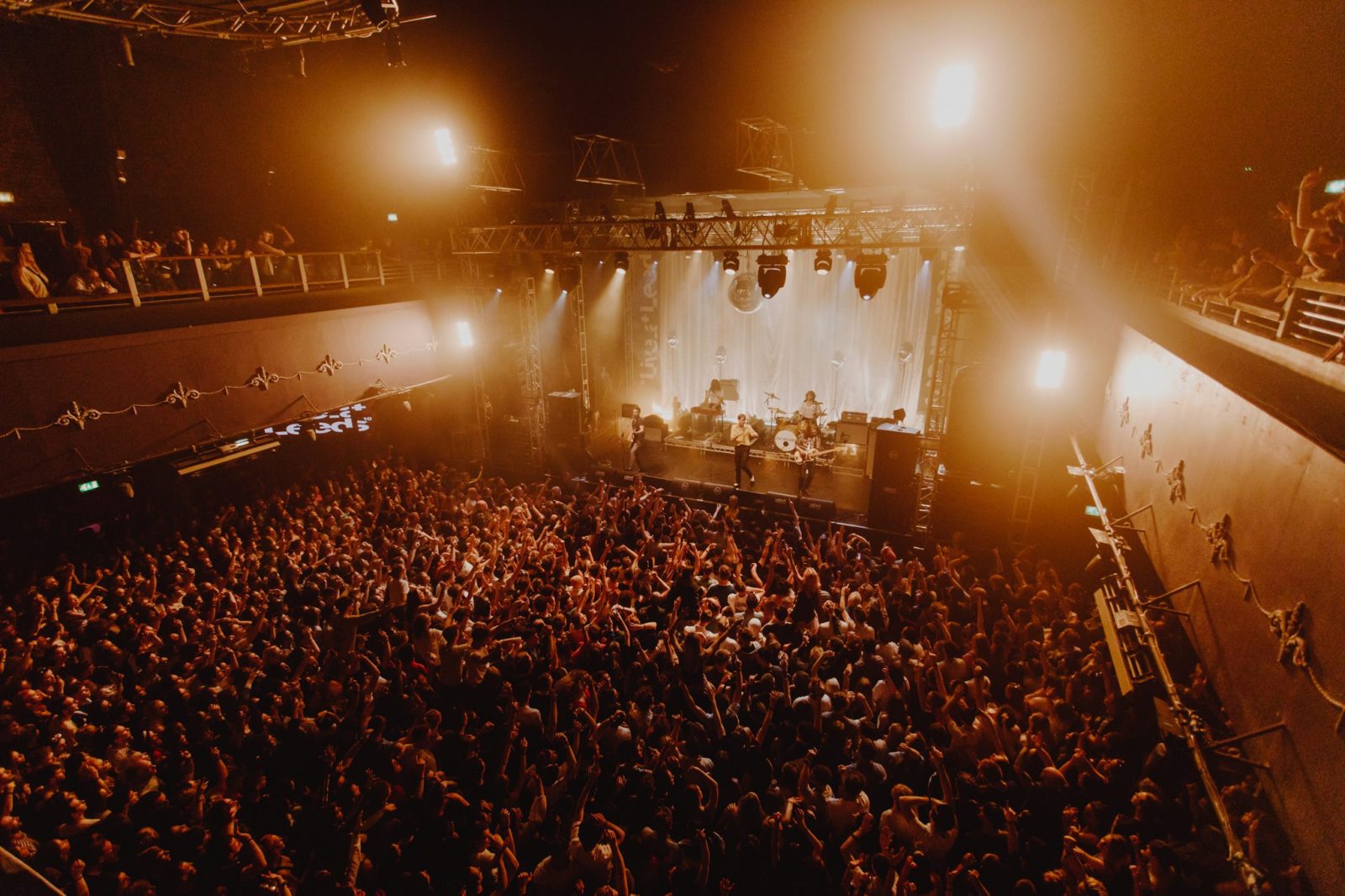 The following venues will be hosting artists throughout the day and night:
Belgrave Music Hall
Brudenell Main Room
Brudenell Community Room
Headrow House
Hyde Park Book Club
Leeds Beckett Student Union 1
Leeds Beckett Student Union 2
Mill Hill Chapel
Nation of Shopkeepers
Northern Guitars
Leeds O2 Academy
Oporto
Sela Bar
The Key Club
The Lending Room
The Wardrobe
Accessing the stage times
This year, the app is going to be your best friend for all stage timings, performers and, really, everything you need to know on the day.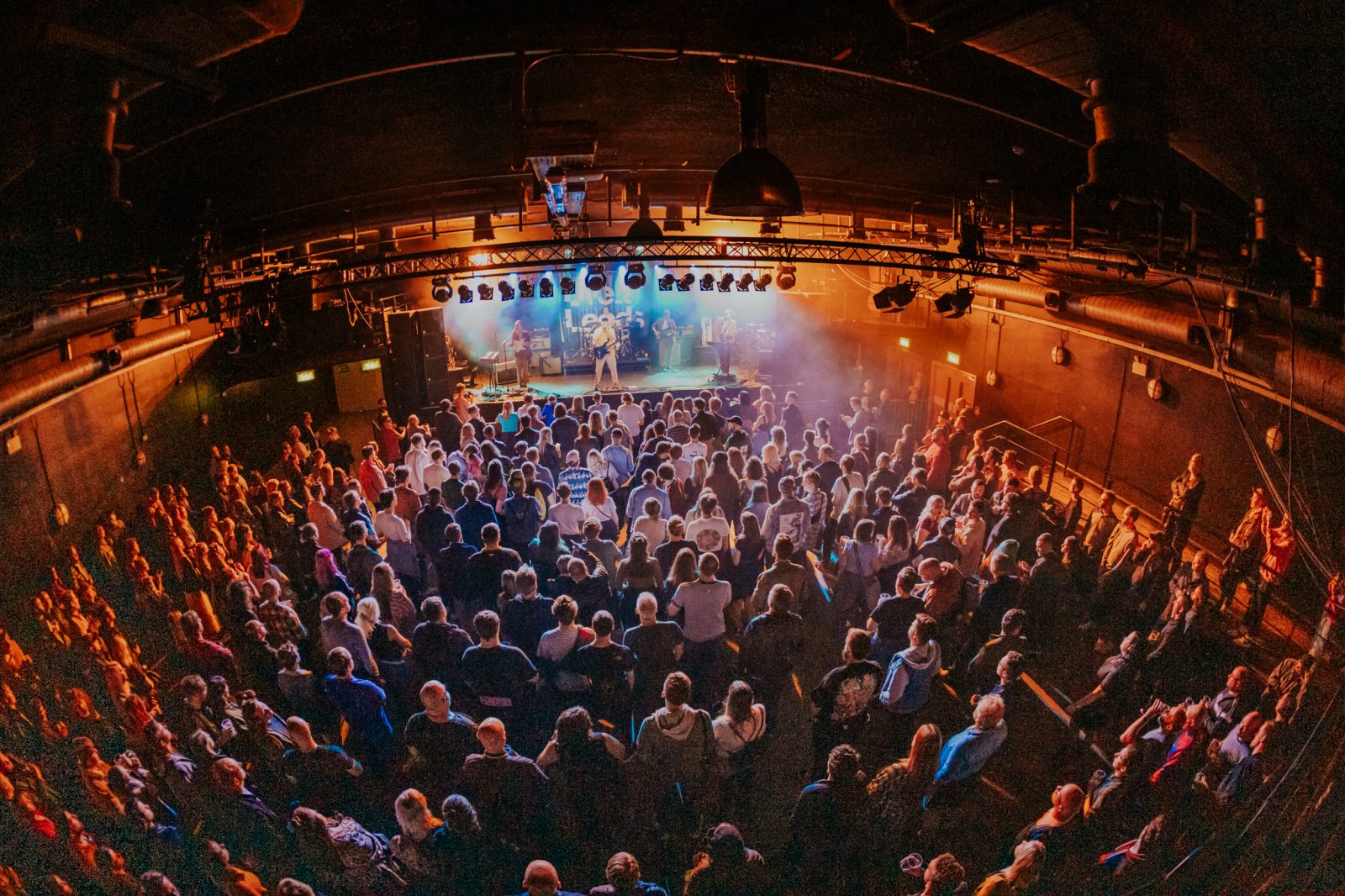 To find out which artists are performing when, all you need to do is click on the lineup page and you'll find the list of acts sorted by venue. You can also click on the acts you want to see and create your own personal schedule, which automatically pulls up where you need to be and when.
Download the dedicated app and plans your route ahead, it'll save you hours and ensure you don't waste a minute of music.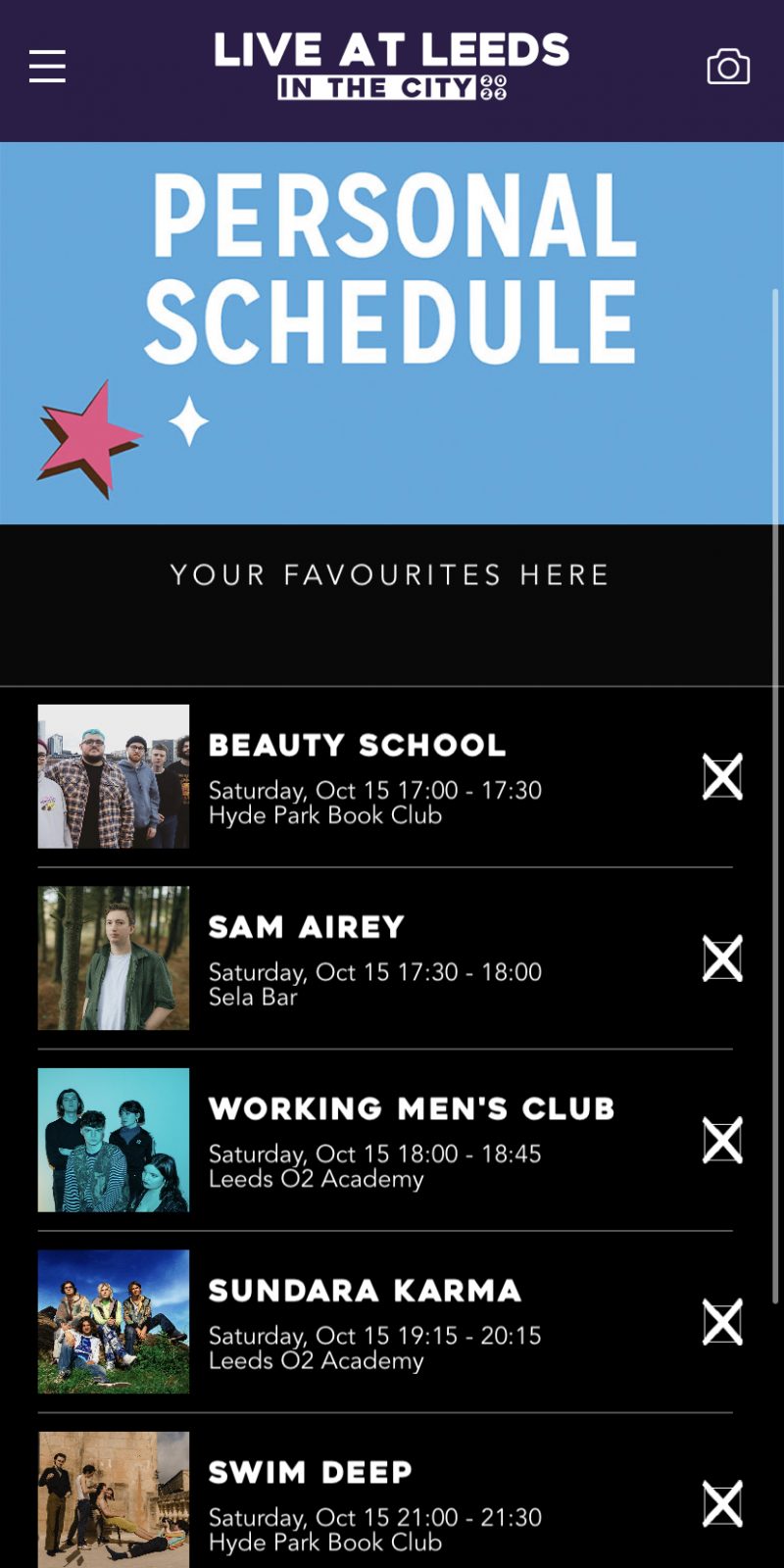 How to get tickets
Tickets for Live At Leeds: In The City 2022 are already on sale for just £39 and have been selling at an unexpected rate, so make sure you grab yours ahead of the festival.
Special VIP tickets, which includes Priority Entry access to venues, afterparty entry and more, are also available for £55, both of which can be purchased from the Live At Leeds website.
How to get your wristband
On the day of the festival, take your ticket and swap it for a wristband ahead of visiting any venues.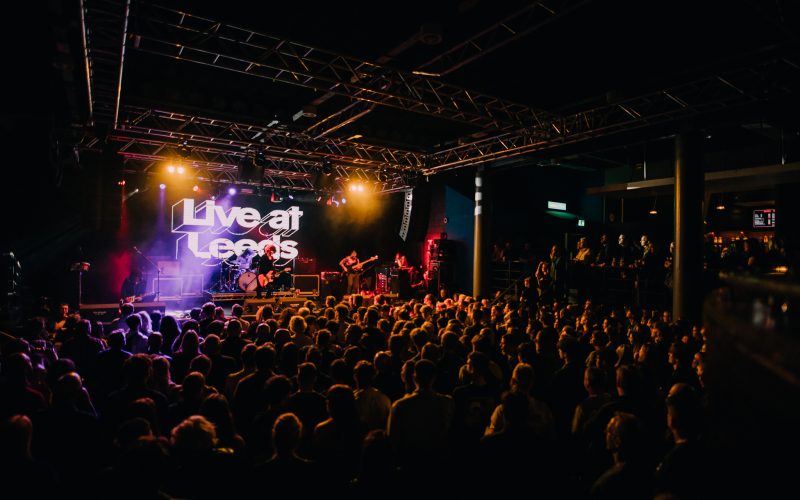 This year, the wristband exchange for general admission tickets will be located at Leeds City College, Quarry Hill Campus on Saturday 15 October, whilst VIP ticketholders should head over to The Wardrobe (both are open 10am-6pm).
The Wardrobe will open on Friday 14th October from 5pm – 8pm for both general admission and VIP ahead
Read More: Sundara Karma, White Lies and 80+ new acts added to Live At Leeds: In The City lineup
Feature Image- Live At Leeds