The best burgers of Leeds- now that's a pretty big claim to make.
Every time we even utter the words 'this might be one of the best' on Instagram or TikTok, there's a lot of controversy. Granted, we haven't sampled every burger in Leeds- and we're still up for plenty more recommendations, but we have definetly sampled plenty over the years. These are some of our favourite places to grab a burger, be it veggie, chicken, pork or beef filled.
Keep reading to find out our top 16 burgers, and how you can recommend your favourite burger spot for us to sample…
Cult Wing
Inside Leeds Merrion Centre, Leeds City Centre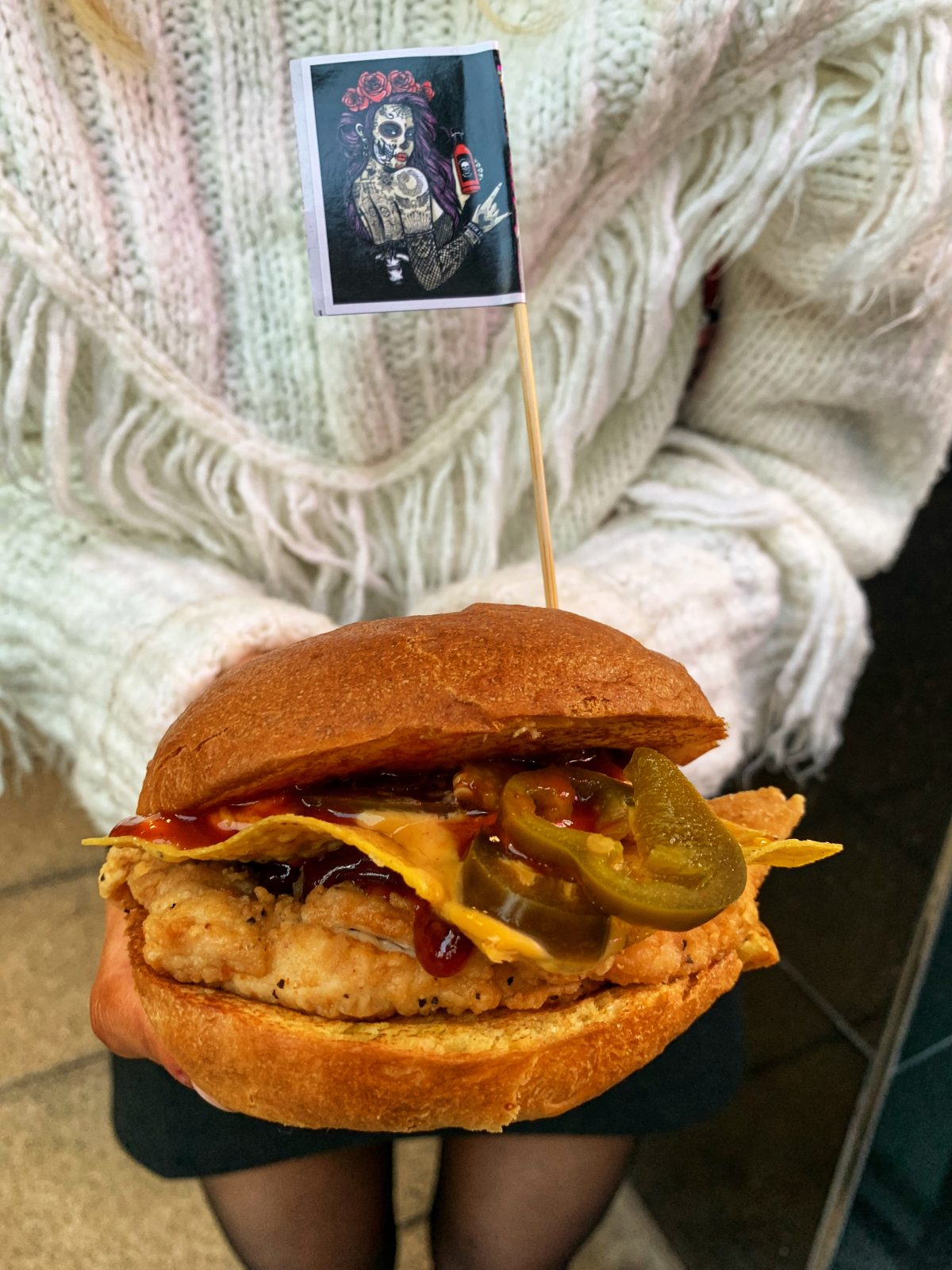 Hoot recommends: Punk Cartel Burger
Cult Wing may be most popular for its extensive wings selection, but that doesn't mean you can't grab a banging burger from the Merrion Street diver bar. The fried chicken goodness is piled high with toppings like jalapenos, crunchy tortilla chips and bags of signature Cult Wing sauce.
Meatcastles
Hoot recommends: Meat Castles X Thiccc Sauce collab
Meat Castles can be found at pop-ups all over Leeds – and you can bet every time Thiccc Sauce throws a party (or small business events), Meat Castles will be there. Expect generously-piled burgers with soft patties, crispy onions and moreish cheese – well worth the wait for.
Big Buns
Inside Brewery Tap, New Station Street, Leeds City Centre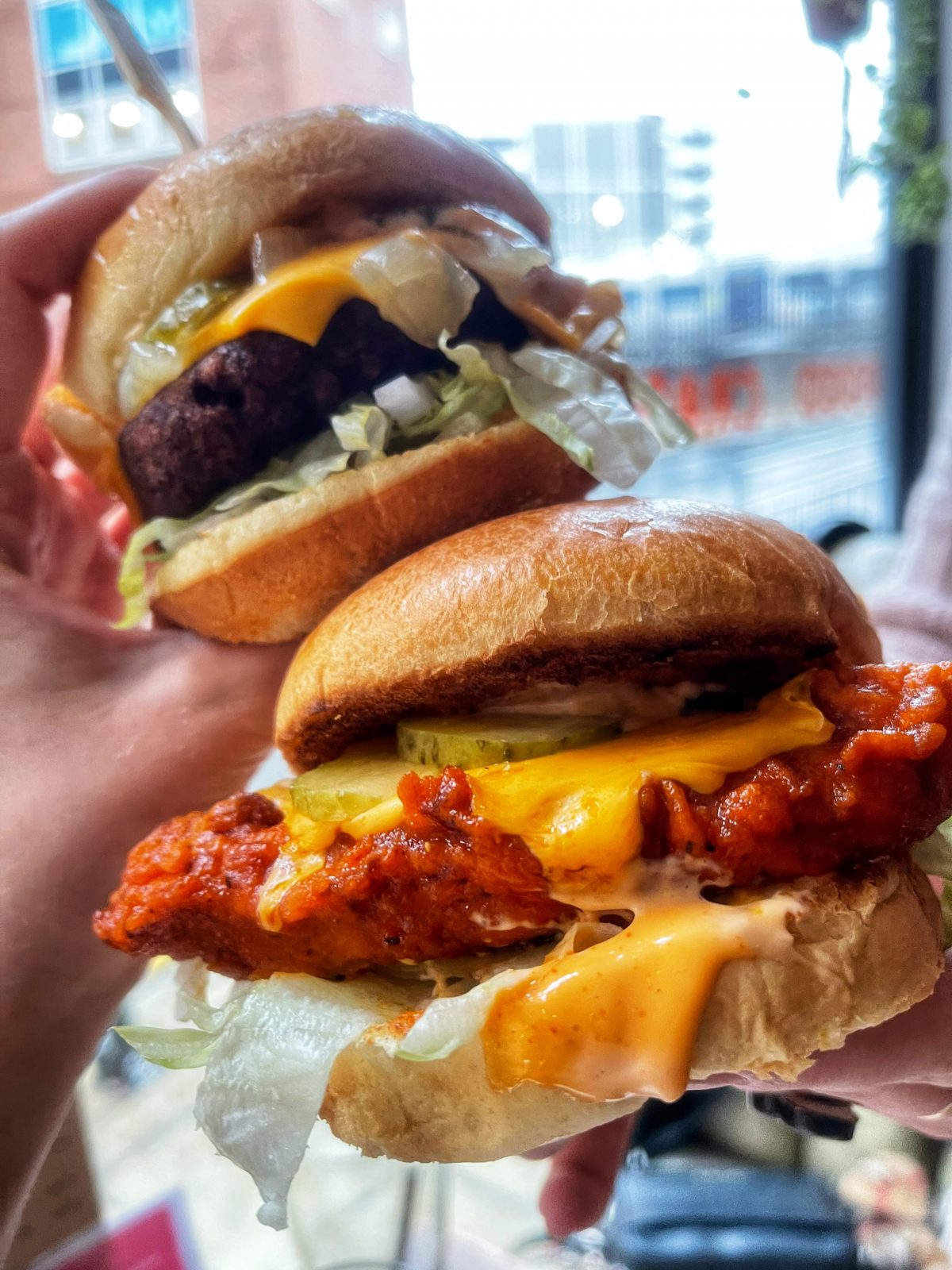 Hoot recommends: Donner beef burger
Big Buns has been raved about by plenty of Yorkshire folk over the past year or so, and the burger joint, operating inside The Brewery Tap, is quickly gaining traction as one of the city centre's go-to spots for a bite to eat before the footy or afternoon in town.
Alley Cats
Trinity Kitchen and Chapel Allerton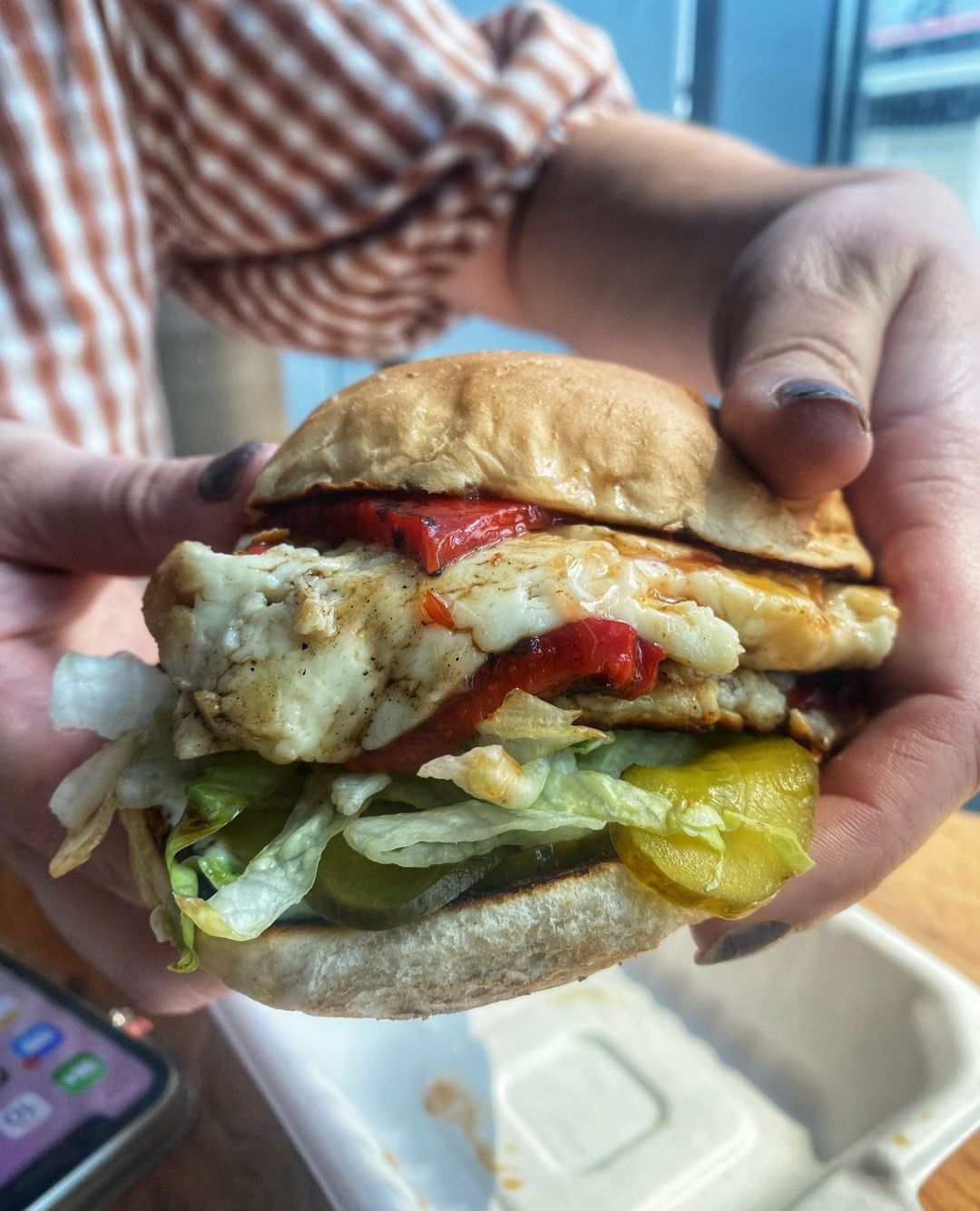 Hoot recommends: Call Me Hal Burger
Alley Cats has a permanent home over in Chapel Allerton but if you're in Trinity Kitchen over the summer months, you're likely to spot a pop-up food truck with a smaller, but nonetheless exciting, menu full of burger specials.
Burgerism
Order food delivery apps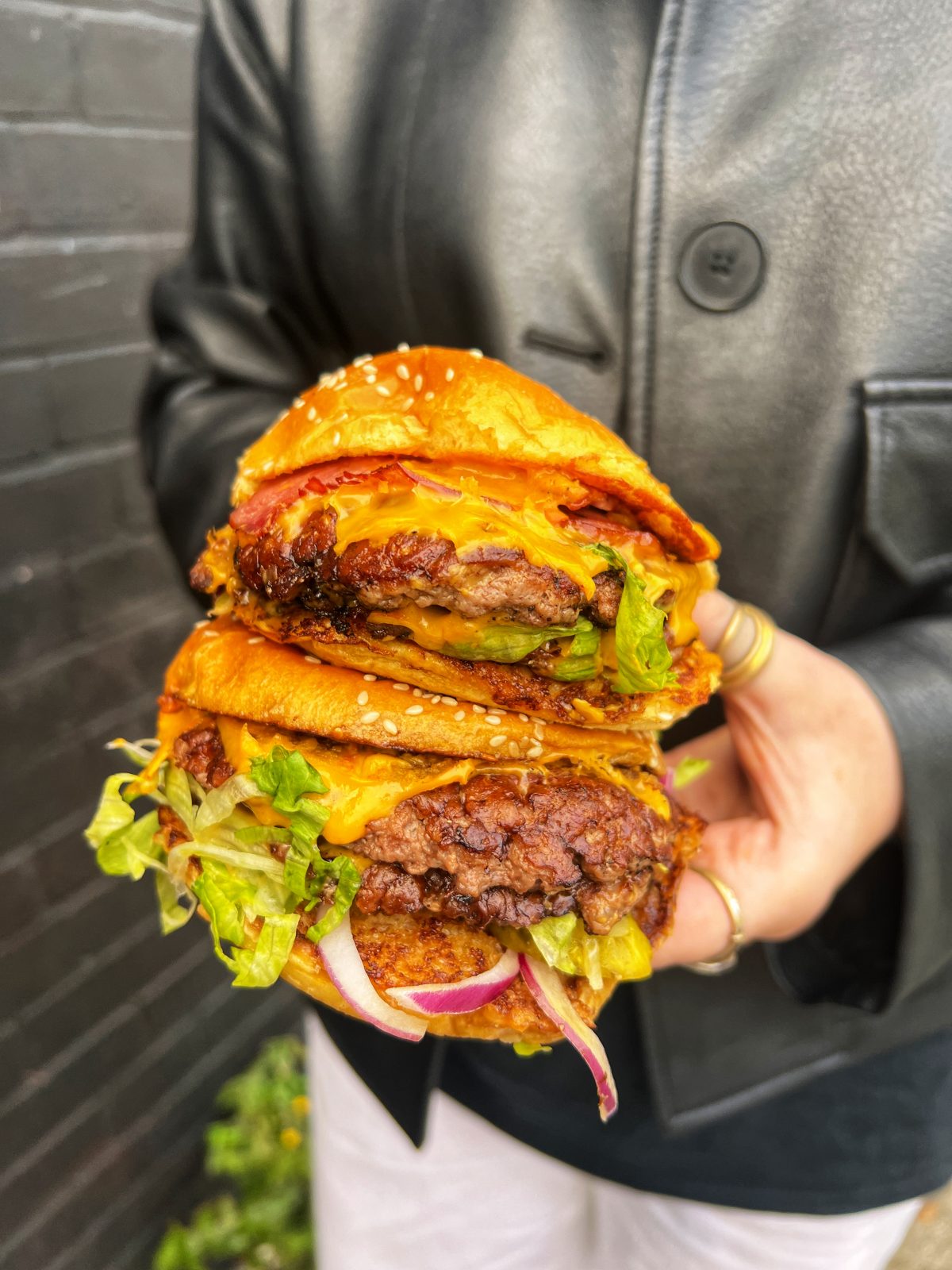 Hoot recommends: Classic beef burger
Burgerism keep it simple with single or double patties with cheese – but you'll still taste a rainbow of flavours in every bite. These burgers remind us of that cheeseburger in The Menu where you can see the tastiness of 'a simple cheeseburger' in both Julian and Margot's eyes as the movie comes to its dramatic crescendo.
Good Boy Burger Co.
Pop-ups around Leeds, including Trinity Kitchen residencies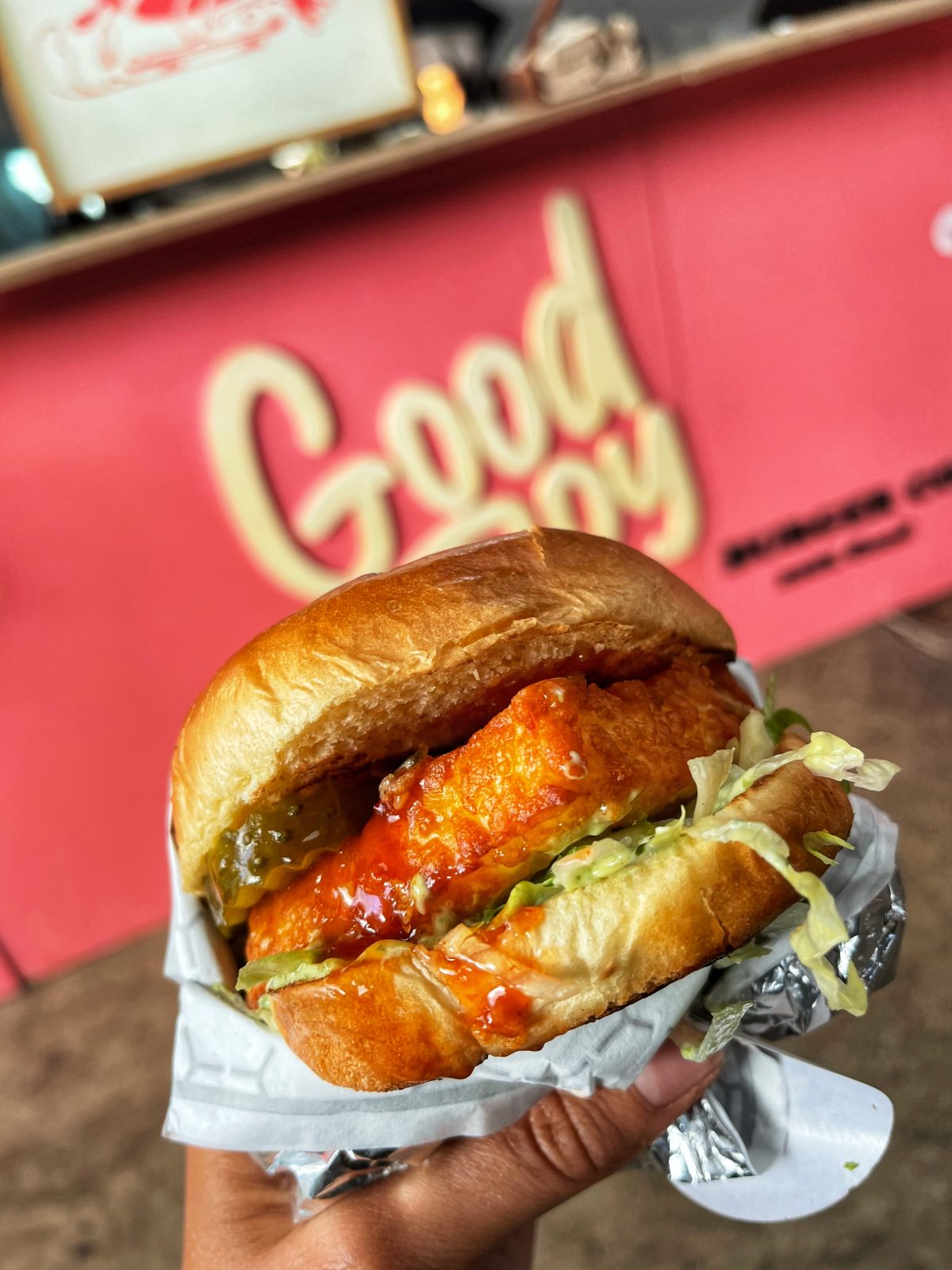 Hoot recommends: The Cauli Schnitzel or The Good Boy With Cheese
Good Boy Burger Co. is that familiar face that you look for at a festival. Spotted at Live At Leeds Fest and Peddler Market earlier this year, we keep going back for the melt-in-your-mouth short rib smash patties and 'organic wherever possible' ethos.
Almost Famous
Great George Street, Leeds City Centre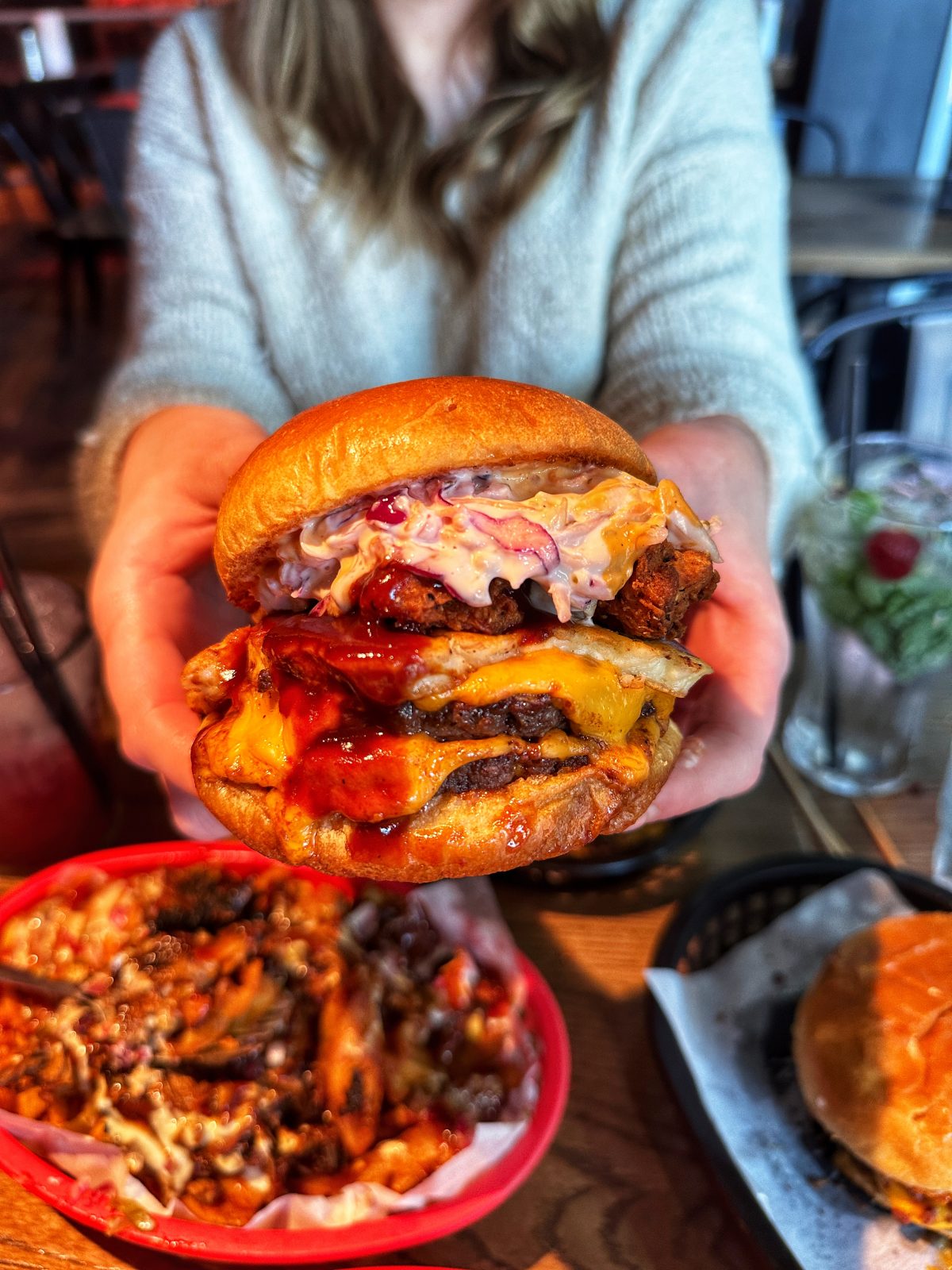 Hoot recommends: Blame It On The Whiskey burger
Dirty fries and burgers stacked high in true Americana style – that's what Almost Famous is all about. Having taken the north by storm, there's now sites in Leeds, Liverpool and three in Greater Manchester to choose from.
Patty Smith's
Inside Belgrave Music Hall, Cross Belgrave Street, Leeds City Centre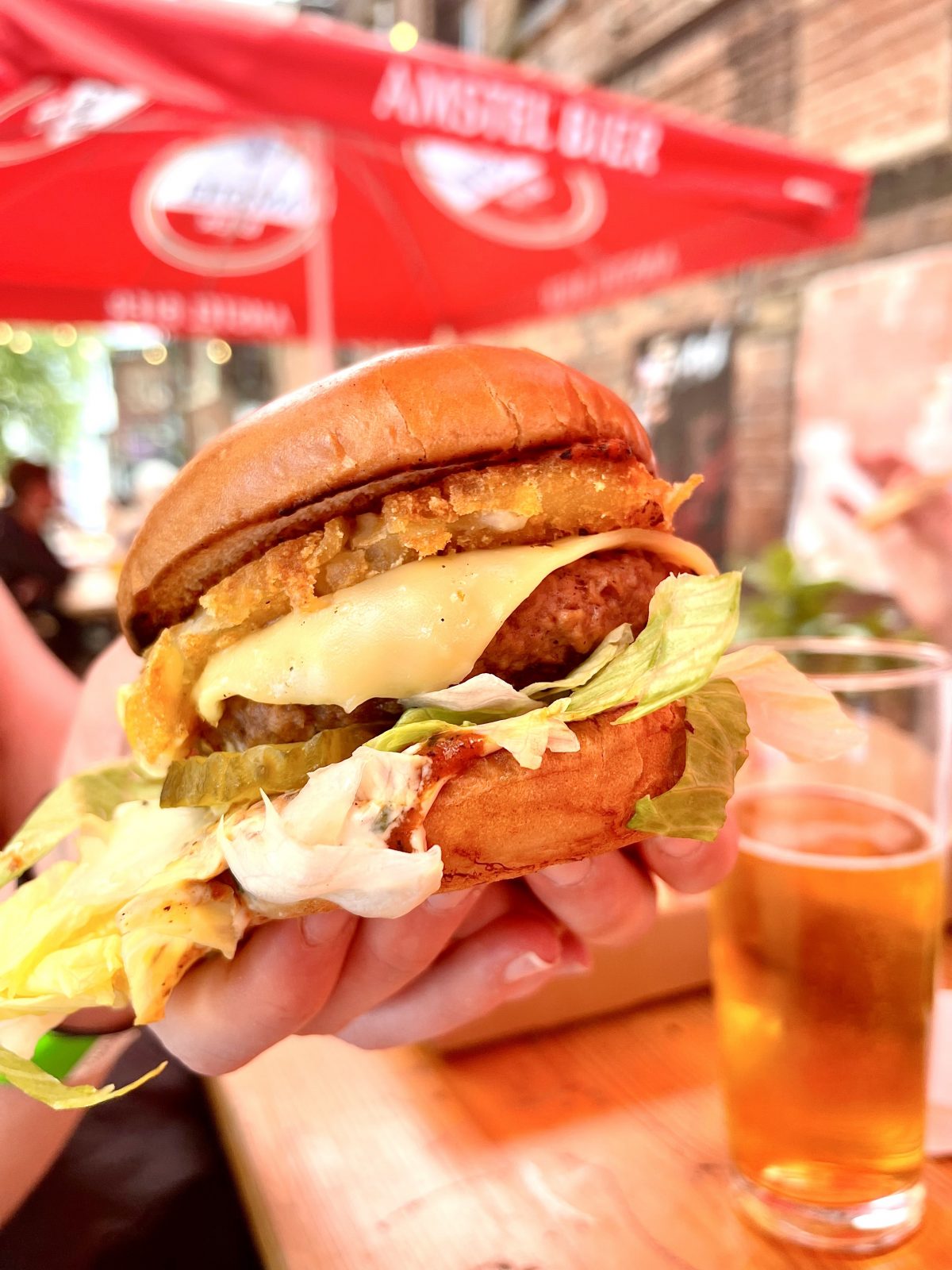 You'll find Patty Smith's over at Belgrave Music Hall, nestled between the staircase leading to the rooftop terrace and the intimately lit bar.
Grab meat-free patty or two on the weekend and help yourself to the buy one get one for £1 on selected burgers each Sunday. Plus, if you pop in during the week for a lunchtime burger fix, Patty Smith's offers free chips with all burgers 12pm – 5pm.
Meat:Stack
Opposite Leeds Train Station, Bishopgate Street, Leeds City Centre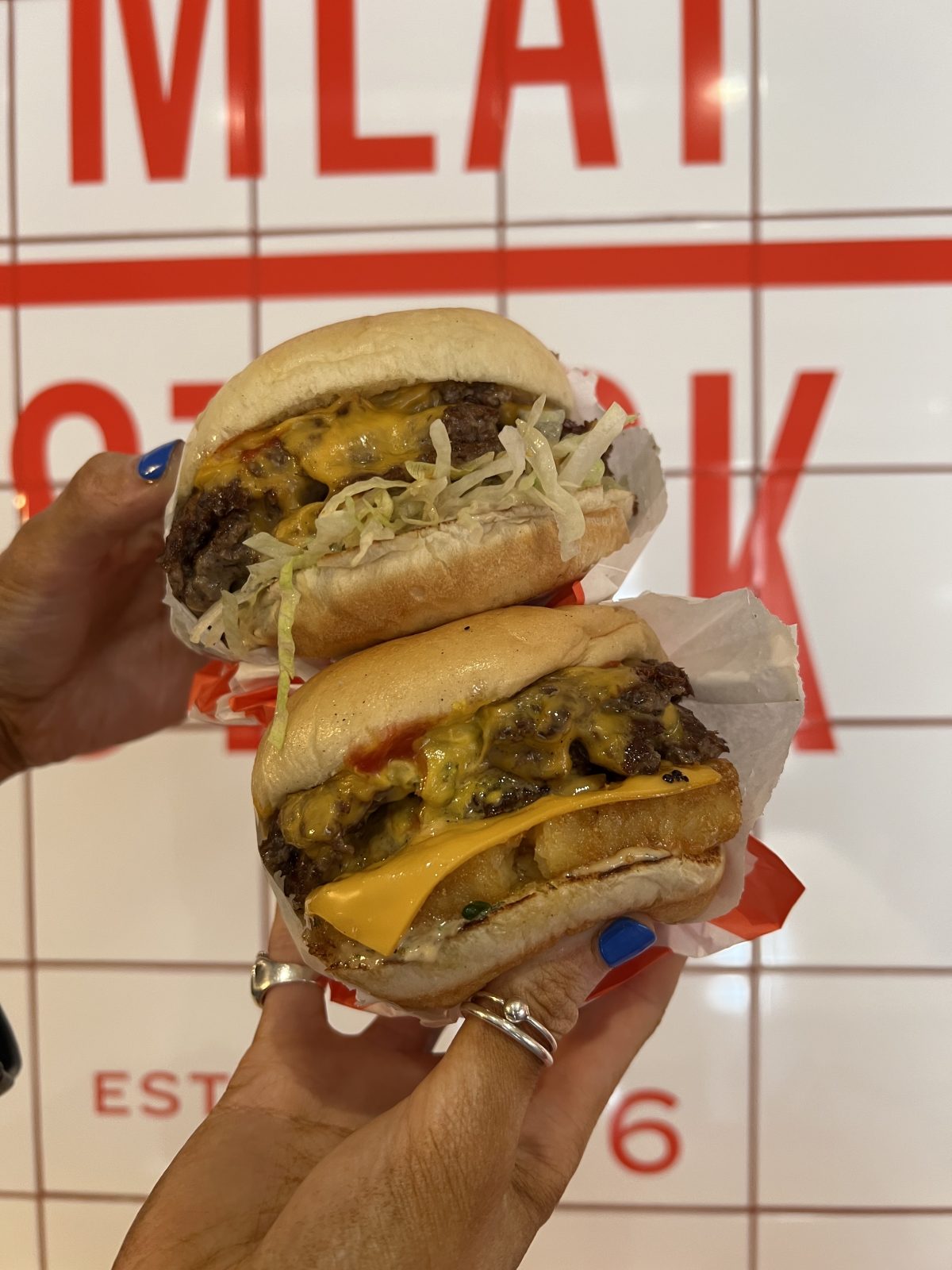 Newly opened on Boar Lane, Meat:Stack is a cult indie favourite from Newcastle that grew so popular, they needed another venue in the north- and we're just grateful that they chose Leeds. The menu here is big and bold, just like the flavours available. Think Yellowstone burgers with bacconaise, hash browns, french onion, Carolina gold BBQ sauce for an idea of the offerings here.
Fat Annies
Inside Leeds Kirkgate Market, Leeds City Centre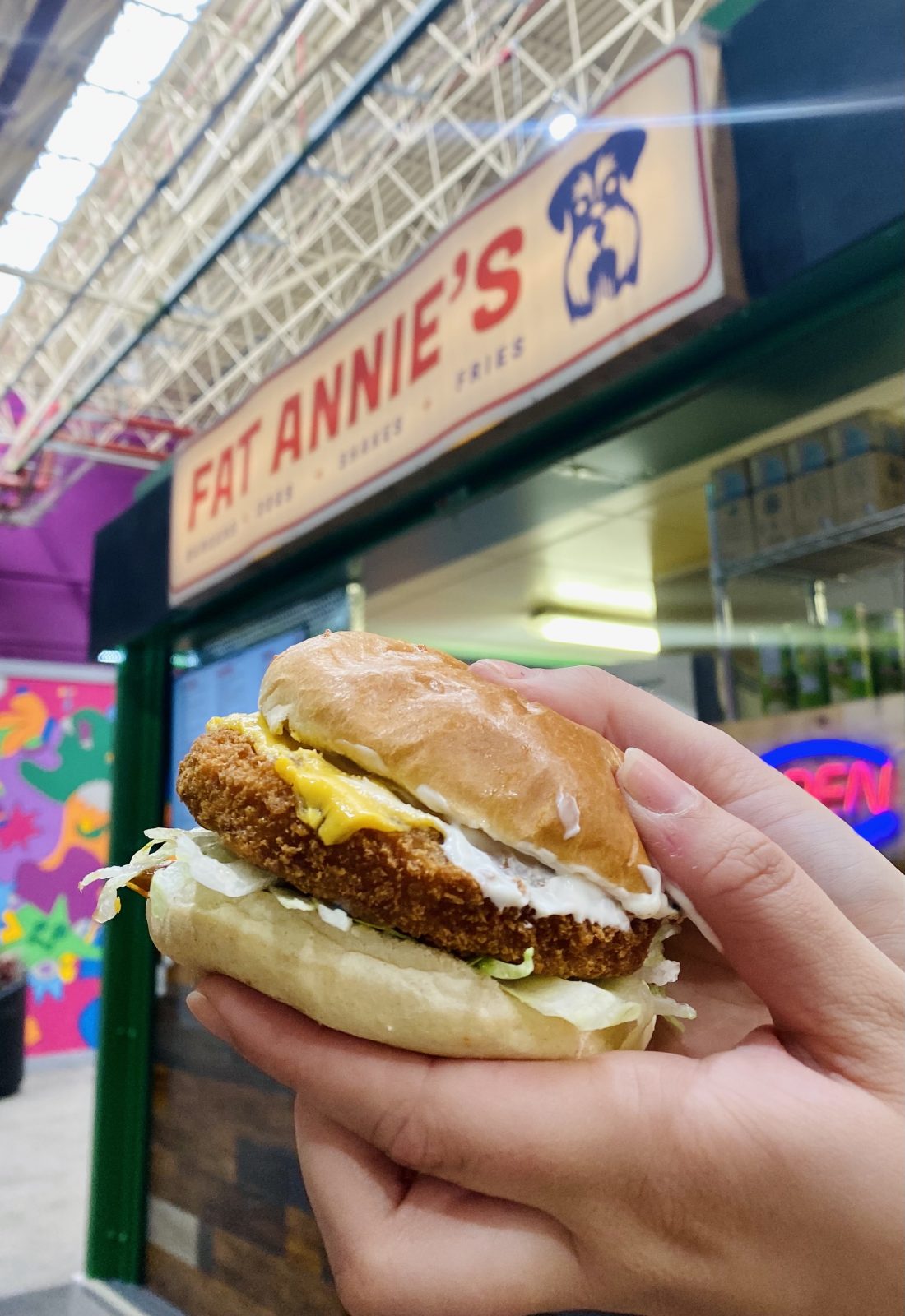 Fat Annies has been a Leeds Kirkgate Market favourite for quite some time and between their meat-free menu pledged to protect the planet and their tasty burgers and 'not' dogs certain to become your next favourite hangover cure. The Mexicana burger in particular is a real treat: made up of a vegan bean burger (with a kick and crunch) with cheese, salsa, mayo, jalapenos, nacho crunch and iceberg, dor a spicy meal deal, you can add some Chilli Cheese Fries, complete with jackfruit chilli and stringy cheese-nacho crunch and soft drink of your choice.
Kerbside Kids
Inside Springwell, Buslingthorpe Lane, Sheepscar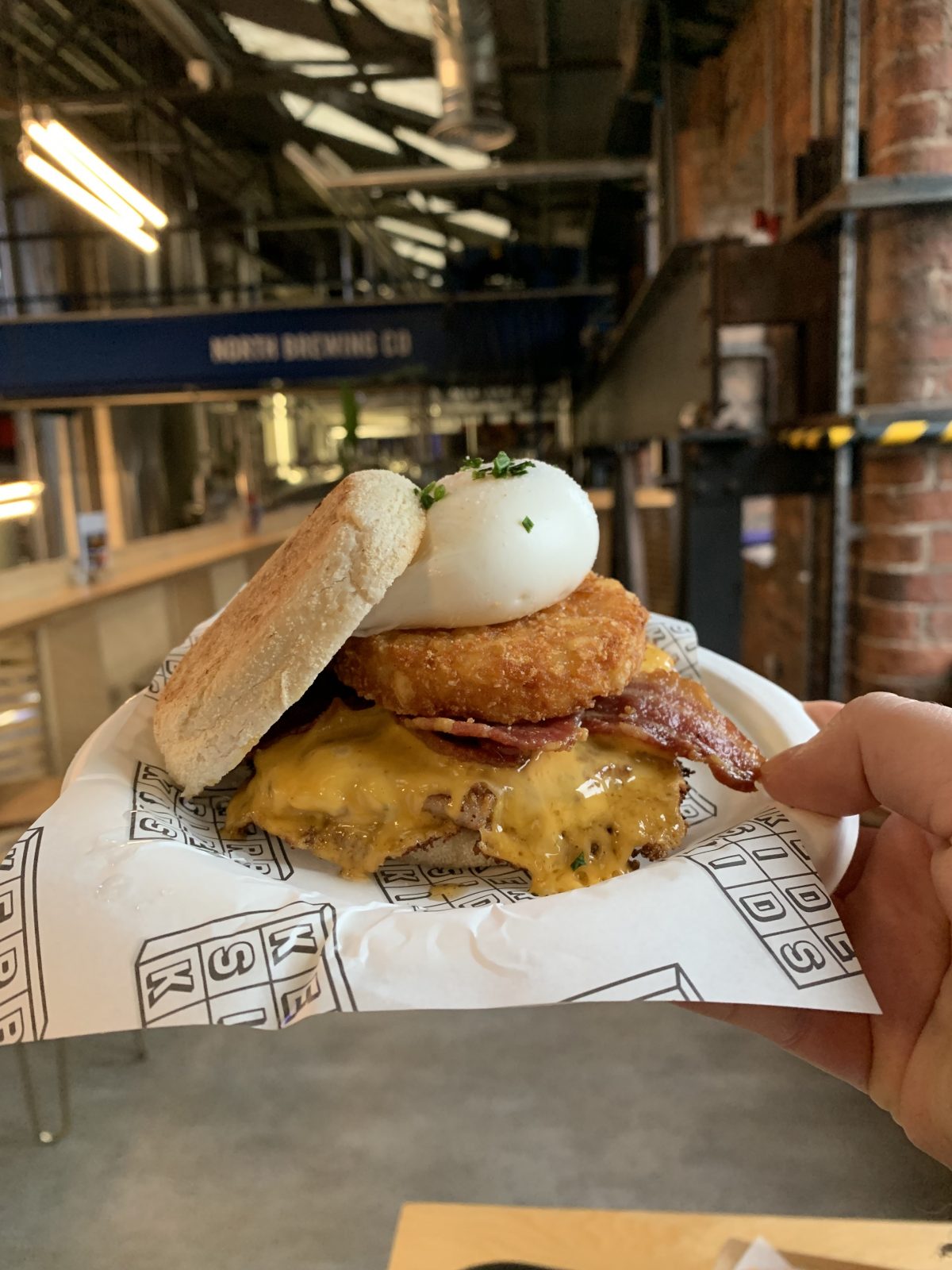 Hiding out at North Brew Co.'s Springwell in Sheepscar, Kerbside Kids is the ultra-cool burger joint serving mouthwatering meaty treats from a shipping container. On a Sunday, grab a Sunday Recovery menu and make the most of the generous Tabasco sauce designed to take away the end-of-week blues and hangover.
The Tabasco Benny Burger is the best seller here and it's no surprise given the toppings: a toasted sesame seed bun with smoked streaky bacon, sausage patty, American cheese and a poached egg with Tabasco Sriracha hollandaise, chilly crunch and chives.
Read More: This Leeds bar has dedicated its entire Sunday menu to hangovers
Banyan
Park Square, Leeds City Centre Ilkley, Harrogate and Roundhay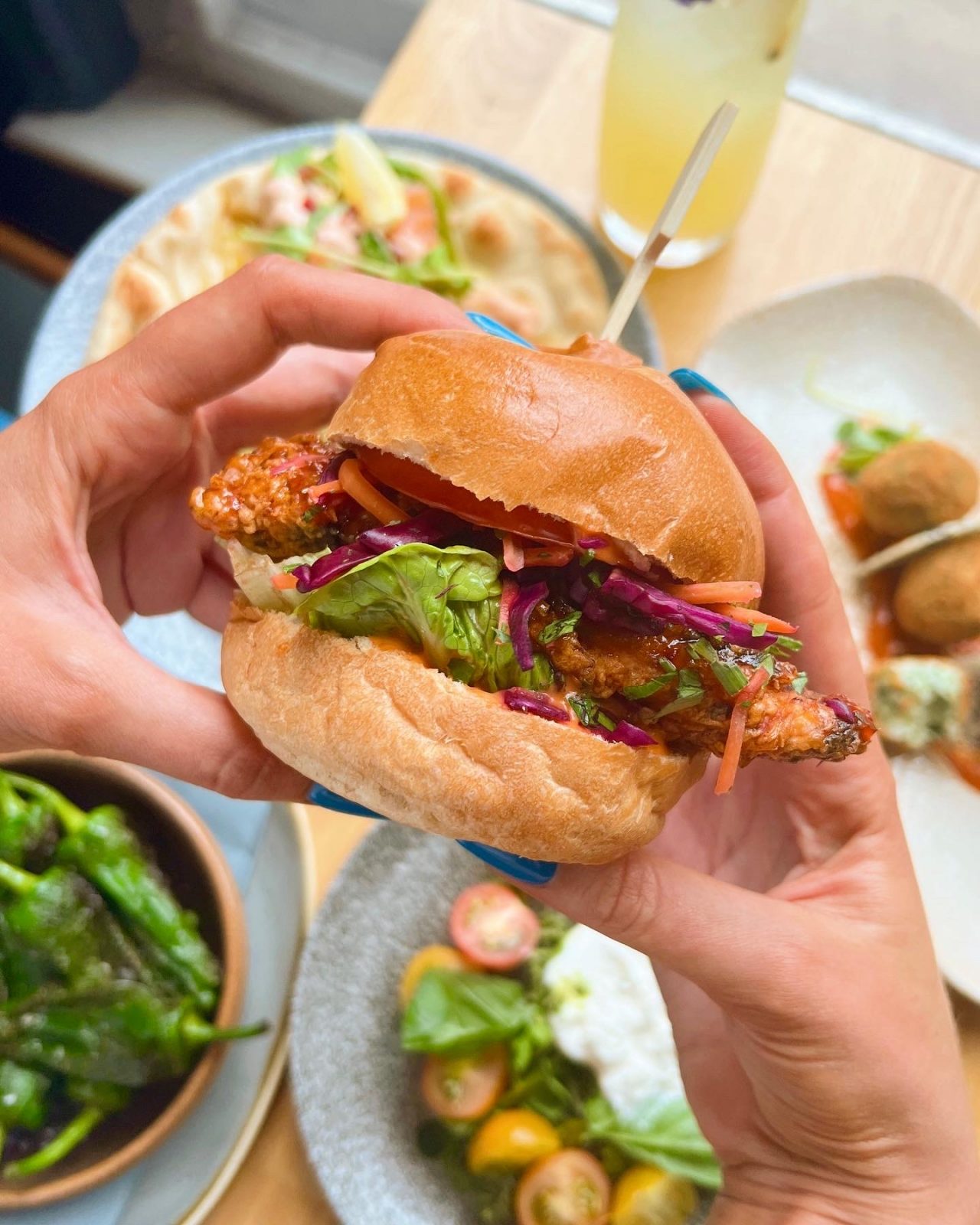 The summer menu from Banyan is locally-crafted but inspired by faraway destinations- and the burger offerings are no different. The Korean Fried Chicken Burger is a spicy cajun chicken burger, served with gem lettuce, tomato caesar mayonnaise, crispy slaw and a huge chicken gravy dripping pot for that added saucy serving.
Hooyah Burgers
Albion Street, Leeds City Centre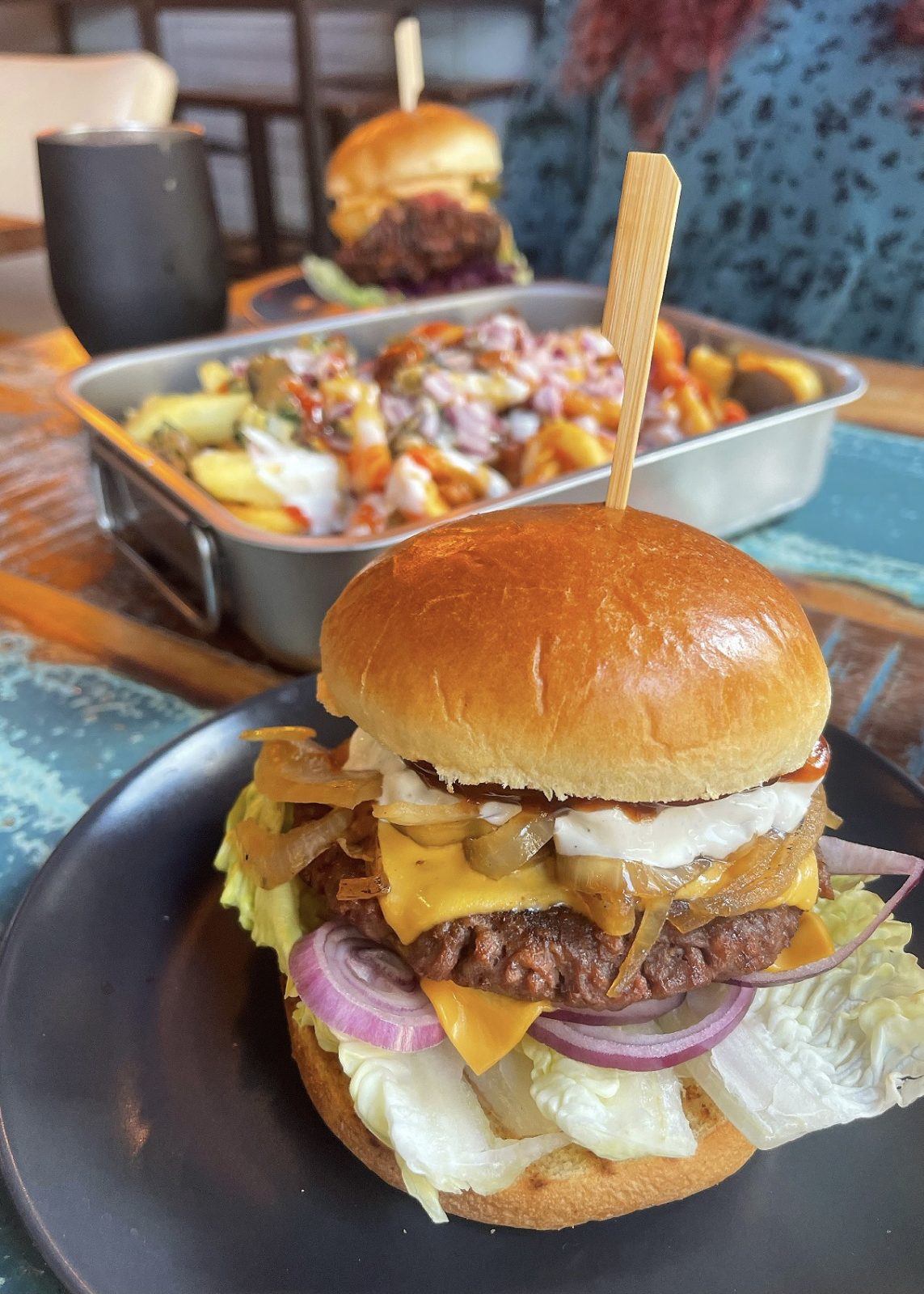 Recently visited by Rate My Takeaway YouTuber Danny Malin, Hooyah Burgers is the Deliveroo king of takeaway- and all because of their build your own burger concept. Choose from four different patties, including beef, chicken and meat-free options before building up your burger with different types of cheese, salads and sauces.
Canal Club
Granary Wharf, Leeds City Centre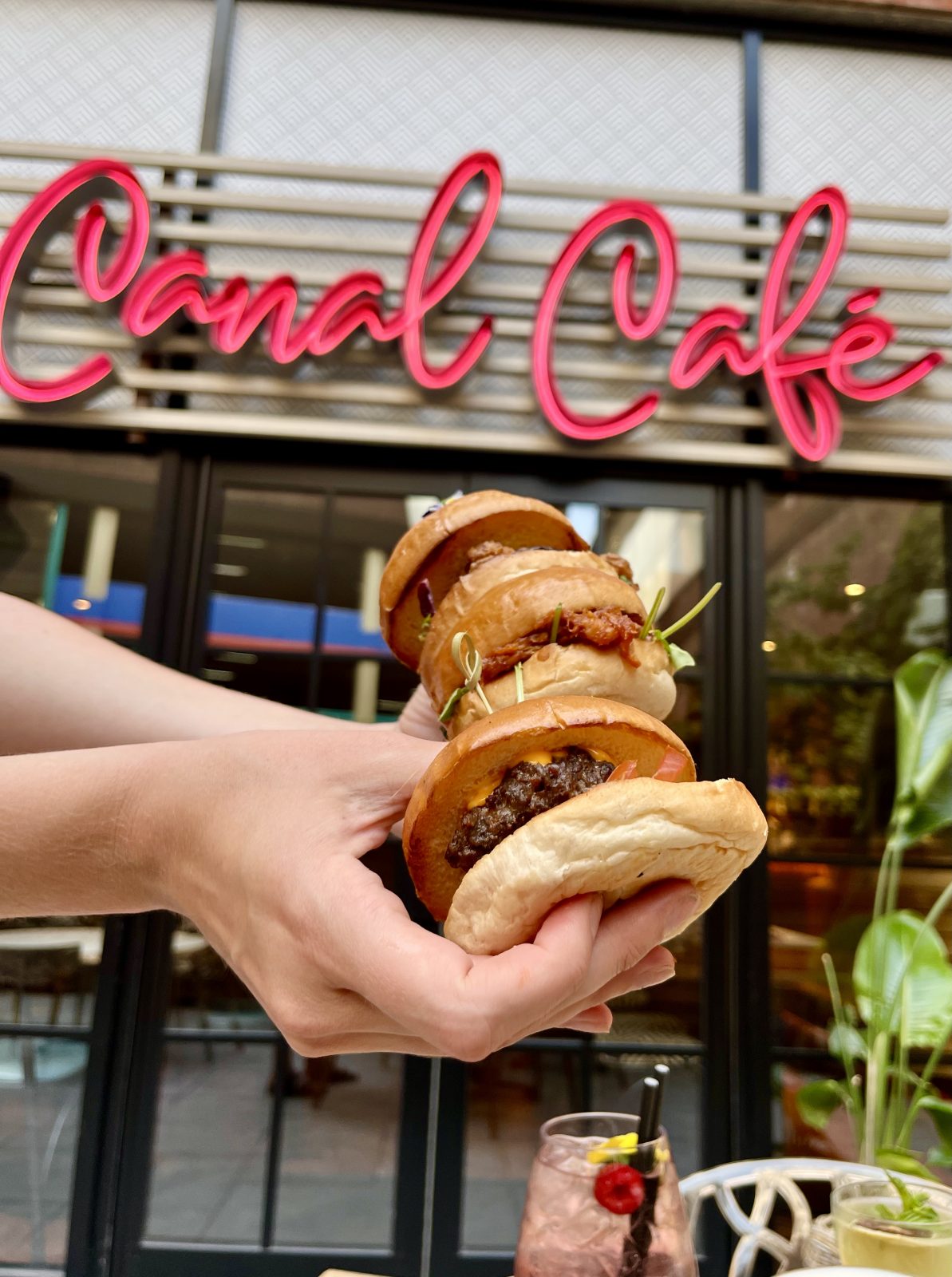 Sliders are the new, trendier cousin to the average burger, and Canal Club's trio of meaty sliders is leading the way in the mini bun movement. The three burgers come in at less than £10 and offer one crunchy chicken, one pulled pork and one juicy beef with burger sauce mini patties topped with crisp buns.
Have we missed any of the best burger spots in Leeds? Tweet us @thehootleeds and let us know what foodie spot we should check out next.
Featured Image- The Hoot Leeds