Who knows, these vegan loaded fries might convert you to a plant-based diet all year round.
It's no secret that loaded fries are the ultimate sharing dish. Whether you like barbecue, gravy or cheesy varieties, there's always something for everyone on the plate to enjoy. But when you're the only vegan in a group on a night out, it sucks having to order a different plate or simple go without- so we've found the best vegan fries in Leeds that'll make your meat-eating mates want a taste of yours.
Before you know it, you'll have converted them to the vegan loaded fries and they'll become your staple sharer in no time- at least that's the aim here.
Read More: The best places for bottomless brunch if you're a vegan (or doing Veganuary)
Vegan Duck Fries from Slap and Pickle, Assembly Underground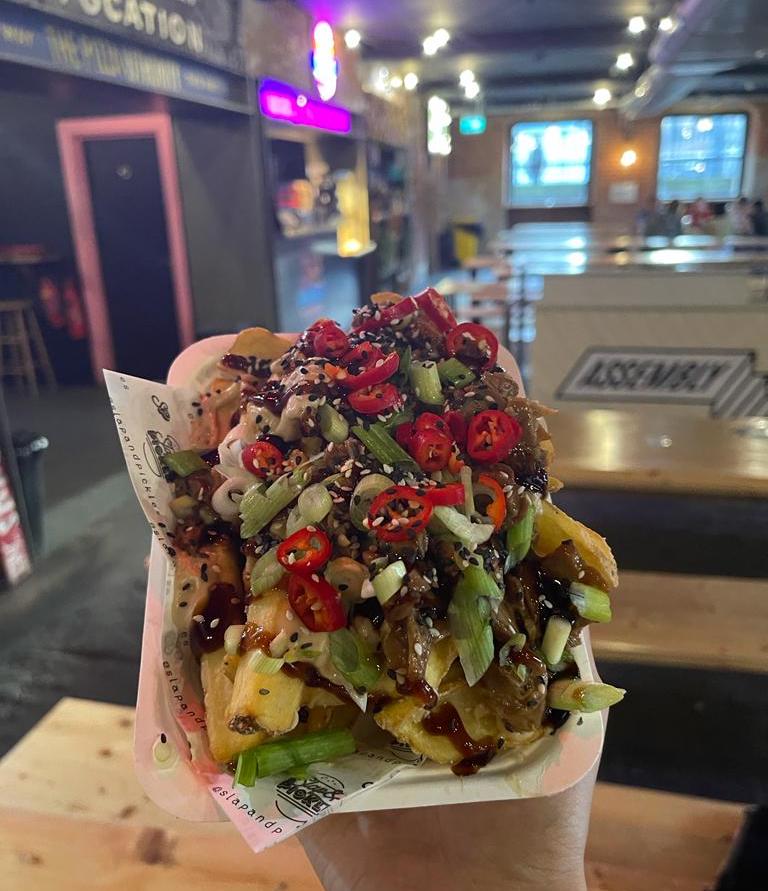 Piled with vegan hoisin 'duck', spring rolls and chillies, the Vegan Hoisin fries are a chef's kiss level of perfection. As cult fans of this particular dish, it is The Hoot's go to at Assembly Underground, Beer Hawk or even when we're over in Manchester. Pair these delicious fries with a plant-based burgers loaded with vegan cheese (the stringy kind), onion rings, jalapenos and roquito chillies and more for the ultimate vegan dinner.
Find out more here.
Woffy's Hogtied Waffle Fries from Knaves, Oporto
Long time vegan are more than likely to be accustomed to the tasty delights available from Knaves, who work from the kitchen at Oporto. The Woffy's Hogtied Waffle Fries come with facon bits and facon mayo – and if you like pickles, there's deep fried 'Frickles' to snack on too. With a 100% vegan menu, you really can't go wrong ordering your meat-free dinner from here.
Find out more here.
Fries Royale from Fat Annies
These loaded fries comes with house pickle, cheese, F.A secret sauce and crispy onions from meat-free hot dog company, Fat Annies. Famous locally for their hot dogs that'll cure any hangover and tasty burgers, you'll find the kitchen inside the Kirkgate Markets every day of the week. Looking for something a little different? Why not try the I've Got Five On It Fries with b'con, cheese, pickle, jalapenos and crispy onions instead?
Find out more here.
Session Fries from Patty Smith, Belgrave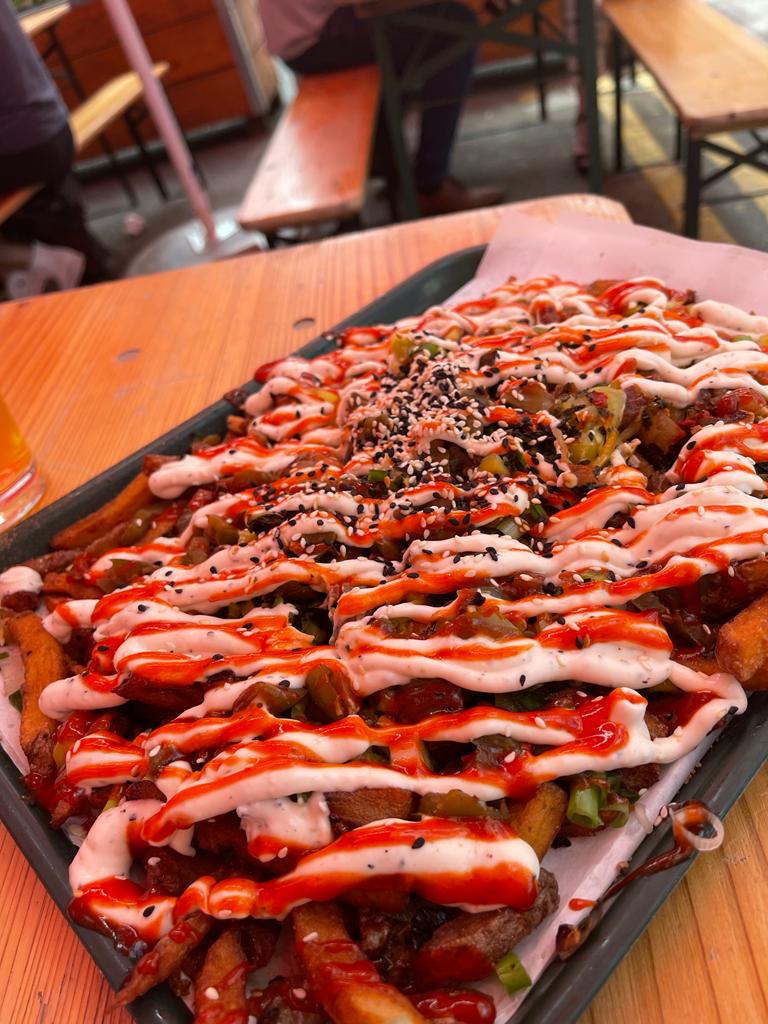 Fries that were made for sharing were practically invented at Patty Smiths. Located in Belgrave, you can pile up the fries and sauce and share with as many as possible- though we wouldn't judge you if you took on the Session Fries for yourself either. Available every single day alongside Dough Boys Pizza on Belgrave Street, either to eat inside or on the rooftop terrace (just bring a coat unless you're visiting in the peak of summer)
Find out more here.
All kindsa fries from Döner Summer
When we say all kinds, we mean all kinds. Get your vegan fries three different ways from Döner Summer, you can get them plain and simple with skin-on, with garlic or add parmesan for the ultimate lunchtime snack. Pair with a Fried Chick'n Combo and you're on to a winner. These vegan junk food experts aren't even exclusive to Leeds, so if you're in Huddersfield or over in Manchester, you can still get a taste of meat-free fries.
Find out more here.
Chic-a-go Vegan from Hooyah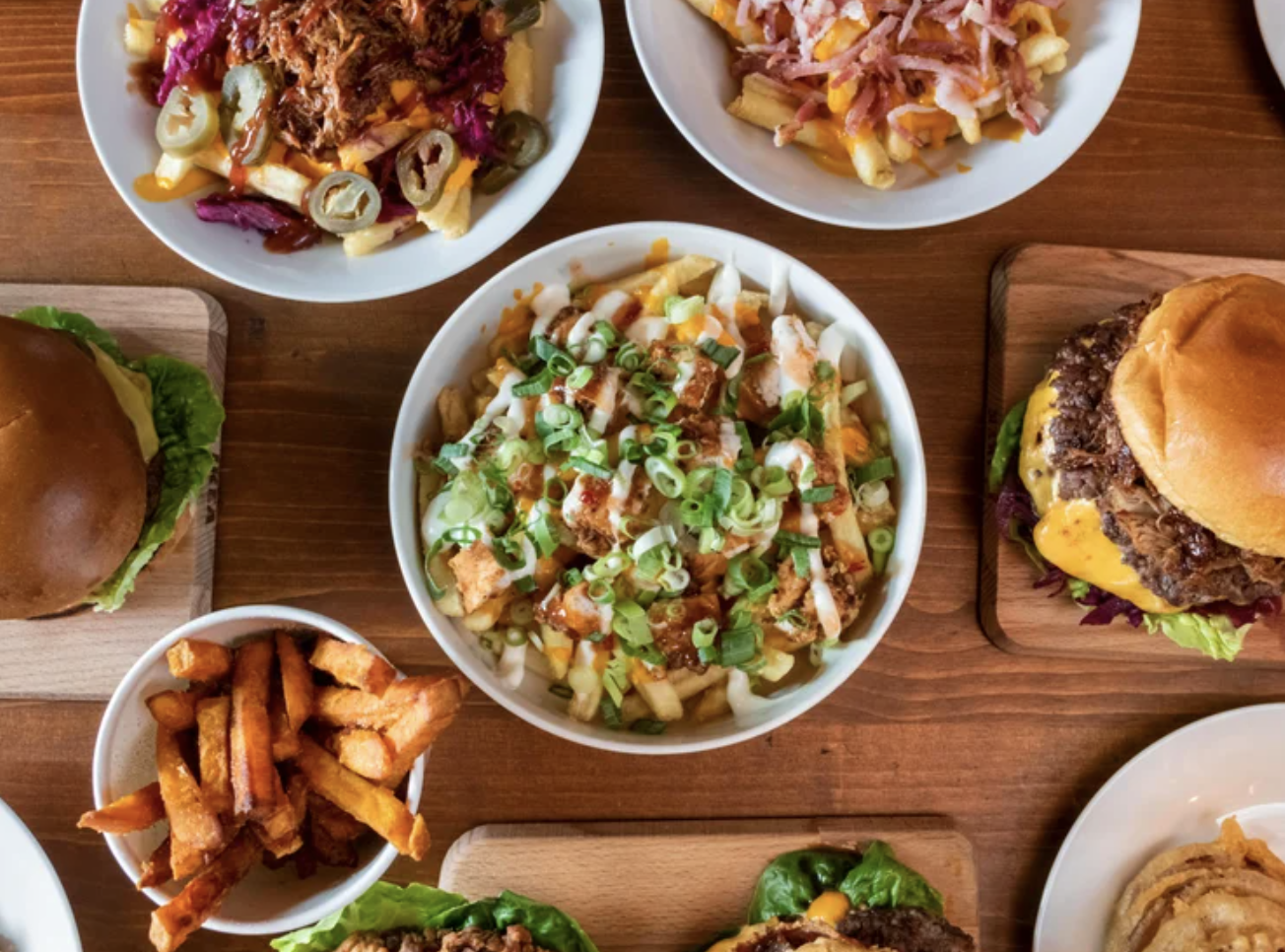 Vegan loaded fries from Hooyah is available from Deliveroo- so even if you want to sit in your PJs all night, you don't have to miss out on some meat-free loaded fries. The Chic-a-go loaded fries are made up of crumbled Falafel and Spinach accompanied with a vegan yoghurt and mint Sauce, mango chutney, chopped red onion and chilli sauce- all inspired from the Indigenous tribes of Chicago.
Find out more here.
Feature Image- The Hoot Leeds at Oporto
For more stories on everything food and drink related in Leeds, follow us on Facebook at The Hoot Eats.