Balancing value-for-money with flavour: there's nothing better than finding a bargain lunch spot in the city centre.
With the cost of living crisis hiking up prices so quickly, it's a tricky time to be on either side of the hospitality industry. The cost of ingredients is sky high, and therefore the end product is increasing in price by what feels like the day.
Luckily there are still plenty of places in Leeds that offer eat out dining options for less than a tenner- and you can get a lot of delicious grub for your money.
Keep reading to find out where our top ten places to eat out for under £10 are.
Poco Sicilian Street Food
Kirkstall Road, Burley and Otley Road, Headingley | Open from 10am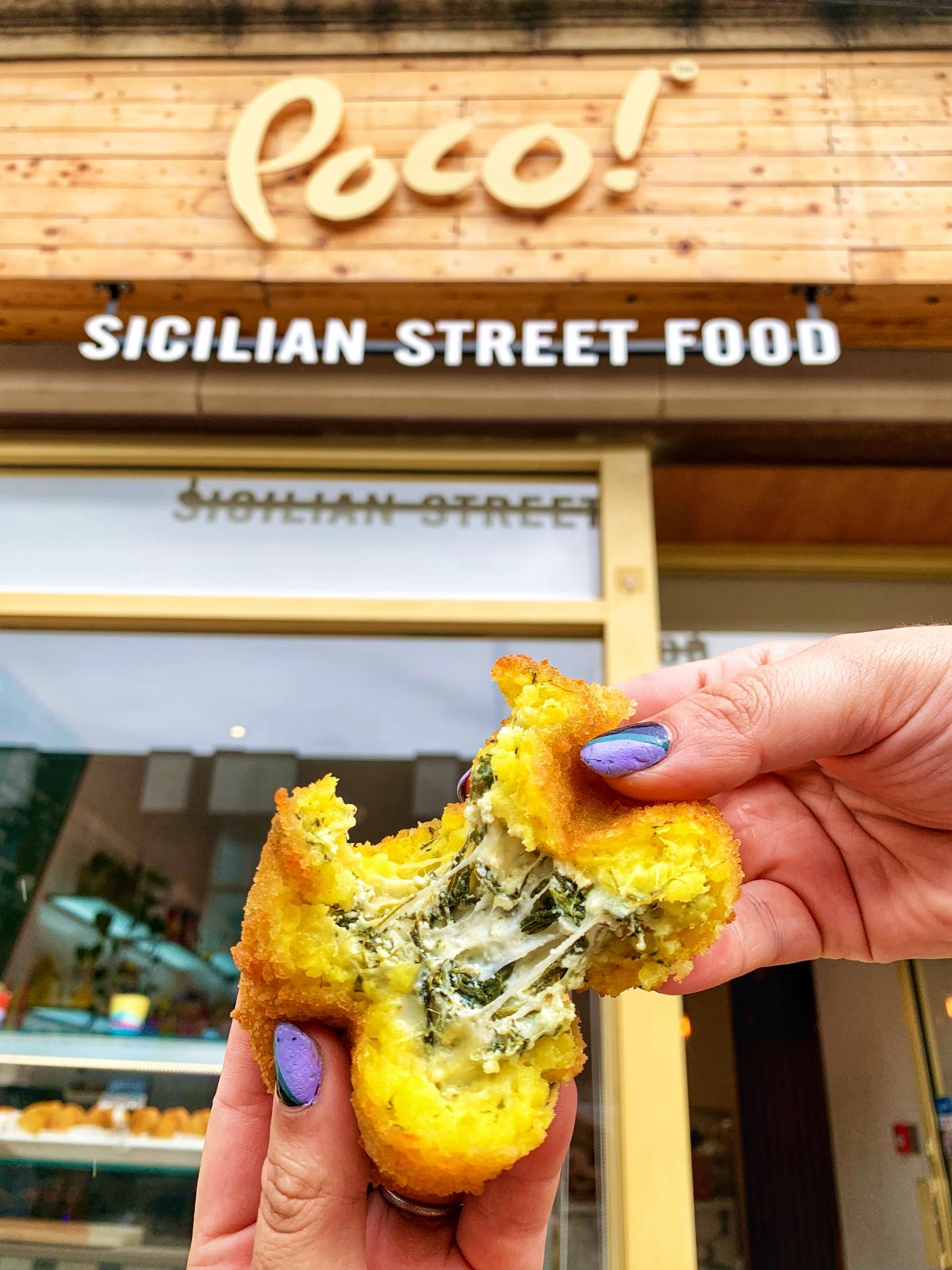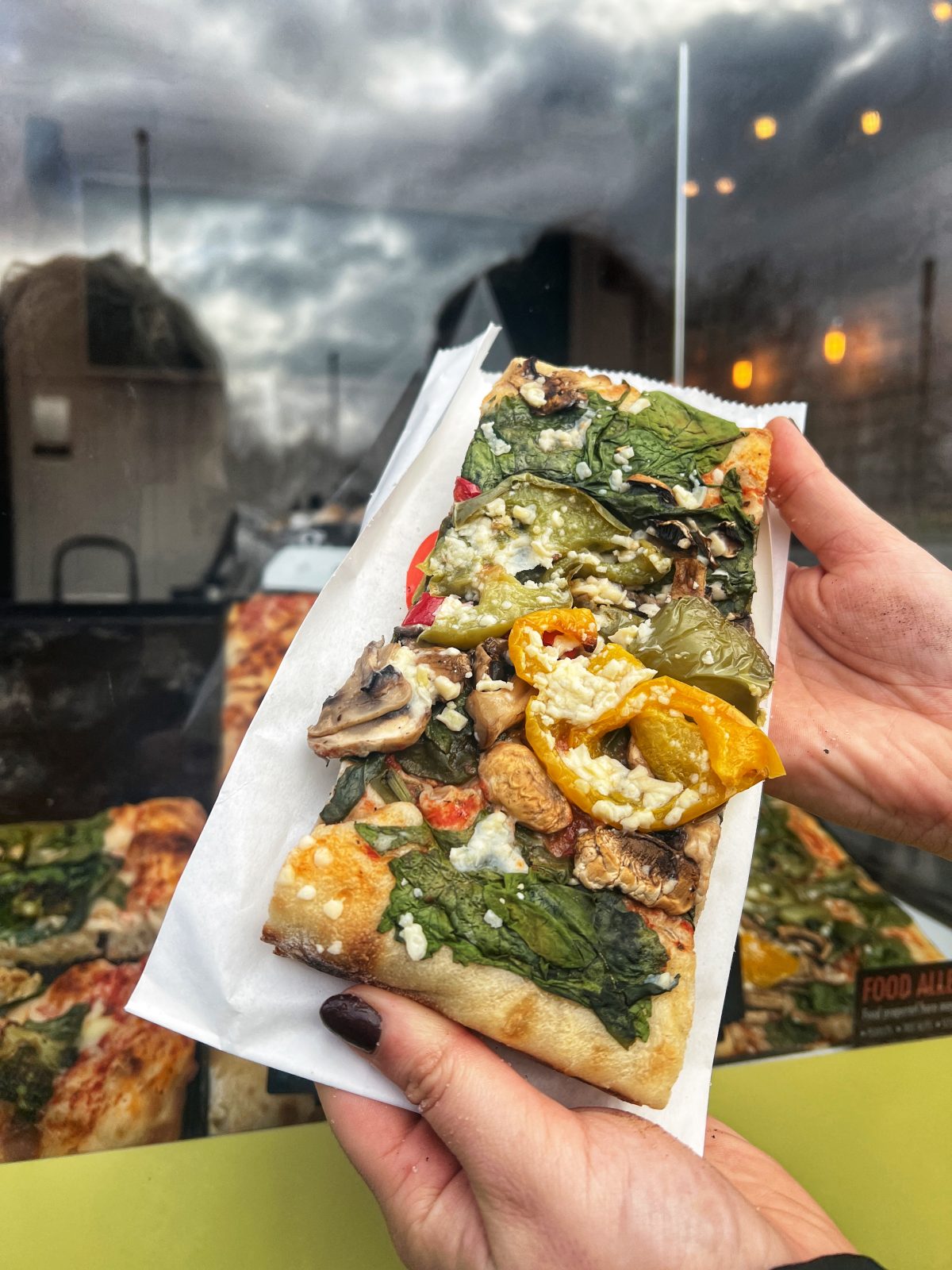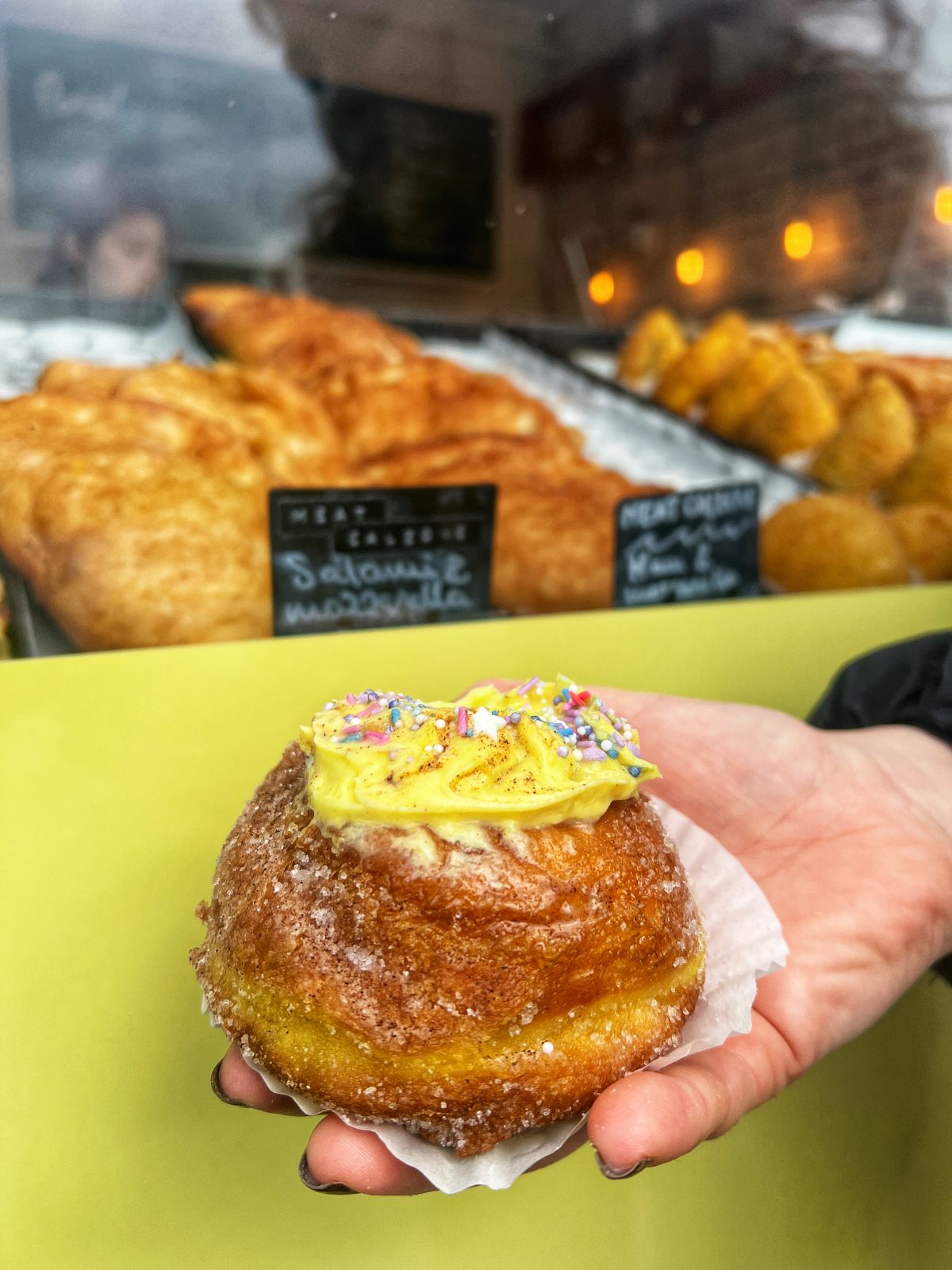 The food: Pizza al taglio, arancini and oven-baked bombolones for under £10.
POCO has two sites: one on Kirkstall Road in Burley and another in Headingley, but no matter which one you head over to, you'll find a huge selection of authentic Italian treats that are proving to be a huge success with customers. First opened in 2018 on Kirkstall Road by the team behind popular Italian kitchen Culto in Meanwood, POCO has been serving up different flavoured arancini, as well as dishes like focaccine, fried Sicilian calzone and Pizza Al Taglio and made become a Leeds foodie staple in the process.
The flavours here are imaginative, but authentic. Think spicy Calabrian 'Nduja sausage with roast peppers and mozzarella, pear and gorgonzola or even ham and potatoes (and by potatoes, we mean mini fries) across huge oblong slices of pizza; with plenty of vegetarian and vegan options to compliment the seemingly never-ending selection.
All slices come in at £3.50 – £4.50 each, depending on dietary preference and toppings, so you can grab a few different slice or a combination of pizza, arancini and Italian-style desserts like oven-baked bombolones for £10.
Read More: POCO is serving Sicilian treats from second Headingley site
Little Bao Boys
Sovereign Square, Sovereign Street, Leeds city centre | Open from 12pm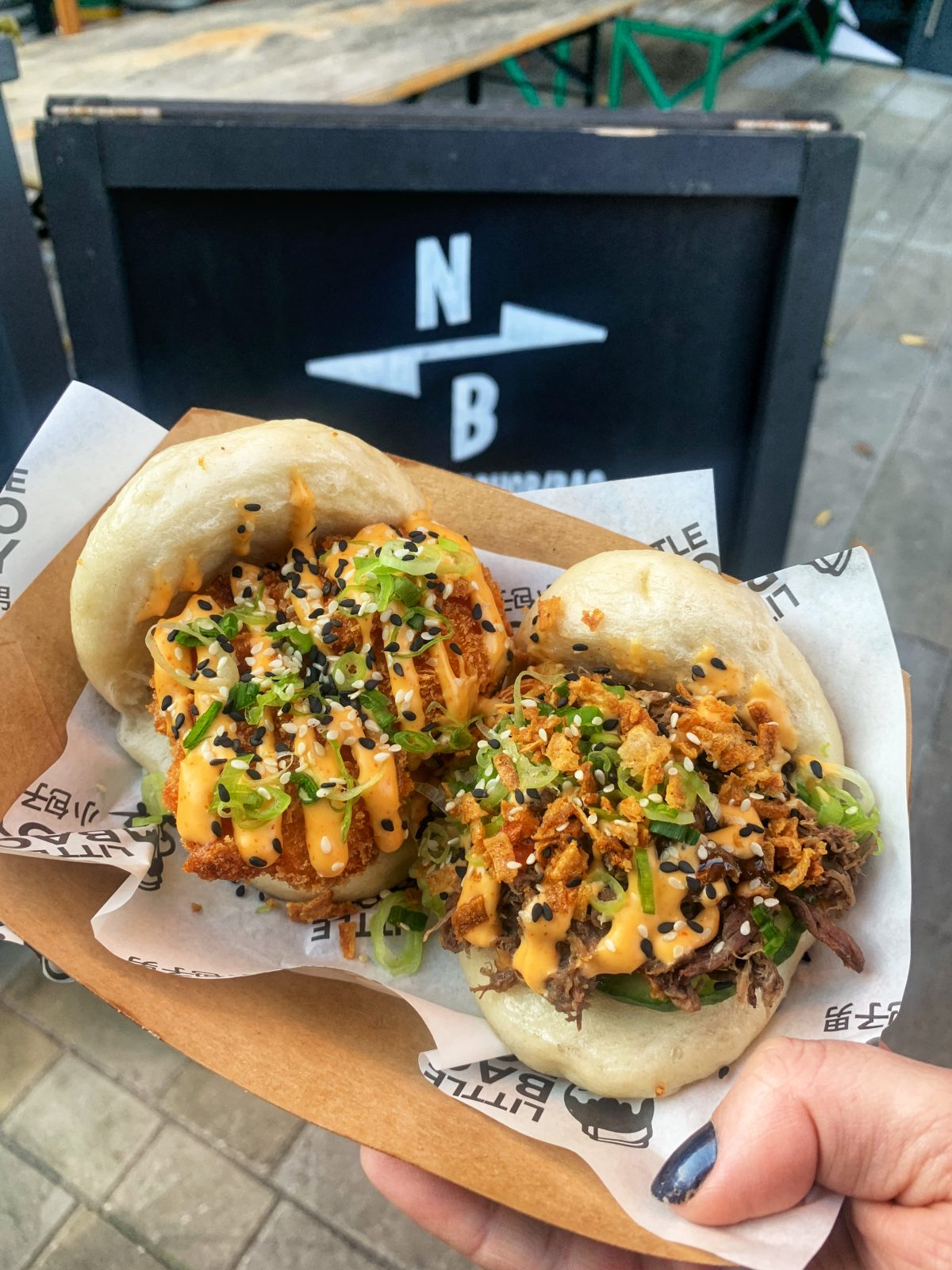 The food: A choice of any two baos for £9
Serving pints, baos and coffee all just moments from Leeds train station: North Brew Taps is the ideal spot for those with a few spare hours before getting the train off home or looking for a lunchtime treat. There's a tonne of plug points and spare for four at every table, so you can bring a small team with you to work as well for a working lunch and still spend less than a tenner each.
The chefs at Little Bao Boys are always there for us at North Brew Taps or Springwell, whether you've popped down for a mid-week working lunch or a late night snack, their small team are always ready to take our orders and serve up their small batch bao buns.
Not sure what to order? Usually, we love the Panko Aubergine, made from a vegan buttermilk mix with sesame crumbs, sriracha sauce, iceberg lettuce and spring onion but we're keen to try the limited-edition summer time treats available. We're talking deep fried ice cream bao bun sarnies amongst other classics.
Hyde Park Book Club
Headingley Lane, Headingley | Open from 10am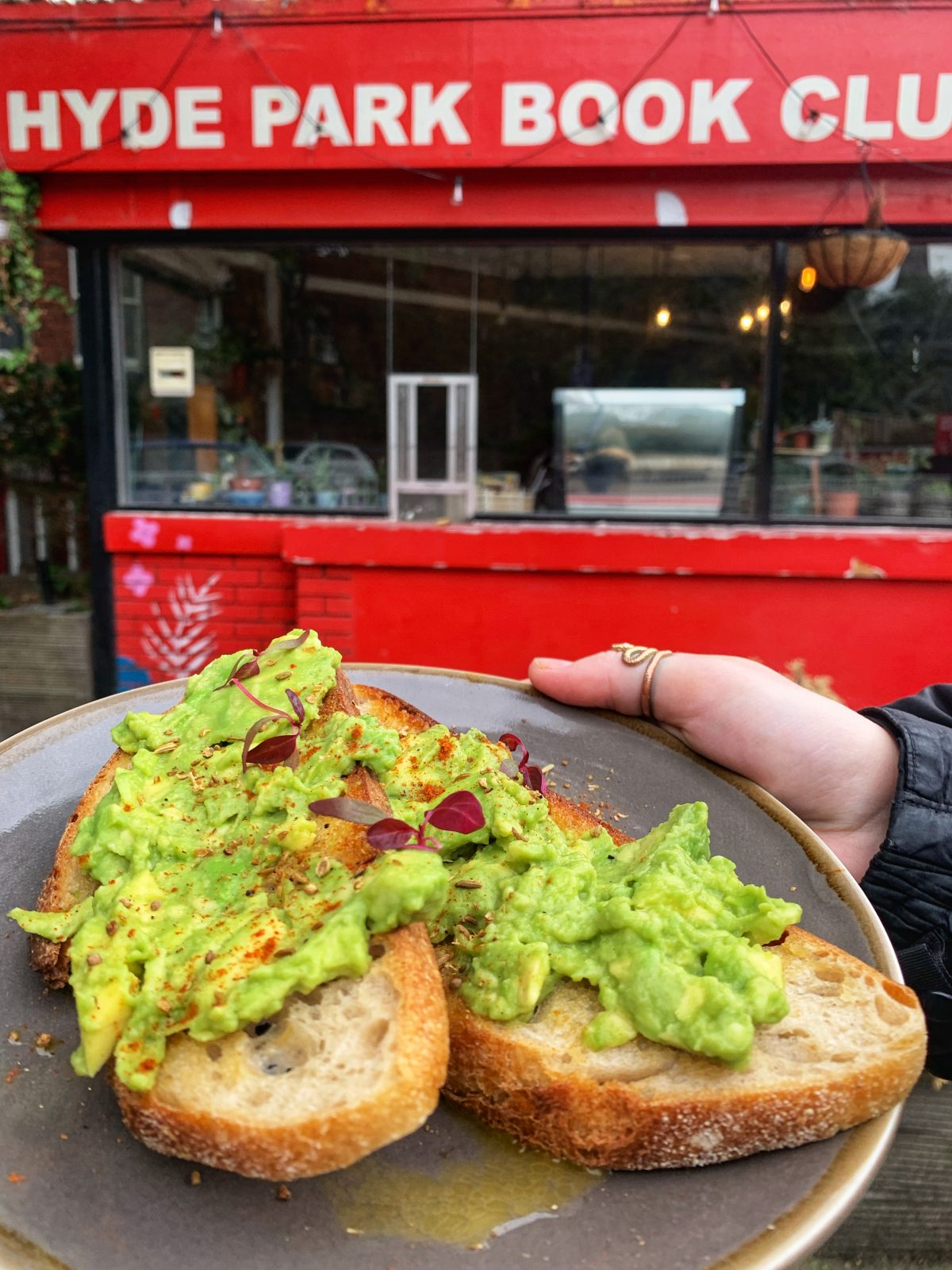 The food: Brunch and small plates – every item on the menu is under £10
The breakfast, lunch and dinner offering is always an option at Hyde Park Book Club for less than a tenner – and there's plenty to keep you coming back. Along with meat-free options like burgers, homemade cakes and plenty of caffeine selections that all come in under the £10 mark, you'll find board games, live music and a plant shop to keep you entertained.
Find out more here.
Falafel Guys
SALT Granary Wharf or stall on Briggate | Open from 12pm and 11am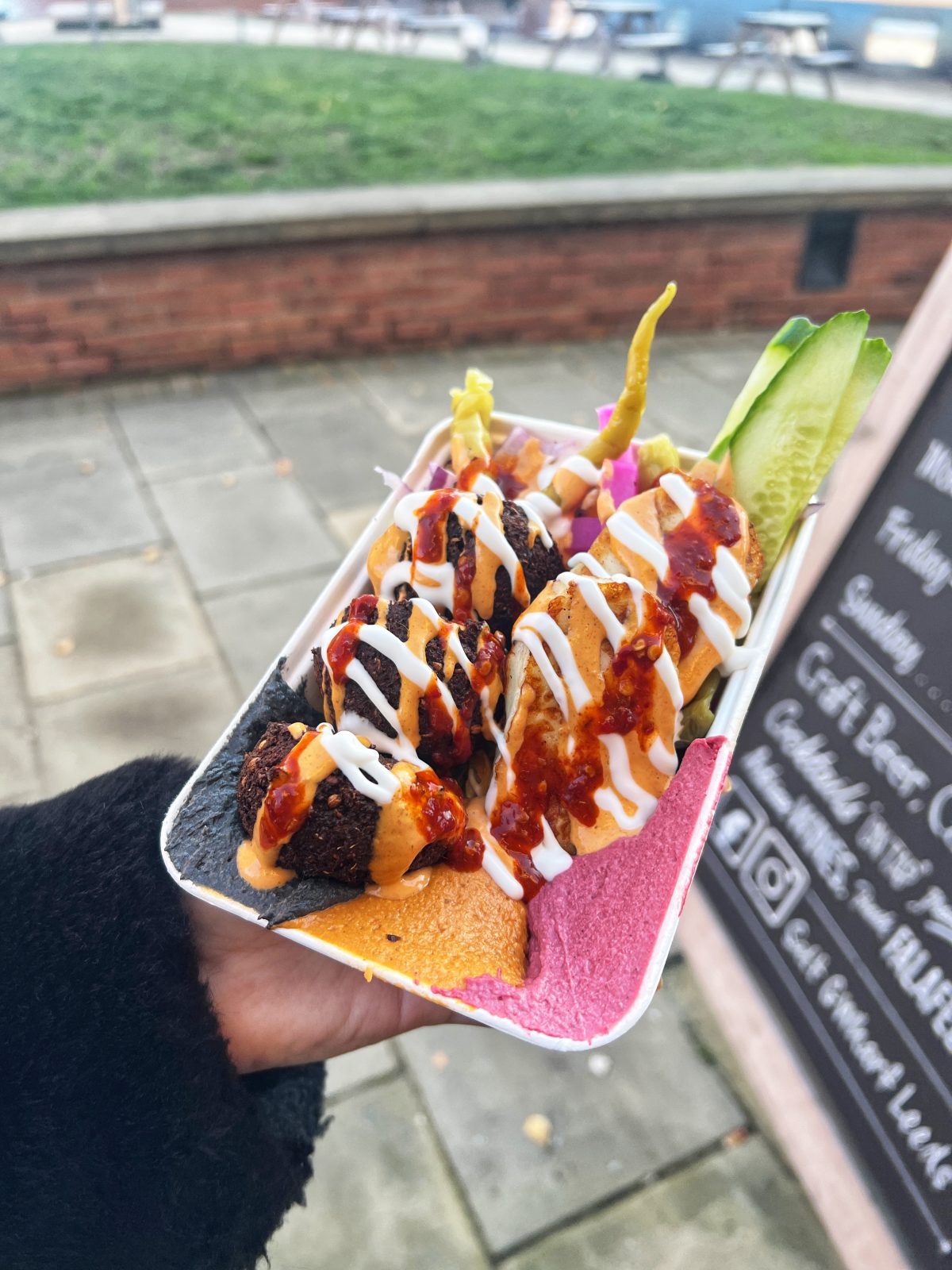 The food: Falafels, halloumi and chicken shawarma wraps and salad boxes from £5
Can we really talk about bargain lunch and dinner options without including one of the cities best loved street food stalls? With options like salad boxes and wraps stuffed with falafels, halloumi and chicken shawarma from just a fiver on Briggate, or a wider menu of chicken wings and sharer meals from Granary Wharf, you're bound to find something you love at a reasonable price from these guys.
Find out more here.
Hooyah Burger
Albion Street, Leeds city centre | Open from 12pm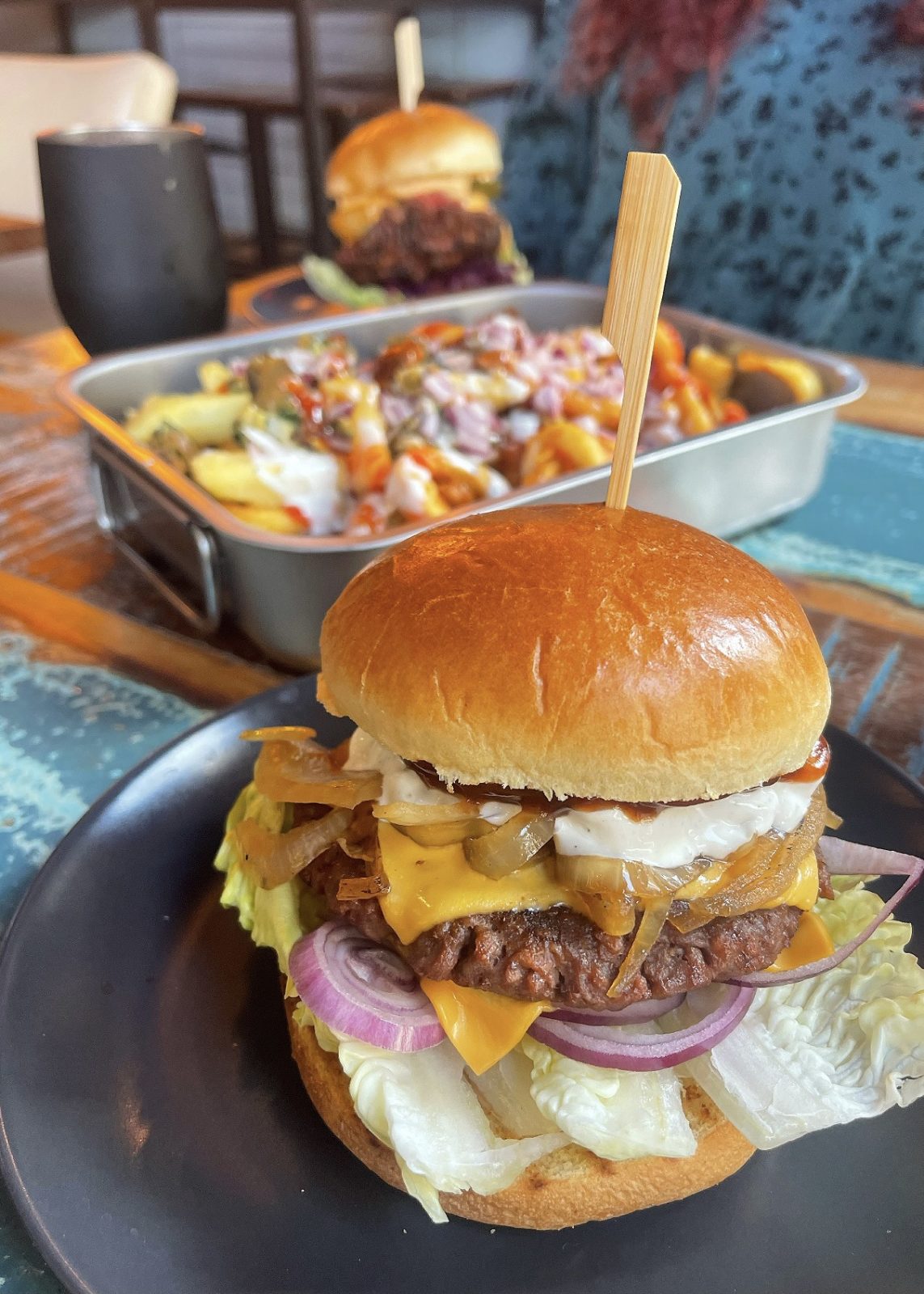 The food: Build your own burger for £9.99
Hooyah has taken everything you know about a burger joint and flipped it on its head. Here, the customer is in the driving seat and can tell you the chef's exactly what you want- and you can still grab a burger for less than a tenner. If you're anything like us, this method will give you the freedom to design your dream burger: albeit with a little self-inflicted stress to ensure that you pick all the right flavours.
Go through the four different types of buns, wraps and salads before selecting the patty: there's Beyond Meat vegan, two 4oz beef and a choice of either fiery or regular buttermilk chicken before moving onto the complimentary salad options.There's even four different types of cheese to choose from (american, nacho, mozzarella and Applewood smoked vegan) and a whopping 15 different sauces.
Read More: The new Leeds burger joint where you can build your own burger and loaded fries
Dave's Pies and Ale
Kirkstall Road, Burley | Open from 3pm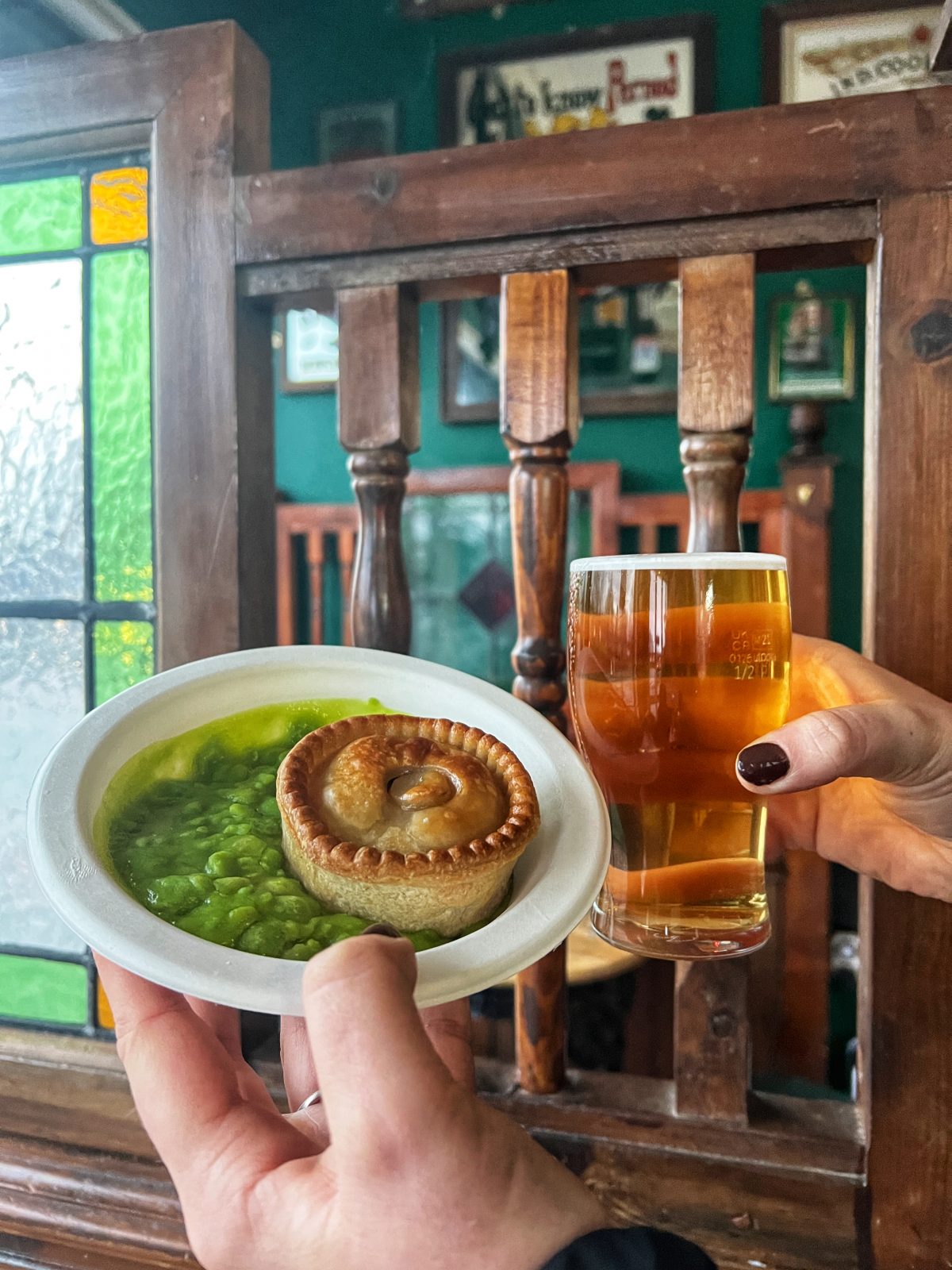 This micro pub has just six tables and three cask ales lines, but it's a true hidden gem when it comes to finding spots outside the city centre for a pint on a budget. Adorned with beautiful old pub signage and mirrors, grab a stool, a pie, pint and mushy peas for £6 – now how many other places offer that?
The Cheesy Living Co.
Corn Exchange, Leeds city centre | Open from 12pm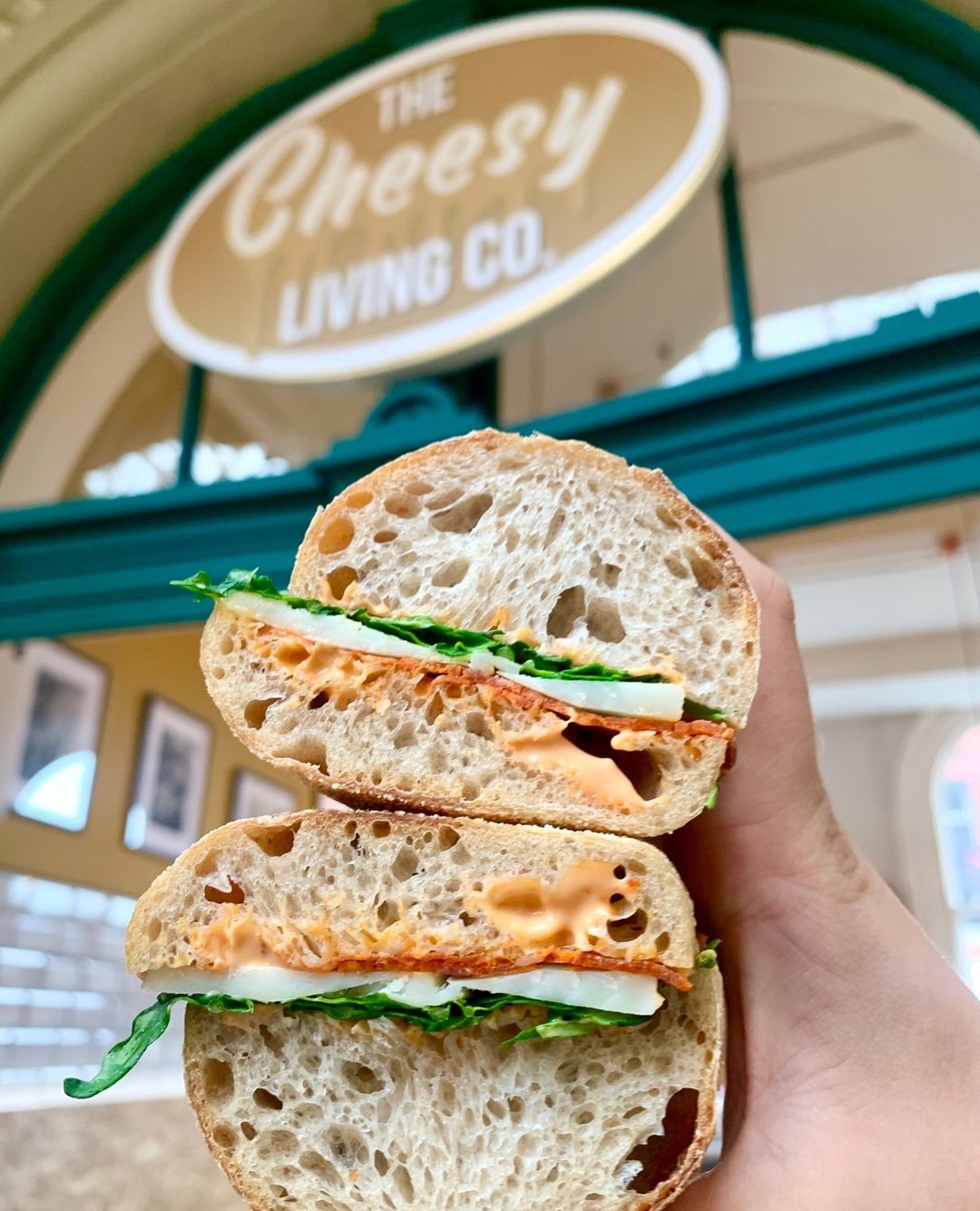 The food: £4 sandwiches or £6.50 with Yorkshire crisps and a drink
Bringing sarnies to the table, The Cheesy Living Co. meal deal is a far cry from your average supermarket stop. Made fresh and in-house, the ever-changing selection of specials includes the likes of chorizo, Yorkshire pecorino, homemade sriracha mayo and rocket all wrapped inside a fresh loaf- lunchtime will never ever be boring again thanks to the new lunchtime offer from these guys.⁠
But if you're looking for something other than a sarnie, don't dismiss this option. As a 'modern kind of deli', you'll find sausage rolls, cookies and endless supplies of cheese to choose from here too.
Find out more here.
Mans Market
Unit F, West Point, Wellington Street, Leeds city centre | Open from 12pm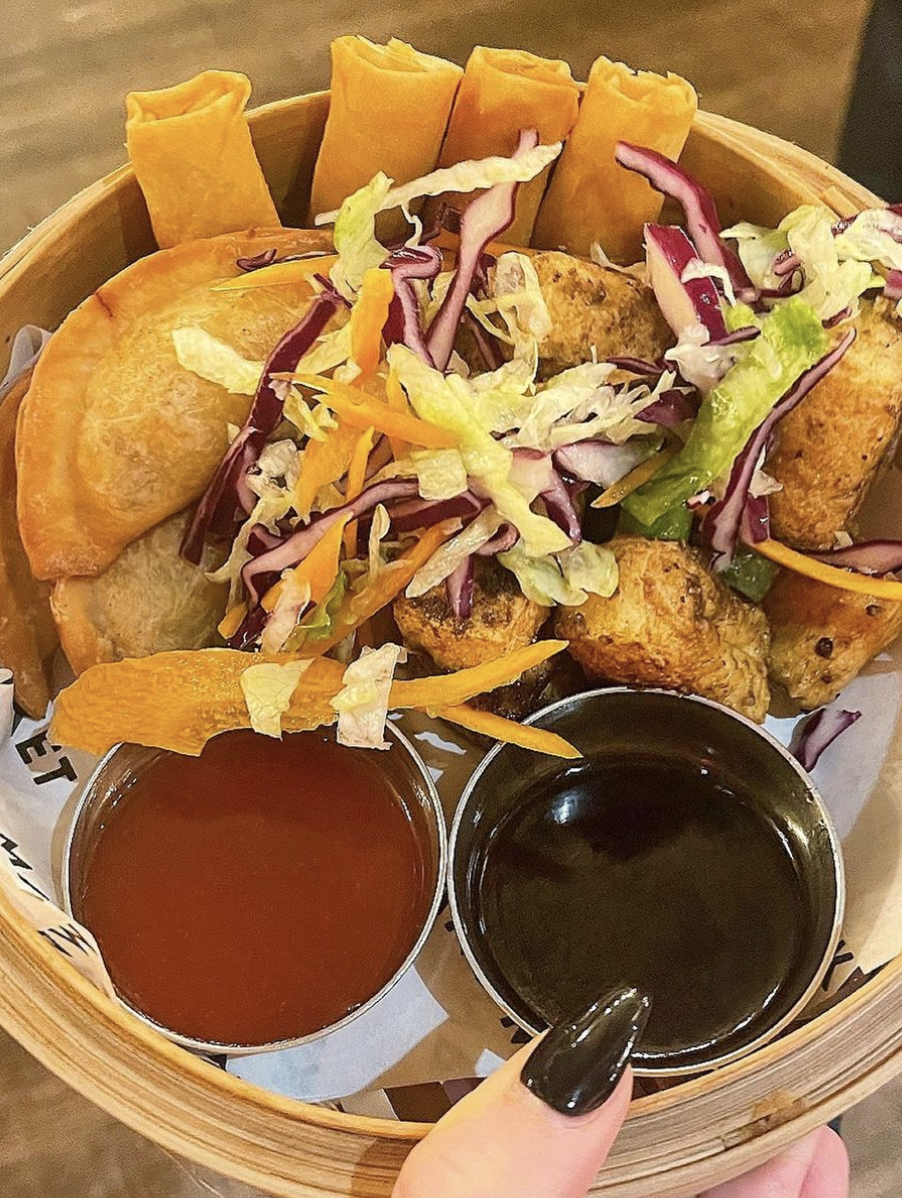 The food: Snack Size Box, Side and Drink from £7.50
Not only do Mans Market offer incredible Chinese cuisine all day long (including an incredible Bottomless Brunch and an Afternoon Chi,) they also ring true to their other incredible deals by offering a lunch deal filled with amazing food at great prices. Mans Market offer two different lunchtime deals which will both satisfy that Chinese craving and totally fill you up. Meal Deal 1 includes a snack size box full of your favourite Chinese staple (the crispy chilli beef and the duck char sui are must try's) with rice or noodles.
This is the perfect option if you need a quick lunch that's going to keep you going for the rest of the day. Meal Deal 2 includes 2 bao buns of your choice and a portion of chips (you can even upgrade to salt and pepper chips if you're fancying some extra deliciousness.) The bao bun selection includes char siu BBQ pork with caramelised soy onions, sliced hoisin duck breast or tempura aubergine so you're sure to find one that suits your fancy.
Both meal deals also come with your choice of drink, which includes beer, wine or a soft drink so Mans Market really is your one stop shop for the perfect lunchtime break. Starting from just £7.50 for the snack box and £9 for the bao buns, both meal deals offer incredible value for money and there's even the option to upgrade some of your choices or add on some additional side dishes if you're feeling extra hungry.
Canary Bar
Greek Mezze for £8.90 – £9.90 depending on dietary preference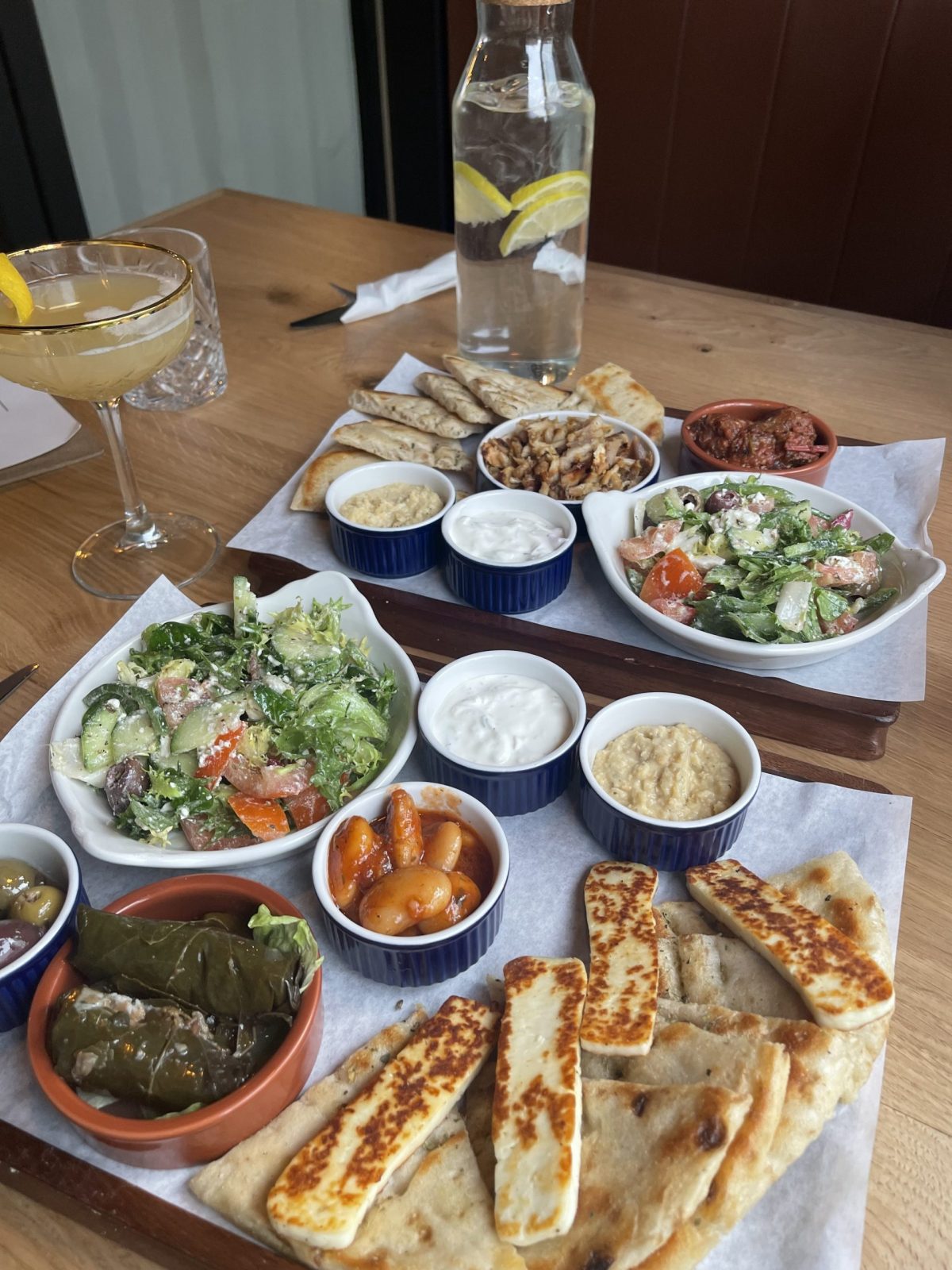 As one of Leeds newest bars, you'd think that The Canary is up for some serious competition- until you see the waterside views, luxurious interior and are welcomed by their accommodating staff. Sat on the verge of Leeds Docks, opposite Mumtaz Leeds, The Canary is an innovative bar built entirely from shipping containers. Split across two floors, an intimate, cosy space leaves ample room for guests to unwind from a cold wintry day in the city.
The food menu carries the same level of consideration and leaves you feeling just as refreshed (forget that post-food coma, you'll just feel incredibly full and satisfied instead). The Mezzes, both meaty and vegetarian come with a fresh Greek-inspired salad with plenty of olives, as well as warm pitta bread, smooth hummus and tzatziki.
In addition to these small plates, the meaty version comes with meatballs in a rich tomato sauce, as well as chicken gyros, whereas the vegetarian option swaps the meat out for halloumi strips, butter beans and stuffed vine leaves. Every food item also has an additional 30% off before 4pm too, making this an ideal lazy lunch or remote working spot for Leeds city commuters that want to escape the centre.
Wolfox Leeds
Wellington Street, Leeds city centre | Open from 8am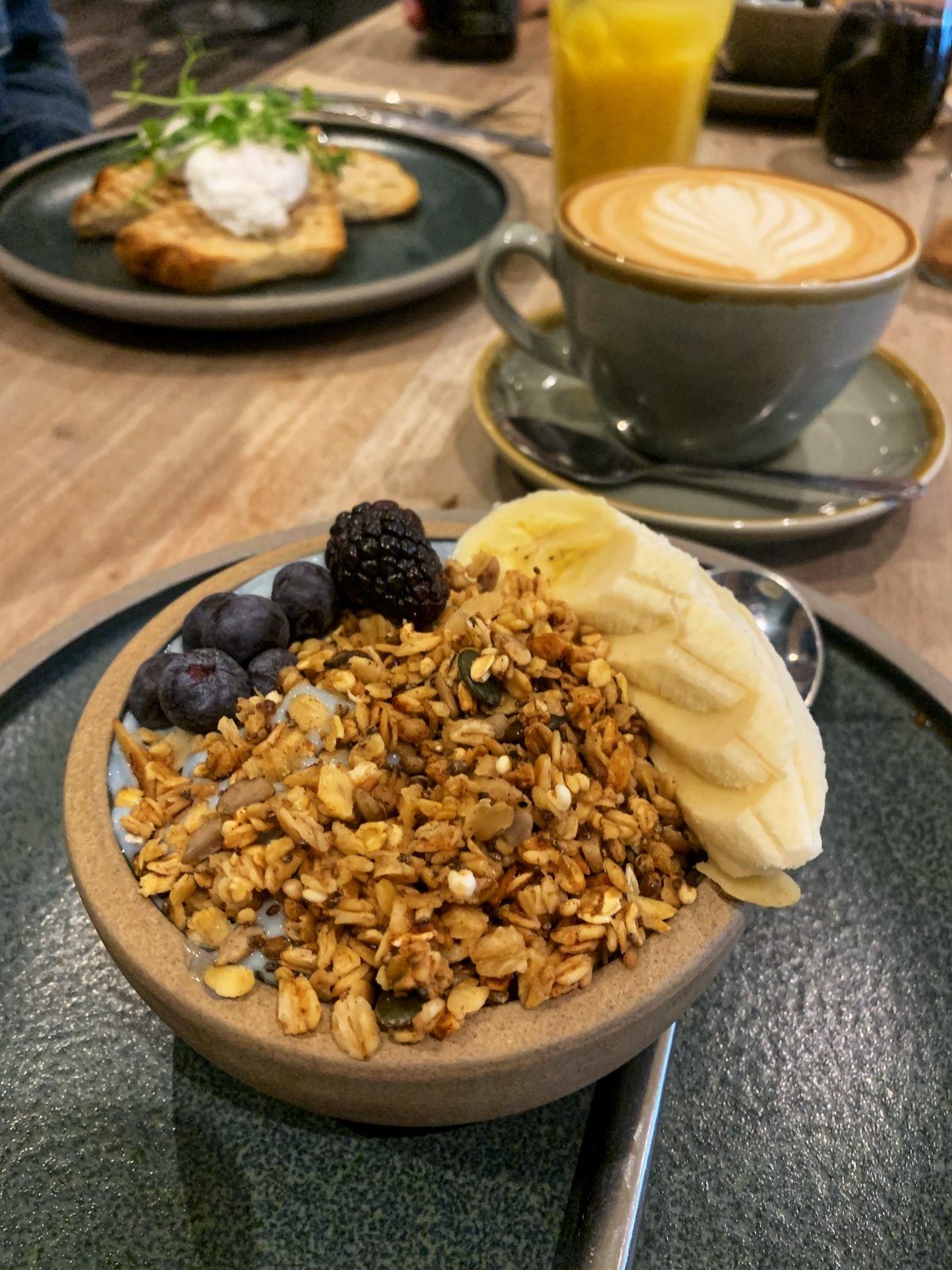 The food: Organic acai bowl for £7.00
Acai bowls are one of the most aesthetic breakfasts around and perfect for vegans wanting to get their five a day in whilst posting their meal on to their socials- but they can serve anyone for any given meal of the day. The organic acai bowl is made from a smoothie base, topped with granola, fresh fruit and coconut flakes- so selections can vary from day to day, but we're convinced they're all just as tasty as each other.
If you don't fancy a smoothie bowl, overnight oats or a vegan full English with crushed peas, avocado, wild mushrooms, crushed new potatoes and cherry tomatoes make up just a few of the other plant-based alternatives you can grab at Wolfox, plus there's plenty of meat options for the carnivores to tuck into.
Dough Boys
Belgrave, Cross Belgrave Street, Leeds city centre | Open from 12pm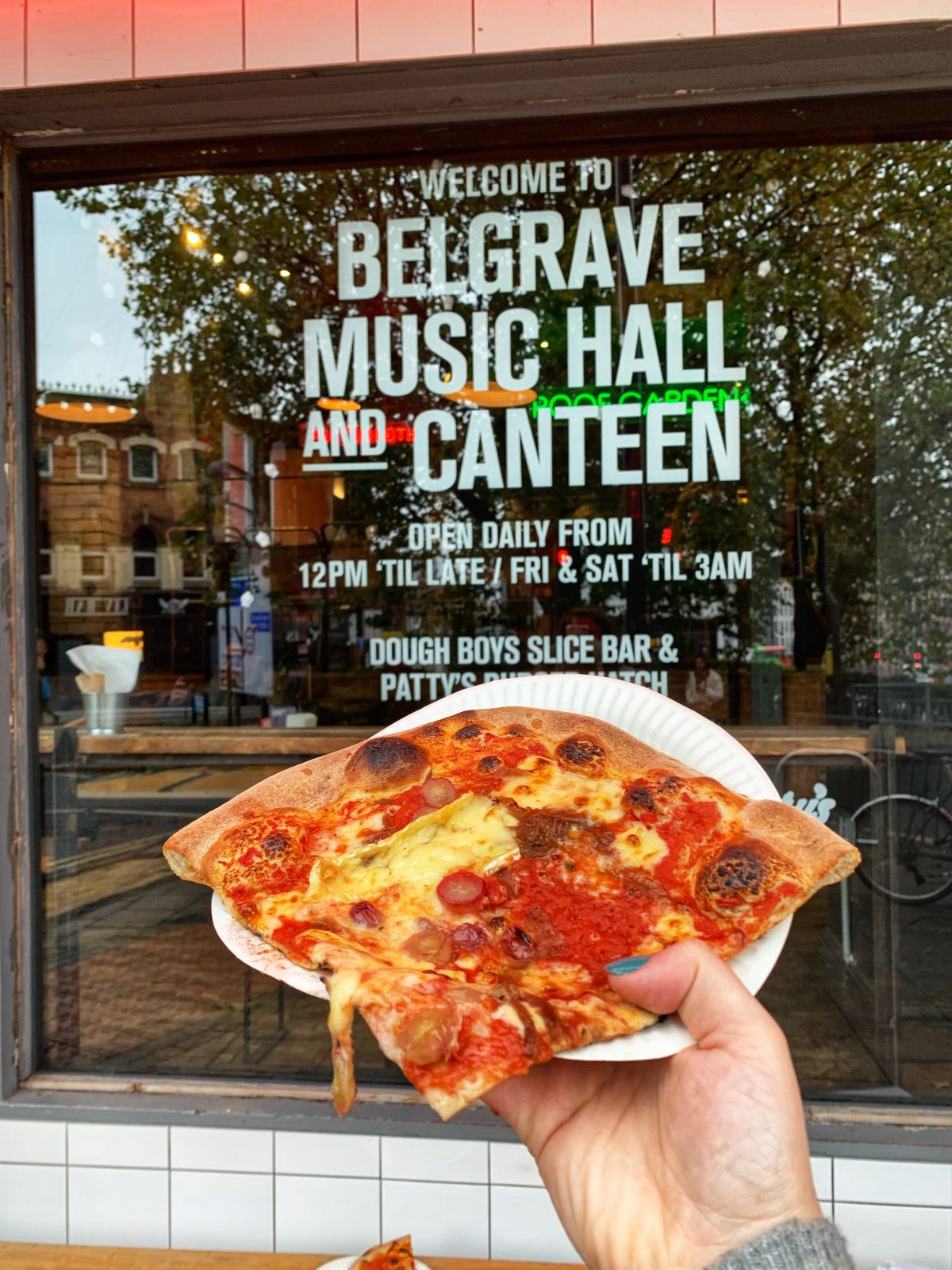 The food: Half price slice 12-5pm, but all options are always less than a tenner
If you haven't tried Dough Boys pizza at Belgrave you're really missing out! Dough Boys specialise in unusual flavours for their pizza, with one standout, the Queen Brie, featuring roasted grapes to complement its namesake French brie. Whether you're feeling adventurous, or you'd just like some classic pizza flavours like the Silvio, Dough Boy's version of a margherita, or the Salami of Darkness (no prizes for guessing what's on this one,) you're sure to enjoy the delicious thin crusts of these enormous pizza slices.
These pizzas can be ordered as huge full pies or you can order them by the slice. This is where their amazing lunch deal comes in… Sunday – Thursday 12pm-7pm and on Friday and Saturday 12pm-5pm you can enjoy every one of Dough Boy's pizzas by the slice at HALF PRICE. This means that you can enjoy a delicious pizza slice from as little as £1.20. Be warned though, once you have one slice you're going to want more and only your first two slices are half price (unfortunately you can't get away with getting a whole pizza under this deal… sigh.)
Who are we to complain though when Dough Boys are treating us this well with excellent pizza at astonishing prices. Get yourselves down to Belgrave and give their amazing pizza a go, you definitely won't be breaking the bank!
Find out more here.
Mommy Thai
Duncan Street / Vicar Lane, Leeds city centre | Open from 12pm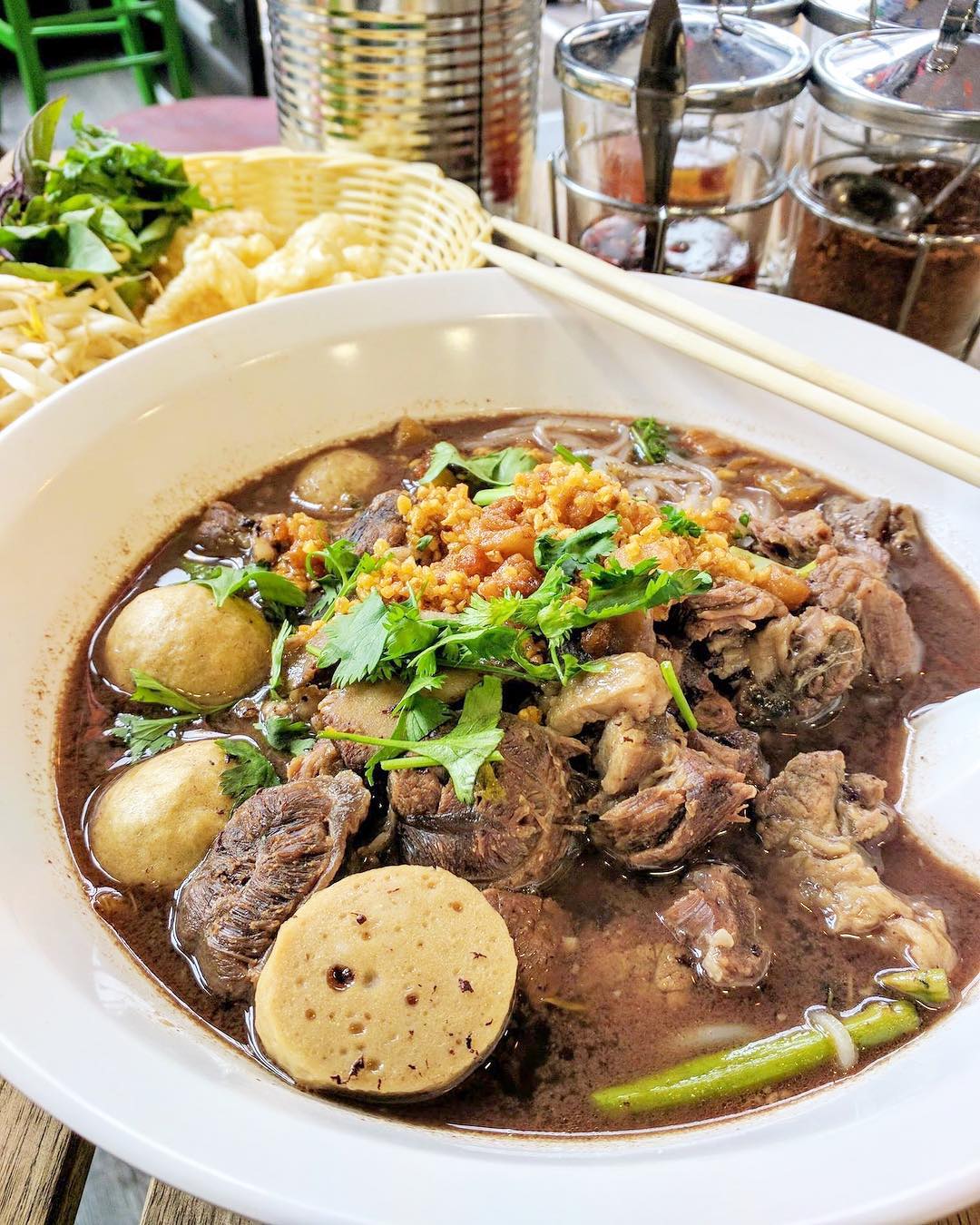 The food: Starter, main and side dish for £7.95
Mommy Thai now has two different locations in Leeds, as well as one in York, and this small franchise is going from strength to strength after recently expanding its location on Duncan St. Every dish that they serve is delicious and authentically Thai and the street-food atmosphere that they create in all their locations makes your experience there even better.
Mommy Thai's lunch deal is one of their strongest offerings with incredible value for money and a huge variety of options which make the deal customisable for anyone. With ten starter options (yes 10!) and twenty-three main options, as well as being able to choose your own protein option and side, this lunch deal is one of the best that Leeds has to offer.
If all this choice wasn't enough, you can even upgrade your meal to a large portion for an additional £2.
All images- The Hoot Leeds