Chow Down is back for the winter season- and this year, there's more opportunity to get yourself down to Temple Arches and warm yourself besides the fire in no time.
From Thursday 10 November, you'll be able to book your seat and get in the festive spirit in no time. There's cosy corners inside the tipi with blankets and heaters that'll keep you warm even when the snow starts falling.
And that's only the beginning. There's a brand new Hutte Bavarian Beer Hall, perfect for watching the Qatar World Cup 2022 with a stein in hand and chomping on one of the unlimited foodie options; and there's a whole host of activities (Bingo Lingo, Comedy Club and Drag Brunch to name a few) to get stuck in to.
Plus, there's a brand new reservation system that allows free entry into Chow Down.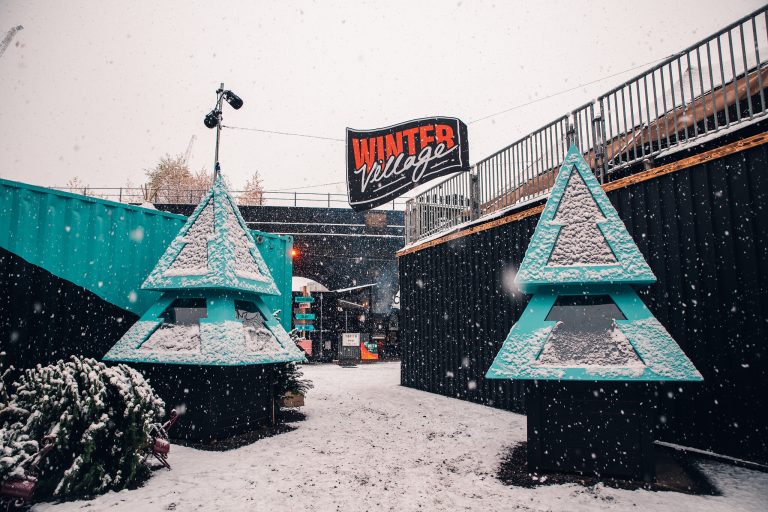 How to book a table
After listening to customer feedback and acknowledging that the cost of living crisis is making it difficult for us all to get out and about, the tables at Chow Down are now available to reserve for day-to-day use completely free of charge.
All you need to do is go to the Chow Down website and book your preferred time. There's no deposit required, but make sure to rock up within fifteen minutes of your booking time. There will also be ample opportunity to walk-in, but it's advised, especially during busier times, to book ahead to guarantee your seat.
Whilst this exciting new development means you can visit Chow Down without grabbing a paid ticket for after-work drinks and weekends in the Beer Hall, you'll still need to grab a ticket for the events and activities being hosted within the grounds.
Watching the World Cup
We really can't think of a better place to find out if it's coming home this year. Grab yourself a seat inside the new German-style Hutte Bavarian Beer Hall where you'll find beer by the stein and huge TV screens so you won't miss a second of the action.
The Hutte Bavarian is set to host all the England and Wales games from the get-go, plus every game from the quarter finals onwards. Tickets are priced at £5 per person, or you can reserve a full table of eight with table serving included.
Click here to get tickets for Chow Down World Cup events.
Food and Drink
Savvy Baker
It wouldn't be a Leeds' foodie highlight if there wasn't an appearance from The Savvy Baker- and we can't wait to get our hands on her brownies at Chow Down. Expect all the sweet treats from her two cafes, including the signature brownie selection, plus exciting new additions like warmed cookie dough, waffles and milkshakes.
Bastards Bistro
The local pop-up kitchen well and truly understood the assignment for the Christmas season. The themed menu for Chow Down this year has festive fries and juicy beef burgers, and (our favourite) huge pots of dipping gravy to keep you well fed, toasty warm and hangover free for as long as you're sticking fistfuls of fries, or just dunking your burgers straight in there.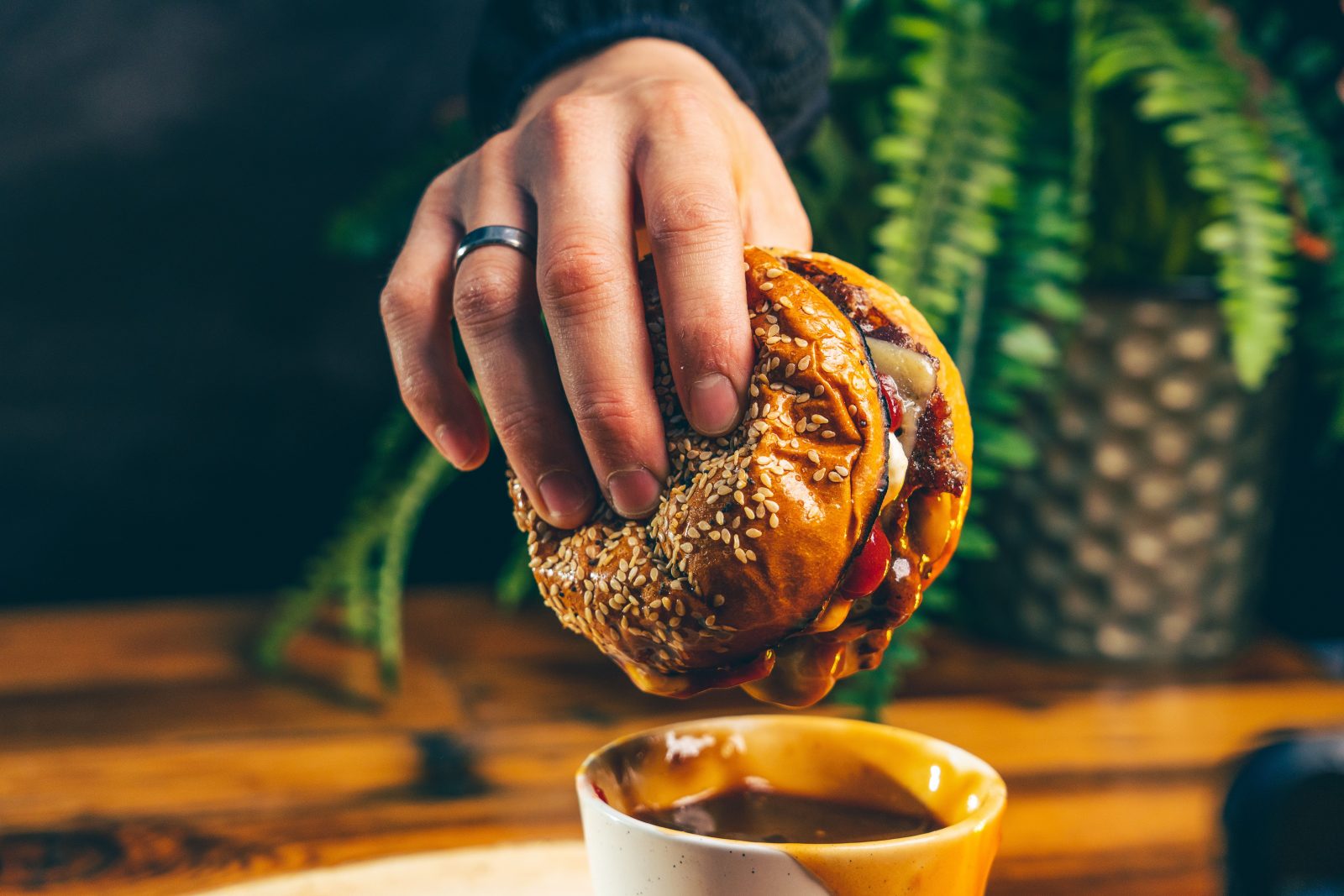 The Middle Feast
The Middle Feast is making a return to Chow Down after a successful summer stint down at the arches and bringing back a true feast for the senses. We're talking BBQ Chicken Shish Kebabs, Mezze dishes big and small, and some seriously drool-worthy halloumi bites that will keep you going back again and again for more tasty treats.
Guest pop-ups
There will also be a selection of rotating food trucks so no matter how often you visit, you can always grab a slice of something new. The tasty line-up includes the likes of Mexican favourites Sabroso Street and Luigi's Street Food, which has been rated by no less than Yorkshire foodie YouTuber, Danny Malin from Rate My Takeaway.
Familiar names from the city centre like Meat Stack, Mans Markets, and Trinity Kitchen vendors Eat Like A Greek and Little Red Food Cluck! will all make an appearance throughout the two month season.
Additional foodie offerings will be supplied from Igloo Pizza, Hoi Polloi Street Kitchen, Oi Dumplings, Niko's Comfort Kitchen, Hoi Polloi Street Kitchen, Korean Grub Club, Bento Box, Tikka Chance On Me, Bento Box and Heffe Mojo.
Read More: Chow Down returns with Winter Village and new beer hall for the World Cup
Chow Down Bar
Of course you're going to need some festive drinks to wash all this down with, and you'll find every boozy hot chocolate, mulled wine and cider, craft beer or cocktail offer you could wish for from the main bar.
Click here to get tickets for Chow Down Winter Village.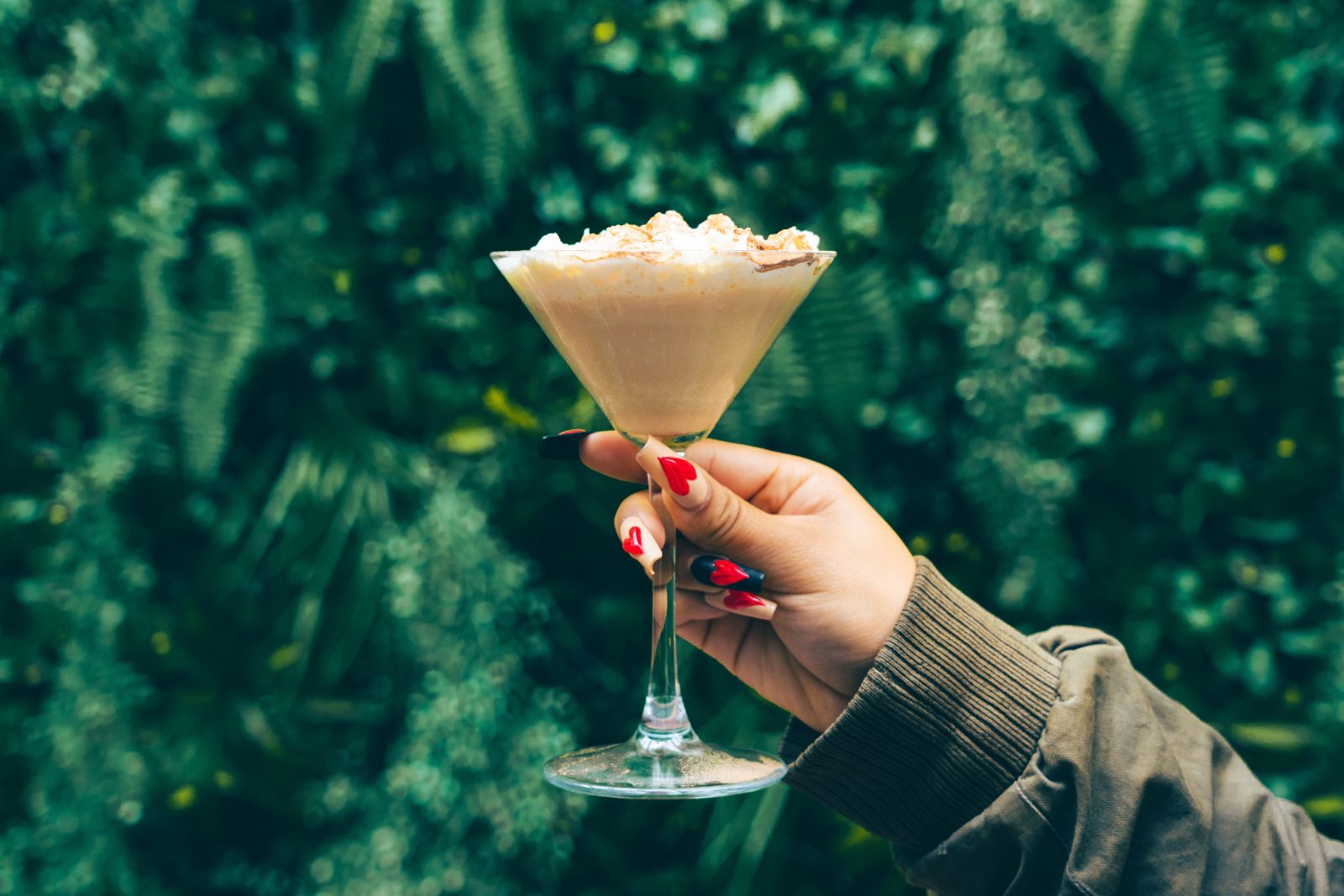 Must-visit events
Curling Club
There's nothing like getting your nearest and dearest together for a drink, but with the return of the Curling Club, there's no reason to get bored with your company. For first dates, co-worker networking nights or just a laugh with your mates, this huge curling set (not unlike shuffleboard, and a lot more exciting) will have your teams showing their competitive side in no time.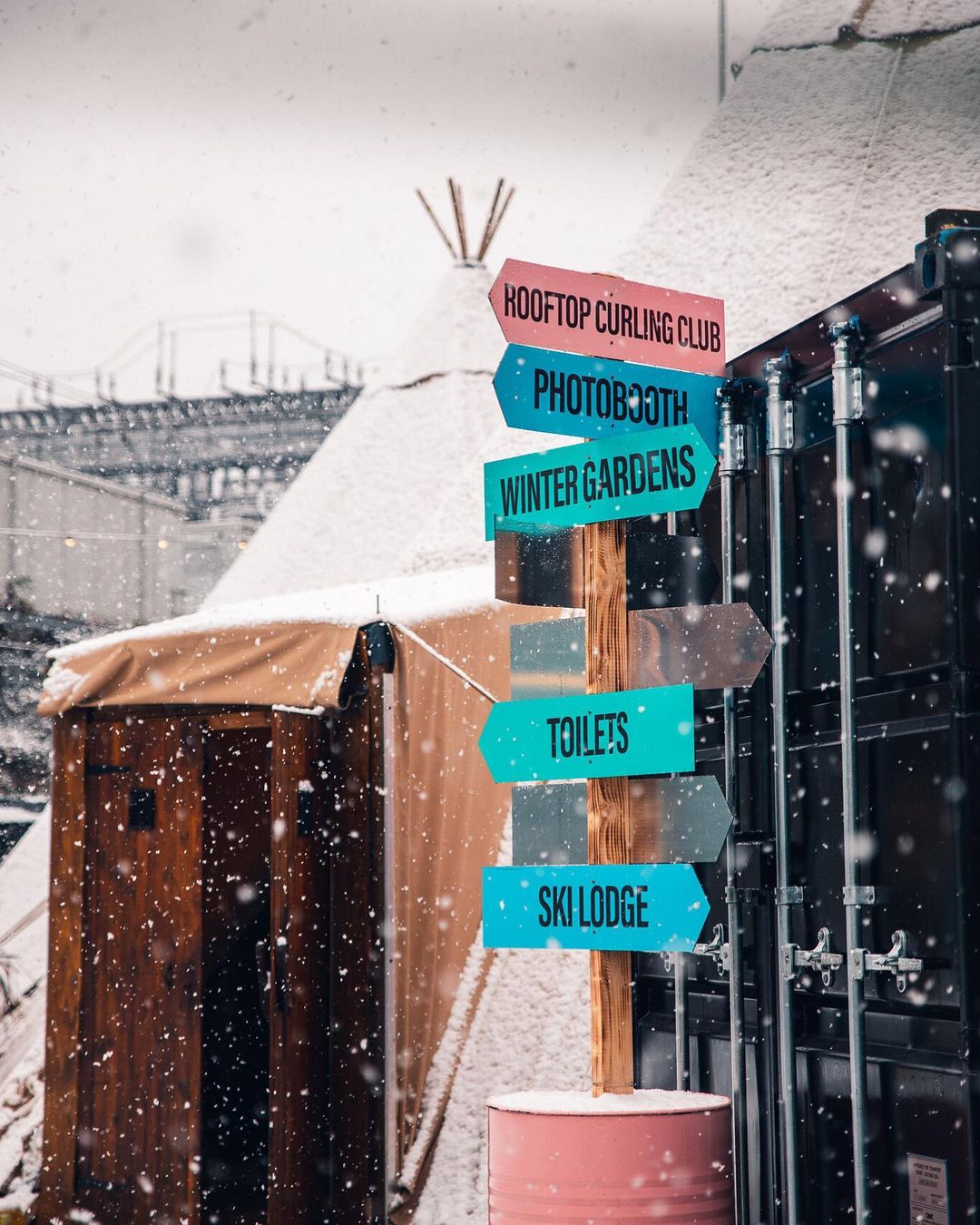 Breakfast with Santa
This one's for the whole family. The big man in red will be making no less than three visits to the Winter Village this year with gifts for all the children on the nice list. Grab a seat in the cosy tipis and hang out with Santa, plus there will be a full breakfast served by Bastards Bistro, juice for the kids and North Star coffee for the grown ups (or whatever you fancy from the bar).
Bingo Lingo
Bingo is back at Chow Down and if you're brave enough, you'll be looking for more than a full house here. Picture a night out with lip sync battles, dance offs and hosts that will truly put you through your paces to win six feet teddy bears and a whole host of prizes.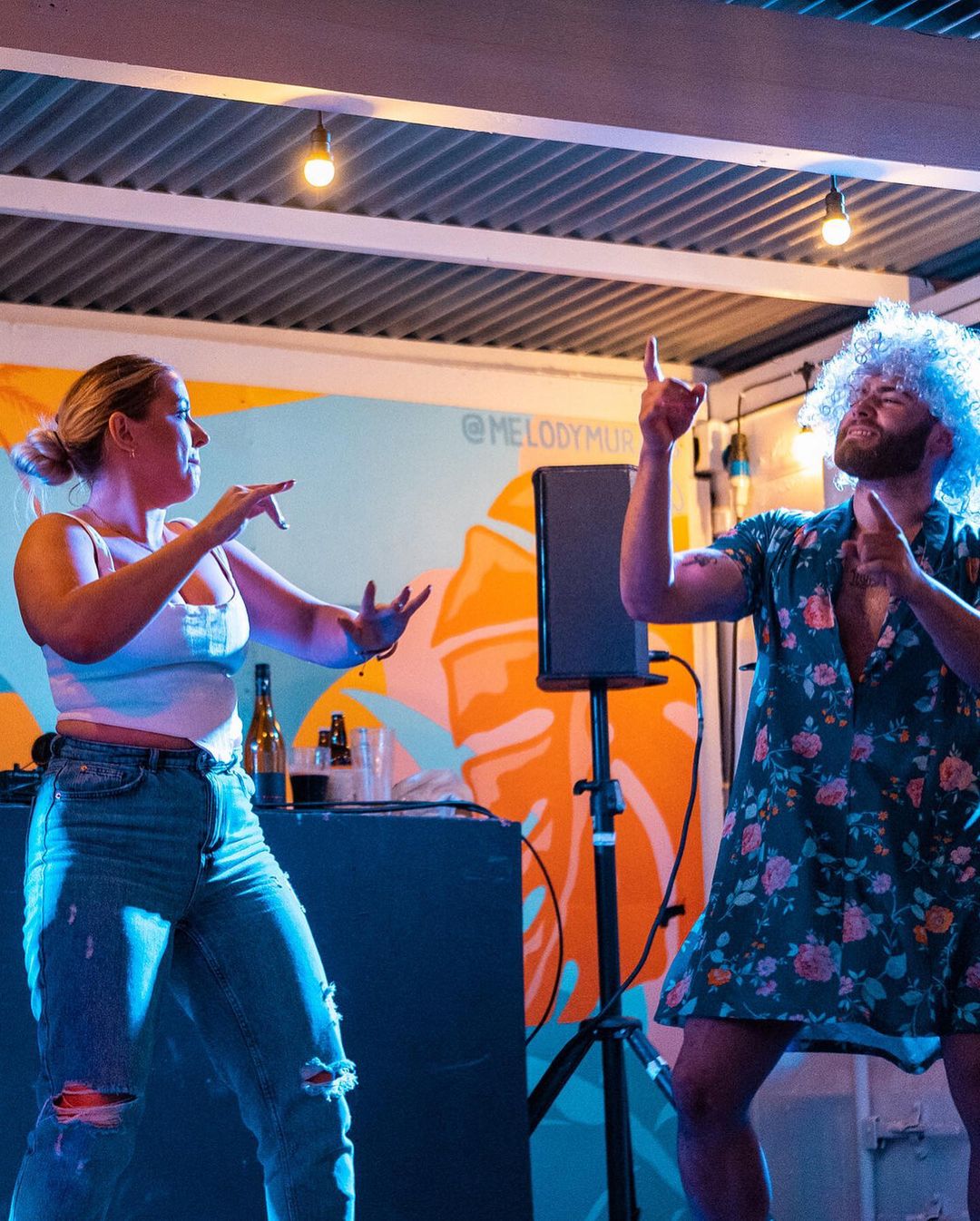 Drag Brunch
Over the festive season there's going to be three Drag Brunch specials, each with their own bragging rights. From a hoedown to burlesque dancing and Christmas themed performances, every brunch to date has sold out- and the Winter Village's are bound to do the same
You can find the Drag Brunch at Chow Down Winter Village on the following dates:
Saturday 12 November 2022: Drag Brunch Hoedown
Sunday 27 November 2022: Burlesque Drag Brunch
Sunday 18 December: Christmas Drag Brunch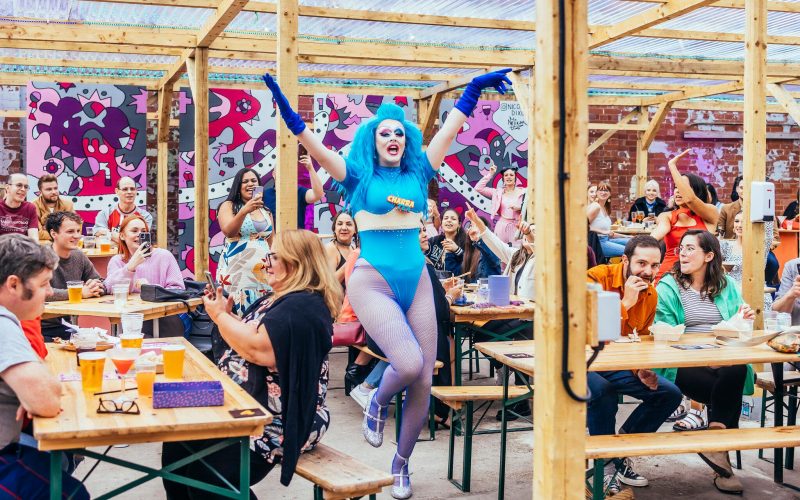 Reserving your seats
So with so many exciting events and opportunities to get into the festive spirit, what are you waiting for? Booking ticketed events, or just reserving a table for a normal night at Temple Arches is as simple as heading over to the Chow Down website and choosing your allotted time.
Chow Down will be open every Thursday – Sunday from Thursday 10 November 2022 right up until New Years Eve.
Get tickets for Chow Down events here.
Feature Image- Chow Down