The Bank of England has today unveiled the new portrait of King Charles III that will appear on all banknote designs by 2024.
In what marks the historic transition from Queen Elizabeth II to King Charles III on the public's money, the Bank of England has today released images of what the new banknotes featuring The King's portrait soon set to enter circulation will look like.
The portrait of King Charles III will appear on existing designs of all four polymer banknotes (£5, £10, £20 and £50), the Bank of England has confirmed, reports The Manc.
There will be no other changes to the existing designs of the notes.
The King's image will appear on the front of the banknotes, as well as in cameo in the see-through security window.
Today we unveiled the design of the King Charles III £5, £10, £20 and £50 banknotes. They are expected to enter circulation by mid-2024. You can continue to use polymer banknotes with a portrait of Queen Elizabeth II. Visit our website for more details. https://t.co/i5eqAhxrKY pic.twitter.com/BkYTZ0VopZ

— Bank of England (@bankofengland) December 20, 2022
The change of monarch portrait on the country's money is the first time since Queen Elizabeth II first appeared on the Bank of England's banknotes in 1960.
The new notes are expected to enter circulation by mid-2024.
All polymer banknotes with the Queen's portrait remain legal tender, and the public can continue to use these as normal, the Bank of England explains, and, in line with guidance from Buckingham Palace, new notes will only be printed to replace worn banknotes and to meet any overall increase in demand for banknotes.
The Bank of England says this decision is to "minimise the environmental and financial impact" of this change to new notes.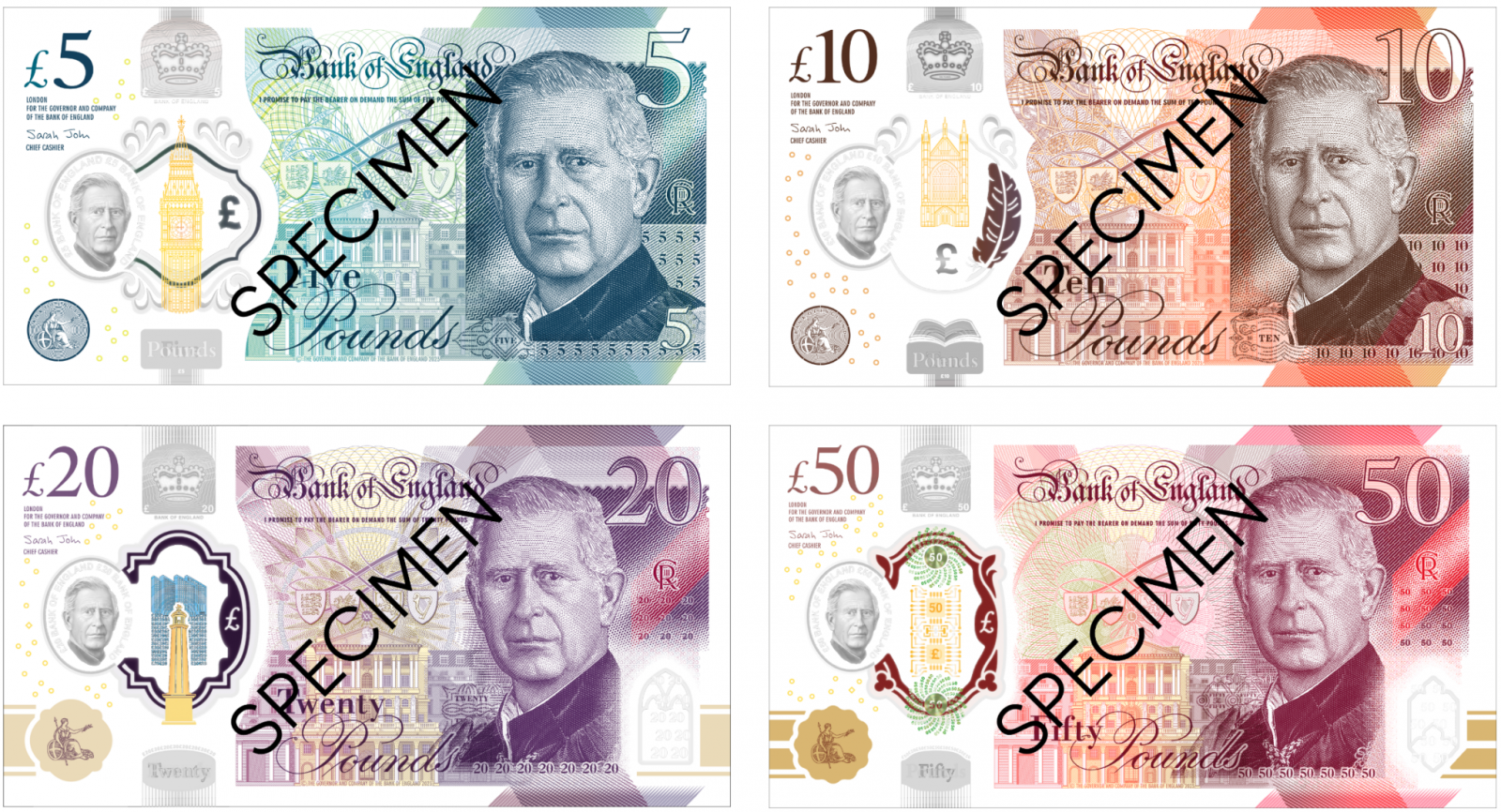 This means notes featuring Queen Elizabeth II and King Charles III will co-circulate.
The unveiling of the new notes comes after the first coins with King Charles III's face on officially entered circulation a couple of weeks ago.
It also comes after it was announced yesterday that pubs across the UK may be able to extend their opening hours in honour of the King Charles III's coronation in Spring 2023 – with a bank holiday weekend confirmed for 5, 6 and 7 May – with the Home Office said to be considering giving a "boost to local businesses".
The Home Office said the change will give "an opportunity for our communities to come together and celebrate this historic moment, and support our hospitality industry".
Featured Image – Bank of England
Read more: Pubs might be allowed to stay open late to celebrate King Charles III's coronation