A Harry Enfield impersonator and his friend made headlines last weekend after the pair impersonated 90s sitcom stars Kevin and Perry at a music festival and were filmed in character 'avin it large in a field.
They went viral after a clip shared widely online showed the pair raving at County Durham's Hardwick Live Festival last weekend – and now it looks like they're about to do it all again, this time in Leeds.
It's been revealed the duo will be coming to Leeds club night Quids In for a special Ibiza party, where they'll be donning their outfits once again for a special Kevin and Perry tribute DJ set.
Hosted at nightclub Pryzm, the pair will be in full costume and character playing all the classics from the cult 00s movie, including Fatboy Slim's Love Island and the iconic hit Big GIrl by Precocious Brats (better known as All I Wanna Do Is Do It).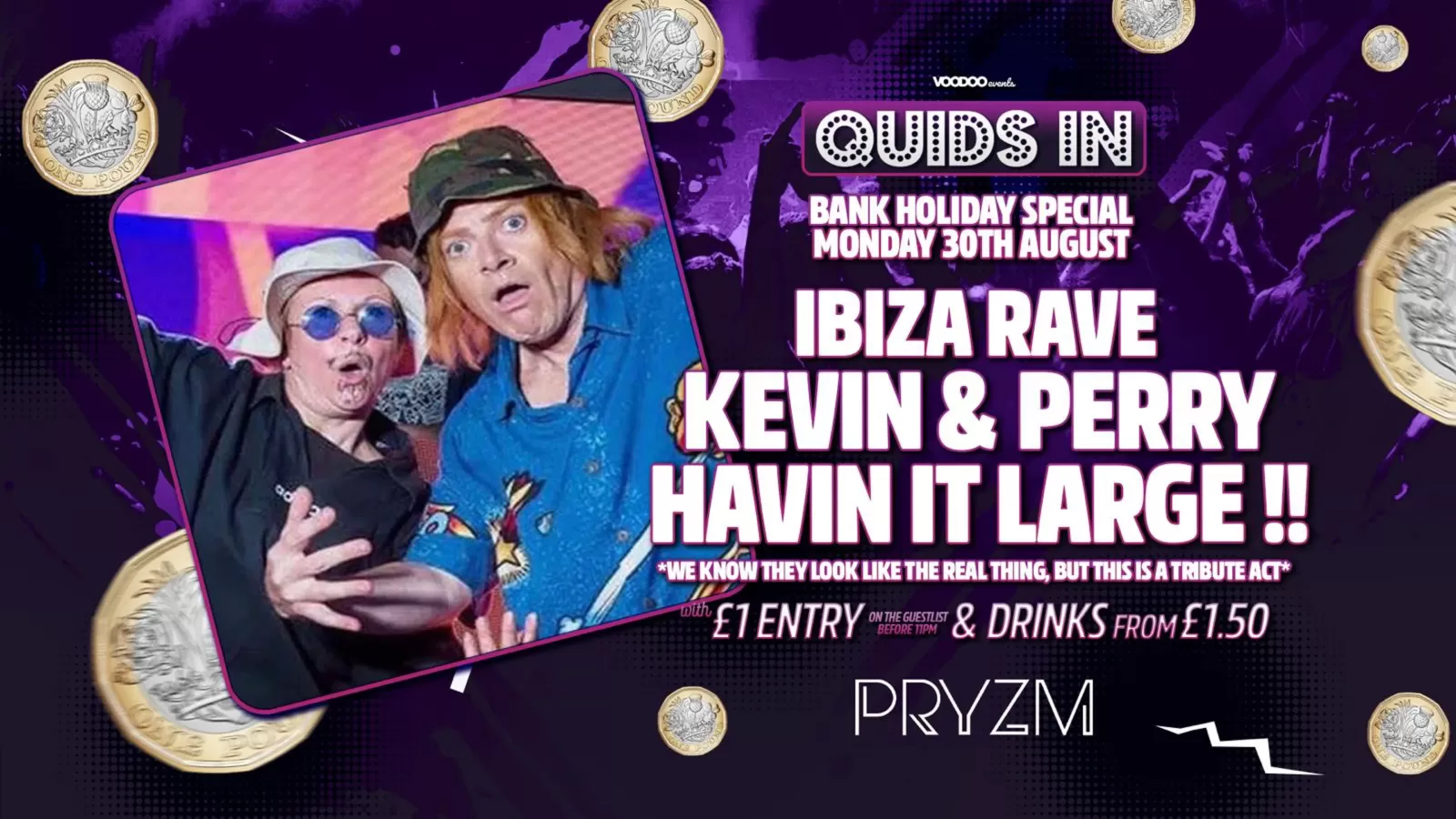 As the club night name suggests, it's literally a quid in here before 11 pm, with the doors to Pryzm open from 10 pm. On top of that, drinks at the bar start from just £1.50 – making it one of the cheapest nights out in Leeds.
Taking place on Bank Holiday Monday (30 August), this not to be missed night will span over three rooms with the Kevin and Perry lookalikes performing on the main stage.
Elsewhere, there'll be RnB and hip-hop playing in the club's intimate Curve room and a throwback indie room playing everything from The Kooks to The Courteeners for guitar music fans in the disco area.
Sharing the news of their mega booking, organisers Voodoo Events said:
"Have you seen this viral video? We've spent the last 24 hours trying to track these guys down…
"Guess who's found them & booked them for a Ibiza Rave DJ set this Monday at Quids In! Quids In Goes LARGE!!! Ibiza Rave hosted by Kevin & Perry*. #AllIWannaDoIsDoIt #QuidsInGoesLarge
"*we know they look like the real thing, but this is a tribute act"
To find out more and grab tickets in advance, head over to the event listing here.