It's that time of the year again.
Whether you're a full time vegan or just sick of the sight of turkey after the season's festivities, there's plenty of reasons to check out some of the plant-based offerings this city has our stomach's growling at.
Choose from coffees, curries, burgers, sandos, loaded fries and plenty of brunch options too- all 100% vegan friendly.
Keep reading to find out where our favourite spots to grab vegan food are, and how you can give Veganuary a good go without losing inspiration….
The Tetley
Hunslet Road, Hunslet | Open from 10am
Hoot recommends: Getting Curried Away
The Tetley has been making a conscious effort to reduce its carbon emissions for quite some time now, and much of this is down to the efforts in the kitchen. Head Chef Jade Crawley has been cooking up a storm with a brand new Winter menu designed to keep your palate satisfied without having to compromise on its ecological impact.
The Getting Curried Away dish, a recipe by Dorinda Hafner, is just one example of the exciting vegan options here. Expect a mild spiced Tanzanian curry with flavours of coconut, winter root veg and tofu bursting through and soaked up with a side of roti bread.
Meat Stack
Bishopgate Street, opposite Leeds Train Station | Open from 9am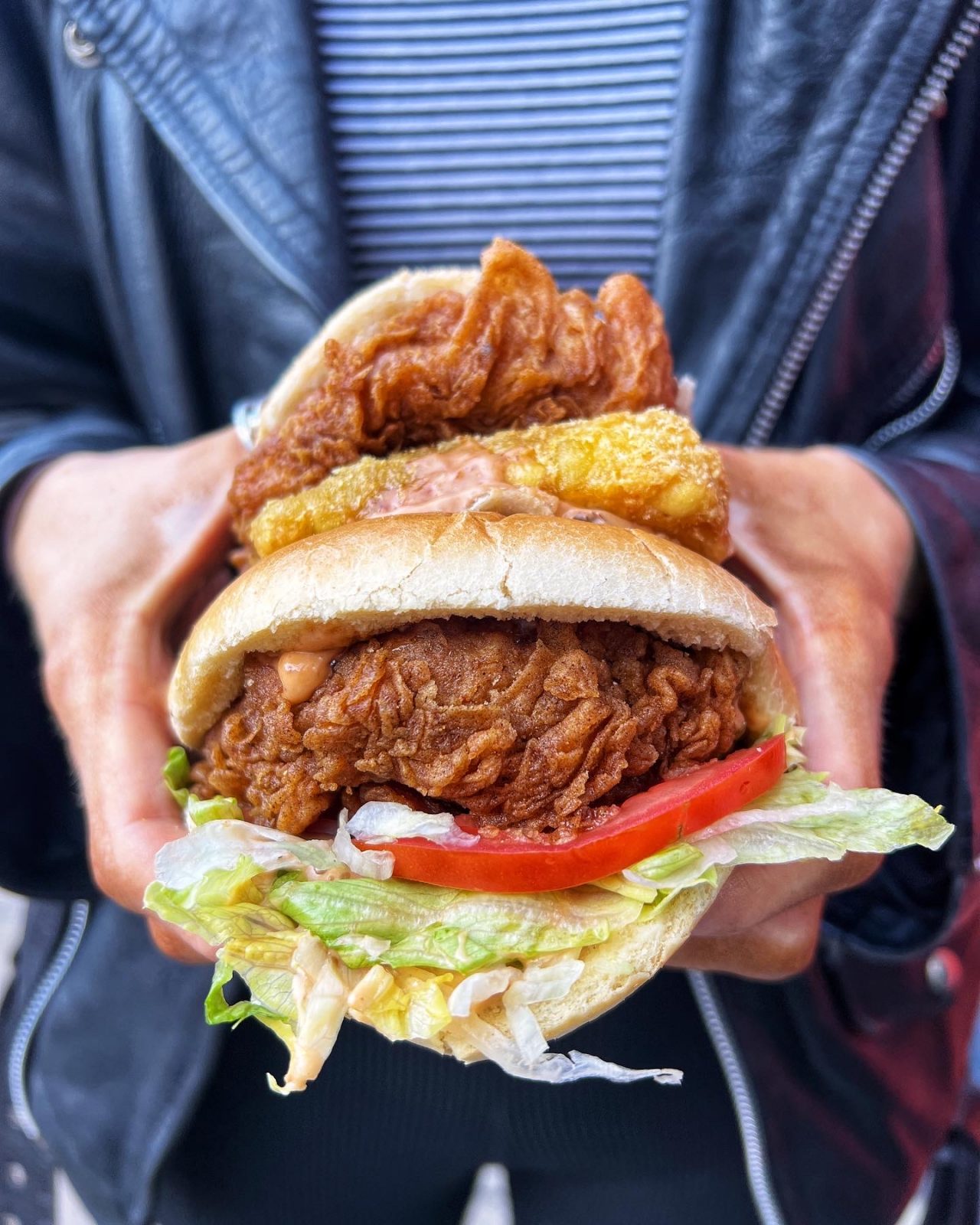 Hoot recommends: Slugger burger
For full time vegans, it'll be no surprise to see Meat Stack on this list. Despite the meat-centric name, Meat:Stack has mouthwatering plant-based options that bring the best of the takeaway's fried goodness to the table for all. They also have plenty of gluten free options and an ever-changing specials menu to check out.
Find out more here.
Rabbit Hole Coffee
Oakwood, Moortown and Leeds Victoria Quarter | Open from 8am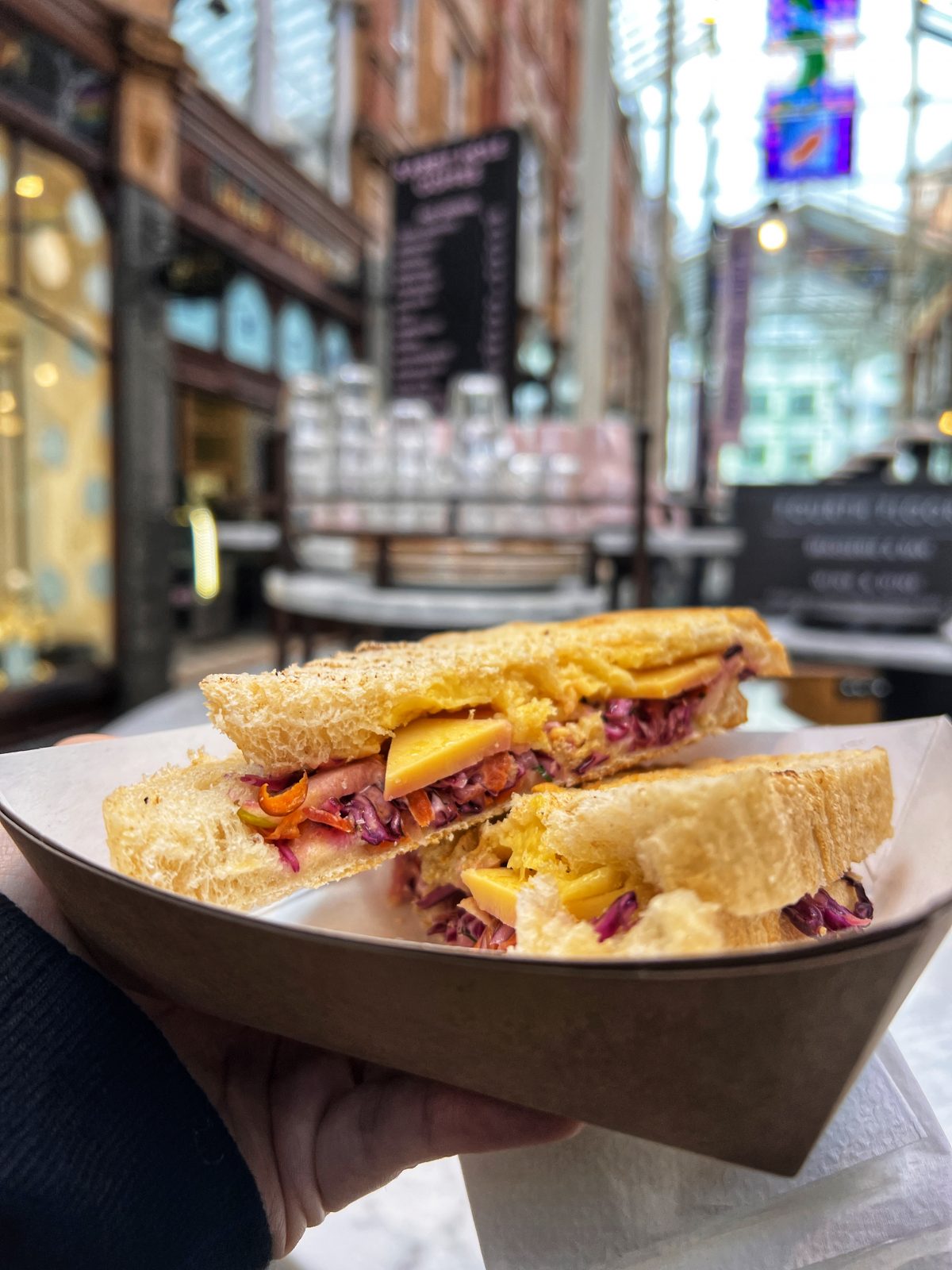 Hoot recommends: vegan 'cheese' toasties
An ever evolving menu of delicious winter warmers to accompany your morning coffee is something that Rabbit Hole specialises in- and the vegan selection is some of the tastiest we've found in the past few months.
Rola Wala
Inside Trinity Kitchen, Albion Street | Open from 11am
Hoot recommends: sweet potato naan wrap
When it comes to getting our lunchtime fix, it always feels as if Rola Wala is never far away. Located inside Trinity Kitchen, you'll find a host of build-your-own lunch and dinner options including naan wraps and protein bowls full of delicious Indian street food ingredients. The vegan options here combine veggies with new Indian-inspired flavours to provide a tasty treat every single day of the week.
Find out more here.
Green Room
Wellington Street, Leeds city centre | Open from 11am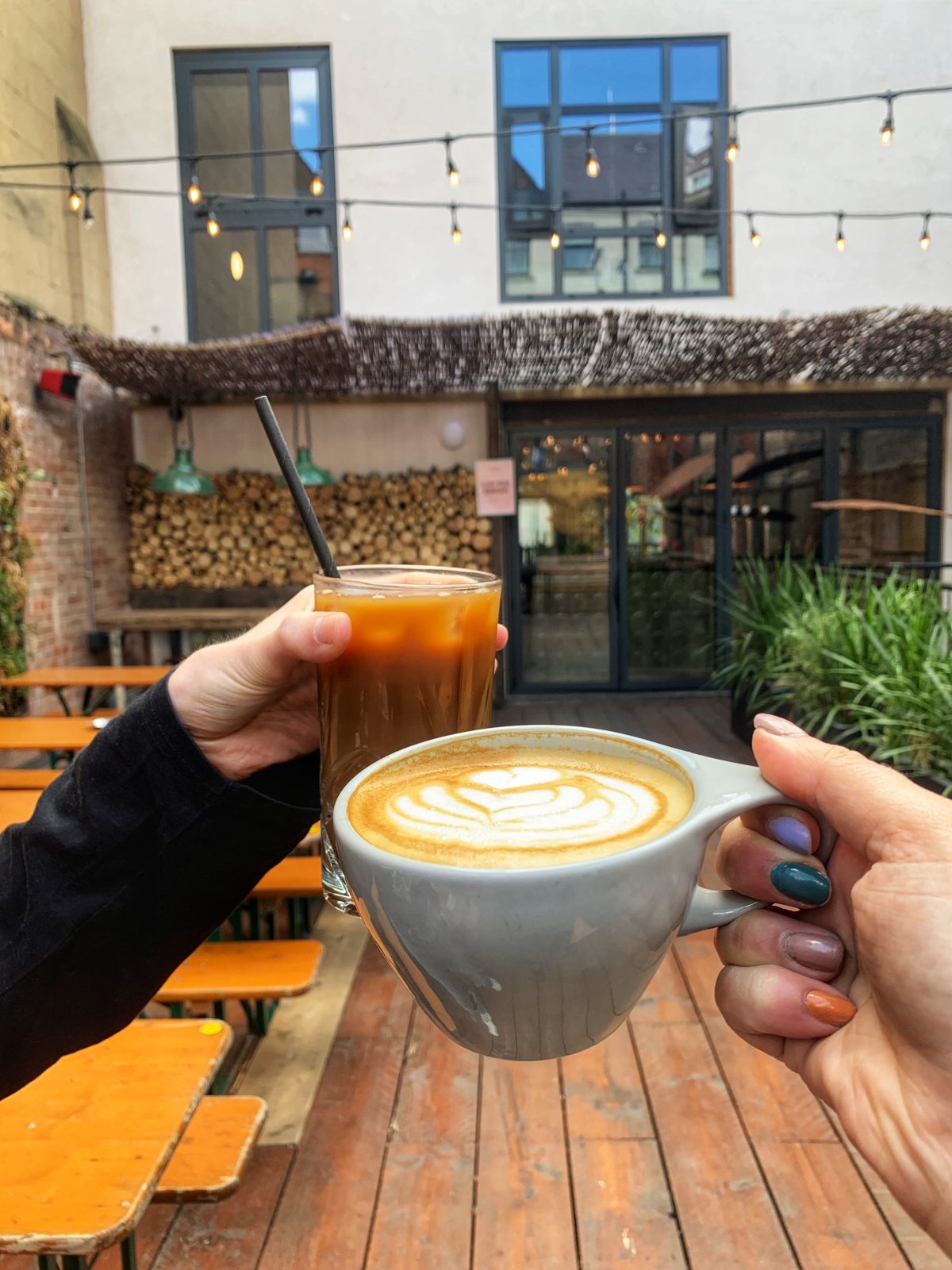 Hoot recommends: Oat latte and vegan sausage and sweet potato hash
The menu at Green Room between 10am and 3pm is entirely vegan. Supplied by Grön, the food options here come with bags of flavour and they'll have even the most reluctant plant-based eater cleaning their plate. Choose from delicious brunch options like the sauteed sweet potato withMoving Mountain vegan sausages, avocado, cucumber, salsa, chili and radish; Mexican bean bowl or a traditional English brekkie.
Find out more here.
Honest Burger
Cloth Hall Street, next to Leeds Corn Exchange | Open from 11am
Hoot recommends: La Vie Bacon Burger
Honest Burger is one of those places where it's difficult to resist just about any option on the menu. The burger joint has been welcomed in Leeds since opening last summer and has had the city raving about the mouthwatering burgers ever since. There's two vegan burgers on the menu, the Plant Burger with applewood vegan cheese, Rubies Chipotle 'Mayo', mustard, red onion, pickles and lettuce and the La Vie Bacon which adds, you guessed it, meat-free bacon to the burger.
Find out more here.
Don't Feed The Dog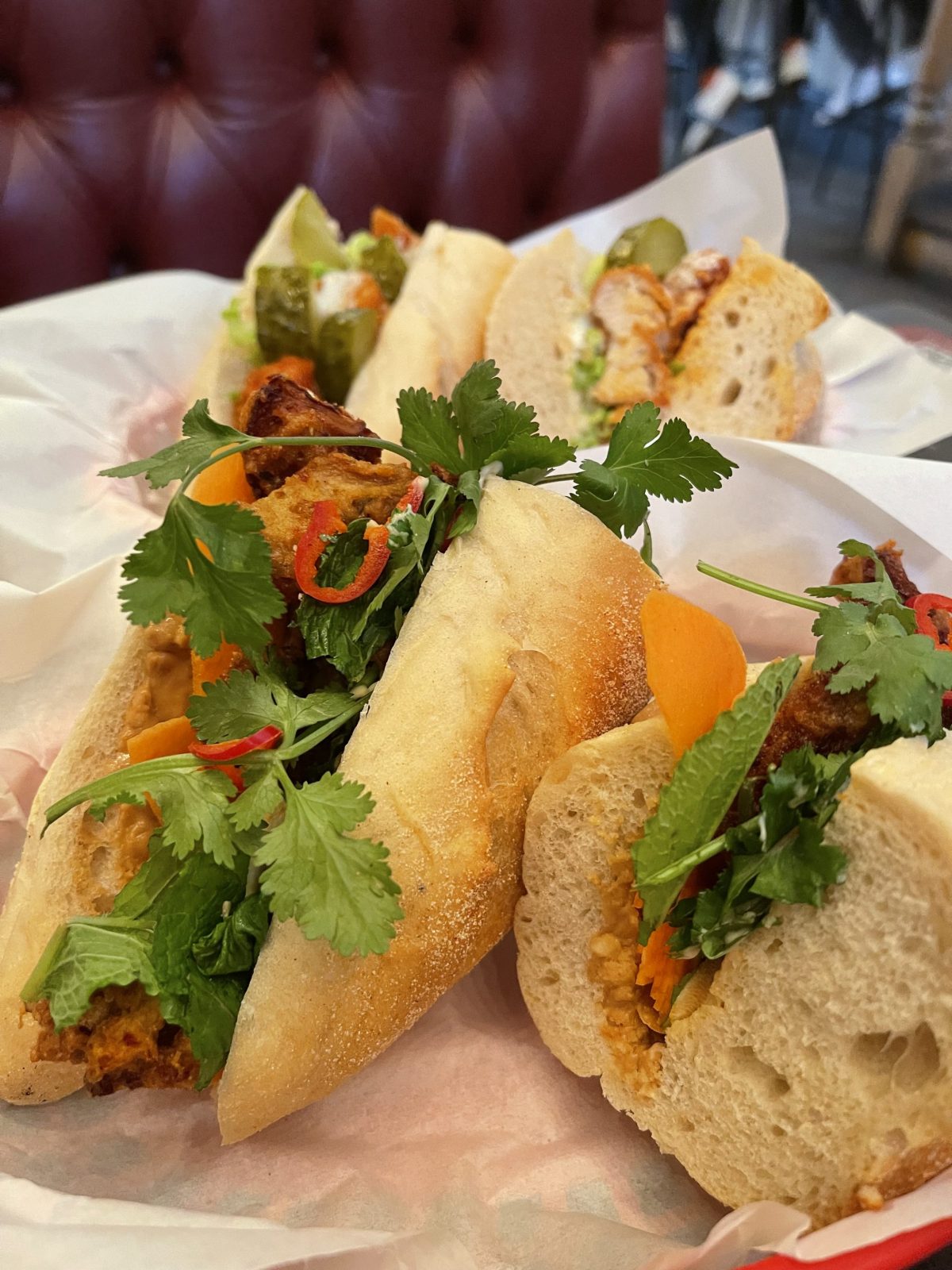 Hoot recommends: Mushroom Banh Mi
Inside Roland's on Call Lane, you'll find one of the most exciting sarnie offerings around. Don't Feed The Dog is changing the stereotype that your daily lunchtime sandwich has to be dull, boring and repetitive. Bringing the Mushroom Banh Mi to the menu, expect to find Crispy Fried Oyster Mushrooms, Peanut Butter, Pickled Daikon, Carrots, Fresh Mint, Fresh Coriander, Fresh Chilli, Peanuts and Sriracha Mayo between soft bread, amongst other tasty plant-based options.
Find out more here.
Döner Summer
Call Lane, opposite Leeds Kirkgate Market | Open from 12pm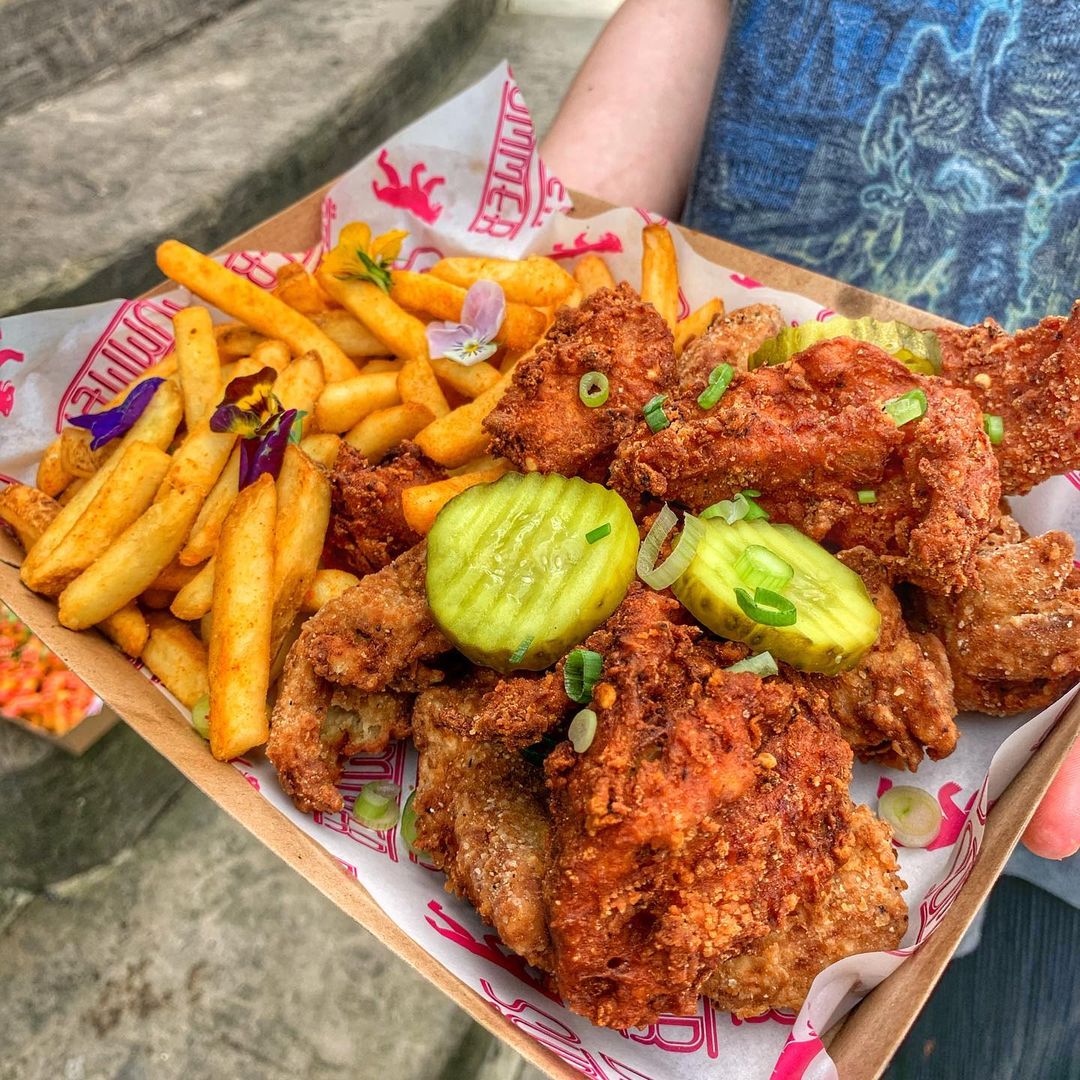 Hoot recommends: vegan fried 'chicken' and Teller Trays
Döner Summer is perhaps one of the most well known vegan eateries in Leeds city centre, and there's good reason for it. The meat-free menu hosts seemingly endless options of vegan meats, including vegan 'chicken and even donner meat reimagined as a vegan alternative. Stuffed between crunchy chips, pickles and onions, it's a crowd-pleaser for all the vegans in your life.
Find out more here.
Bundobust
Mill Hill, Leeds city centre | Open from 12pm
Hoot recommends: Bhaji Burger and the Vegan combo for two
Since Bundobust opened its first restaurants in Leeds back in 2014, the locally-renowned India street food and craft beer restaurant has slowly taken over the north, one bhaji box at a time.
The portions here are entirely vegetarian, with a huge vegan selection included on their seemingly endless menu. Expect all your favourite Indian-inspired curries, as well as mouth-watering exclusives like the bhaji burger- the ultimate £6 lunchtime sarnie.
Find out more here.
Slap and Pickle
Old King's Arms, Horsforth | Open from 12pm
Hoot recommends: Vegan 'duck' or Southern Fried 'chicken' loaded fries
Piled with vegan hoisin 'duck', spring rolls and chillies, the Vegan Hoisin fries are a chef's kiss level of perfection. As cult fans of this particular dish, it is The Hoot's go-to, but there's an entire vegan menu to choose from here. Pair these delicious fries with a plant-based burgers loaded with vegan cheese (the stringy kind), onion rings, jalapenos and roquito chillies and more for the ultimate vegan dinner.
The popular eatery recently closed up at Assembly Underground and Beer Hawk but can still be found at the Old King's Arms in Horsforth.
Find out more here.
Hooyah Burgers
Albion Street, Leeds city centre | Open from 12pm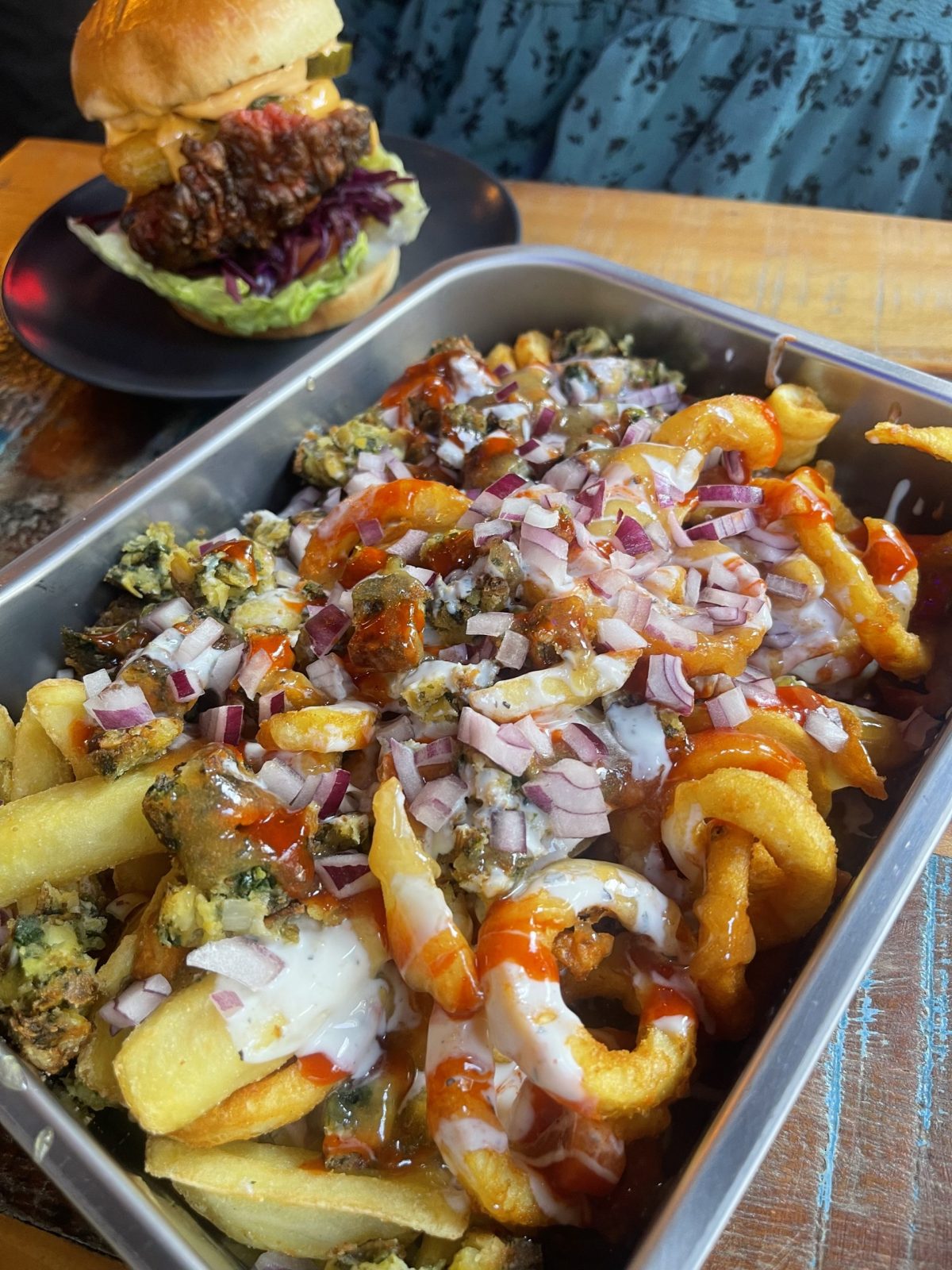 Hoot recommends: Chic-a-go loaded fries
Vegan loaded fries from Hooyah is available from Deliveroo- so even if you want to sit in your PJs all night, you don't have to miss out on some meat-free loaded fries. The Chic-a-go loaded fries are made up of crumbled Falafel and Spinach accompanied with a vegan yoghurt and mint Sauce, mango chutney, chopped red onion and chilli sauce- all inspired from the Indigenous tribes of Chicago.
If you do fancy eating in, their newly-opened restaurant on Albion Street is home to their 'build your own burger' menu where you can grab a falafel burger and some seriously thick milkshakes so expect flavours aplenty.
Find out more here.
Fat Annies
Leeds Kirkgate Market | Open from 9.30am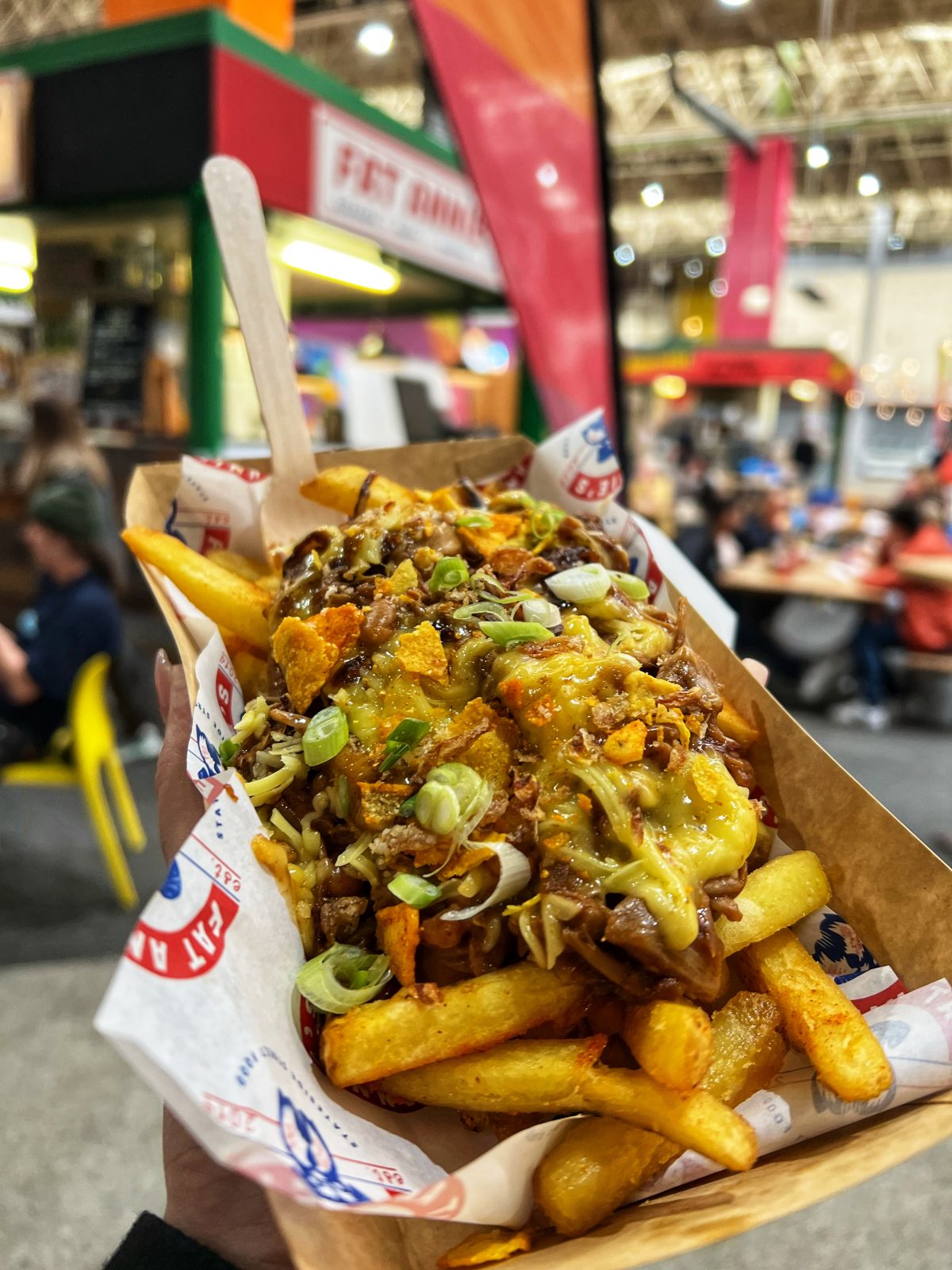 Hoot recommends: Royale Not Dog
The Kirkgate Market stall is over a year into its meat-free journey. The owner gave up meat in 2019 after reading the UN Climate Report and made the decision to risk 'financial suicide' to back their beliefs and switch to meat-free dishes. The popular Kirkgate venue now offers an entirely meat-free menu and on it you'll find a range of incredible plant-based offerings, including the Royale Not Dog and loaded fries.
Find out more here.
Wolføx Leeds
Wellington Street, Leeds city centre | Open from 8am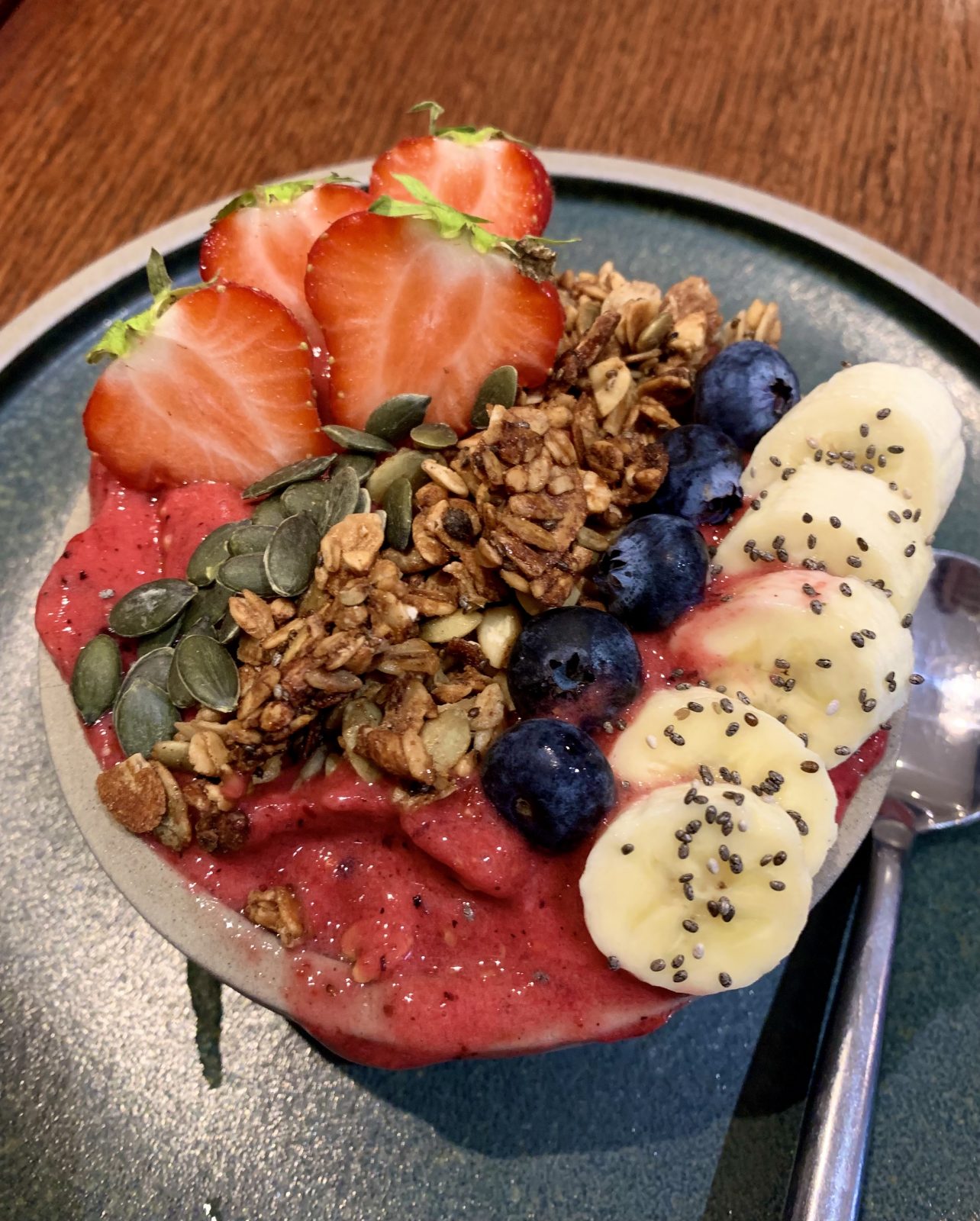 Hoot recommends: Açai bowls
Acai bowls are one of the most aesthetic breakfasts around and perfect for vegans wanting to get their five a day in whilst posting their meal on to their socials. The organic acai bowl is made from a smoothie base, topped with granola, fresh fruit and coconut flakes- so selections can vary from day to day, but we're convinced they're all just as tasty as each other.
If you don't fancy a smoothie bowl, overnight oats or a vegan full English with crushed peas, avocado, wild mushrooms, crushed new potatoes and cherry tomatoes make up just a few of the other plant-based alternatives you can grab at Wolfox.
Find out more here.
Feature Image- Döner Summer