A £3.90 Tesco meal deal is great but Leeds has so much more to offer on the lunch scene than your standard choices.
We all love a good money-saving deal now, don't we?
Lunch is one of those meals that can be a quick grab-and-go affair or if you're feeling like taking a leisurely lunch today, maybe you can accompany a fancy sit-down meal with a glass of wine?
Either way, the amazing restaurants of Leeds are sure to have the perfect lunch deal to suit your mood whatever you're fancying. We've compiled a list of just a few of our favourite lunch deals in Leeds so take a peek and start enjoying these sweet, sweet deals.
tamatanga
The Headrow, Leeds city centre | Available Monday – Thursday until 4pm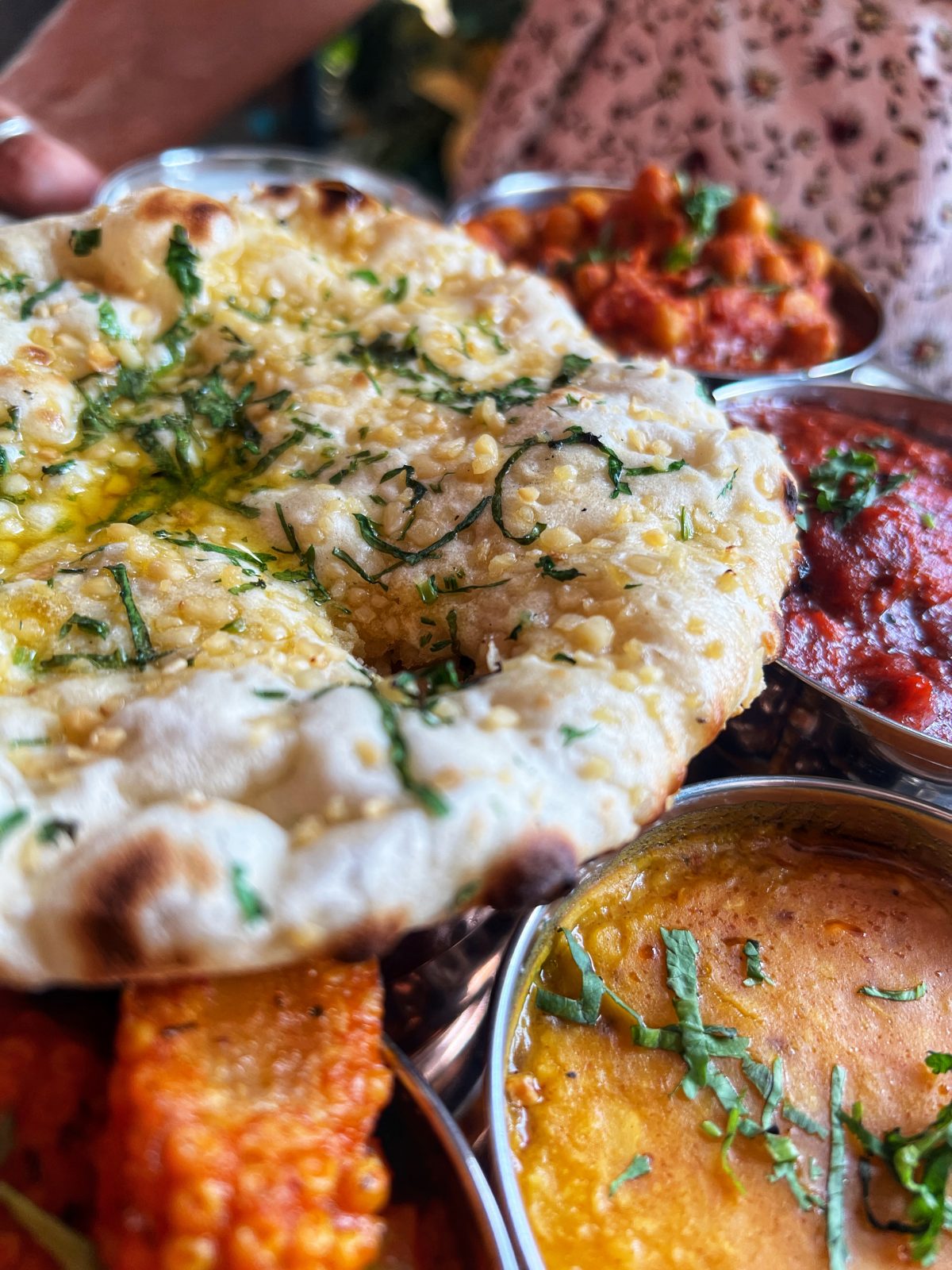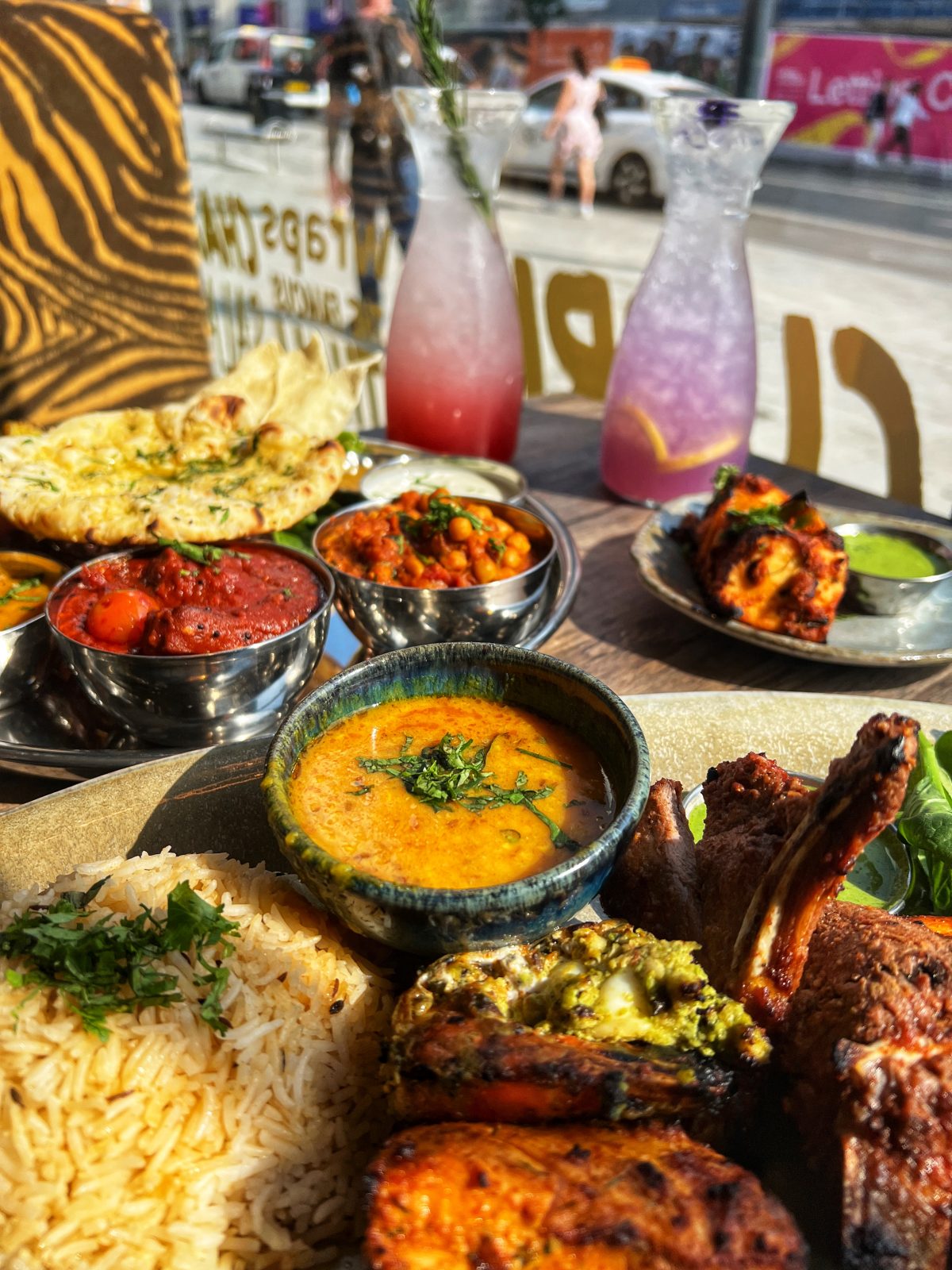 Lunch offer: £12 lunch with a soft drink and biriyani or curry bowl and naan
One of Leeds' newest restaurants is full of colour, and has a huge menu full of Indian favourites to keep you going all day long. Tamatanga also has a cracking lunch deal for anyone looking for a biriyani to fuel the day.
Find out more here.
I Am Döner
Infirmary Street and Headingley | 12-5pm throughout the week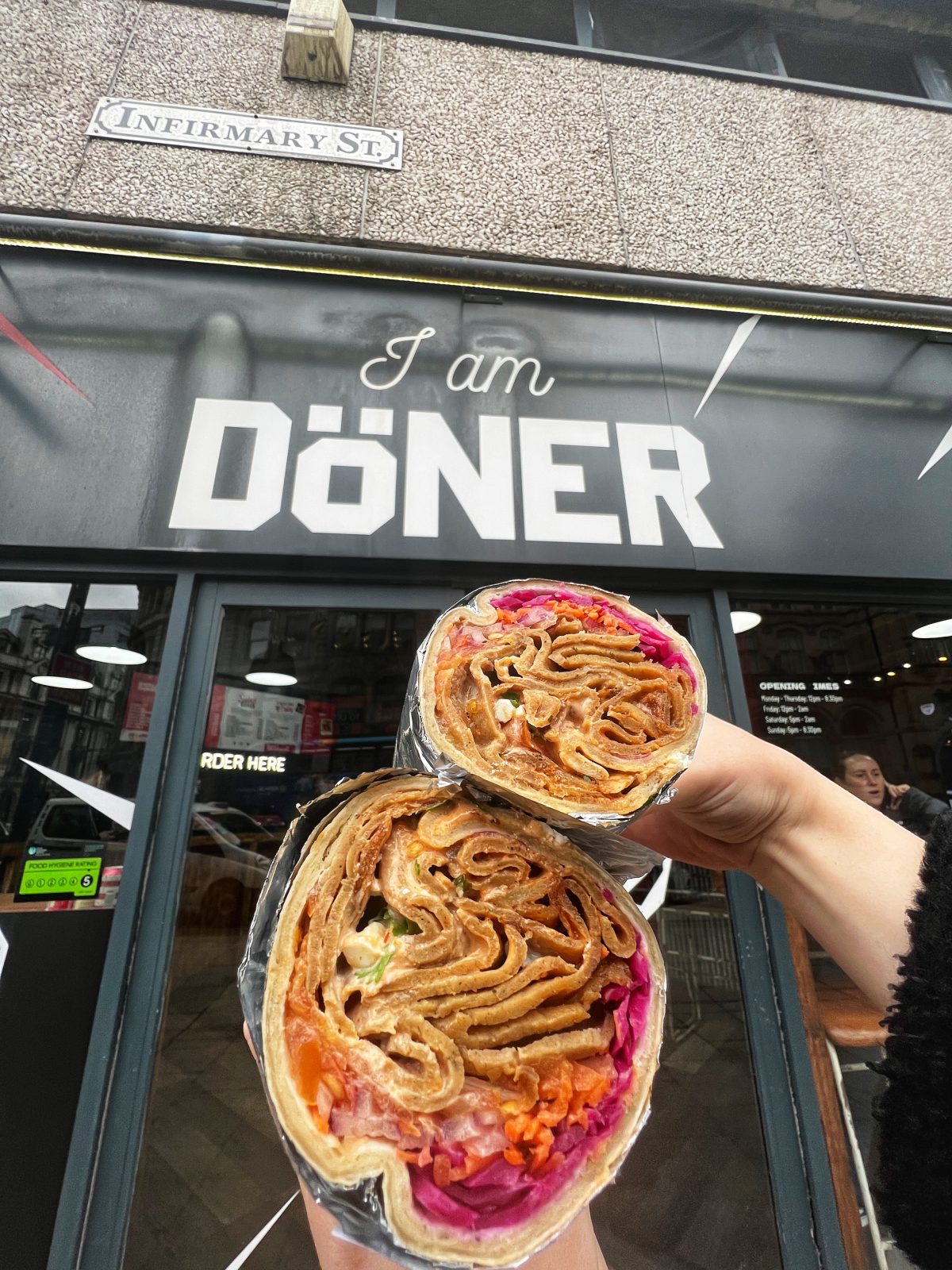 Lunch deal: £5 Berlin kebabs, with a choice of falafel, chicken and doner
Redefining the doner kebab to bring Leeds (and Dubai) a taste of real meaty dishes, I Am Döner has long been a lunchtime favourite for city centre commuters- and now with an irresistible deal the same price as your Tesco meal deal, it's going to be difficult to resist this.
Find out more here.
Ivy Asia
Vicar Lane, Victoria Quarter | Available every Monday – Friday, 11.30am – 4.30pm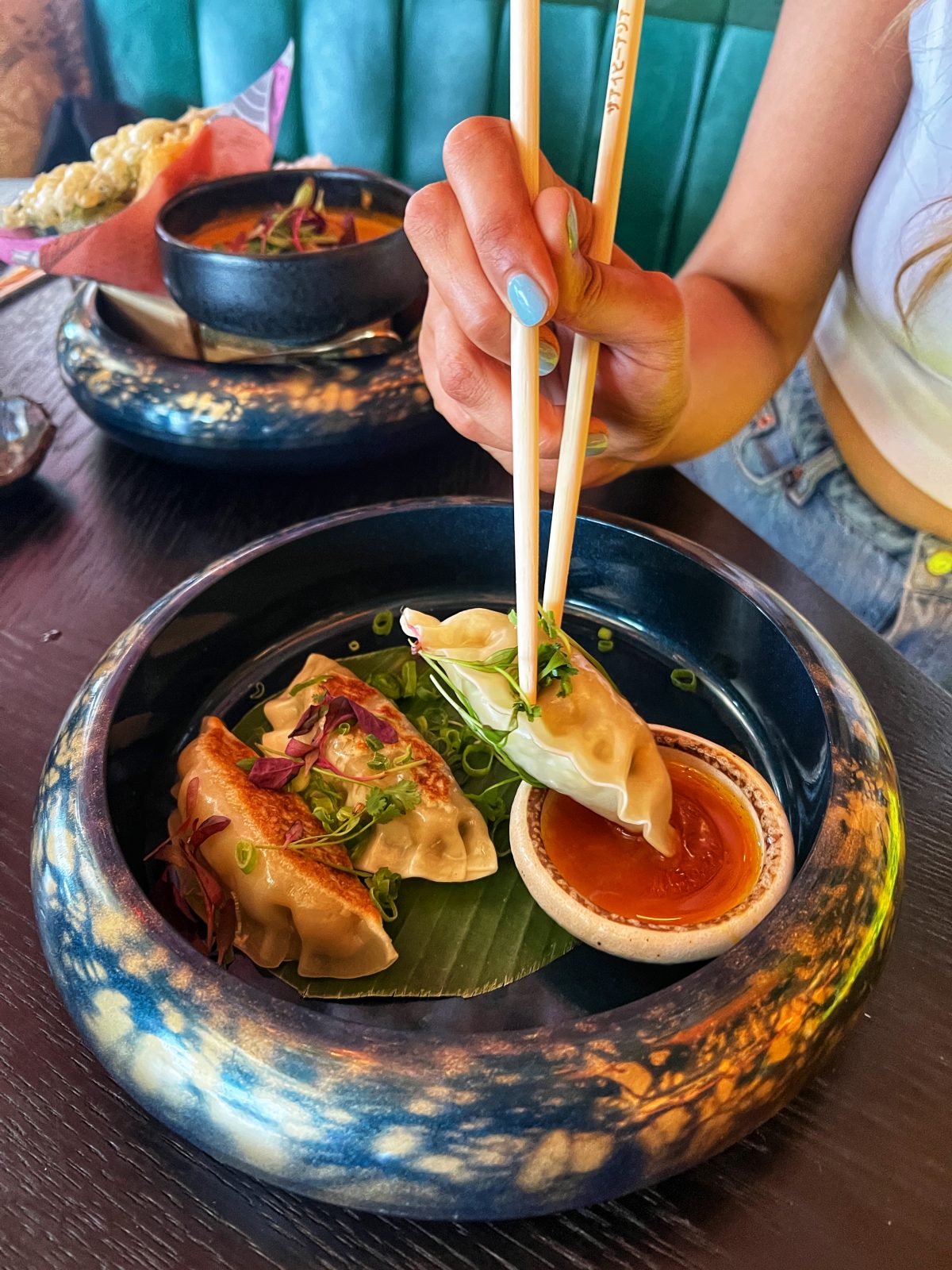 Lunch offer: £22.50 for lunch stack
The Ivy Asia is known across the city and beyond for its swanky design, gorgeous marbled flooring and exceptional customer service (at least we think so), and the new lunch stack is a great way to treat yourself and taste test the menu.
Find out more here.
Almost Famous
Great George Street, Leeds city centre | Every Monday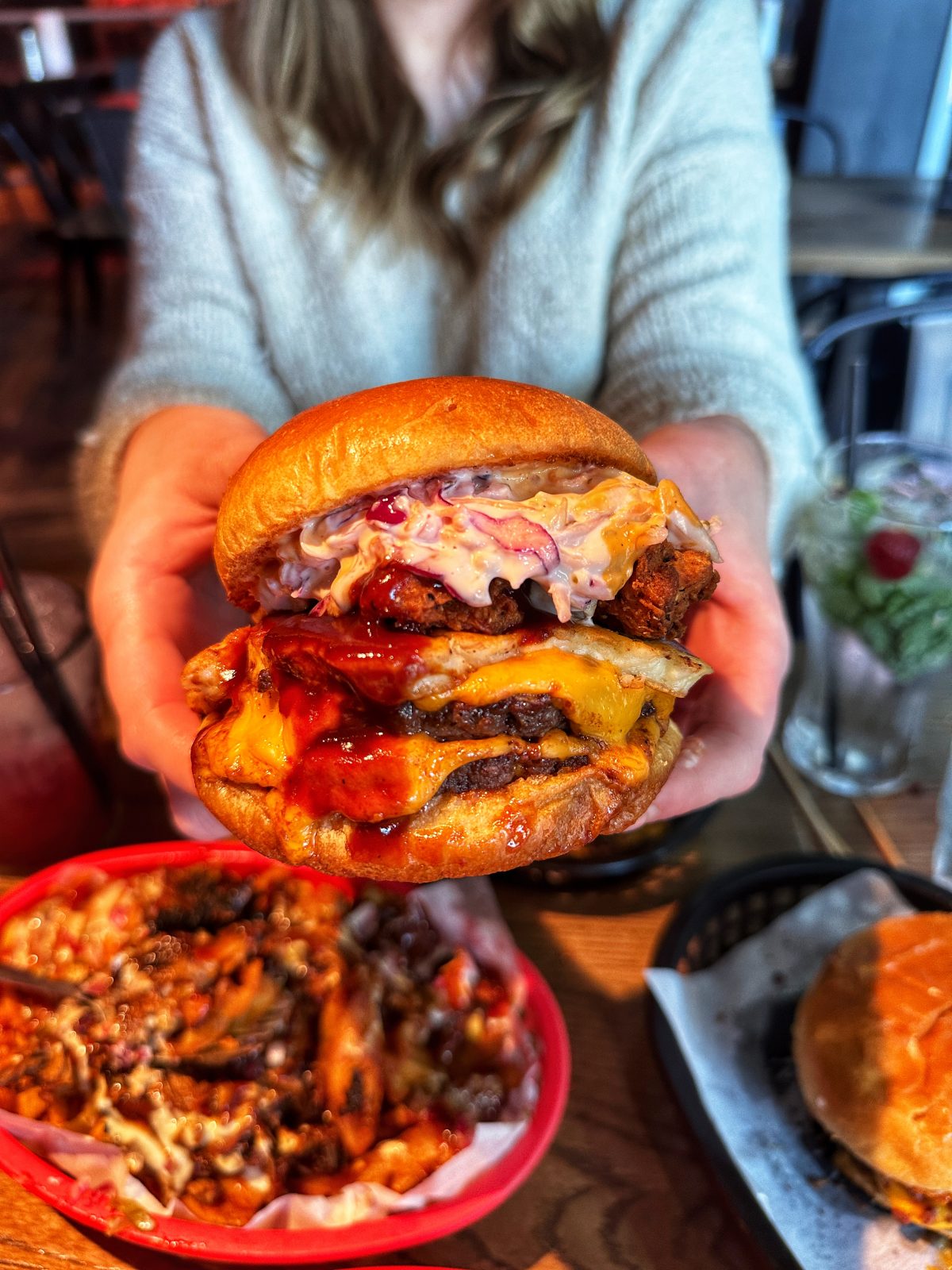 Lunch offer: £10 for classic famous burgers and fries, 12-4pm
The northern burger bar is serving its original 'dirty burgers' piled high with bacon bits and sauces as well as loaded fries and wings – it's a true American diner style treat.
Homeboy Pizza Co.
Inside Rolands, Call Lane, Leeds city centre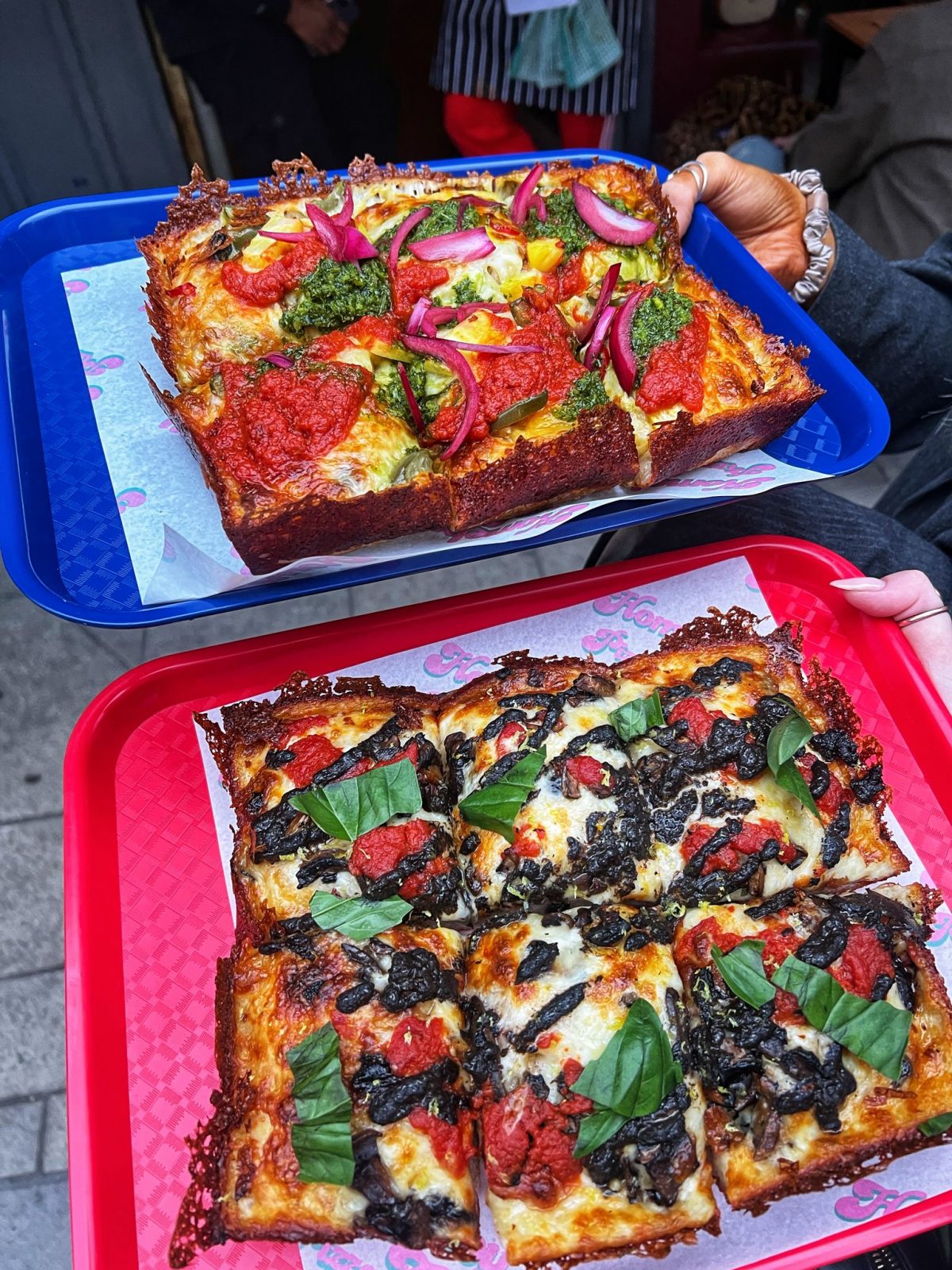 Lunch deal: £12.50 Detroit-style pizzas and unlock a cocktail offer
Following on from the success of Rolands Harrogate, local pizza popup Homeboy Pizza Co has found a second home at Rolands Leeds, stocking deep dish Detroit pizzas perfect for sharing with a round of cocktails. Each pizza unlocks a second offer too – once you've bought a Homeboy Pizza from Roland's you're also entitled to grab a £6.50 Tom Collins – winner winner.
Find out more here.
Things In Bread
Boar Lane, Leeds City Centre
Lunch deal: £8 for a sarnie, crisps and a drink
Things In Bread is one of the only places in Leeds you can guarantee a queue round the houses for – and for good reason. When this place first opened Boar Lane would have backlogs of hungry city workers queuing for a bite. The options are vast and no matter which sarnie you go for, expect crispy moist bread slapped with sauces and savoury treats that'll fuel your afternoon.
Find out more here.
Tharavadu
Mill Hill, Leeds city centre | Served 12-1.30pm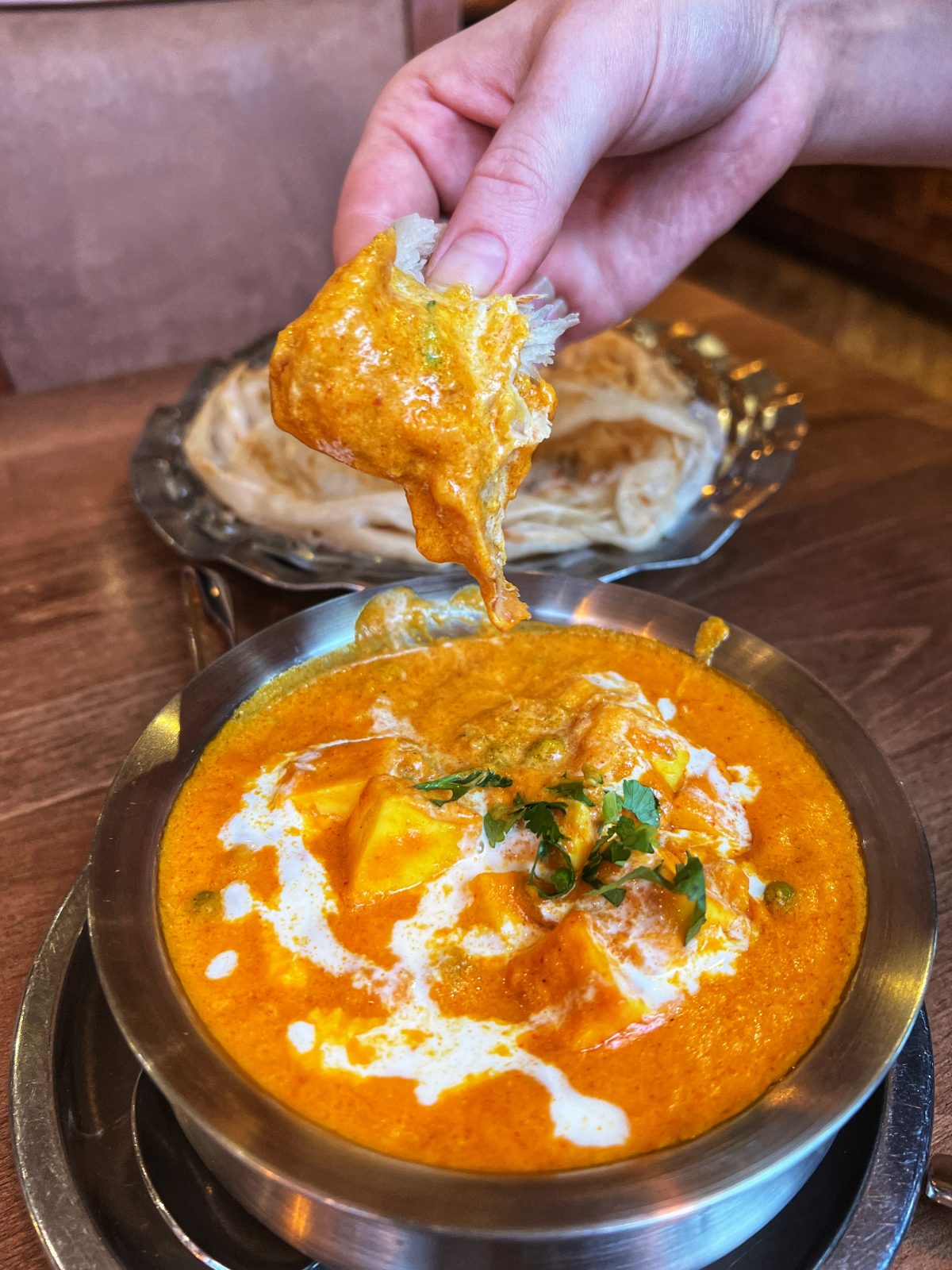 Lunch deal: Express lunch menu with dishes from £6.25
Award-winning Keralan restaurant Tharavadu isn't short of reason to get you through the door: favoured by the Indian cricket team, Leader of the Labour Party, Sir Keir Starmer and acclaimed by the Michelin Guide, The Oliver Awards and the Good Food Guide, you'll find a huge menu of traditional Indian cuisine right in the heart of the city centre.
Find out more here.
The Cheesy Living Co.
Corn Exchange, Leeds city centre | Open from 12pm
Lunch deal: £6.50 or £8 with Yorkshire crisps and a drink
Bringing sarnies to the table, The Cheesy Living Co. meal deal is a far cry from your average supermarket stop. Made fresh and in-house, the ever-changing selection of specials includes the likes of chorizo, Yorkshire pecorino, homemade sriracha mayo and rocket all wrapped inside a fresh loaf- lunchtime will never ever be boring again thanks to the new lunchtime offer from these guys.⁠
Find out more here.
Bruschetta
Inside Leeds Corn Exchange | Open from 9am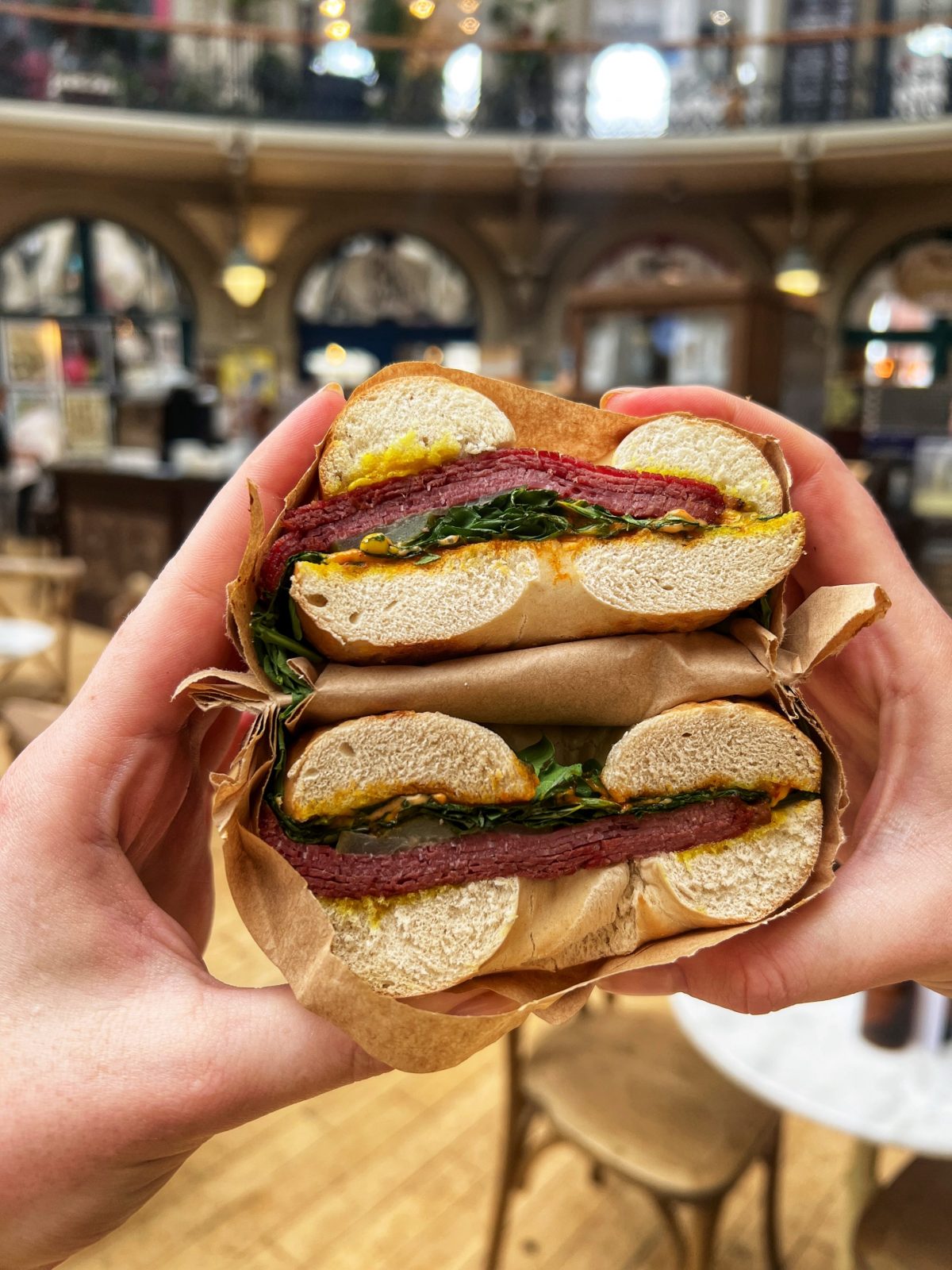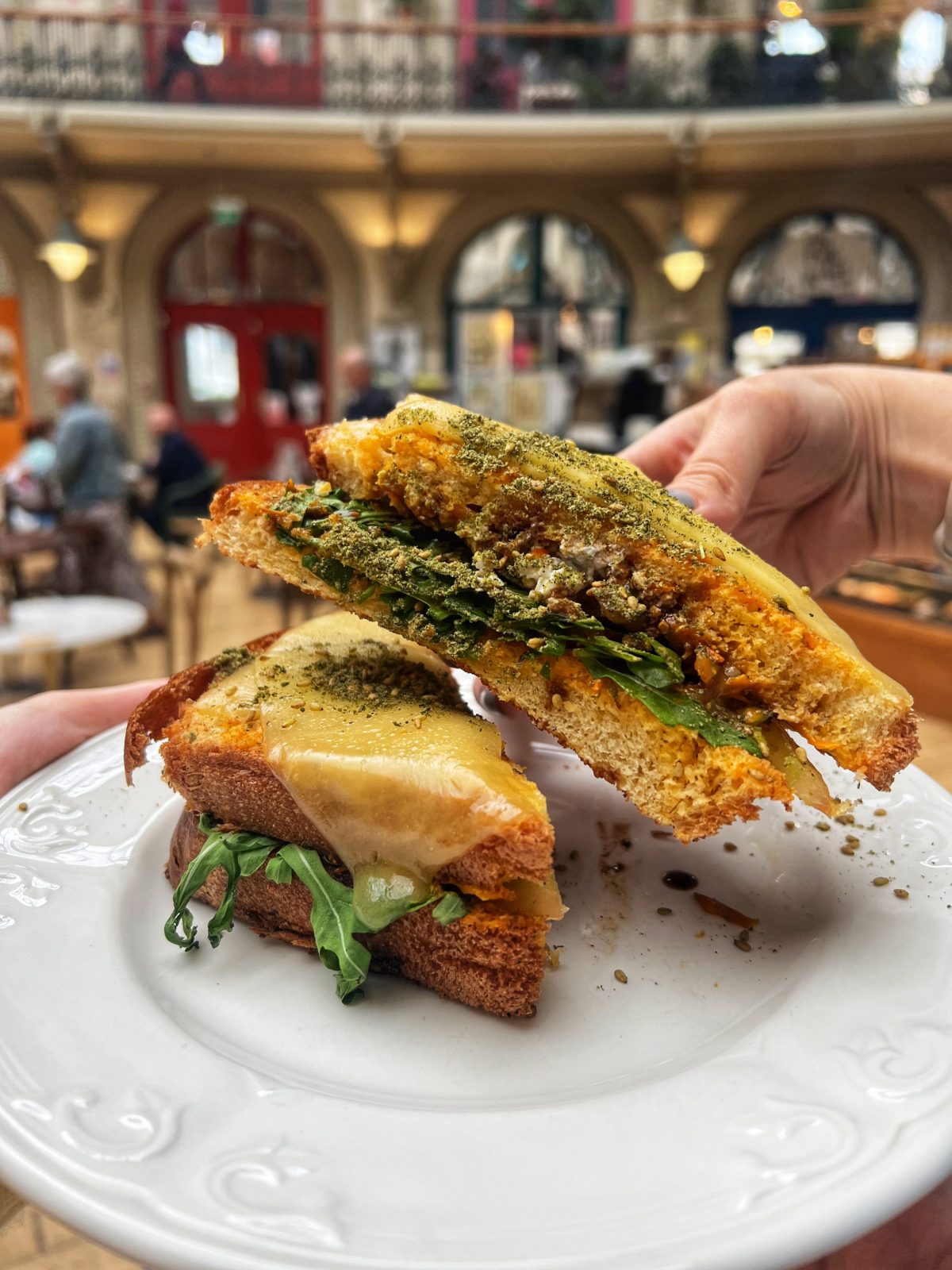 Lunch deal: Everything on the menu is under £10
Taking over the ground floor space of the Corn Exchange, Bruschetta is offering us the perfect people watching spot. Forget about the day, cuppa in your hand and work your way through the menu – all of which is under a tenner.
The La Rue Des Rosiers featured a toasted brioche bagel filled with delicious pastrami, gherkins and a glorious mustard and harissa aioli. Served with a seasonal side salad, this is the perfect lunch option.
Find out more here.
Dough Boys
Belgrave, Cross Belgrave Street, Leeds city centre | Open from 12pm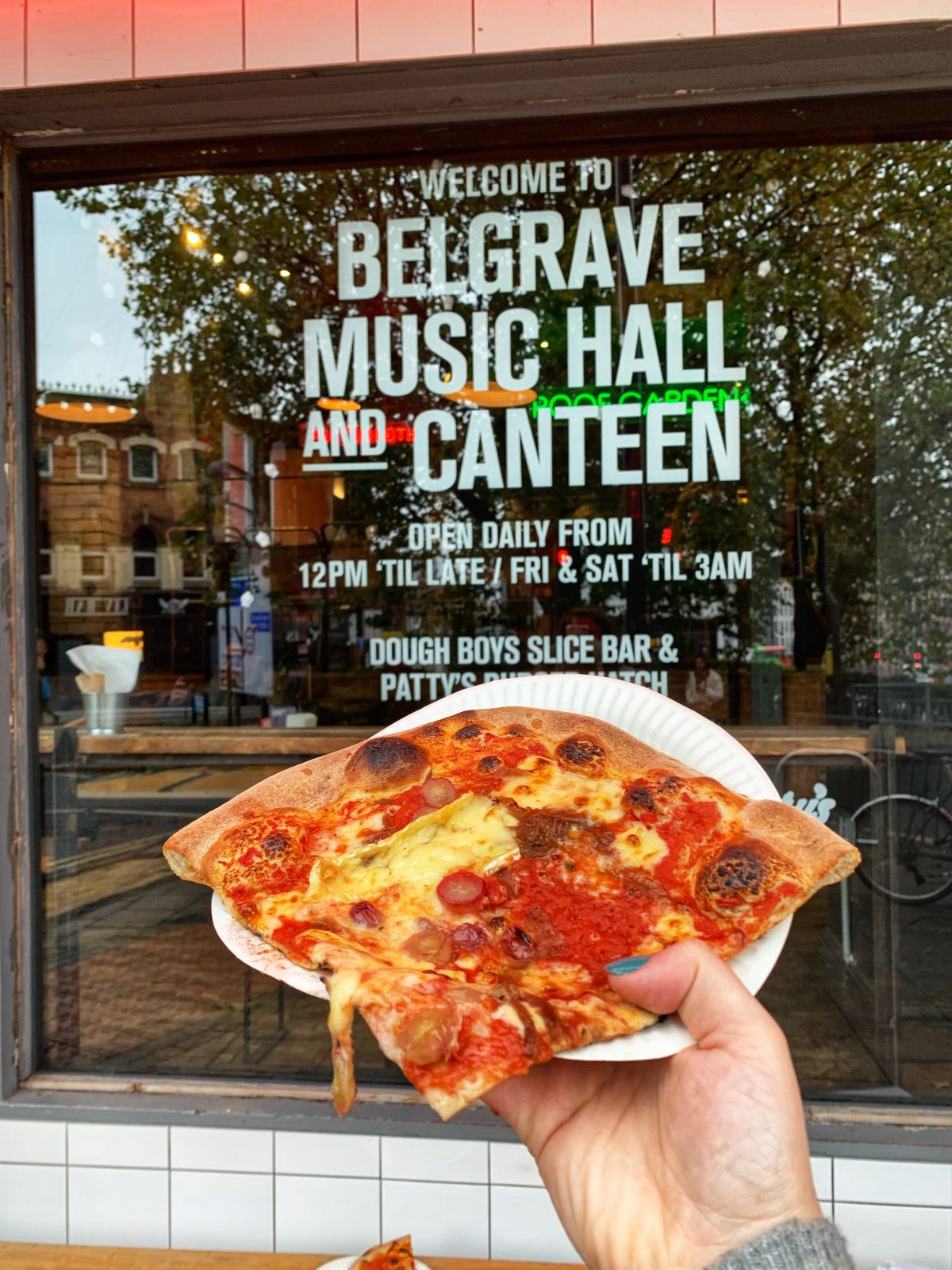 Lunch Deal: Half Price Slice
If you haven't tried Dough Boys pizza at Belgrave you're really missing out! Dough Boys specialise in unusual flavours for their pizza, with one standout, the Queen Brie, featuring roasted grapes to complement its namesake French brie. Whether you're feeling adventurous, or you'd just like some classic pizza flavours like the Silvio, Dough Boy's version of a margherita, or the Salami of Darkness (no prizes for guessing what's on this one,) you're sure to enjoy the delicious thin crusts of these enormous pizza slices.
These pizzas can be ordered as huge full pies or you can order them by the slice. This is where their amazing lunch deal comes in… Sunday – Thursday 12pm-7pm and on Friday and Saturday 12pm-5pm you can enjoy every one of Dough Boy's pizzas by the slice at HALF PRICE. This means that you can enjoy a delicious pizza slice from as little as £1.20. Be warned though, once you have one slice you're going to want more and only your first two slices are half price (unfortunately you can't get away with getting a whole pizza under this deal… sigh.)
Who are we to complain though when Dough Boys are treating us this well with excellent pizza at astonishing prices. Get yourselves down to Belgrave and give their amazing pizza a go, you definitely won't be breaking the bank!
Find out more here.
Roxy Lanes and Roxy Ball Room
Merrion Street, Boar Lane and The Light | Open from 12pm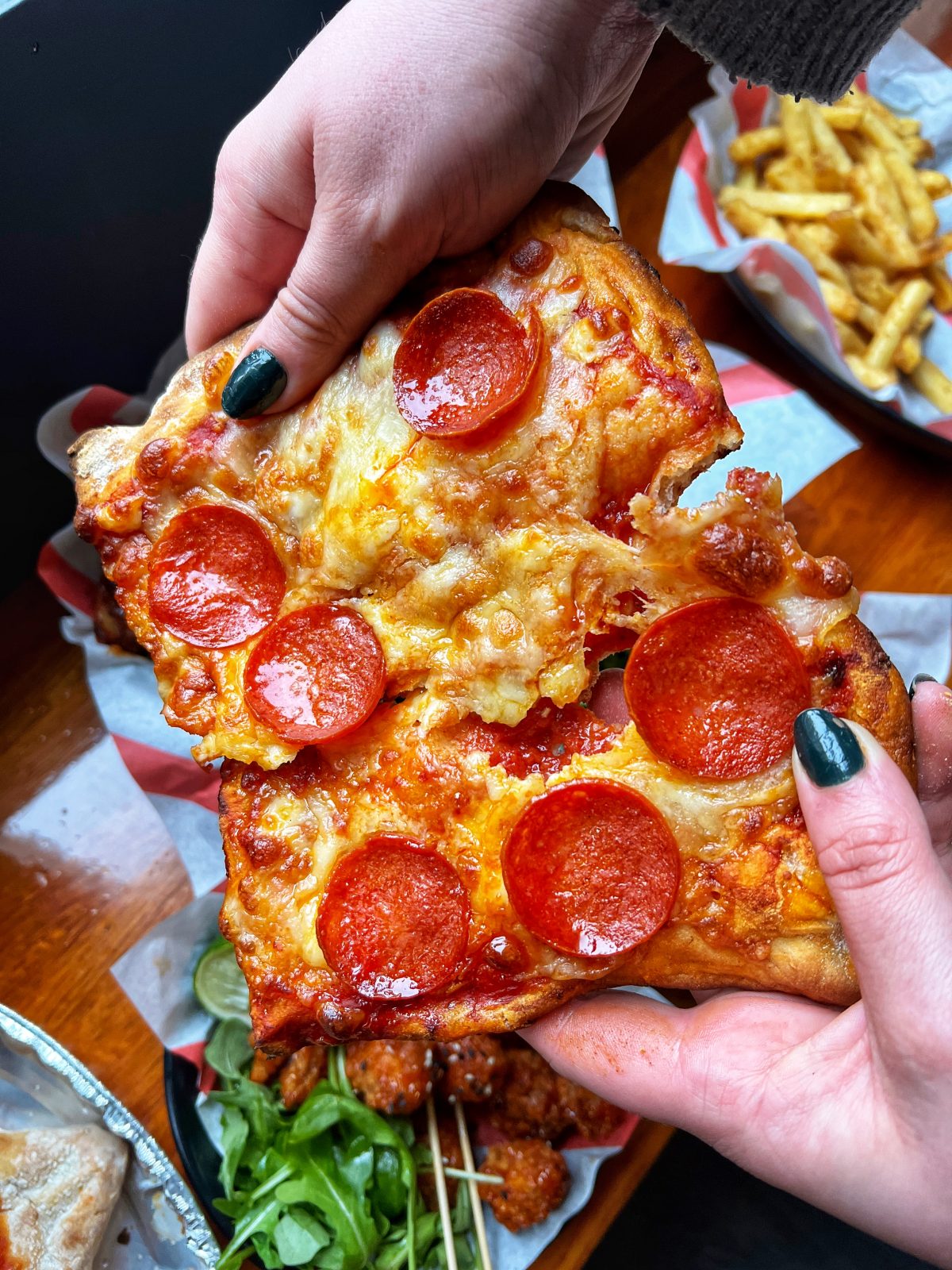 Lunch deal: Pizza slice and fries for £8.50
For those looking for a bite to eat and a game to play on an extended lunch break, all Roxy locations offer the perfect lunchtime combo. Grab a slice of either margarita or pepperoni pizza and generous portion of fries for £8.50- and really, that's just the tip of the iceberg when it comes to the quick and easy food offerings here. There's full size pizzas with toppings like nachos and spicy meats, as well as small plates of criss-cut fries, chilli cheese bites and salt and pepper chicken.
Find out more here.
Bundobust
Mill Hill, Leeds city centre | Open from 12pm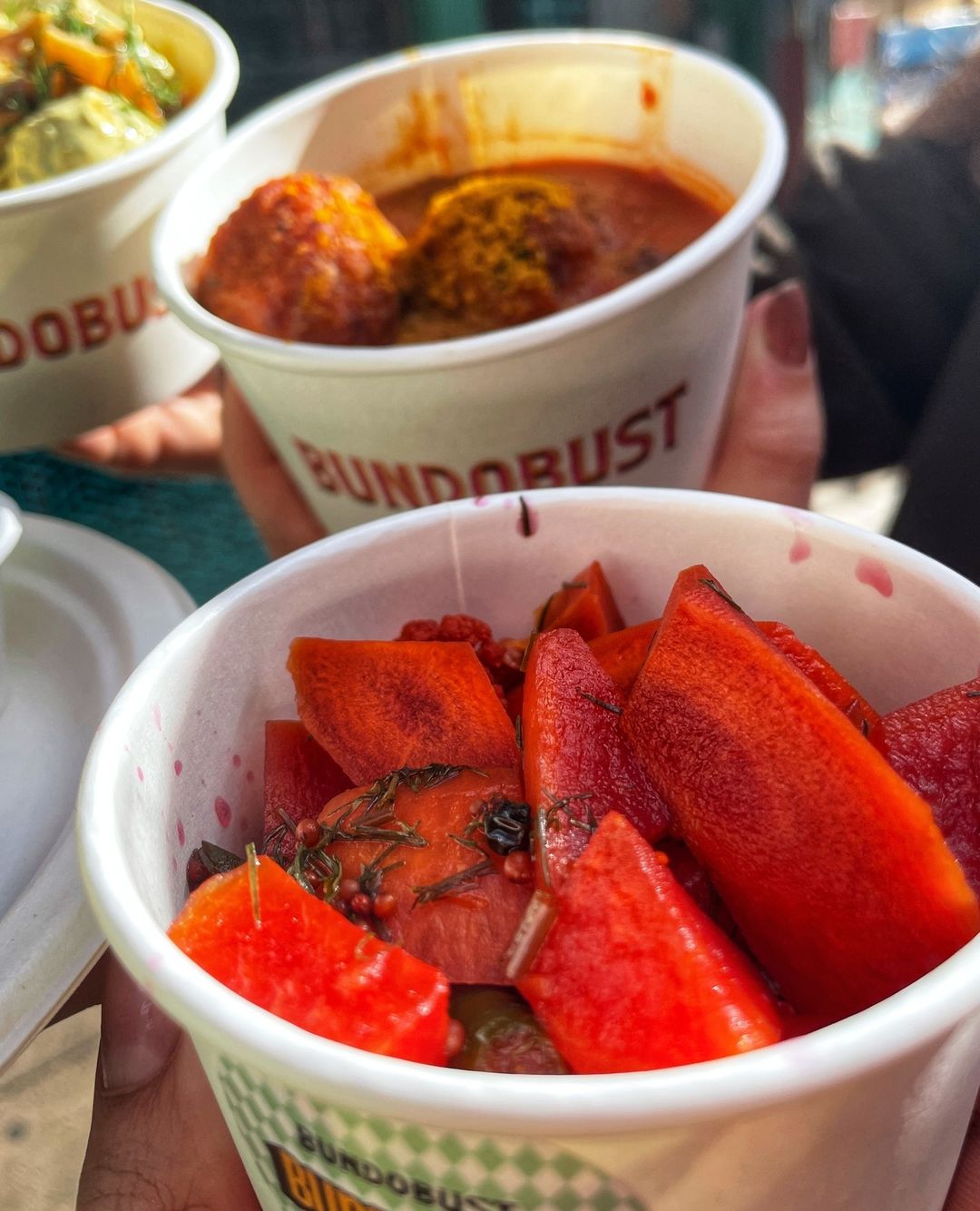 Lunch deal: two dishes from a select menu for £9
Vegetarians and vegans in Leeds are likely to be aware of the culinary masterminds at Bundobust. Widely regarded as a game changing and critically acclaimed enterprise within the independent food and drink industry, Bundobust has forged itself as a beacon of successful casual dining in the North since opening its doors in Leeds back in 2014.
We'd like to take this space to shoutout the onion bhajis at Bundobust- they're crispy on the outside, soft on the inside and every crumb tastes of an incredible fusion of spices. Dare we say they're the best we've found in Leeds so far?
Read More: Bundobust set to open new restaurant in York city centre
Fourth Floor Brasserie
Harvery Nichols, Briggate | Open from 10am
View this post on Instagram
Lunch Deal: 3 courses and a cocktail £25
Fancy a bit of an indulgent lunch? Maybe it's a special occasion or you've got the afternoon off work? The Brasserie in Harvey Nichols is the perfect spot for you to visit. At this luxurious fourth-floor establishment, you'll be treated to three courses and a cocktail for just £30. This deal is available Monday-Thursday 12pm-4:30pm and you can even make the most of it on the weekend. It's available 12pm-8pm on Fridays and Saturdays and 12pm-4pm on Sundays. Although this menu is smaller than other's we've mentioned, the food here is delicious and with this lunch deal, you're definitely in for a decadent treat!
The Brasserie includes seasonal ingredients in their dishes so the menu changes regularly to showcase seasonal favourites that you're sure to enjoy.
Find out more here.
Fika North
Otley Road, Far Headingley
View this post on Instagram
Lunch deal: Bagels and cakes under £10
If you find yourself over in Far Headingley, a trip to Fika North is a must. Find a host of tasty bagel options, including our favourite N'duja and avocado options, amongst piping hot coffee and homemade cakes.
Find out more here.
House of Fu
The Headrow, Leeds city centre | Open from 11.30am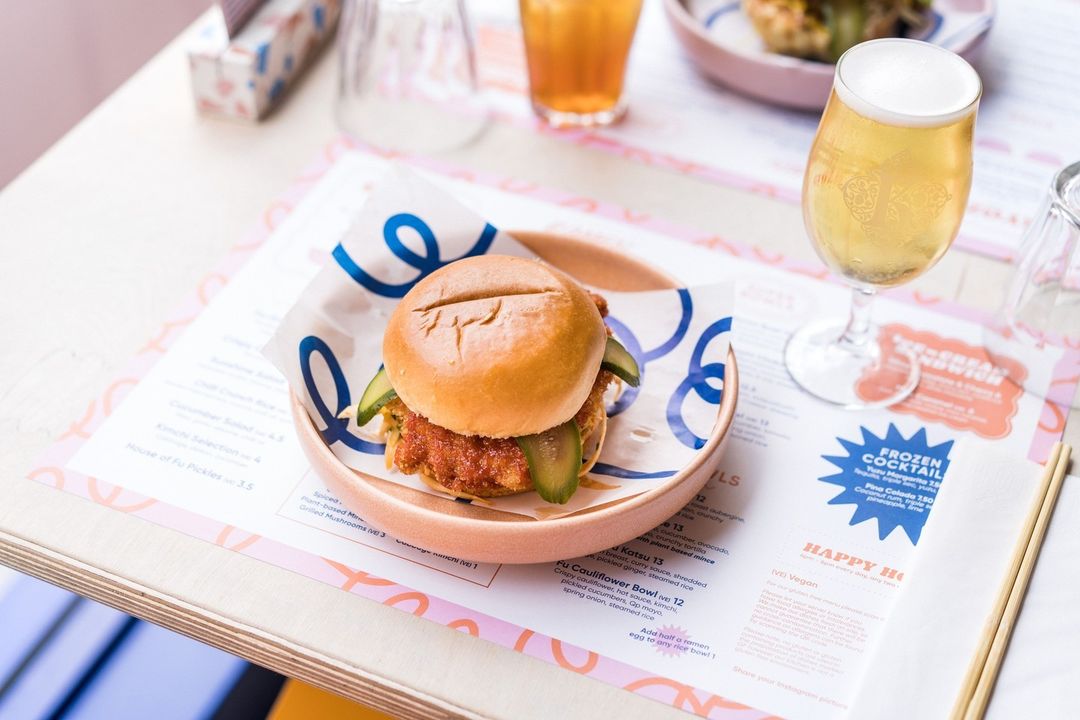 Lunch Deal: £9.50 for a Sando and half pint
House of Fu has been blowning everyone away with it's beautiful interiors and soul-nourishing dishes since opening last year, and the lunch deal is the perfect excuse to head over. Grab any of the 'thicc ol' sandos' with fillings of either katsu pork or the vegan-friendly cauliflower tonkatsu with half a pint of Kirkstall beer, homemade kombucha or a soft drink.
Find out more here.
Pollini's Pizza Slice
Leeds Kirkgate Market | Open from 9am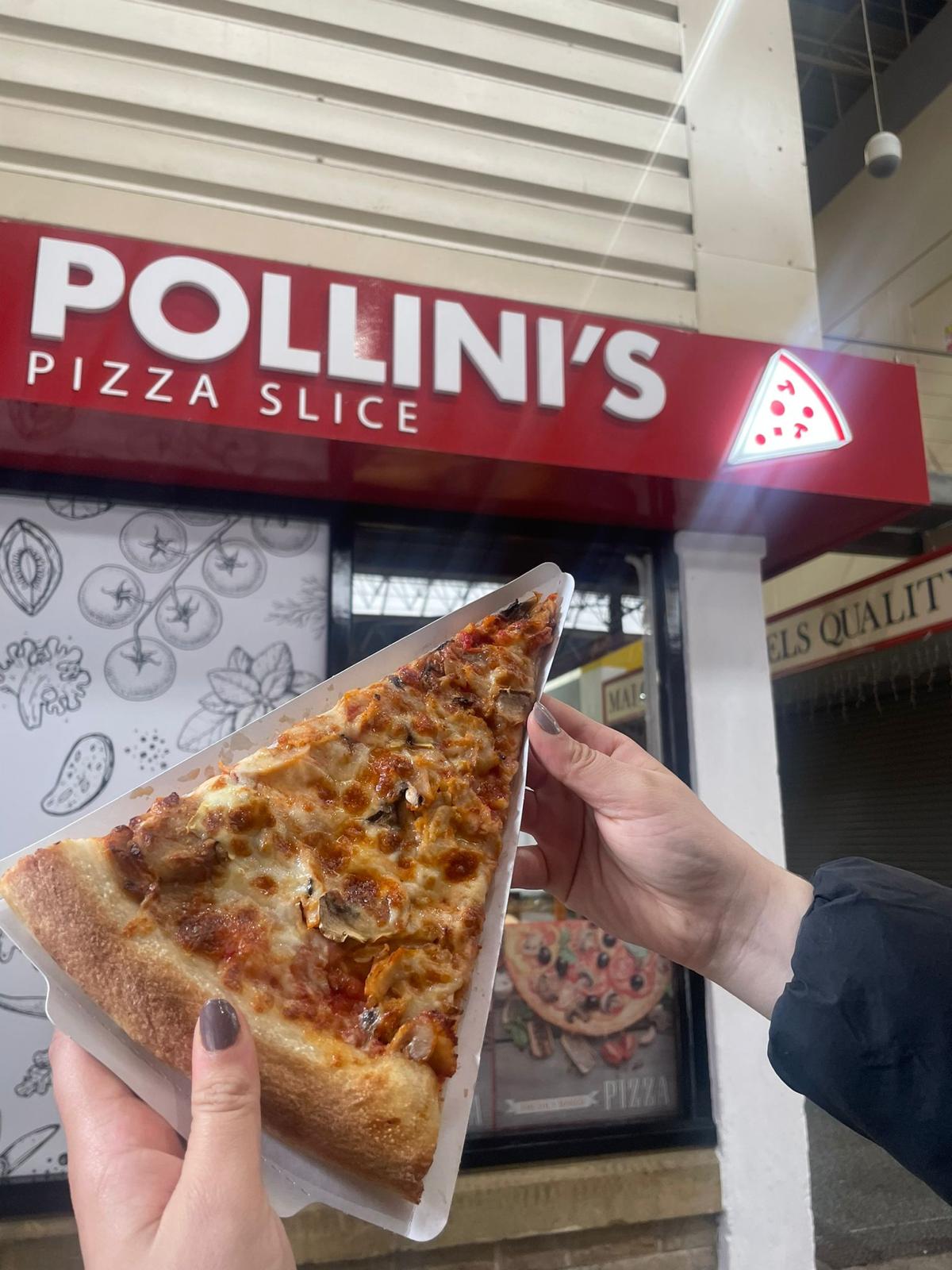 Lunch deal: £4 slices all-day, every day
24 inch New York style pizzas by the slice- and there's seemingly unlimited topping options to choose from. The new pizzeria can be found right in the heart of Leeds Market, located just before the food court and seating area. Freshly warmed and £4 a slice, these pizza slices are the perfect lunchtime treat – and can even start a debate in their own right with pineapple on their pizzas.lu
NOSH
York Place, Leeds city centre | Open from 7.45am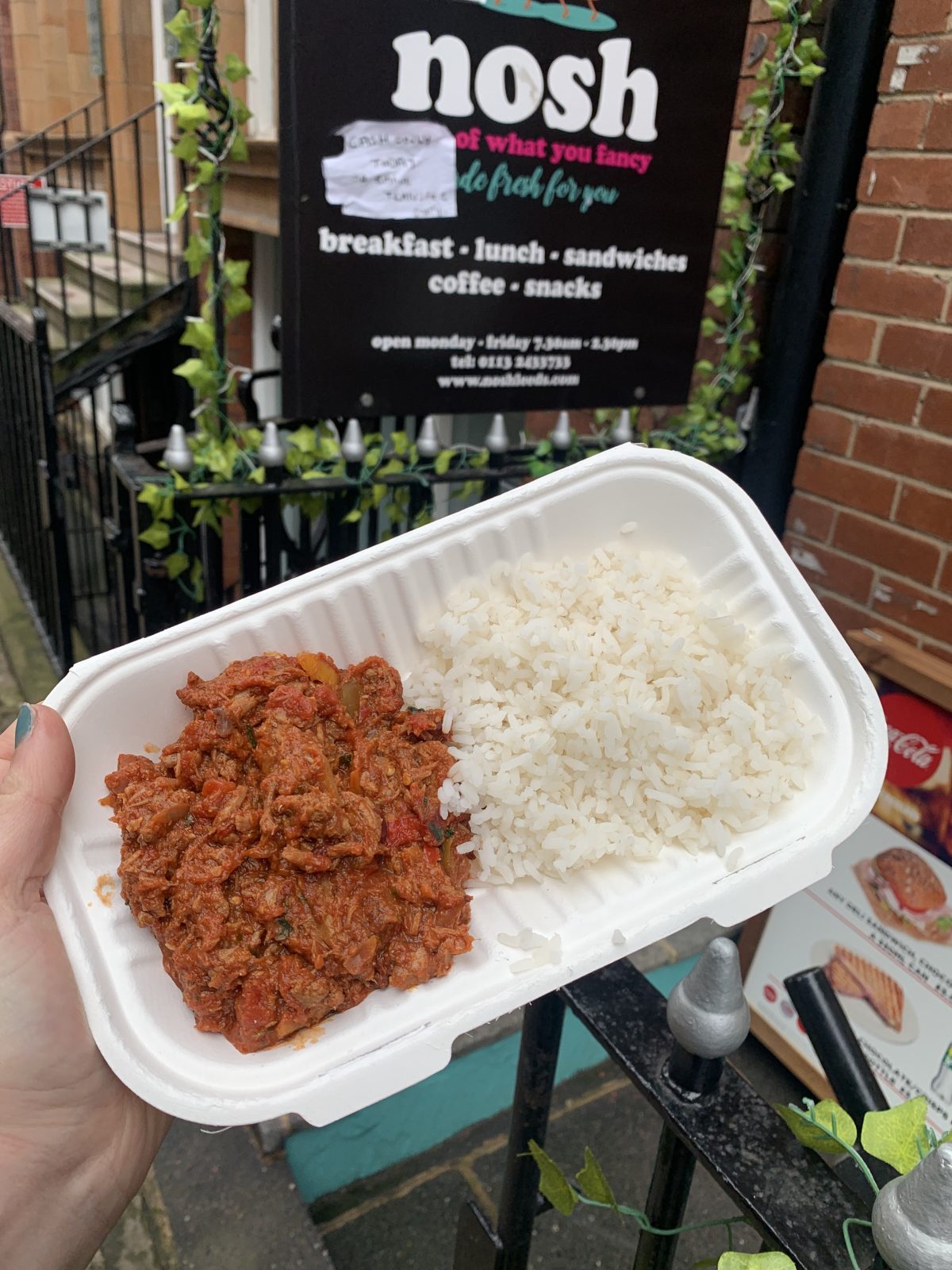 Lunch Deal: Every meal is under £10
There's few places that you can grab lunch on the go for under a tenner- and recieve heartfelt, homemade food but NOSH is just the place. A favourite for those working in the city centre but don't want to pay outrageous prices, you can grab a full English here all day long, as well as making up your own sandwiches.
At The Hoot, we eat out a lot, and so whenever there's a healthy alternative we're very happy to give it a try. The syn-free chili con carne from Nosh is freshly made every day and comes with portion of rice. Based on a Slimming World recipe, this keeps you warm and full all afternoon long but without any oil or grease you'd get from a takeaway.
Mans Market
West Point, Wellington Street, Leeds city centre | Open from 12pm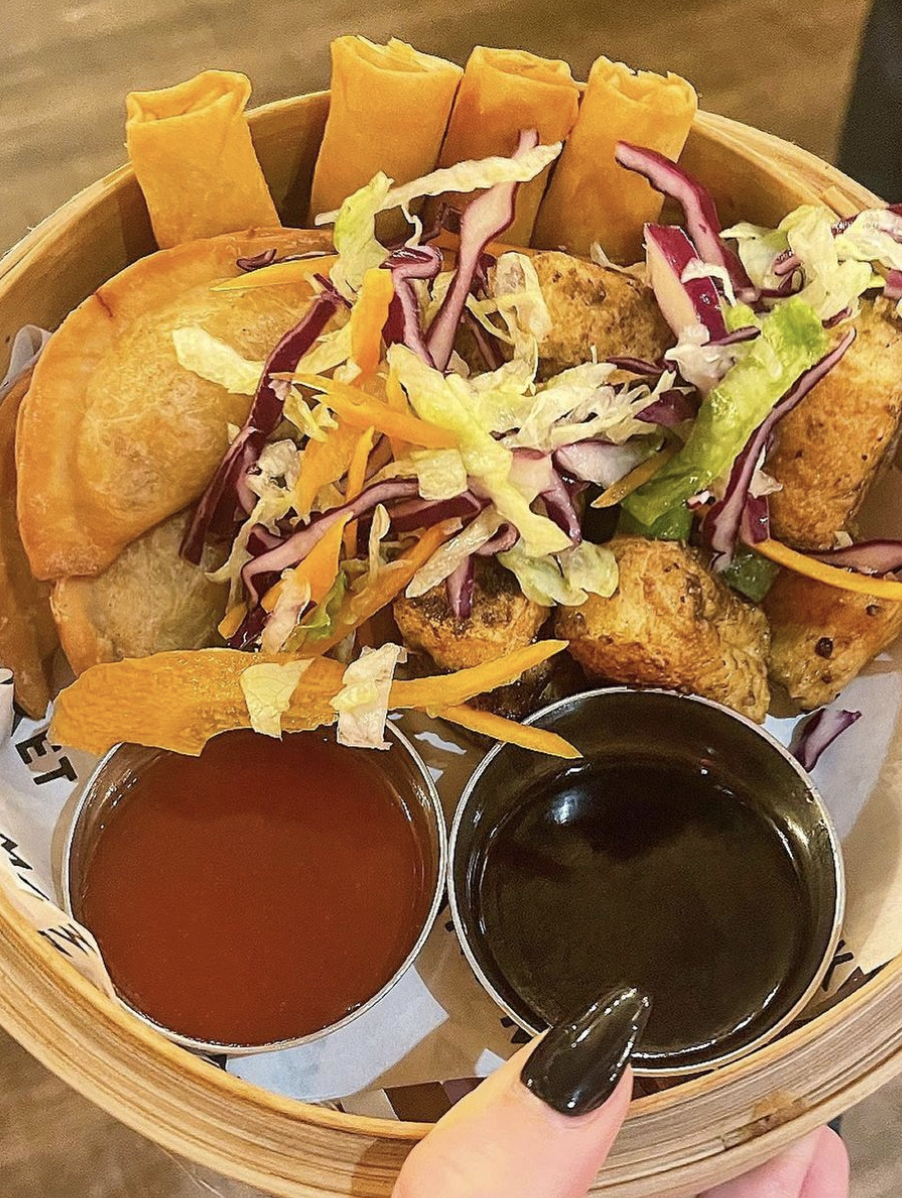 Lunch Deal: 'Box Clever' with a main, rice and a soft or alcoholic drink for £12.50 – a from £7.50 OR 'Take A Bao Box' 2 bao buns, fries and soft or alcoholic drink from £12.50
Not only do Mans Market offer incredible Chinese cuisine all day long (including an incredible Bottomless Brunch and an Afternoon Chi,) they also ring true to their other incredible deals by offering a lunch deal filled with amazing food at great prices. Mans Market offer two different lunchtime deals which will both satisfy that Chinese craving and totally fill you up. Meal Deal 1 includes a snack size box full of your favourite Chinese staple (the crispy chilli beef and the duck char sui are must try's) with rice or noodles.
This is the perfect option if you need a quick lunch that's going to keep you going for the rest of the day. Meal Deal 2 includes 2 bao buns of your choice and a portion of chips (you can even upgrade to salt and pepper chips if you're fancying some extra deliciousness.) The bao bun selection includes char siu BBQ pork with caramelised soy onions, sliced hoisin duck breast or tempura aubergine so you're sure to find one that suits your fancy.
Both meal deals also come with your choice of drink, which includes beer, wine or a soft drink so Mans Market really is your one stop shop for the perfect lunchtime break. Starting from just £7.50 for the snack box and £9 for the bao buns, both meal deals offer incredible value for money and there's even the option to upgrade some of your choices or add on some additional side dishes if you're feeling extra hungry.
Find out more here.
Mommy Thai Leeds (Duncan St)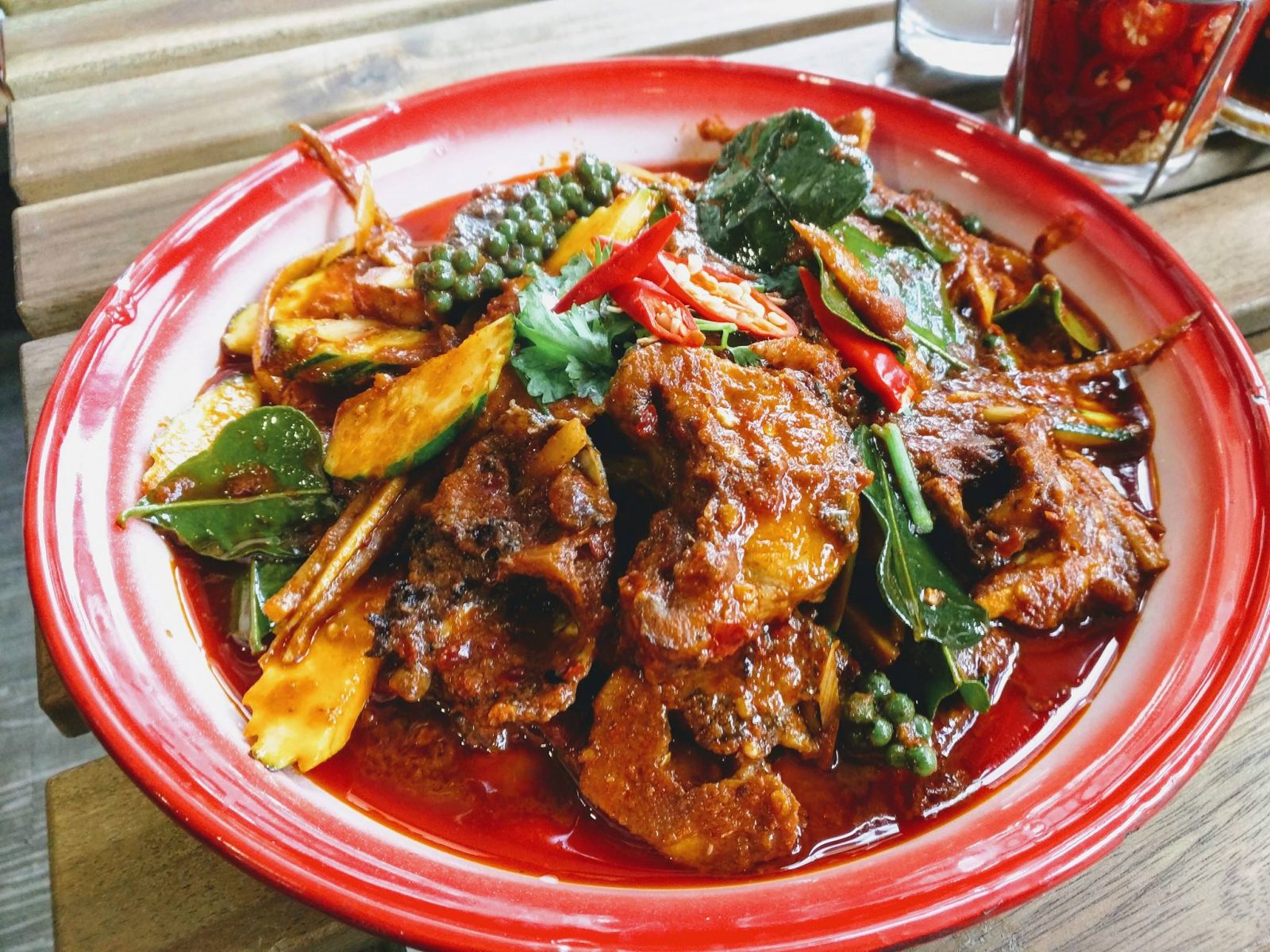 Lunch Deal: Starter, main and side dish
Mommy Thai now has two different locations in Leeds, as well as one in York, and this small franchise is going from strength to strength after recently expanding its location on Duncan St. Every dish that they serve is delicious and authentically Thai and the street-food atmosphere that they create in all their locations makes your experience there even better.
Mommy Thai's lunch deal is one of their strongest offerings with incredible value for money and a huge variety of options which make the deal customisable for anyone. With ten starter options (yes 10!) and twenty-three main options, as well as being able to choose your own protein option and side, this lunch deal is one of the best that Leeds has to offer. If all this choice wasn't enough, you can even upgrade your meal to a large portion for an additional £2.
Lost and Found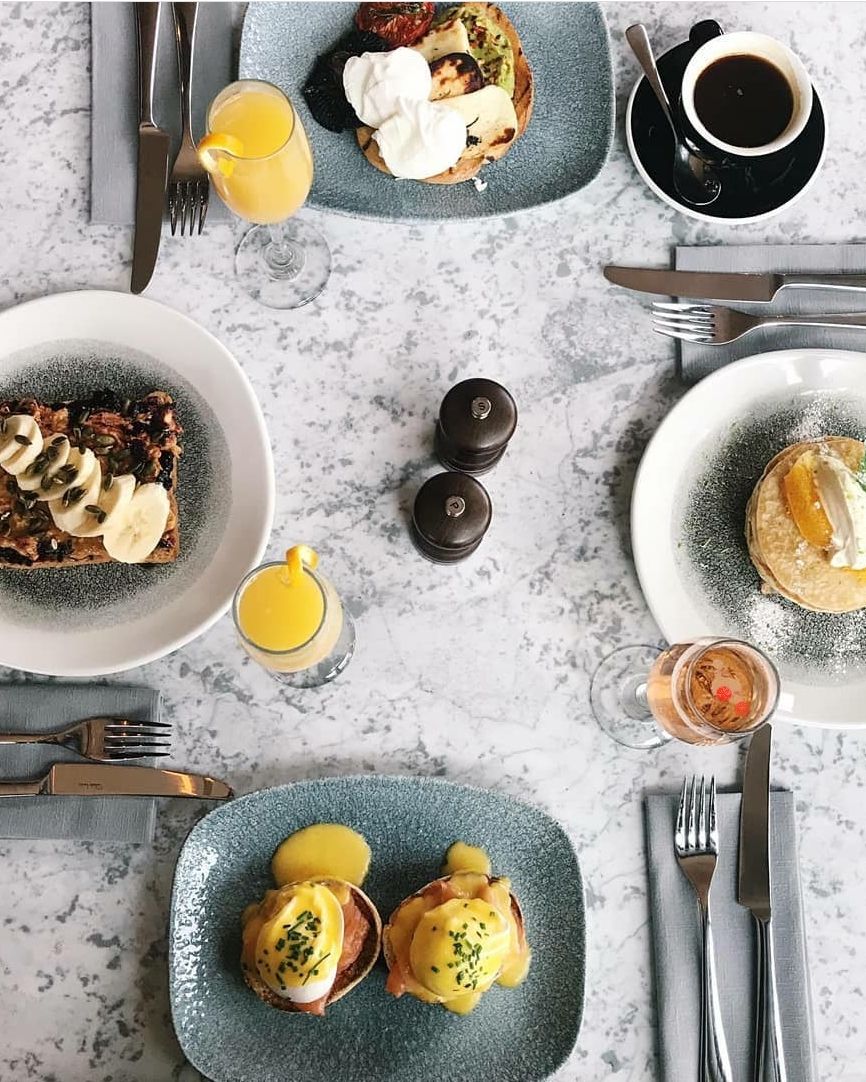 Lunch Deal: 2 courses for £15.95 or 3 courses for £19.95
Lost and Found have updated their lunch deal to fit in with their new additions to their menu. Between 12pm-5:30pm Monday-Friday you can pop down to their Leeds Club venue, on Albion St, and enjoy two courses for £15.95 or three courses for £19.95. Their lunch menu offers a range of different dishes to suit a variety of customers. For starters, you can choose between tomato and mozzarella arancini, crispy squid, and charred tenderstem broccoli.
The main section features burgers, pasta, chicken, chargrilled aubergine, fish and chips, and pizza so no matter what you're in the mood for, you're sure to find something that suits your fancy! If you're after something sweet at the end of your meal you can choose between some of our favourite classic desserts like warm chocolate cake, sticky toffee pudding, or a vegan chocolate and praline torte. Whether you're out shopping and you fancy a spot of lunch or you're popping in for a more organised affair, this lunch deal has something for everyone and is the perfect midweek lunch treat for you and any guests you're visiting with.
The Little Pasta Company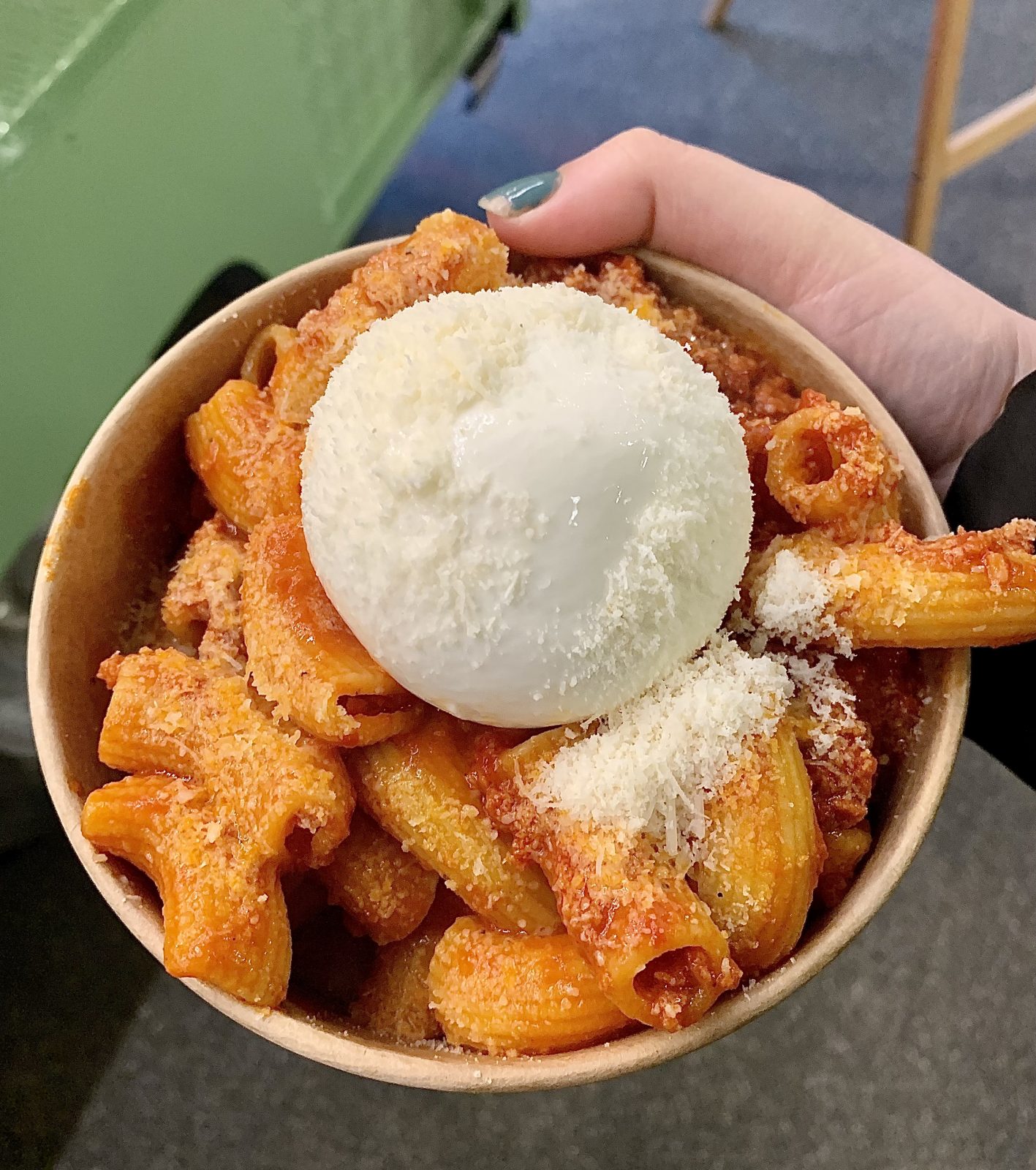 Lunch Deal: A huge pot of pasta and a burrata ball for £9.00
The Little Pasta Company's pastel green food van and irresistible carb-filled menu is just one example of that. The N'duja ragu with burrata is a particular delight that we at The Hoot Leeds have been enjoying during our lunch breaks: expect perfectly cooked pasta piled high on a base of thick, tomatoey sauce with spicy n'duja, topped with a full-sized burrata and parmesan.
There's also a white truffle butter pasta on the menu as well as your classic tomato, garlic and basil sauce option. If pasta isn't your carb of choice but you still want an authentic Italian dish to fuel your afternoon, The Little Pasty Company also offers an antipasti dish with a selection of cooked meats, burrata and spicy olives if you're looking for a cold meat sharer to get you through the afternoon.
Catch them at pop-ups around the city.
Feature Image- The Hoot Leeds (Belgrave / Bundobust)