Going out for breakfast at the weekend (or during the week if you're lucky enough) really gets your day off to an amazing start. It is the most important meal of the day, after all.
So we thought, to help you out on that brilliant start to the day, we'd give you a list of the best breakfast spots in Leeds.
Keep reading to discover where to enjoy the best pancakes, full English breakfasts and poached eggs that the city has to offer.
1. If… Up North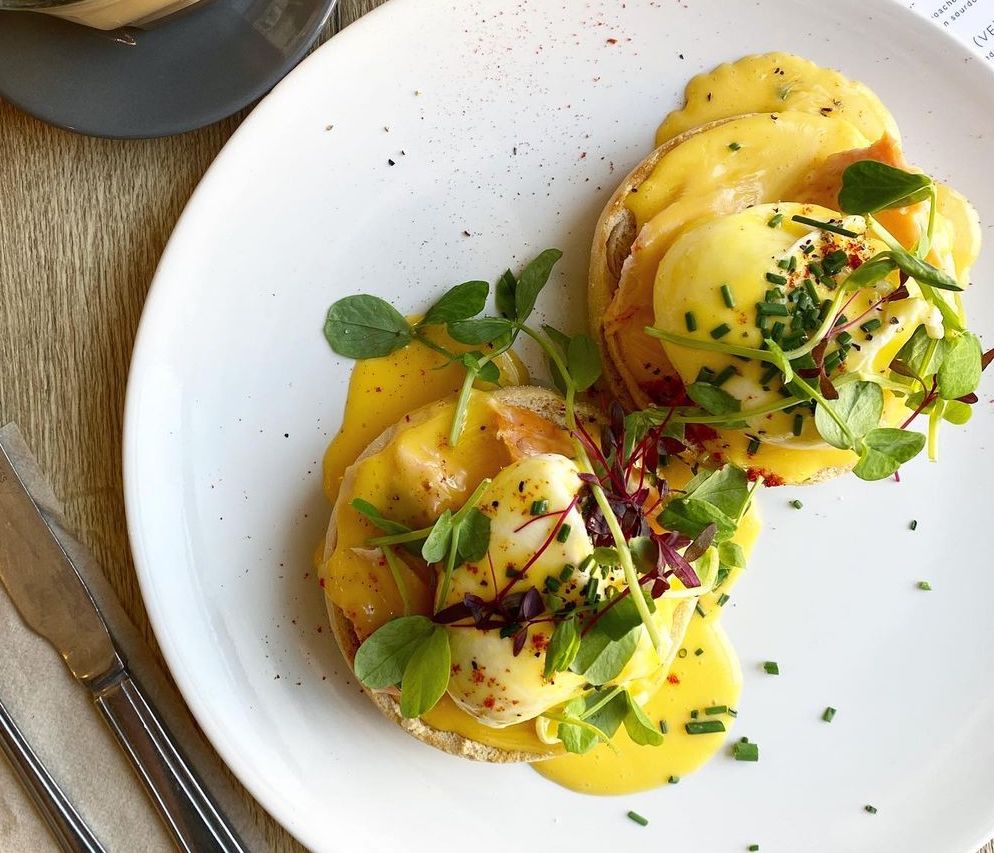 If you haven't made a hungover trip to If on Call Lane on a Sunday morning, do you even live in Leeds?
If…Up North has been an absolute staple since it opened in 2016 – and now it has three different locations across Leeds, including an espresso bar on Vicar Lane. The breakfast menu boasts a wide range of drinks, including local coffee from North Star Coffee Roasters, cocktails and smoothies so you can indulge if you need a little hair of the dog or you can soak in some nutrients with a delicious smoothie- how decadent are you feeling?
When it comes to the food, you're just as spoilt for choice with decadent full English breakfasts (including amazing veggie and vegan options,) pancakes, a classic avocado toast, delicious breakfast rolls and filling breakfast burritos.
If all of these amazing options weren't enough, If also offer a bottomless brunch if you're wanting to take your breakfast to a whole new level. Featuring any food option from the menu and with glowing reviews, this could be one of the most underrated Bottomless Brunches in Leeds.
If don't take bookings so pop down nice and early on a weekend if you're after a table as they're usually crammed full. With a relaxing vibe, amazing quality local ingredients and a scrumptious menu, If is definitely a perfect breakfast spot.
2. Fleur Café
Situated in The Light and one of the most 'Instagrammable' cafes in Leeds, Fleur is a newer addition to the Leeds breakfast scene.
The cafe has become well known for its lavish interiors and an all-day menu that features both brunch and dinner bottomless options. The breakfast menu features classics like shakshuka, avocado toast and French toast – but if you're feeling more adventurous, there is also options like the breakfast bowl (a nutritious smoothie bowl with granola) or masala baked beans, served with a chicken sausage casserole.
Fleur's drinks menu has something for everyone so you'll be able to find the perfect accompaniment to your Instagram-worthy breakfast.
Fancy a decadent milkshake? You can choose between Ferrero Rocher or Jammie Dodgers and cream (YUM!) For those wanting a healthier option, iced kombucha tea and turmeric ginger lattes are also available as well as a large selection of soft drinks, teas and coffees, cocktails and mocktails.
3. Laynes Espresso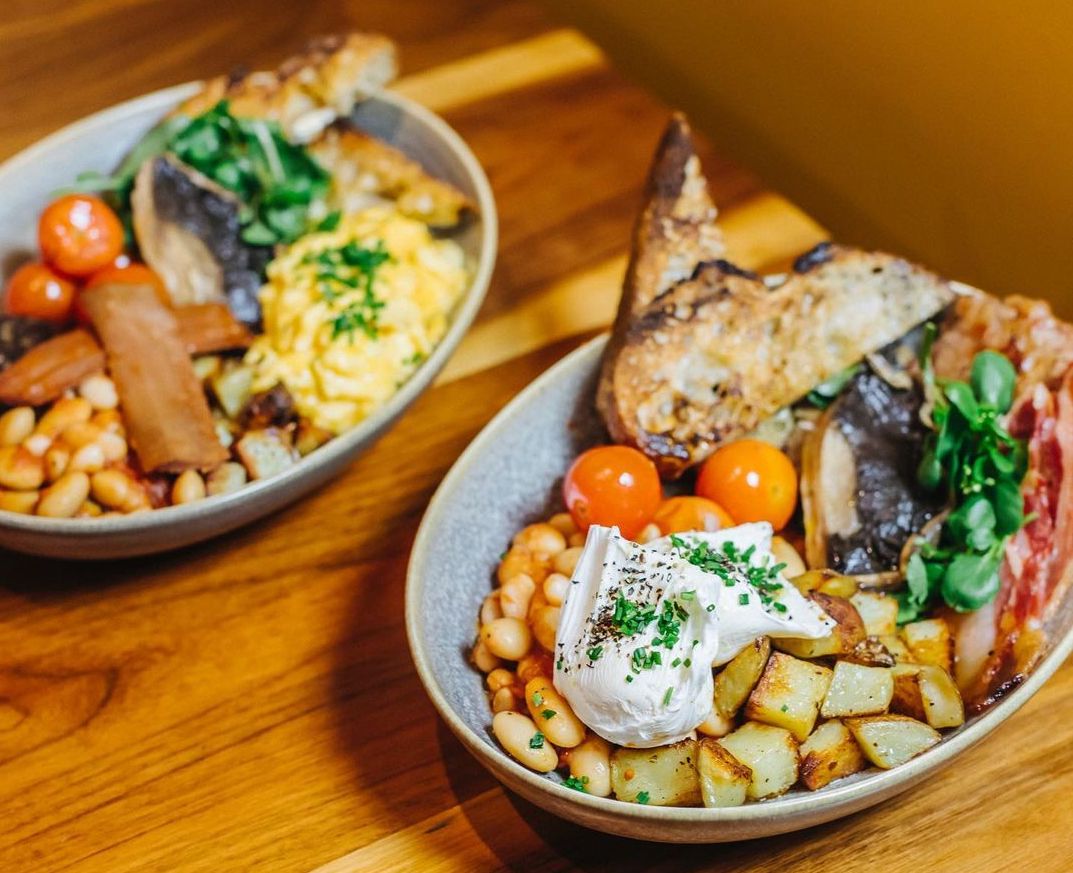 Laynes Espresso sits on New Station St and it's the perfect spot for breakfast if you're hopping on or off a train.
Independently owned and run by Dave Olejnik, a barista, Laynes Espresso is serious about its coffee and has been providing the coffee lovers of Leeds with only the finest beverages since 2011.
Coffee and breakfast do go hand in hand, and with breakfast and lunch options on their all-day menu, plus a huge selection of amazing, sweet treats, Laynes clearly know just as much about great food as they do about coffee. The bustling but cosy vibe of the café will draw you in, but trust us – you'll be staying for the pure quality of the finest organic ingredients that they dish up.
The breakfast options available include plenty of options for vegetarians and vegans, including vegan bacon and scrambled tofu, and Laynes has even started offering a vegan soft serve ice cream from northern block (go on then, no one can stop you from having ice cream for breakfast when you're an adult).
For more traditional breakfast goers there's, of course, the full English breakfast and breakfast rolls and for a bit of a twist, the black pudding hash and bubble and squeak offer traditional breakfast vibes but with something a little different.
Get a table booked at Laynes Espresso for your next breakfast excursion or, if you're lucky enough, they do keep tables available for walk-ins so you could try your luck for a little spontaneous breakfast trip when you're next roaming around town.
4. WOLFØX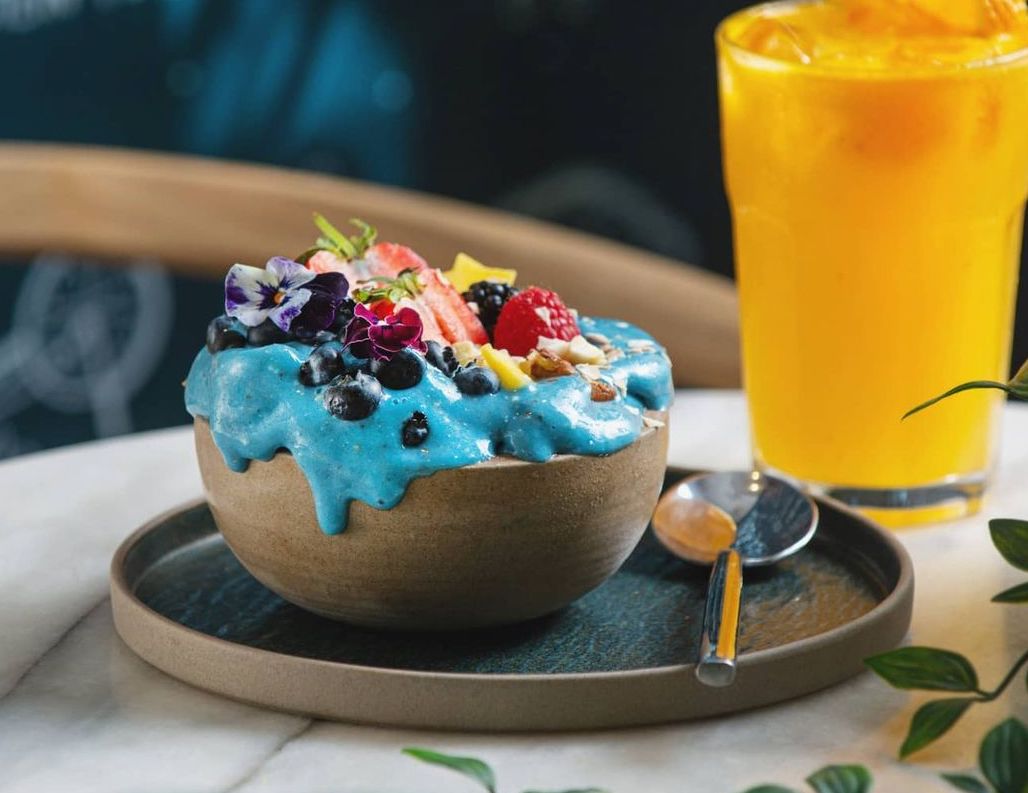 Wolfox, on Wellington Street, is an organic eatery and coffee house that offers nutritious breakfasts, brunches, and lunches to the people of Leeds.
Now with several locations across the country, Wolfox has brought organic, delicious food and drinks to the masses and will soon also be offering dinner to their loyal customers. The breakfast menu is extensive and features a whole section just for "healthy bowls" like mango rice pudding, overnight oats and smoothie bowls.
If you're after something warm there's plenty of filling egg options to satisfy your cravings, full breakfasts and sweetcorn fritters. Although they do offer the classic avocado toast, the menu also features a twist on this with peas, mint and dill taking the avocado's spot.
For guests who are looking to indulge, the brioche French toast and the pulled pork with a poached egg are a decadent step away from smoothie bowls and the Biscoff or Nutella latte options can be added on for the perfect luxurious brunch.
With turmeric and beetroot lattes as well, Wolfox's drinks menu is just as varied as the food menu and offers amazing options for health nuts or for those looking to indulge. This is the perfect spot if you're not sure what you fancy or you need to please a whole group as there'll definitely be something for everyone.
5. Fint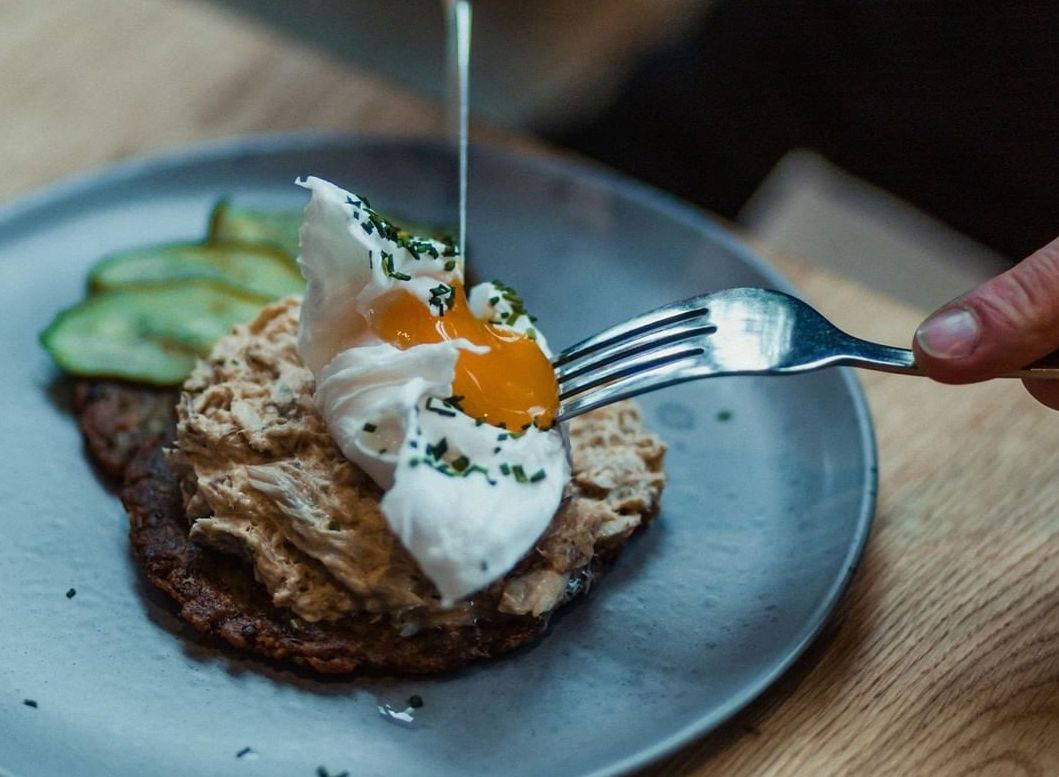 Fint, which was previously known as Fettle, resides on St George St and is the perfect cosy breakfast spot for you to pop into.
With a smaller menu than the other venues on the list, Fint's breakfast menu doesn't need to be extensive to satisfy any breakfast craving that you might have. The duck hash and its vegan alternative include Parmentier potatoes, sweet peppers and a bearnaise sauce for the duck option and a tarragon and shallot seed cream for the vegan option both of which are the perfect way to start your day.
With other options like mackerel rillette or pain perdu, a pan-fried citrus custard dipped sourdough, Fint is definitely the breakfast spot for you if you'd like to try something new.
Alternatively, if you're after a more traditional breakfast, they do also offer granola and poached eggs with spinach or halloumi so you'll definitely find something that fits your fancy whether you're after sweet or savoury.
6. Olive and Rye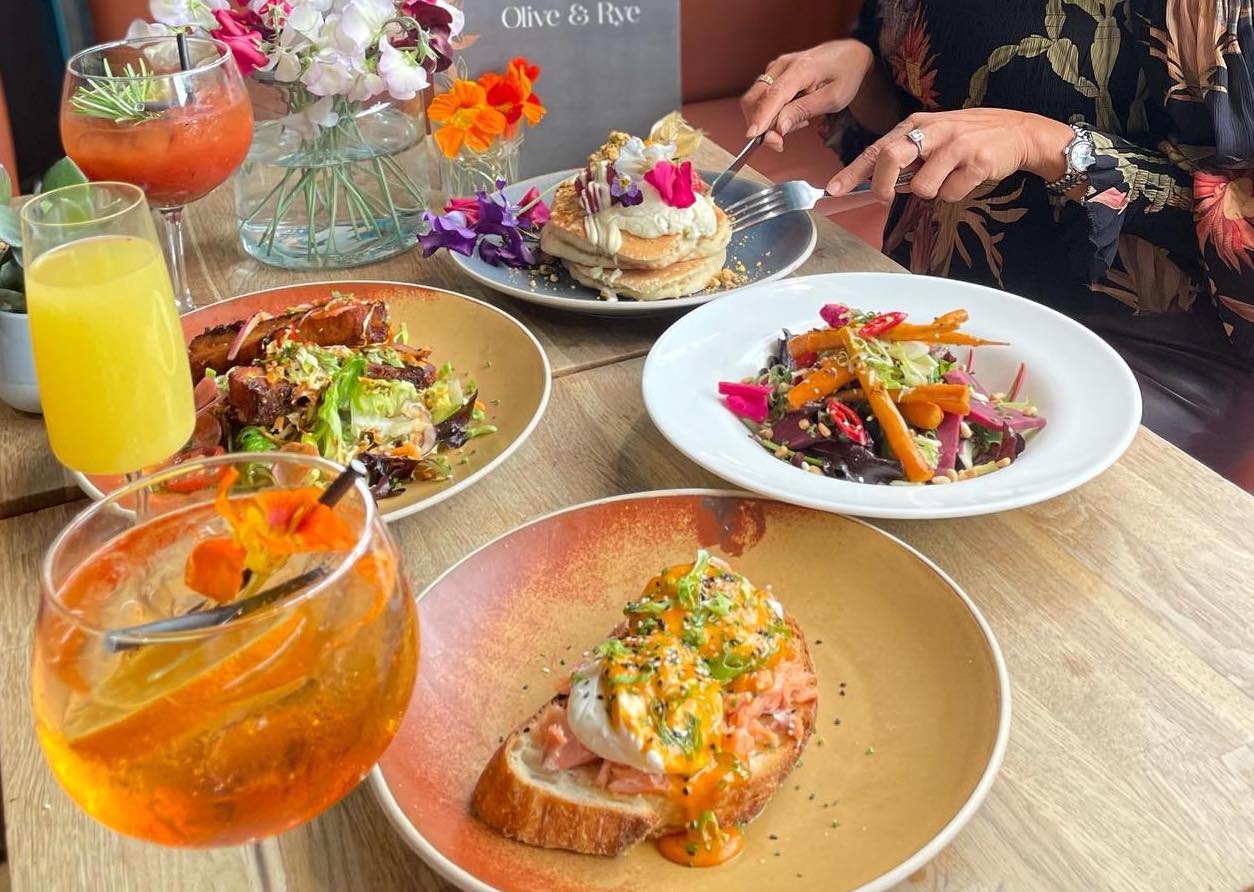 Olive and Rye, in the Queen's Arcade, is the perfect all-day spot to fill that breakfast craving as their brunch menu runs throughout the whole day.
The menu features plenty of options for all kinds of breakfast desires like french toast with maple roasted peaches for those who are fancying something sweet, a hash brown dish with spicy hollandaise sauce for those fancying savoury and bacon and maple syrup pancakes if you just can't choose.
The drinks menu, meanwhile, features wines, iced coffees, smoothies and hot drinks – so you'll be spoilt for choice and Olive and Rye even have a brunch cocktail list featuring espresso martinis, Aperol Spritz and Irish coffees just to name a few.
With all-day breakfast, you know that Olive and Rye had to offer great coffee and they claim to have "the most adventurous and innovative coffee from the Dark Woods coffee roaster" so even if you're not fancying breakfast (although how could you not after reading this) pop in and give their adventurous coffee a try.
We hope you've got plenty of breakfast inspiration now so get brunching and keep an eye out for any new breakfast spots in Leeds that you think we should try next.