There's nothing worse than a hangover- especially when you have a busy day ahead of you.
Whether you drank too much over Easter or a Sunday night just got out of control, we all know and loathe that next morning of regret and realising the impact that a hangover can have on the day.
Luckily, the Leeds food scene is full of salty, chocolately, carb-loaded dishes that will sort you right out. So grab some paracetamol and some water and grab one of our top picks to get rid of your hangover.
Authentic Greek gyros
Thatziki, available on Deliveroo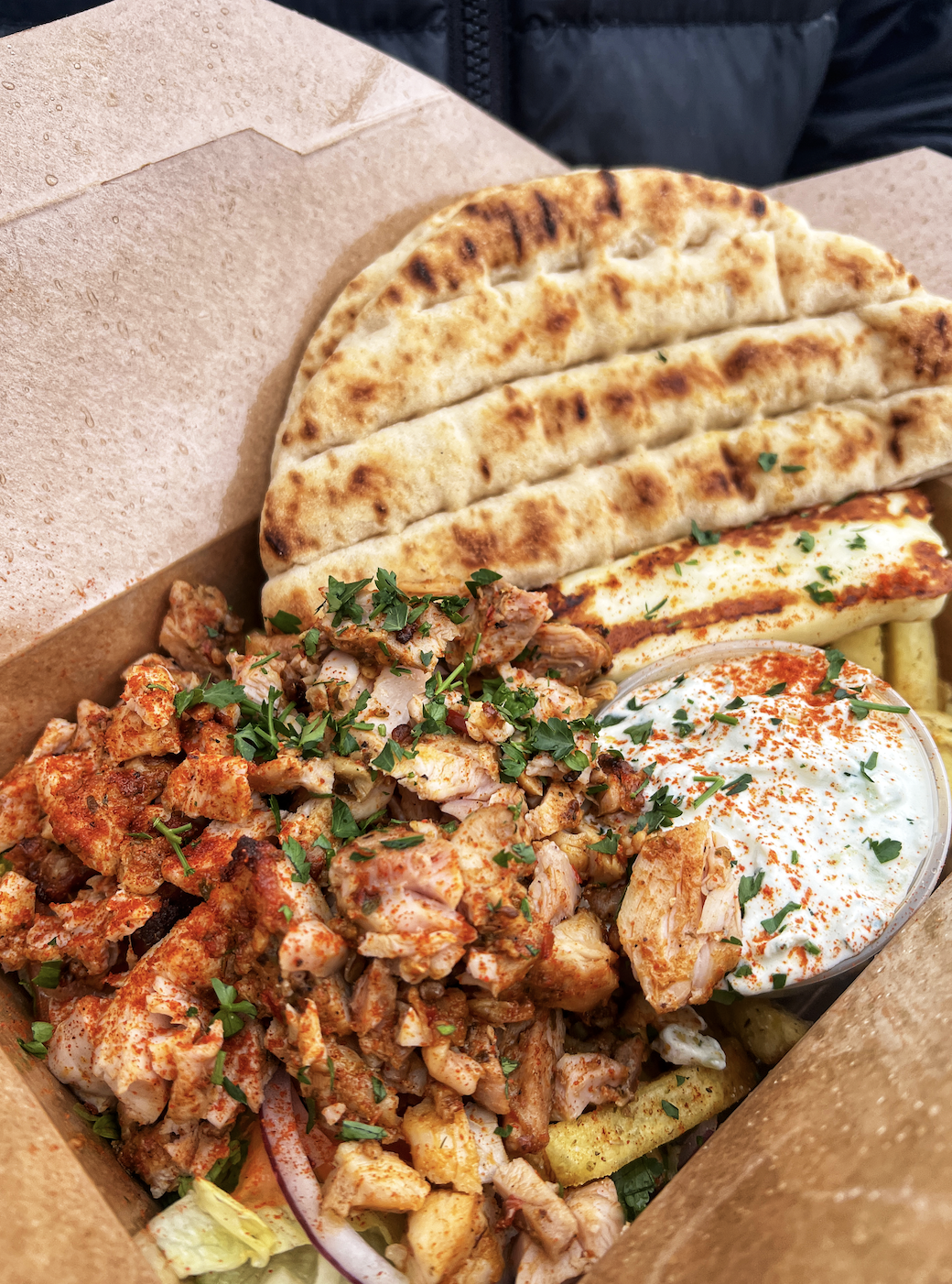 Nothing is better for a hangover than a gyros box fit for Zeus himself. Shavings of the famous 24-hour marinated meat served in a box on a bed of seasoned fries, fresh salads and a sauce of your choice.
Thatziki is serving up authentic Greek cuisine which transports you straight to the Mediterranean – we're talking juicy gyros, crispy halloumi fries and a range of hotboxes filled to the brim with marinated meat, fresh Greek salads, seasoned fries and warm pita bread. ⁠Available now on all delivery platforms, it's time to treat yourself and get your Greek on.
Loaded vegan hot dogs
Fat Annie's, Leeds Kirkgate market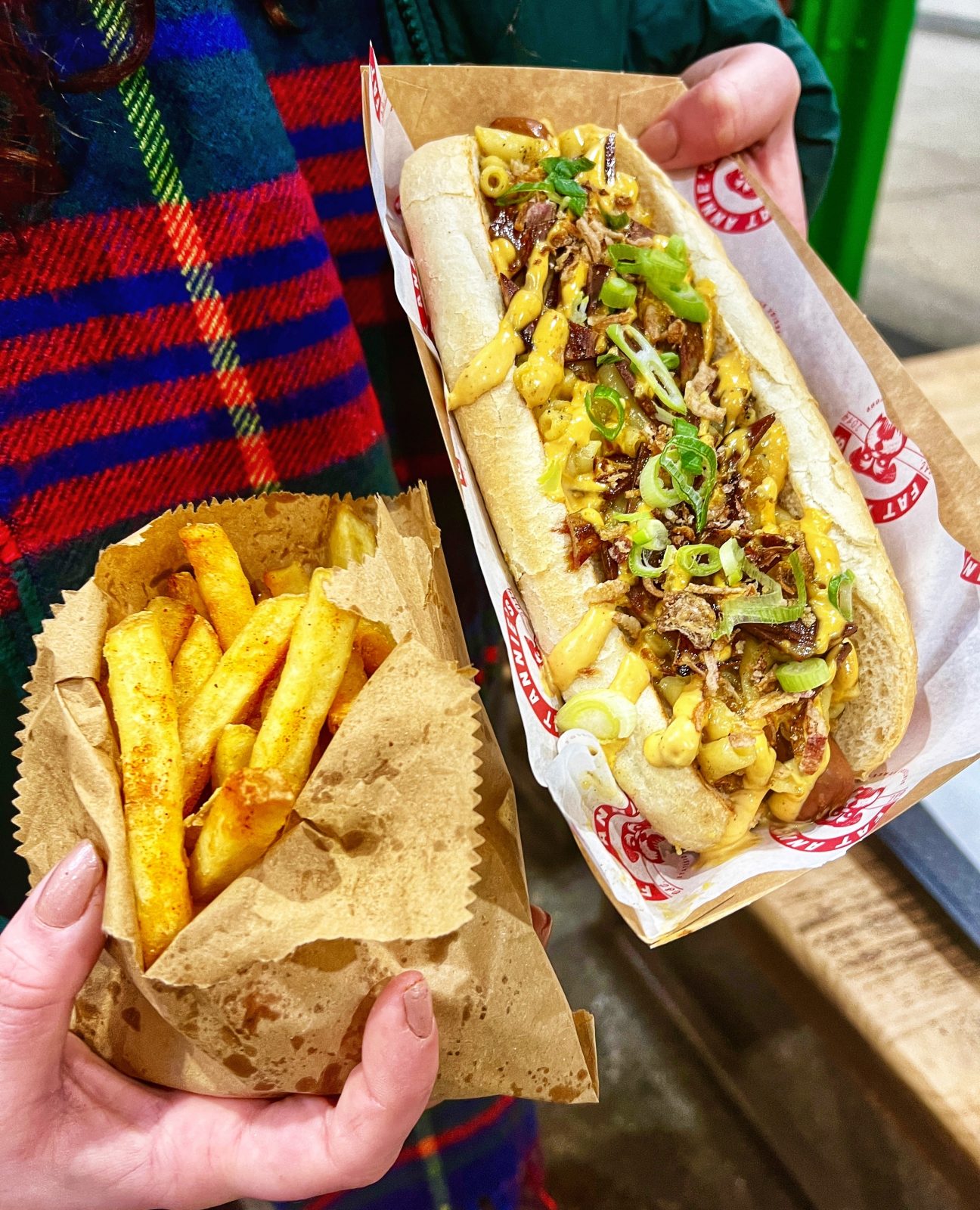 Tofu dog, pickle, cheese, FA Secret Sauce and crispy onions – trust us on this one. These vegan hot dogs at one of our favourite Kirkgate market stalls are just 10/10 and so filling it will fill all your Sunday morning cravings. Even better, you don't need to make the journey into tower as these are now available on delivery in Leeds.
The Kirkgate Market stall is over a year into its meat-free journey. The owner gave up meat in 2019 after reading the UN Climate Report and made the decision to risk 'financial suicide' to back their beliefs and switch to meat-free dishes. The popular Kirkgate venue now offers an entirely meat-free menu and on it you'll find a range of incredible plant-based offerings, including the Royale Not Dog and loaded fries.
Fluffy pancakes with streaky bacon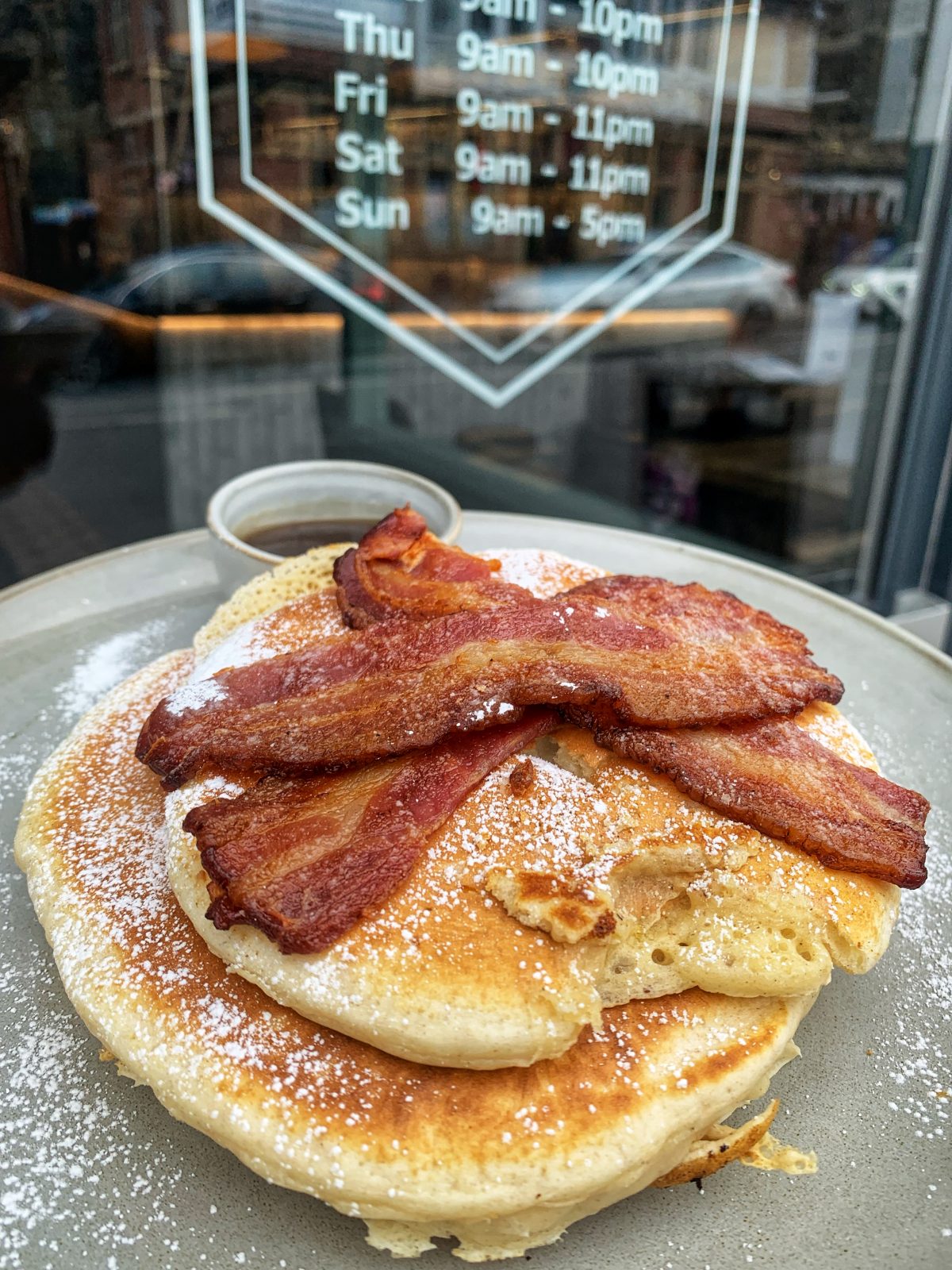 Nothing will soak up the sins of yesterday more than a stack of fluffy American pancakes. Top them off with crispy streaky bacon and super sweet maple syrup, and you can kiss that hangover goodbye.
Otherwise the menu you'll find seasonal dishes like freshly made soup of the day, tuna melt grilled sandwich with homemade red onion chutney and a vegan SLT (that's vegan sausages, lettuce and tomato with houmous), as well as pancakes stacked high with Nutella, banana and Biscofff, Eggs Benny with a twist and delicious avocado on toast with roast veggies, pesto and feta.
Brooklyn's Finest Cheeseburger
Meat:Stack, Boar Lane, Leeds city centre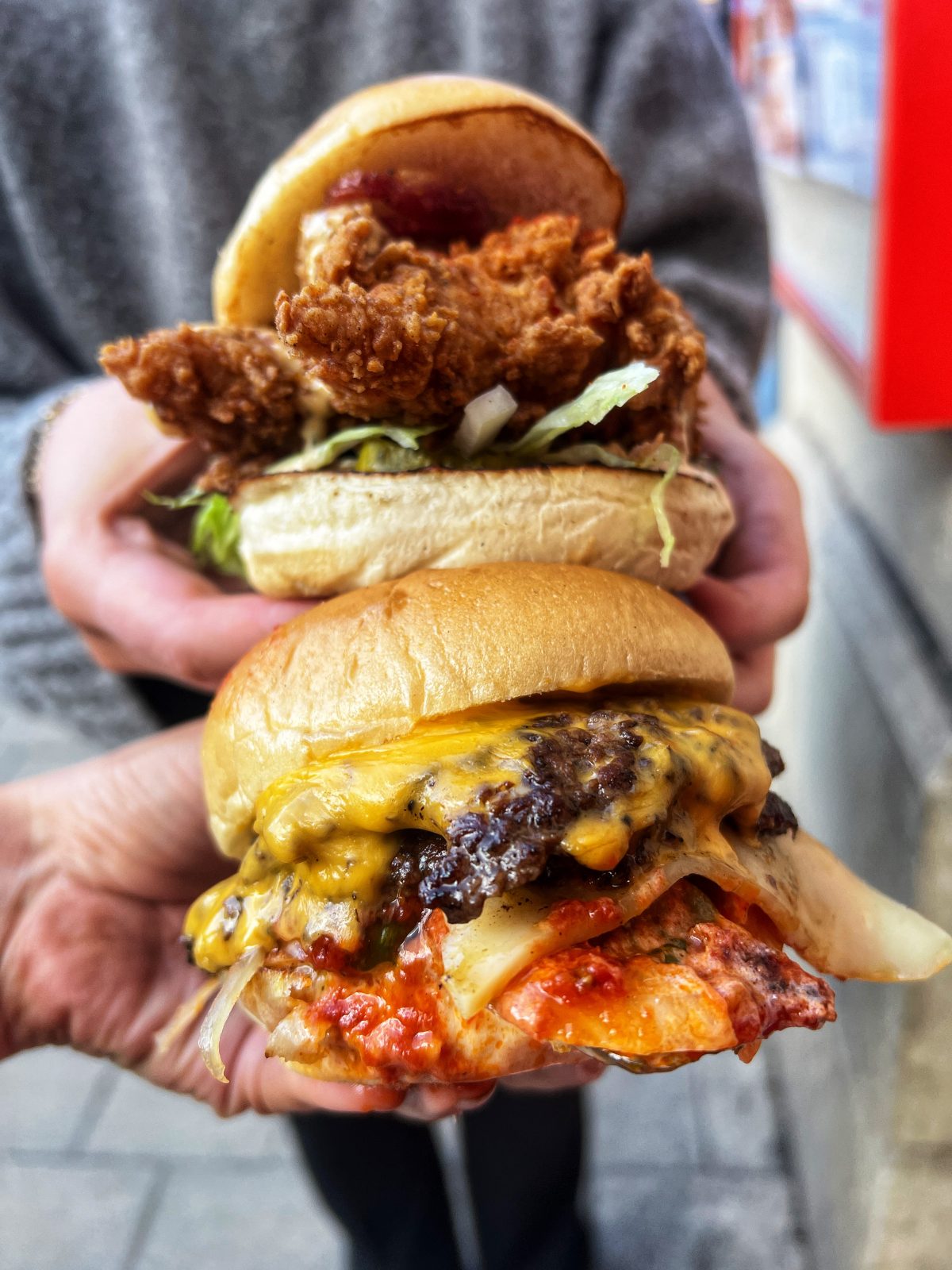 Meat:Stack is always a Hoot favourite when it comes to curing those hangover blues and the 'Brooklyn's Finest Cheeseburger' a collaboration with Scream For Pizza, is one of our favourites. This features a garlic butter and blue cheese base, spicy pepperoni tomato sugo, house ranch, mozzarella cheese and crunchy onions. If you love pizza and burgers then you absolutely NEED to get your chops around this, it features all your fave parts of a pizza combined with Meat:Stack's delicious grass fed, aged beef smashed patties – absolutely unreal. ⁠
⁠
And to go with your pizza burger you obvs have to get matching fries, right? The 'Screaming Fries' are stacked high with the delicious tomato sugo, lashings of parmesan cheese and finished off with a generous sprinkling of oregano. Meat:Stack's fries are always perfect, but these have been given that extra 'oomph' factor which makes them even more lip-smacking than usual. ⁠

Find out more here.
A proper Yorkshire breakfast
Wapentake, Kirkgate, Leeds city centre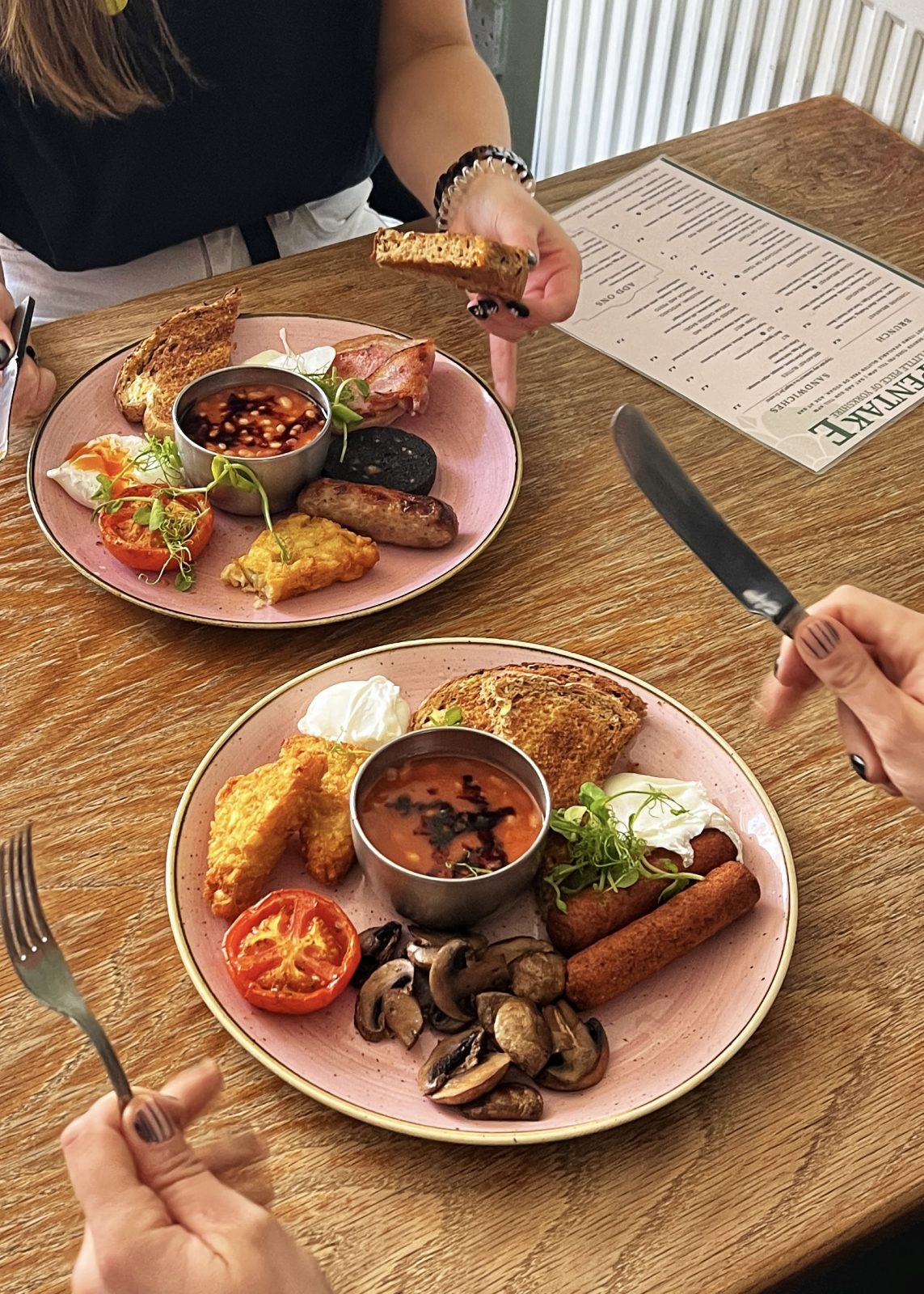 If you can't decide between a roast dinner early afternoon or an all-day-breakfast, this hybrid is the meal to set you back to your usual equilibrium. Wapentake are known for their 'yorkies on anything' approach, and anyone in Yorkshire will agree that they're a brilliant hangover food. Topped with baked eggs, crispy bacon and Henderson's relish, have a bite and you'll be reet in no time.
Find out more here.
Wintry pies and mash
SALT Calls Landing, The Calls, Leeds city centre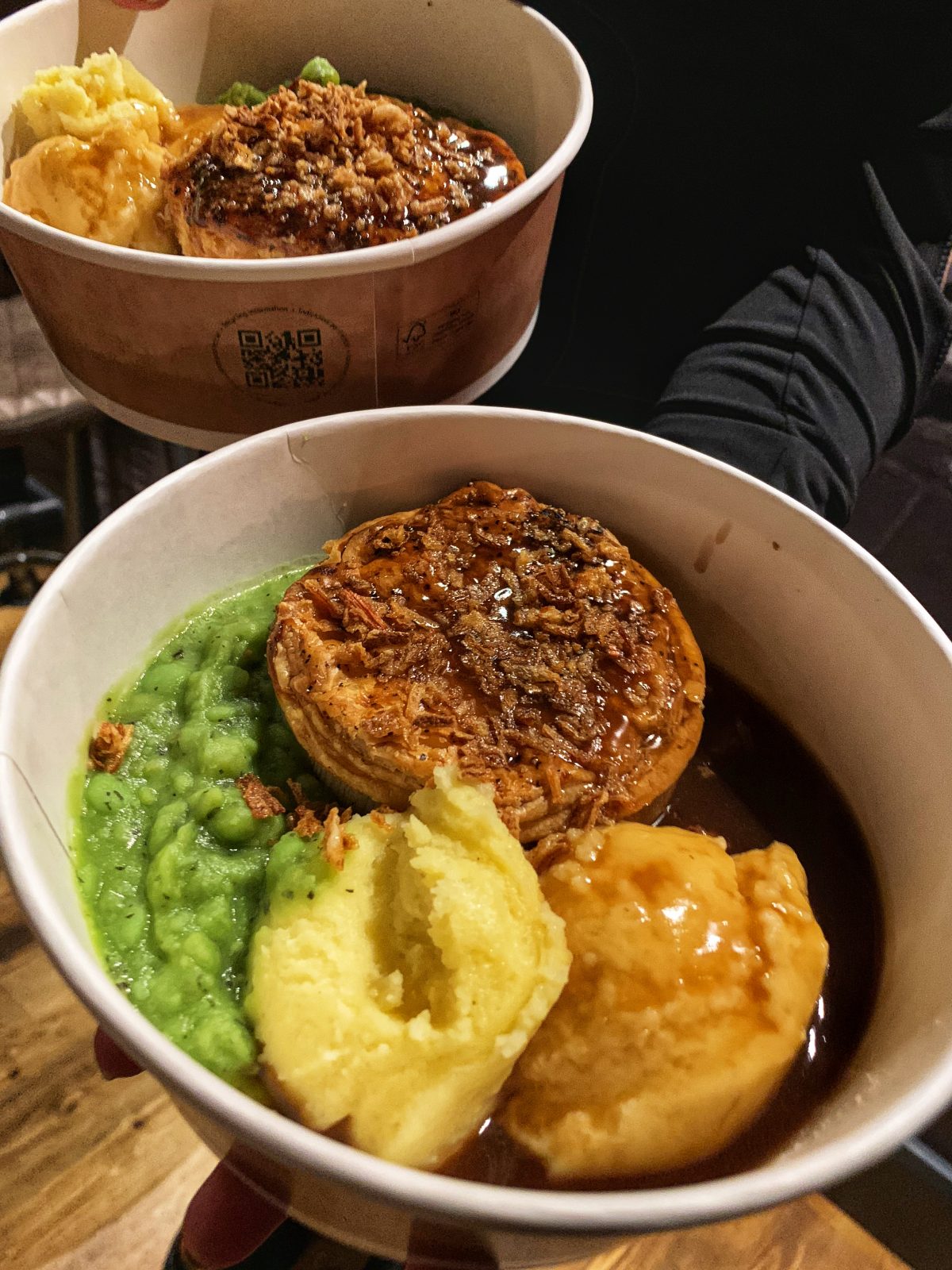 There's a new pie stop in town, and they're perfect for the morning after the night before (as well as in the evenings and every other meal). Inspired by the seasons, expect a range of Yorkshire pies, with classic steak and ale, chicken and bacon with all the trimmings, as well as vegan options aplenty and sweet treats (including brownies) for those looking for a lighter bite to start or end the night.
Find out more here.
Recovery Sundays Tabasco Benny Burger
Kerbside Kids, inside Springwell, Buslingthorpe Lane, Sheepscar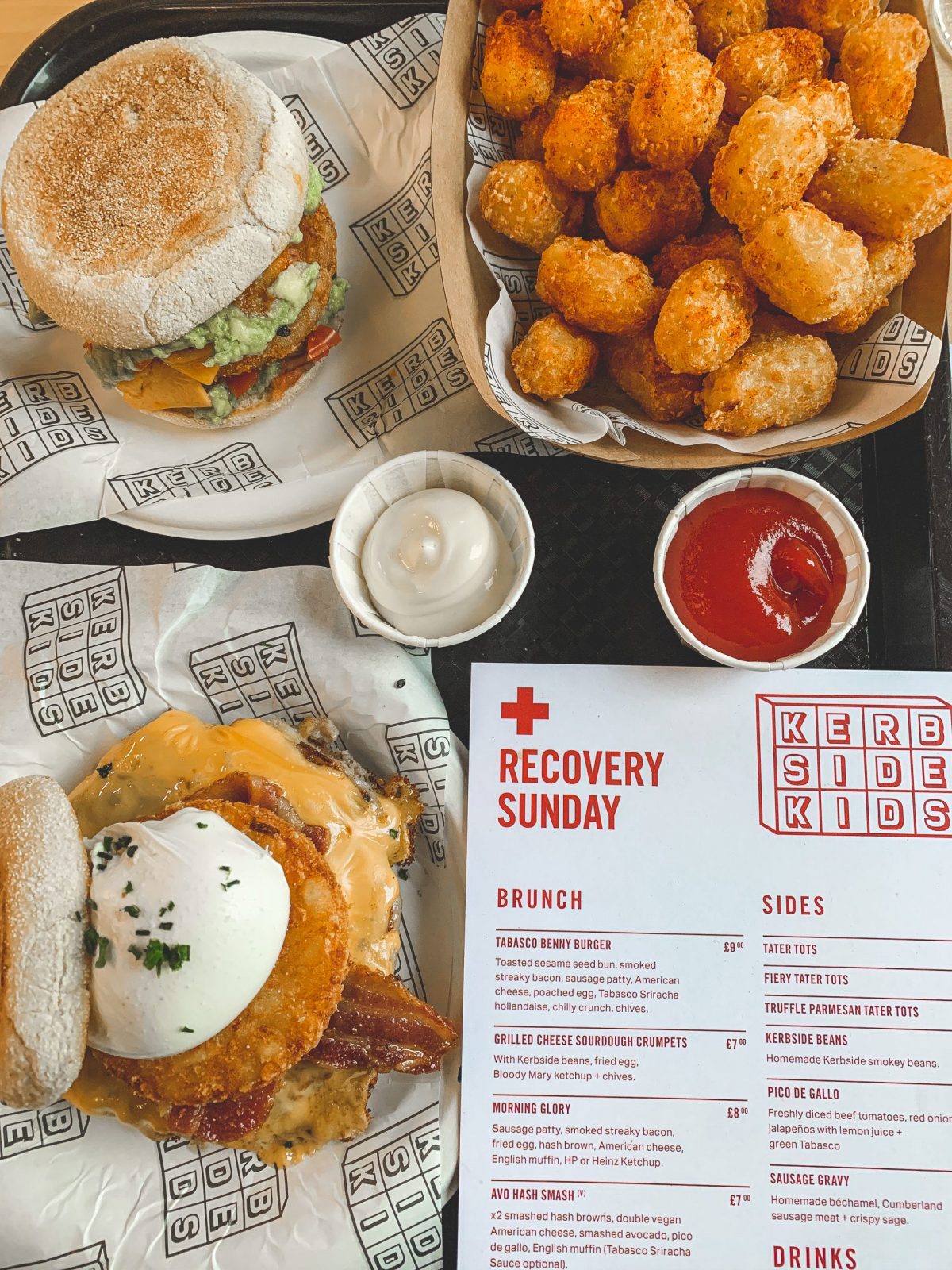 Kerbside Kids firmly believe that Tabasco sauce is the way to kill any hangover, and so far nobody has challenged their hypothesis, so we're assuming that they're right. For anyone craving a full English the day after the night before, you're in luck- Kerbside Kids have an entire menu dedicated to you, called Recovery Sunday. The Tabasco Benny Burger is the best seller: a toasted sesame seed bun with smoked streaky bacon, sausage patty, American cheese and a poached egg with Tabasco Sriracha hollandaise, chilly crunch and chives.
Find out more here.
Chic-a-go Fries
Hooyah Burgers, Albion Street, Leeds city centre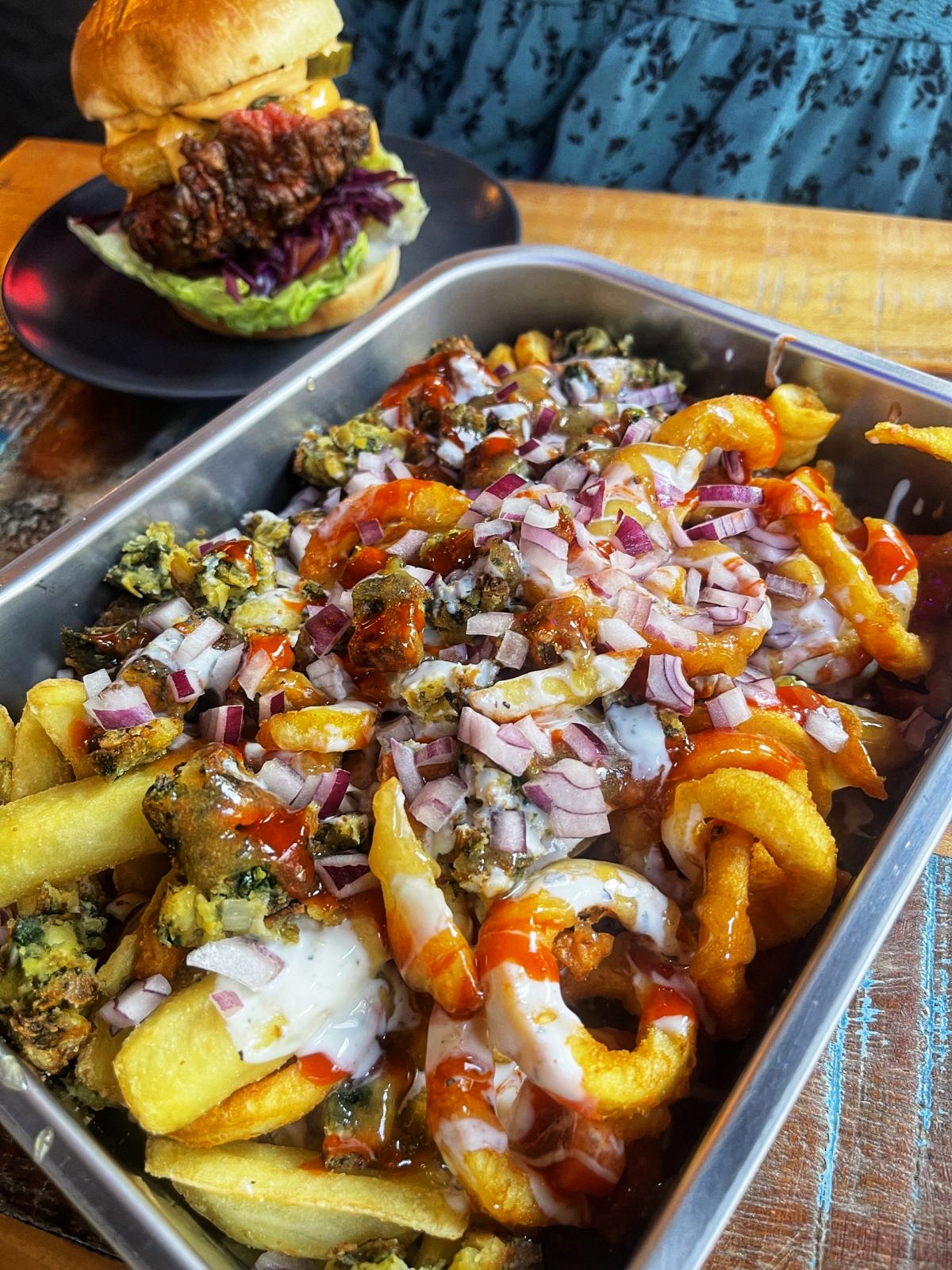 Hooyah burgers have become a big name in Leeds- especially on Deliveroo, so if you're waking up with a sore head, you won't even have to leave the house to get your hands on these huge sharer portions of fries. The Chic-a-go are 100% vegan with crumbled falafel, onions, mint and yoghurt on a bed of curly and french fries: it's an ideal balance of flavour and carbs that won't unsettle your stomach and just the combination for 'the day after the night before'.
Find out more here.
Full Algerian Breakfast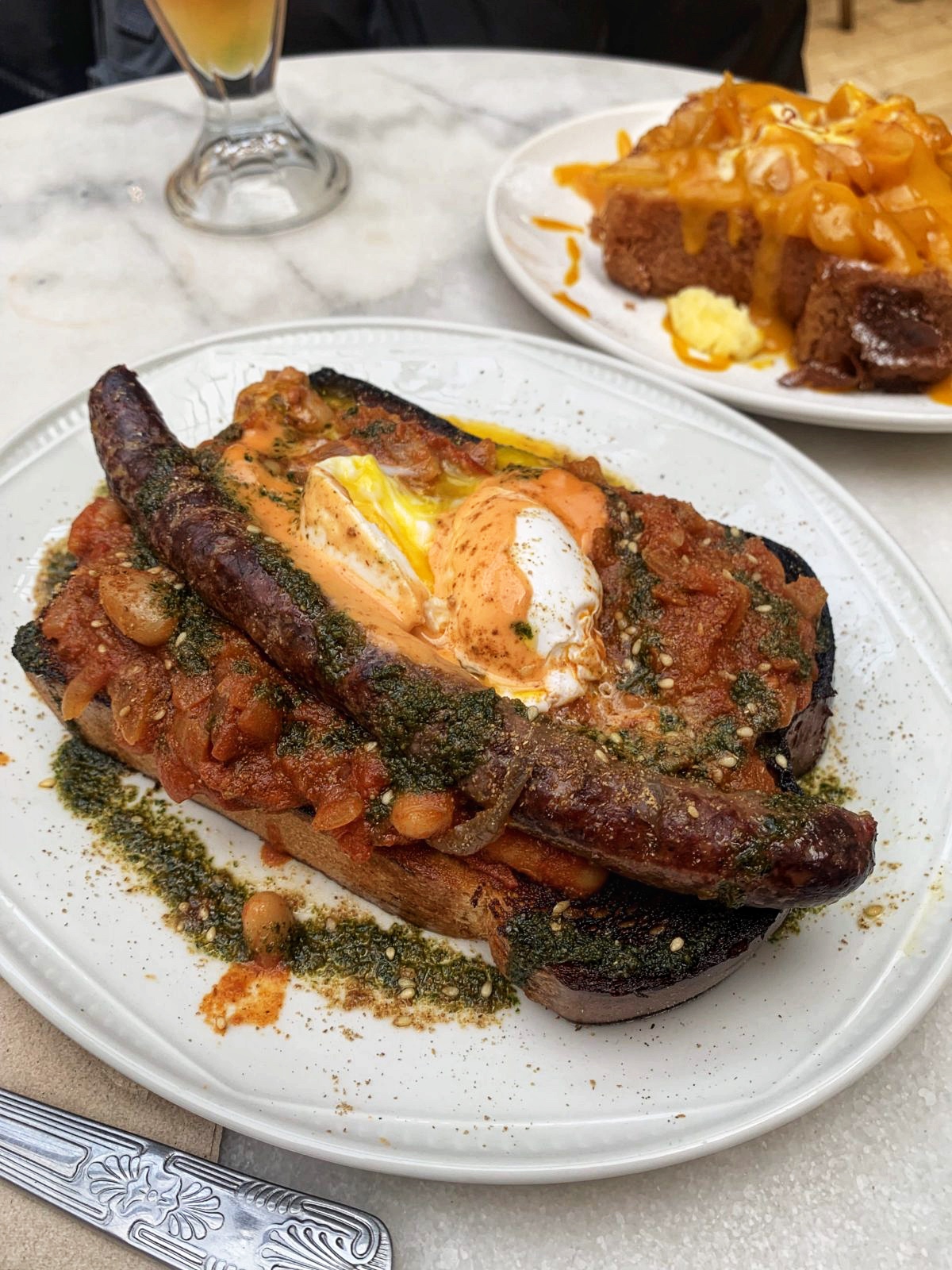 Tucked away inside one of Leeds' most architectural beauty spots, Bruschetta is the indie coffee, cake and breakfast menu you absolutely need to try: hangover or no hangover. If you are struggling to stomach anything that might remind you of last night's dining or drinking options, the flavours in the Full Algerian brekkie should be a go-to. We're talking harissa spiced cannellini beans on toasted bruschetta, poached egg and spiced merguez sausage with homemade roasted pine nut and za'atar oil: a unique combination of spices that'll sort you out and perfectly match the coffee blend.
Find out more here.
Empire Chicken Stack, Manahatta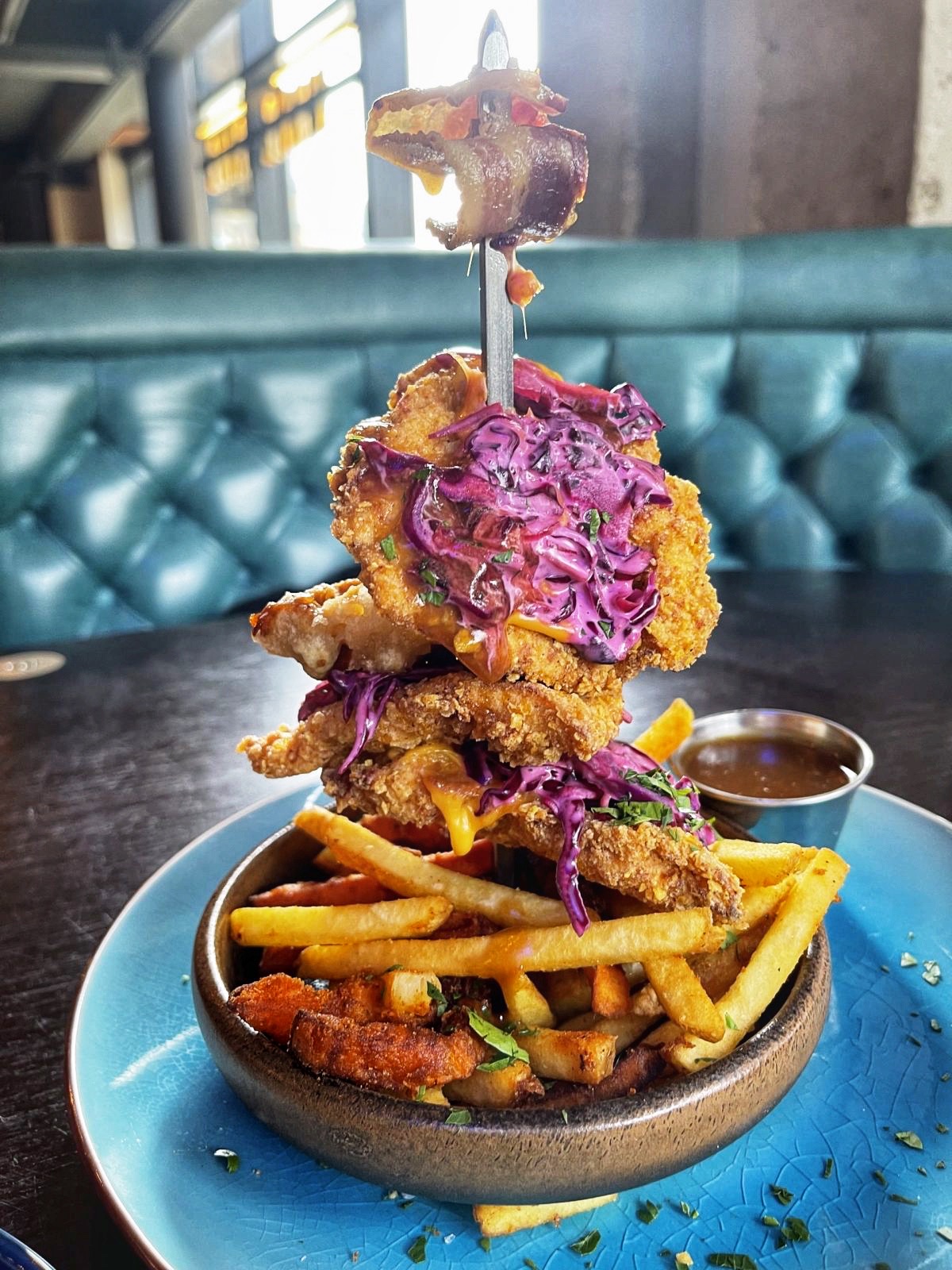 Sweet, salty and sticky: the New York inspired menu at Manahatta finds that delicate balance between food to eat when you're on your way to a boozy night out and food you need the next day. The lunch and dinnertime option comes as a towered stack of crisp coated chicken, waffles, American cheese, purple slaw and maple syrup, with a serving of barbecue sauce or thick gravy to pour over the stack and fries. Thick, juicy and tender- this is the ultimate chicken dinner inspired by the USA.
Find out more here.
Fat Hippo Burger
Fat Hippo, Otley Road, Headingley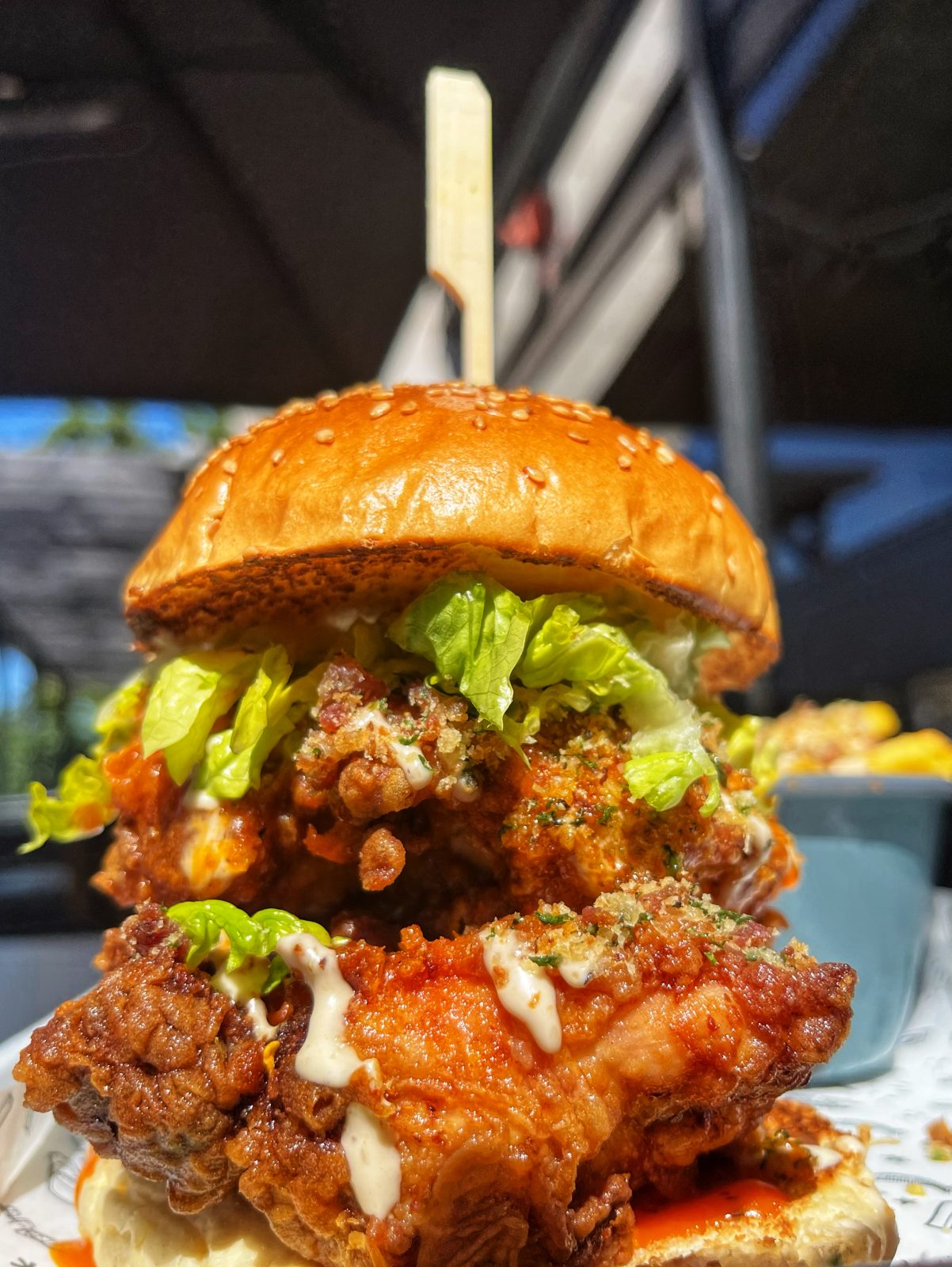 Aptly named after the hilarious comedy starring Zach Galifianakis and Bradley Cooper, this stacked chicken burger has all the meaty juices to set you straight after a night out. Made up of Buttermilk chicken, American cheese, smoked bacon, lettuce, pickles, BBQ sauce and ranch, it tastes even better at lunchtime, when you can grab a burger and fries for just £7.00.
Find out more here.
The Hungover Games menu with unlimited cereal and coffee
Alley Cats Cafe Bar & Music Emporium, Harrogate Road, Chapel Allerton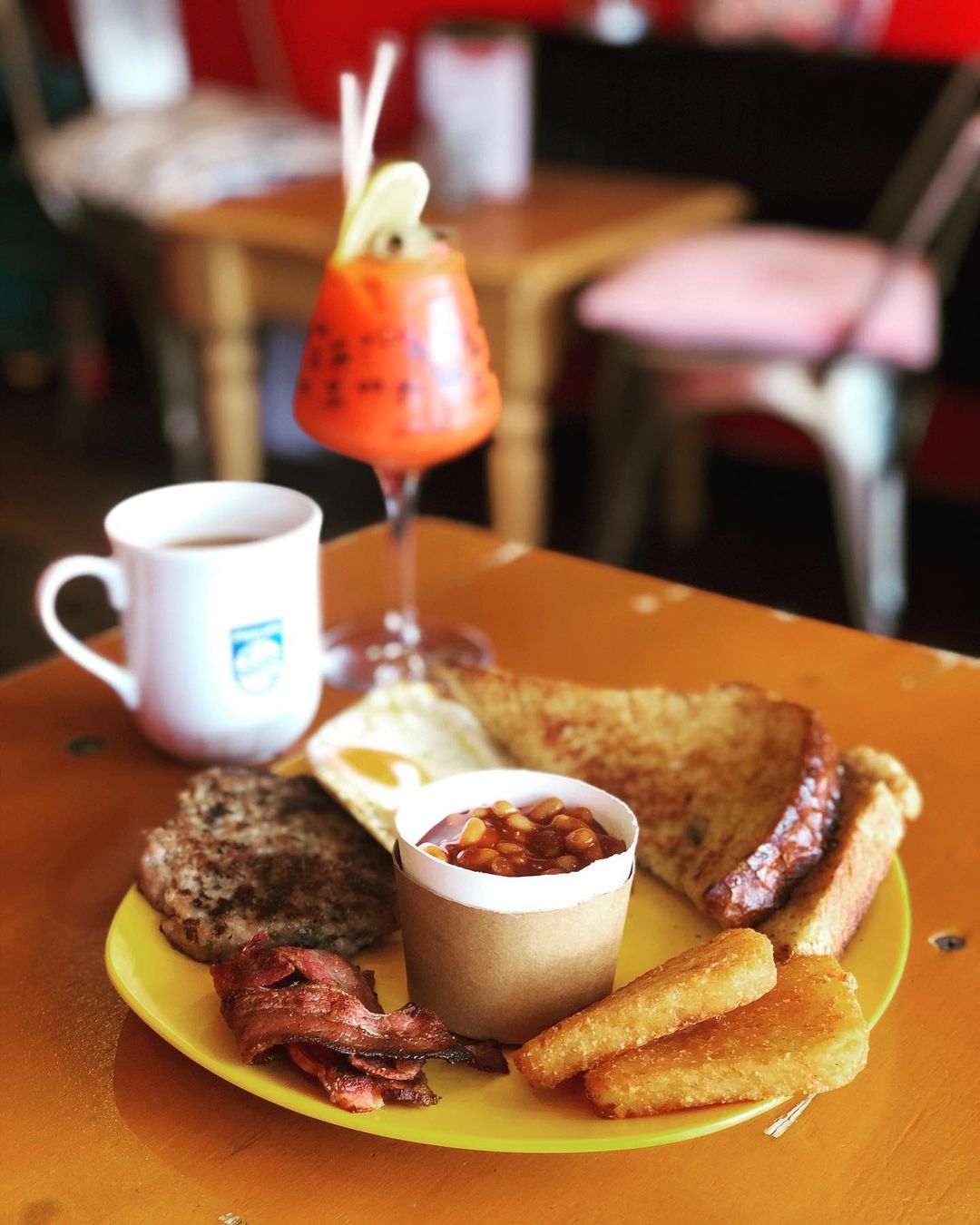 For £10, Alleycats offers the sweet bitterness of fresh coffee by the jug, refreshing glasses of juice and pots of tea as unlimited servings so that you can take your anxieties from the bill and instead concentrate on achieving that post-hangover euphoria.Also a bottomless serving each Sunday is Alleycat's selection of cereal, which comes in addition to any brunch dish of your choice- there really is every food and drink to rid your hangover in this spot.
Find out more here.
You can find more hangover cures on our TikTok page @thehootleeds.
Feature Image- The Hoot Leeds