On the corner of Fish Street in the city centre, a narrow little ginnel leads to a brilliant cafe that is artfully marrying the old and the new.
Called The Empire Cafe, it's only been open for twelve weeks when I visit but chef-patron Sam Pullan tells me it's already become something of an unofficial hang-out for the who's who of Leeds' hospitality scene.
In the building right now, he confides, are two hugely successful hospitality operators. I look around, immediately spot one, and – whilst devouring an impressive vegan mixed grill – spend the rest of my lunch guessing who could be the other.
The new cafe bar sits on a historic site that has been at the centre of Leeds' all-day dining scene for more than 100 years, and Sam is well in tune with its backstory.
Before reopening as The Empire Cafe earlier this year, it was formerly known as La Strega Cafe – a beloved greasy spoon he describes as being a real "jewel in the crown."
He tells me it was one of those places loved by all, which has "been around since anybody can remember" and where "everybody used to come […] for a butty."
However, popular or not, La Straga sadly shut just before lockdown in 2020 and the site was to spend the next two and a half years vacant and crumbling away until Sam and his partner Nicole Deighton took it over.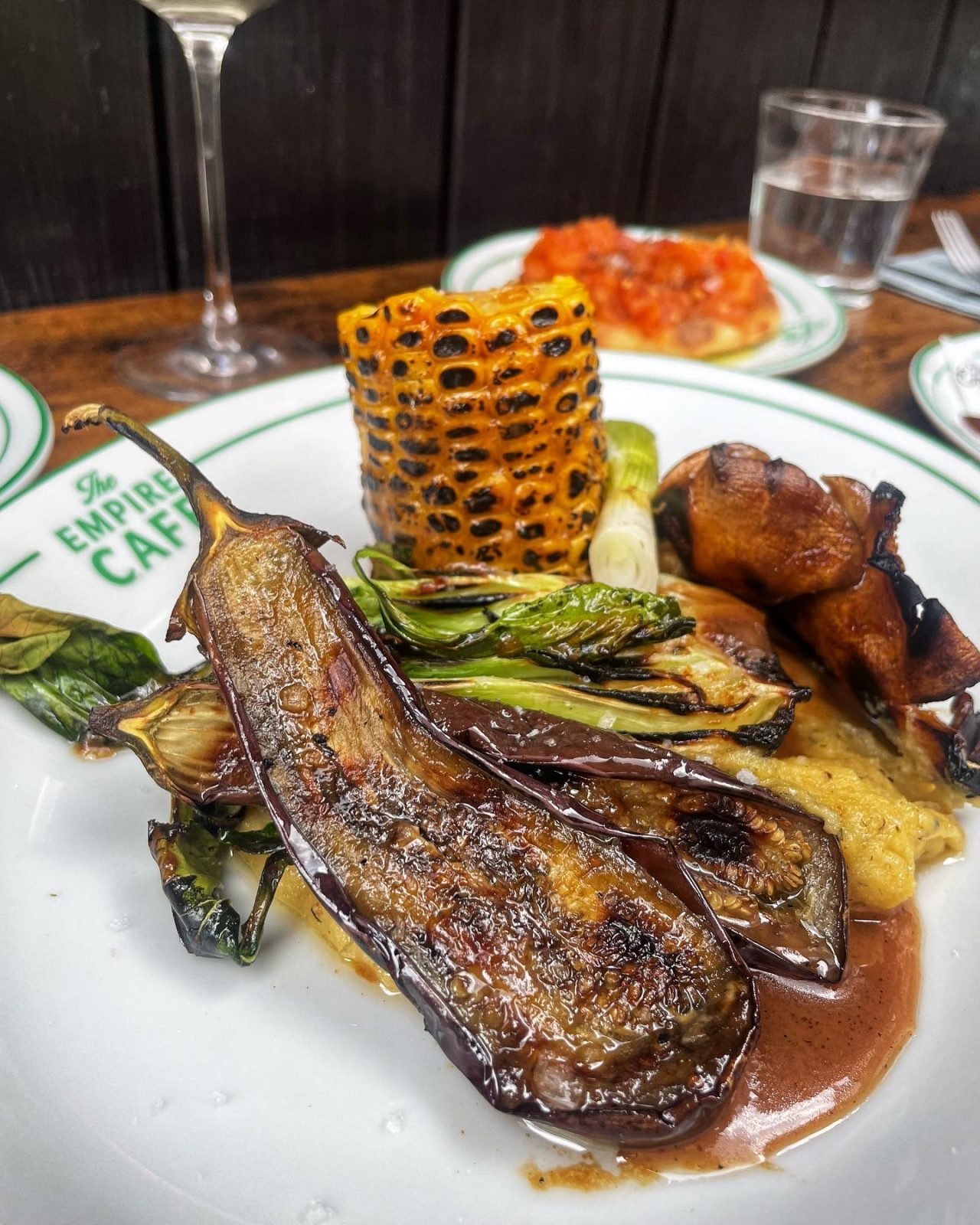 Sam said: "It shut down just before lockdown, we took it on about August, or September last year, and it was just a blank shell inside so it was kind of back to plaster."
Showing pictures of how things were before the renovations (and pointing out an old sunbed shop that was upstairs), it's striking how much the look of the place has changed – having been transformed from dereliction to designer.
It now has an open front looking out onto Fish Street with bar stools offering the perfect inside-outside drinking experience.
Read more: Sounds of the City kicks off with incredible performance from McFly
It is a clever feature, especially on a warm summer's day when the restaurant spills out into the street, its black and white checkered tablecloths laden down with glasses of wine, plates of garlicky tomato flatbread, and plump rabbit arancini.
Yet, as it transpires, this was created more by accident than design. Sam says that, when they were renovating the site, they found so much of it was rotten that they had to rip the whole front off. Some things are obviously just meant to be.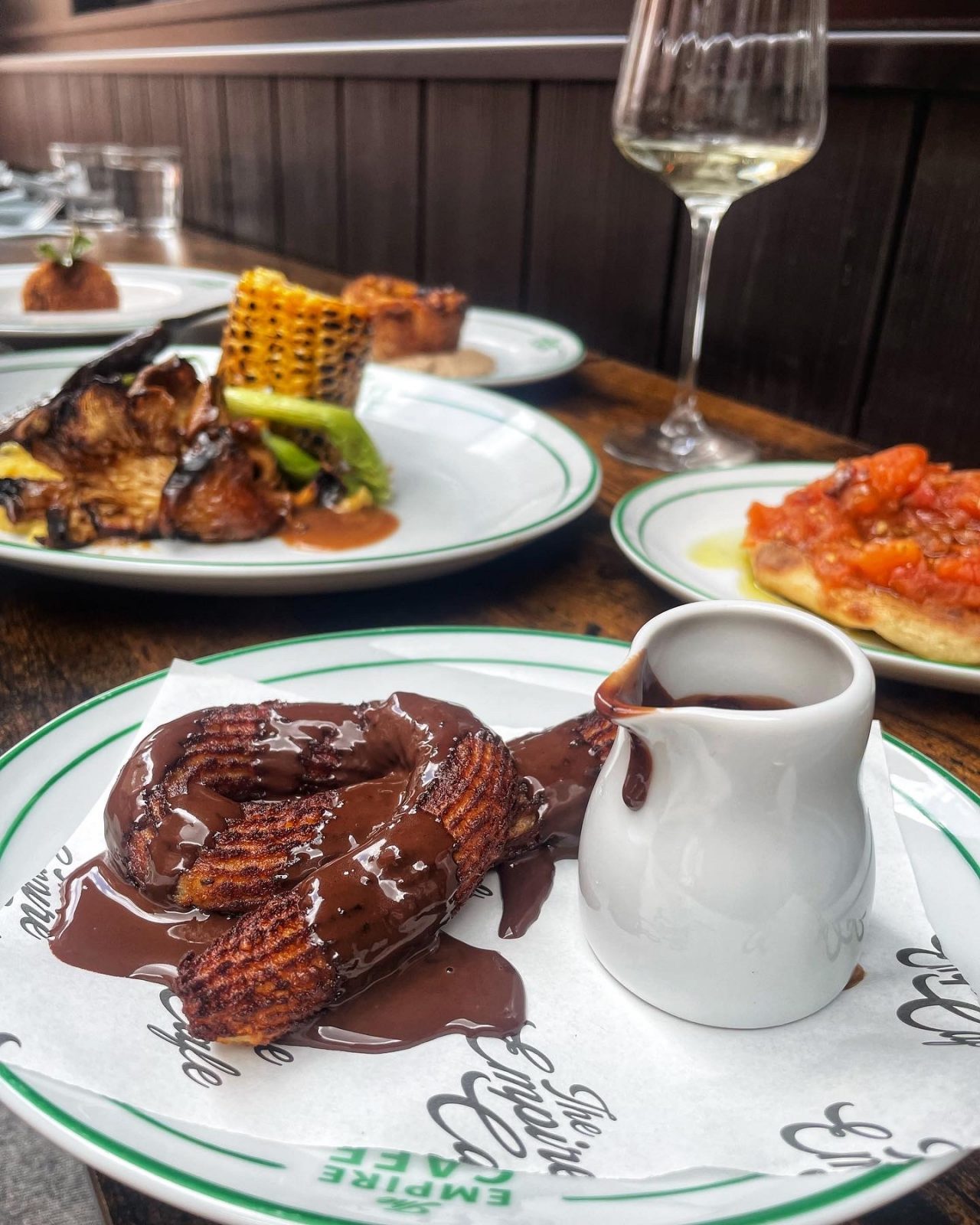 Another happy accident occurred during the renovations, eading to the discovery of a 120-year-old hand-painted sign that Leeds city library has since dated back to 1905.
Sam said: "As we started to peel this back, which was all rotten, we ripped the whole front off, and we found the sign that's attached to the top of the building, and it read The Empire Cafe."
All of those years ago, the site would have serviced hungry visitors to the nearby Empire Palace Theatre, he adds, pointing in the direction of Harvey Nichols.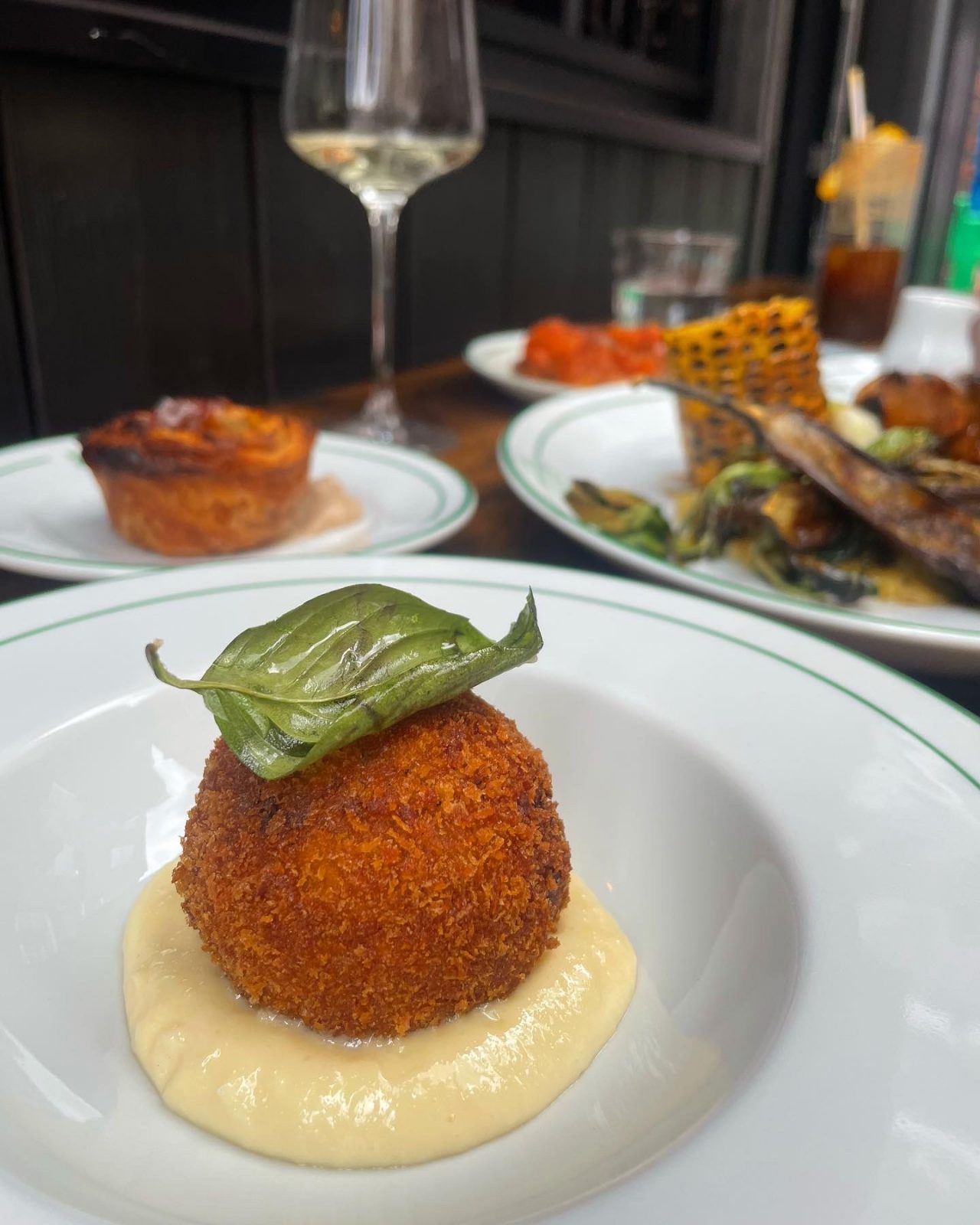 The discovery – a literal sign – led them to keep the name and ditch their original plan, which was to name it Appys.
"We had an all-day dining concept that we wanted to do anyway, like a modernised cafe," he says, "licensed, with small plates that always change, and a bit of a sort of staple menu that won't change, which is why we put the rotisserie in."
In the kitchen, the team is cooking over fire, wood, and charcoal, with a rotisserie and potatoes cooking directly underneath. The kitchen also has a takeaway hatch, perfect for grabbing a roast chicken to go.
Working with produce purchased almost entirely from the nearby Kirkgate Market, there are two menus to discover here: a lunch and an evening menu, where every week four dishes come off and four new ones go on.
This means that it's always changing, with Sam adding "so you come in four weeks and this will be completely different."
He tells me that they are already starting to get known for a few things, including savoury pastel de natas made with Reblochon, a soft, smear-ripened French Alpine cheese – also known, simply, as a savoury custard tart.
"It's really good, it's really good," he enthuses. I try one, and think it is much more than really good. Exquisite, that is the word. The flaky, crumbly, buttery pastry encasing that soft Alpine cheese is just perfection and I spend the rest of the week talking about it to anyone who'll listen.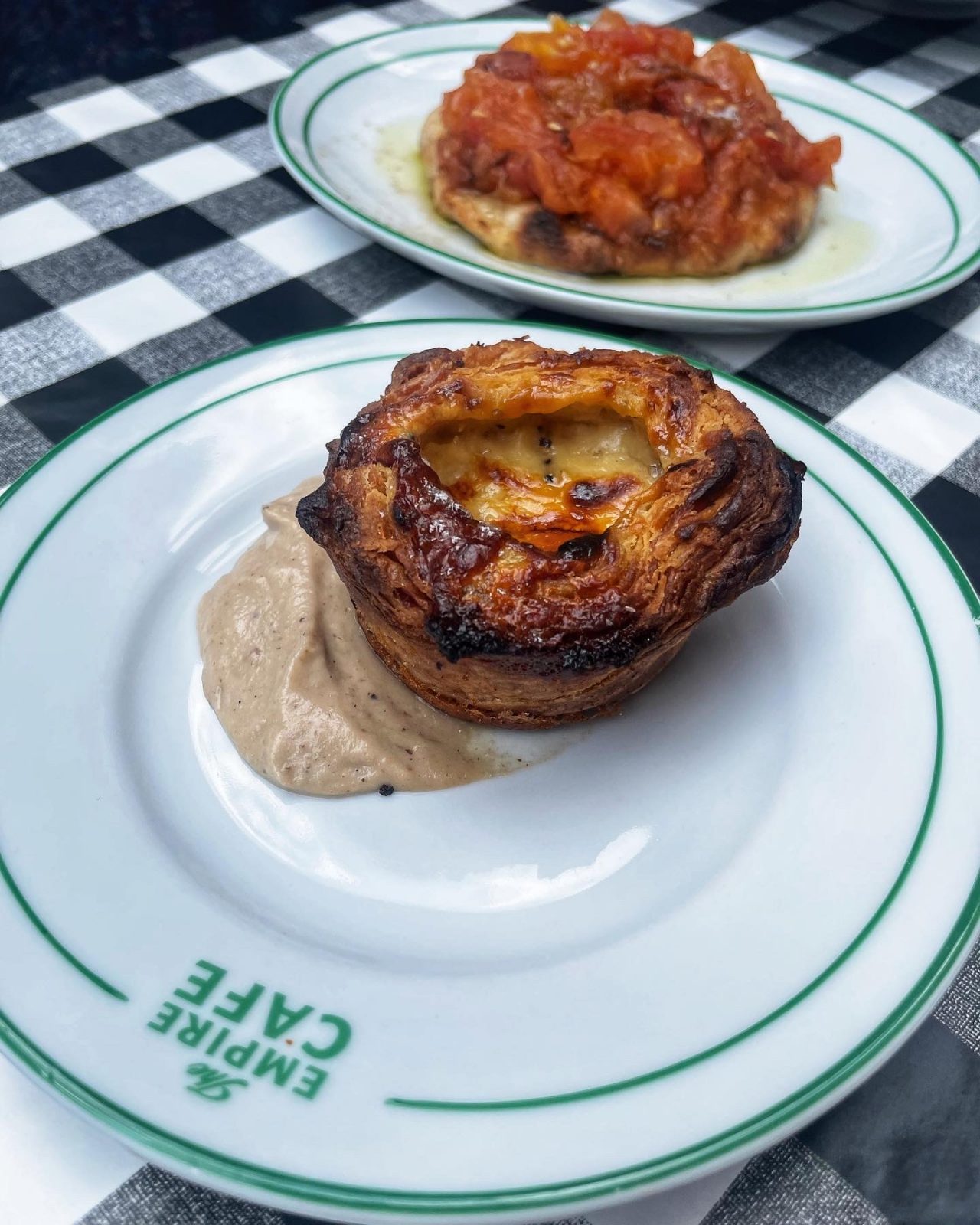 Leading us downstairs, he tells us how they were inspired by an original old staircase to convert the damp cellar below into a dining room, which at night creates a candle-lit, intimate atmosphere perfect for small groups.
On the walls, there are innumerable paintings by Egon Schiele, who. Sam explains, is an Austrian painter loved by his wife 'from her art college days.'
He tells us how many of the prints we're looking at can not be bought as such, and in fact they've all been torn from a book he bought his wife for her thirtieth birthday.
"So, the story is is that I got her this complete works book, a very expensive book, for a thirtieth birthday present years ago, and when we got this place we were trying to find Egon Schiele prints to erm put up.
"But, she couldn't find the right ones so I said look, to be fair, I know you've got this book but you never look at it, we could just cut it up. So that's what we did."
Framed in the downstairs dining room there are also some old pictures of the building dating back to the 1800s.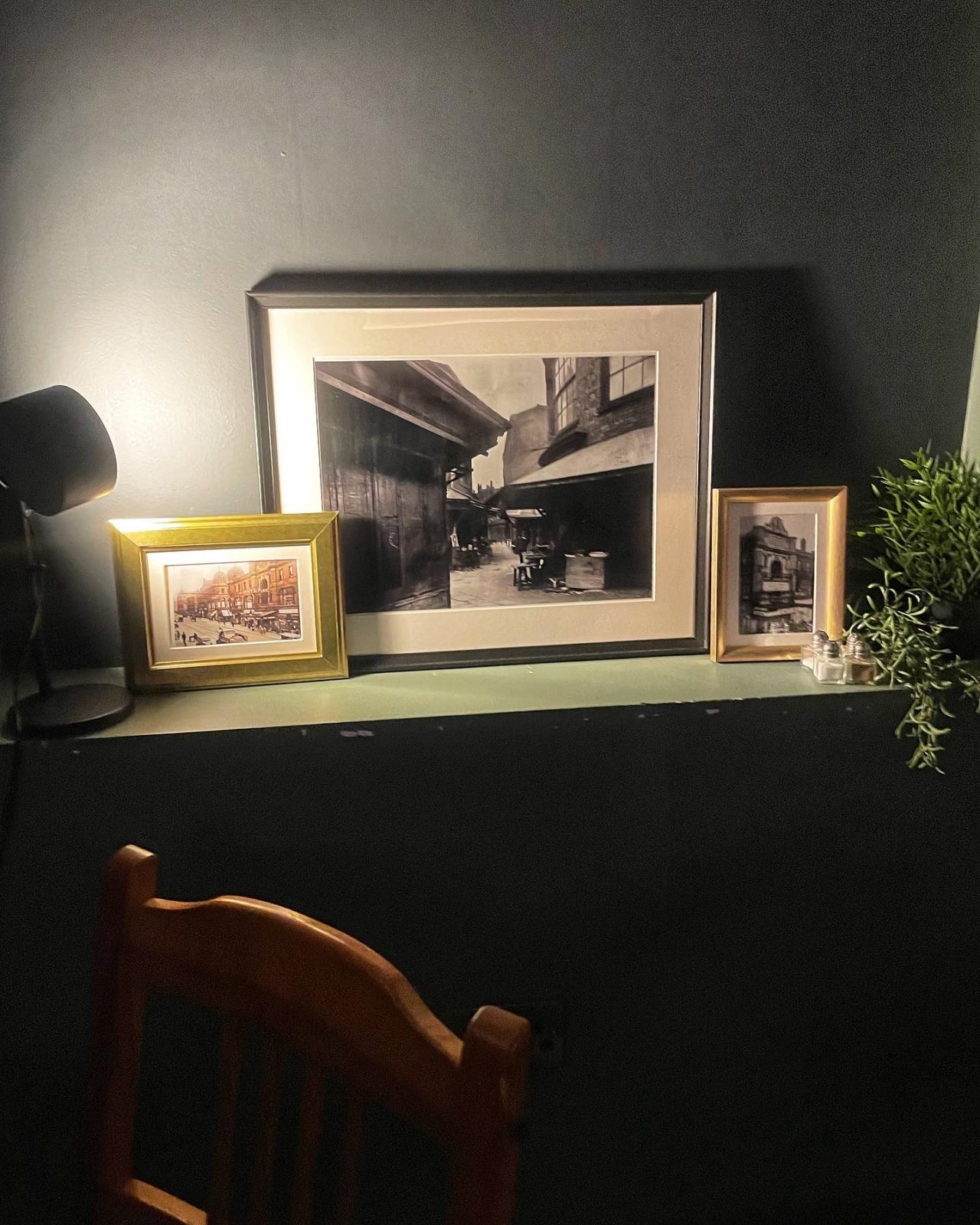 Sam turns and says: "I like to think that it kind of looked like this back in the day, it wouldn't have done, at all, but it gives that impression."
Cocktails here change regularly with the seasons, but you can also request any classic from the bartender and expect them to deliver.
As for wine, this is all low intervention and a lot of it is natural from small producers, with some only making 5 or 6,000 bottles a year.

Prior to opening on Fish Street, Sam reveals he had a gastropub in Knaresborough just outside of Harrogate but adds he has always been a part of the Leeds scene.
"We did live fire cooking [in Knaresborough] too, and I met my business partner there, we got bought out of it, they wanted to change the concept, and we got this.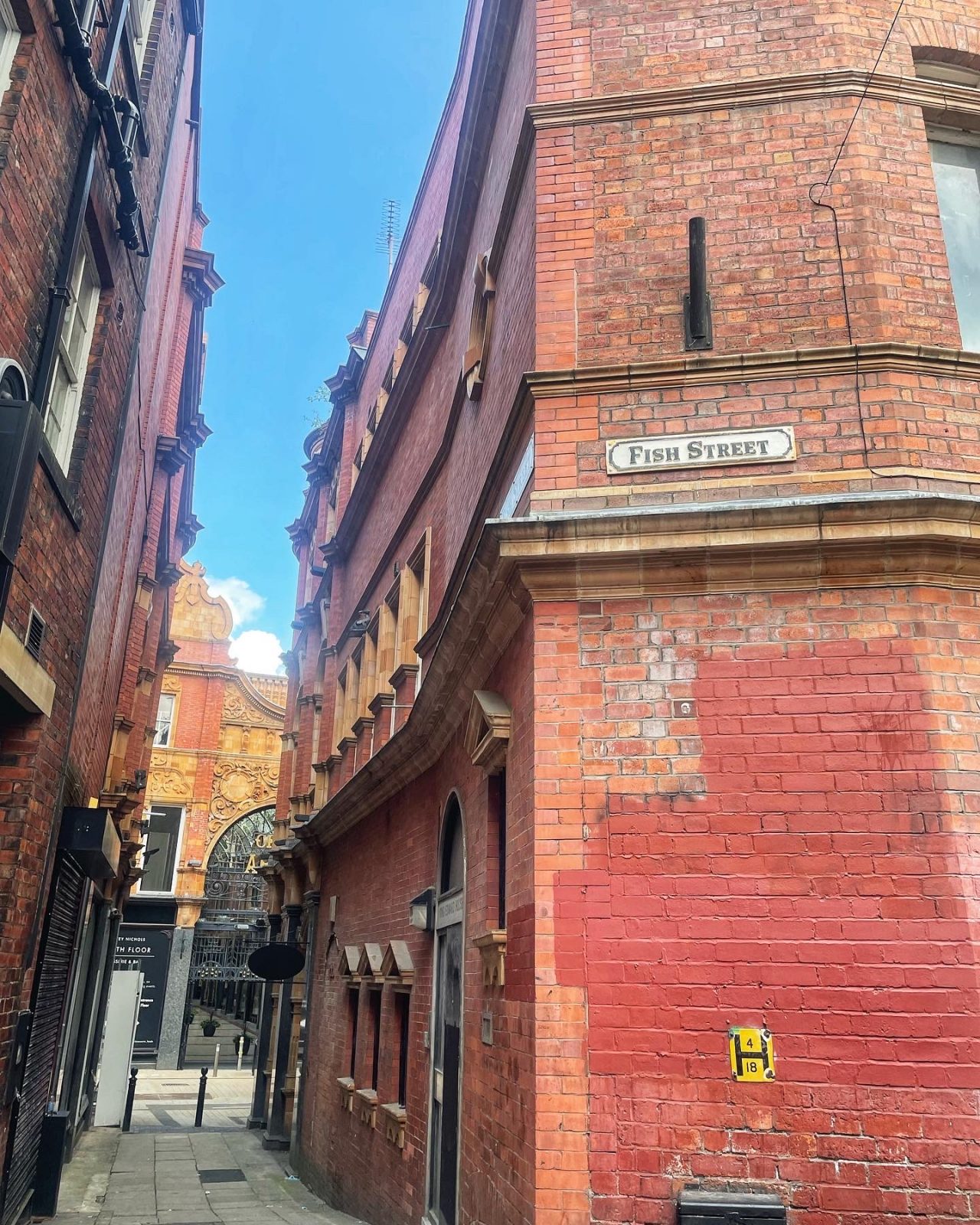 "We've always been associated with Leeds, with hospitality, I ran a catering company for years, I've worked with breweries on little restaurants and bits and pieces, you know."
Asked if he kind of knows everybody, he says: "Kind of, yeah, and it's nice to become a hospitality hang out. All these guys have got bars, restaurants, and they have their own kitchen or they're behind the bar."
It's also tiny. The Empire Cafe has room for just 25 covers inside, although they can have 'whatever they want' outside, says Sam, depending on how many tables they put out.

A real gem of a place, The Empire Cafe champions 'old-school values' but with a menu that is contemporary.
Read more: The summer-long street food festival inside a brewery in Leeds
Whether you're after a brew or a fancy cocktail, a fire-grilled breakfast butty, or a whole roast chicken from the hatch to simply enjoy on the sofa on a Saturday night, you can't go wrong at The Empire Cafe
Featured image – The Hoot Leeds