The Corn Exchange is a local landmark that celebrates the fantastic creativity and community of Leeds with over 150 years of history behind it.
Located on Call Lane, the Grade 1 listed building first opened its doors to corn traders all the way back in 1864.
A staple of Leeds architecture, it was designed by Hull-based architect Cuthbert Broderick, who is best known for designing the Leeds Town Hall amongst other iconic buildings.
Built between 1861 and 1863, the beautiful dome design was based on The Bourse de Commerce in Paris. The structure complete with large glazed panels allowed for plenty of natural light whilst avoiding direct sunlight hitting the corn and changing it's colour.
View this post on Instagram
The beautiful beamed ceiling is still something to be marvelled at today and confirms the Corn Exchange's rightful place in the iconic Leeds skyline.
Throughout the late 19th century, business flourished for the Corn Exchange. As more grain was being imported from overseas, the exchange's success set a precedent and encouraged more grain-related business to pop up in the surrounding areas.
By 1903 the space doubled as a leather trader as well as hosting regular animal shows, but the main purpose remained as selling corn.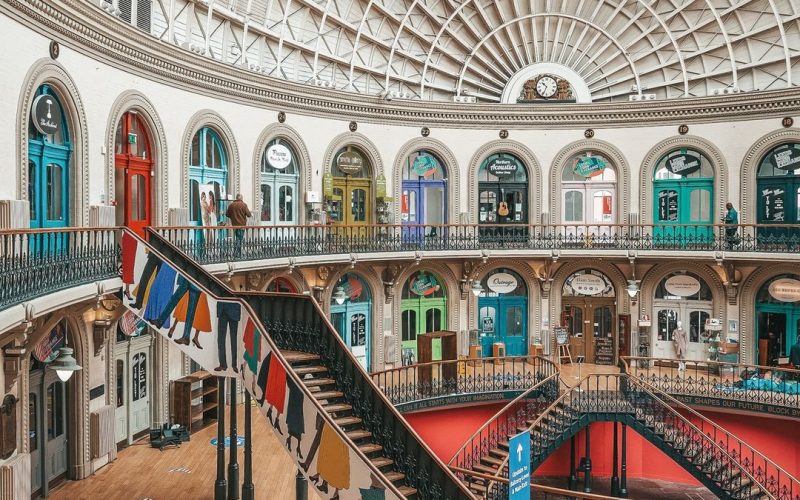 Due to a major decline in agriculture, the number of traders dramatically dropped in the 1960s and by the 1980s there were only a few traders left in the offices.
Corn trading sadly ceased in 1994 after 131 years and a lease was transferred to Arcadia to transform the exchange into a modern shopping experience.
After a number of renovations, the exchange is now a hub for independent retailers and eateries and is a Leeds landmark celebrating the fantastic community and creatives in and around the city.
The surrounding area is now filled with wide pavements, relaxing green spaces and cycle lanes as part of the Connecting Leeds Scheme. It's a beautiful corner of Leeds which showcases the building's rich history and it's impact on the city we know and love today.
Read more: Your ultimate guide to Leeds' Corn Exchange
Feature image: Leeds City Council