Pigs in Blankets really got a makeover this year in Leeds.
Whether you like one or twenty pigs in blankets on your Christmas dinner, this year, you certainly didn't have to wait until the 25th of December to get your hands on a chipolata or two.
This year, we've seen pigs in blankets thrown on to just about every menu in Leeds: but unless you're having a pre-Christmas roast dinner, very few of them are being served with their traditional turkey and gravy companions.
We've rounded up the best and most unusual pigs in blankets dishes in Leeds so you have plenty more options to fill up before Christmas day.
Footlong 'Festive Super Pig' Baguette
First up is the most traditional of our choices. If you love pigs in blankets, this supersized version from Toby's Carvery ought to have your mouth watering. The Festive Super Pig is a giant pig in a blanket stuffed inside a warm ciabatta roll with cranberry sauce, stuffing and served with a choice of roast potatoes or house salad.
Of course, if you can't bare the thought of letting your pigs in blankets take front and centre of your Christmas dinner roast, you can always just add them to your usual Toby Carvery order instead at the Oulton, Morley or Chapel Allerton restaurants.
Find out more here.
Pigs in Blankets 'Xmas Rampage' Pizza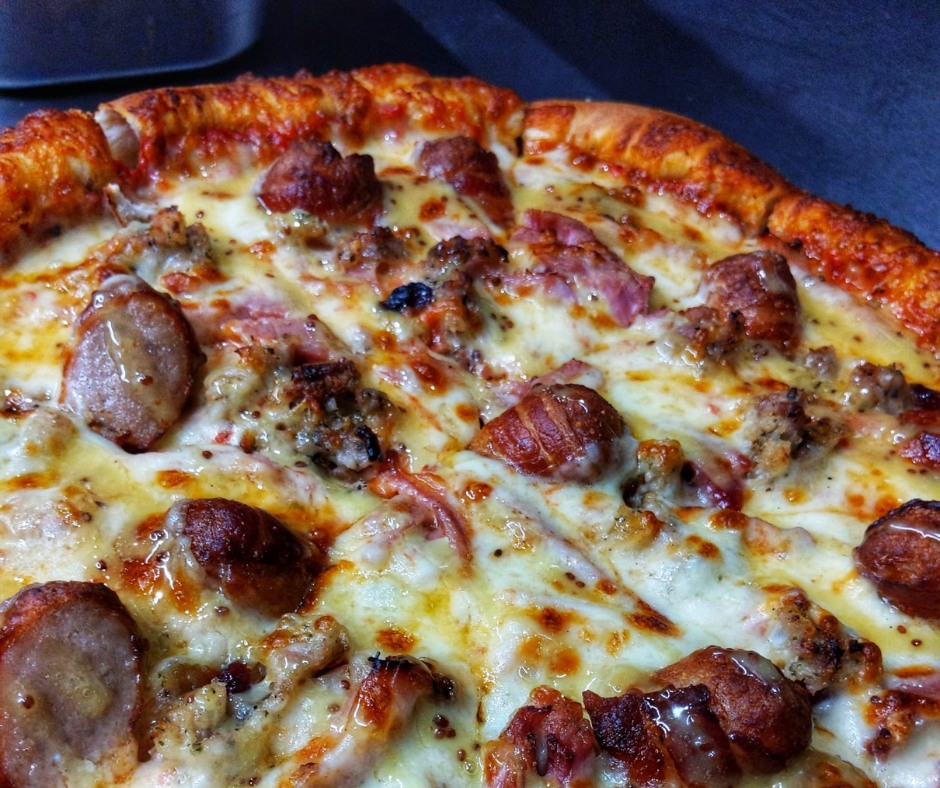 The Xmas Rampage from Next Level in Halifax is the meaty treat you've been waiting for this Christmas. Think pulled brisket, honey roasted ham chunks, pigs in blankets and stuffing all on a delicious gravy base- and that's just one of the options available.
The arcade bar in Dean Clough, Halifax where you can play everything from pinball to Mario Kart, has longest list of festive dishes we've ever seen. Their full Christmas menu includes five different types of Christmas pizzas, with toppings like brie, stuffing and turkey, served on a gravy base.
Find out more here.
Pigs in Blankets Loaded Fries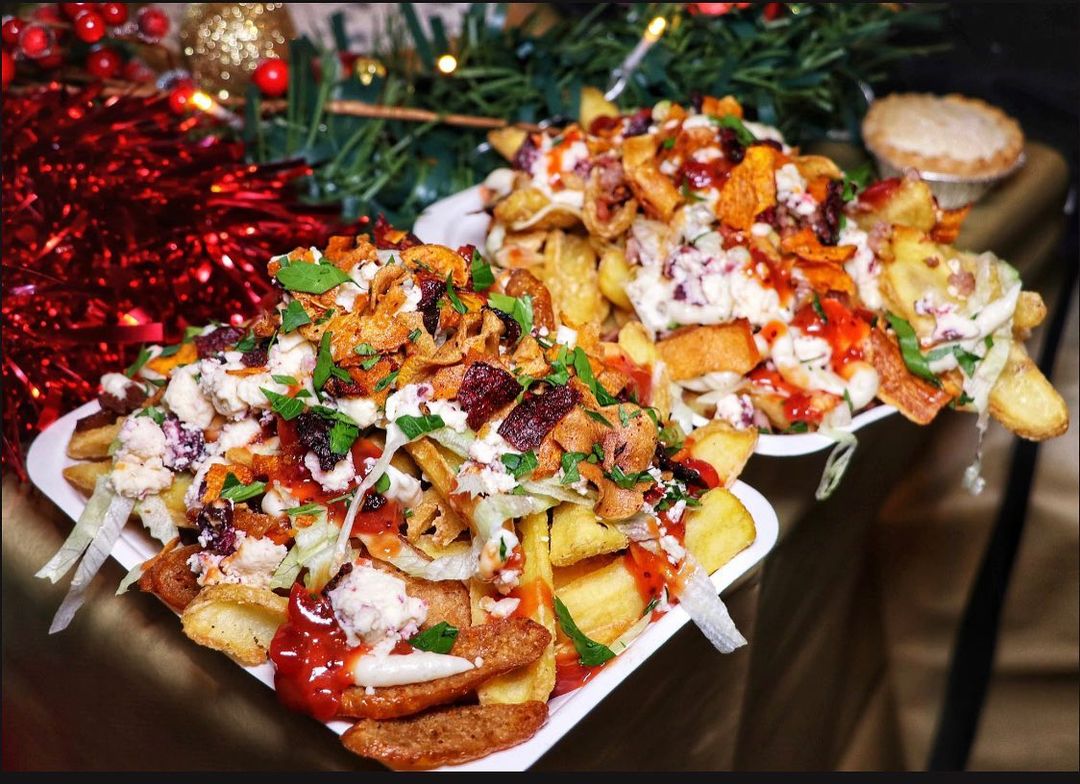 Pigs in Blankets have been cut up into tiny squares to create Pigs in Blankets Rain: a signature crispy ingredient on the Slap and Pickle Christmas menu this year, featuring predominantly on their vegan loaded fries.
There's a super scoop of fries in every dish, topped with vegan cranberry Wensleydale and Pigs in Blankets rain, made from This Isn't Bacon and This Isn't Cocktail Sausages. The fries are then topped with vegan paxo mayo, cranberry mostarda, root veg crisps and fresh parsley.
Find out more here.
Pigs in Blankets Hanging Kebabs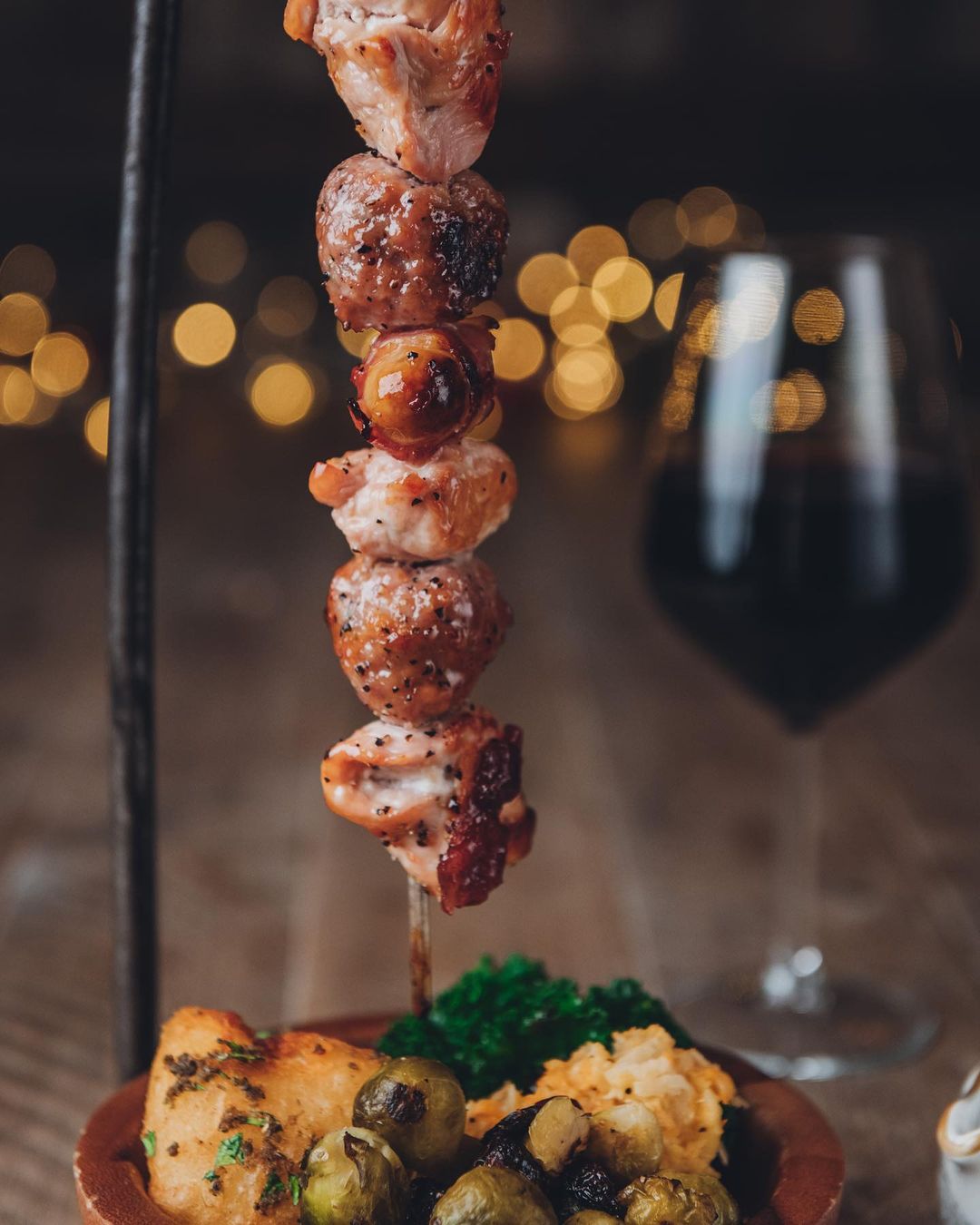 The hanging kebab at The Botanist features beloved pigs in blankets, as well as stuffing and turkey on a skewer with as selection of roast potatoes: it really doesn't get more festive than that. We're talking turkey koftas, pigs in blankets and baked Camembert all on a huge sharing platter. Perfect for the season of giving.
Canon Hall Farm have also offered a similar kebab on the menu of their family-run restaurant. The kebab consists of 'bacon wrapped chipolata' (so pigs in blankets), as well as turkey breast and a ball of sage and onion stuffing. Served with a yorkshire pudding, roast potatoes and gravy, this meal combines all the best flavours of winter into one.
Find out more about The Botanist's hanging kebab here and Canon Hall Farm's menu here.
Pigs in Blankets Bao Buns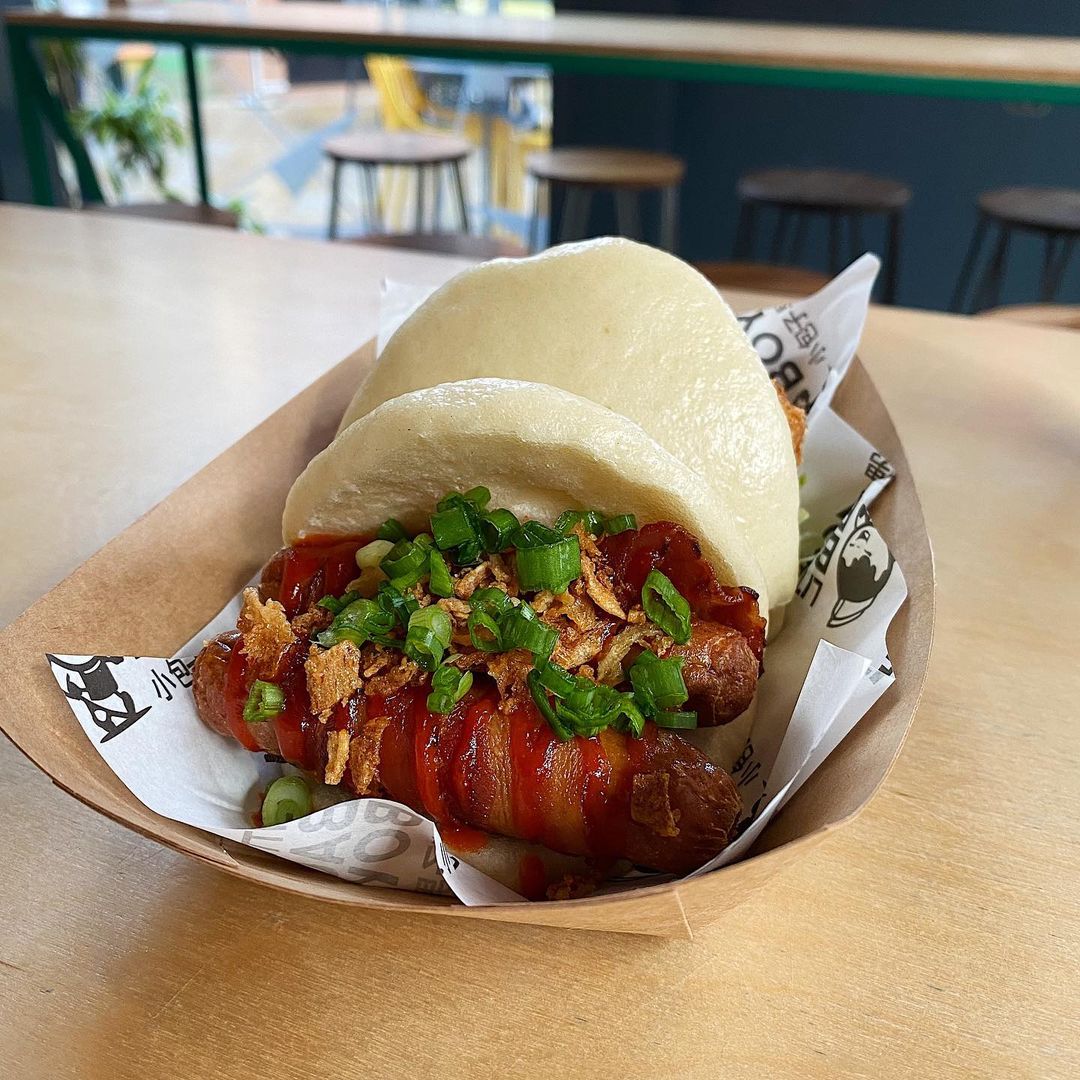 Little Bao Boys are really treating us to a three course Christmas dinner this year, but of course, it wouldn't be from the resident chefs if the entire menu wasn't based around their locally renowned bao bun.
The Pigs in Blanket Bao is a combination of your usual, fluffy bao bun encasing two pigs in blankets and topped with Sriracha sauce and tiny spring onion pieces. If you've got room for dessert, there's a mince pie bao bun, deep fried with cinnamon sugar also on the menu.
Find out more here.
Pigs in Blankets sushi served on a snowboard
You can't doubt the creativity on this one. Thor's Tipi really do know how to bring Christmas to life and this year they've brought in a Yuzu Street Food menu to bring guests flavours from around the world, all under one cosy tipi.
Pigs in blankets are by far the most outlandish part of this menu, but it's this ingenious dish that places the Yuzu Snowboard Sharing Platter well into its own league of unique Christmas dishes. Think beef brisket and Korean fried chicken bao buns, along with miso caramel wings, loaded duck fries, mini chicken katsu and more.
Find out more here.
Pigs in Blankets buffet with three hours of booze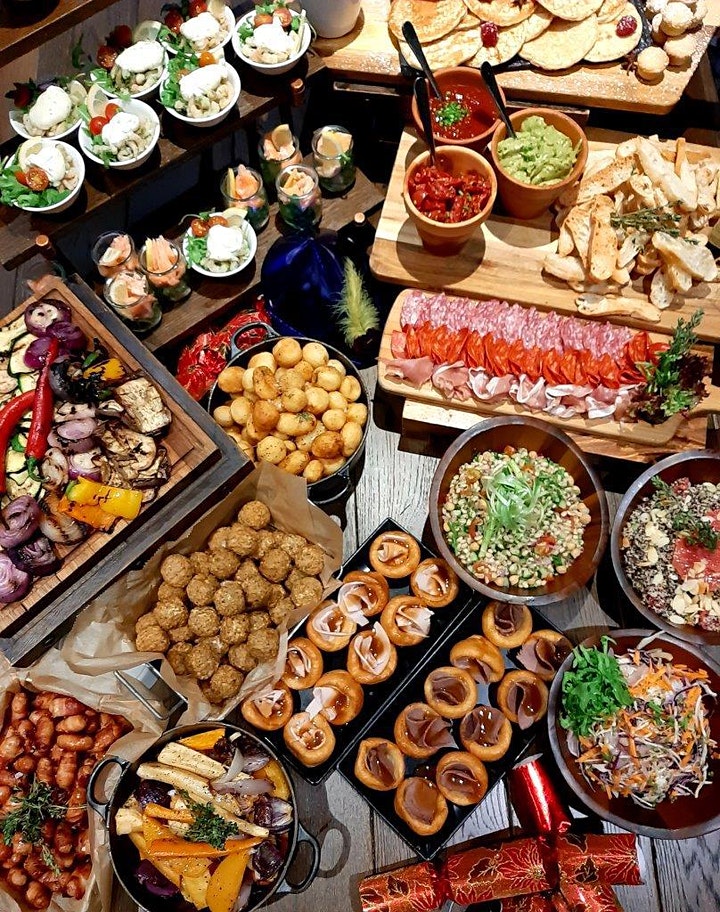 Soap Factory have transformed their popular bar space over the festive period to create a winter wonderland where nothing is off limits, not pigs in blankets nor Prosecco. The bar have doubled the standard 90 minutes of booze to offer three hours of free-flowing Prosecco, bottled beer and a range of flavoured gins, as well as putting on a festive spread.
Think pigs in blankets, duck fat roasted potatoes and crispy roasted vegetables stacked as high as the eye can see with mini Yorkshire puddings stuffed with beef and turkey, all available the entirety of the three hour experience.
Find out more here.
Feature Image- Brian Fagan