Whenever we ask where the people of Leeds are heading on their lunch break – you can bet that Kirkgate Market is a strong contender.
With almost 200 different stalls and a huge array of street food vendors on offer here, it's far more than a piece of Leeds heritage, but a welcoming place for the whole city to call home whenever they need.
Fat Annie's has been part of the furniture at Kirkgate Market since 2016, slinging out hot dogs and burgers, as well as an ever-evolving menu full of shakes, loaded fries, meal deals and monthly specials.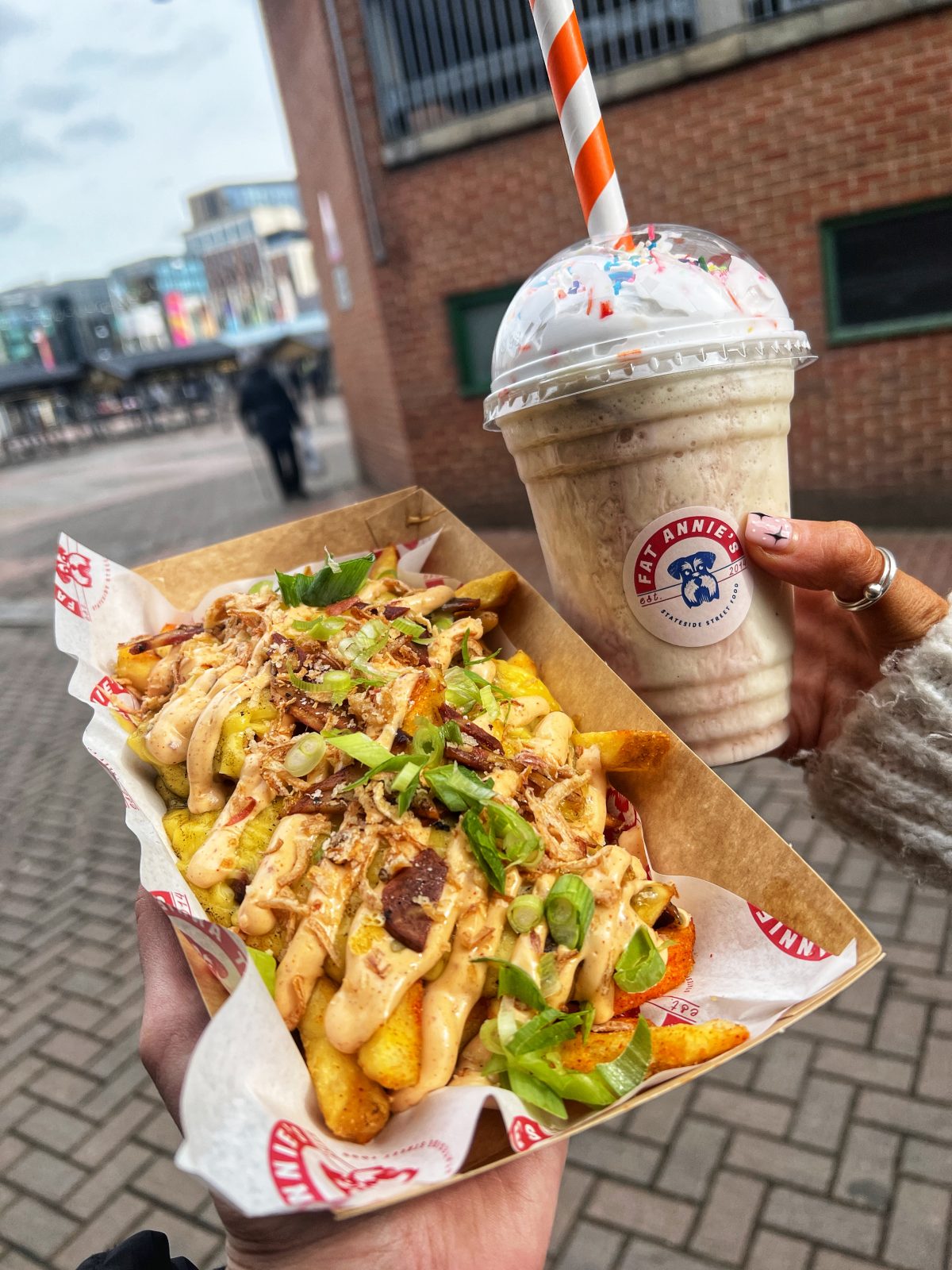 The company originally sold meat but as owner James started to learn more about the industry 'the less he liked' and eventually took the plunge to go meat free and completely vegan in 2022.
Despite the change, Fat Annie's remains one of the most popular hot dog joints in the city with meat eaters and plant based foodies alike (and we can agree with the reviews that every meal is fresh and packed with flavour) – and has just hit its best year to date.
Now the opportunity for someone else to take over the reigns has arisen, as James plans to bow out for personal reasons.
Announcing the news on Instagram, the caption reads:
"Hi! It's James the owner here, I've got some news that could potentially be an exciting opportunity for someone out there.  
"After nearly 10 years running Fat Annie's I've decided the  time has come to step aside from the business, so I'm putting it up for sale.  Getting married 2 years ago and balancing work in Leeds and family life in Manchester as well as having had a health scare earlier this year (which thankfully I'm now fully recovered from) I've decided I want to spend more time on the other side of the Pennines at home with my family in Manchester.  
"Fat Annie's is a thriving business, especially since our move to meat free nearly three years ago, recording our best ever year last year and this year on course for being even better.  It would be great for some fresh energy and ideas to come into the business to take it to the next phase in its evolution.  
"I'm selling the unit at Kirkgate Market with all equipment, website, branding, socials as well as the hot dog cart and a storage unit full of equipment ready for doing events, with some already booked in. With a great team, strong social media and an ever growing reputation amongst the vegan community im sure the future will be bright for Fat Annies in the right hands.
"If you or anyone you know is passionate about plant based food and would like to own this little slice of the street food history please get in touch on email at james@fatannies.co.uk.
"For now, nothing will be changing, I'll still be around and out and about with the hot dog cart and we'll continue to offer some of the best plant based food around. As well as a busy summer at the market, events and weddings to cater for, plans for our autumn specials are already afoot and I'm committed to keep Fat Annie's running and growing until the right person comes along to take it forward longer term. I'm in no rush to leave, in fact I know I'm going to be sad when the time does finally come to say bye, but for now I'll keep on enjoying everyday with our great team and lovely customers. 
"Thank you, as ever, to everyone that supports us, it really does mean so much to us as a small business. James x"
Read More:
We hope to see some new owners at the helm and carrying on the wonderful taste of Fat Annie's soon.
Feature Image – The Hoot Leeds