Your complete guide to Sunday roast dinners in Leeds.
Over the past year, we've been sharing our favourite feature 'Sunday Roasts Shoutouts' on Instagram, where (you guessed it) we give you the low-down on our favourite roasts of the week.
At present, we're still managing to find new and delicious options every single week. But to save you scrolling through thousands of posts from the last year or so, you can find all of our shoutouts to date right here, plus a few unseen on our socials, shared from different members of our team.
Keep reading to find out which Sunday roast will be your new favourite weekend treat.
Central Leeds
For those in the city centre that want a roast within walking distance.
Dijon Boys
Rolands on select dates and Number 8 Cocktails, Meanwood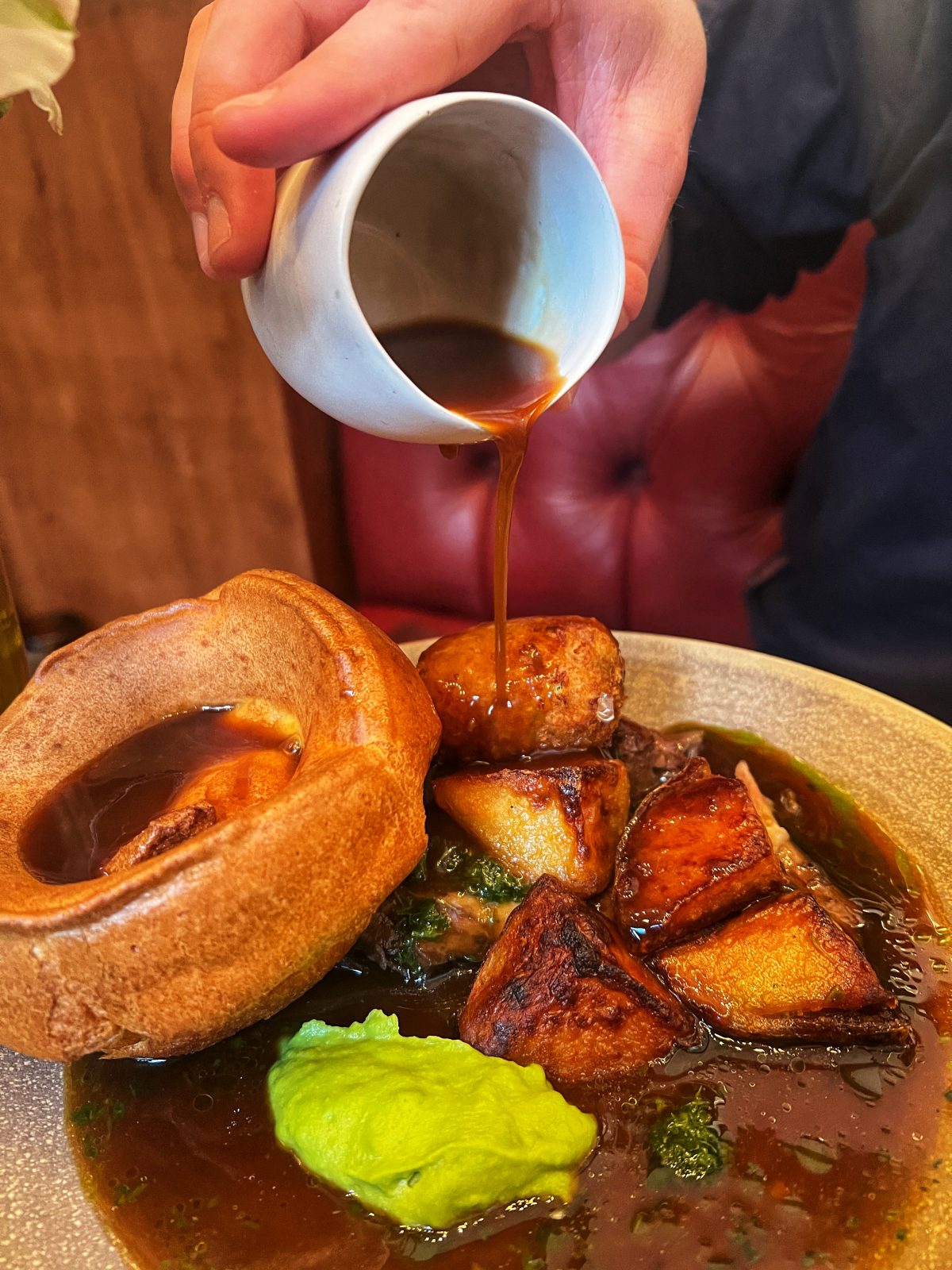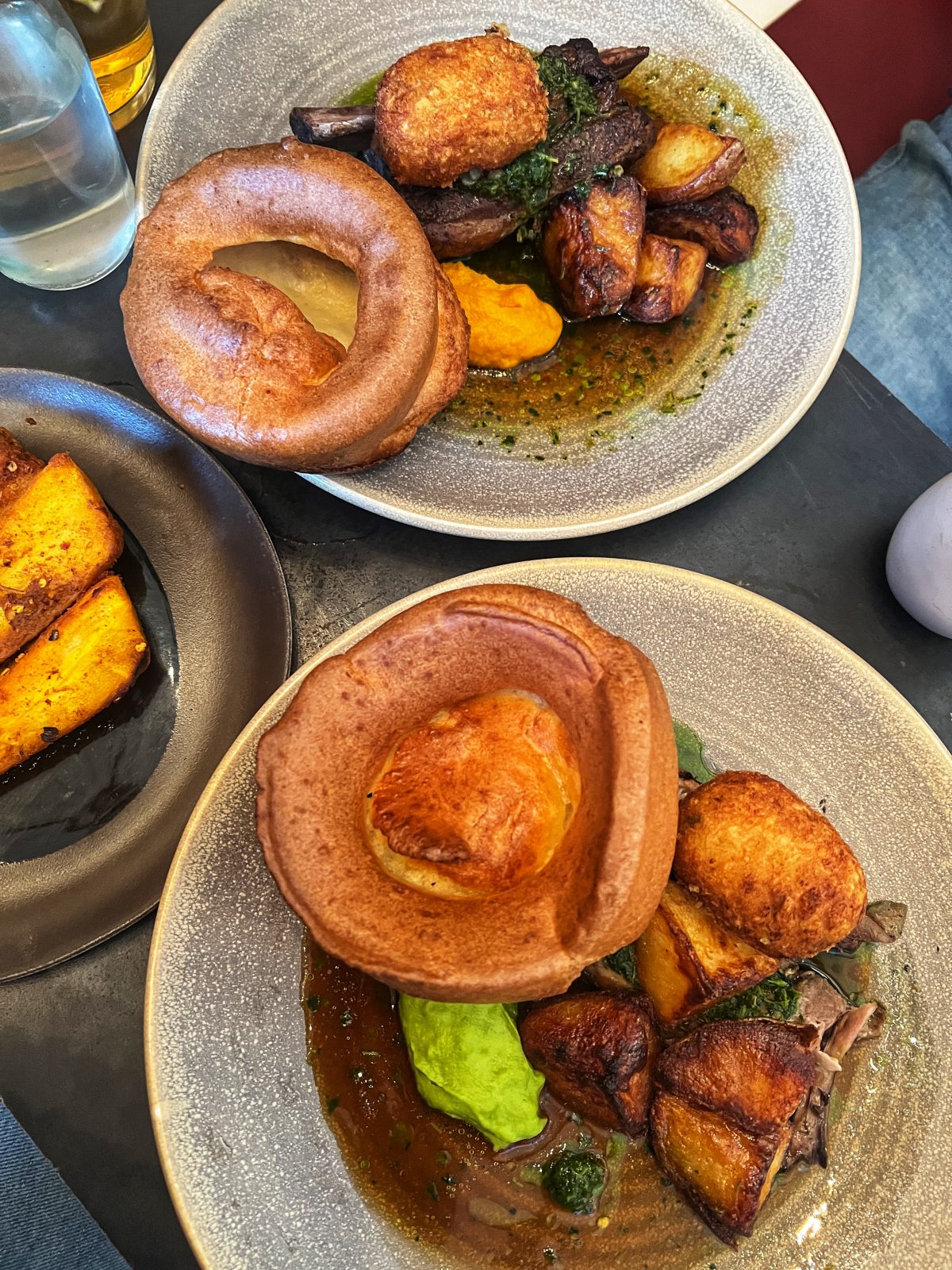 Dijon Boys can be found at Number 8 Cocktails or at a series of summer pop-ups in popular bars like Roland's on Call Lane across the summer months too. But regardless of where you choose to dine, you're in for a real treat.
On the menu there's 12 hour braised short rib of beef or lamb shoulder and a stuffed pork or butternut squash with carrot, pea or parsnip puree, roasties, a huge Yorkshire pud and red wine jus topped with a bread sauce croquette.
The sides are optional, but encouraged, and highlight some favourites from Dijon Boys usual small plates menu like the soy and marmalade glazed carrots, as well as unusual but exciting combinations like chilli and turmeric parsnips, cauliflower and stilton gratin and seasonal veg with soft smoked garlic butter. And for those wanting dessert, there's sticky toffee madeleine with miso caramel and ice cream to top it all off.
Cheesy Living Co. Sunday Fondue
Inside Leeds Corn Exchange
we cannot recommend The Cheesy Living Co. enough for many reasons, but this Sunday roast is next level.
⁠
Expect a huge pot of gooey Swiss cheese with all your fave roast dinner staples like rosemary potatoes dusted in paprika, half-roasted garlic and of course, Yorkshire puds!⁠
⁠
You can build your roast selection as you see fit to make up the ultimate roast dinner, adding a board of Lishman's cold-cut roast ham and beef; honey-roasted carrots and parsnips; stuffing balls or even a DIY cauliflower cheese offering to dip into the Alpine-style fondue pot- and it's delicious.
Crowd of Favours
Harper Street, Leeds City Centre
Scnitfaced run the menu at Crowd of Favours and their entire menu comes highly recommended. They have two meats here: beef or chicken and both are just as melt-in-your-mouth and come with giant Yorkshire puds, proper thick gravy and assorted veggies. We highly recommend the stuffing balls too- if you have room that is.
Find out more here.
Blackhouse
East Parade, Leeds city centre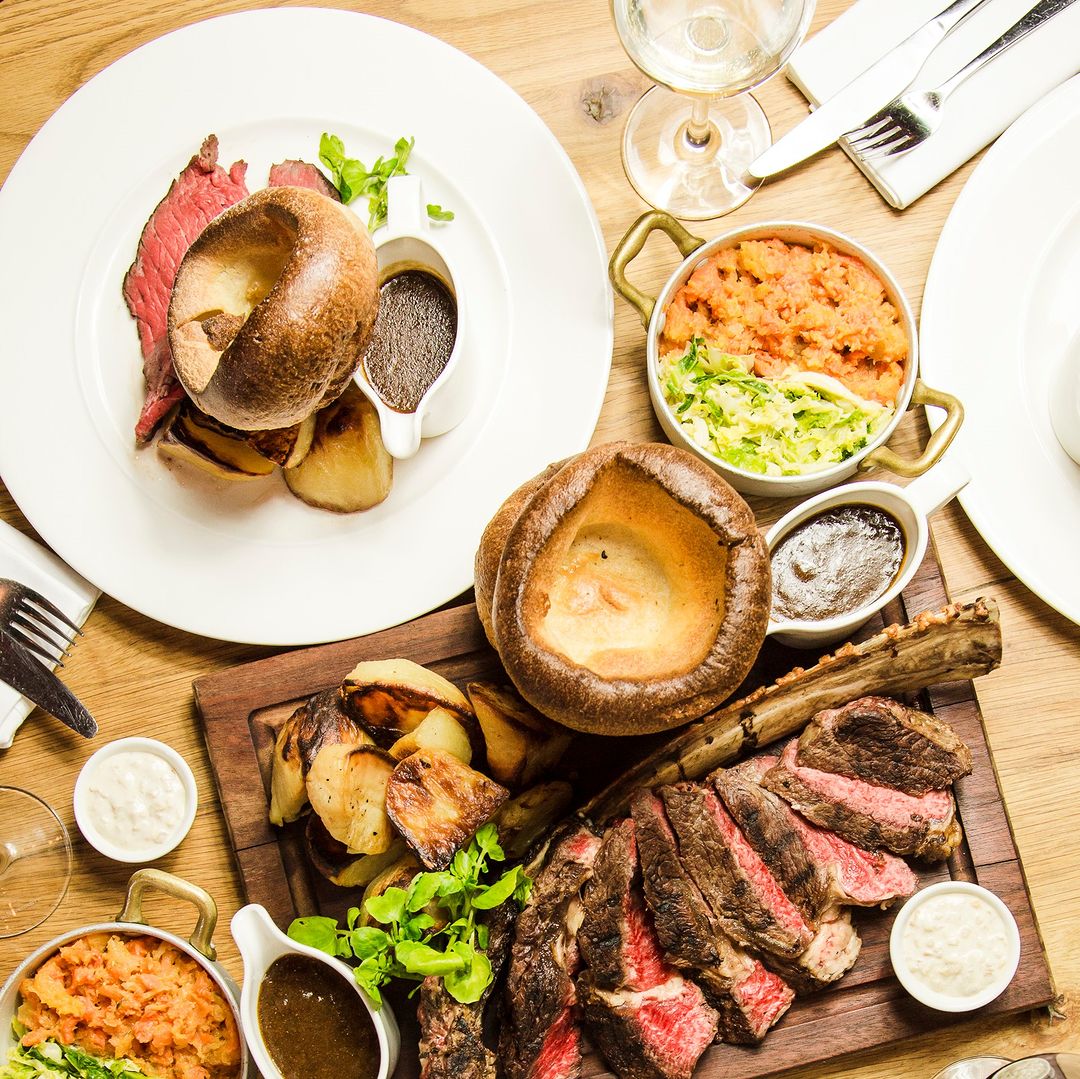 Taking the 11th spot of the year for Rate Good Roasts, Blackhouse has the three course dinner that gives you a chance to find out exactly why this place has such a reputation for its meats.
Choose from lemon and black pepper half-roasted chicken; sage and garlic rubbed pork loin or roast beef, served pink or well, with steamed greens, beef gravy, rosemary carrots, roasties Cumberland stuffing and, of course, a Yorkshire pud. Those looking for a meat-free selection will be delighted to spot the spiced squash wellington on the menu too, with roasted tiny totes, spinach and porcini gravy.
Find out more here.
Neighbourhood Bottomless Roast
Greek Street, Leeds city centre
Every Sunday for a full 90 minutes enjoy bottomless Prosecco, gin, pink gin, vodka, rum, seasonal cocktails and beer with your roast. Now that's what we call a Sunday Funday @nbhdrestaurants .
Choose from Roast Topside Beef, Roast Chicken Breast or Zucchini & Cashew Bake with roast potatoes, mash potatoes, a huge Yorkshire pudding, parsnips, carrots, cabbage and the best part – bottomless gravy.
Find out more here.
Midnight Bell
Water Lane, Holbeck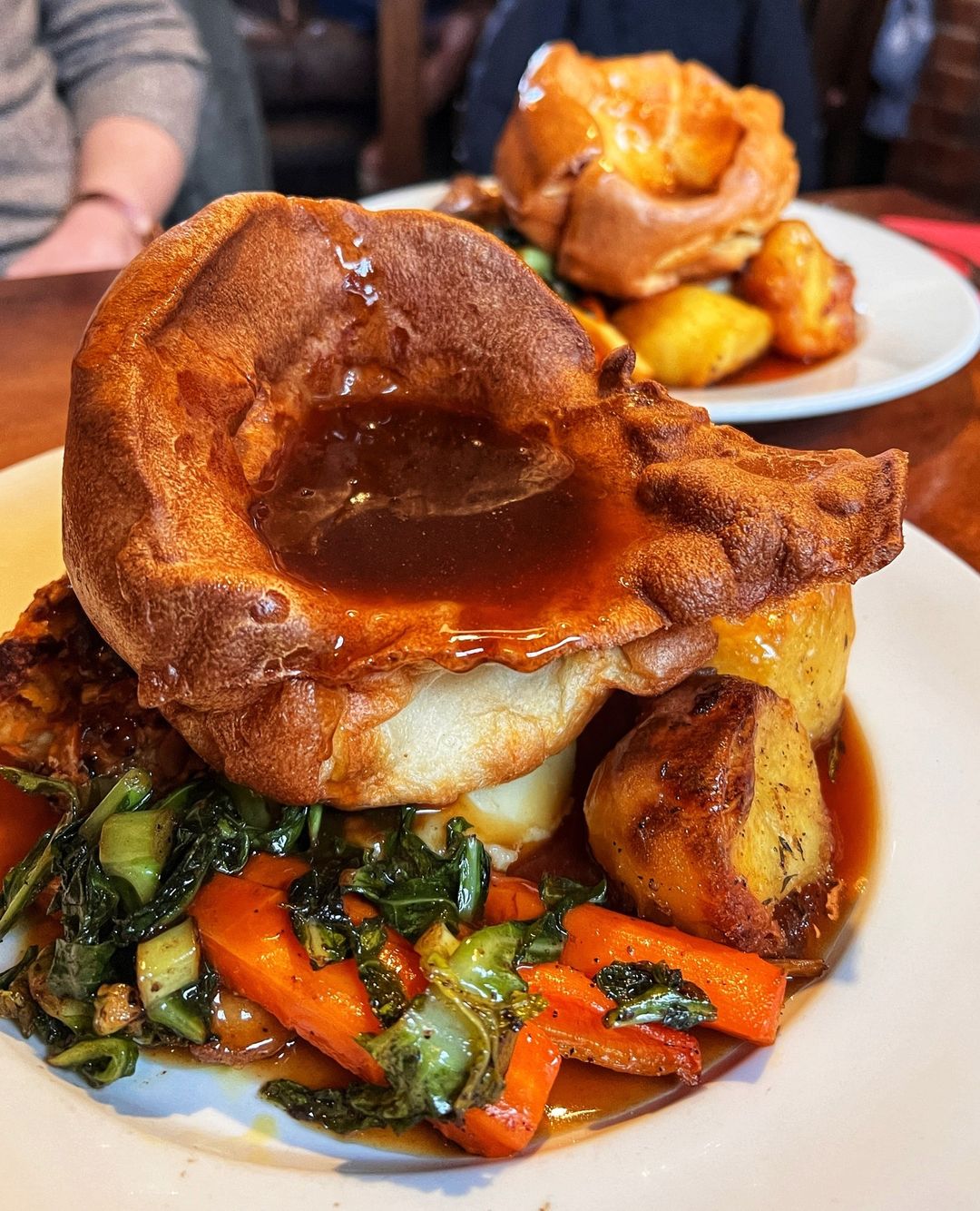 Rhe restaurant has been known to serve up a Lamb rump on special occasions, along with roast beef, belly pork and even plenty of vegetarian and vegan options too- but every week the options are just what you need for your weekend meat and carb fix.
Also, plates come with all trimmings and they're an excellent hangover cure (just incase you're a little delicate today).
Find out more here.
Gusto
SUNDAY ROAST SHARER- the best meal of the week now comes as a huge sharing portion with everything that roast dinner dreams are made of, and plenty more! 🤤⁠
⁠
The new Sunday roast sharing platter from @gustorestaurants comes with a selection of generous portions of three (yes, three) meats, including slices of perfectly-cooked beef sirloin, roasted chicken, strips of juicy porcetta-style pork belly with all the crispy bits and crackling, plus a skillet of three meat ragù shepherd's pie with the most delicious mash potato topping- and that's just the meaty helpings!
Lamb and Flag
Church Row, Leeds City Centre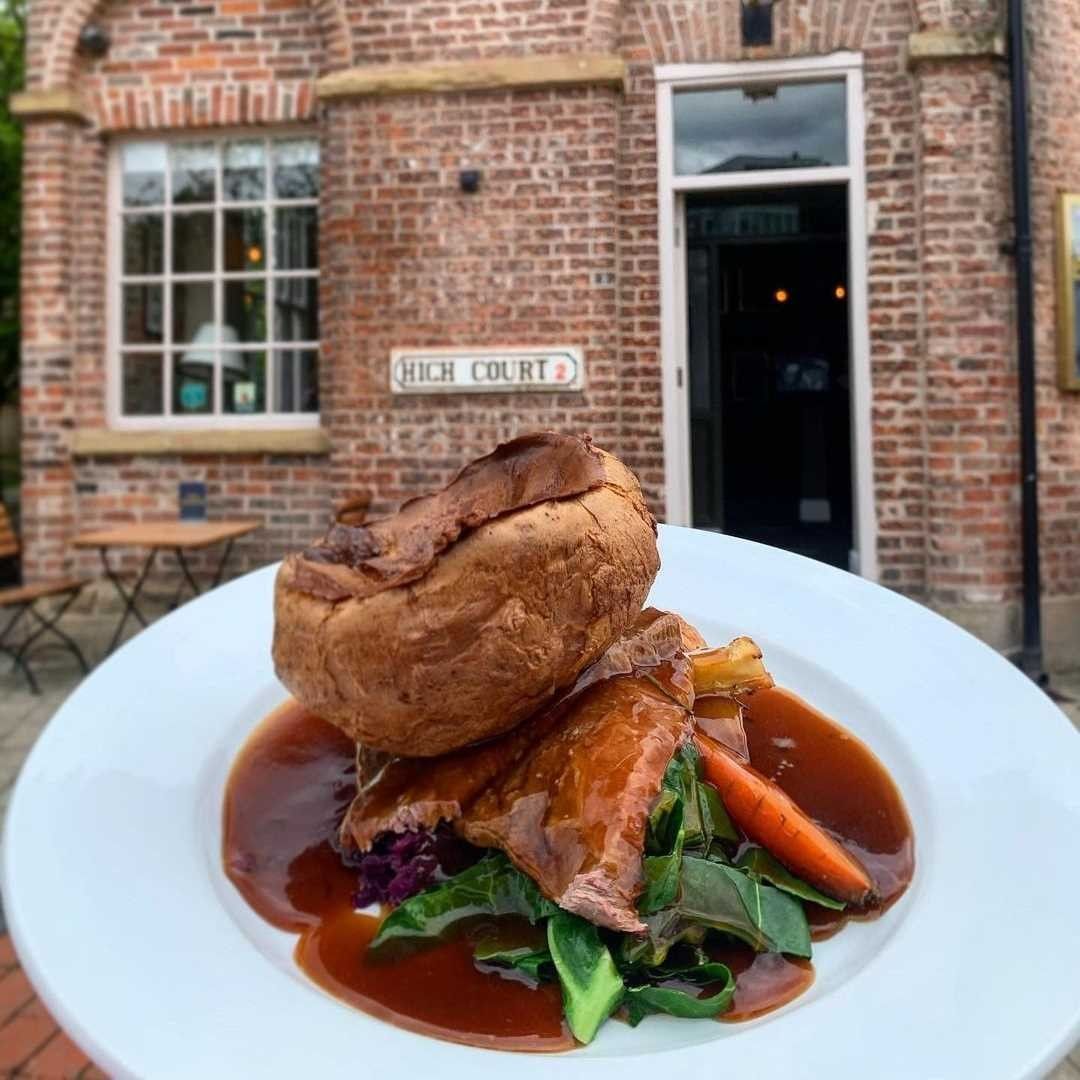 Lamb and Flag has to be up there with one of the best Sunday Roast dinners in Leeds. You can choose from beef, chicken, pork, lamb or a vegan nut roast… would it be greedy to have them all? And just look at the size of those Yorkshire puddings, says it all.
Find out more here.
Wapentake
Kirkgate, Leeds City Centre
This Sunday roast dinner comes as a burger- and it's available every single day of the week. Chicken or beef burger with bacon and cheese sandwiched between two Yorkshire puds and covered in gravy – absolutely unreal. And there's a vegan option!
Find out more here.
Shear's Yard
Wharf Street, Leeds City Centre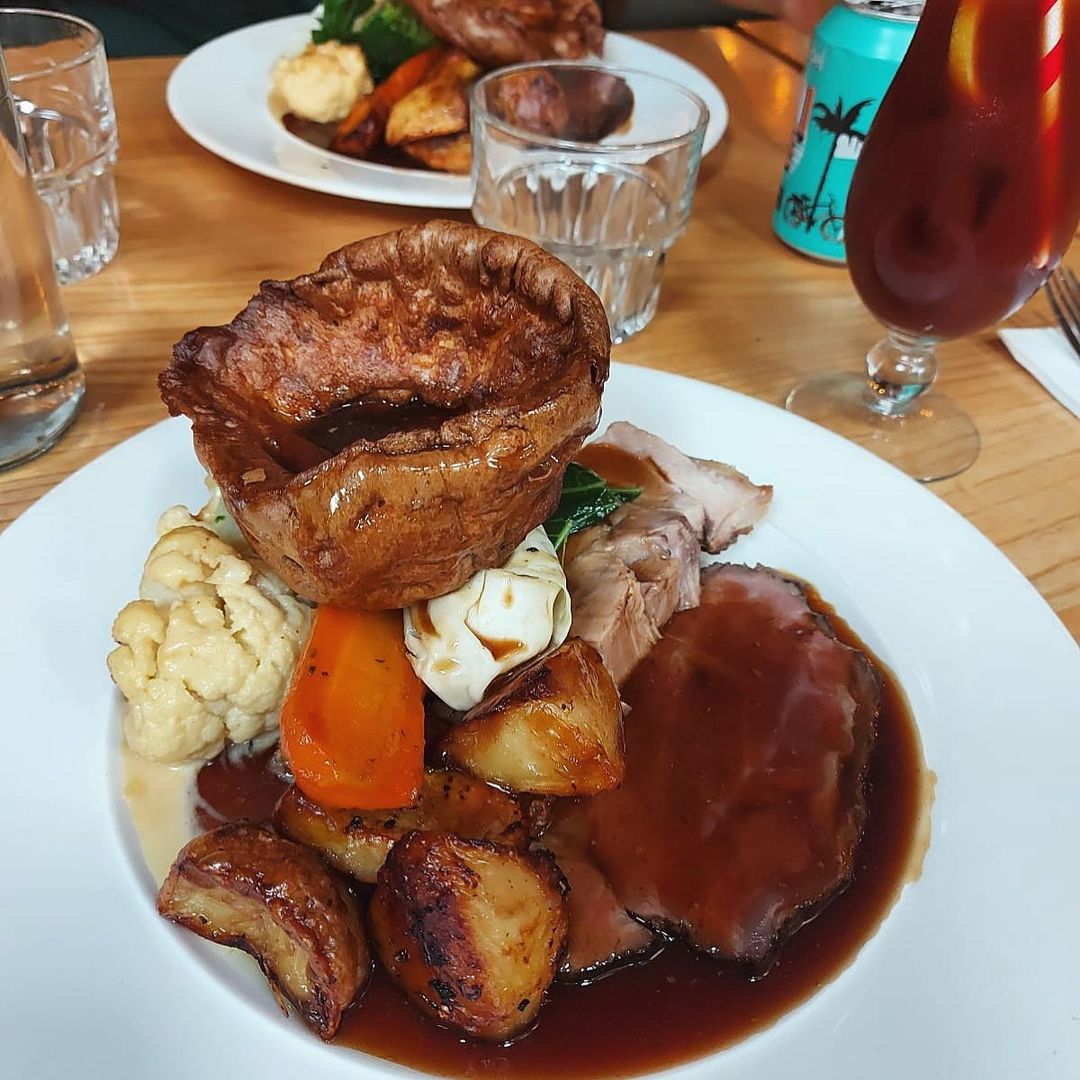 Offering a good mix of veggie, fish and meat dishes, Shear's Yard has one of the best-looking Sunday roast menus in town. Think truffled leek and potato wellington, tikka marinated cauliflower, or overnight-braised shoulder of pork, and we think you get the idea.
The restaurant has only got a sample menu listed, but trust that you can get a solid roast with all the trimmings or a more adventurous main – with plenty of good options for all dietary requirements.
Find out more here.
White Swan
Near City Varieties, Leeds City Centre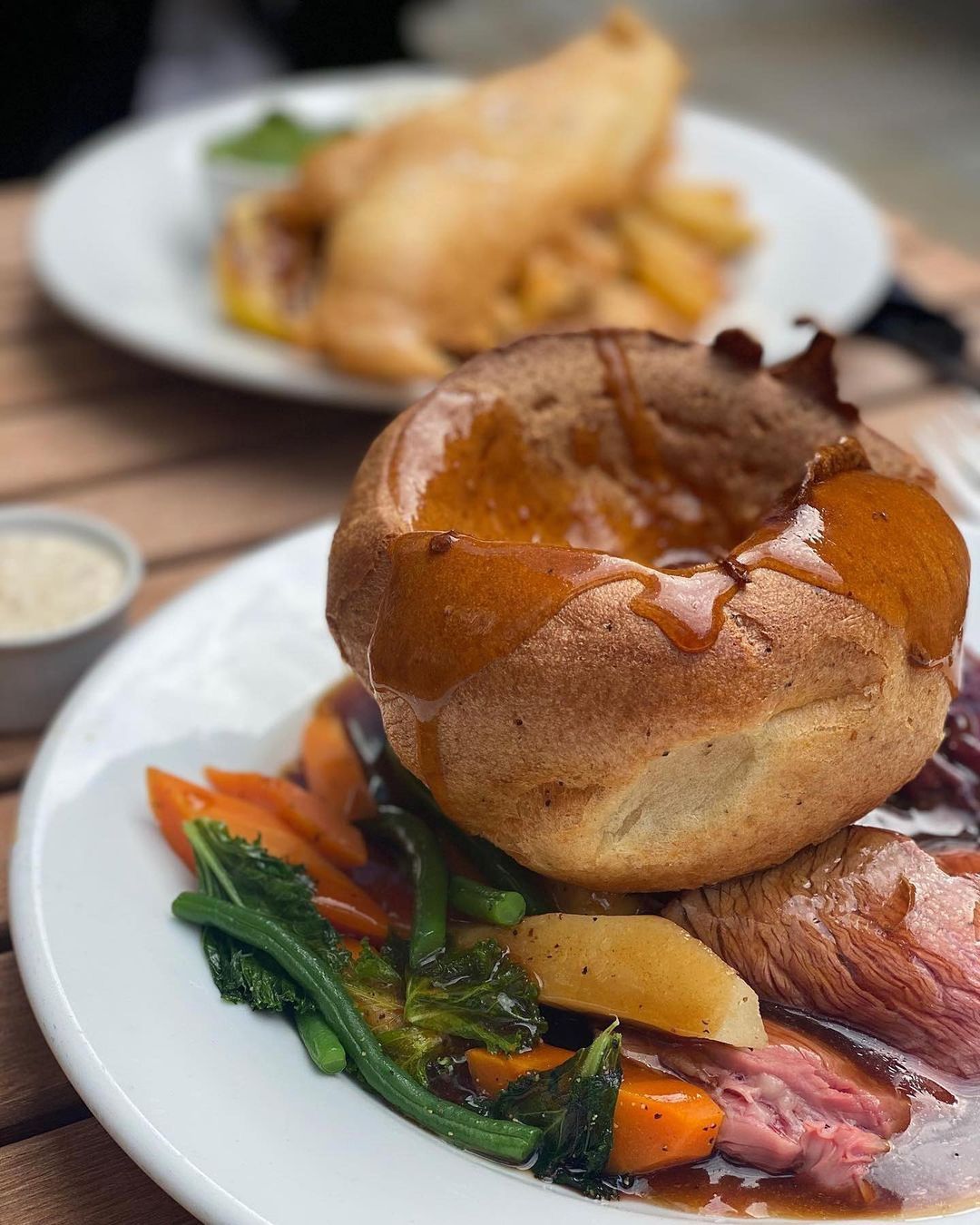 All of their meats are locally supplied by Yorkshire Dales Meat Company.
You can choose from beef, pork, chicken or a veggie nut roast. All roasts are served with roast potatoes, braised spiced red cabbage, mashed potato, seasonal vegetables, Yorkshire pudding and red wine gravy.
Find out more here.
Whitelock's Ale House
Turks Head Yard, Leeds City Centre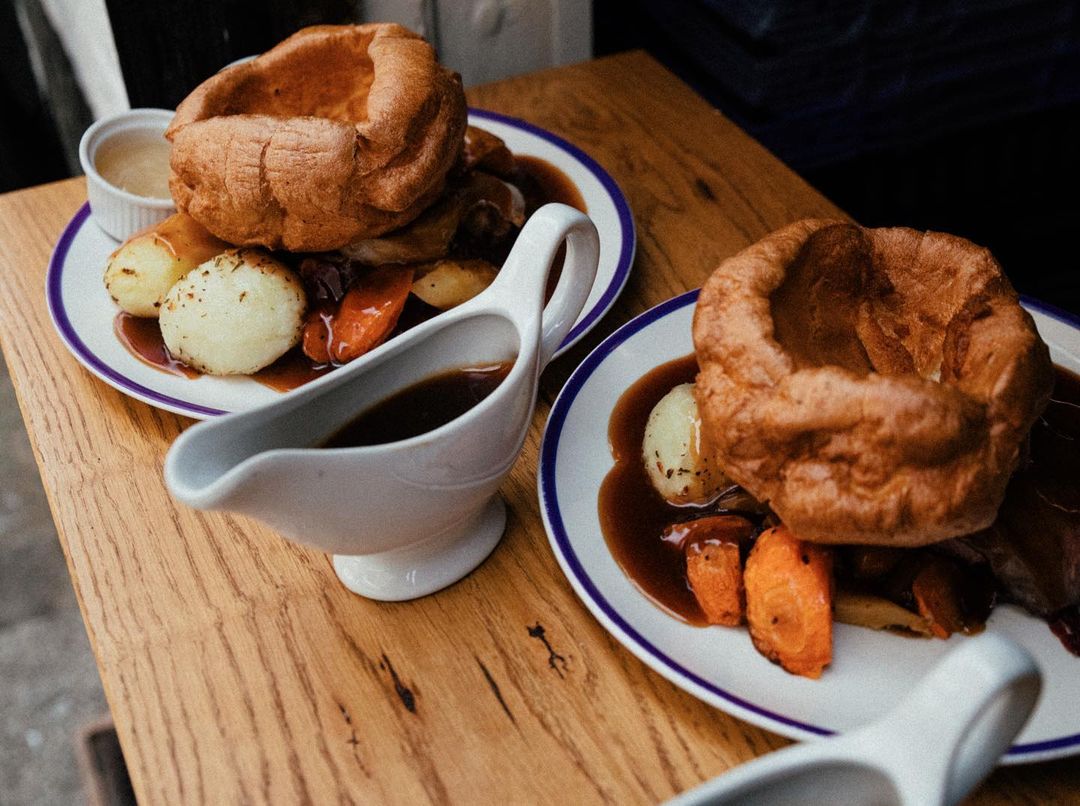 Often hailed as Leeds' oldest pub, Whitelock's also serves up a cracking Sunday roast dinner. Whether you're after a roast beef topside, leg of lamb or pork loin, trust you will find them all here served with a Yorkshire pudding, roast potatoes, seasonal vegetables and gravy.
Whitelocks has one of the most loved Sunday roasts in Leeds- there's no doubt about that. So the fact that their nut roast is vegan friendly and they're willing to cater to those with a plant-based diet is just another reason to love the cosy pub.
Cauliflower cheese can be added on as an extra, and as for veggies and vegans there's a lovely nut roast option – also served with all the trimmings.
Find out more here.
The Wardrobe
Quarry Hill, Leeds Arts Quarter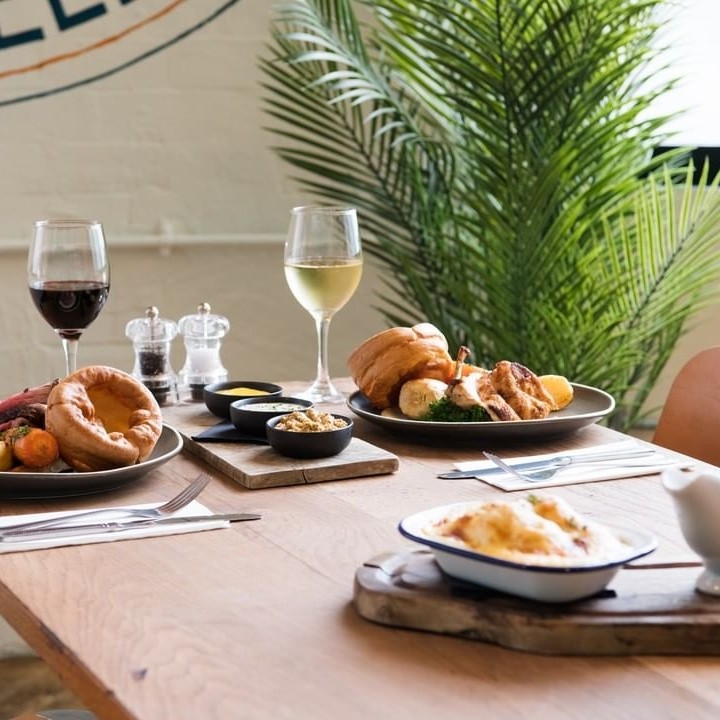 The Wardrobe is a Sunday roast stop that offers many a Yorkshire pud and jug-upon-jug of gravy- and the rest of it looks pretty tasty too. 😍
Served every single Sunday afternoon, the menu at The Wardrobe is every Leeds foodie's dream. Expect sirloin beef, venison haunch, roasted chicken, nut roast or mushroom and spinach wellington with all the trimmings.
Find out more here.
Crafthouse
Above Leeds Trinity Shopping Centre, Leeds City Centre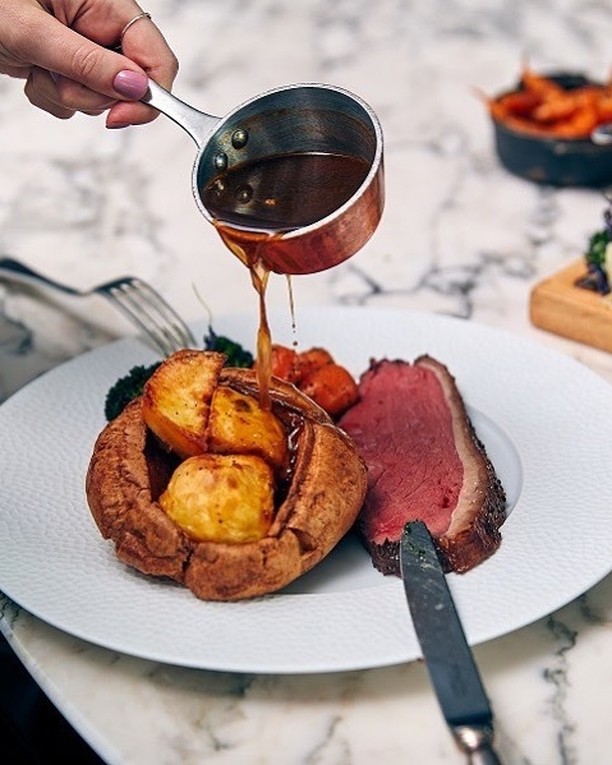 Three courses of fine-dining Sunday dinner including the likes of Wye Valley asparagus, cep mushroom parfait and a whopping five roast meat options: beef, lamb, poached skrei cod, Soanes grain fed chicken or mushroom risotto. You can choose to add red wine or prosecco for an extra £25 for 90 minutes of unlimited booze too.
Find out more here.
Grand Pacific
Outside Leeds Train Station, Leeds City Centre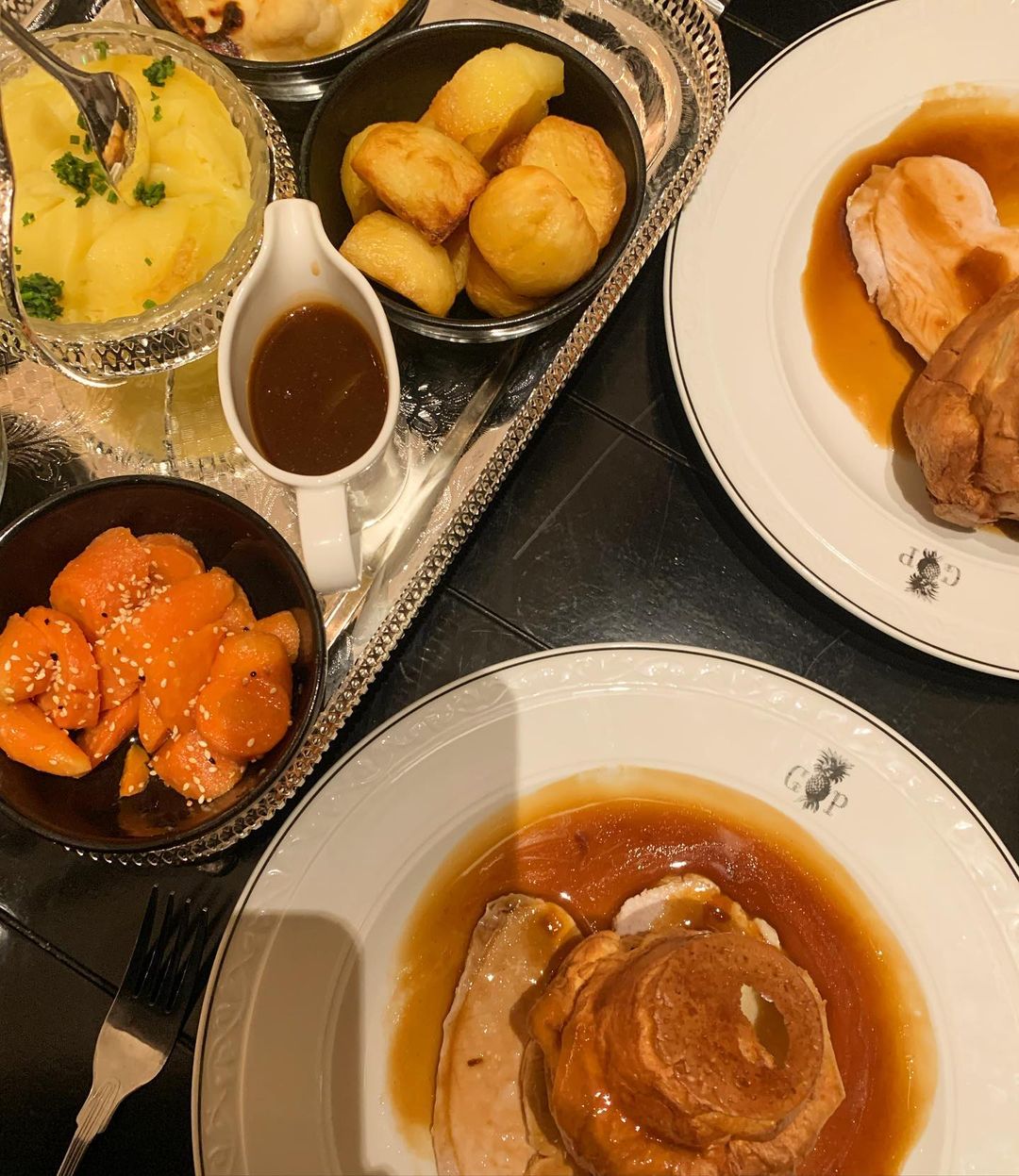 Served to the sound of a live classical music, the roast arrives in small dishes on a silver tray: including carrots, roasties, savoy cabbage, macaroni cheese and some of the creamiest mash around.
⁠
We tasted the year-round dessert menu of chocolate fondant and coconut rum trifle, and washed it all down with a refreshing mocktail, but there are endless classic boozy alternatives to try out.
⁠
If you're looking for a place for an unreal roast dinner all year round, you know where to go.
Find out more here.
The Brunswick
North Street, Leeds City Centre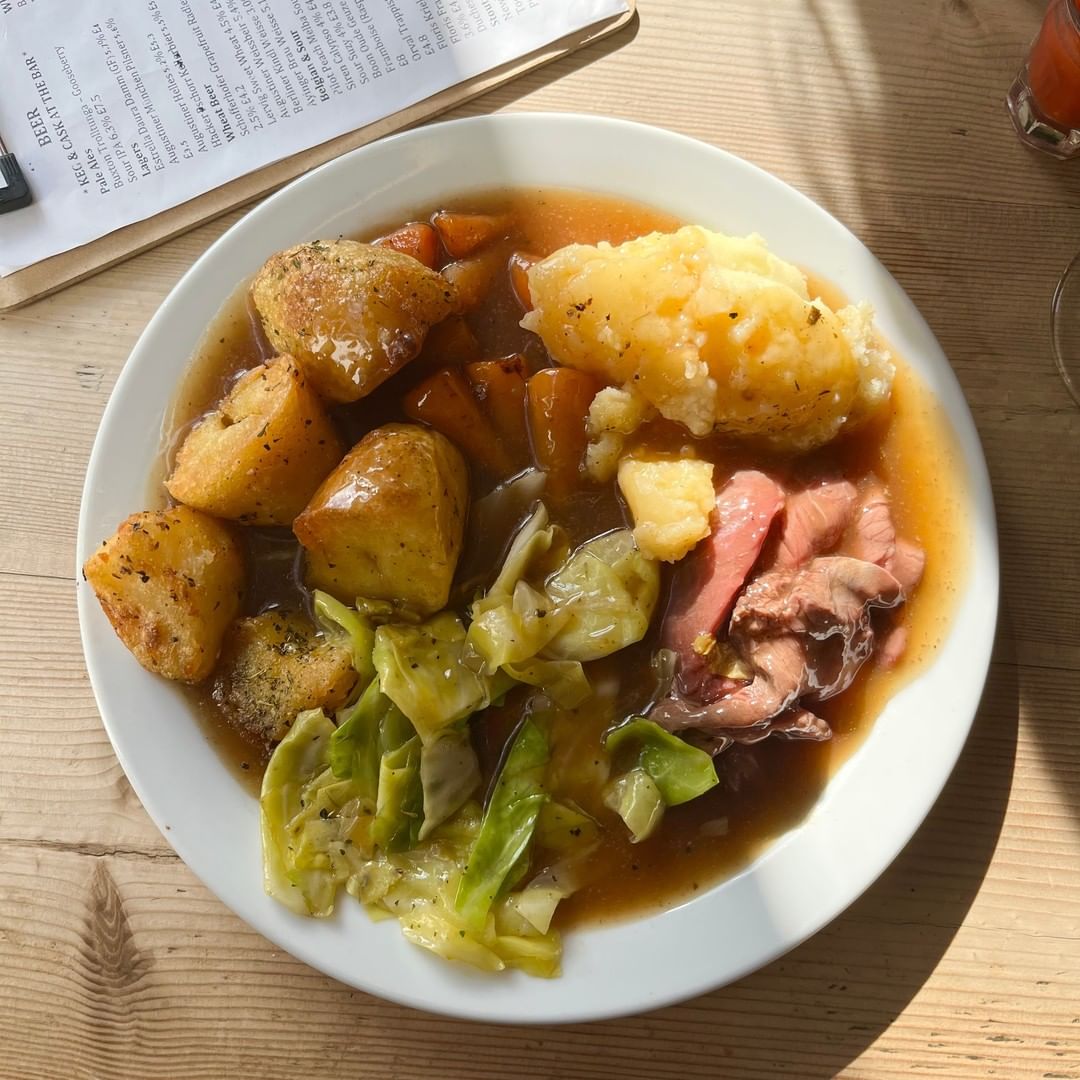 You can choose from various meats such as beef, porchetta, chicken or a veggie/vegan roast. All roasts served with a Yorkshire pud, crispy roast potatoes, maple syrup glazed carrots, cabbage, lots of gravy and a mini Bloody Mary. They're open to swapsies which is why we opted to replace our Yorkie for fluffy mash.
Find out more here.
The Reliance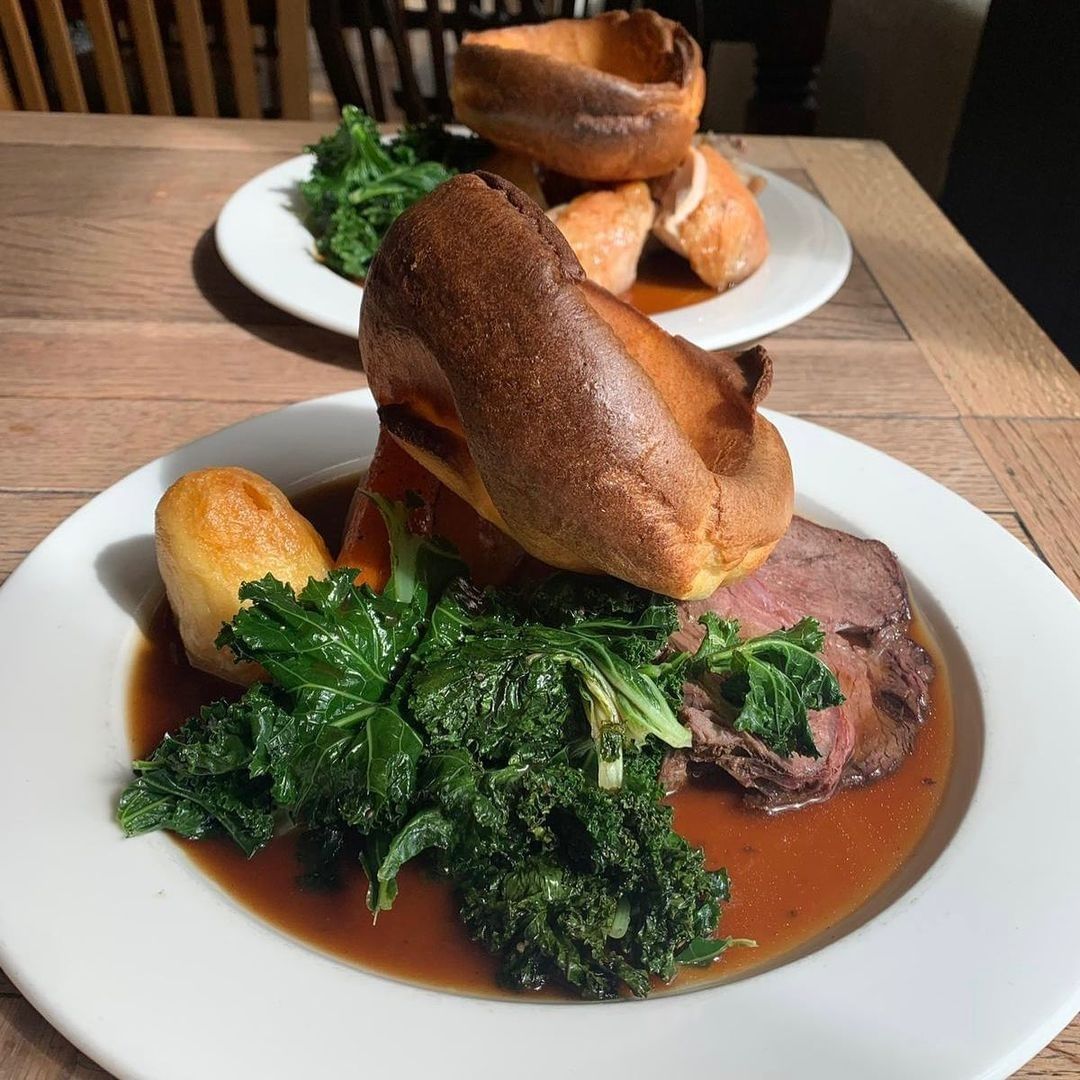 I mean just look at those Yorkshire puddings. You can choose from Roast Free Range Chicken, Roast Shoulder of Lamb or a Veggie/vegan Nut Roast. The Reliance is such a lovely spot in Leeds with a great outside area for hopefully some more sunny Sundays. Go check them out for your next roast fix!
Find out more here.
The Botanist
Outside Trinity Shopping Centre, Leeds City Centre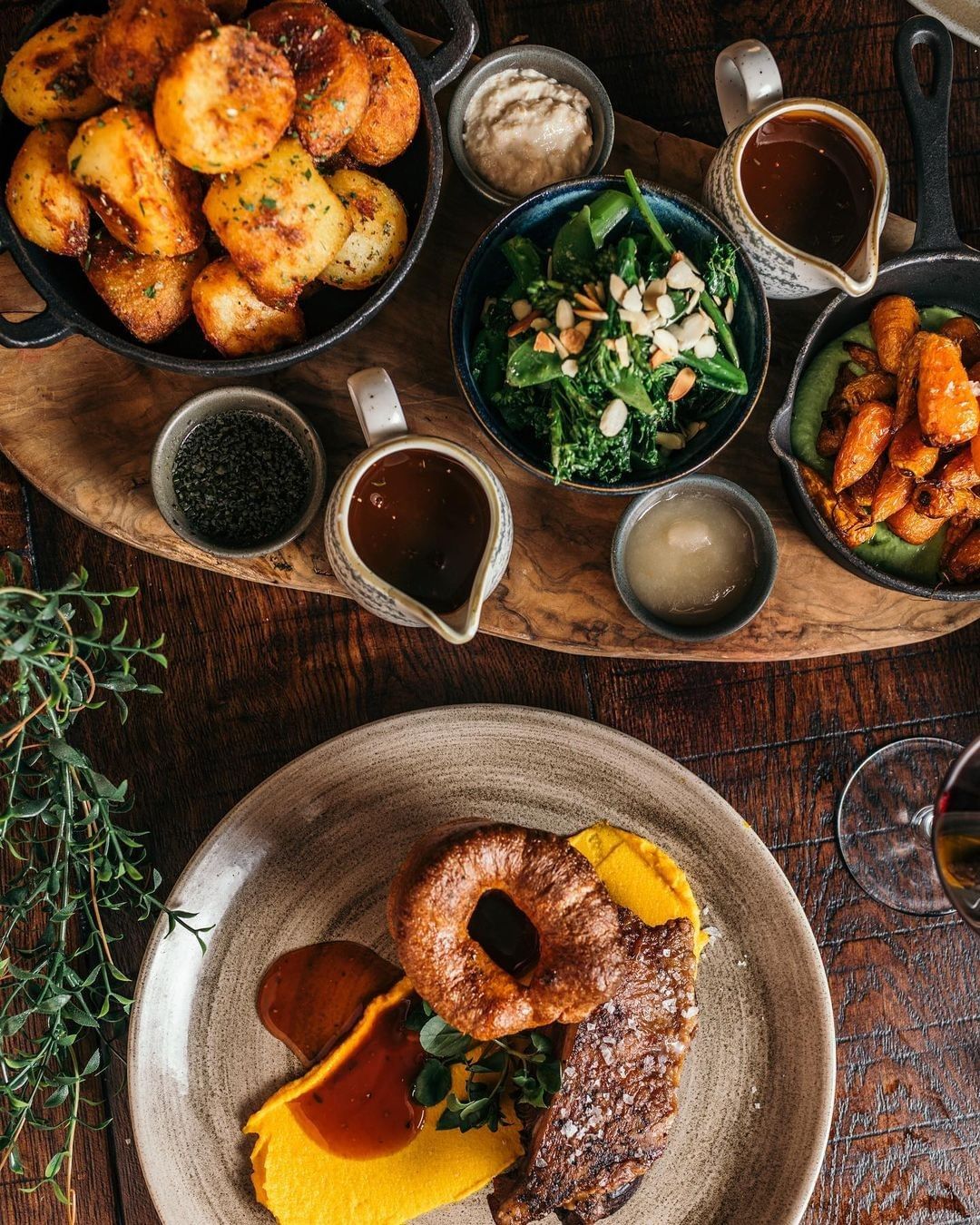 Choose from Roast Sirloin of Beef, Roast Chicken, Pot Roast Lamb Shoulder, Slow Roast Honey Glazed Pork Belly or Celeriac, Mushroom and Pearl Barley Wellington. All roasts served with maple glazed carrots, roast potatoes, minted greens and gravy. They really take 'comes with all the trimmings' seriously, with loads of sharing sides to choose from.
Find out more here.
HONEST Burger
Northern Monk Refectory, Holbeck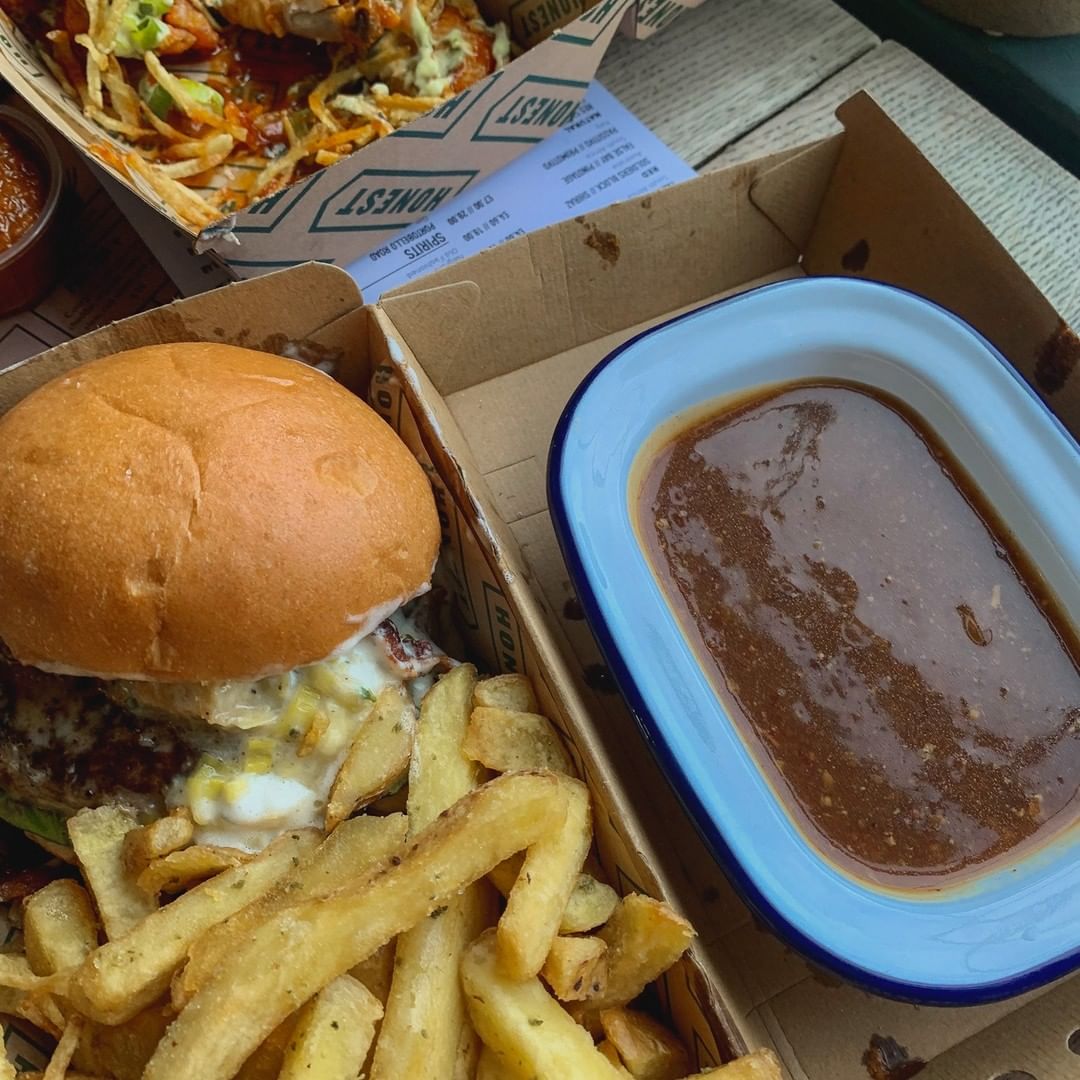 Honest Burgers has taken over the kitchen at Northern Monk Refectory and offering us the ultimate combination of a Sunday roast dinner inside a burger.
The Sunday Roast Dinner burger is a gravy-laden dream for anyone looking for a weekend foodie fix- the burger itself is a standard, but nonetheless delicious, meaty beef patty served pink, then piled high with all your typical roast dinner faves.
Cheesy leeks, horseradish cream, savoy cabbage, bacon gravy and bacon- there's even mini rosemary roasties hidden inside the soft brioche buns.
Find out more here.
The Whitehall
Wellington Street, Leeds City Centre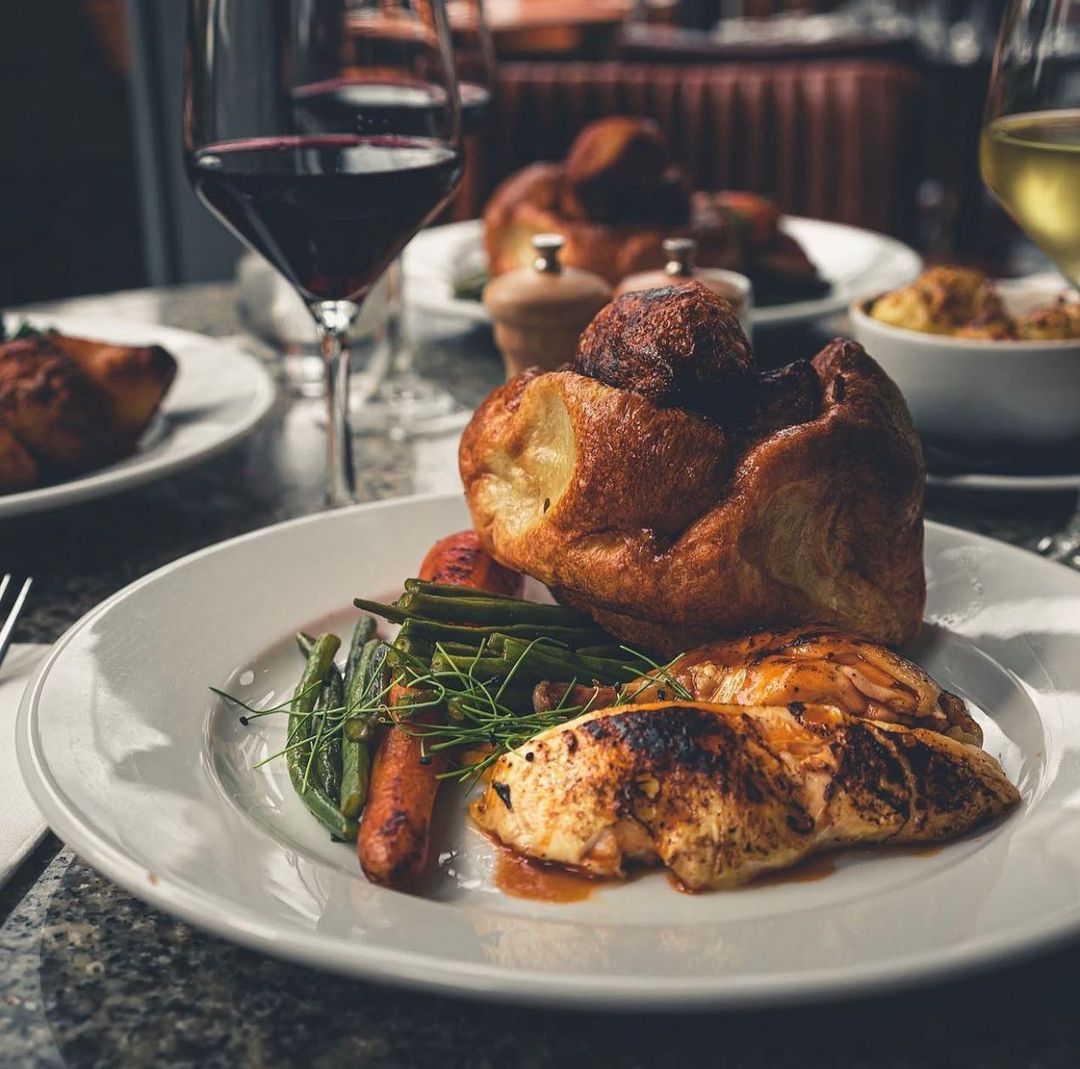 You can choose from Roast Beef, Roast Chicken, Pork Belly or a veggie or vegan Nut Roast. All served with roast carrot, cauliflower cheese, green beans, roast potatoes, Yorkshire pudding & gravy (lotssss of gravy). If you haven't already, you need to swing by Whitehall for your next Sunday roast it's truly 10/10.
Find out more here.
Dakota
Russell Street, Leeds City Centre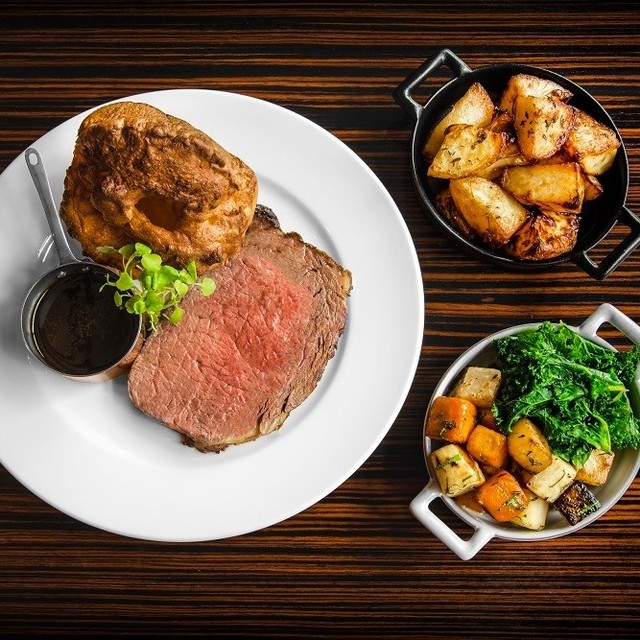 You can choose from Sirloin of beef, belly of pork or breast of chicken, and you can bet it's cooked to perfection. Served with Duck Fat Potatoes, Maple Glazed Root Vegetables and Yorkshire Pudding with lots lof additional sides you can add. For all you veggies you can a delicious Nut Roast with onion gravy with Roast Potatoes & Maple Glazed Root Vegetables.
Find out more here.
Gaucho
Park Row, Leeds City Centre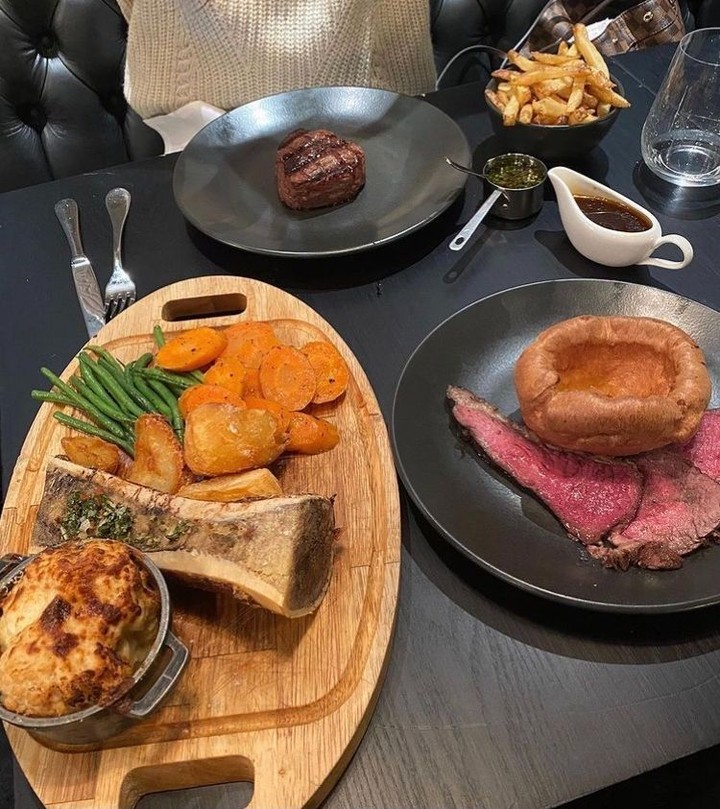 For a truly indulgent Sunday roast, you can't go wrong with Gaucho. The Argentinian steakhouse is known for its melt-in-the-mouth, wet-aged steaks, but it also serves up a killer Sunday roast with bottomless meat and wine every weekend.
If you're coming here, it makes sense to go for the beef – sourced specially from premium Black-Angus cattle and bred at hand-selected farms in the southern Argentinian province of La Pampa. Cooked in its own dripping, each cut comes topped with crispy roast potatoes, glazed carrots, buttered greens, perfectly stacked Yorkshire puddings and lashings of gravy.
Find out more here.
The Tetley
Hunslet Road, Hunslet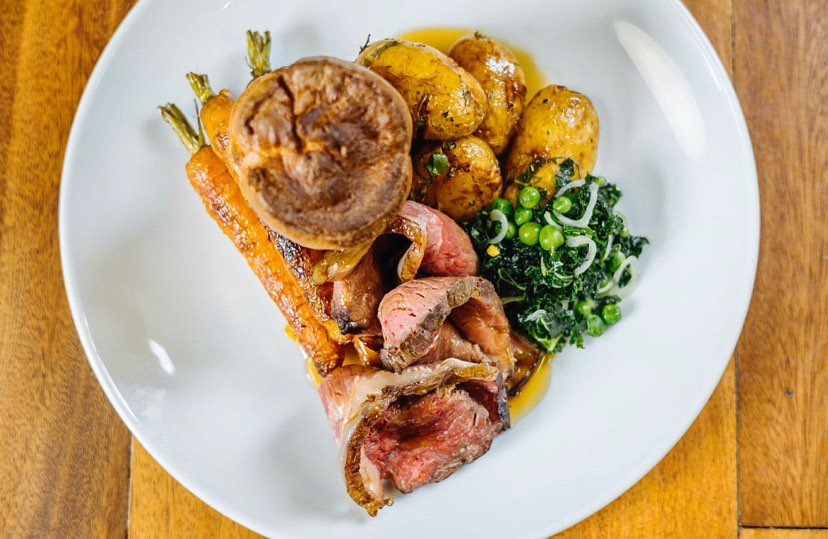 Dating all the way back to 1822, The Tetley is housed in an old brewery first bought by Johnathon Tetley for just £400. Full of history, as of this summer the kitchen is headed by Connaire Moran, an experienced chef formerly of The Owl and The Reliance.
Options include beer-rested roasted sirloin of beef, roasted pork belly with sage and apricot stuffing, roasted chicken and nut roast. All come served wtih heart trimmings including crispy roasties, loads of gravy, carrots, seasonal greens, and massive Yorkshire puddings.
Find out more here.
Ox Club
Headrow, Leeds City Centre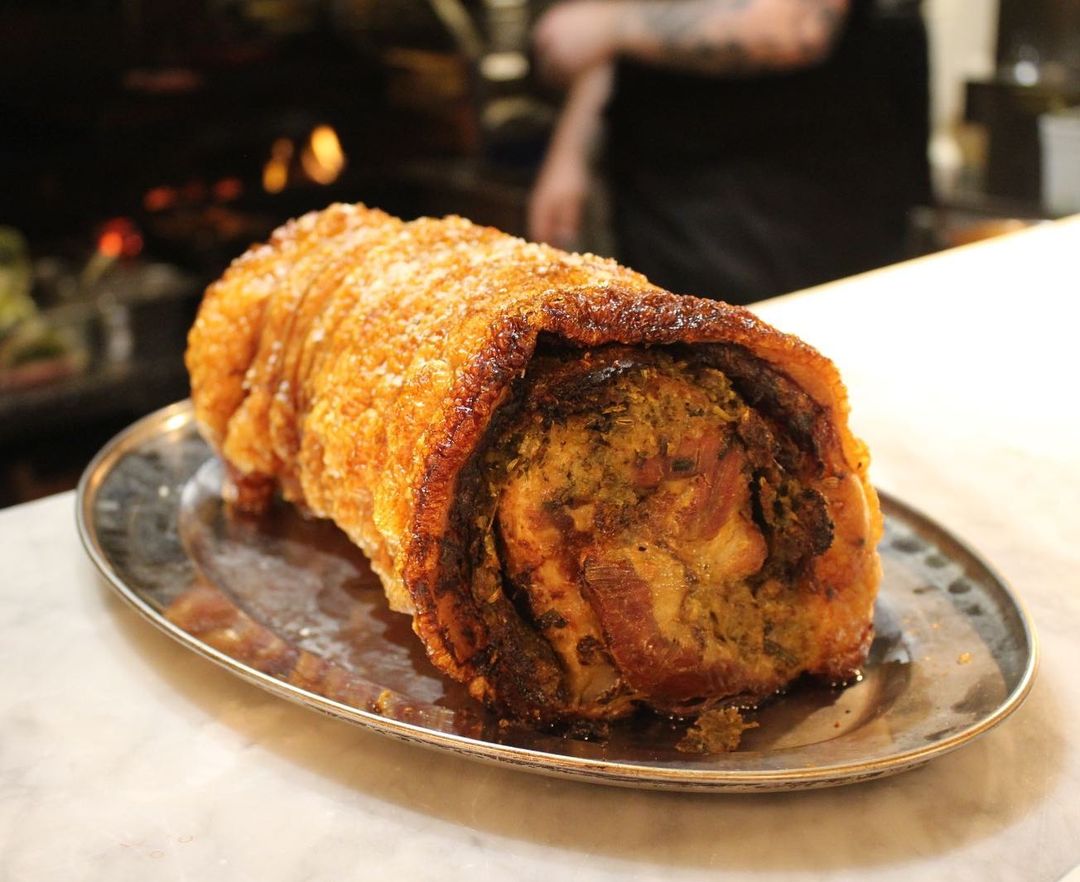 Featured in the Michelin guide and the good food guide, the Ox Club's fire cooking is legendary in Leeds. When it comes to Sunday roasts, they don't disappoint. Think roast rump cap of beef with bone marrow gravy, wild garlic and sage porchetta with smoked trotter and fennel gravy, or roast breast of guinea fowl and confit leg with tarragon gravy – then tell us you're not hungry.
As for the non-meat eaters, there's coal-roasted celeriac with pearl barley risotto and truffle gravy, or a truffle cheese pie served with comte, and truffle gravy. Divine.
Find out more here.
Eat Your Greens
New York Street, Leeds City Centre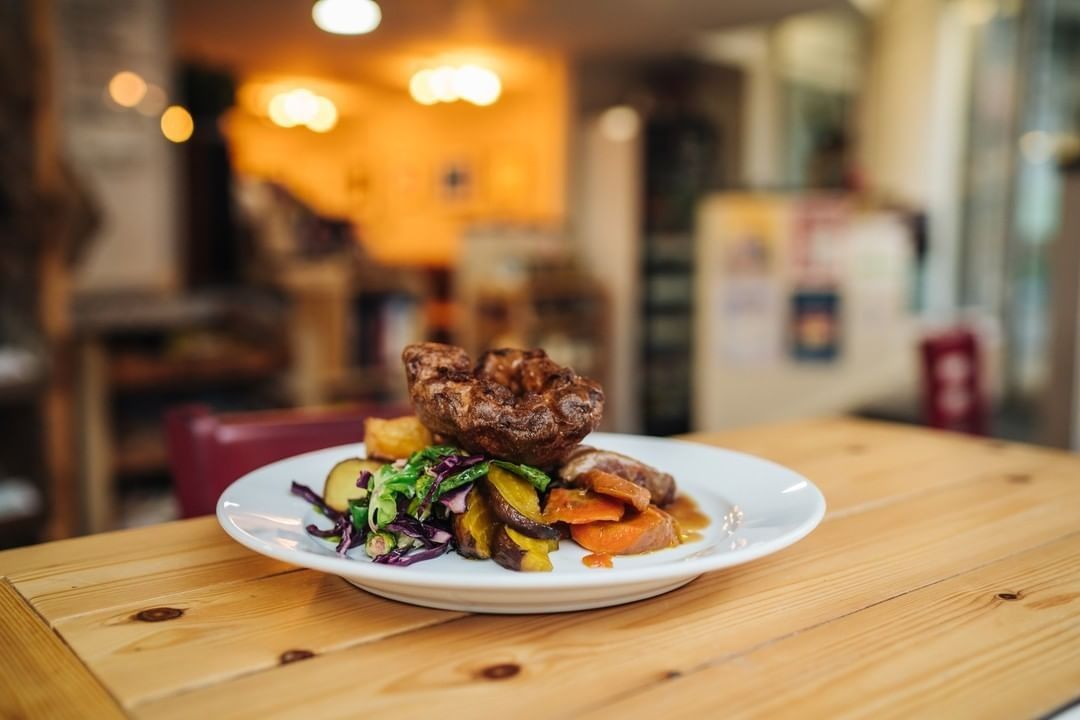 It's not every week that Eat Your Greens do a roast, but when they do, it's something quite special.
Organic, local and responsible, Eat Your Greens is proudly taking on the world, one brunch at a time and show us how we can eat in a way that's good for our bodies and the planet. The menu changes frequently, but there always seems to be plenty of mouthwatering options on the menu.
Find out more here.
The New Conservatory
Albion Place, Leeds City Centre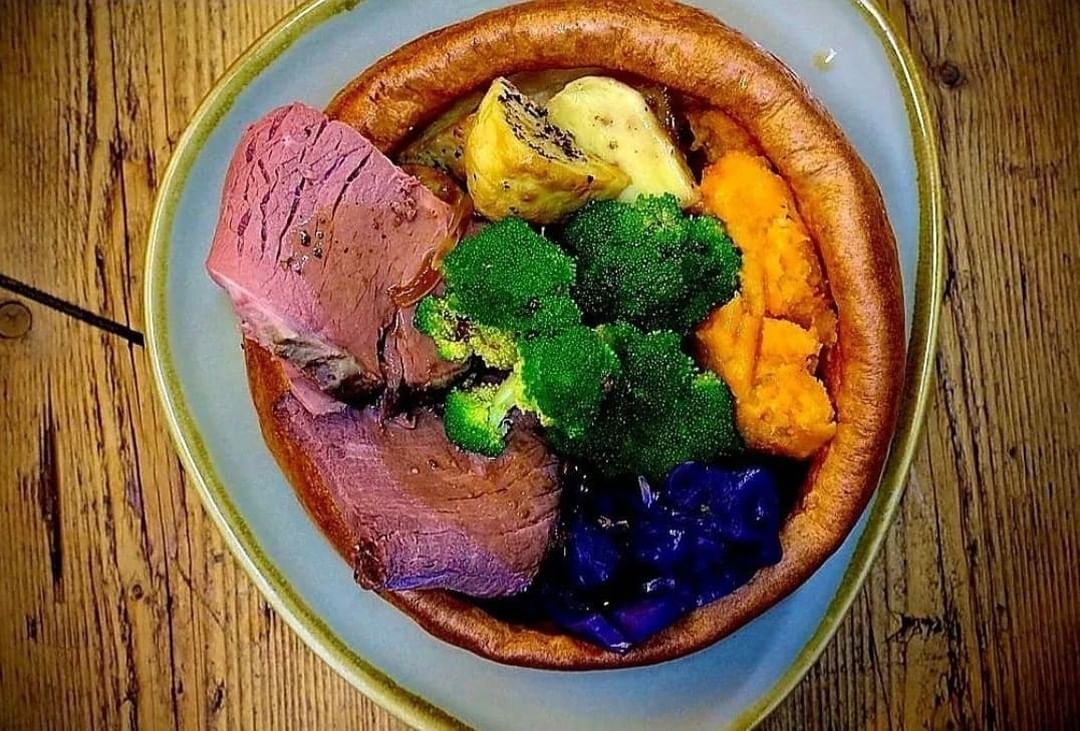 Choose from medium rare topside, roast turkey or a sweet potato and red onion tart, piled with roasties and vegetables inside a giant Yorkshire pudding. What more could we ask for on a Sunday? During December, there's also pigs in blankets and sprouts on the menu too- so keep an eye out during winter.
Find out more here.
Mad Frans
Wellington Place, Leeds City Centre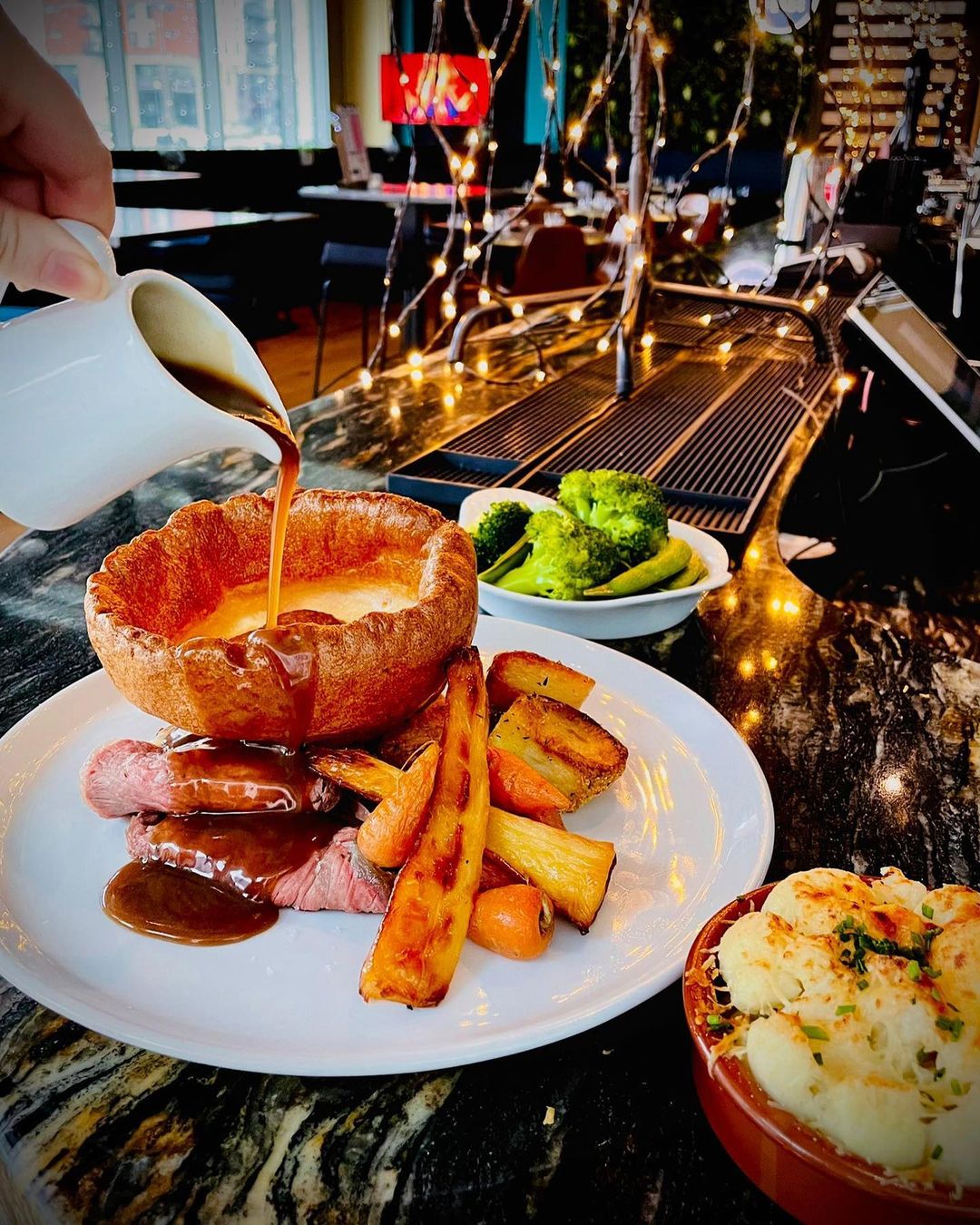 Roast-wise, think Yorkshire-reared beef sirloin, pigs in blankets, stuffing, roast vegetables, greens, giant Yorkies and roasties – as well as plenty of gravy of course. Alternatively, if you're not feeling the beef you could always go for some turkey instead. It's entirely up to you.
Bottomless at Mad Frans is available all day Sunday until 5 pm, priced at £29.95 for a main and 90 minutes of unlimited drinks. Drinks-wise, think bottomless prosecco, beer, wine, cider or Aperol Spritz. Bargain.
Find out more here.
Neighbourhood
Greek Street, Leeds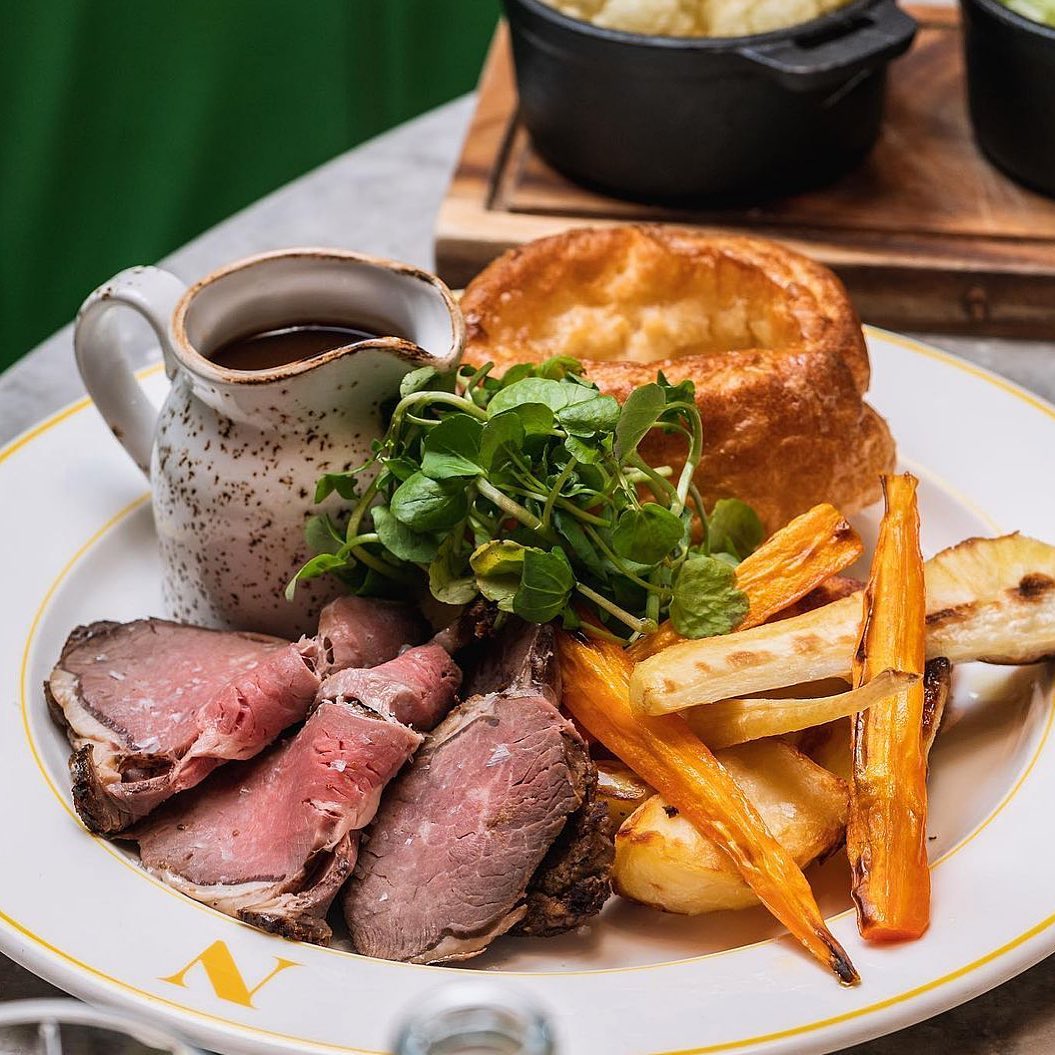 Neighbourhood is another Leeds venue giving you the option to go bottomless with your Sunday roast. Roasts are served every Sunday from noon, with choices like half roast chicken, slow-roasted rib of beef and courgette and cashew bake all priced at £16.50 with trimmings included.
Drinks-wise, for the bottomless option you'll be paying an extra £25, with all the drinks you could want.
Find out more here.
Pieminister
Boar Lane, Leeds City Centre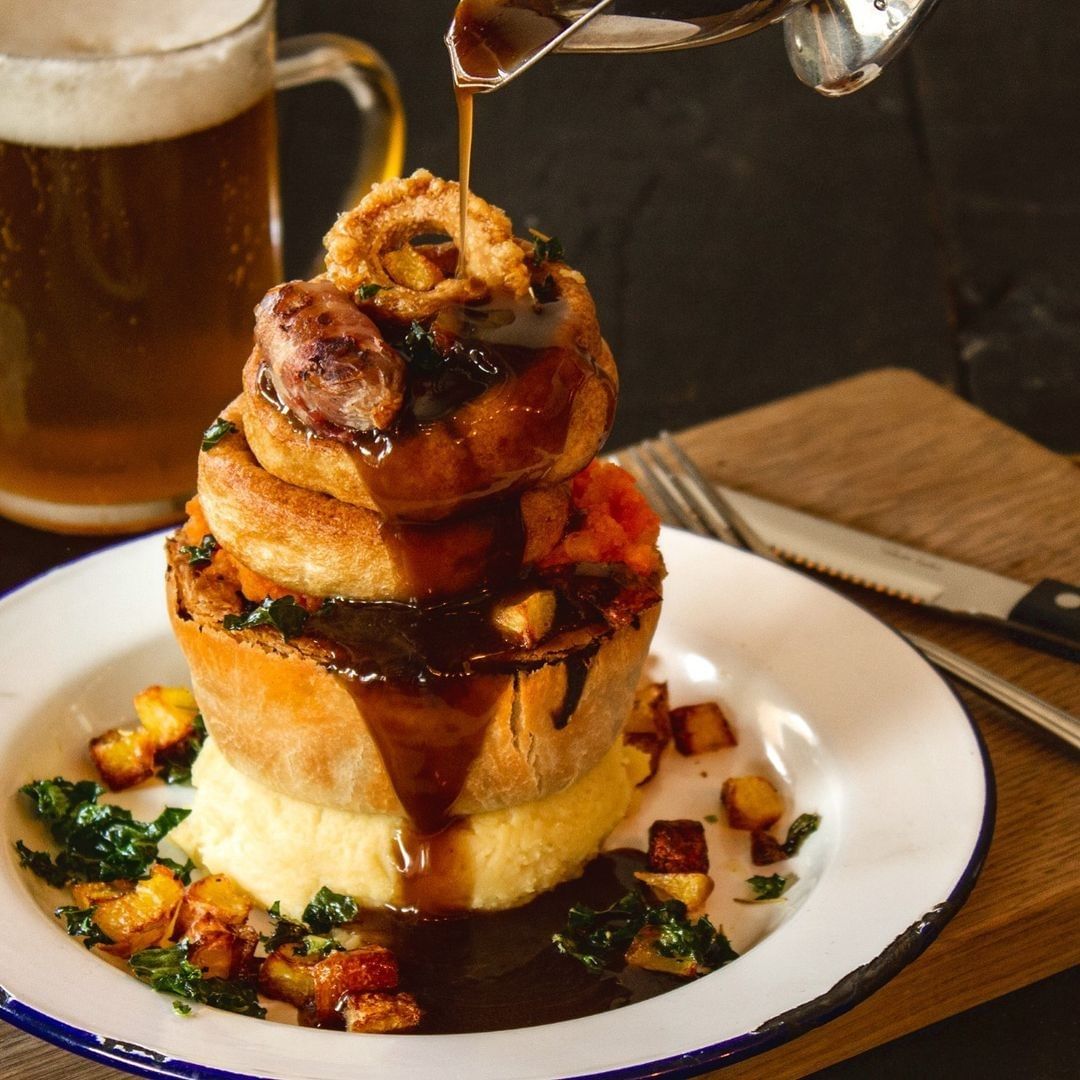 The Sunday best – any classic pie & mash, two Yorkshire puddings, garlic & rosemary baby roasties, carrot & swede mash, a pork scratching, a pig in blanket & gravy. You couldn't really ask for more could you? And of course you can make it veggie or vegan!
Banyan
City Square, Leeds City Centre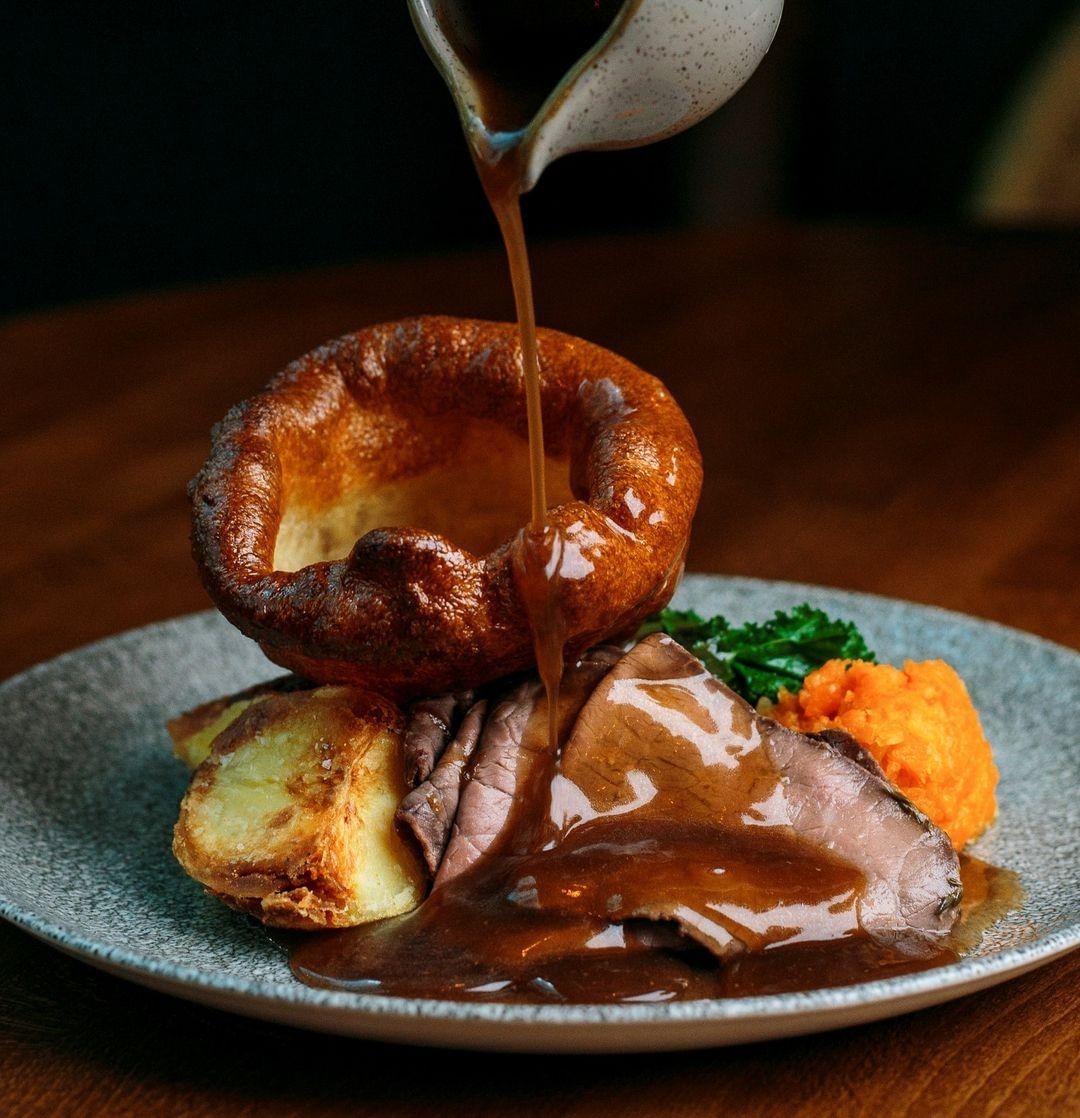 With a handful of Leeds-based restaurants, the chain offer a roast every Sunday with either topside or half roast chicken and served with carrot and swede mash, roasties, 'Banyan best' gravy, Yorkshire puds and seasonal gravy. Plus, you can get bottomless booze: what's not to love about that?
Find out more here.
Browns
Headrow, Leeds City Centre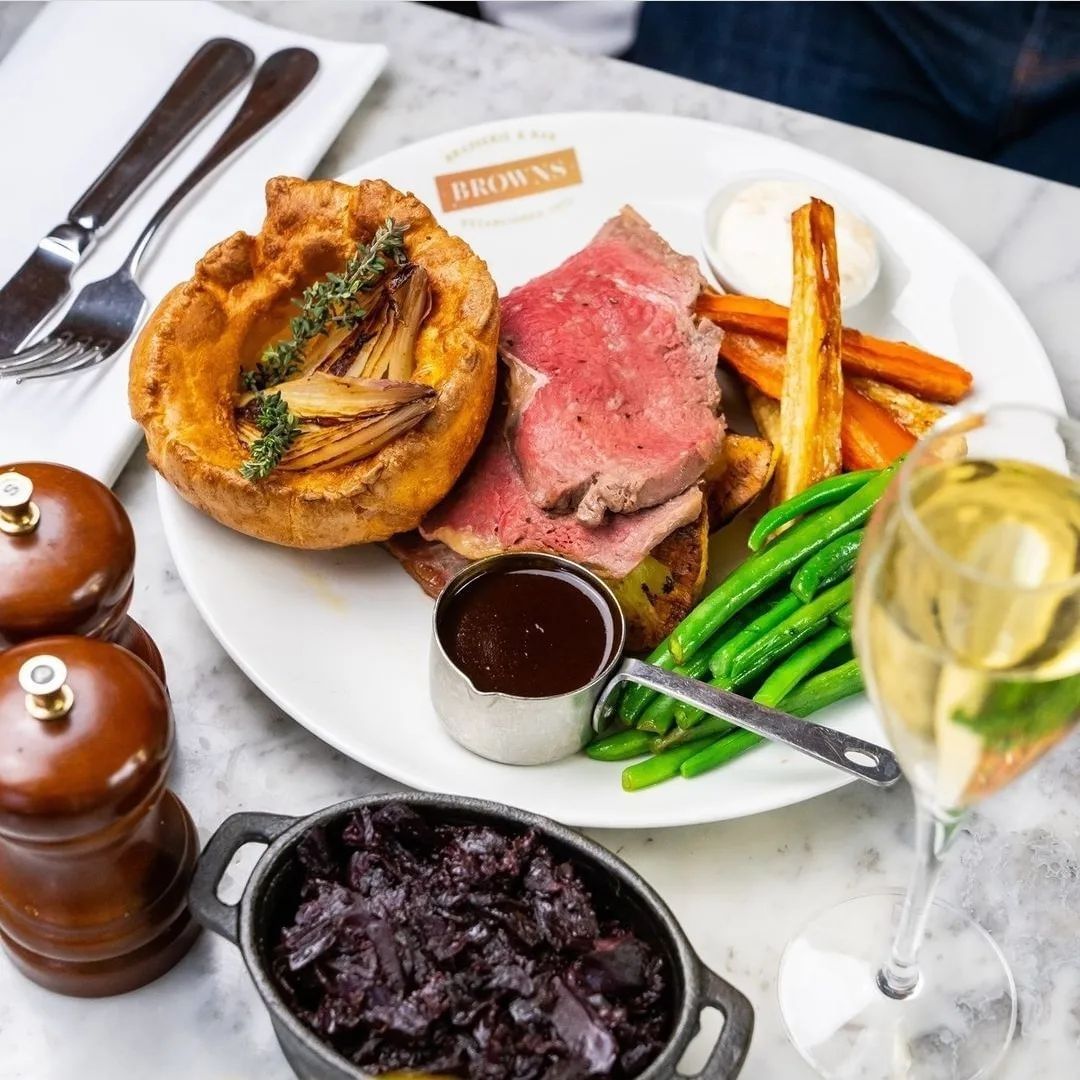 Choose between sirloin of beef, half roast chicken or belly pork, all served with seasonal veggies and crispy Yorkshire puds- this'll go down a treat with a glass of something red or white.
Find out more here.
In the suburbs…
For those looking for a Sunday roast near your home.
Braizin' Squad, Meanwood
Braizin' Squad is now serving Sunday roast dinners every weekend, and we can't think of a better spot to slumber down, grab a seat and a taste of the best meal of the week.⁠ Every week there's a slightly different menu, but no matter when you pop down you'll be full to the brim- and dreaming about each course long after you've visited.🙌
⁠
The herb-stuffed porchetta with a slow-braised pig cheek served in jus is an all-round crowdpleaser. Perfectly cooked with a soft yet crispy texture oozing with flavour, between this and the gorgeous served-pink grilled beef rump cap, any meat eater will agree that this roast really is a feast for the senses.
Find out more here.
The Mustard Pot, Chapel Allerton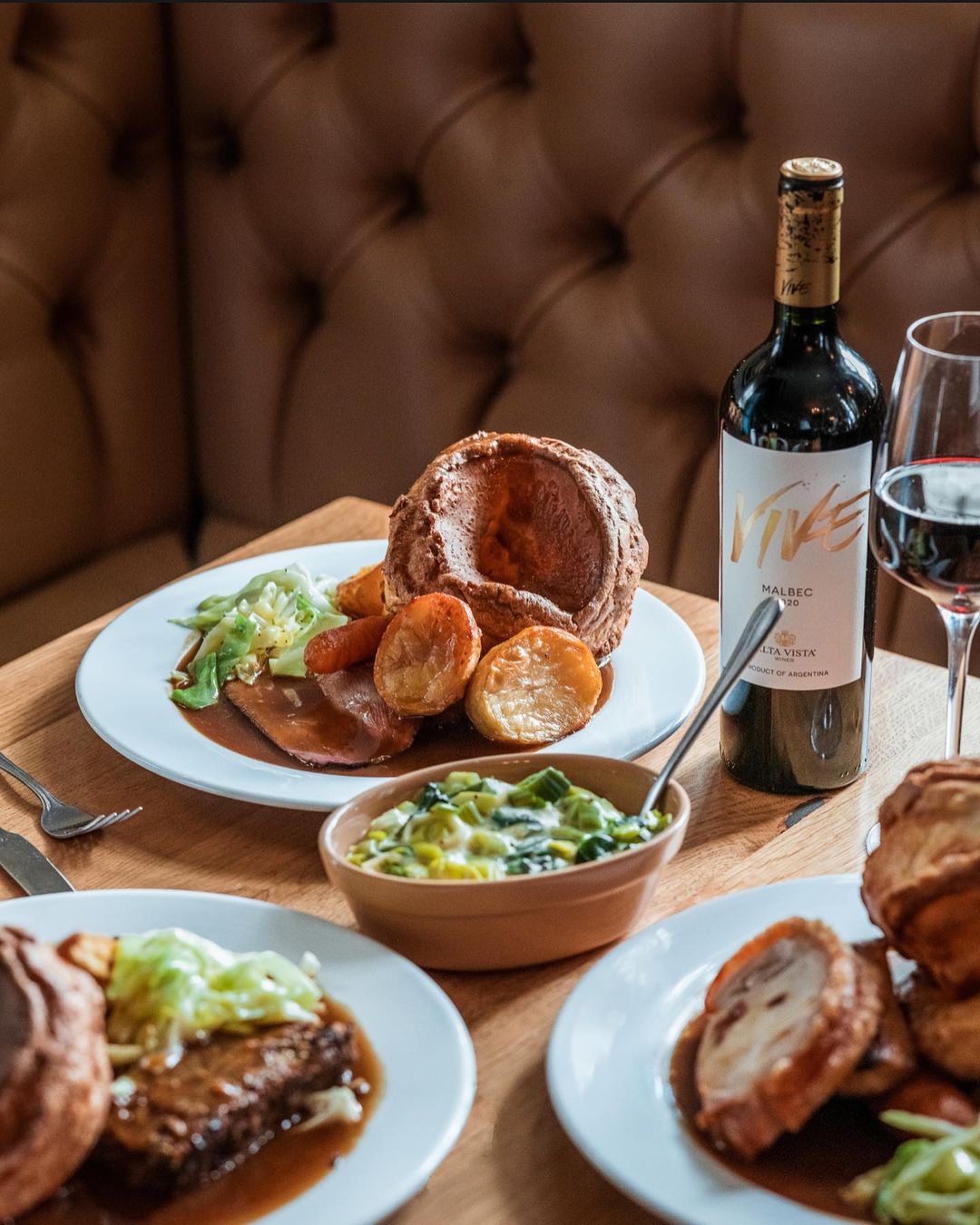 This Chapel Allerton eatery has one of the most popular roasts in the city – and for good reason. Every weekend, you'll find a choice of 12-hour Yorkshire beef rump, Yorkshire rare breed pork loin with crackling, or a Mustard Pot nut roast served with giant Yorkshire puddings, roast potatoes, mixed seasonal veg, creamy leeks and gravy.
The menu's pretty big, too, so if you don't fancy a roast you can tuck into other pub favourites like fish and chips, lentil shepherdess pie, beef burger or steak.
Find out more here.
The Cardigan Arms, Burley
Kirkstall Road, Burley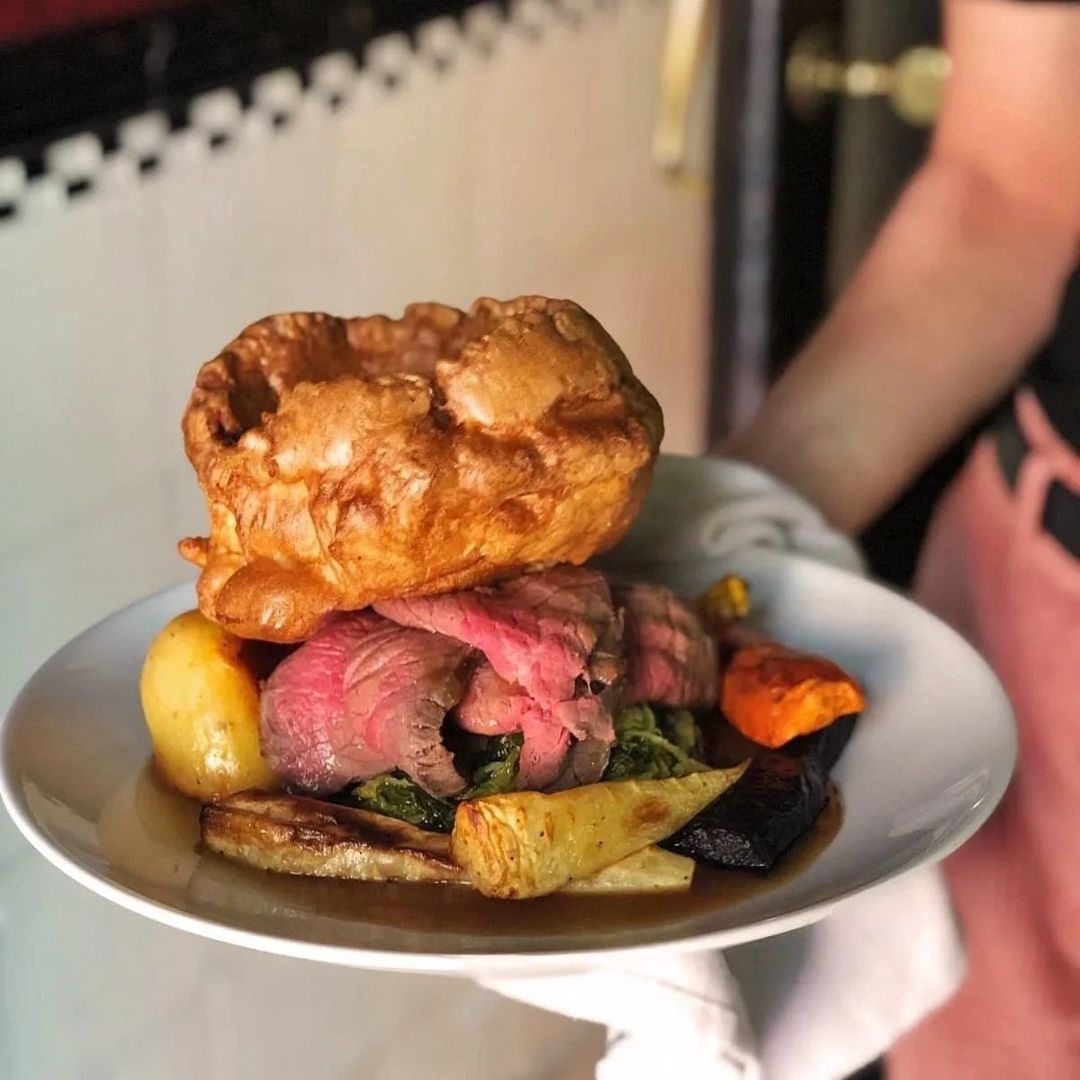 On the menu here besides the showstopper of a Yorkshire, you'll find the likes of slow roast belly pork stuffed with pork loin, fennel seeds, herbs and garlic; beef topside served pink or Mushroom Wellington for those looking for a meat-free alternative.
Served 12-5pm, make sure to book in advance for this one- we reckon it'll be a sellout option!
Find out more here.
Heaney and Mill, Headingley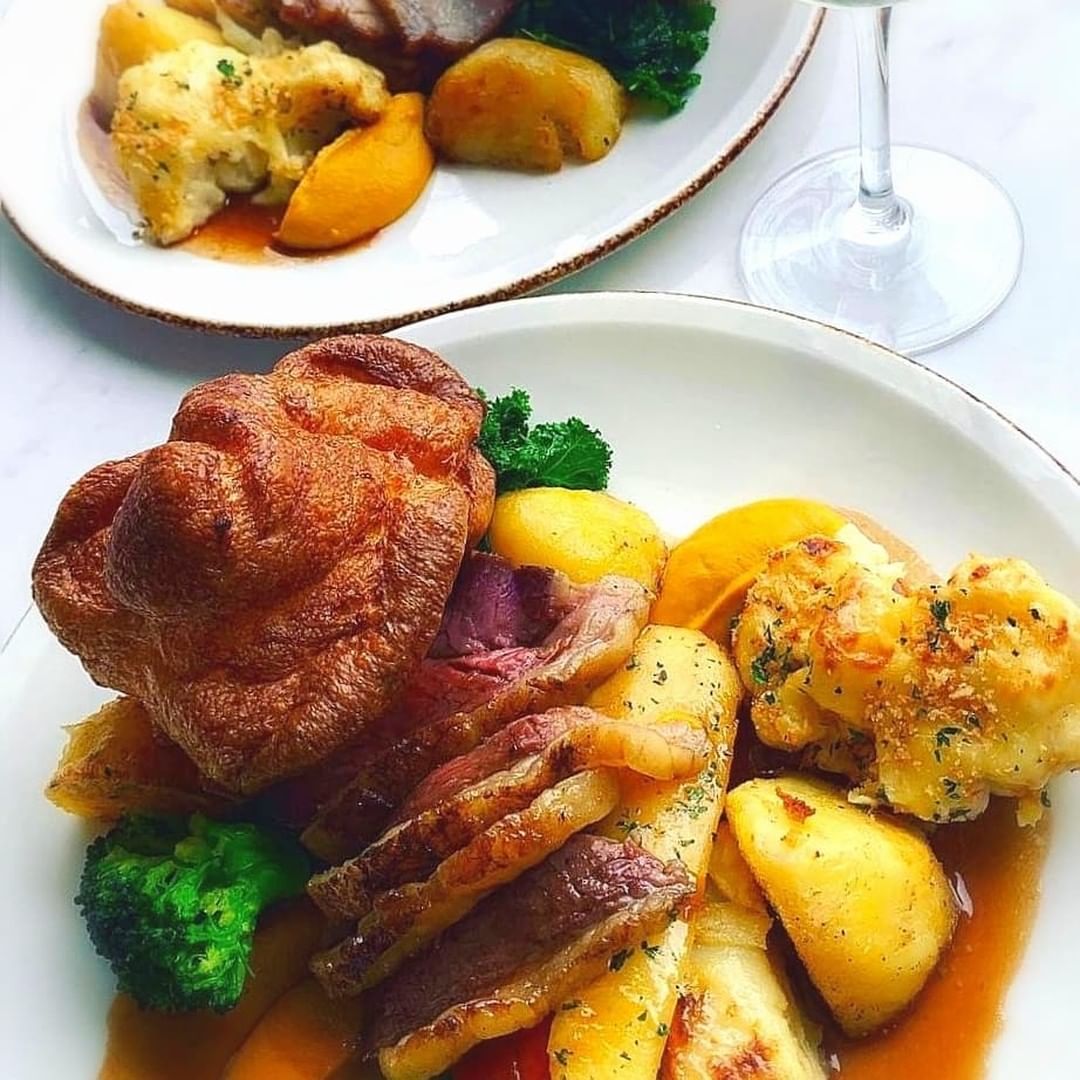 Choose from Dry Aged Roast Beef, Roast Corn-Fed Chicken Supreme, 8oz Roast Lamb Rump or a vegetarian Leek & Cheese Wellington. All served with with rosemary & garlic potatoes, truffled mash potatoes, cauliflower cheese gratin, selection of seasonal green vegetables, traditional Yorkshire pudding, carrot puree & red wine gravy.
Find out more here.
The Roundhay Fox, Roundhay
Princess Avenue, Roundhay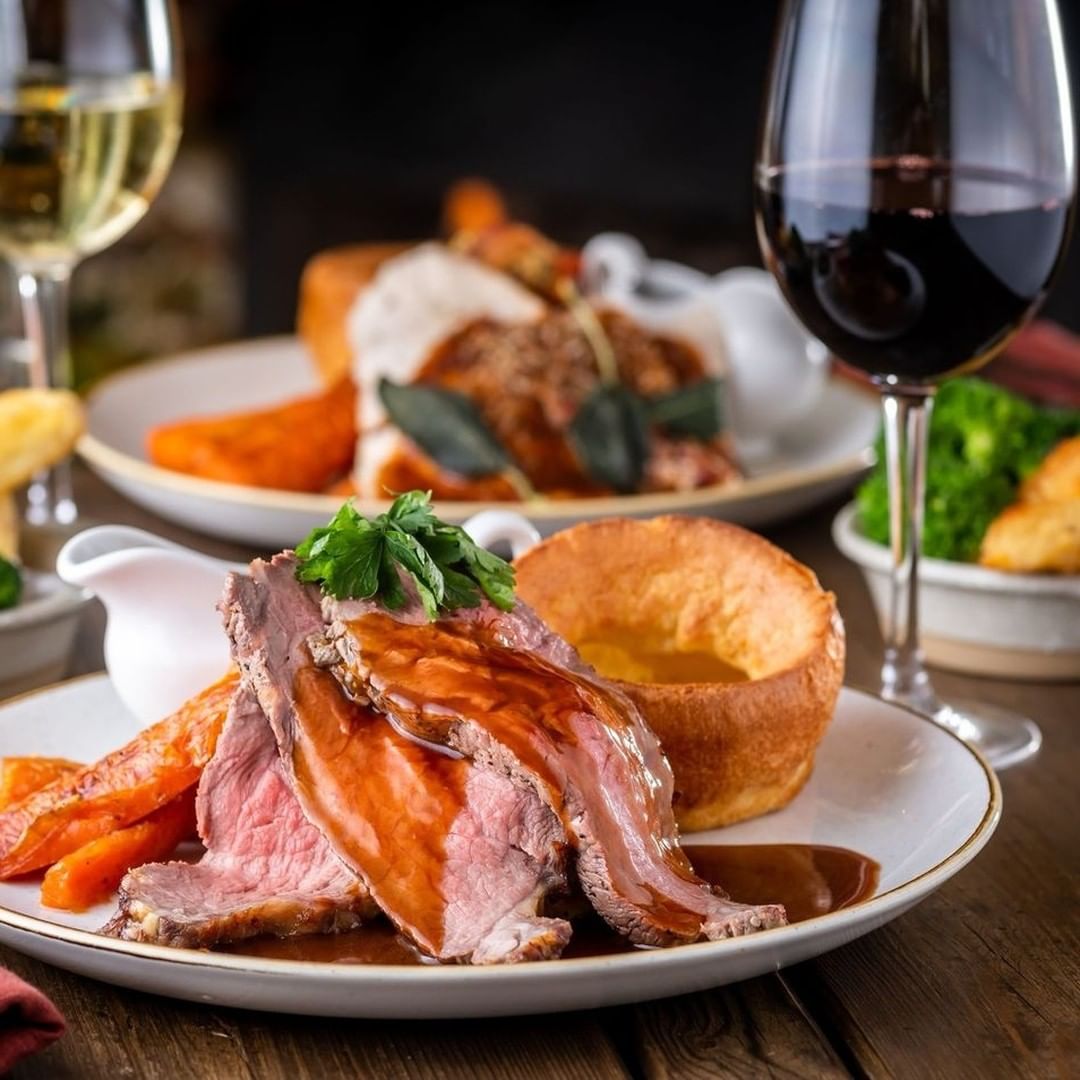 You can choose from Sunday Pork Belly, Hand-carved Turkey Breast, Sirloin of Beef or for a veggie option there's Candied Vegetable Roast. All roasts are served with ruffled beef dripping roast potatoes, Yorkshire pudding, thyme-roasted carrots, broccoli and honey-roasted parsnips The best part? you can have as much gravy as you like!
Find out more here.
The Deer Park, Roundhay
Street Lane, Roundhay
There's plenty of meat and veggie options available at the Roundhay restaurant and all roasts come with red wine gravy- we're sold! Don't forget to book yourself a place at the table, we're sure these will sell out fast.
Find out more here.
The Beehive, Thorner
Main Street, Thorner
Expect fluffy Yorkshire puds, proper thick gravy, roasties, veggies and an incredible array of meat options- including this rather handsome Côte de Boeuf on special occasions.
Most weekends you'll find 28-day-aged capped rump, pork belly, 1/4 roasted cornfed chicken on the bone or celeriac wellington for the veggies and vegans.
Find out more here.
Host, Ilkley
The Grove, Ilkley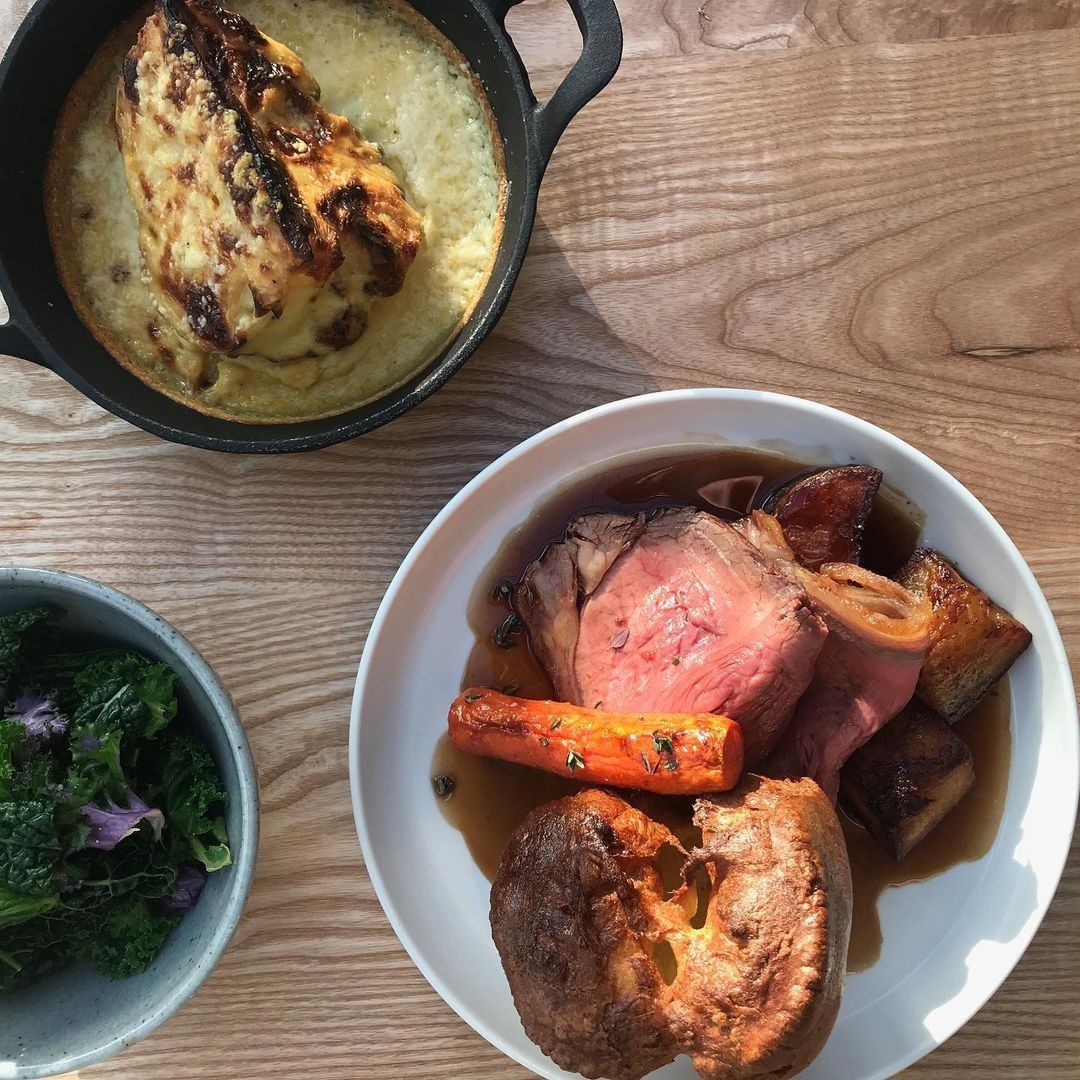 Host Ilkley has featured in the Michelin guide for four years now and you only need to take a look at the 55 day aged beef to see why.
The roasts here are a firm staff favourite at The Hoot and we're waiting in anticipation of the return of their summer-style Sunday lunch with roast chicken with herby green salsa, Yorkshire puddings, roast potatoes, roast carrots and greens- but we'll happily taker the beef option any Sunday too
Find out more here.
Seven Steps, Pudsey
Chapeltown, Pudsey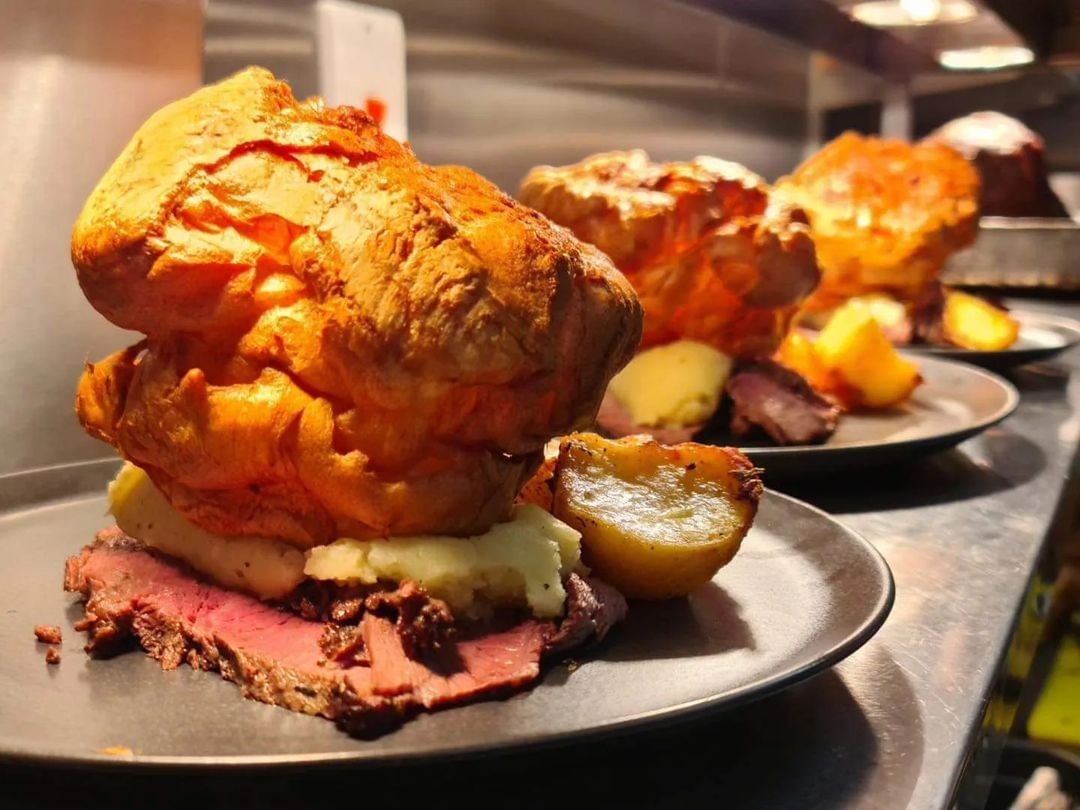 Their award-winning roast dinner lives up to all expectations. Complemented by marmite roasties, traditional Yorkie puds, mash and seasonal veggies they offer the dinner of dreams. Just look at that pudding.
Find out more here.
Hawthorne Farm, Yeadon
Warren House Lane, Yeadon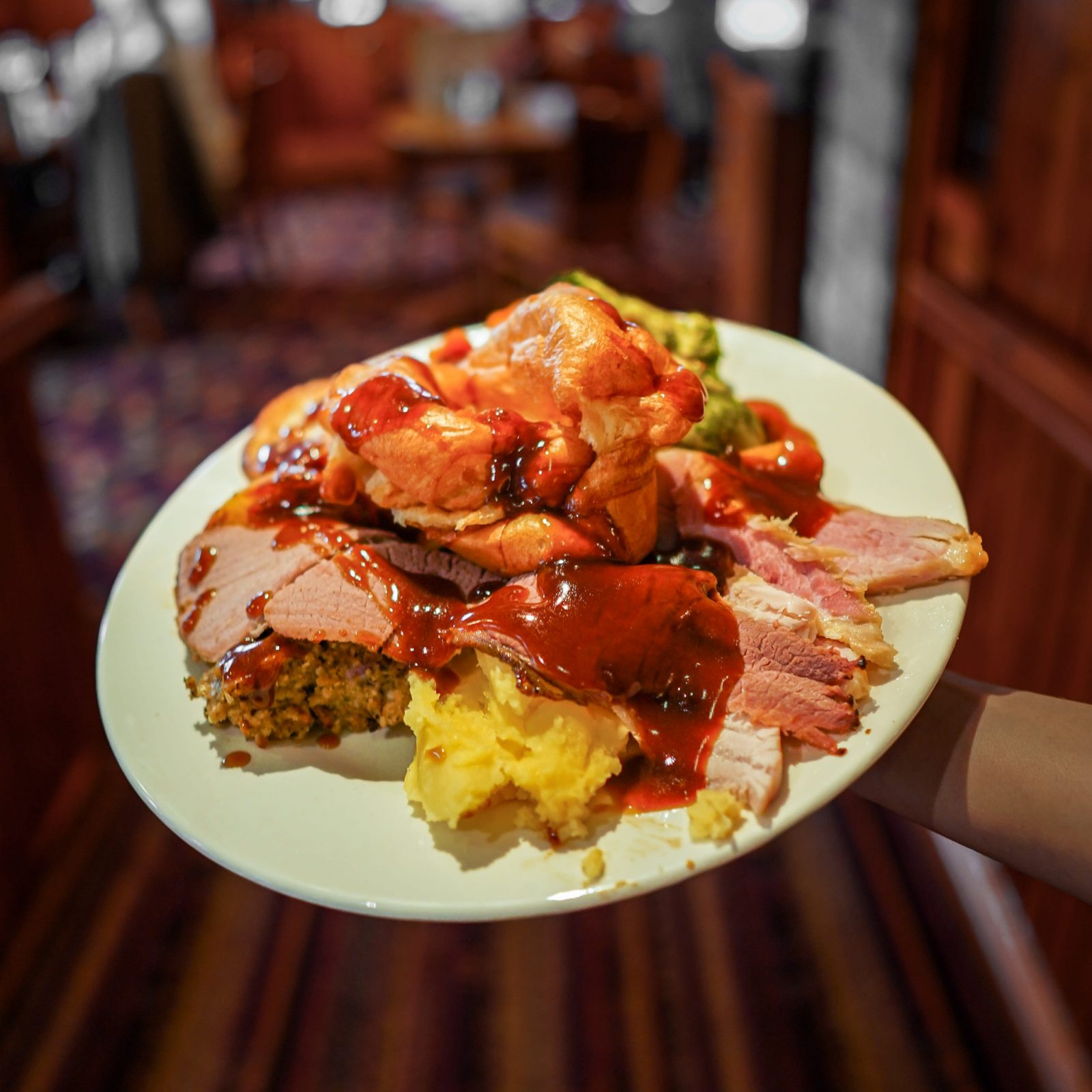 There's everything from a small veggie carvery with a midweek discount to the huge Carvery Ultimate Weekend portion, which comes as a large plate with three traditional Yorkshire puddings and three pigs-in-blankets. Take your pick from our 14-hour slow-roasted meats, our best-ever, fluffy Yorkshire puddings, crispy roast potatoes, a wide range of vegetables, and all the trimmings.
Serving up carveries every single day of the week- there's a whopping thirty different carvery options on the menu to take advantage of at Hawthorne Farm in Yeadon.
Man Vs Roast Takeaway Carvery, Hyde Park
Cardigan Road, Hyde Park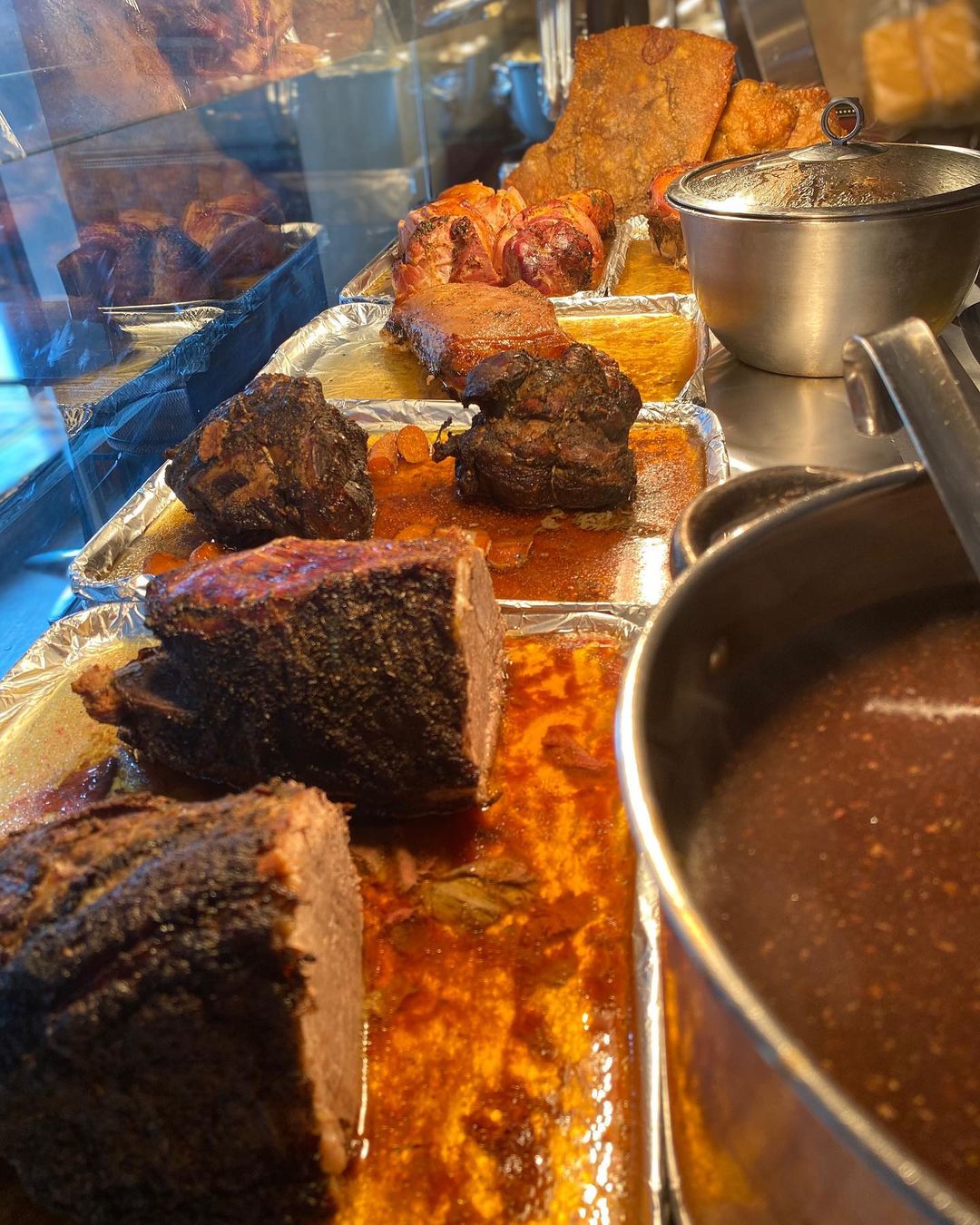 Home of the takeaway roast, Man V Roast is a student favourite for a whole host of reasons. Charging a minimal amount for copious gravy, thick cut slices of beef or lamb- and the offering of unlimited tea and coffee: this is the perfect stop for anyone wanting to cure that Sunday hangover with carbs aplenty (especially if you can't face sitting in a restaurant).
Each box contains meat and two veg, including gravy, carrots, peas, cauliflower, cheese, roasted or mashed spuds, stuffing and a Yorkshire pudding for just £7.
Find out more here.
Corn Mill Lodge Hotel and Restaurant, Farnley
Pudsey Road, Farnley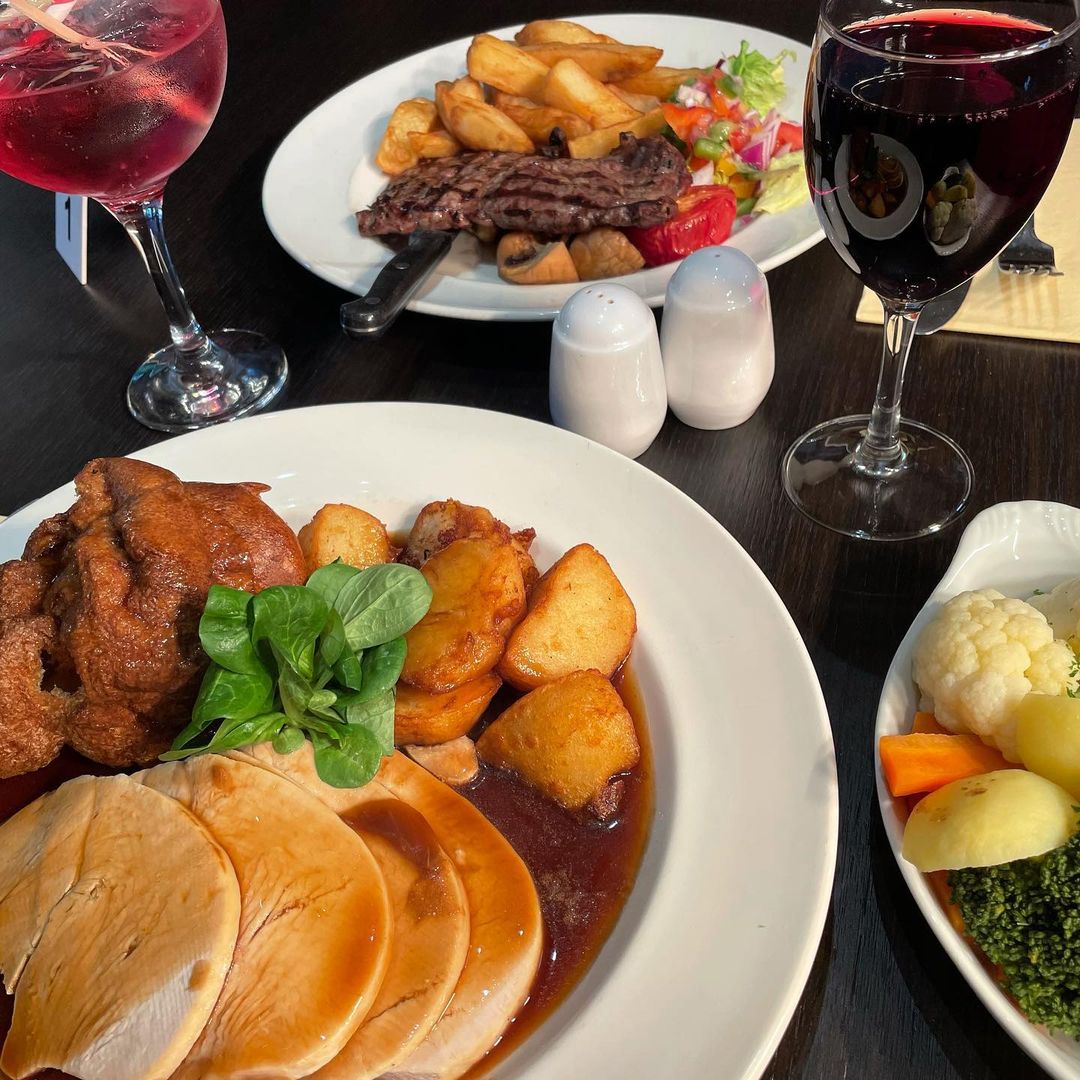 The Corn Mill Hotel and Restaurant serves their Sunday roast 12-3 pm and pride themselves on cooking up roasts with freshly cooked seasonal vegetables, and our renowned homemade Yorkshire puddings. Reviews state that "the highlight of this meal was the roast beef which you could cut with your fork"- so we have high expectations for this one.
Located on Pudsey Road in Farnley, The Corn Mill Hotel and Restaurant is open to guests staying in the hotel, but is open to reservations from those looking for their roast fix too.
The Yew Tree Inn, Otley
Newall Carr Road, Otley
The Yew Tree Inn in Otley offers three meats with homemade yorkies, mash, roasties, parsnips and unlimited vegetables for £8.95. Plus, they're one of the most dog-friendly pubs in and around Leeds, there's a roaring fire for them to warm up by as you down your weekend pint and there's plenty of space underneath the tables for even the largest of dogs to lie down and nap.
Now, adding to their dog-friendly amenities, the pubs is offering a mini Sunday roast that's perfect for your companion. The pub is also collecting donations for 'Your Pet Food Bank Charity' in Sheffield who have a lorry going to Ukraine before the end of the month: so feel free to bring in your donations and your dog for a roast.
Read More: This Leeds pub does a mini Sunday roast carvery for your dog
Further afield…
Sometimes searching for the perfect Sunday roast dinner means leaving Leeds and setting off on a longer journey. Whether you've exhausted Leeds' many, many options or you're heading further afield, here's some extra Sunday roast dinner options to taste test.
The Hawthorn, Haworth
THE BEST ROAST IN THE UK- The Hawthorn, Haworth is known locally for its stand-out menu and beautiful setting, but after the @rategoodroasts guide to the best Sunday roasts in the country, The Hawthorn can now add the title of the (joint) 'best Sunday roast in the country' with a whopping 95/100 score.
⁠
The former home of a clock-makers, The Hawthorn serves up a selection of meats every single Sunday, including dry-aged Heritage breed beef topside; slow roasted braised shoulder of Swaledale lamb; Chicken Supreme; market fish; a veggie Goulash Crumble and a Chateaubriand for two, all of which include garlic-roasted potatoes, tenderstem broccoli, green beans, carrots, bacon and chestnut winter greens, cauliflower cheese, a Yorkshire pudding and some pan juice gravy.
Square and Compass, Harrogate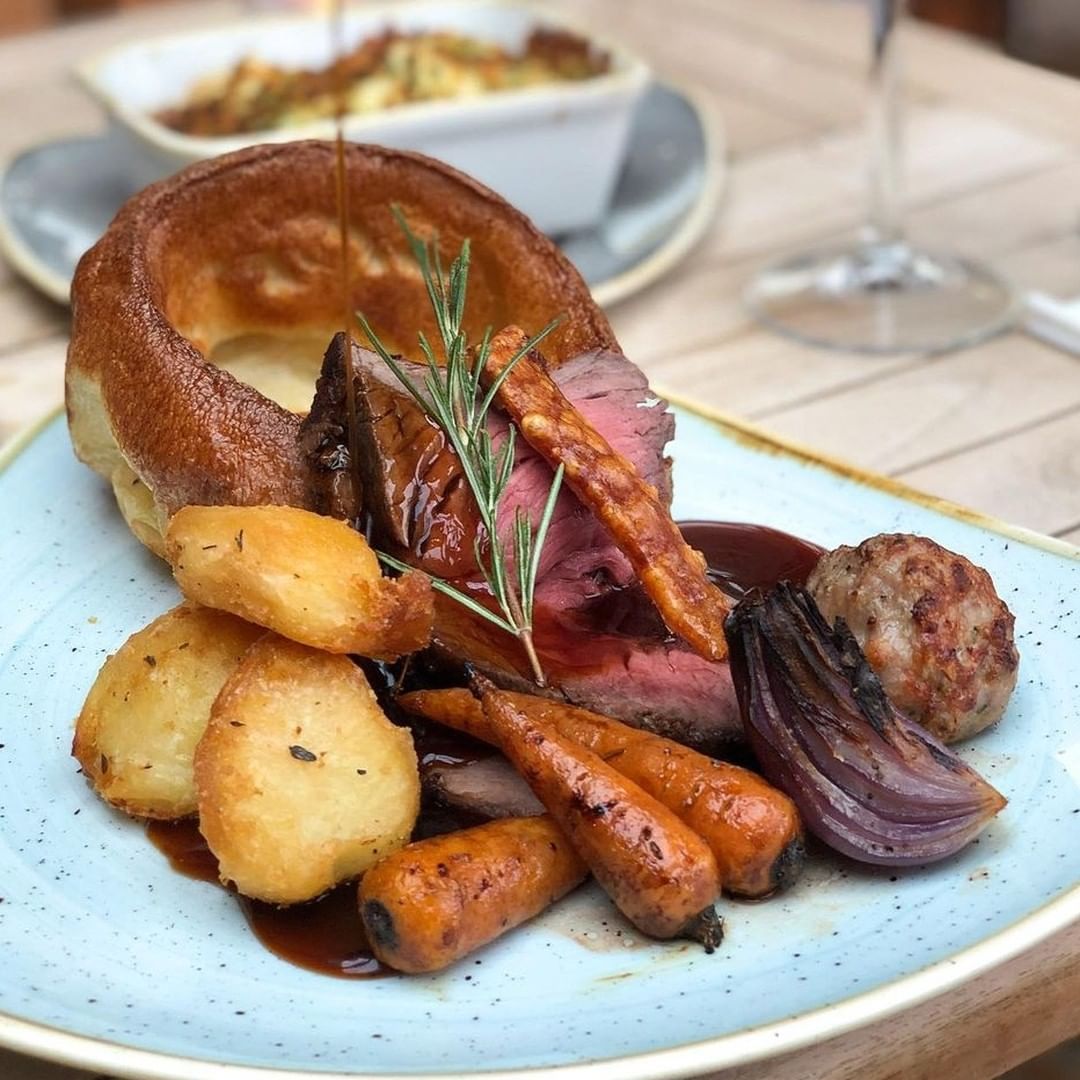 Serving up an irresistible choice of three meats every single Sunday, Square and Compass near Harrogate has a roaring fire for cold snowy days and an incredible outdoor fire pit for weekends basking in the sunshine- given the unpredictable weather this week, our shoutout goes to a bar that can offer you a comfy seat by the fire, whatever the weather.
Find out more here.
The Fat Badger, Harrogate
Choose from Roast rump cap of beef or roast loin of pork with stuffing, both served with seasonal vegetables, roast potatoes, creamy mash & gravy. And if you still have room you have to try the sticky toffee pudding with toffee sauce & vanilla ice cream.
The Leggers Inn Dewsbury
Mill Street East, Dewsbury
Yorkshire pudding wraps are a Yorkshire speciality, but their presence these days are few and far between. Essentially, you're looking at a roast dinner between a layers of a giant, crisp Yorkshire pud laden with gravy and some extra carbs on the side.
If you need any more excuses to head over to Saville Wharf and take in the canal side view, this is it.
Find out more here.
Alibi, Halifax
Rawson Street, Halifax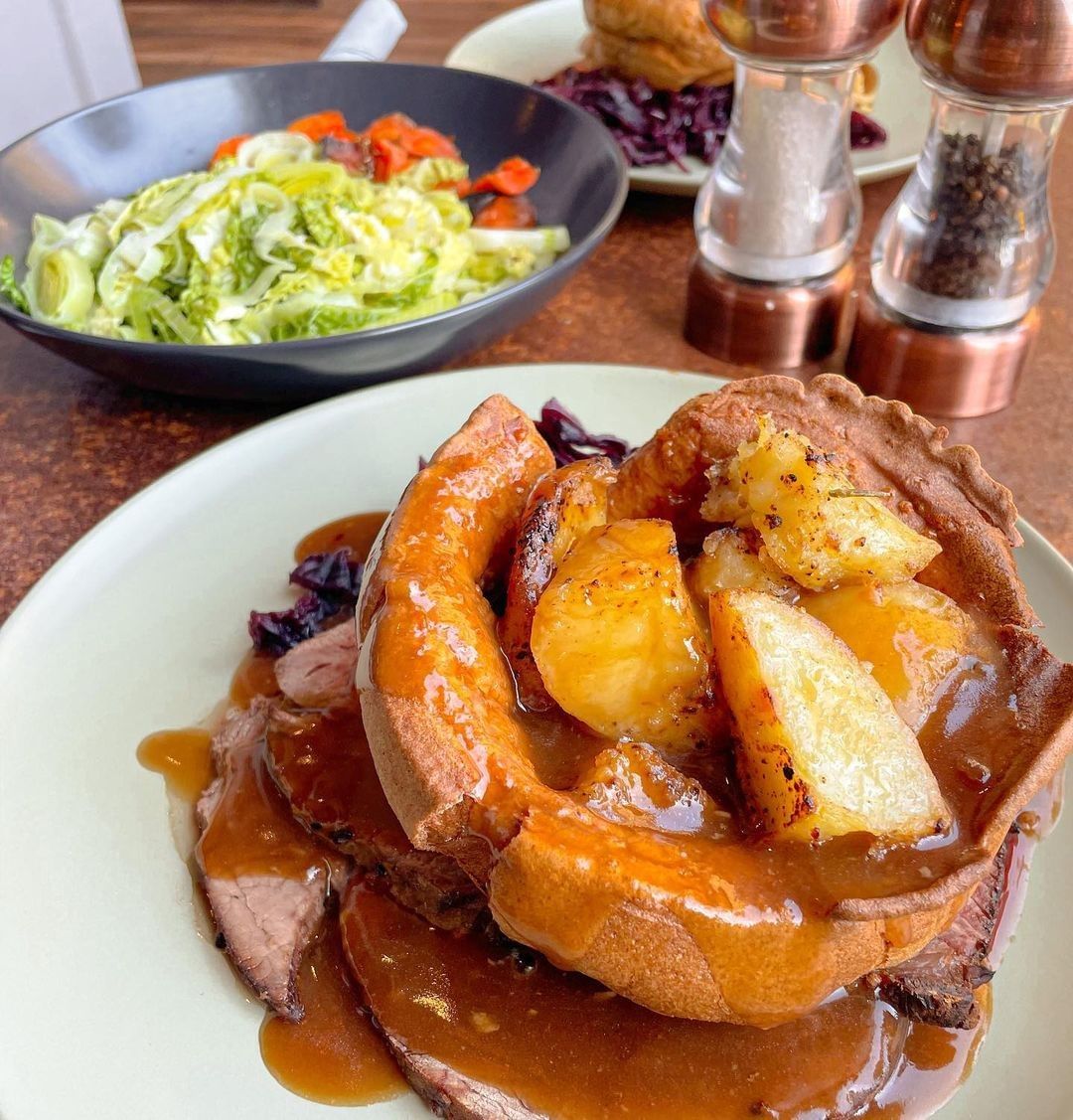 You can choose from Treacle cured sirloin of beef, Roast chicken with fruit stuffing or Celeriac and eggplant rarebit.
Roasts are served with perfectly-plump Yorkshire puddings, garlic roast potatoes and fresh locally sourced veg. And it gets better, they have a bottomless Sunday Roast option with 90 minutes of unlimited drinks
Find out more here.
Blacker Hall Farm, Wakefield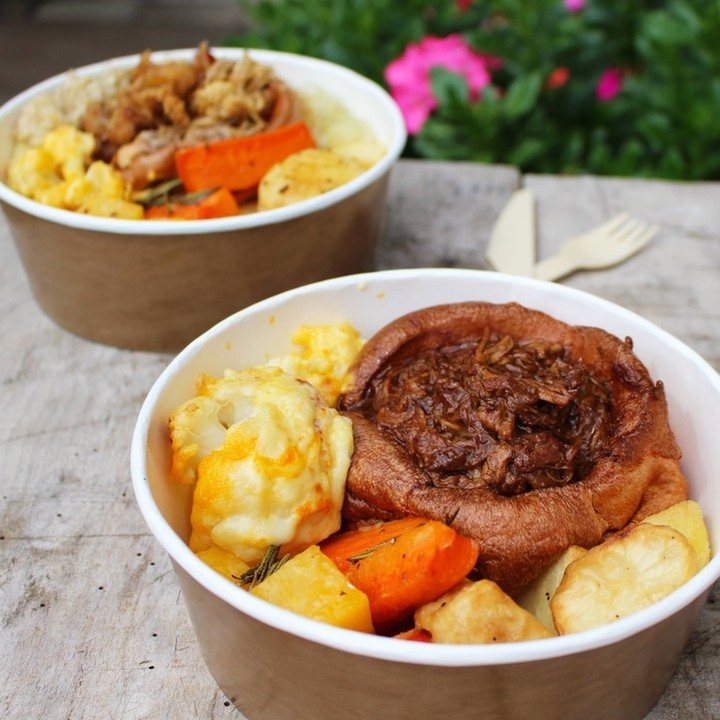 ou can grab a roast dinner on your way back home from a family-run farm, how incredible. On offer, there's a choice of either pulled pork or beef with roast potatoes, seasonal veg, gooey cauliflower cheese and gravy, all encased within a giant Yorkshire pud.
Costing less than £7 per portion, this takeaway roast is one of the cheapest eat-out lunch options around- the fact it's made from all our favourite meats and locally produced is just a bonus.
Find out more here.
The York Roast Co., York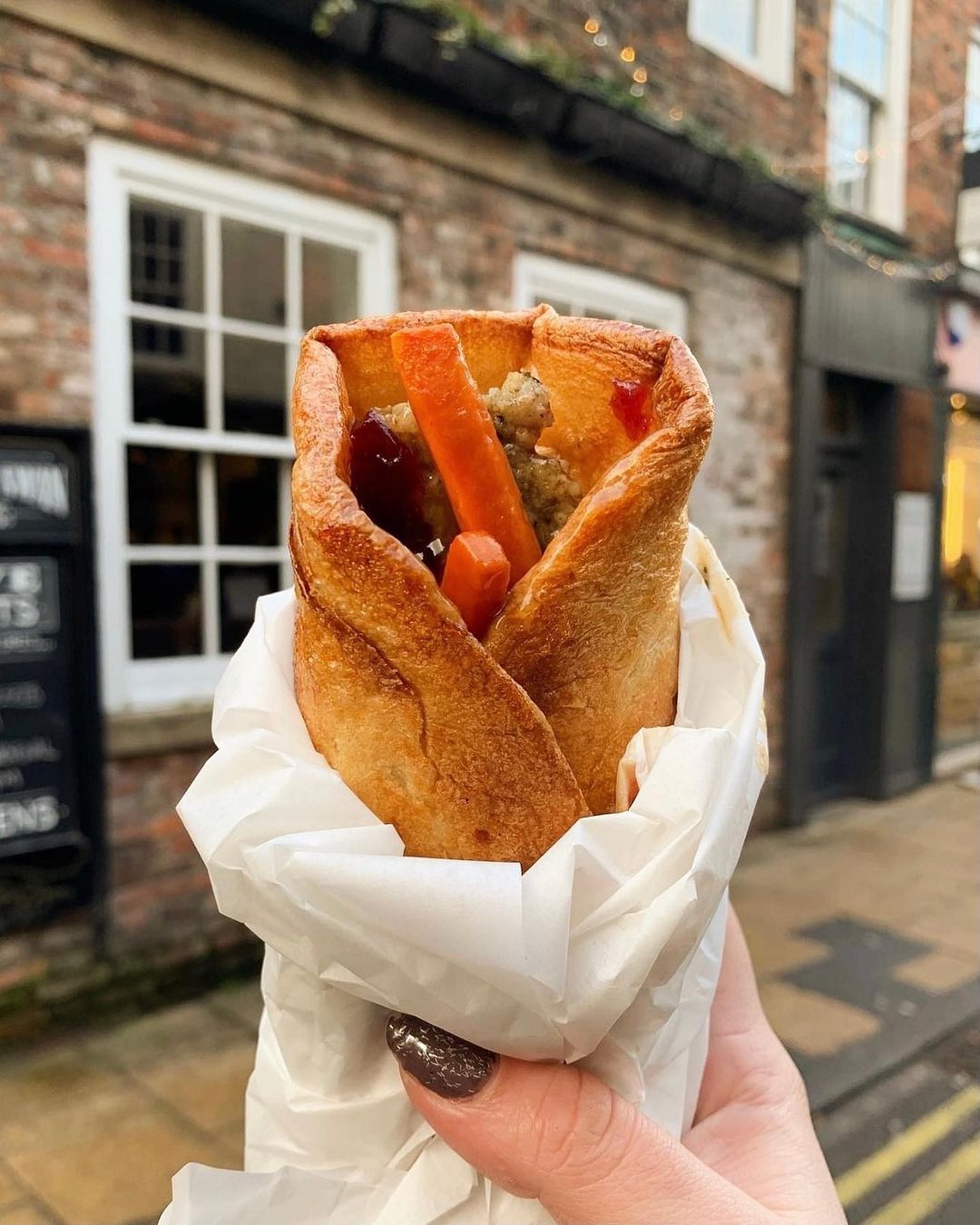 Over in York, we found the mother of all roasts- tightly packed into a giant Yorkshire pudding wrap, there's turkey, stuffing, cranberry sauce and veggies. It's a must-try if you're up this way! ⁠
Find out more here.
The Star Inn The City, York
Museum Street, York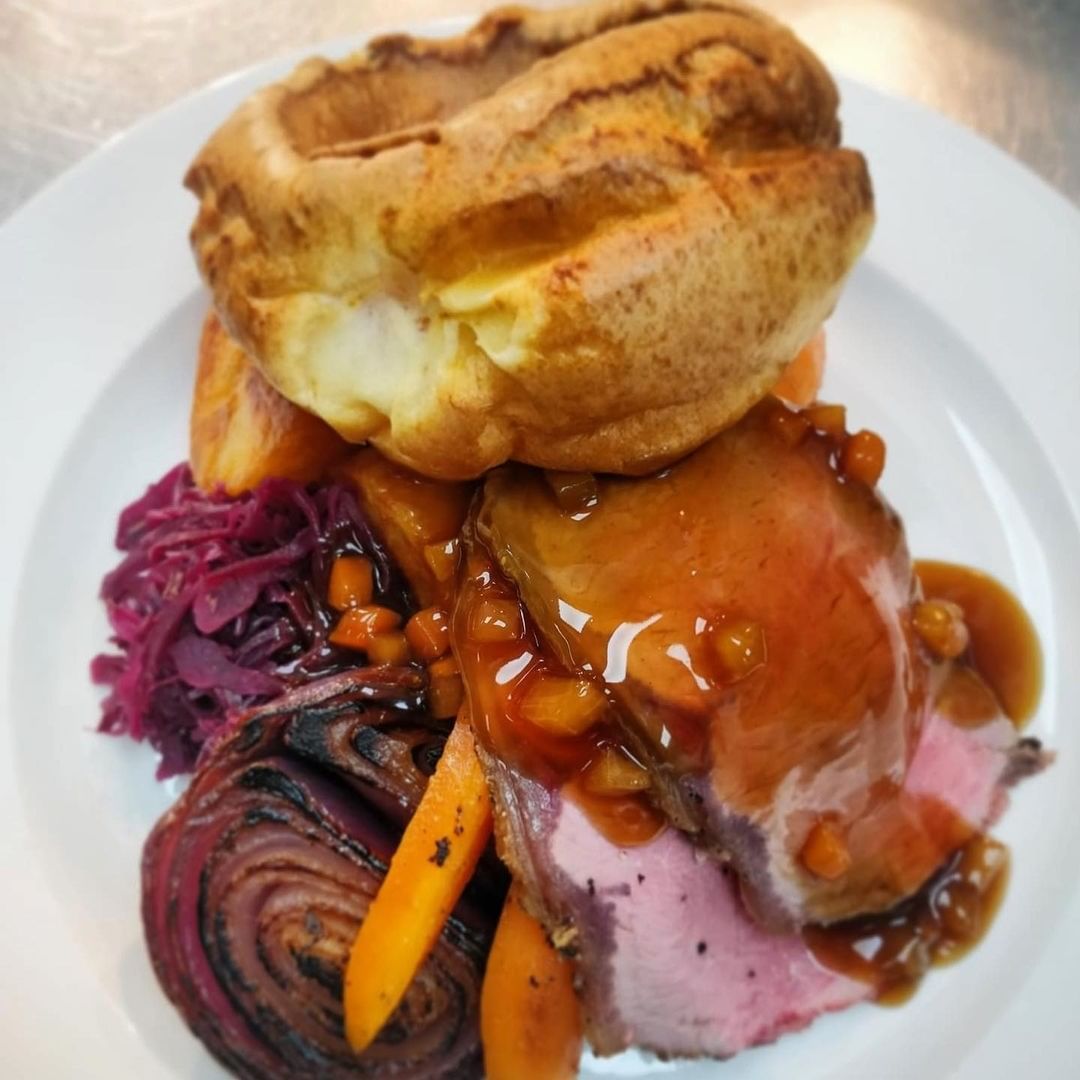 Roast sirloin of M&K beef served with one of The Star Inn's famous Yorkshire puddings, stock pot carrot, charred red onion, braised red cabbage, fountains gold cauliflower cheese, beef fat roast potatoes and ale gravy.
Okay this one's in York, but it's well worth the half an hour journey over given the incredible reviews for its dining experience.
Find out more here.
Feature Image- The Lamb and Flag